Never cooked an artichoke? Never fear! I took step by step photos to walk you through it. It is unbelievably easy and so flavorful! Roasted in a garlic lemon butter sauce and dipped in pesto mayonnaise, they are a show-stopping appetizer or side dish.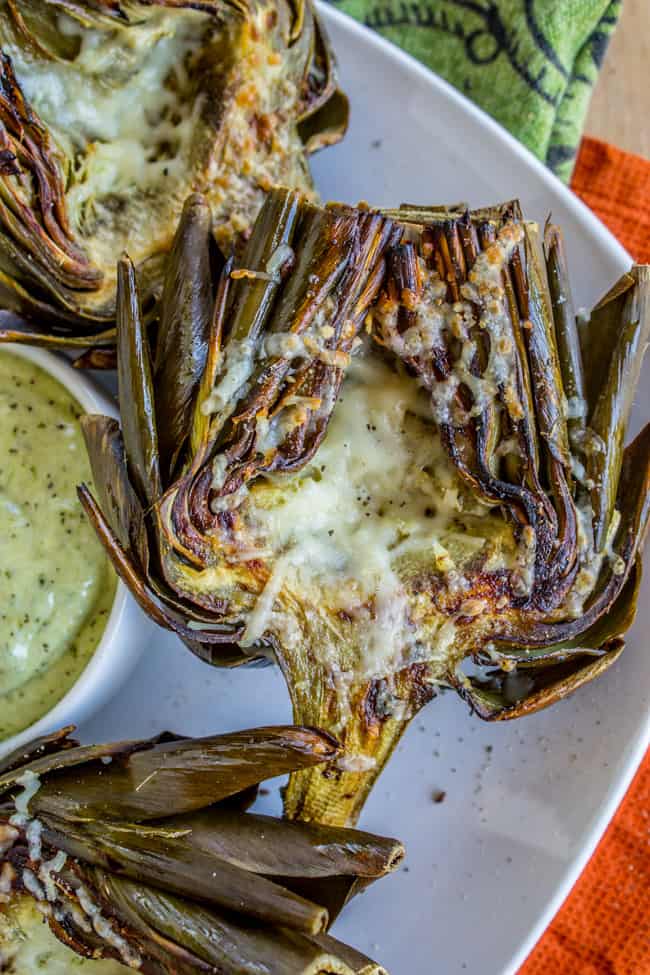 My mom admitted to me last week that it was only within the past couple years that she learned what a screenshot was. My brother Nate mentioned in passing that he took a screenshot of something, and she thought, "That is such a great idea!" So she got on her computer, found something she wanted to save…then pulled out her phone and took a picture of it.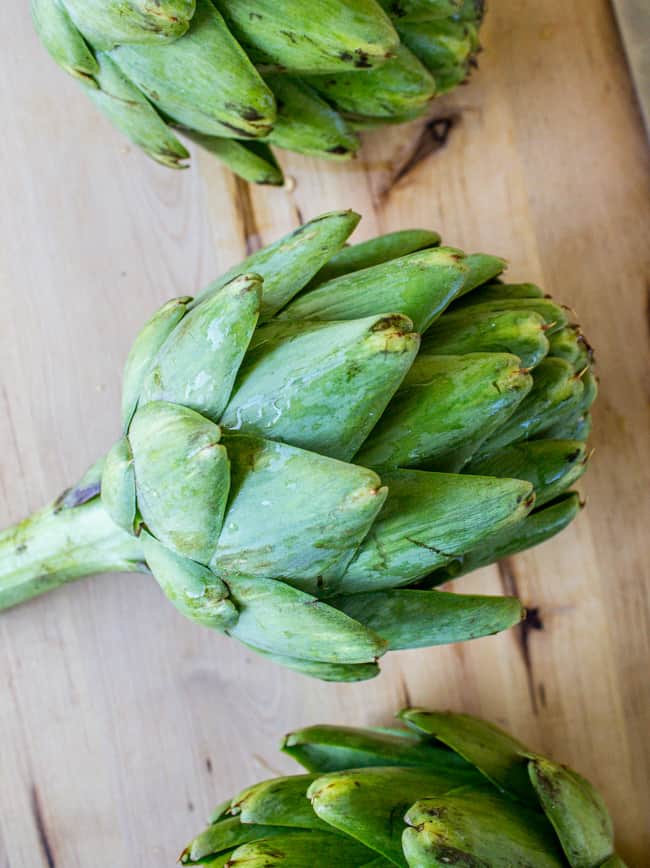 It reminds me of the time when I was in college using a public computer at the library. I had just arrived, when this guy walks up to me and says, "Hey, I left something on the desktop, do you mind if I grab it real quick?" And I say sure no problem, and start clearing my notes and purse off the top of the desk that the computer was sitting on, so that he could look for his pen or whatever he had left on the desktop.
Of course he grabbed the mouse and navigated to the file he needed, plugged in his flash drive, and was on his way within 30 seconds. I don't even think he noticed that I was being a complete moron.
I guess it runs in the family?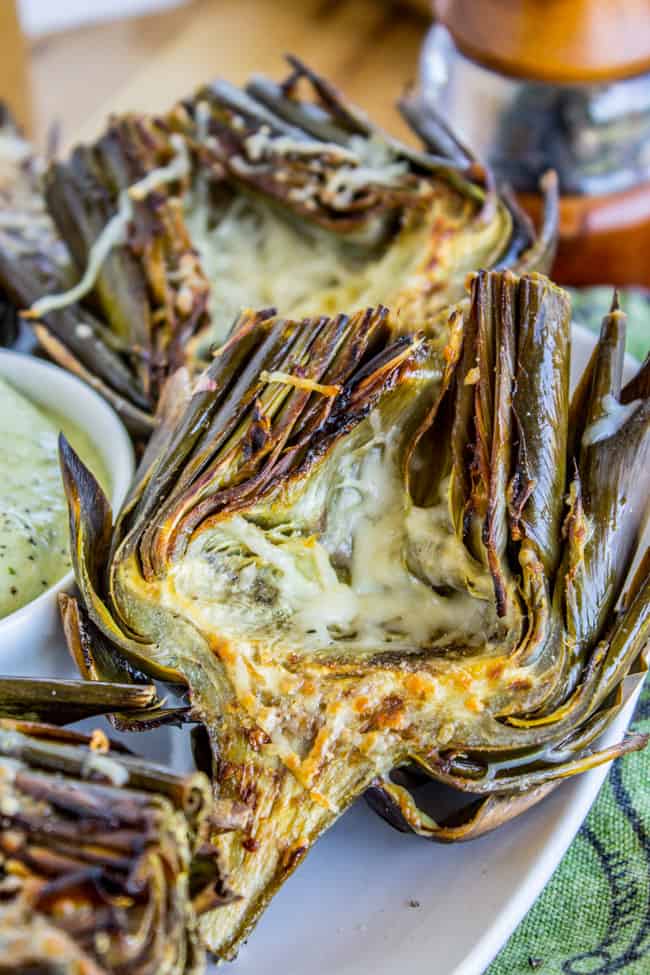 Have you ever made artichokes?? This was my first time! I've had them before in restaurants but had never made them at home. They are so darn good! I was telling Nate all about it on the phone, and said that my only complaint is that I need to eat like 3 entire artichokes to be full. And he said "Karen, do you even understand what an appetizer IS?" Oh okay. Good point brother. I guess I'm an appetizer abuser.
I took a billion photos of my virgin artichoke voyage. Wanna see?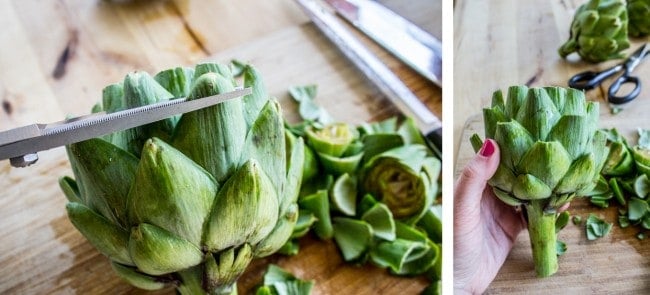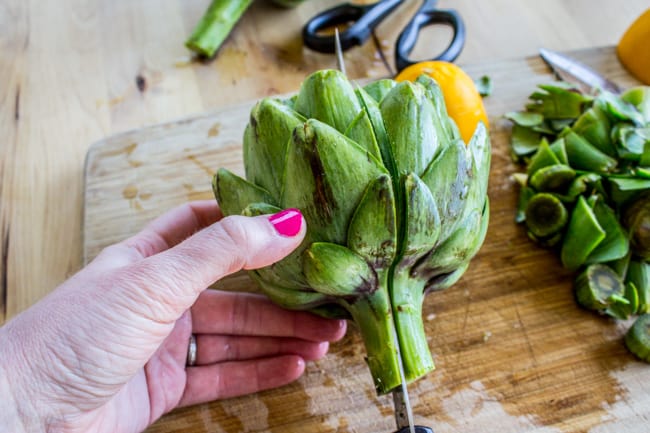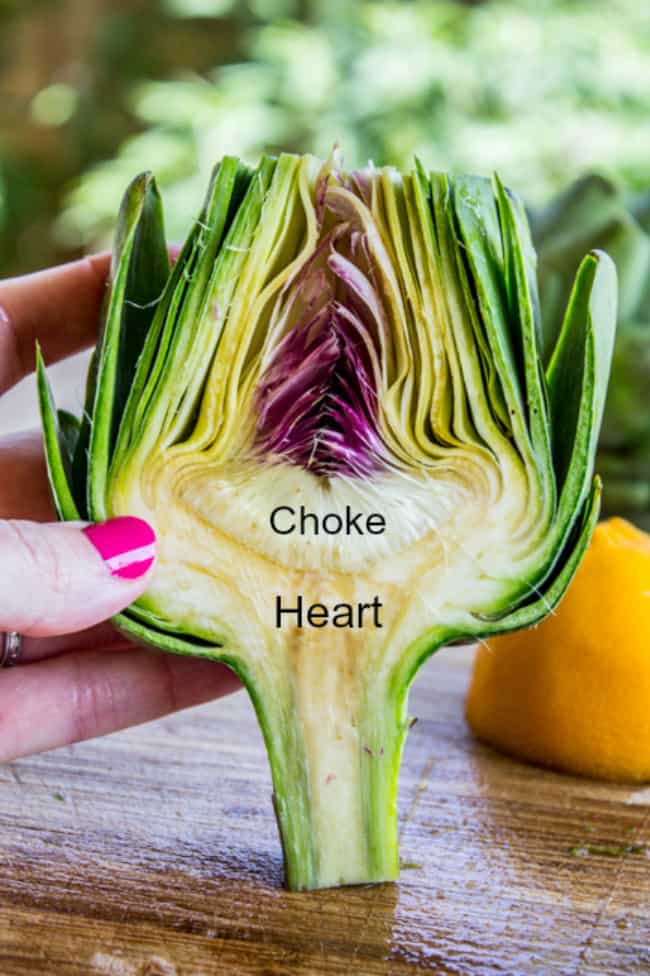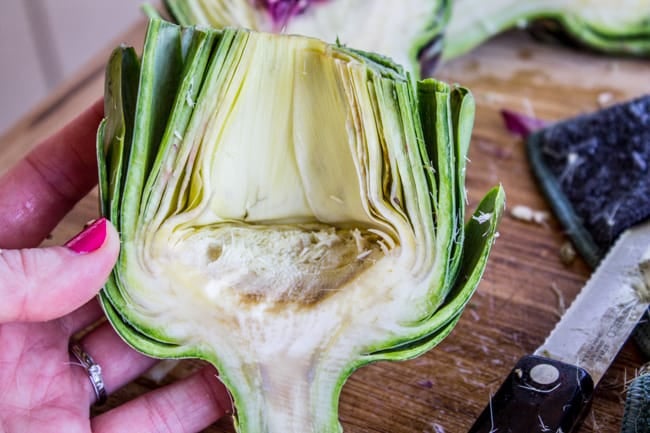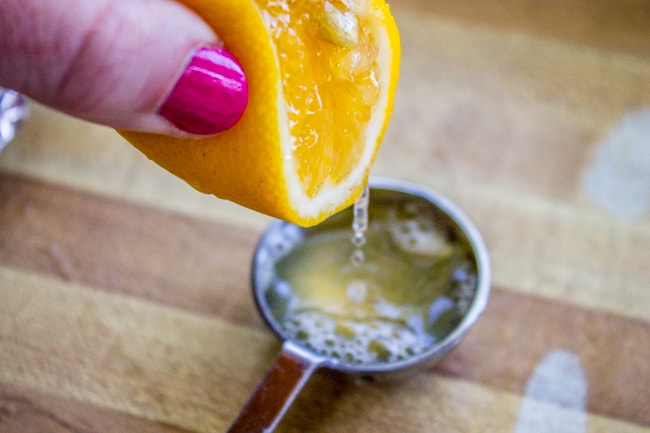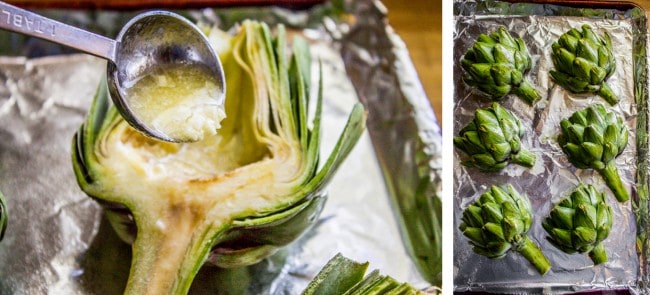 I've got pesto on the brain this week, as evidenced by this recipe and the White Lasagna with Chicken and Pesto that I posted on Tuesday. It is just such an easy way to add flavor! My mom used to eat artichokes all the time growing up, because her dad was an almond farmer, and when you have farmer friends, well, you get a lot of produce. She said they always dipped them in mayonnaise. I love mayonnaise and all, but I felt like I needed a little something something to jazz it up…enter pesto! It's the same sauce I put on top of this Easy Baked Pesto Chicken. SO. GOOD.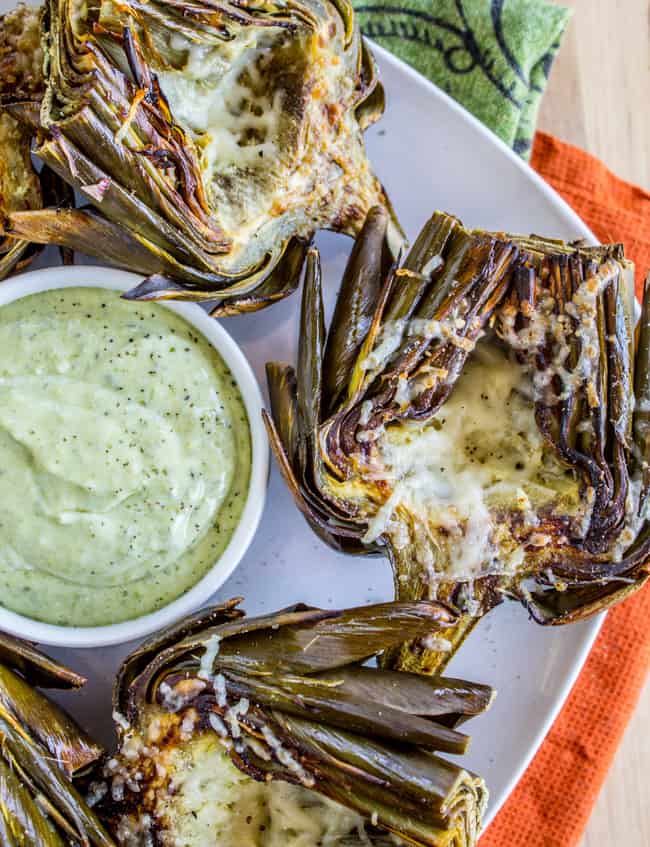 If you are planning to make this recipe soon, or any variation including fresh artichokes, be sure to check out the contest going on over at Ocean Mist Farms! I'll break it down for you:

Basically all you need to do is cook up some fresh artichokes, share it on Instagram or Twitter using the #ArtiAdventurer hashtag, and you will be entered to win an awesome trip to Monterey! (Have you ever been there? It is one of my favorite places in the whole world. It is so gorgeous. I have so many fond memories of traveling in that area!) Click here to get more info on the contest.
I am probably going to have Truman enter the contest all on his own. He has started saying "Okie Dokie, Artichokey!" at every opportunity, in his tiny little 3-year-old voice. It's adorable.
Artichokes really are the perfect appetizer. You can serve them warm or room temperature. You can make them ahead of time and reheat at the last minute. And they just feel so fancy! You feel like you're eating in a restaurant in your own home. Plus they are fun to eat. Eating an artichoke is definitely a unique experience!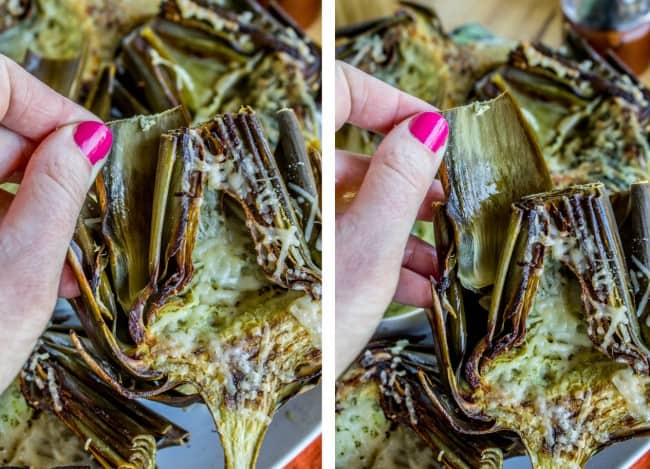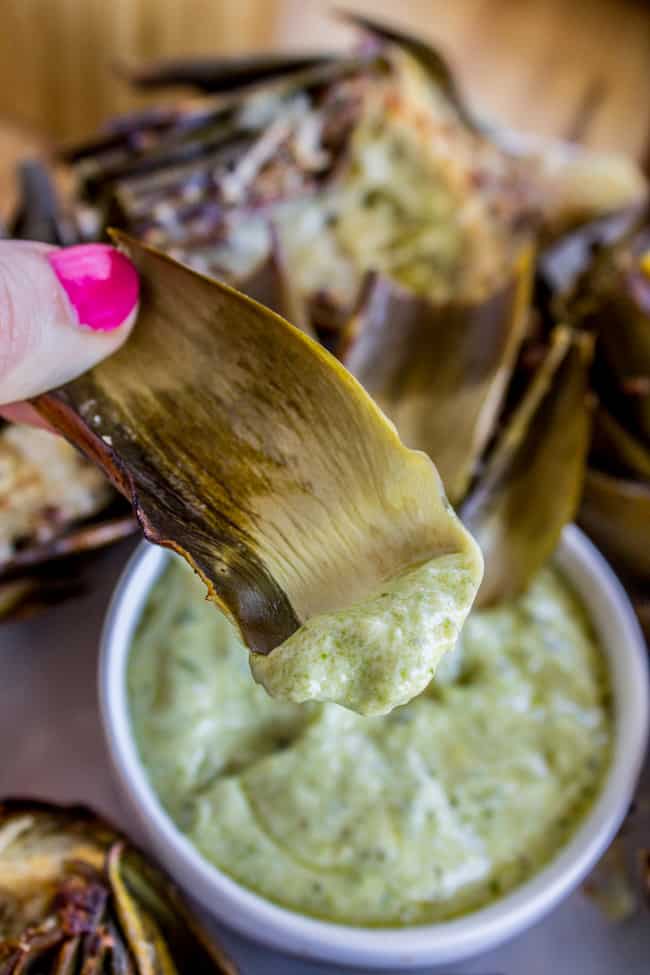 Of course the cheesy heart in the center is my favorite part.
If you make this, be sure to share using #TheFoodCharlatan so I can see it! And don't forget to use the #ArtiAdventurer hashtag to enter yourself in the contest. You have until April 16th!
Facebook | Pinterest | Instagram | Twitter

Garlic Roasted Artichokes with Pesto Dipping Sauce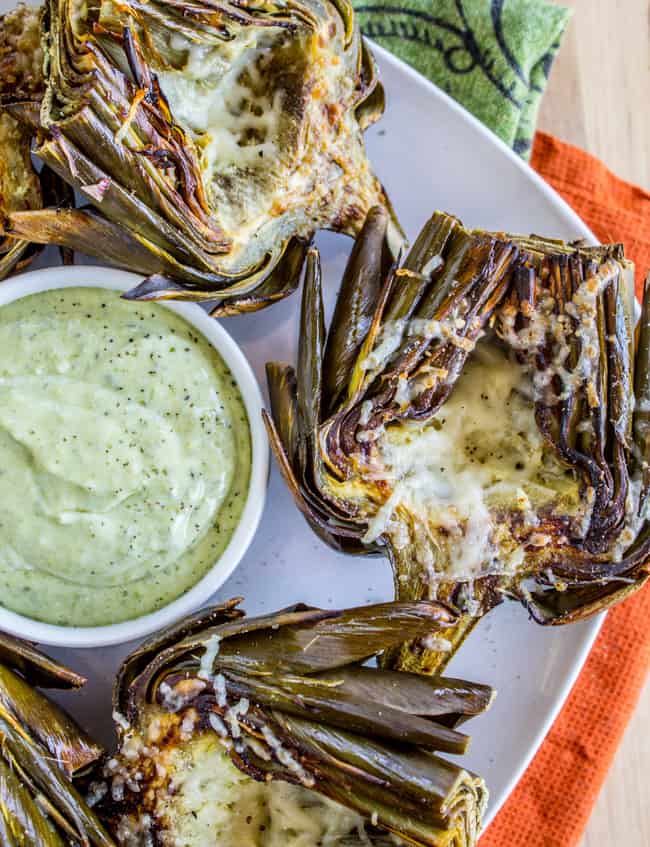 Never cooked an artichoke? Never fear! I took step by step photos to walk you through it. It is unbelievably easy and so flavorful! Roasted in a garlic lemon butter sauce and dipped in pesto mayonnaise, they are a show-stopping appetizer or side dish. 
Ingredients
3

artichokes

1/2

lemon

,

for rubbing on artichoke

3

tablespoon

butter

,

melted

2

cloves

garlic

,

minced

1

tablespoon

lemon juice

,

fresh*

5-6

tablespoons

Parmesan cheese

,

grated

1/3

cup

mayonnaise

,

or to taste

1/3

cup

prepared basil pesto

,

or to taste
Instructions
Preheat oven to 375 degrees F. Line a large baking sheet with aluminum foil and spray with nonstick spray.

Wash your artichokes thoroughly, and scrub lightly with a vegetable brush if you have one.

Cut 1 inch off the top of each artichoke, and 1/2 inch off the bottom of the stem. Immediately rub the cut portions with half a lemon.

Trim the thorns from the very top of each leaf. It's okay to leave them if you want. They soften in the oven anyway.

Use a sharp serrated knife to cut each artichoke in half. Rub the cut side with the half lemon to prevent browning.

Use a sharp knife or a sturdy spoon to remove the "choke" from the center of each artichoke half. This includes all the fuzzy stuff and the purple leaves in the center. (see photos) Squeeze some juice from your lemon half into the center to prevent browning.

In a small bowl, melt 3 tablespoons of butter in the microwave. Add the minced garlic and the lemon juice.

Line up the artichoke halves cut side up on the prepared pan with foil.

Use a spoon to drizzle the butter mixture over the artichokes, making sure to get in the crevices.

Flip the artichokes over so that they are cut side down. Use your hands to rub some of the butter that has dripped off onto the uncut sides of the artichokes.

Roast the artichokes at 375 for about 40-48 minutes. Start checking at 40 minutes as the cook time will depend on the size of your artichokes.

Use a sharp knife and insert it into the bottom of the artichoke, next to the stem. If the knife slides in fairly easy, like a baked potato, then it is done. The bottom (cut) sides of the artichokes should be browned as well.

Take the pan out of the oven and use tongs to flip each artichoke over. Sprinkle each one with a little bit of Parmesan cheese.

Turn the oven to a broil. Move the oven rack to the top. Return the pan to the oven and broil for no more than 1 minute, checking frequently. Don't walk away! You just want to get the cheese melted and a little brown.

Remove from the oven and let cool slightly before moving to a plate to serve.

In a small bowl, stir together equal parts mayonnaise and pesto. (Or whatever ratio looks good to you.)

Serve the artichokes with the pesto sauce. Enjoy!
Notes
*I used a Meyer lemon and it worked great! A regular one will work fine too.
Nutrition
Serving:
1
g
|
Calories:
357
kcal
|
Carbohydrates:
13
g
|
Protein:
7
g
|
Fat:
32
g
|
Saturated Fat:
10
g
|
Polyunsaturated Fat:
9
g
|
Monounsaturated Fat:
6
g
|
Trans Fat:
1
g
|
Cholesterol:
36
mg
|
Sodium:
578
mg
|
Potassium:
387
mg
|
Fiber:
6
g
|
Sugar:
2
g
|
Vitamin A:
754
IU
|
Vitamin C:
17
mg
|
Calcium:
158
mg
|
Iron:
2
mg
This post is sponsored by Ocean Mist Farms. All opinions are my own of course! Thanks for supporting the brands and farmers that help keep The Food Charlatan going! 
Other great side dishes you will love!
Sauteed Asparagus and Cherry Tomatoes: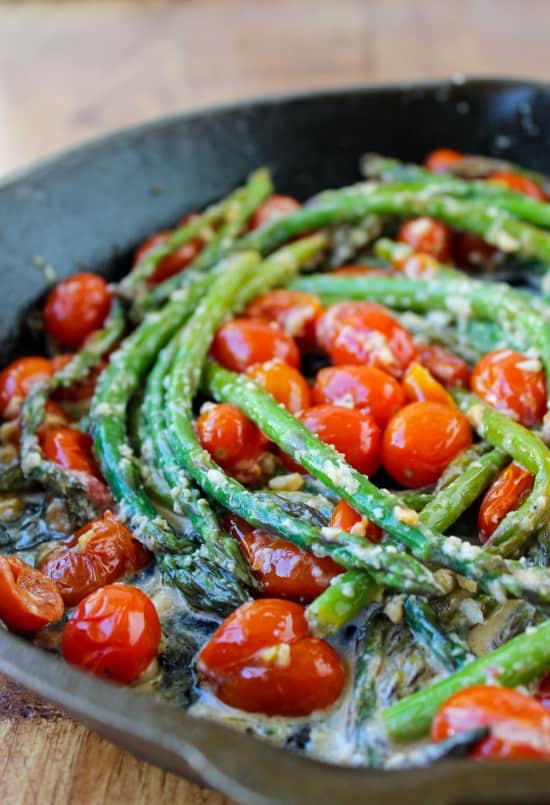 Roasted Sweet Potatoes and Brussels Sprouts: << this recipe has gone crazy since I posted it at Thanksgiving!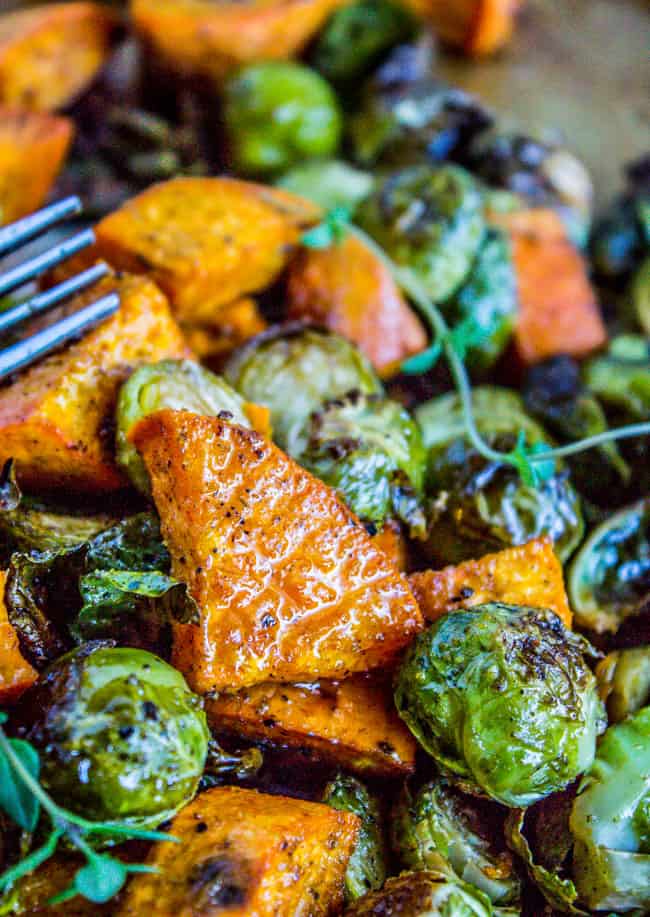 How To Grill Leeks and Why You Should: << don't underestimate leeks, my friends!! Pair these with a steak…oh man.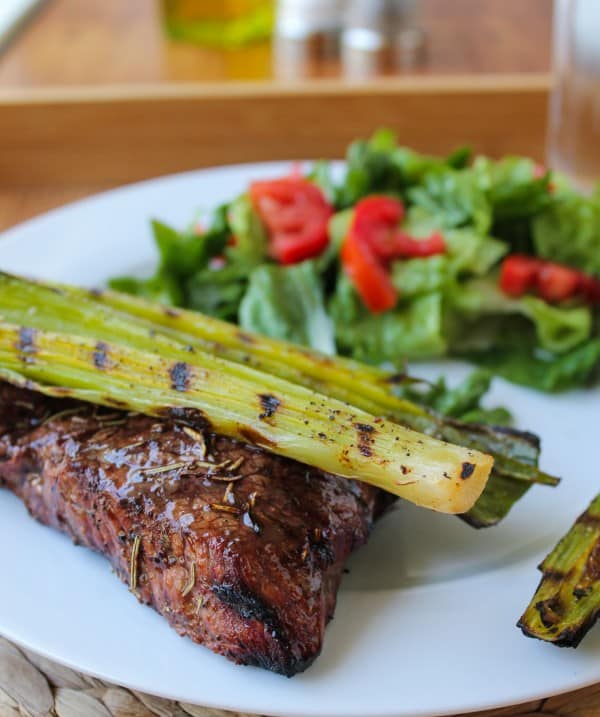 Roasted Artichokes with Lemon and Garlic from Iowa Girl Eats
Grilled Artichokes with Garlic Parmesan from Foodness Gracious
Crock Pot Artichokes from The Produce Mom