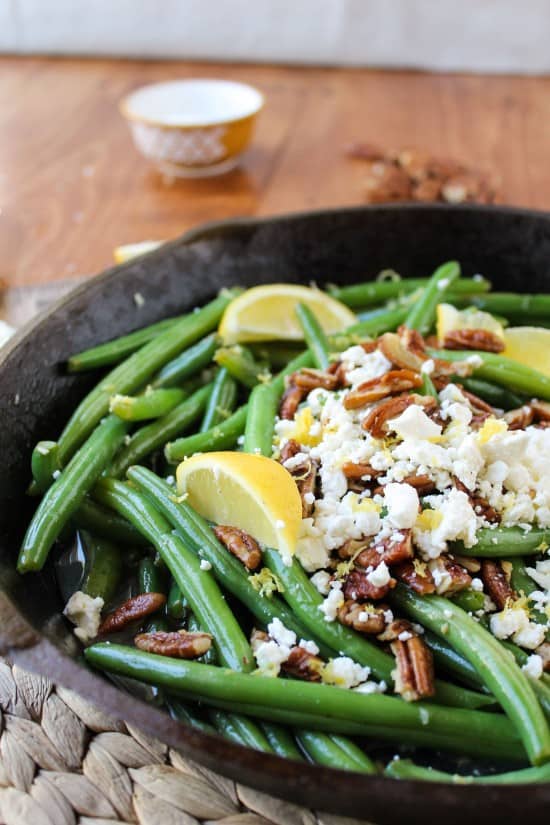 True confession: I didn't finish my dinner last night because I was too full from eating a thousand green beans. And the kicker? I don't even like green beans. Too rubbery. Or worse, mushy.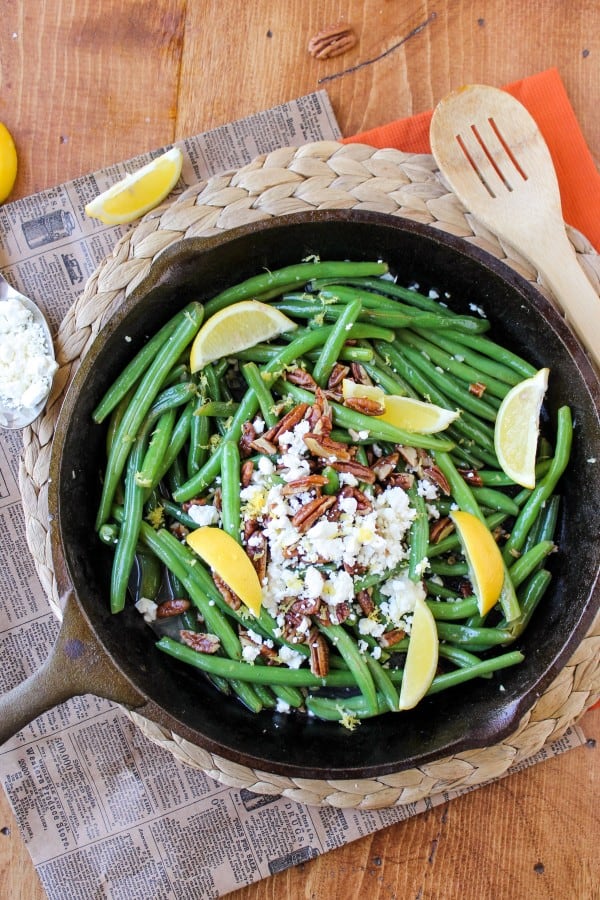 One time in college I got on a healthy I'm-gonna-eat-my-vegetables kick. My roommate/BFF Sarah and I both had meal plans at the campus dining center. (The food there was subpar, at best, but it was also endless, and that cancels out any inferiority in the eyes of a college freshman.)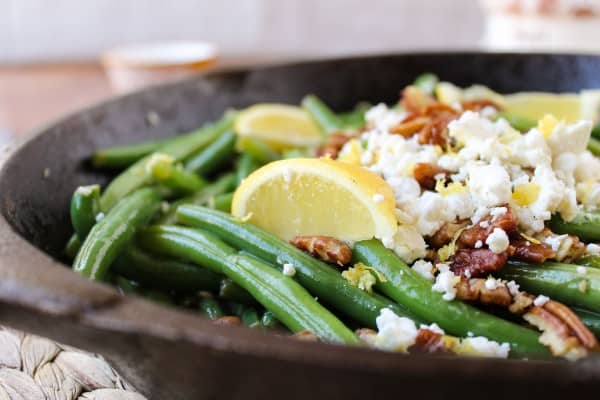 The green beans they served were awful. But my new-found-veggie-eating self was determined to eat them, and I piled some on Sarah's plate too, hoping to force some vitamins into her so that we didn't both get scurvy from eating nothing but Maple Bars all day. (There were doughnuts in the cafeteria. All the time, every day. Prepaid. What would YOU do?)
We go sit down and I start eating my greens like a good girl. They are endless. I can't believe how many I served myself. This is an absolute mountain of green beans. Surely I've had a decent serving by now? But I have…to…finish…
That was when I realized that Sarah had slowly transferred her ENTIRE PILE  of green beans onto my plate when I wasn't looking. *Shakes fist* I'll get you for that one day Sarah, just you wait!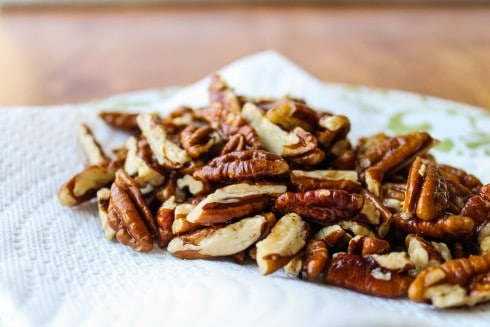 Lori from Recipe Girl (have you been to her blog? Go. Now.) mentioned yesterday that there are only 13 days left until Easter. Today it's 12. You know what this means? The clock is ticking! Only 2 weeks left of Reese's Eggs and Sweet Tart Jelly Beans, guys. I'm officially in emergency mode. Easter candy makes the world go round.
But it also means that it's time to start figuring out our Easter menus. Are you guys traditional ham people? Lamb and mint? Or just deviled eggs all the way? I finally changed up my sidebar over on the right and added a bunch of Easter food recipes to get your brains going. Check it out.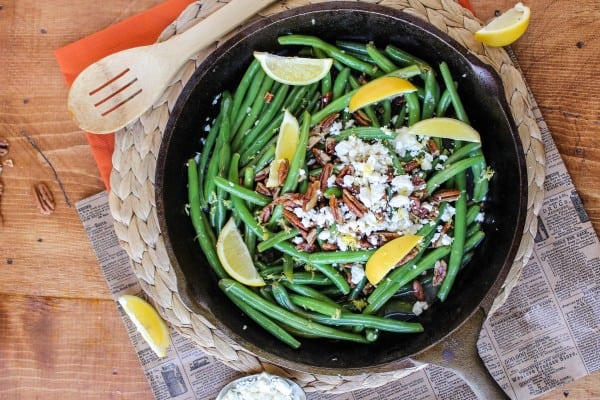 I'll be adding this recipe for Lemon Green Beans with Feta and Fried Pecans. I should have named it The Recipe That Made Me Like Green Beans. I think there's something in feta you guys. Perhaps an addictive chemical that makes you crave it fortnightly?
This recipe is not too far off from Broccoli with Feta and Fried Almonds, also known as The Recipe That Made Me Eat a Pound of Broccoli In One Sitting. I wanted to try it with green beans, just to see if it would make me like them. It totally worked. I added lemon instead of vinegar and love the brightness that it adds. The fried pecans put it over the top. You should fry some extra and just eat them…so good.
Do you guys give up? Or are you thirsty for more?
Facebook | Pinterest | Instagram | Twitter

Lemon Green Beans with Feta and Fried Pecans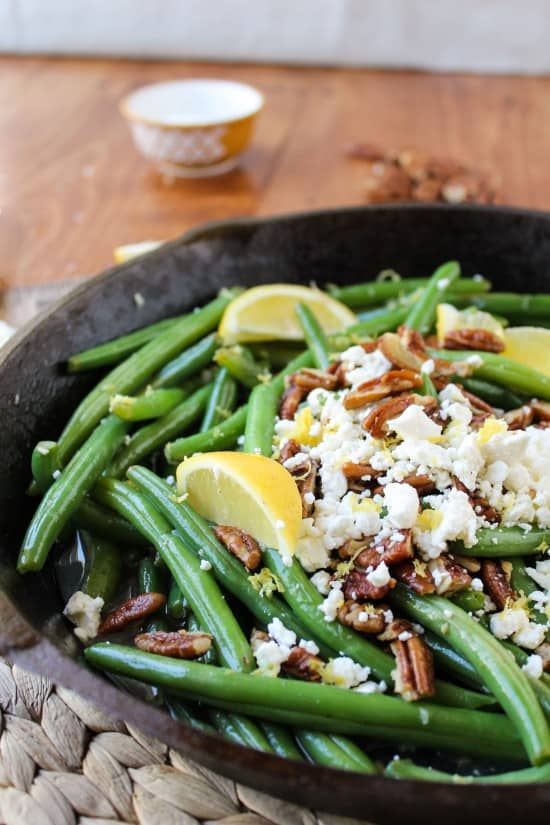 Add pecans to lemon green beans along with some feta for a simple, crowd-pleasing side dish.
Ingredients
2

large

cloves garlic

1/4

teaspoon

salt

3

tablespoons

lemon juice

,

fresh

1

tablespoon

olive oil

1/2

cup

pecans

,

very roughly chopped

7

cups

water

1

tablespoon

salt

1

pound

green beans

,

trimmed and washed

2

tablespoons

olive oil

1

tablespoon

butter

black pepper

,

to taste

1/2

cup

feta

lemon wedges

,

to garnish

lemon zest

,

to garnish
Instructions
Use the side of a chef's knife to crush the garlic. Mince it finely, then crush it again with the side of the knife. (If you have a mortar and pestle, you could use that.) Place the garlic in a small bowl and add 1/4 teaspoon salt. Mash it together with a fork. Add 3 tablespoons fresh lemon juice and set aside.

In a small skillet heat 1 tablespoon olive oil over medium heat. When hot, add the pecans. Cook for 5-6 minutes, or until they are nutty and fragrant. Remove to a paper towel lined plate, sprinkle with a little salt, and set aside.

In a large pot, add about 7 cups of water and 1 tablespoon salt. Bring to a rolling boil over high heat. Add the green beans, cover, and set a timer for 3 minutes. Drain the green beans into a colander and rinse with cold water.

Meanwhile, heat 2 tablespoons olive oil and 1 tablespoon butter over medium heat in a large skillet. When it is hot, add the rinsed green beans. Saute for 5-6 minutes, or until the green beans reach the crisp-tender level that you want.

Remove from heat and add the lemon-garlic mixture. Season with freshly ground pepper to taste. Toss in the pecans and the 1/2 cup feta. Serve with extra lemon wedges and lemon zest to garnish.
Nutrition
Serving:
1
cup
|
Calories:
195
kcal
|
Carbohydrates:
8
g
|
Protein:
4
g
|
Fat:
18
g
|
Saturated Fat:
5
g
|
Polyunsaturated Fat:
3
g
|
Monounsaturated Fat:
10
g
|
Trans Fat:
1
g
|
Cholesterol:
16
mg
|
Sodium:
1435
mg
|
Potassium:
214
mg
|
Fiber:
3
g
|
Sugar:
4
g
|
Vitamin A:
638
IU
|
Vitamin C:
13
mg
|
Calcium:
107
mg
|
Iron:
1
mg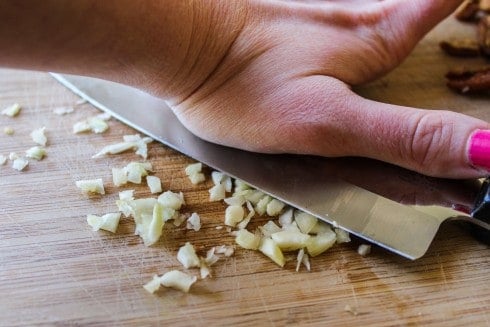 Smash up that garlic. Show him who's boss.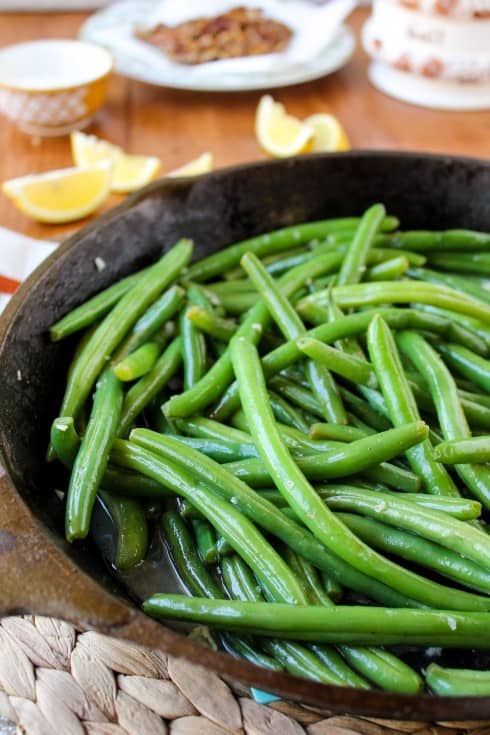 The green beans should look like this when they are crisp-tender. Bright green and lovely.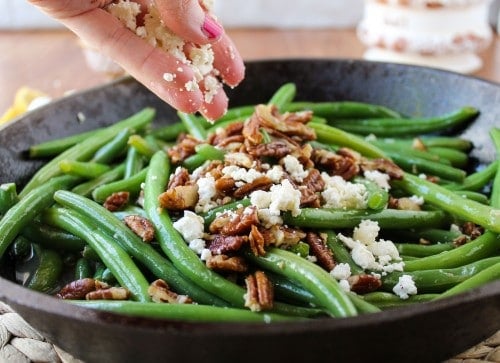 Add the pecans and feta.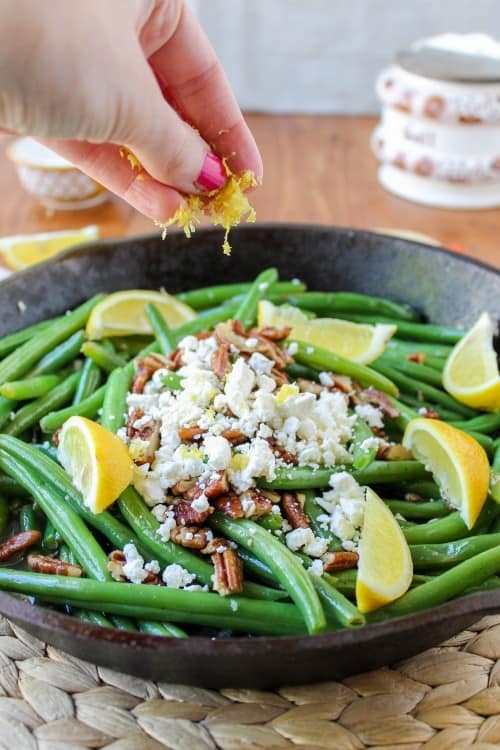 And don't forget the lemon zest.