These Outrageous Pretzel Reese's Peanut Butter Cookies are soft, chewy, and irresistible! A decadent peanut butter cookie dough packed with chopped pretzels, Reese's cups, Reese's Pieces, peanut butter chips, dark chocolate chips, and optional peanuts make these the peanut butter cookies of your dreams! Originally published May 18, 2021.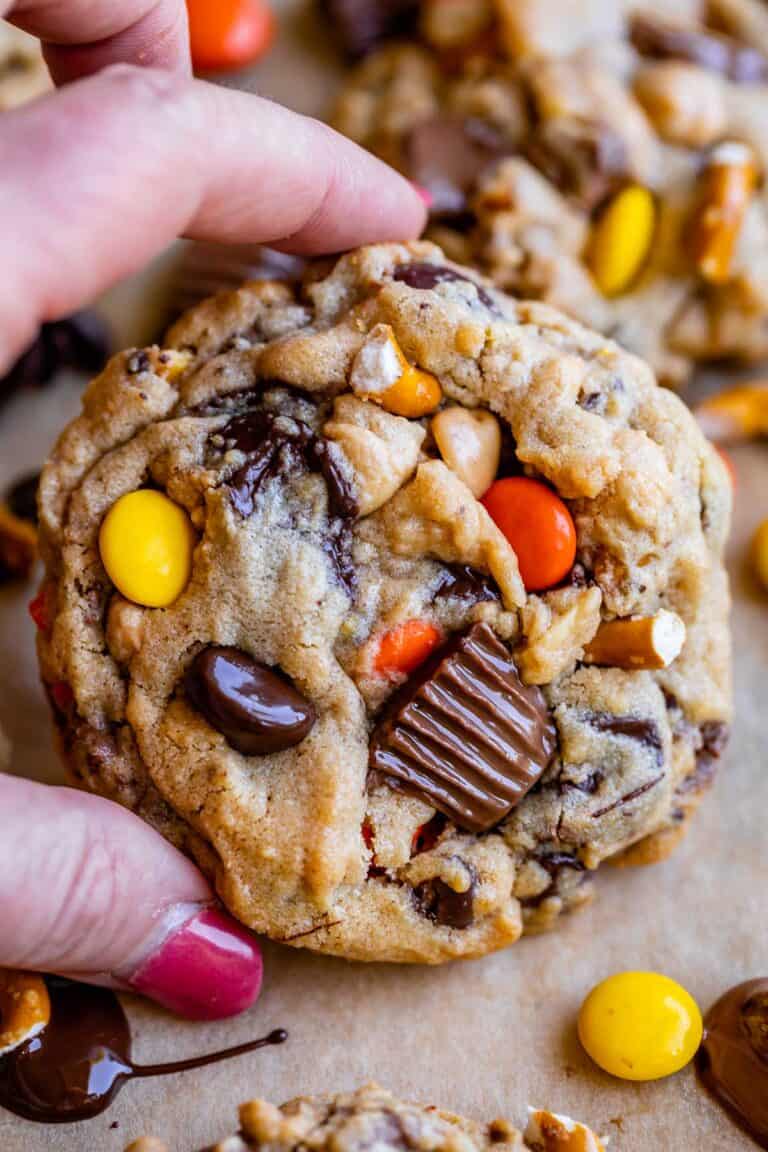 Table of Contents
I had some friends over a few nights ago to hang out in my backyard. We were all chatting when my neighbor Alex came over holding our 1-year-old son Edison. "I found him out in the middle of the street." I literally thought Edison had already been put to bed. Had no idea he was even out of the house, let alone roaming the streets in his footie pajamas.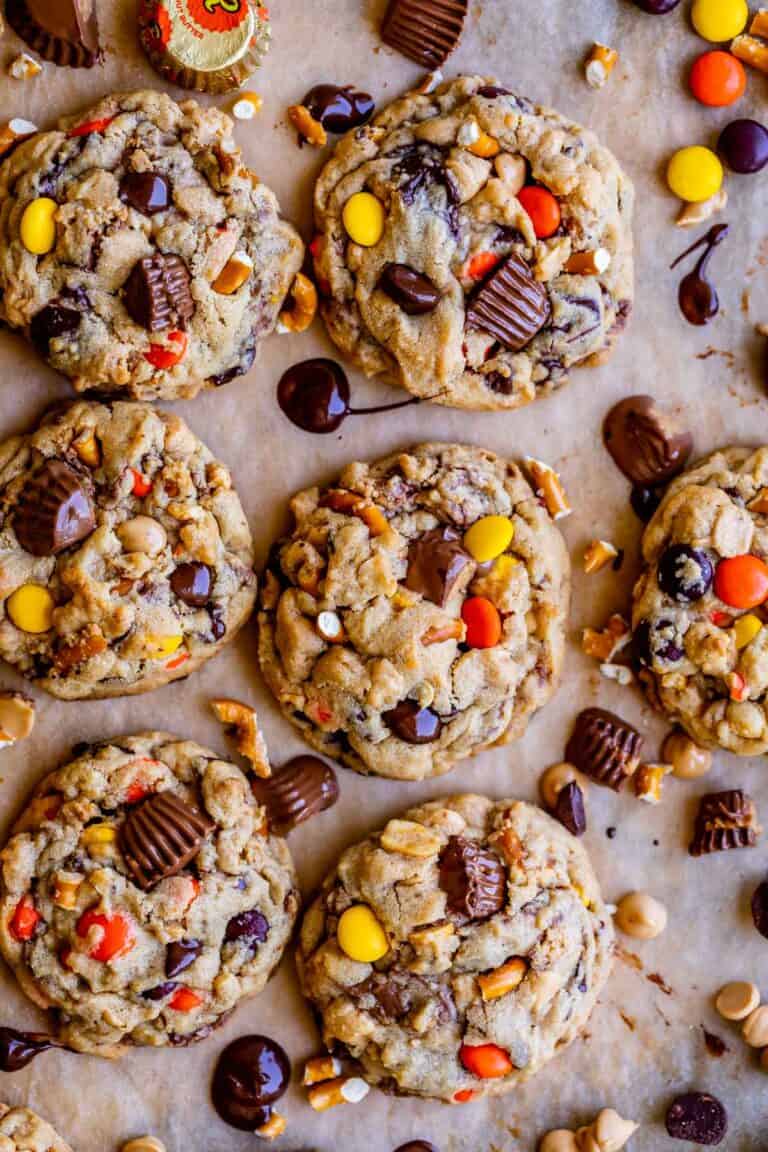 Apparently he had snuck out the side gate where my friends had come in. It takes a village, right? Good thing I have amazing neighbors or I would have lost all my kids by now.
We are in that wonderful phase where the baby gets into everything, all the time. You turn your back for one second and a nightmare has occurred.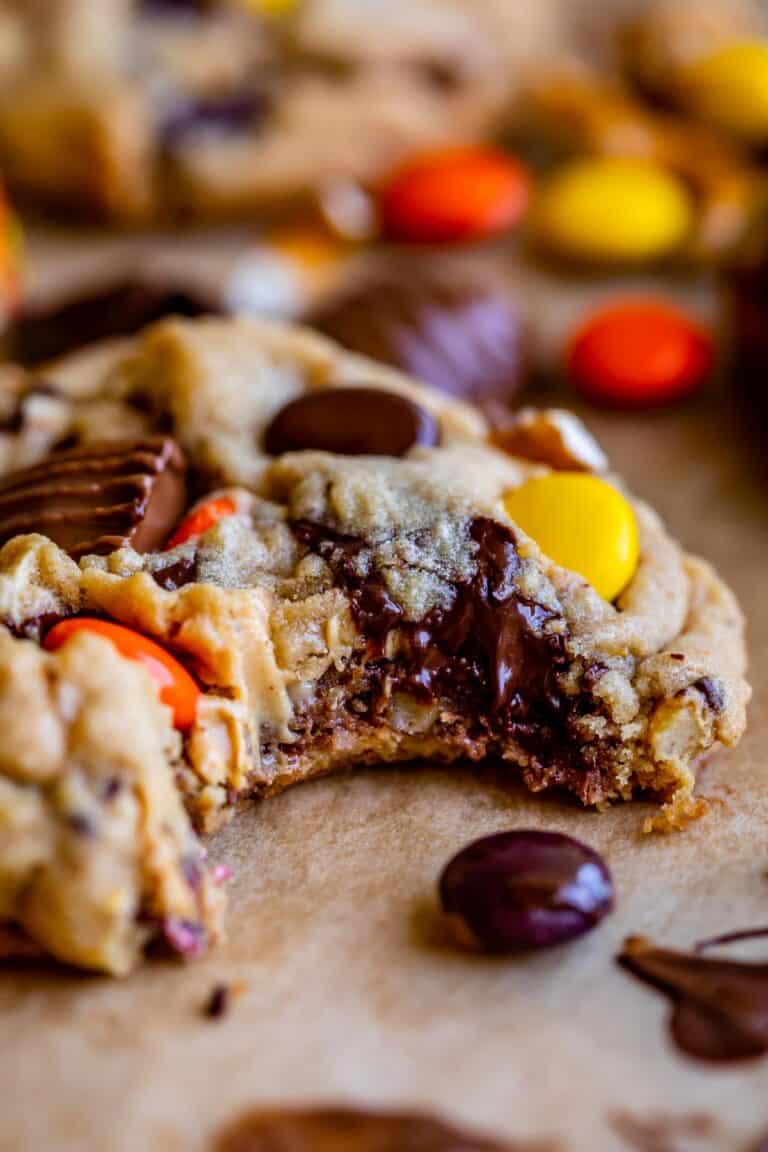 Things Edison did this week: Sprayed himself with copious amounts of Eric's cologne. Took a bite out of Eric's deodorant. Ate a cigarette butt at the park. Ran out into the street (I was there this time). Played in the toilet. Rammed his head into our stone hearth, resulting in a massive goose egg on his forehead. Ate a Lego. Puked up said Lego. Dragged a chair over to the water dispenser on the fridge and pushed all the buttons (thank goodness it locks). Dragged a chair over to where the candy is kept and tried to climb in. Dragged a chair over to the stove and tried to turn on the gas burners. Took an actual bite out of my phone case. Climbed onto the counter and started the toaster. Half-chomped a dishwasher soap pod. Ate my chapstick.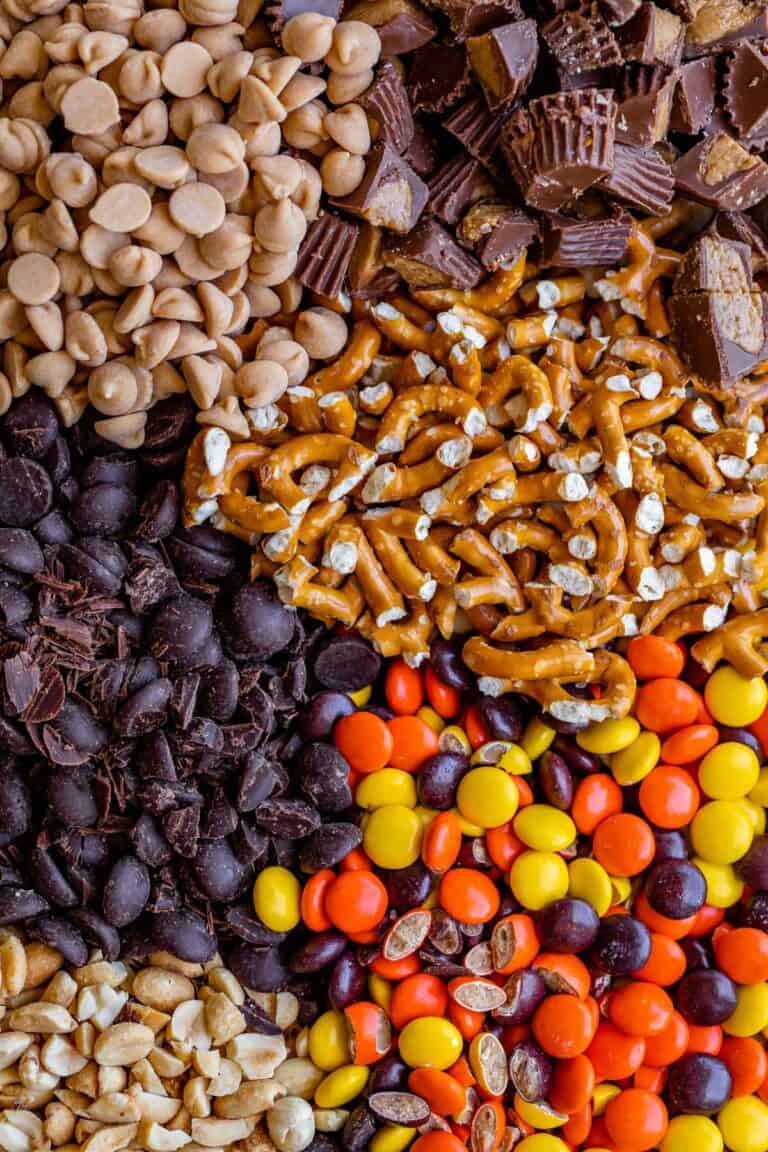 It is a freaking miracle we have not had to call poison control yet, I always seem to catch him in the nick of time. There is nothing quite so stressful as always knowing that if your kid is awake, you are two minutes away from baby kamikaze. This list makes me sound like a terrible parent, I know. You other moms get me, right?? Solidarity!
Peanut Butter Reese's Cookies ftw
I know that it is pretty ridiculous that I'm bringing you YET ANOTHER peanut butter cookie recipe. I've been a little obsessed lately. First I was on a mission to perfect the Softest Peanut Butter Cookie of Your Life (they really are my favorite stand alone recipe, with the ultimate peanut butter flavor.) Then there are Nathan's Peanut Butter Butterscotch Chocolate Chip Cookies (salty and sweet!), these classic No Bake Peanut Butter Oatmeal Cookies, and just recently I posted these Peanut Butter and Jelly Cookies that are like the cookie version of the sandwich. (I also perfected my Peanut Butter Blossoms recipe recently!)
I even did a peanut butter themed cake. Eric's birthday was a few weeks ago, and he requested a chocolate peanut butter cake. I made my favorite Chocolate Cake, smashed chocolate buttercream and chopped up Reese's in the middle, with Peanut Butter Frosting on the outside, and a ganache layer on top. Plus more Reese's cups and crushed Butterfinger.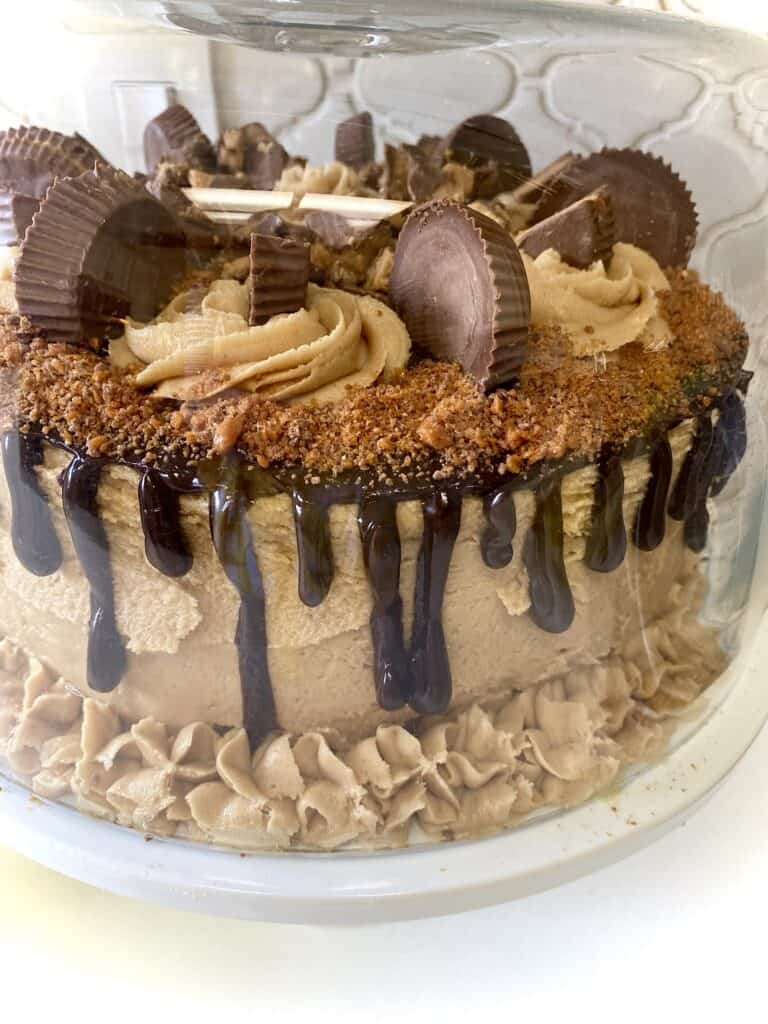 It was decadently rich and way more effort than I usually put into cakes. Are you into making fancy cakes? It's not my forte but it's always fun once in a while. I'm more interested in having flavorful, moist cakes than having them be super fancy looking. Plus those ganache drips are WAY HARDER than all the food bloggers make them look!!! I kind of feel like my cake looks like one of those Pinterest fail "nailed it" cakes, haha! We ate nothing but peanut butter and chocolate for days. So worth it. If I can get the drip right, would anyone like the cake recipe?
Pretzel Reeses Cookies ingredients
Here's a quick shopping list to help you gather your ingredients. See the recipe card below for the full ingredients and instructions!
Butter
Sugar
Brown sugar
Peanut butter
Eggs
Vanilla
Flour
Baking powder
Baking soda
Mini Reese's Peanut Butter Cups
Reese's Pieces candy
Pretzels
Peanut butter chips
Dark chocolate chips
Roasted peanuts (optional)
How to make Reeses Peanut Butter Cookies with Pretzels
I may not be great at making fancy cakes but I'm actually a pretty amazing cookie baker. Enter these pretzel Reese's peanut butter cookies! My friend Jen told me about these cookies she tried that had chopped up Reese's and PRETZELS in them, and I knew I had to make it happen.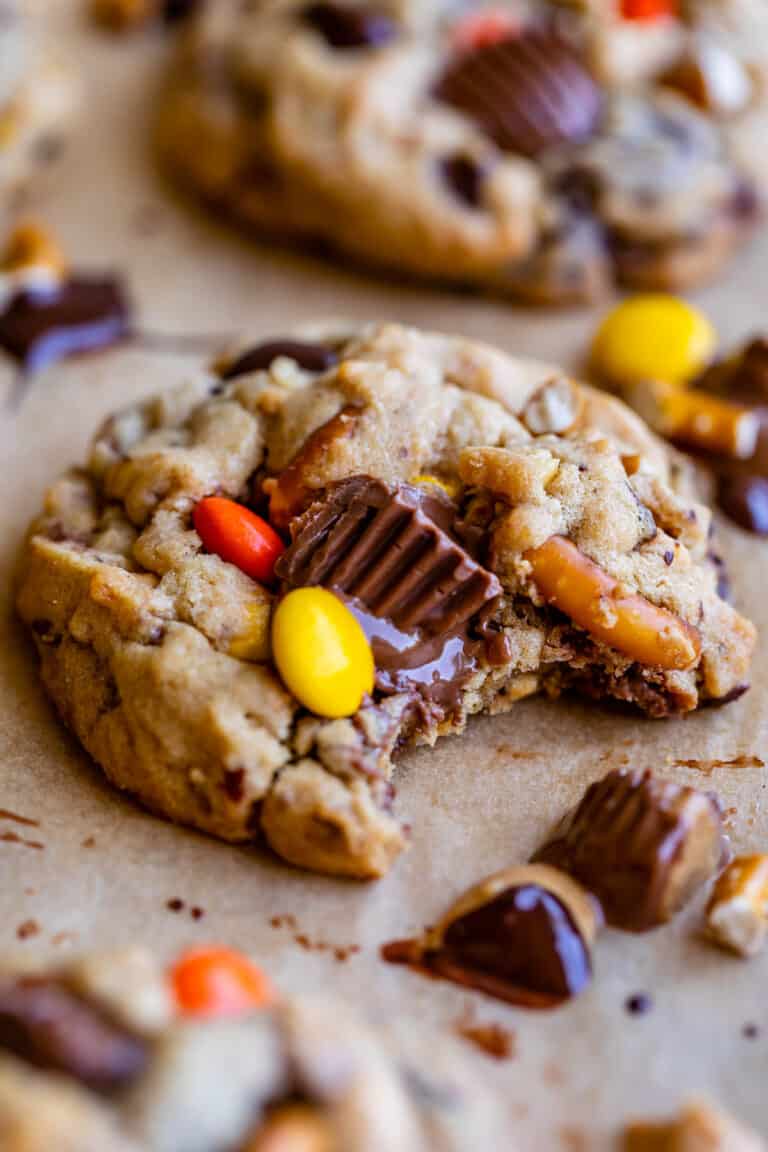 First we are going to start out with a decadent peanut butter dough. BRING ON THE PEANUT BUTTER FLAVOR.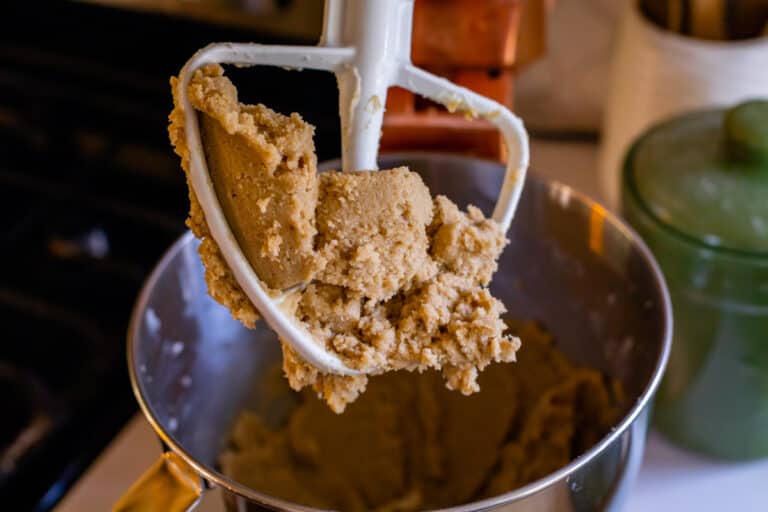 I like to mix my butter and sugars together really well and make sure there are no lumps before adding in the peanut butter. If your butter is cold (I always start cookies with cold butter and beat it into submission with my stand mixer) and you don't beat it well enough, and then add the peanut butter, you will have little butter chunks in your dough that are super hard to get out. No thanks. Easy solution, just mix together the butter and sugar really well first (this is called "creaming" although sometimes I don't use that word because then inexperienced bakers get really confused about when they were supposed to add the cream, which I think is kind of hilarious.)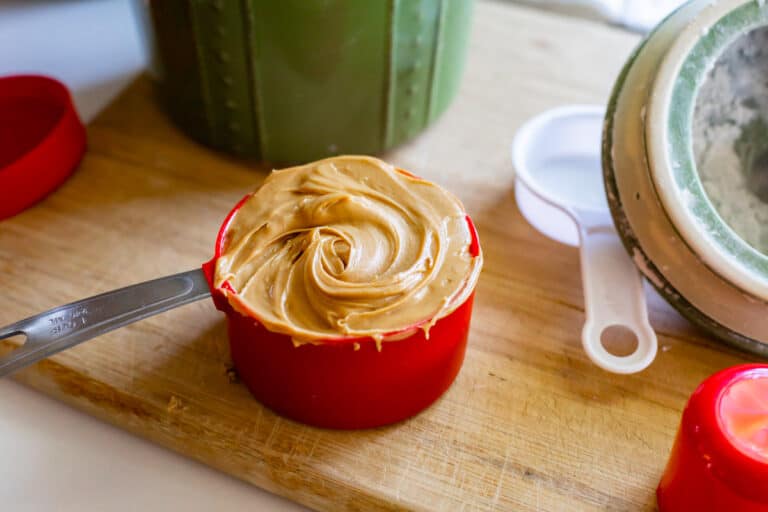 2 – Anyway. Add in your peanut butter. A whole cuppa this stuff. I love to use Jif. Do you use a particular brand of peanut butter? I used to not care until I did a taste test for my Softest Peanut Butter Cookie. High quality brands really do have better flavor and texture.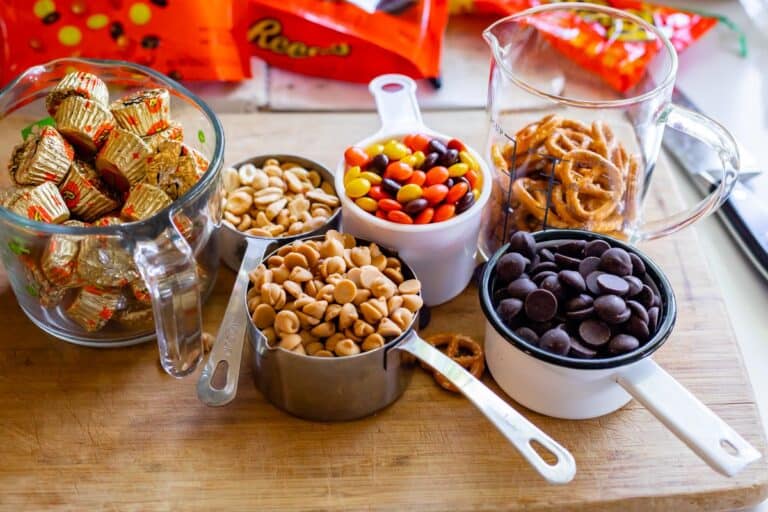 3 – Here are all your mix-ins. You are going to have a lot of orange wrappers! I added even more pretzels than in this photo (it's correct in the recipe). The first few batches I made, people told me that it needed more pretzels. Bring it on!!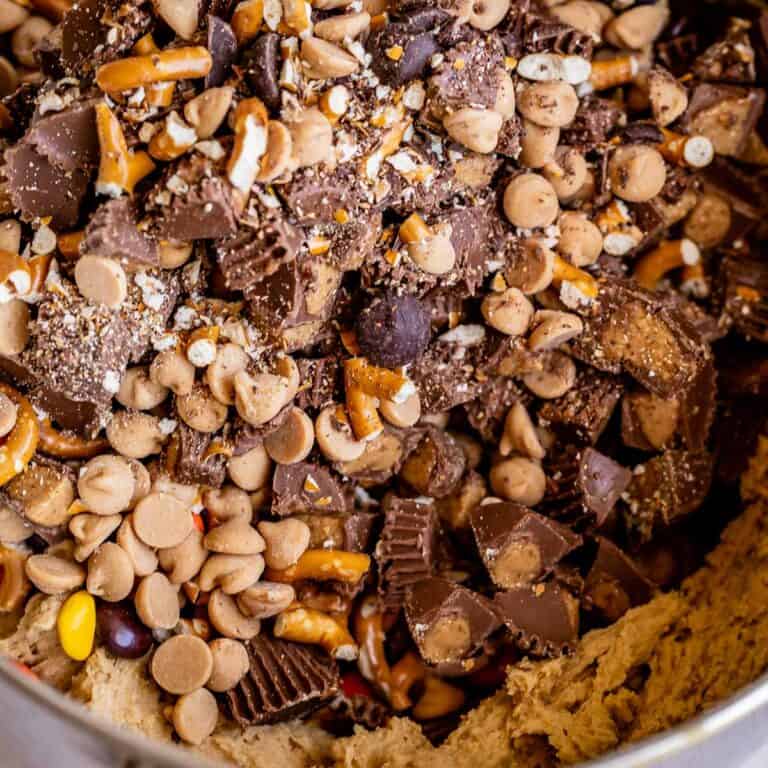 Look at all this goodness. It's hard to even find the dough in there. I like to chop up some of my ingredients before adding them, that's why you can see a bunch of crumbs. Obviously the Reese's cups need to be chopped. I use big ol Ghirardelli bittersweet baking chips and prefer when at least half the amount that I'm using in my cookies are chopped smaller. Then I like to chop half of the Reese's Pieces. I do this anytime I'm adding M&M's to a cookie recipe too. It's nice to be able to distribute that flavor and crunch a little more!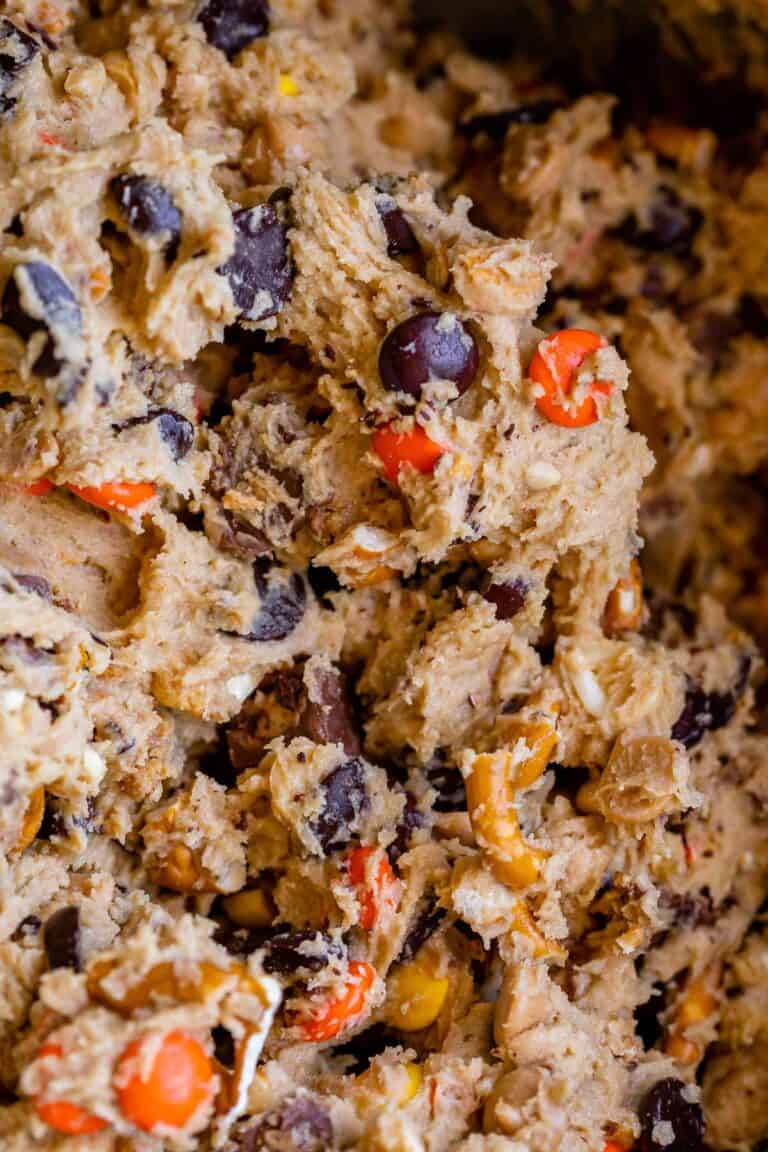 4 – Then make sure you fold it in with a spatula instead of beating it in. We don't want to crush the Reese's cups!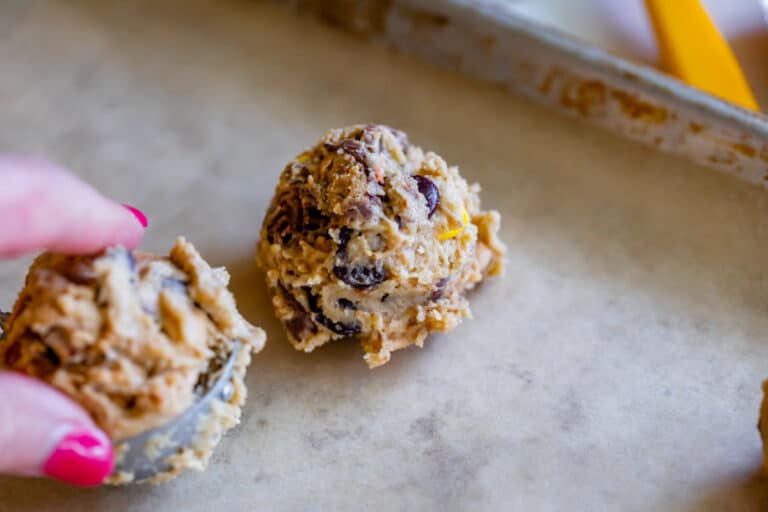 Baking Reese's Pieces Cookies
5 – Here's how big to shape the dough. I like big, 1/4 cup size cookies. You can make them smaller if you like! Start with an 8 minutes bake time if you do that.
6 – Then, after you take them out of the oven, use a spoon to smoosh the edges in toward the center a little bit. See more details about this technique on my Chewy Chocolate Chip Cookies post. It makes the cookies more fudgy and less crunchy on the edges. It's by far my favorite cookie technique!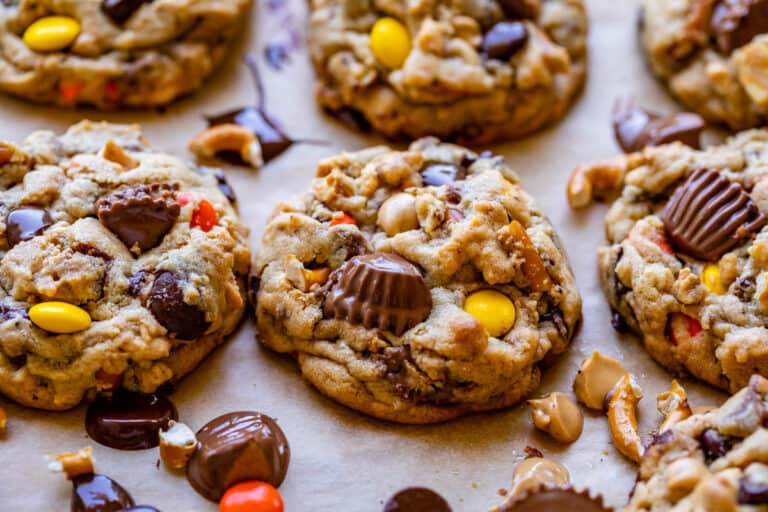 Then, it's a rule, you have to eat at least one of these cookies warm with some milk. It's just the best, right? My mom always puts cookies in the fridge after baking and eats them cold. She's a monster. Sorry mom, it's true. I don't even know what planet you are from.
How to store Reese's Cookies
These cookies can be stored in an airtight container on the counter for several days (not like they last that long at my house). You can also freeze the baked cookies for 3 months.
If you want to freeze balls of dough, set them out on a baking sheet just a little bit apart and freeze for 30 minutes before tossing in a ziplock bag. Voila, you now have the power to bake up these cookies anytime you want! You can just bake them straight from frozen. YES.
Can you freeze cookie dough with pretzels in it?
Yes you totally can! I actually assumed that you would not be able to do this. Won't the pretzels get soggy? But these cookies taste great even after chilling or freezing. The pretzels are not going to be next-level-crisp as when they were fresh, but they are not soggy either. They still have a nice snap in the center. Totally worth being able to freeze and chill ahead of time!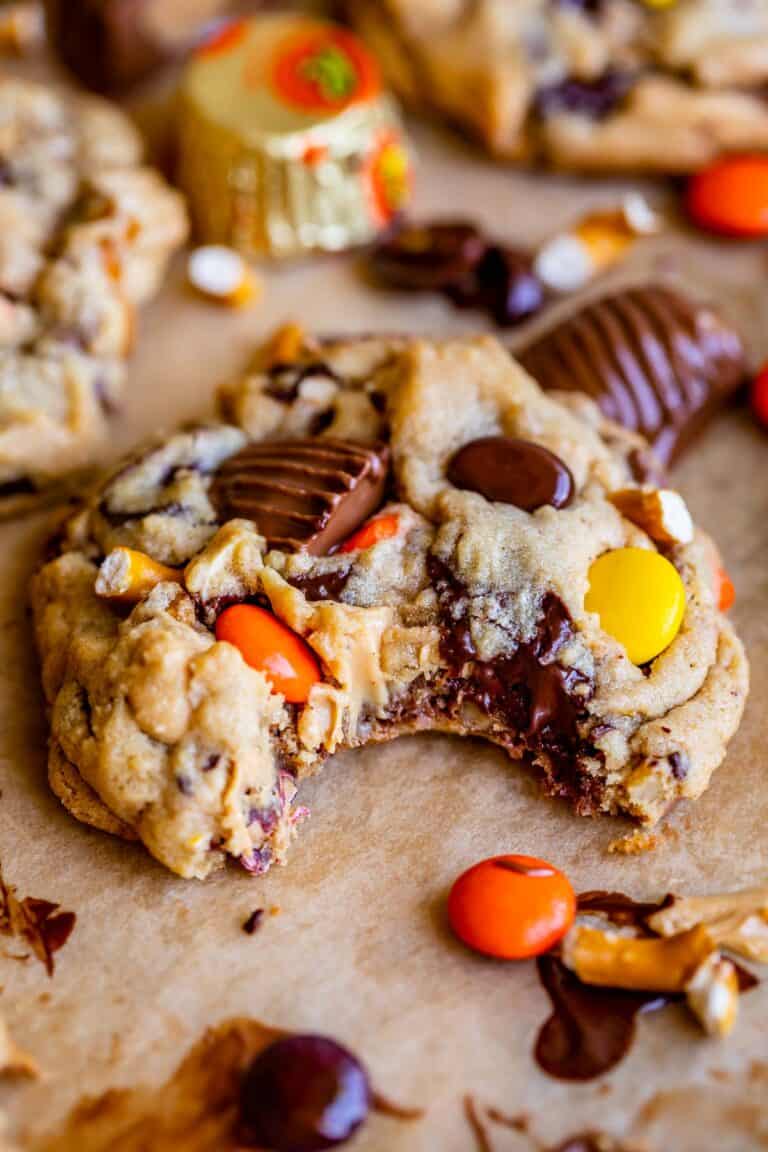 Can you freeze Reese's Peanut Butter Cookies?
Yes! I have some in my freezer right now! I like to shape the dough into balls and store them in a ziplock bag. They will keep in the freezer for up to 3 months! I never thaw cookie dough before baking it. Just bake it straight from frozen and add a couple minutes to the bake time. Voila!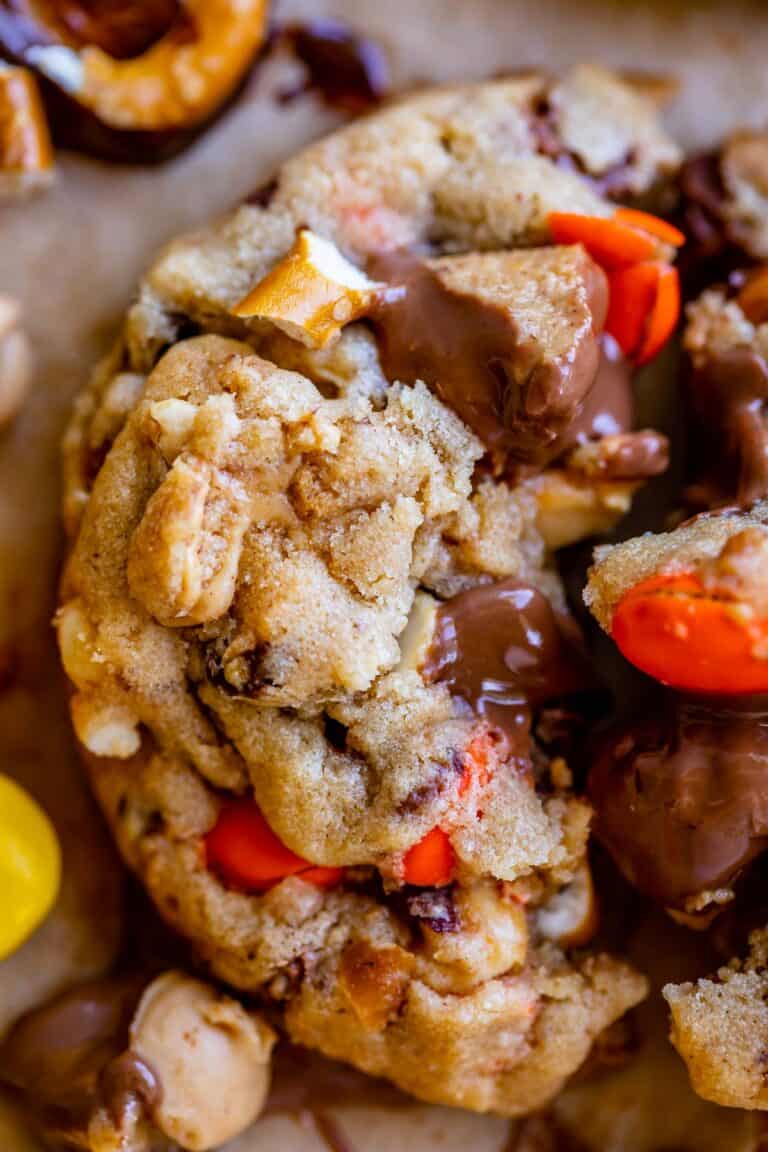 Reese's Peanut Butter Cookies FAQs
Why do my peanut butter cookies taste dry?
Peanut butter cookies will taste dry if you add too much flour (it's a common problem!) I recommend using the "fluff and scoop" method. Take a spoon and fluff up the flour before spooning it into your measuring cup. Then level it off, gently. If you follow these instructions for all the cookies and baked goods you make, I promise you'll be impressed by your results.
How do you keep peanut butter cookies from flattening?
To keep your cookies from flattening, make sure that your butter is room temperature, not melted. You'll also want to use cool cookie sheets with silicone baking mats or parchment paper instead of greasing or buttering them. If your cookies do come out of the oven a little flat, just use my two spoons trick: in the first 30 seconds the cookies are out, use two spoons to shape them toward the center. Gorgeous cookies, every time!
Should you refrigerate peanut butter cookie dough before baking?
Nope! This cookie dough needs zero chilling. Perfect for when you realize you need a cookie, like, NOW, and don't want to wait hours for it to hang out in the fridge.
More outrageous cookies to love!
Facebook | Pinterest | Instagram

Outrageous Pretzel Reese's Peanut Butter Cookies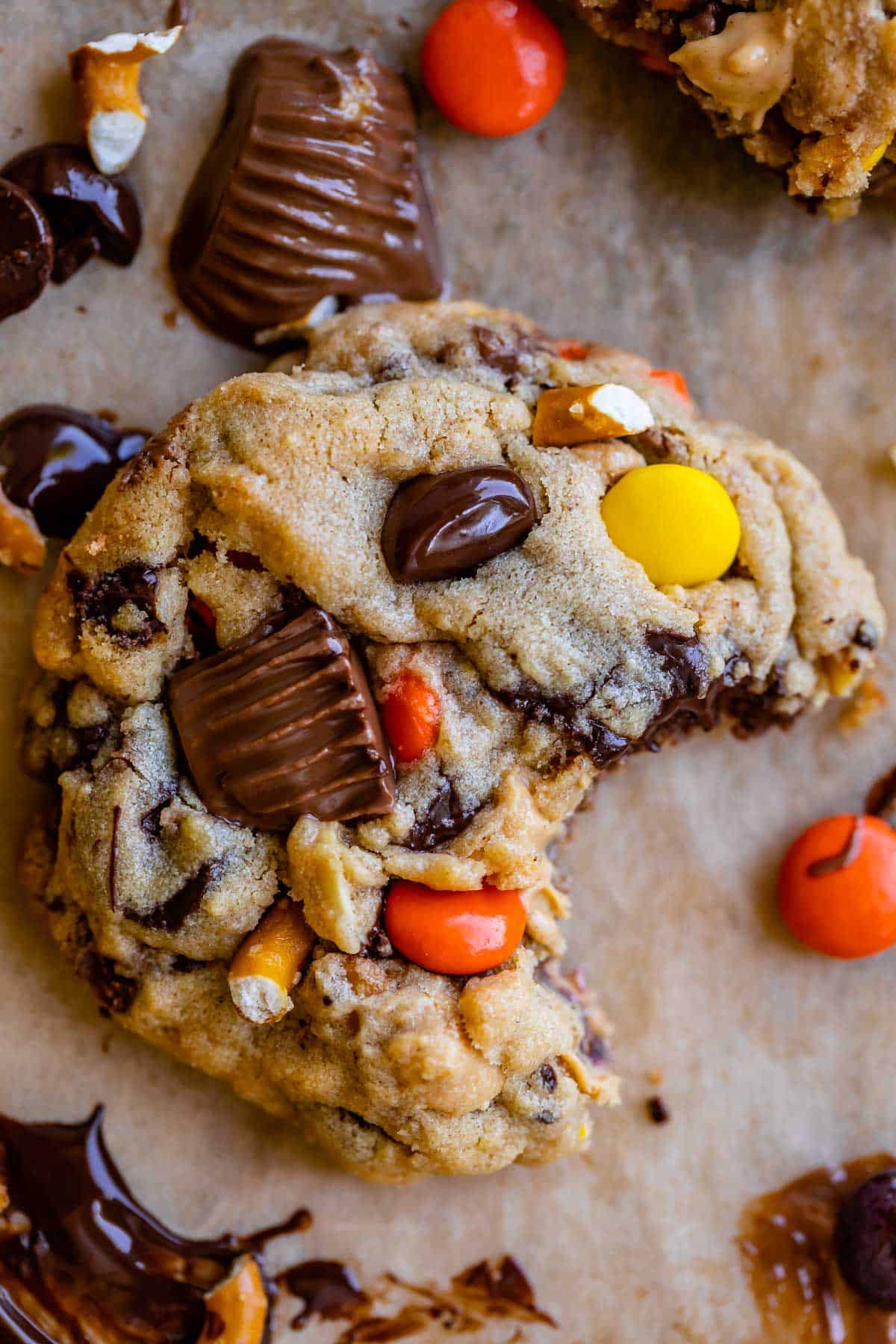 These Outrageous Pretzel Reese's Peanut Butter Cookies are soft, chewy, and irresistible! A decadent peanut butter cookie dough packed with chopped pretzels, Reese's cups, Reese's Pieces, peanut butter chips, dark chocolate chips, and optional peanuts make these the peanut butter cookies of your dreams!
Ingredients
For the peanut butter dough
1

cup

butter

,

2 sticks, I used salted

3/4

cup

granulated sugar

1

cup

brown sugar

,

packed

1

cup

peanut butter

,

I like Jif

2

large eggs

1 &1/2

teaspoons

vanilla

2

cups

all-purpose flour

,

spooned and leveled

1

teaspoon

kosher salt

1

teaspoon

baking powder

1

teaspoon

baking soda
Instructions
Preheat the oven to 350 degrees and prepare a few baking sheets with parchment paper, or line with a silicone mat.

Add 3/4 cup white sugar and 1 cup brown sugar. Beat for another 2 minutes, taking the time to scrape the bottom and sides of the bowl in between. Your butter and sugar should be light and fluffy with no chunks of butter.

Add 1 cup creamy peanut butter and mix well.

Add 2 eggs and 1 and 1/2 teaspoons vanilla. Beat well, scraping sides and bottom.

Add 2 cups flour but don't mix it in yet (make sure you spoon and level your flour). Use a small spoon to stir in 1 teaspoon kosher salt, 1 teaspoon baking powder, and 1 teaspoon baking soda into the flour, then beat in gently. There should still be flour streaks when you stop.

Prepare the mix-ins. Quarter the mini Reese's cups with a knife. (I used the mini size Reese's that are about the size of a quarter, but you can use any kind. You need about 2 cups.)

Measure out one cup of Reese's Pieces candy. I like to chop half of it into smaller pieces for the best texture, but that's optional.

Measure out 1 and 3/4 cup pretzels, then chop coarsely.

Measure out 1 cup of dark chocolate chips; if the chips are big I like to chop half of them into smaller pieces (again, optional.)

Set aside a handful of any of the mix-ins that you want to press into the tops of the cookies.

Add 1 cup peanut butter chips, the quartered Reese's cups, all the Reese's Pieces, the pretzels, the dark chocolate, and the peanuts to the dough. Peanuts are totally optional.

Use a rubber spatula to mix all the ingredients into the dough. I like to do this part by hand so that the Reese's cups don't get smooshed.

Use a quarter cup measuring cup, or a very large cookie scoop to shape the dough.* Place cookie dough balls on a baking sheet with about 2 inches in between them. I like to fit between 8-12 on a half baking sheet.

Bake the cookies at 350 for about 9-11 minutes, until the edges are a very light golden and the edges have set. It's ok if the centers of the cookies (no more than the size of a quarter) are still shiny. The rest of the cookie should be matte.

Immediately after taking the cookies out of the oven, use a spoon to push the edges of the cookies toward their centers. This makes the cookies round in shape and makes the center thicker and more chewy. You have to do this within 30-60 seconds of taking them out of the oven. See my Chewy Chocolate Chip Cookies recipe for more details about this technique!

While the cookies are still warm, press any reserved mix-ins into the top of each cookie.

Remove the cookies to a wire cooling rack and let cool. But you better eat at least one warm. With milk. Live your best life.
Notes
*You can make the cookies smaller than this! Just lower the baking time, start at like 7-8 mins and check from there.
Freezer instructions: You can freeze these cookies and bake them later! The pretzels will do just fine. I like to shape the dough into balls and store them in a ziplock bag. Make the dough balls a little flatter than the normal sphere shape to help them spread in the oven. They will keep in the freezer for up to 3 months. I never thaw cookie dough before baking. Just bake straight from frozen and add a couple minutes to the bake time. Voila!
Nutrition
Serving:
1
cookie
|
Calories:
224
kcal
|
Carbohydrates:
26
g
|
Protein:
5
g
|
Fat:
12
g
|
Saturated Fat:
7
g
|
Trans Fat:
1
g
|
Cholesterol:
21
mg
|
Sodium:
238
mg
|
Potassium:
111
mg
|
Fiber:
1
g
|
Sugar:
16
g
|
Vitamin A:
154
IU
|
Vitamin C:
1
mg
|
Calcium:
34
mg
|
Iron:
1
mg