Everything's bigger in Texas and these Cowboy cookies (sometimes called Texas Cow Chips) are no exception. They are crispy on the edges but chewy and moist in the middle, and have about a hundred mix-ins that all combine to create the Texas of all cookies. Originally posted August 23, 2017.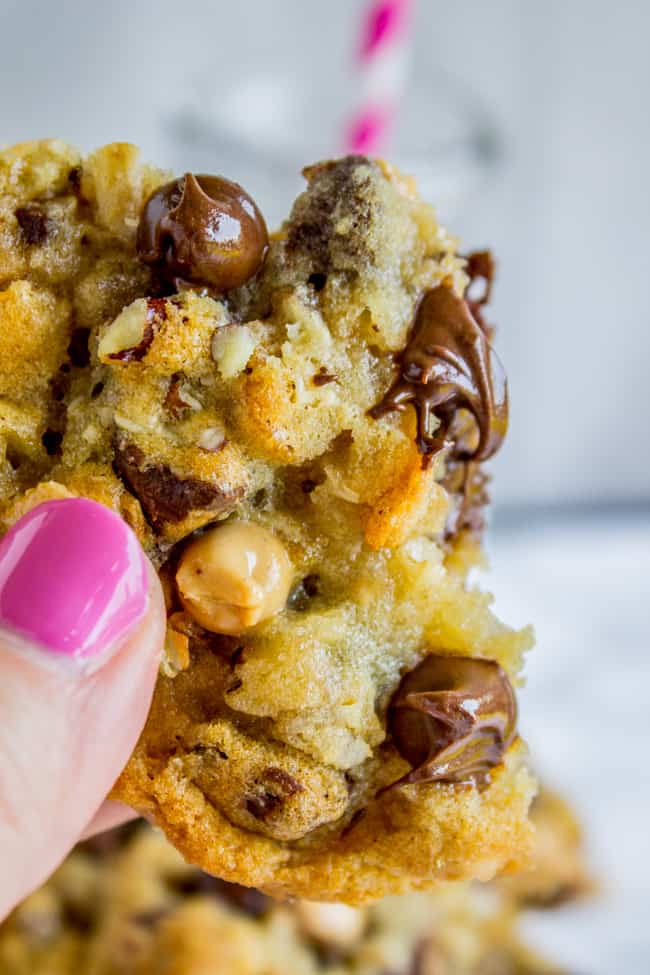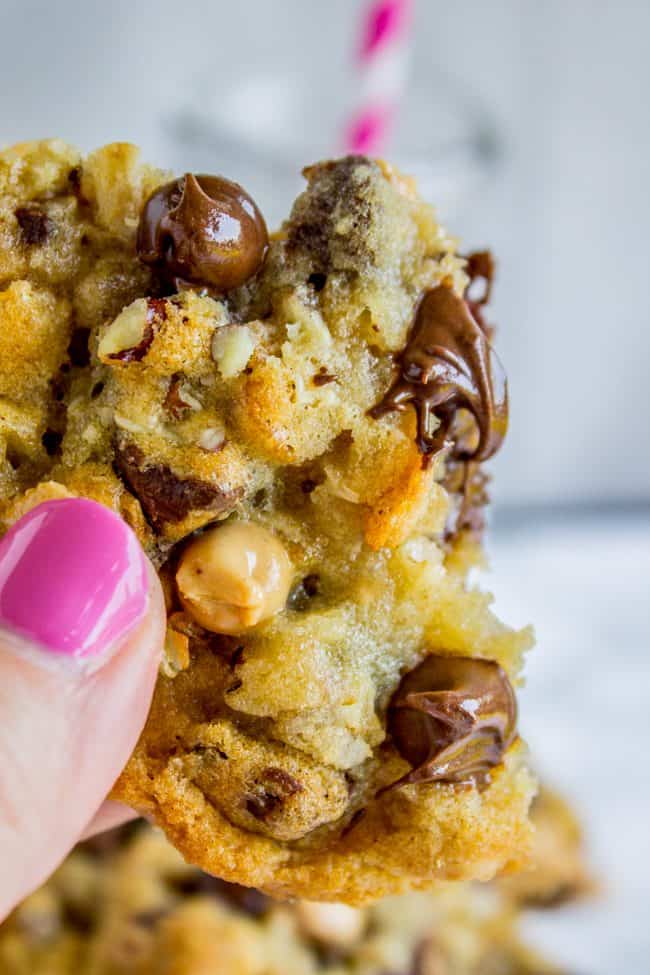 Table of Contents
Do you go all out for Back to School shopping? Charlotte is just going into kindergarten in a couple weeks (cue the tears…cheers?) so I have zero experience in this field.
But this morning I noticed that her extremely worn, hand-me-down pajama pants only reach halfway down her shins, and the long-sleeve arms are about 6 inches short. When she sits her cute little crack shows. I'm pretty sure I have a kindergartener who's wearing 3T pajamas on the regular.
This particular pair of pajamas is from a hand-me-down haul that I picked up 3 years ago. A friend of a friend announced that she was getting rid of a bunch of little girl clothes and did anyone want them. So I show up at this person's house that I do not know and start bagging it up, hunter-gatherer style.
I remember her saying, "I know a lot of this stuff is in good shape, but I figure if we have another girl, all these clothes will be out of style anyway." This is the part where I try to keep my eyes from widening, nod my head "mm-hmm," and just start shoveling free out-of-style clothes in my garbage bag like a good little scavenger.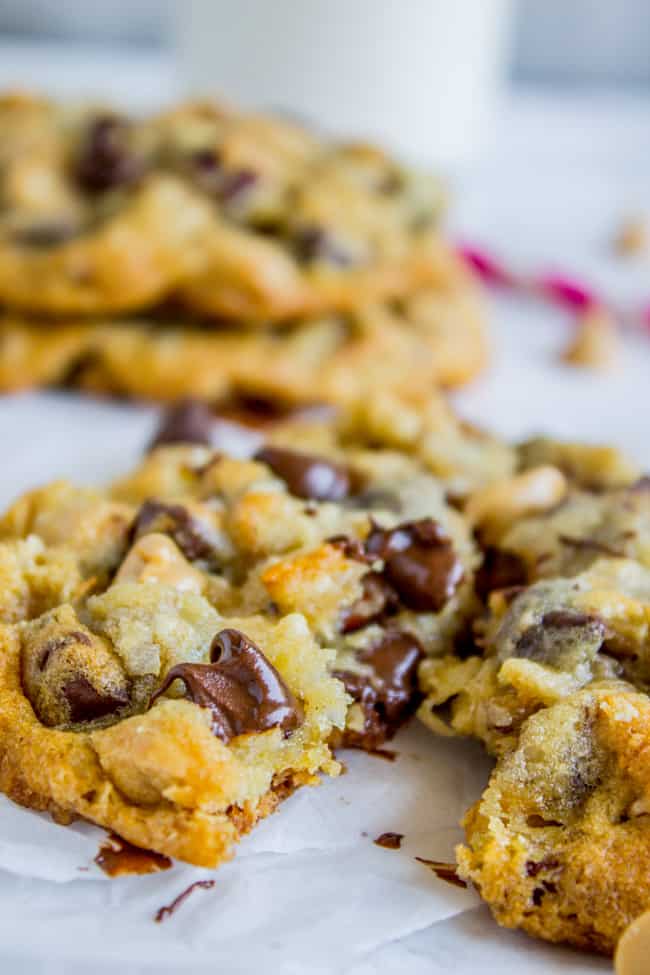 This is lazy parenting 101, by the way. Wait to buy clothes until someone gives you some of theirs. I guess I should, like, start providing for my children or something? (In my defense, this is often my own strategy for obtaining clothes. Remember the hand-me-down incident where my sister-in-law gave me a shirt that wasn't even hers?)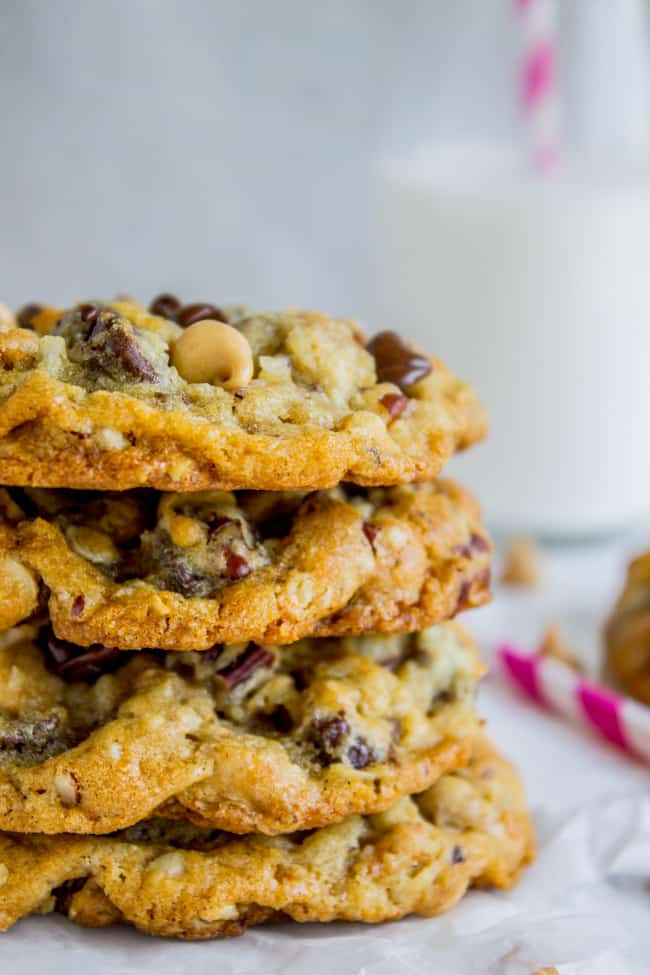 You know what else makes a good hand-me-down? COOKIE RECIPES.
What are Cowboy Cookies?
Cowboy Cookies (also known as cow chip cookies) are one of those amazing cookies where you throw a ton of delicious extras in some dough. This is a popular recipe in Texas that my sister, who lives there, texted to me a while back. A friend of hers had posted it on a mutual friend's Facebook page. I think she had gotten the recipe from her mom. Like I said, hand-me-down recipes means tried and tested.
I changed it up a little to suit my taste (threw out the raisins, because gross), and you can too. I almost called them Everything But The Kitchen Sink Cookies, because there are so many mix-ins. (Pecans, peanut butter chips, coconut, oats, corn flakes…) Somehow it all comes together and makes a fabulous cookie that is just so interesting to eat (in a good way, not a weird way).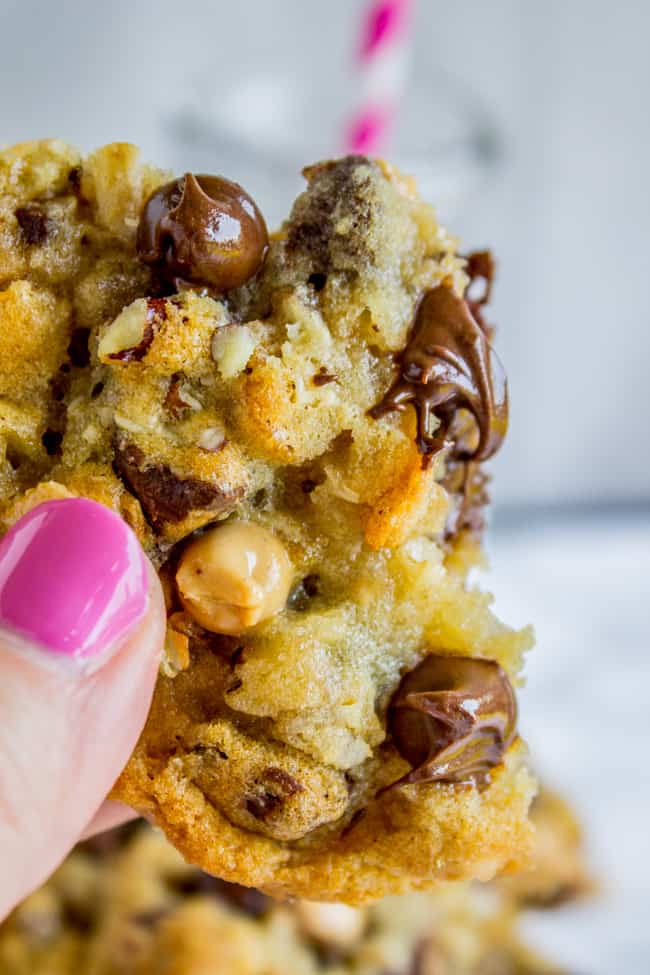 Why you'll love this Cowboy Cookies Recipe
Have you heard the saying "less is more?" I'm kind of a "more is more" girl.
Chocolate chips? Oh yeah. Oats? Sure thing. Pecans? My fave. Coconut flakes, corn flakes, peanut butter chips…yes yes YES. Plus, they're so easy to whip up. Just 10 minutes of hands-on time and a few basic ingredients needed for this crispy-on-the-edges, soft-in-the-middle, perfectly thick cookie.
What is in a Cowboy Cookie?
See the recipe card below for a full ingredients list and instructions!
Butter
White sugar
Brown sugar
Eggs
Vanilla
Flour
Salt
Baking powder
Baking soda
Old-fashioned oats
Corn flakes
Pecans
Coconut flakes
Baking chips (peanut butter chips and semi-sweet chocolate chips)
How to make Texas Cowboy Cookies
I really love these cookies! Because of all the mix-ins they tend to spread out a bit more. But don't worry. They are crispy on the edges and perfectly soft and chewy in the middle. I love how BIG they are. I mean you have to make them big, they are Texas cookies. Everything's bigger in Texas, right?
(**Where are all my Texas readers? Do y'all have this recipe? Did your mom/grandma make it?**)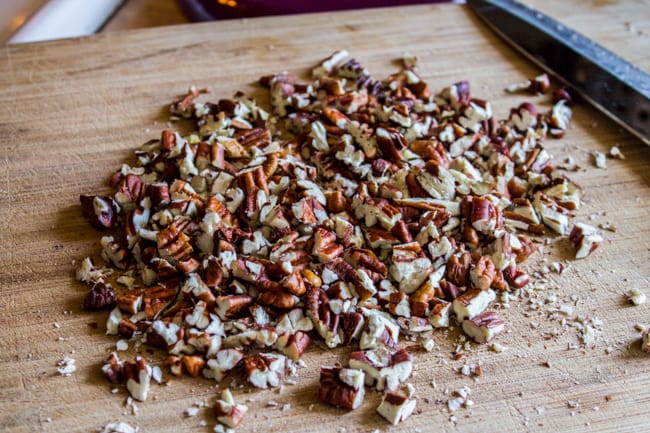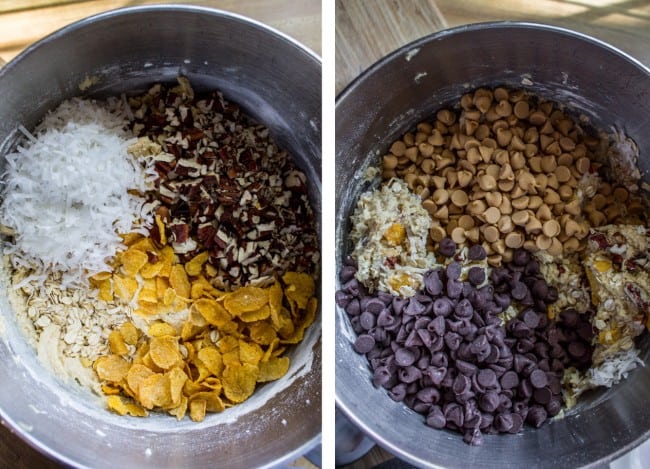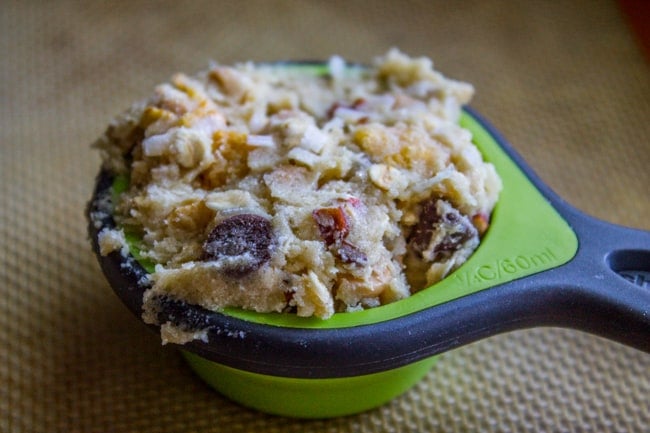 And this goes without saying (because I think this is true for every cookie recipe ever), but THE DOUGH. Oh man. I have leftover shaped cookie dough balls in the freezer and sometimes I pull one out and just eat it, or microwave it for a few seconds so it gets all gooey. DO IT!
If you make this recipe, share it on Instagram using the hashtag #TheFoodCharlatan so I can see it! I love that.
Texas Cookies Variations
Use other baking chips. You definitely can't go wrong with other baking chips! Try white chocolate, butterscotch, cinnamon, you name it.
Swap the nuts. Feel free to use chopped walnuts or almonds in place of the pecans. You could also leave the nuts out entirely for a nut-free option.
Add other mix-ins. Get creative! Anything sweet or even salty is fair game. Try crushed up pretzels or potato chips, chopped candy bars, etc. Just keep the amounts the same (for example, sub in 1 cup crushed pretzels for the 1 cup corn flakes). Too many mix-ins will cause the cookies to fall apart.
How to store Cow Chip Cookies
Finished cowboy cookies will last in an airtight container at room temperature for up to 1 week, in the fridge for up to 2 weeks, or in the freezer for up to 3 months.
When you're ready to serve them again, bring to room temperature or warm in the microwave if desired.
Also consider my favorite method of "storing" the "cookies": keep balls of this cookie dough in a ziplock in the freezer and eat it straight (or microwaved for a few seconds for maximum gooeyness).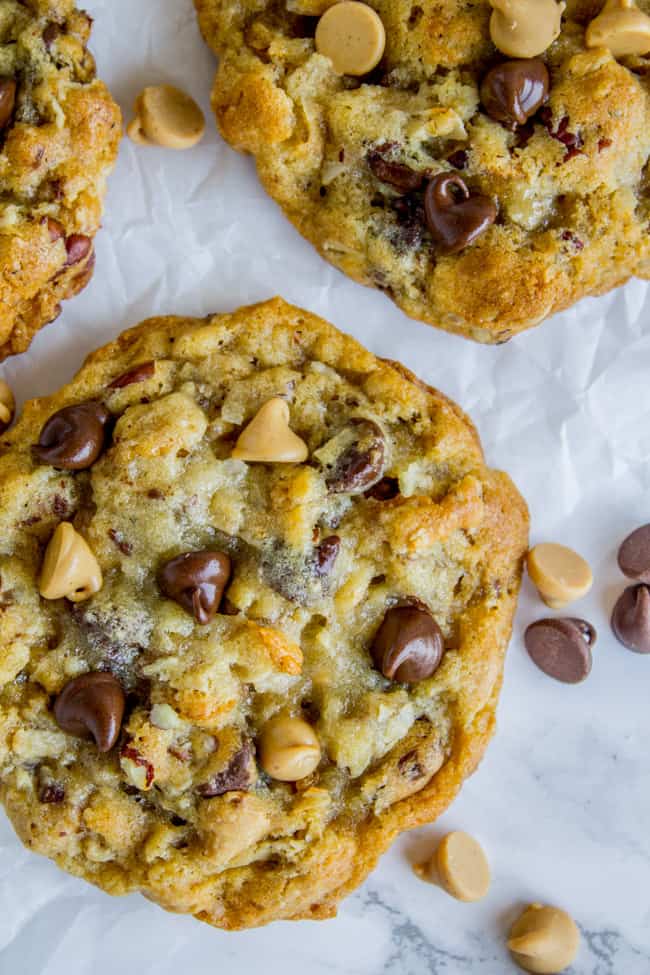 Cowboy Cookie Recipe FAQ
Why are my cowboy cookies flat?
There could be a few reasons that your cookies came out flat. Here's how to avoid a cookie-puddle disaster.
1. Chill the dough. Cold dough means cold butter, and cold butter won't leave your cookies spread out into sad puddles.
2. Measure the flour carefully. If you don't have enough flour, the dough will not have enough structure to keep the cookie from flattening out. You can weigh the flour if you like, or simply fluff the flour, spoon it into the measuring cup, and draw a knife across to the top of the measuring cup to level it out.
3. Use cool cookie sheets. After your cookie sheet comes out of the oven, it's a good idea to let it cool before you use it again. You can rinse it off with cold water and dry it if you're in a hurry, or use another cookie sheet while the first one is cooling.
How do I make my cookies thicker?
Let's go back to the thick cookie checklist:
– Measure the flour carefully
– Chill the dough
– Put the cookie dough on cool sheets
If you've done all this and your cookies still come out a bit flat, don't worry! You can thicken them up again. Just grab two spoons and gently push the edges back towards the center right after they come out of the oven, while the cookies are still hot. You can also use a drinking glass wider than the cookie to gently push the edges back toward the center.
What does brown sugar do to cookies?
Brown sugar is a chewy cookie's best friend. Not only does it sweeten the cookies, but it also contains more moisture than regular granulated sugar. This creates a super moist, dense, chewy texture.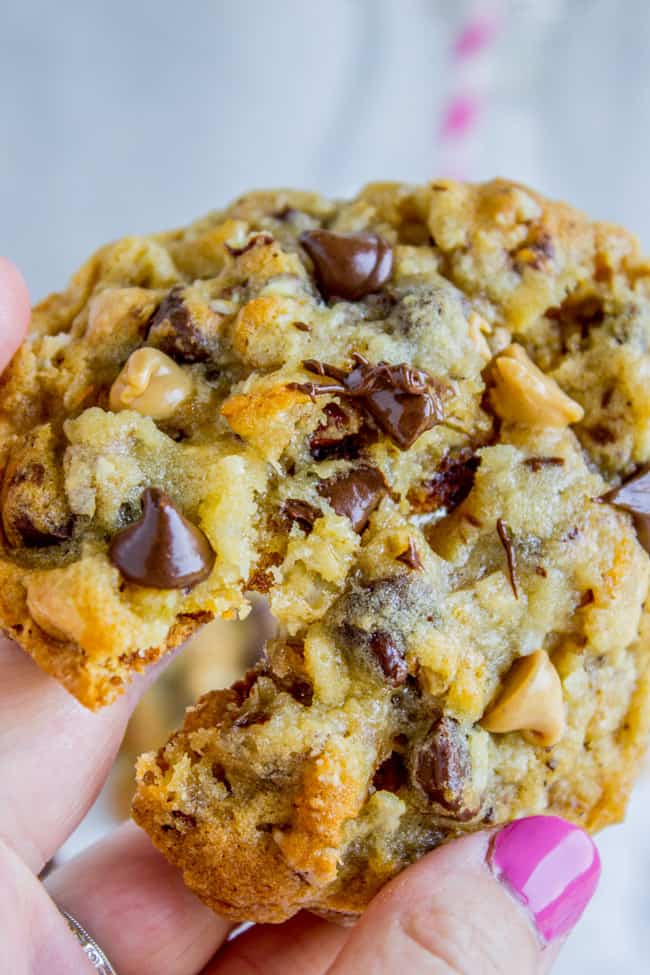 Facebook | Pinterest | Instagram

Texas Cowboy Cookies Recipe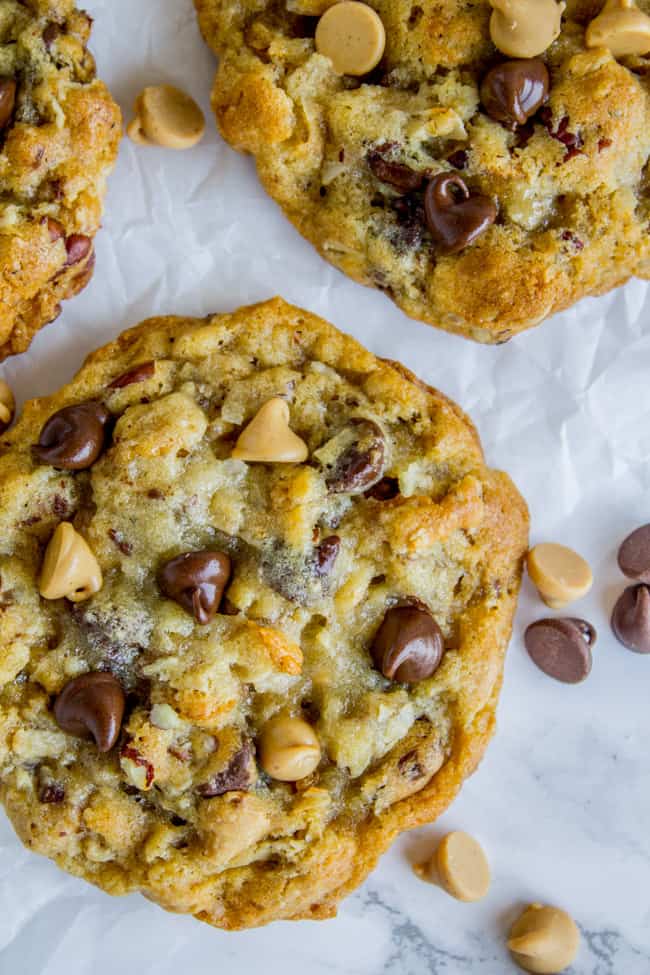 Everything's bigger in Texas and these Cowboy cookies (sometimes called Texas Cow Chips) are no exception. They are crispy on the edges but chewy and moist in the middle, and have about a hundred mix-ins that all combine to create the Texas of all cookies.
Ingredients
1

cup

butter

,

softened (2 sticks)

1

cup

white sugar

1

cup

brown sugar

2

large

eggs

1

teaspoon

vanilla

2

cups

flour

,

spooned and leveled

1/2

teaspoon

salt

1

teaspoon

baking powder

1

teaspoon

baking soda

1

cup

old fashioned oats

1

cup

corn flakes

1

cup

pecans

,

roughly chopped (and toasted!)

1/2

cup

coconut flakes

1 (6-oz)

cup

peanut butter chips

,

(I used Reese's)

1 (6-oz)

cup

semi-sweet chocolate chips
Instructions
If you want to toast your pecans (you do! you do!) chop them up and throw them in a dry skillet over medium heat. Toast for 3-5 minutes, until fragrant. Don't let them burn! Remove from heat and let cool while you make the dough.

In a large bowl or stand mixer, beat the butter until it is light and fluffy.

Add both sugars and beat well, scraping sides and bottom.

Add eggs and vanilla, beat well.

Add the flour but don't mix it in. Add the salt, baking powder, and baking soda to the flour and use a small spoon to blend it with the flour a bit. Then mix in the flour, but stop before it's fully incorporated.

Add the oats, corn flakes, pecans, and coconut to the bowl. Mix in gently.

Add the peanut butter chips and chocolate chips and mix until everything is incorporated. Don't over mix, it will make your dough tough.

Chill the dough in the fridge for at least an hour, or up to 24 hours.*

Preheat oven to 350 degrees F. Line a couple baking sheets with a silpat or parchment paper.

Use a 1/4 cup measuring cup (THINK TEXAS, YA'LL)* to scoop these onto the pan. Leave at least a couple inches in between each ball of dough.

Bake at 350 for 12-14 minutes, until the cookies are golden on the edges and they are not too shiny in the middle. (A little shine is okay.)

Let cool as long as you can before stuffing your face! These are great dipped in milk.
Notes
*If you are in a big hurry like I always am (Who's not in a hurry to eat cookies?) do my cheat-chill: Shape the dough onto pans as described above and toss in the freezer for 30 minutes. Then bake as directed. Or you could put the shaped dough into ziplock bags, freeze, and have cookies ready to be baked at a moments notice! (I always have cookies in my freezer. Always.)
*My sister pointed out that ya'll is spelled wrong. But since I'm nothing but a Texas poser, I'm leavin it.
Nutrition
Serving:
1
cookie
|
Calories:
421
kcal
|
Carbohydrates:
50
g
|
Protein:
6
g
|
Fat:
23
g
|
Saturated Fat:
13
g
|
Polyunsaturated Fat:
2
g
|
Monounsaturated Fat:
6
g
|
Trans Fat:
1
g
|
Cholesterol:
50
mg
|
Sodium:
283
mg
|
Potassium:
150
mg
|
Fiber:
3
g
|
Sugar:
31
g
|
Vitamin A:
381
IU
|
Vitamin C:
1
mg
|
Calcium:
44
mg
|
Iron:
3
mg