Probably the only thing better than a big fat PB&J on white bread are these Peanut Butter and Jelly Cookies! A soft, tender cookie recipe with TONS of peanut butter flavor is baked with a dollop of jam on top.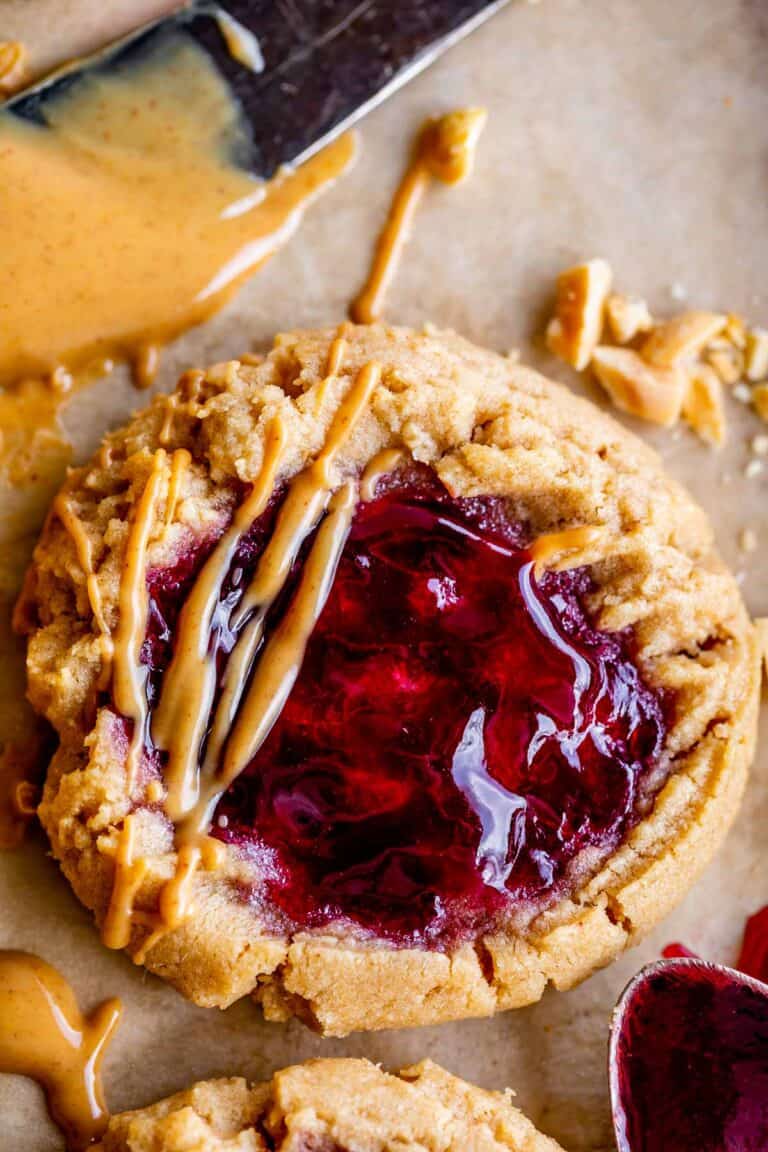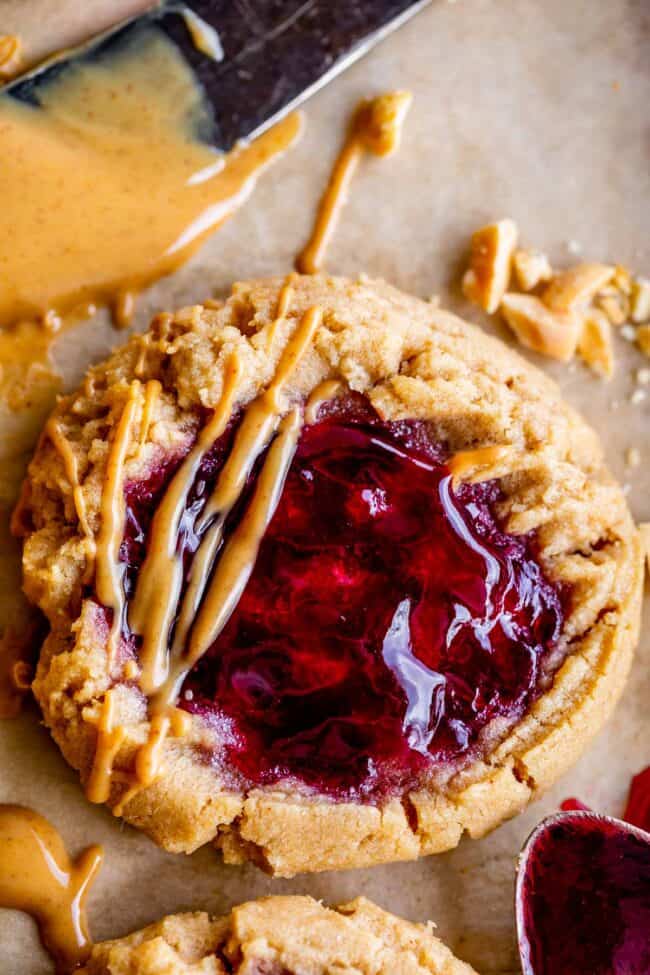 I was photographing these Peanut Butter and Jelly Cookies on my front porch (which I always do, for the best light) when a FedEx guy literally jogged up to deliver a package. I asked him if he wanted to try a cookie and he said over his shoulder as he ran off, "No thanks, I don't eat sweets."
"I don't eat sweets." Simple as that. I don't eat sweets. A declaration. The end. Forever and ever amen.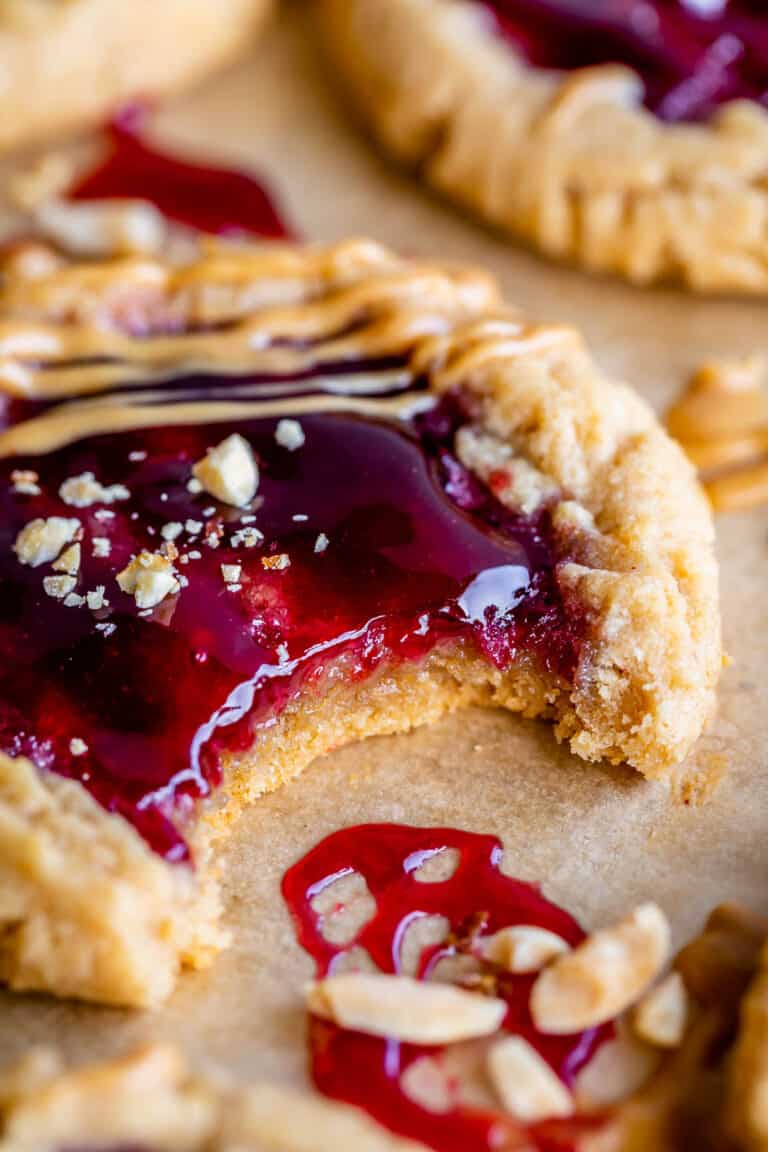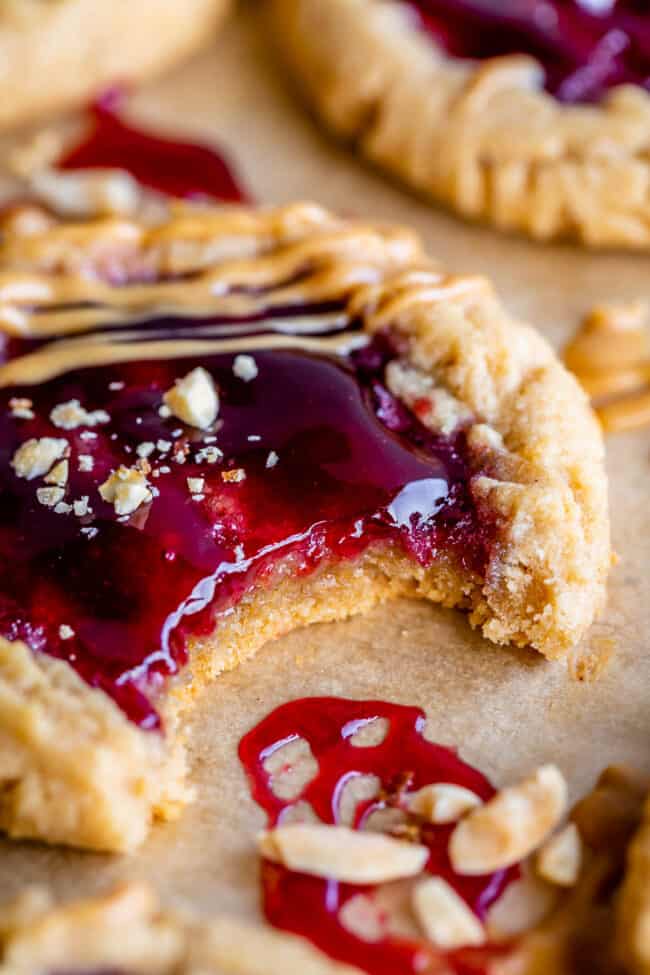 I honestly just don't understand how these people get by. I am outraged on his behalf and I don't even have to live by his rules. I feel like maybe I should have offered him something else besides the cookie, just to make sure. Maybe some cake? It would be like that scene on My Big Fat Greek Wedding, when the aunt finds out the new boyfriend is vegetarian: "WHAT DO YOU MEAN HE DON'T EAT NO MEAT? It's okay. I make lamb."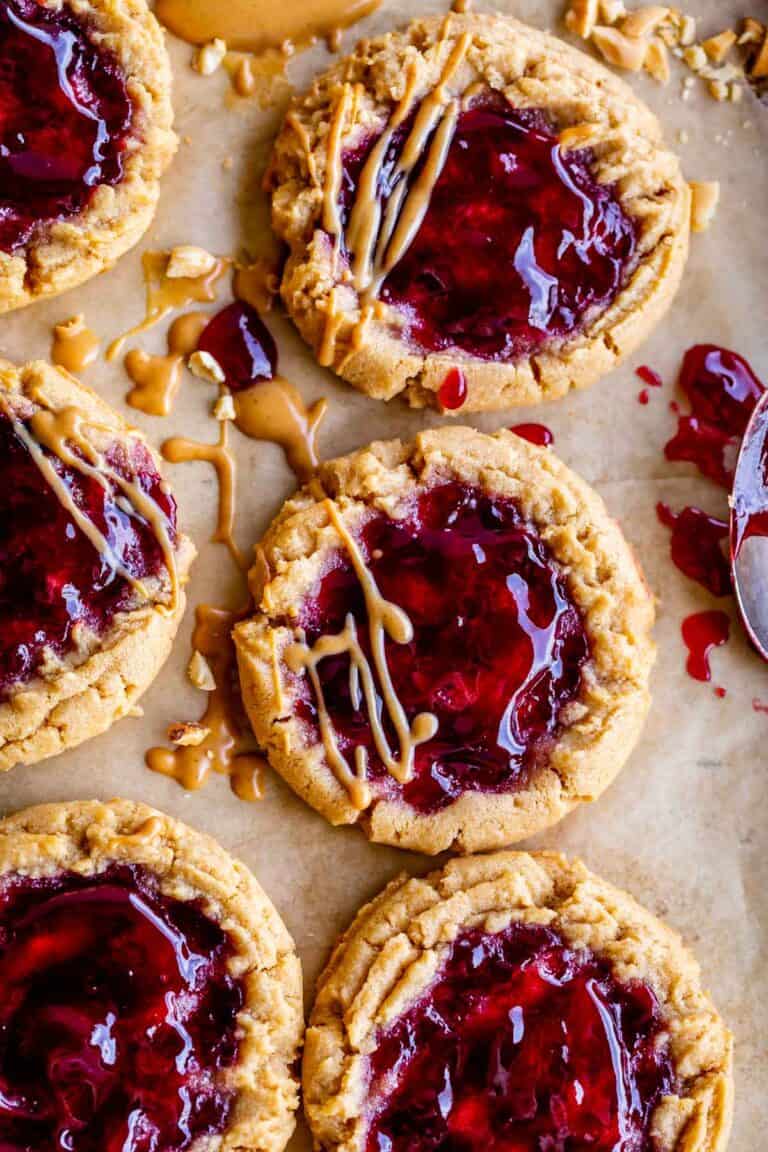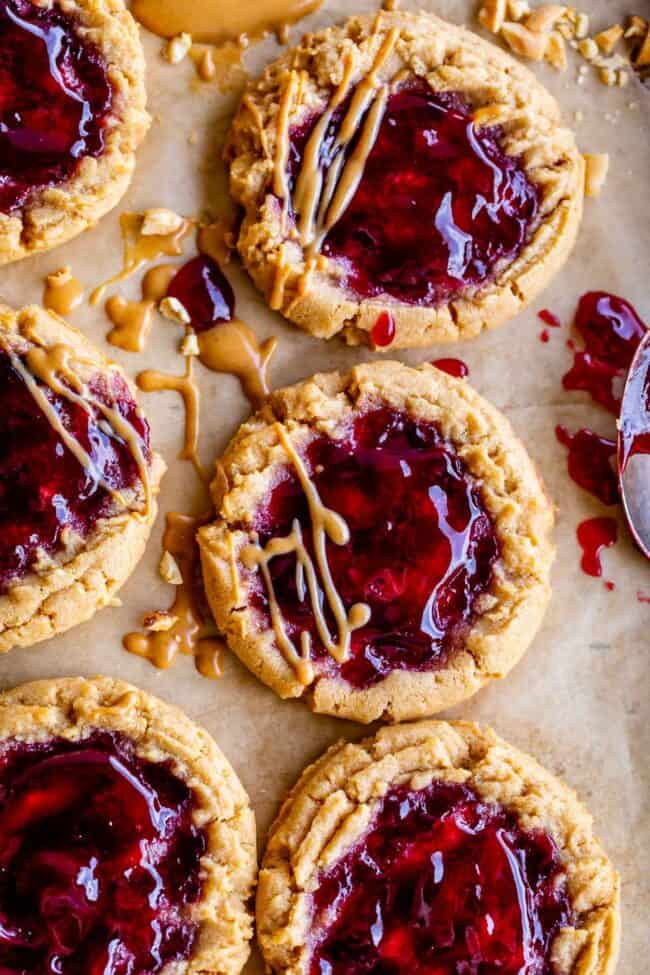 Later on I was still photographing these cookies, kind of in the zone, when I looked up to find another delivery guy waiting patiently down the walkway, holding my package. Usually people just come up and drop it, which is totally fine, but I could tell he didn't want to interrupt me.
I offered him a cookie after I took the package and he said no, that's okay. I said are you SURE? He said no I'm good. There was enough hesitation in his voice (that maybe I totally made up??) that I looked him in the eye and said, "You're making the wrong choice." Then he finally came and took one. He said, "I didn't want to take the cookies you were shooting."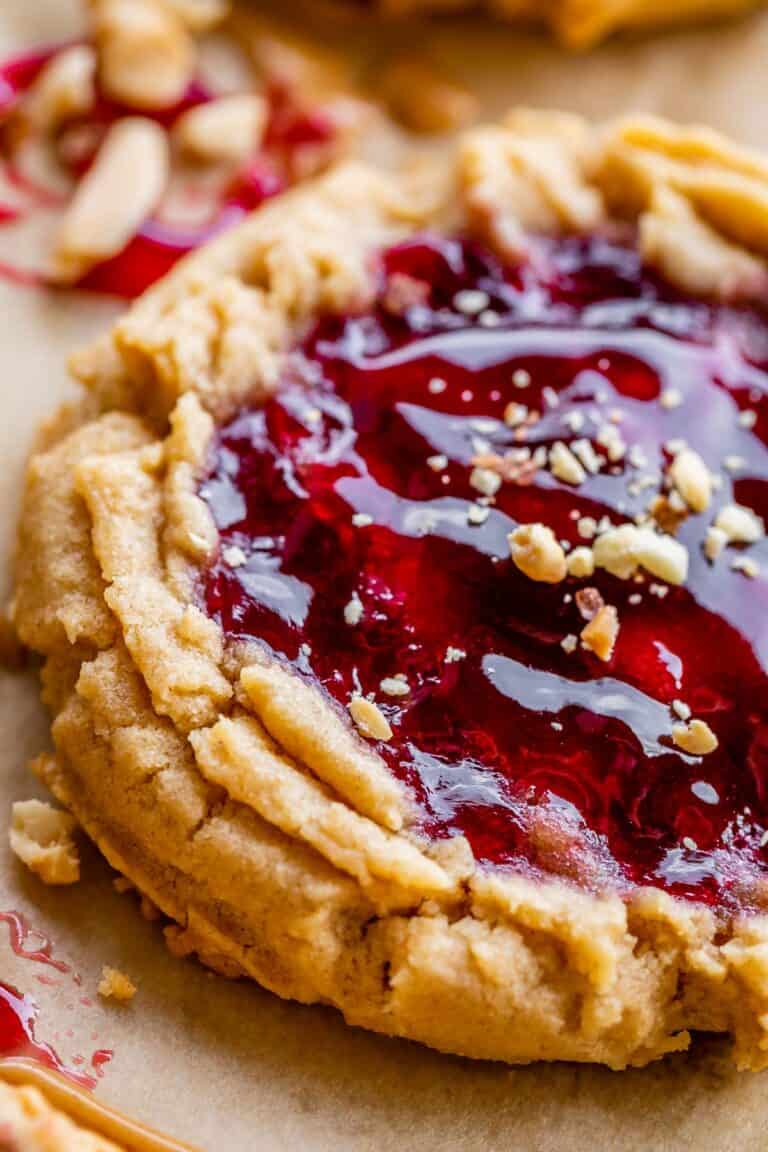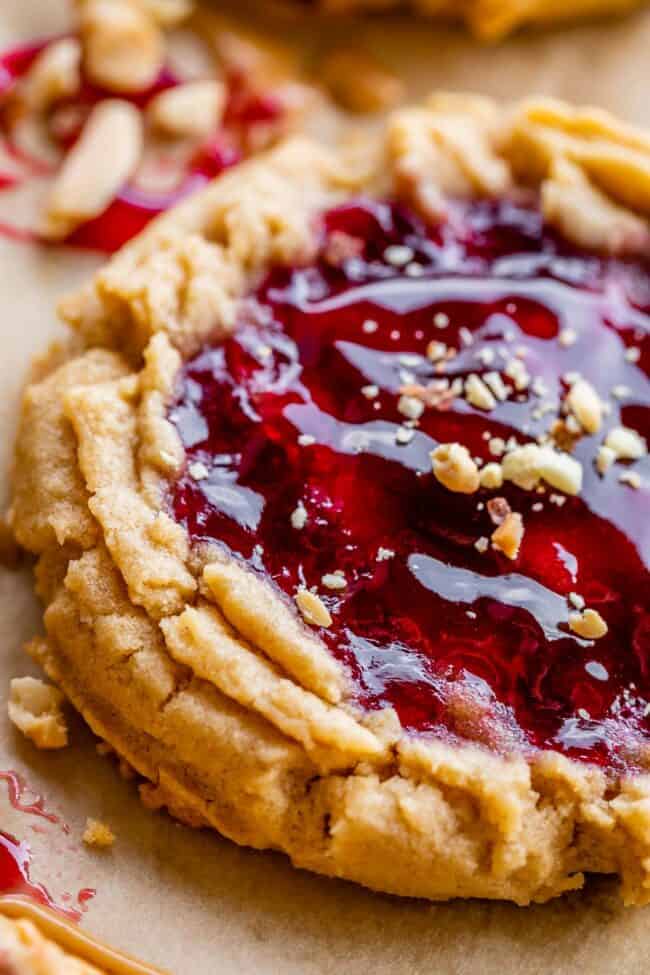 So that's me, just bullying people into taking my food over here. Welcome to my house, where you have to eat the cookies I offer you, OR ELSE.
I'm sure you can all relate. Haven't you ever made something so delicious that you literally want to shout it from the rooftops?? Or harshly criticize deliverymen who reject them?? No, just me, okay.
Peanut Butter and Jelly Cookies
Are you into peanut butter and jelly sandwiches? I mean I know it's kid food, but I never let that stop me. I probably have a bite of a PB&J every single day, stolen from my children. They are just the best. I never get tired of it. My kids are weirdos and like thinly-spread sandwiches. "My sandwich has too much jelly on it, mom." I'm sorry, get out, who are you? Not my kid. BRING ON THE JELLYYYY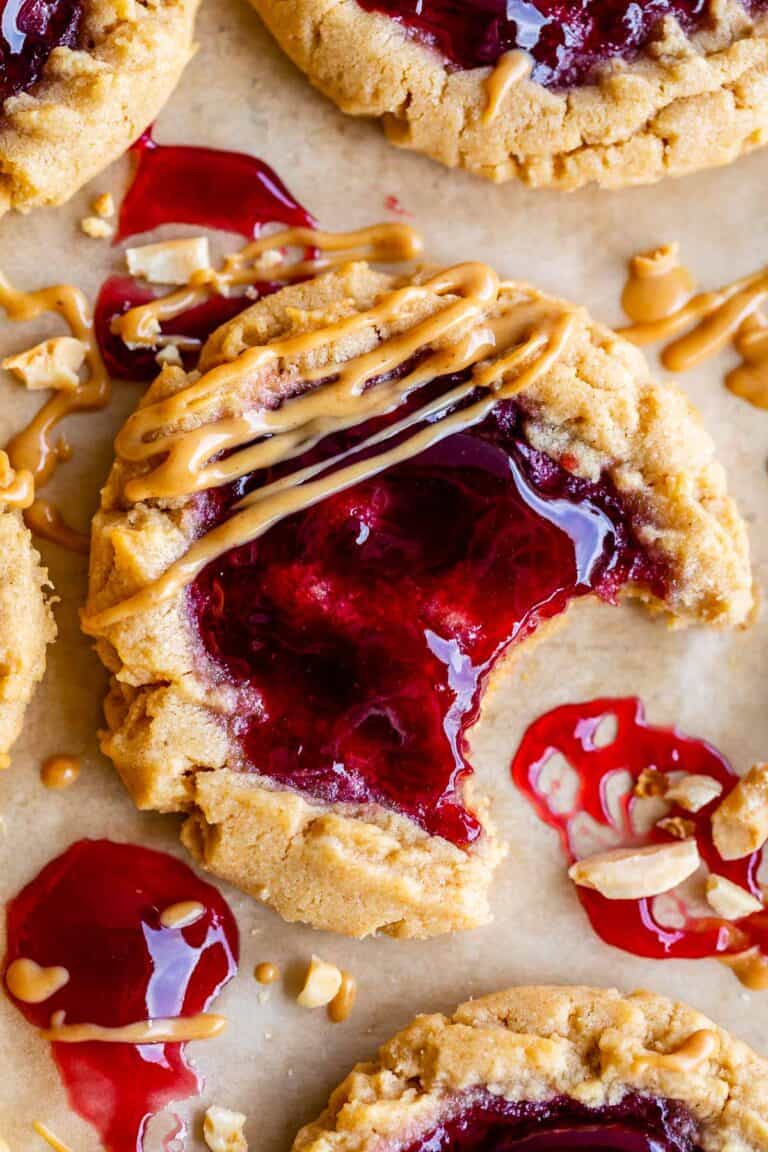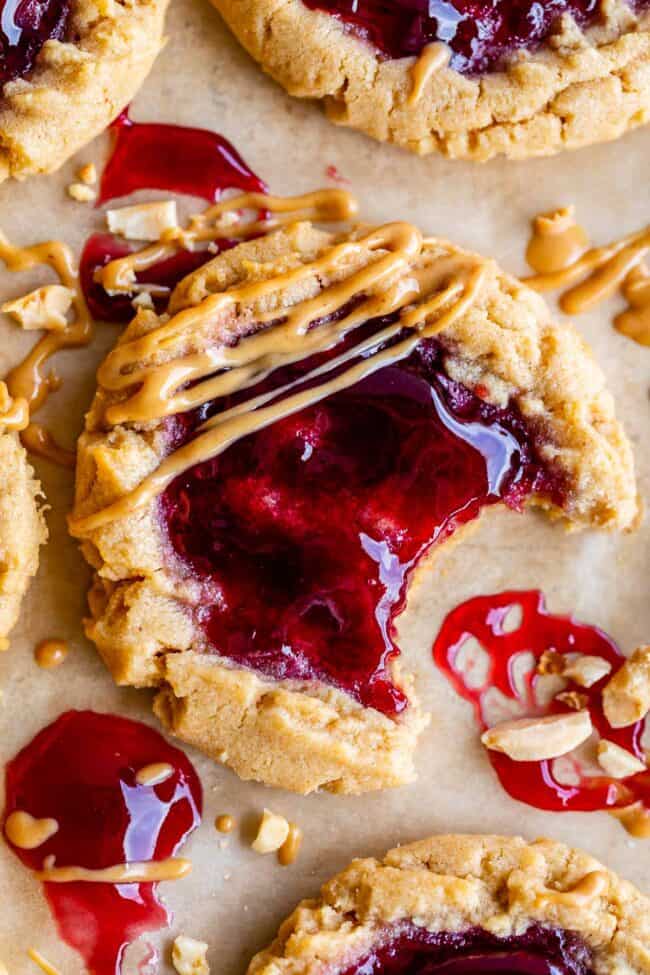 Anyway, what could be better than a soft in the center, slightly crispy on the edge peanut butter cookie with jelly on top?? It is like the cookie version of the sandwich. I knew I would like these, but I actually wasn't expecting to LOVE them as much as I did. But I do. I LOVE THEM.
How to make Peanut Butter and Jelly Cookies
We start out with a typical peanut butter dough. I worked for quite a while perfecting the recipe for The Best, Softest Peanut Butter Cookie of Your Life. Those cookies have the ultimate peanut butter flavor and a super soft texture.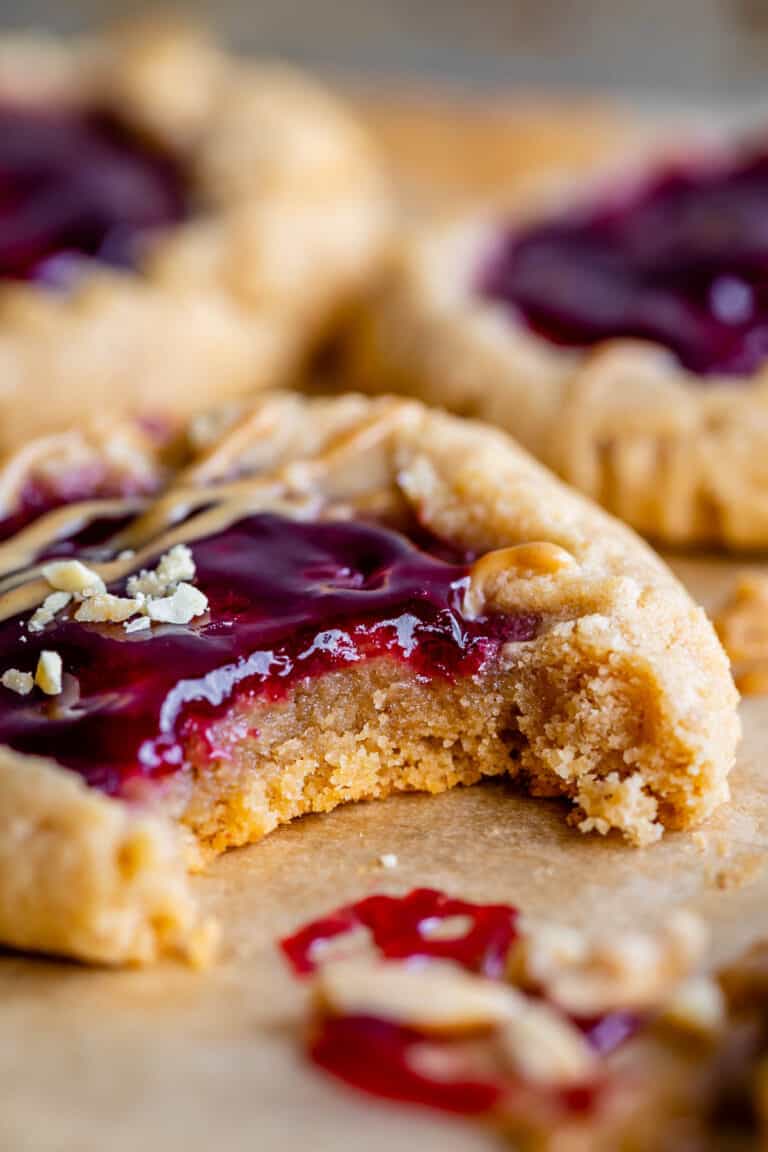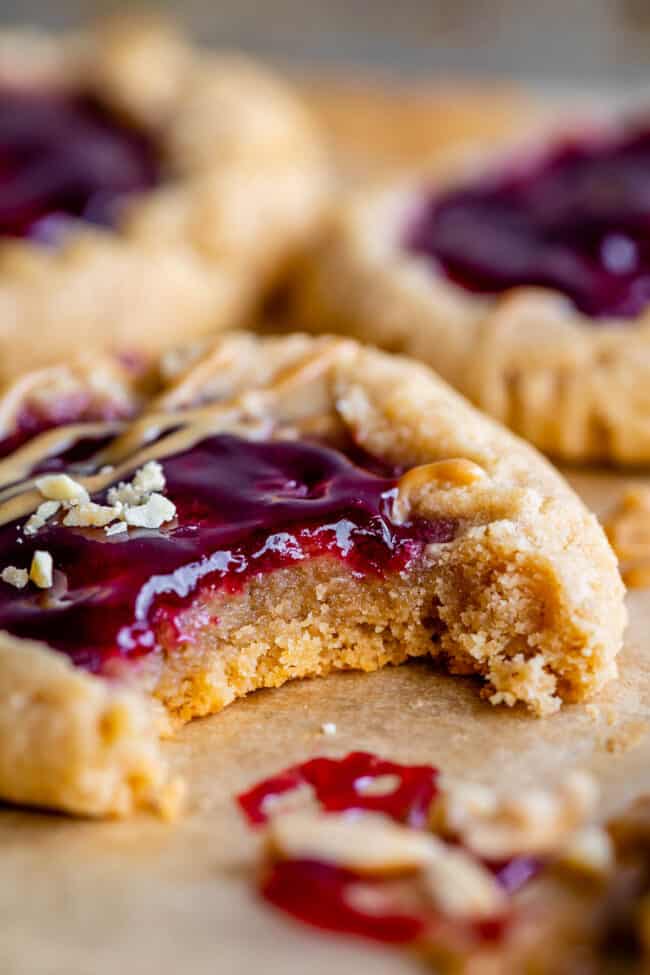 Today's cookies are very similar, but they are a little more sturdy, the better to hold up the jelly topping situation. It took me several tries to get it right, and to figure out the best way to incorporate the jelly. They are soft in the center and have a perfectly light crisp on the edges. They are baked with the jam added straight to the raw dough for this amazing melding situation, just like how peanut butter and jelly get smashed together on a sandwich. It's so good! PB&J forever!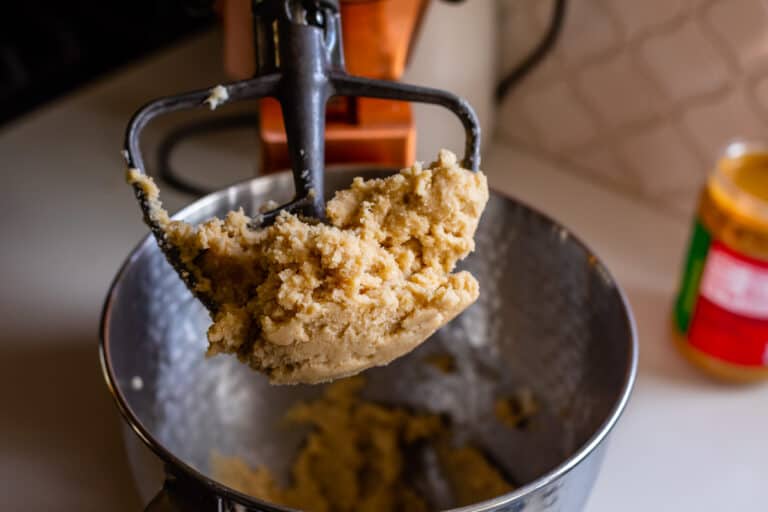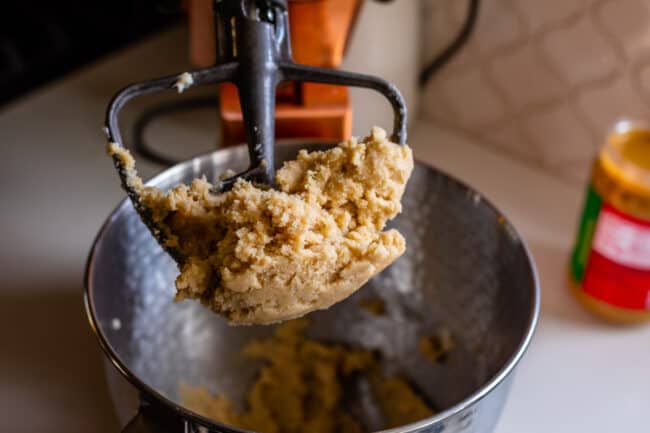 Start out by beating together your butter and sugar for at least a minute or two, to get some creaming action going on. Make sure there are no butter chunks; once you add the peanut butter, it's tough to beat them out. (I  always start out with cold butter because I'm lazy and softening butter is too much for me. If you have a stand mixer, just beat and scrape and beat and scrape until it's creamy.) Then add in the full cup of peanut butter.
Can you use crunchy peanut butter?
Well I mean, yes, you can, if you're the kind of heathen who likes crunchy peanut butter on your sandwich. Just kidding, I actually think it would be really delicious to add some crunch to these cookies. Do it!
Once you get the peanut butter mixed in, add in the eggs and vanilla.


Then add the dry ingredients: flour, baking soda, salt. I add them right into the wet ingredients and use a little spoon to stir it into the flour a bit. I'm just not a two-bowl-cookie person. Don't over beat your dough. Stop the mixer when there is still flour on the edges and scrape it all down, then mix a final time.


Shape the dough into balls and smash with a fork. I like to dip my fork in a little flour or sugar to make sure it doesn't get stuck to the dough. Now it's time for some jelly!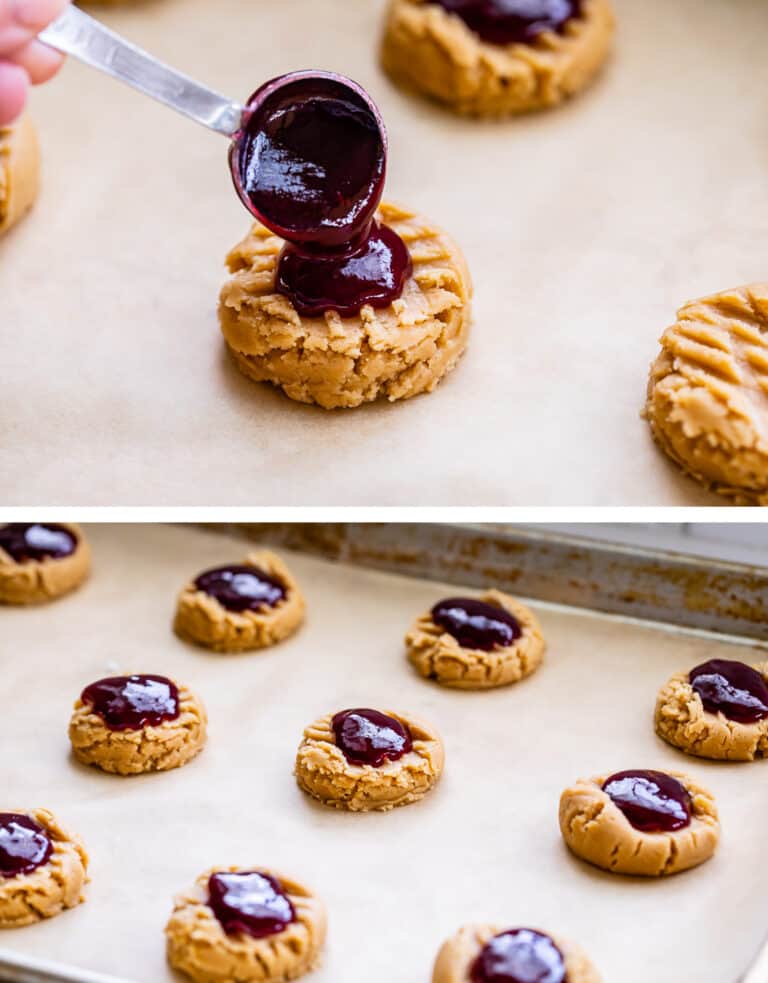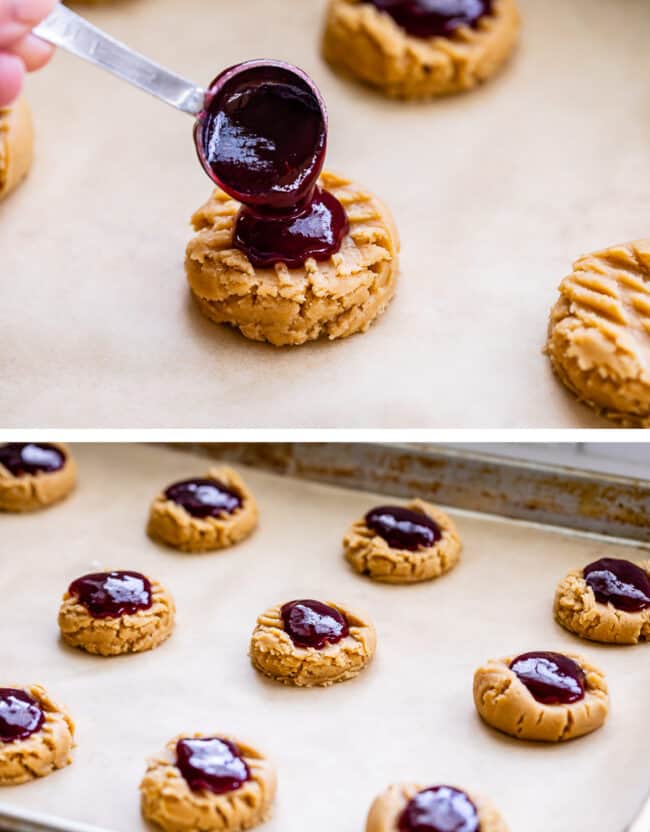 You only want to add a little bit, about a teaspoon.
What kind of jelly can you use?
Sky is the limit here! I tried these with seedless blackberry, seedless raspberry, and seedless strawberry jams. All of them are so good. The jam in the photos is raspberry. I really love the strawberry though, I think it's the most classic flavor. I much prefer using seedless jelly or jam for these cookies, but really any kind will work! It would even be fun to try apricot jam or marionberry, or grape, or whatever else you can find! If you would make a sandwich with it, you can use it to top these cookies.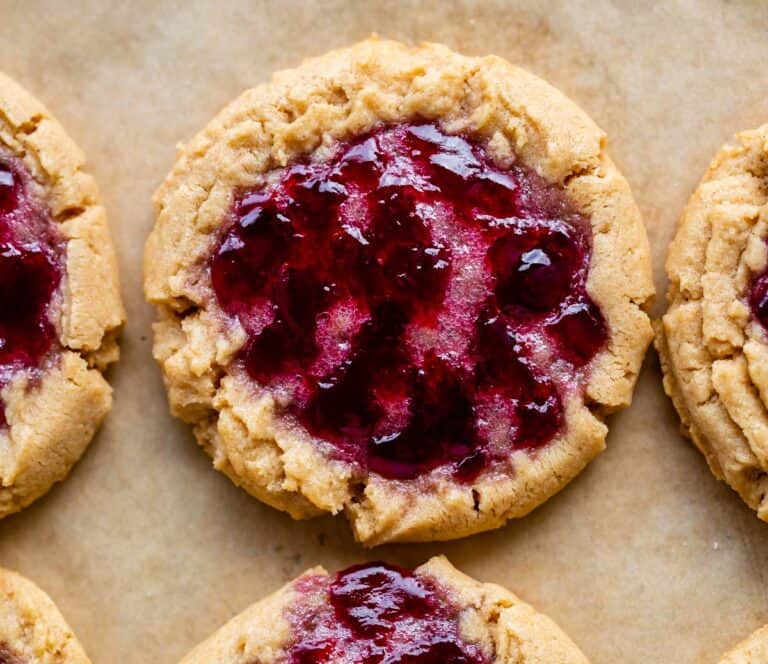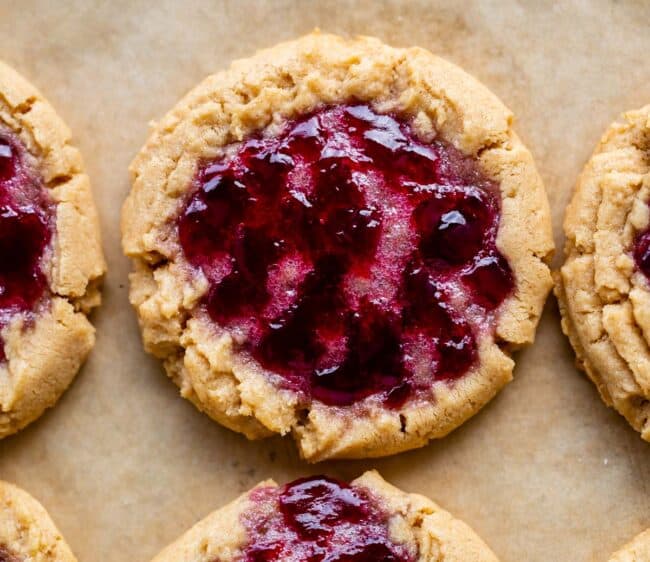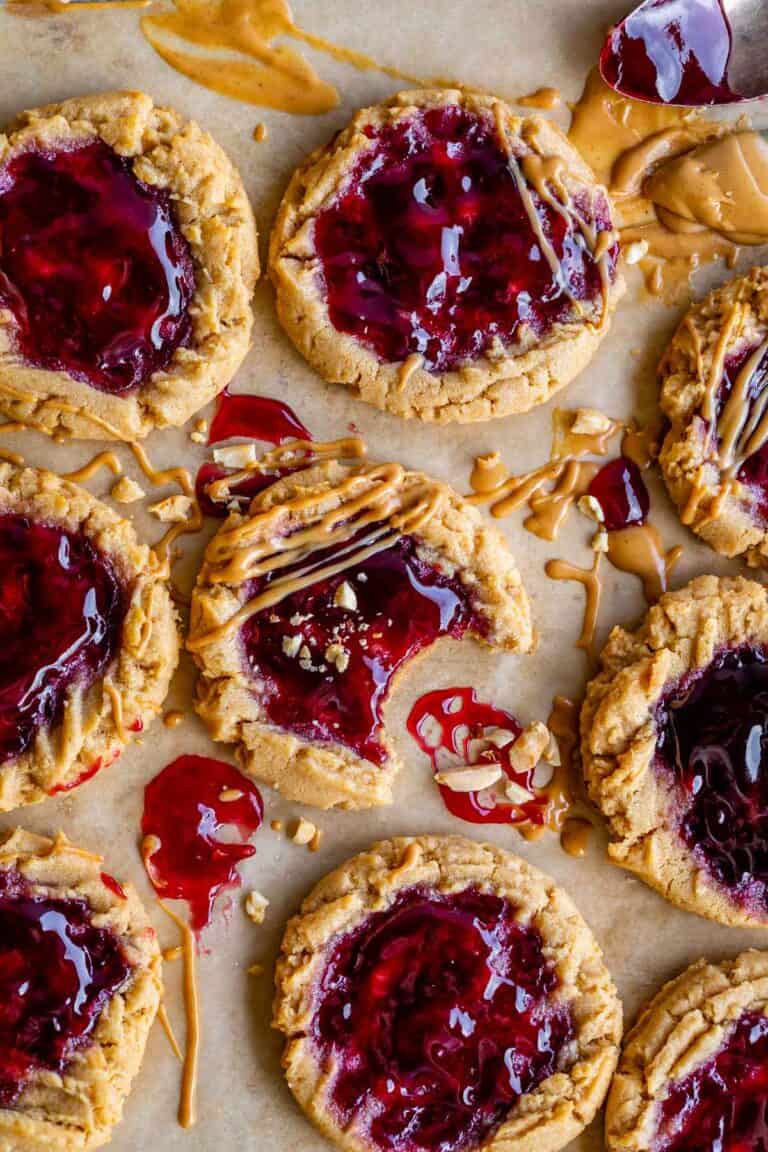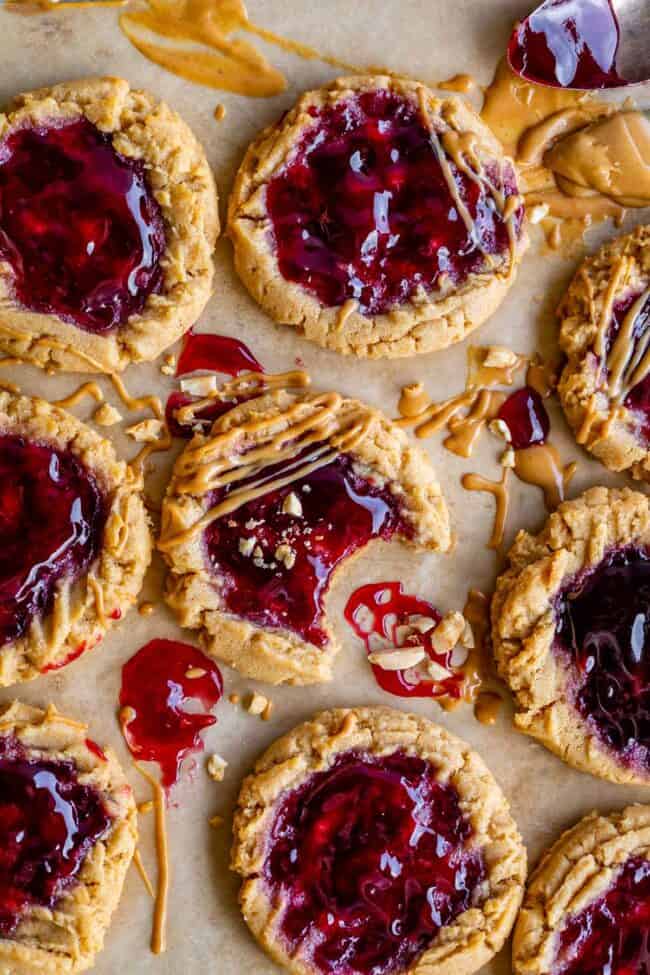 After baking, add a tiny bit more jam on top to even out the spaces where it melted in. Drizzle with melted peanut butter, top with chopped nuts and you are golden!
Do I need to chill these cookies?
NO! Hallelujah. You can go from zero to peanut butter and jelly cookies in like 30 minutes flat. YES! I hope you get to make these soon, like probably today is a good day. You already have all the ingredients right?? Who doesn't have all the ingredients on hand to make a PB&J at all times?? Enjoy!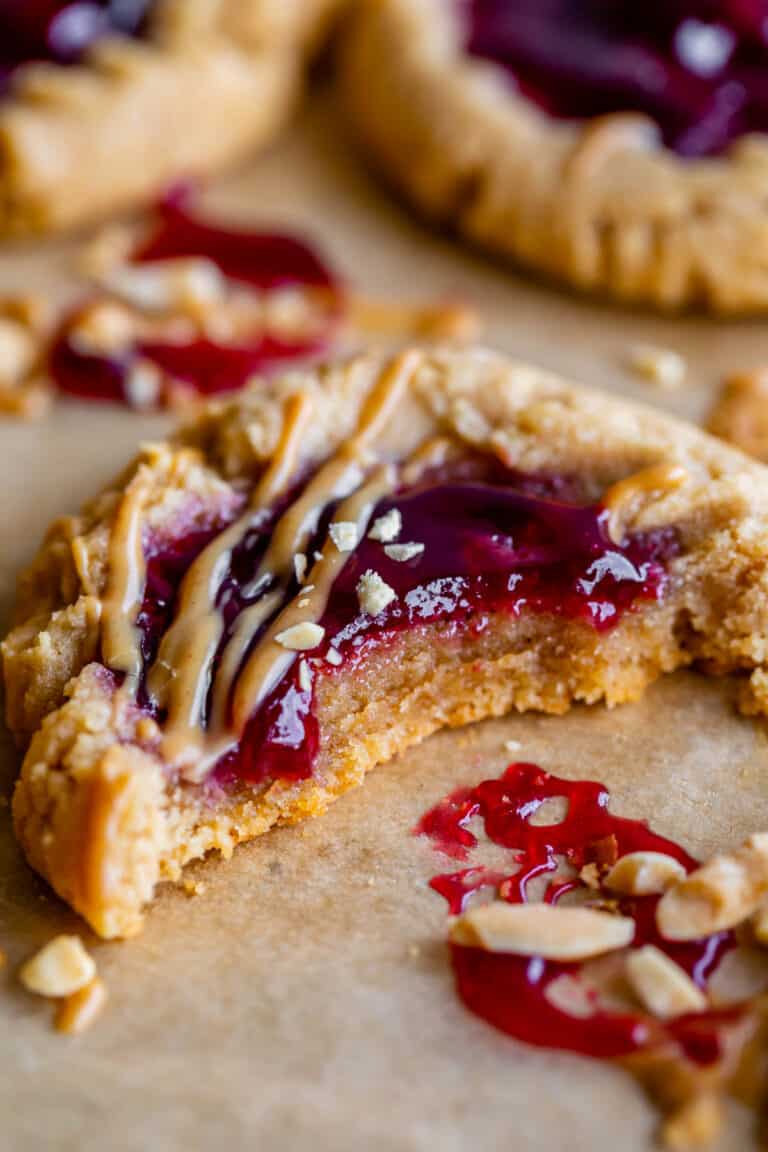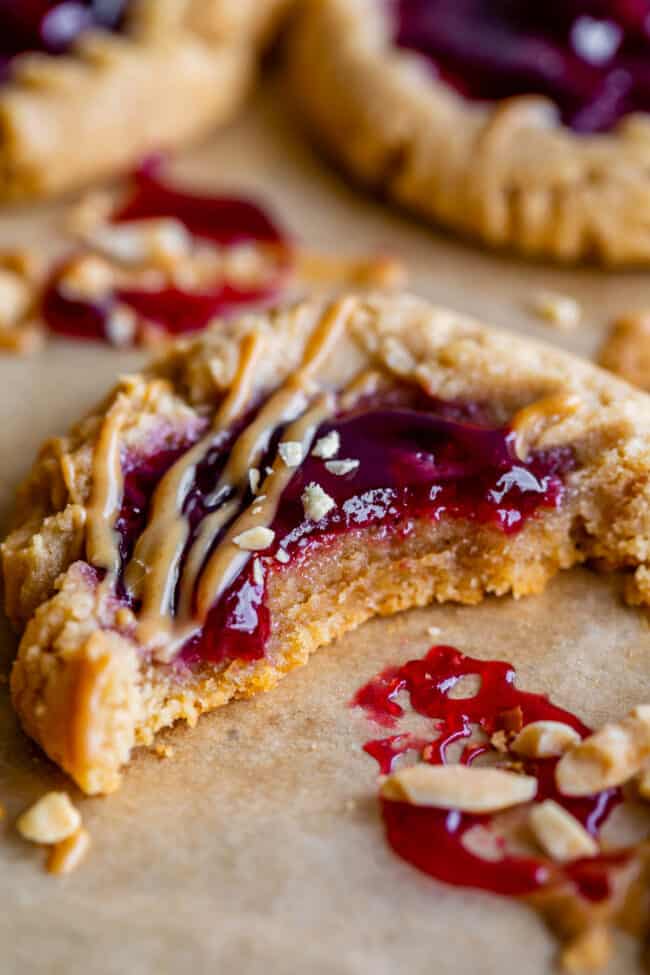 More cookies to love!
Facebook | Pinterest | Instagram

Peanut Butter and Jelly Cookies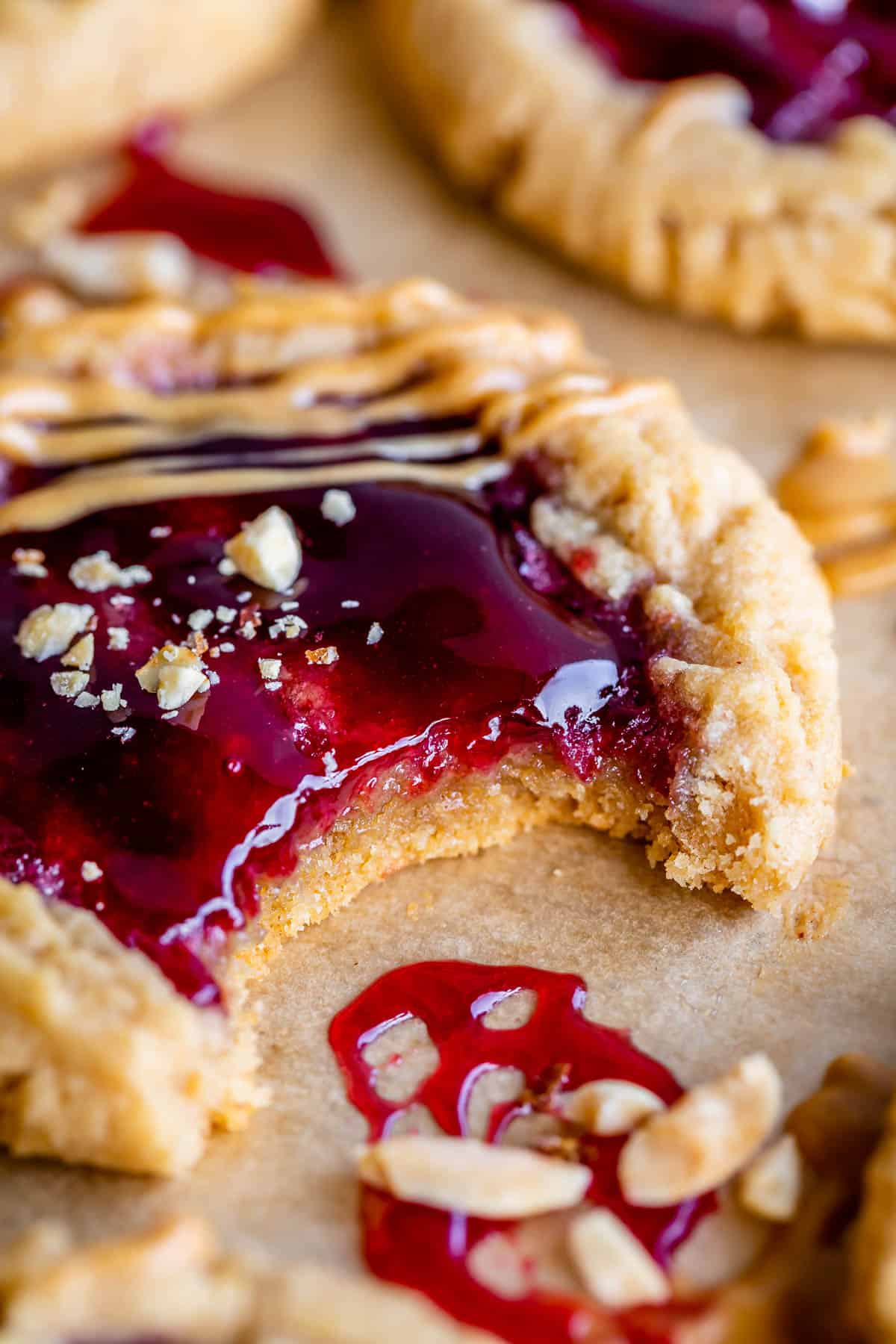 A soft, tender cookie recipe with TONS of peanut butter flavor baked with a dollop of jam on top. These cookies are easy to make, don't have to chill, and can be done in 30 minutes flat! 
Ingredients
1/2

cup

butter

,

1 stick

3/4

cup

granulated sugar

1/4

cup

brown sugar

,

packed

1

cup

creamy peanut butter

1

large egg

1

teaspoon

vanilla

1 & 1/2

cups

flour

,

spooned and leveled

1

teaspoon

baking soda

1/4

teaspoon

kosher salt

1/2

cup

seedless jam

more jam

,

to top baked cookies

melted peanut butter

,

to garnish

chopped peanuts

,

to garnish
Instructions
In a large bowl or stand mixer, beat 1/2 cup butter until it is smooth and creamy, scraping the sides of the bowl.

Add 3/4 cup sugar and 1/4 cup packed brown sugar. Beat well until fluffy, scraping the sides. There should be no chunks of butter.

Add 1 cup peanut butter. I like Jif best. You can use crunchy peanut butter if you like! Beat well until combined.

Add 1 egg and 1 teaspoon vanilla. Beat until combined.

Add 1 and 1/2 cups all-purpose flour, but don't stir it in yet. Add 1 teaspoon baking soda and 1/4 teaspoon kosher salt on top of the flour. Stir it in with your teaspoon to combine the dry ingredients together a bit.

Turn the mixer on to combine the dry ingredients into the dough. Don't overdo it! Once the dough barely starts to come together (with some flour still visible), stop and scrape the sides and bottom of the bowl. Continue mixing until you no longer see flour streaks, then turn off the mixer. Over mixing cookie dough results in tough cookies.

Place each cookie on a baking sheet with about a couple inches of space in between. I added 12 cookies to

an 11x17 inch pan

. The cookies will spread a bit more than your average smash-and-bake pb cookie (because of the jam), so plan ahead.

Dip a fork into a bit of sugar or flour (to make sure it doesn't stick too much to the dough) and press into the top of a cookie. Turn the fork perpendicular and press one more time. Smash them to about 1/2 inch thickness. Dip in sugar whenever the fork starts to stick to the dough.

Add 1/2 cup seedless jam to a bowl and stir well to get out most of the lumps. Use a teaspoon to carefully add 1 teaspoon (or less) of jam to the top of each cookie. Do not let the jam slide off the edge, you want it right in the center. If it touches the pan it will spread and get gummy. It's not the end of the world, but try your best to keep it on top.

Bake the cookies at 350 for about 13-15 minutes.

The cookies are done baking when the edges are set. You want to see a very slight browning just on the very edges. These cookies are delicate and covered in moist jam, so under baking is not advised. This might be the only cookie I ever tell you you shouldn't under bake!

Let the cookies set on the pan for at least 5-10 minutes before transferring to

a wire rack

to cool completely. If you know what's good for you, eat at least one of these warm, with a tall glass of milk!

If presentation is important, add a little more stirred jam on top of the cookies to make them look pretty. You can also drizzle with melted peanut butter and chopped peanuts.

This recipe makes about 28 cookies. Store leftovers in a tightly sealed container for up to 3 days.

The dough freezes very well. Since these cookies need to be flattened before baking, I like to shape the dough, press with a fork, then transfer to a ziplock to freeze. That way you can just put them on the baking sheet frozen, add the jam and bake immediately. No need to thaw, just add 1-3 minutes to the bake time. You can also add the jam before freezing and flash freeze on a baking sheet before transferring to a ziplock.
Nutrition
Serving:
1
Cookie
|
Calories:
155
kcal
|
Carbohydrates:
18
g
|
Protein:
3
g
|
Fat:
8
g
|
Saturated Fat:
3
g
|
Polyunsaturated Fat:
1
g
|
Monounsaturated Fat:
3
g
|
Trans Fat:
1
g
|
Cholesterol:
15
mg
|
Sodium:
136
mg
|
Potassium:
78
mg
|
Fiber:
1
g
|
Sugar:
11
g
|
Vitamin A:
110
IU
|
Vitamin C:
1
mg
|
Calcium:
10
mg
|
Iron:
1
mg