These Peanut Butter Oatmeal Cookies will blow your mind! Tons of peanut butter flavor (actual peanuts optional) paired with some chewy oats for an amazing texture. They are so tender and totally melt in your mouth! Originally published June 1, 2017.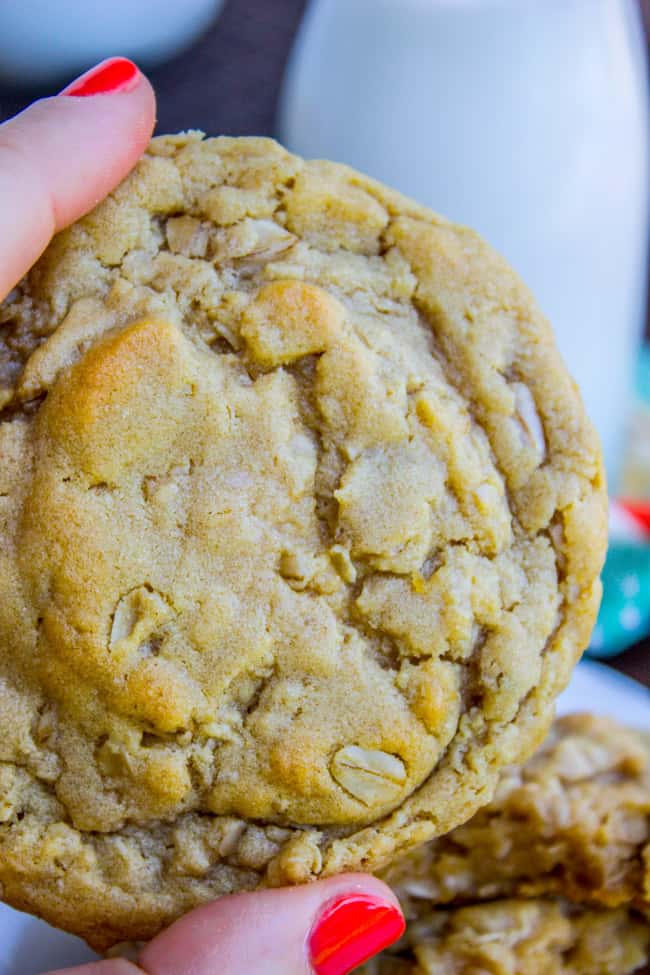 Table of Contents
What could be better than riding a dirty subway through San Francisco at midnight? Well I can think of about 500 things, the first one being a nice soft bed.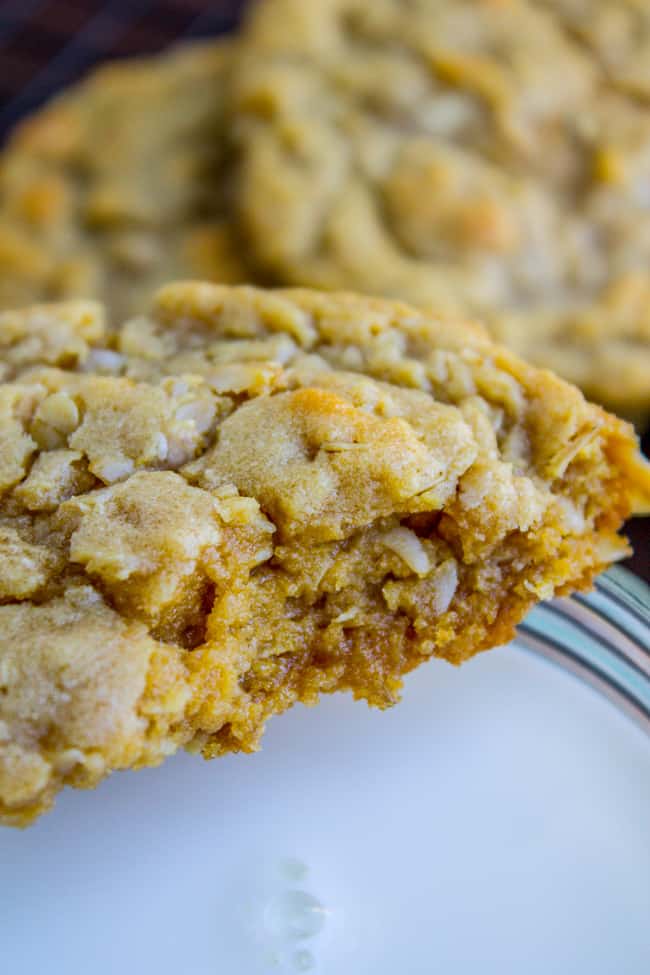 But THIS subway had awesome people on it (and hardly any crazy/scary/drunk people!). We were on our way back from seeing Hamilton (which was AMAZING of course) and started playing Heads Up on our phone. That's where you hold the phone on your forehead so you can't see it, it displays a word , and everyone else has to help you guess what it is.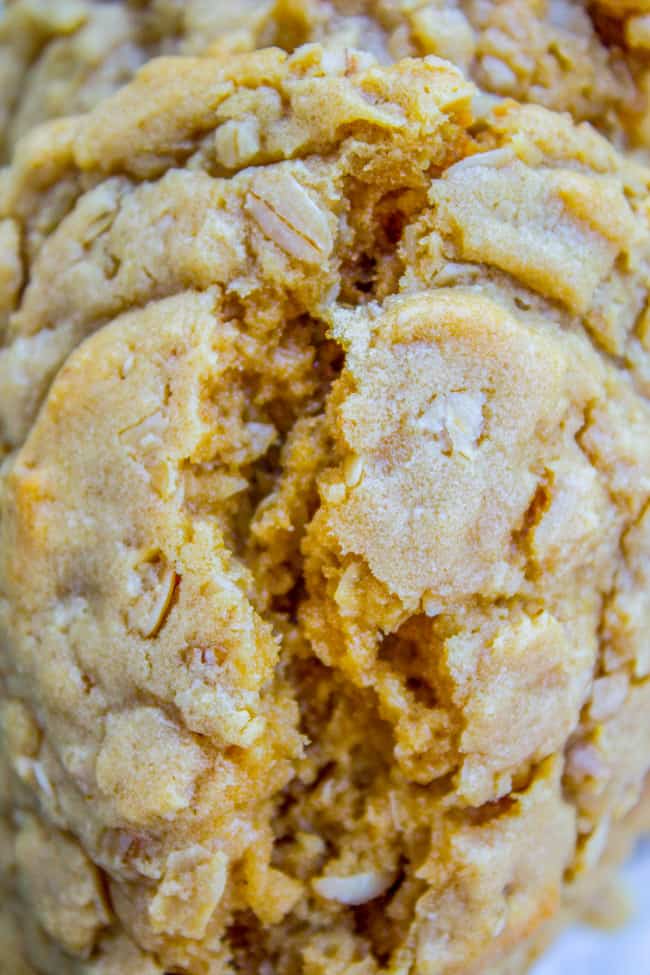 My favorites were the songs. It would display a song title and everyone else has to hum the tune until the person figures it out. SO HARD!!! But extremely entertaining when everyone else on your train starts humming at you frantically.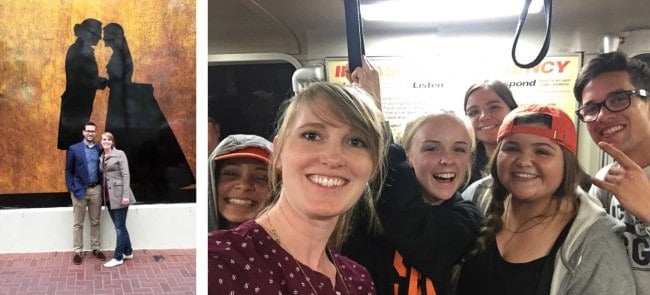 It's also great having a younger crowd help you out with all the Ke$ha songs that you've never heard of. Because who the heck is that. Also, look at how good they are at selfie-ing! So natural! It's a skill guys. I'm all like, "hang on lemme bust out the double chin" and they're like, I'm cool. Hang ten. I take selfies with strangers on the train all day long.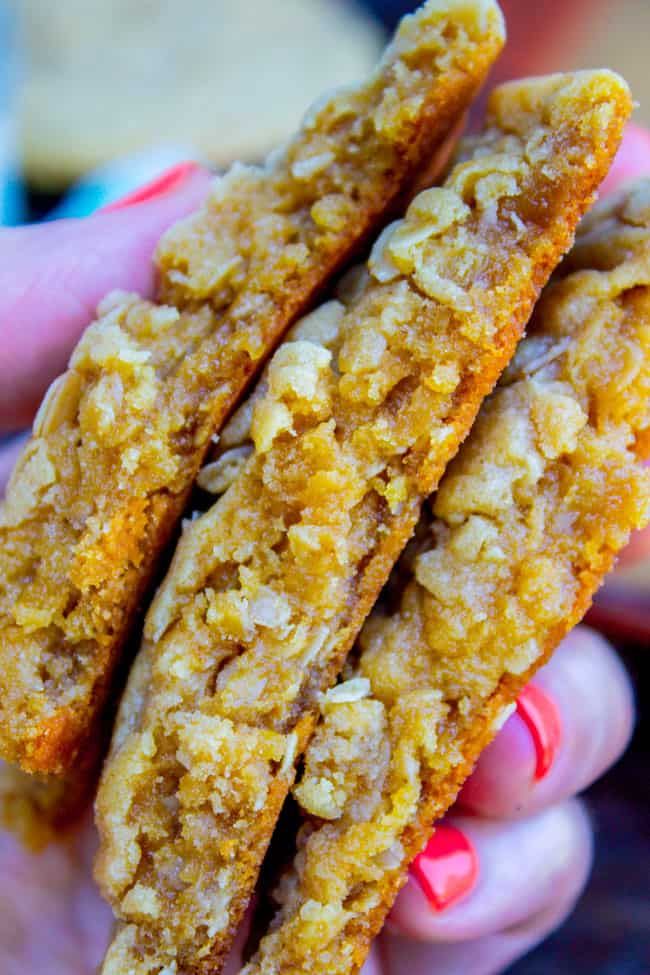 You will love these Peanut Butter Oatmeal Cookies
Coooookies. I've been obsessed with them lately. These Peanut Butter Oatmeal cookies were my latest craving. This recipe is spot on: A big, soft, extremely chewy cookie with just the right amount of oats. I used both quick and old fashioned oats in the dough to give it great texture. The peanut butter COMES THROUGH guys. You know how sometimes peanut butter cookies aren't peanut buttery enough? Never fear! And because they have oats in them…so they're basically healthy. Right??
Ever bitten into a peanut butter cookie, only to have it crumble into dust? Such a disappointing experience. If a peanut butter cookie is going in my mouth, it better follow the rules. And those rules are: tons of peanut butter flavor. Super moist and tender. NO CRUMBLING.
These peanut butter oatmeal cookies are IT, guys. The oatmeal keeps them so soft and there's a LOT of peanut butter (some would say too much, they are wrong).
Oatmeal Peanut Butter Cookies Ingredients
Here's a quick shopping list to help you gather your ingredients. See the recipe card below for the full ingredients and instructions!
Butter
Butter flavor Crisco
Brown sugar (light or dark)
White sugar
Peanut butter (creamy or crunchy)
Eggs
Vanilla
Flour
Baking soda
Quick oats
Old fashioned oats
Oatmeal Peanut Butter Cookies Substitutions and Options
There are so many ways to enjoy these peanut butter oatmeal cookies. You can really make them your own! Here are a few suggestions.
Love peanuts? Use crunchy peanut butter instead of creamy.
Only have quick oats on hand? That's ok, you can use ALL quick oats. The reverse is also true: if you only have old-fashioned oats, just use them. Play around with the ratios and see what creates your favorite texture.
Not enough peanut butter for you? Make these into Peanut Butter Oatmeal Sandwich Cookies and up the ante with a generous amount of rich peanut butter frosting.
Never enough chocolate? You can add a cup of chocolate chips, chunks, or mini chips, or get extra fancy and add Reese's Pieces or Peanut Butter M&Ms (or any combination of the above).
Cookies too big? No worries, you can make them any size you like (including actual Do-si-do size). Just watch the time to make sure they don't over bake.
How to make this Peanut Butter Oatmeal Cookies Recipe
Here's a quick overview of how to make this recipe. Full instructions can be found in the recipe card below!
Beat butter and Crisco, then beat in brown sugar, white sugar, and peanut butter.
Beat in eggs and vanilla.
Add flour but don't mix yet; stir baking soda and salt into flour, then beat in flour mixture gently.
Stir in quick oats and old fashioned oats.
Chill dough for 1-3 hours or overnight.
Preheat the oven, line baking sheets, and measure the dough into cookies.
Bake, then let cool on the baking sheet before removing to a cooling rack.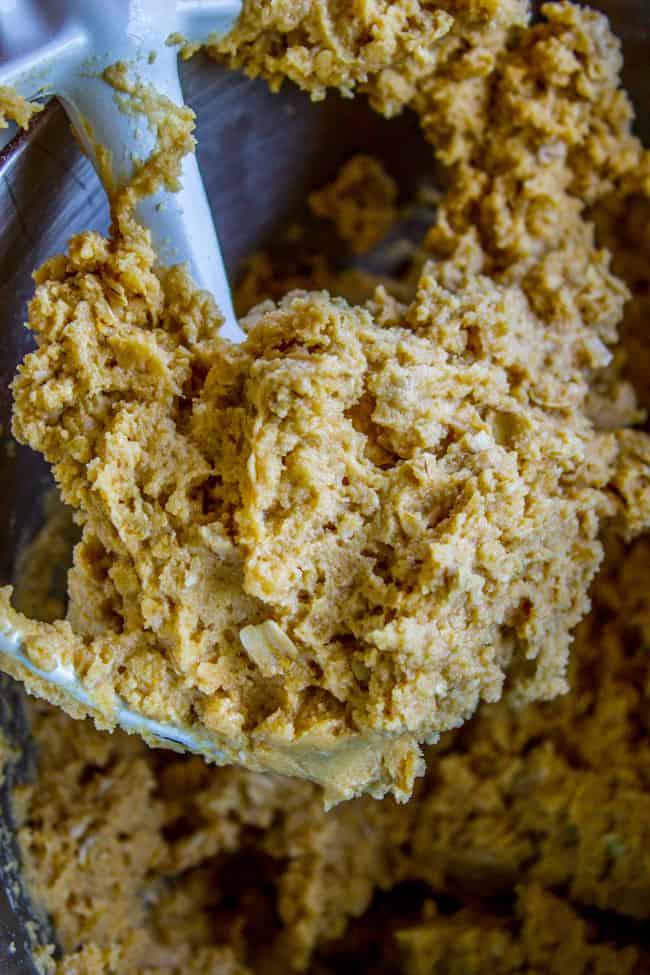 This dough is insanely good.
How to serve Chewy Peanut Butter Oatmeal Cookies
All I need with these babies is a tall glass of cold milk. That's it.
That being said, I'm also pretty obsessed with making them into these Peanut Butter Oatmeal Sandwich Cookies. You take two of them and put peanut butter frosting in between. They're like a super upgraded version of the Girl Scout Do-si-dos.
How to store Oatmeal Peanut Butter Cookies
Oatmeal peanut butter cookies can be stored on the counter for 3-4 days frozen for 3-4 months. They're almost too easy to pull out whenever a cookie craving strikes. I have been known to eat them straight out of the freezer…just sayin', don't go thinking freezing them means you're safe from their peanut-y charms!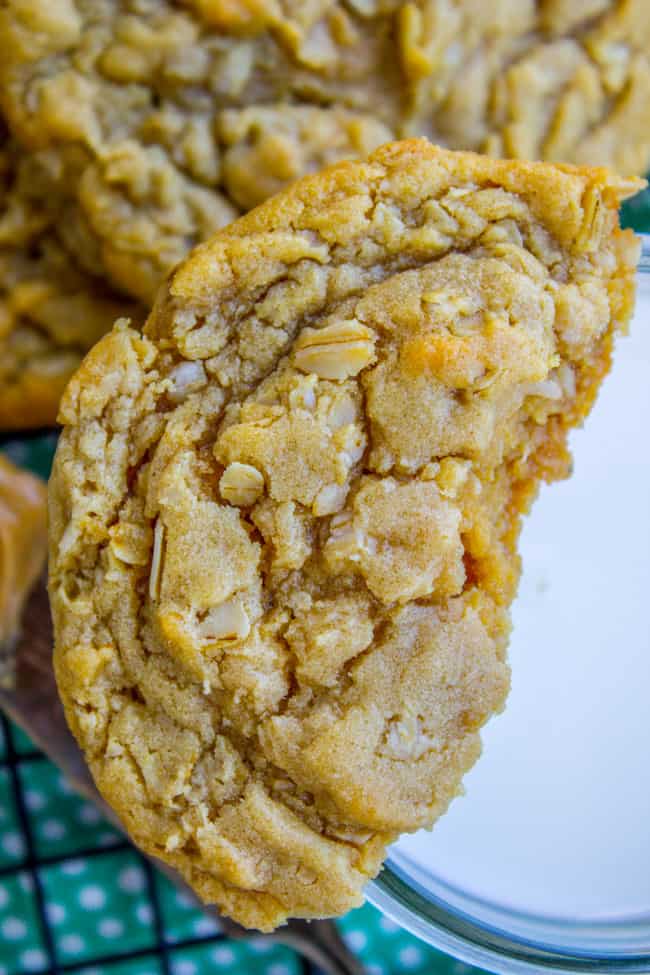 Peanut Butter Oatmeal Cookie Recipe FAQs
How do you keep peanut butter cookies from falling apart?
A lot of peanut butter cookies have too much flour and not enough fat. That's why they turn into a crumbly pile of dust when you try to eat them. This recipe calls for plenty of fat: it's in the butter, shortening, peanut butter, and eggs. That will require the dough to be chilled so that the fat doesn't immediately melt when the unbaked cookies go into the oven. I promise you, the chilling time is totally worth it to achieve soft, tender cookies that won't fall apart.
What is the secret to soft chewy cookies?
Soft, chewy cookies. They're the stuff of dreams. Here are a few tips that will make your peanut butter oatmeal cookies the perfect combination of chewy and soft!
Use butter AND shortening. The butter is for flavor, the shortening is for soft, puffy tenderness. Also, we're using butter-flavor shortening, so we're maximizing the butter flavor as much as possible.
Use brown sugar. Brown sugar lends a lot more moistness to a cookie than white sugar alone.
Don't over bake them. When you pull these out of the oven, the edges should be firm, but the centers should still be just a little bit shiny.
Is it better to chill oatmeal cookie dough before baking?
Yes! Definitely. This peanut butter oatmeal cookie dough is super soft. That's amazing for our finished cookies (softness is our goal) but we don't want them to spread out into flat, burned pancakes. It's always a struggle to wait for the dough to chill but the result is worth it.
If you make this recipe, share it on Instagram using the hashtag #TheFoodCharlatan so I can see it! I love that.
Facebook | Pinterest | Instagram

Chewy Oatmeal Peanut Butter Cookies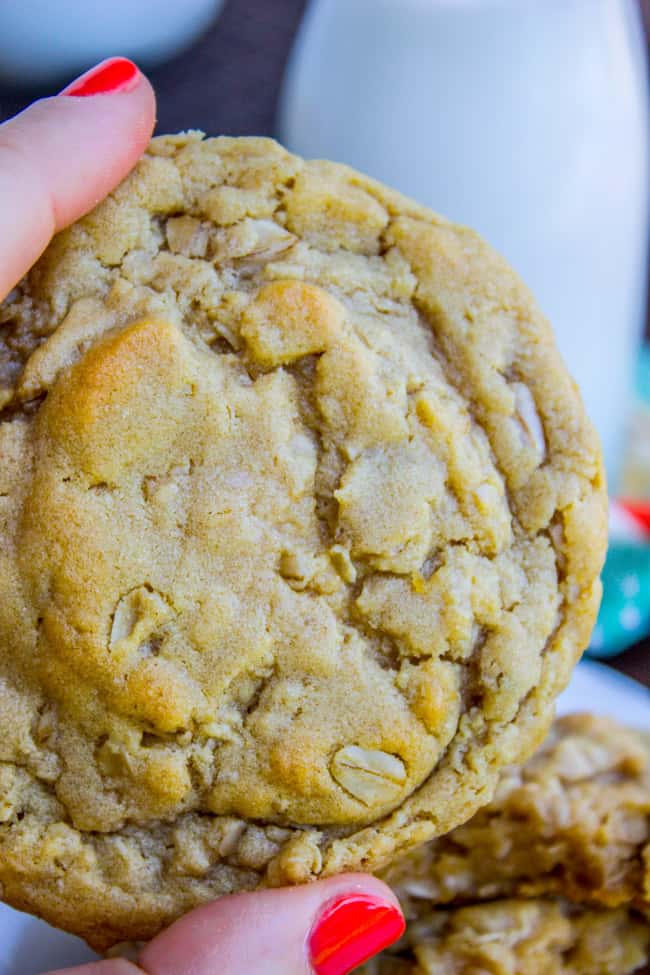 These cookies will blow your mind! Tons of peanut butter flavor (actual peanuts optional) paired with some chewy oats for an amazing texture. They are so tender and totally melt in your mouth!
Ingredients
1/2

cup

butter

,

softened (1 stick)

1/2

cup

butter-flavored Crisco

1

cup

dark or light brown sugar

3/4

cup

white sugar

1

cup

peanut butter

,

creamy or chunky

2

eggs

1

teaspoon

vanilla

1 & 1/2

cups

flour

,

spooned and leveled

2

teaspoons

baking soda

1

teaspoon

salt

1

cup

quick oats

1/2

cup

old fashioned oats
Instructions
In

a large bowl

or stand mixer, beat the butter and crisco for 2 minutes, scraping the sides and bottom.

Add the brown sugar, white sugar, and peanut butter. Beat until incorporated.

Add 2 eggs and vanilla. Beat well, scraping sides and bottom.

Add flour but don't mix it in. Use a small spoon to stir the baking soda and salt into the flour, then beat in gently. There should still be flour streaks.

Add the quick oats and old fashioned oats. Stir until incorporated but do not over mix.

Cover the bowl and chill the dough in the fridge for 1-3 hours (or overnight).

When the dough is chilled, preheat the oven to 350 degrees F. Line 2 baking sheets with

silicone baking mats

or parchment paper.

Use a 1/4 cup to measure out the dough. I only placed 6 cookies on each cookie sheet because they are so big. At least 2 inches.

Bake the cookies at 350 for 9-10 minutes until the centers are alllmost done being shiny. The edges should be firm. Do not over bake.

Let cool on the sheet for 5 minutes before removing to

a cooling rack

. You should definitely eat at least one of these warm. Or maybe 2 or 3.
Notes
You can of course make smaller cookies if you want! Just shape them whatever size you like (make sure they're all the same) and decrease the bake time.
You can use any combination of old fashioned oats and quick oats that you like. All old fashioned, all quick, or a combo. It's really just personal preference!
Source: adapted from Allrecipes.com.
Nutrition
Serving:
1
cookie
|
Calories:
329
kcal
|
Carbohydrates:
36
g
|
Protein:
6
g
|
Fat:
19
g
|
Saturated Fat:
6
g
|
Polyunsaturated Fat:
4
g
|
Monounsaturated Fat:
7
g
|
Trans Fat:
1
g
|
Cholesterol:
32
mg
|
Sodium:
373
mg
|
Potassium:
153
mg
|
Fiber:
2
g
|
Sugar:
22
g
|
Vitamin A:
184
IU
|
Calcium:
26
mg
|
Iron:
1
mg