These Peanut Butter Butterscotch Chocolate Chip Cookies are a dream come true! A tender, chewy peanut butter cookie is loaded with tons of dark chocolate and butterscotch chips. They are easy to make and a family favorite! Originally published April 23, 2020.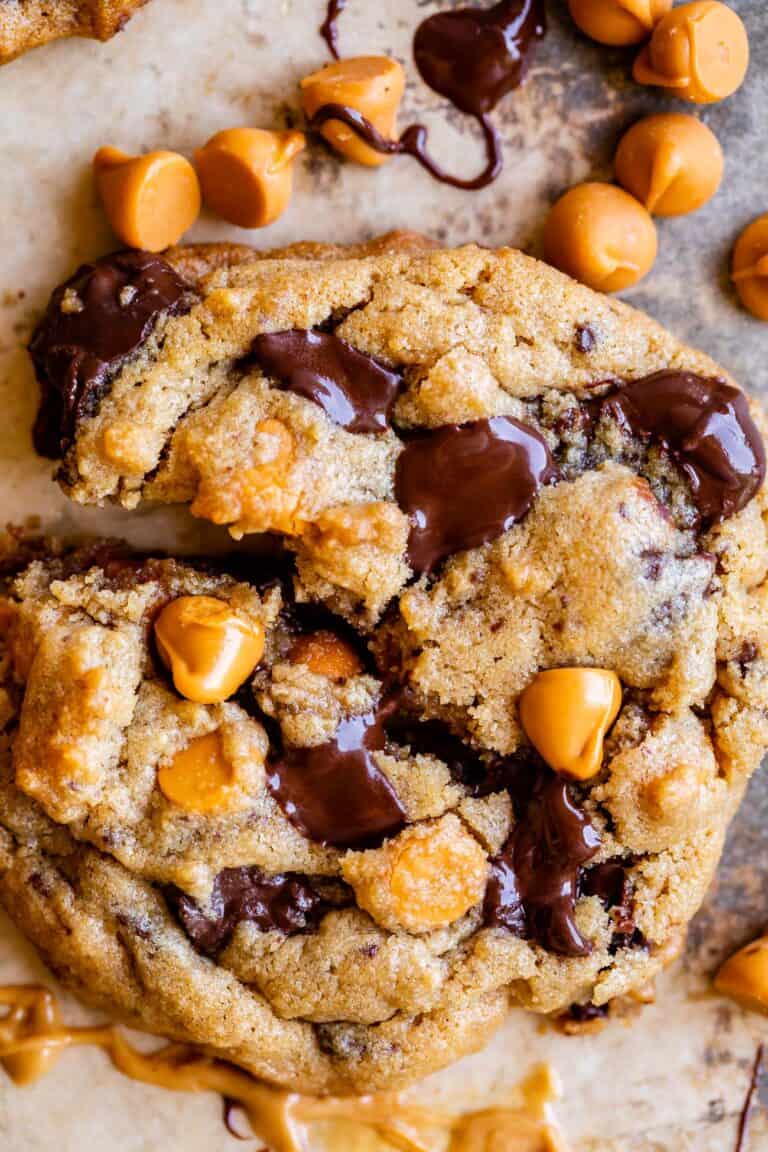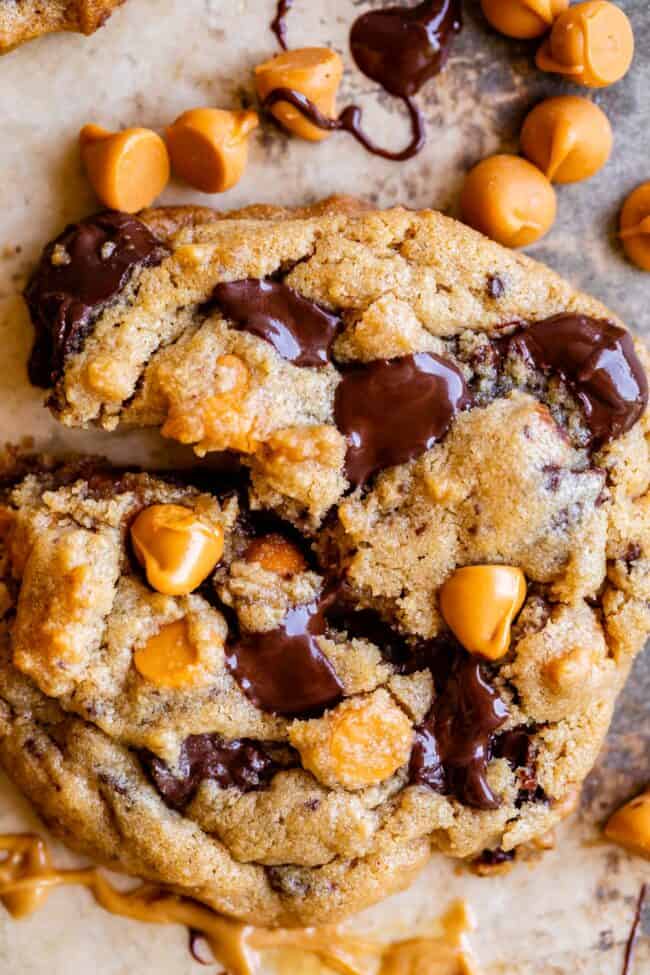 My brother Nathan and I are pretty close in age, so you would think that we would have all the same childhood memories, right? Wrong. He asked me the other day about Mom's peanut butter butterscotch chocolate chip cookies that she would make all the time, and I was like whaaaaat. No. I do not remember that. How could something so delicious escape my memory??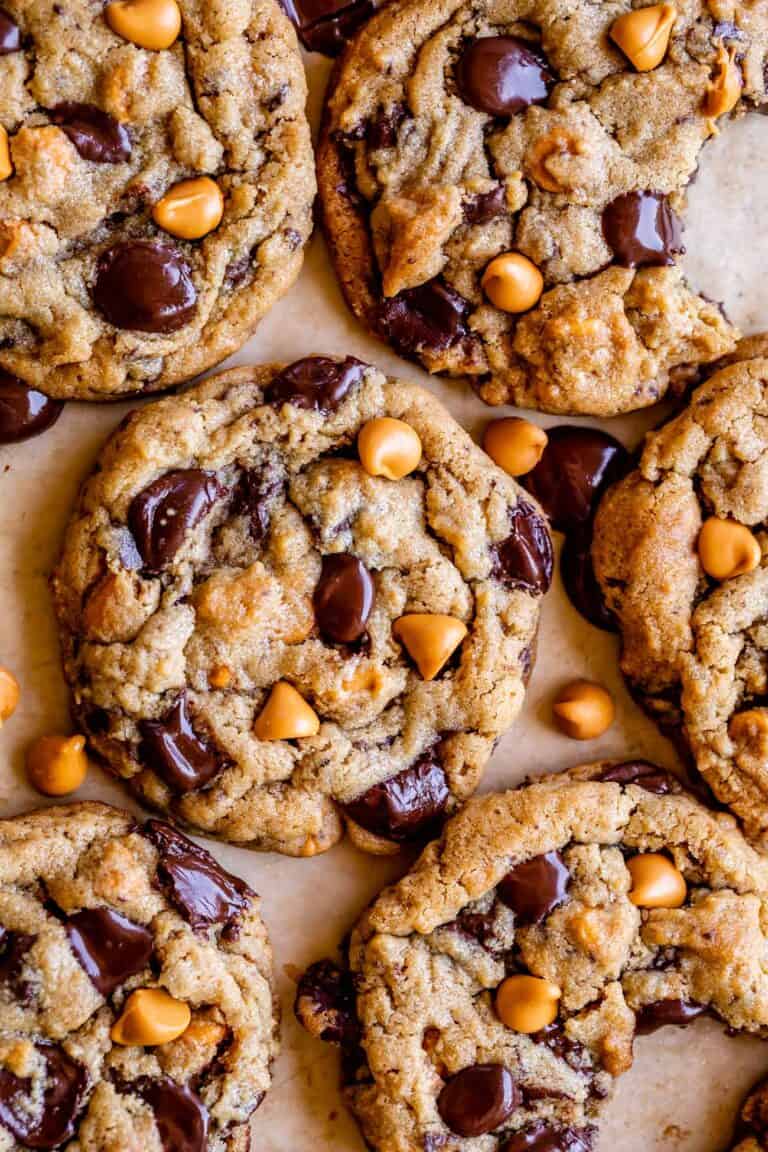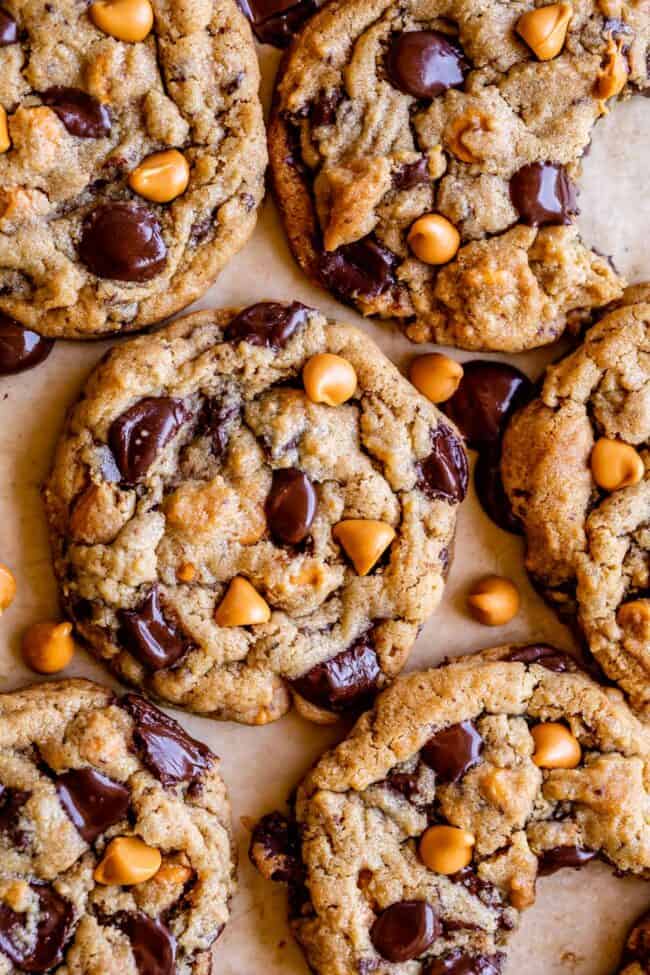 Here's the thing about memories though: they play tricks on you. Nathan told me that Mom's cookies were just regular chocolate chip cookies with a scoop of peanut butter added and some butterscotch and chocolate chips mixed in.
So I made them. Exactly like he said. And he was like no, these are not it. It's not peanut buttery enough.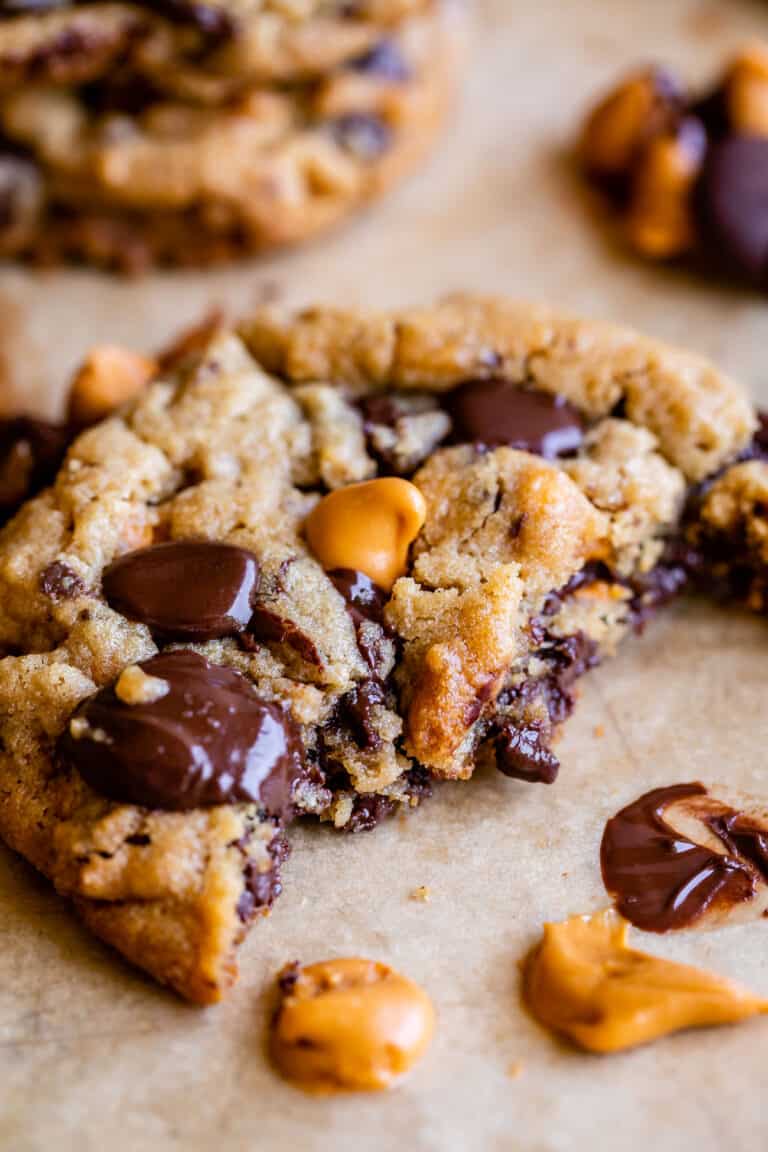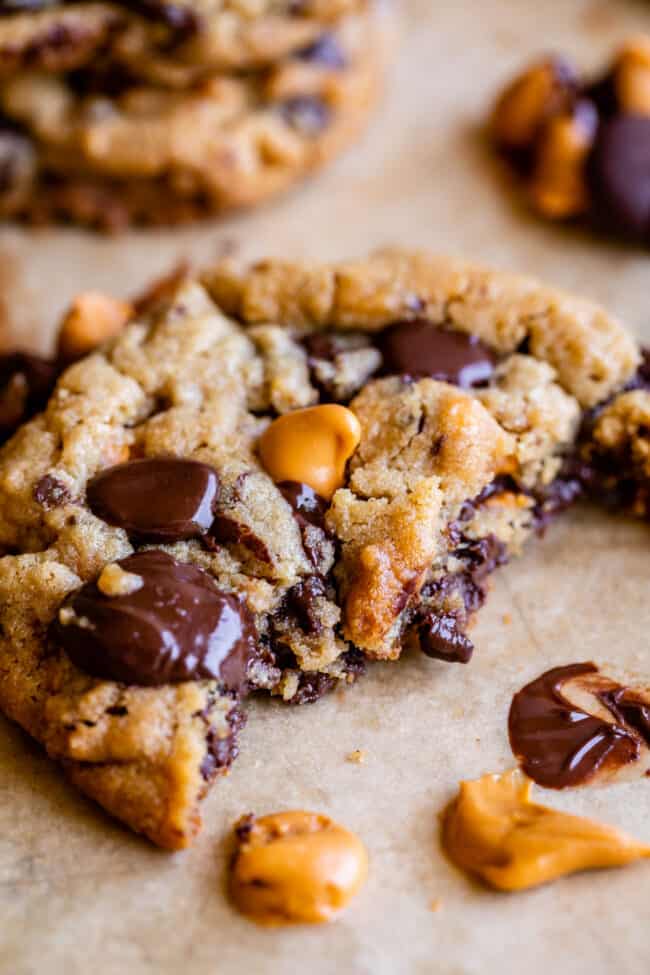 So then I took one of my favorite peanut butter cookie recipes and added butterscotch and chocolate chips. They were sufficiently peanut buttery, but the dough was too crumbly to work with that many mix-ins.
Finally I decided to adapt these Chewy Peanut Butter Oatmeal Cookies. I left out all the oats and added a ton of butterscotch and dark chocolate in it's place. The result? Perfection. Complete and utter perfection.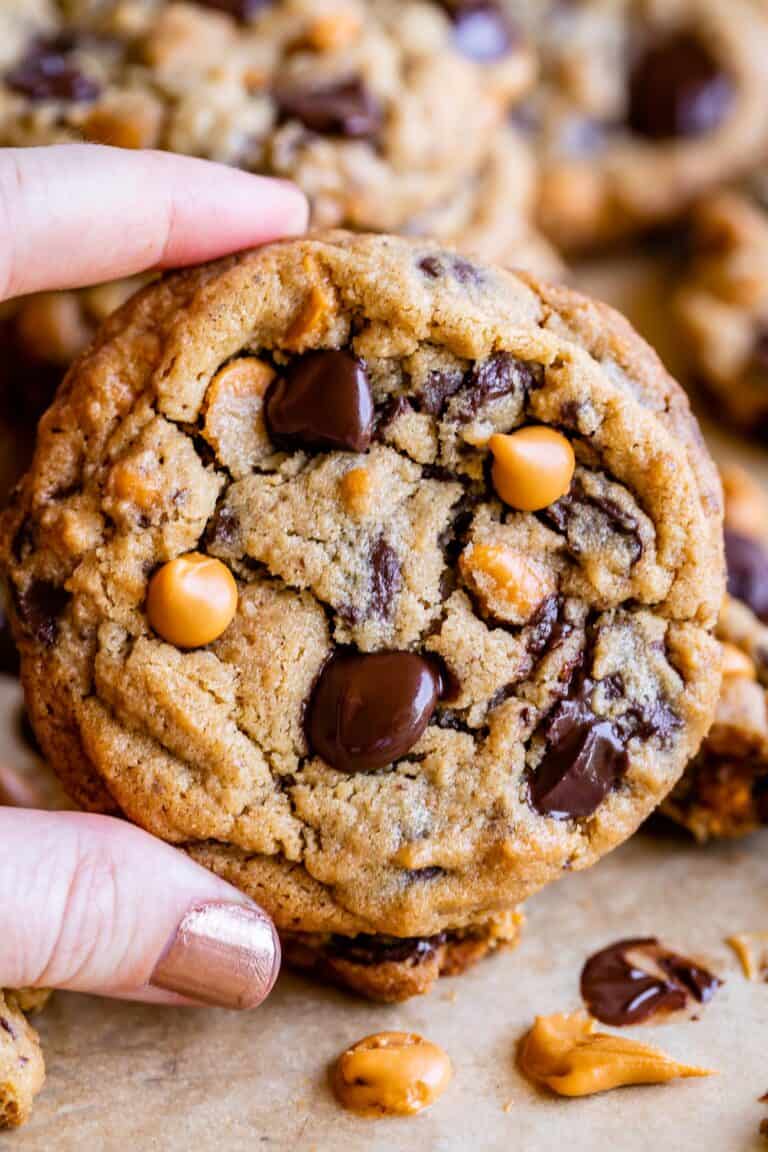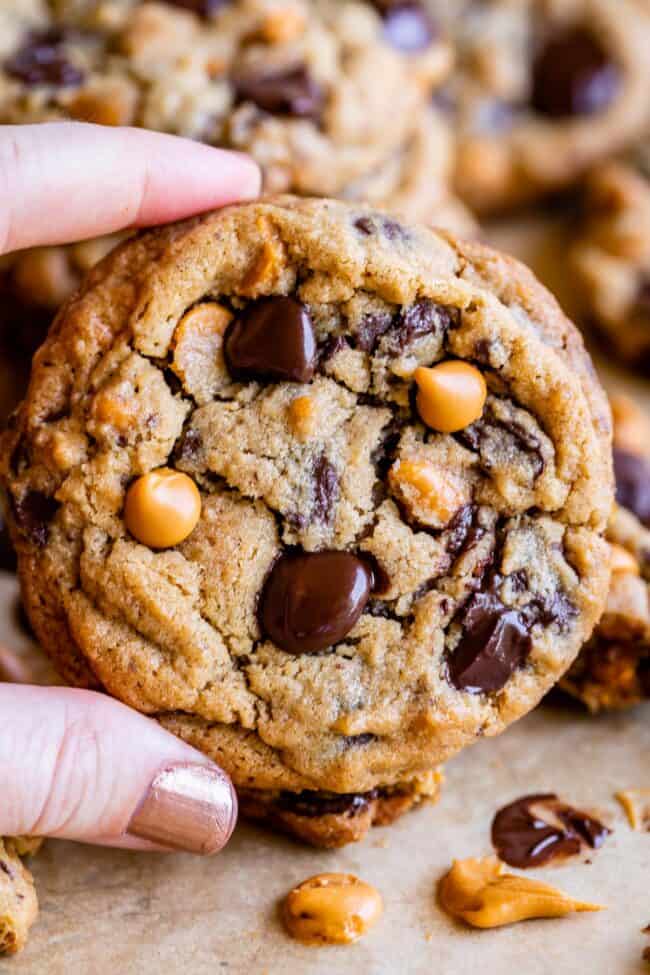 At least that's what I thought. Nathan said mom never would have used dark chocolate; semi-sweet only.
Well WHATEVER. I think there's no pleasing him. The childhood memory is too glorious to be replicated. I'm still calling these Nathan's Butterscotch Chocolate Chip Cookies though, even if they are semi-sweet-short of the perfect memory. Who can compete with childhood nostalgia?? I owe you one for resurrecting these ones Nate.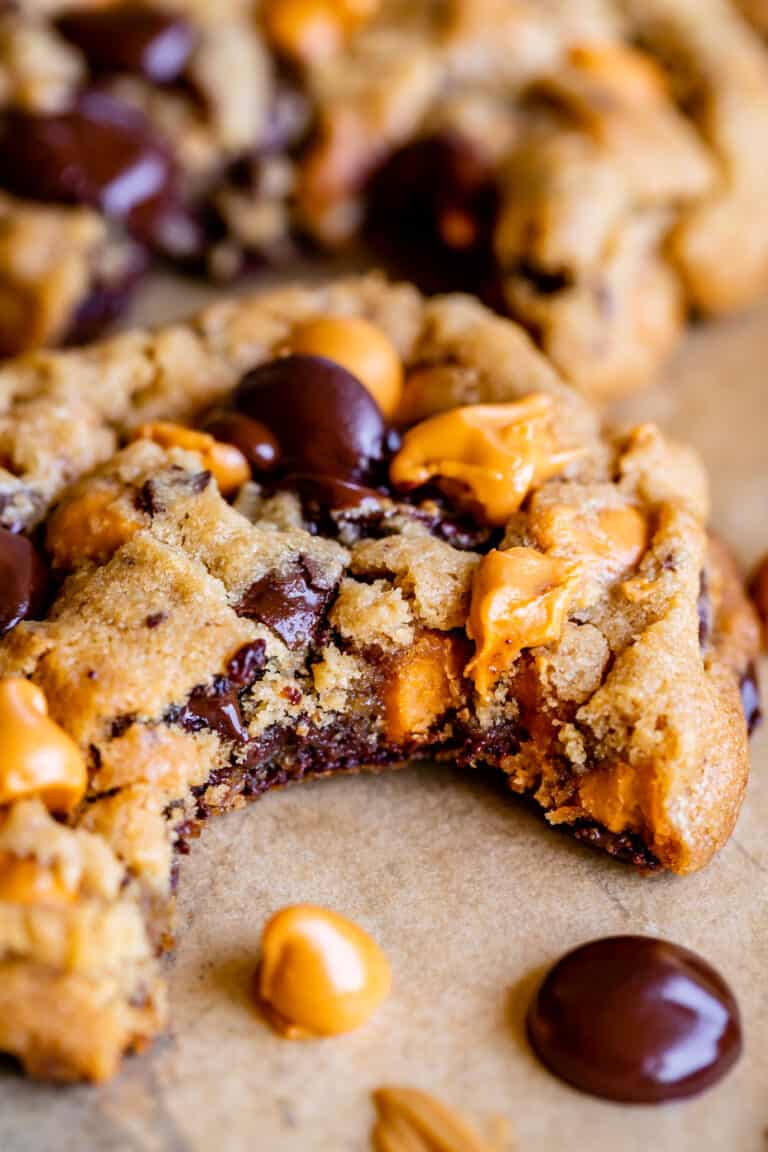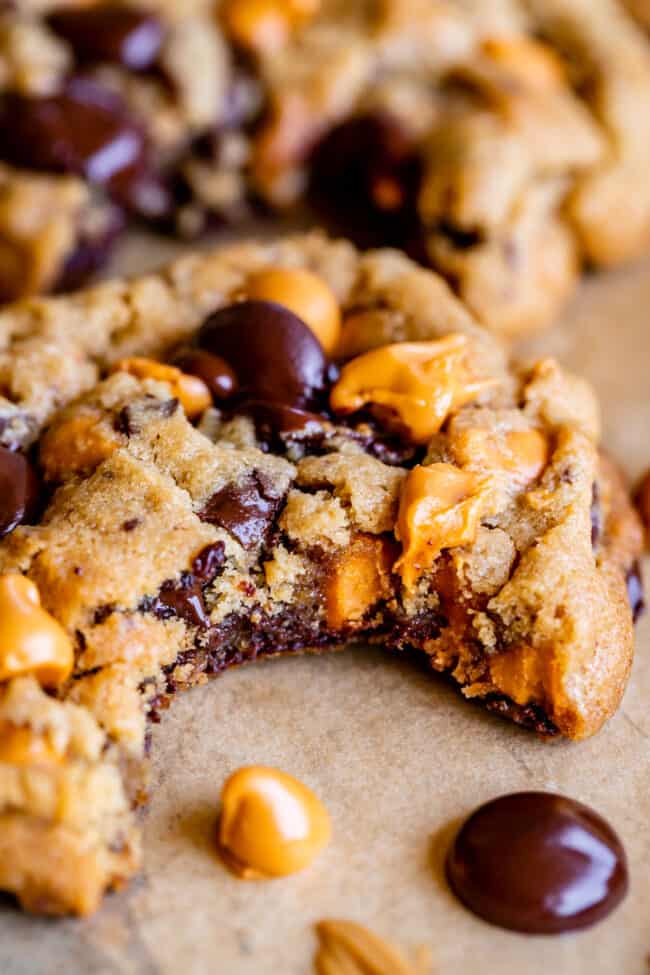 Also I just had a thought, maybe this was just a ploy to get me to test this recipe 3 times?? We have been eating versions of this cookie for weeks and I made him come over every time I tried a new batch to taste it. NATHAN!!!
Also, sorry Mom and Nate, but dark chocolate it better for this recipe. Butterscotch chips are really sweet, and dark chocolate balances them out perfectly. You know what else would be good on this cookie? A sprinkle of flaky sea salt. Like I said, the butterscotch is pretty sweet. So if you are into a bit of salt on sweet cookies, try that out.
You will love these Peanut Butter Butterscotch Cookies
Do you love peanut butter cookies? Do you love chocolate chip cookies? Are you a firm believer that a cookie can never have too many mix-ins?
Then these are the cookie for you. They're a big family favorite around here (and for good reason). They have the perfect texture and soooo much flavor.
Chocolate Chip and Butterscotch Cookies ingredients
Here's a quick shopping list to help you gather your ingredients. See the recipe card below for the full ingredients and instructions!
Salted butter
Brown sugar
White sugar
Creamy peanut butter
Eggs
Vanilla
Flour
Baking soda
Dark chocolate chips
Butterscotch chips
Butterscotch Chocolate Chip Cookies Variations
These cookies are already a variation of two different cookies: peanut butter cookies, and chocolate chip cookies. Of course the possibilities are endless! Here are some ideas for mix-ins you could substitute, in equal amounts, for the dark chocolate chips and/or butterscotch chips. (Don't let me stop you here, try whatever you like!)
Peanut butter chips
Semi-sweet chocolate chips
White chocolate chips
Chopped pecans
Chopped walnuts
Mini chocolate chips
Milk chocolate chips
Chopped candy bars
Skor or Heath bits (or chopped Skor or Heath bars)
Toasted coconut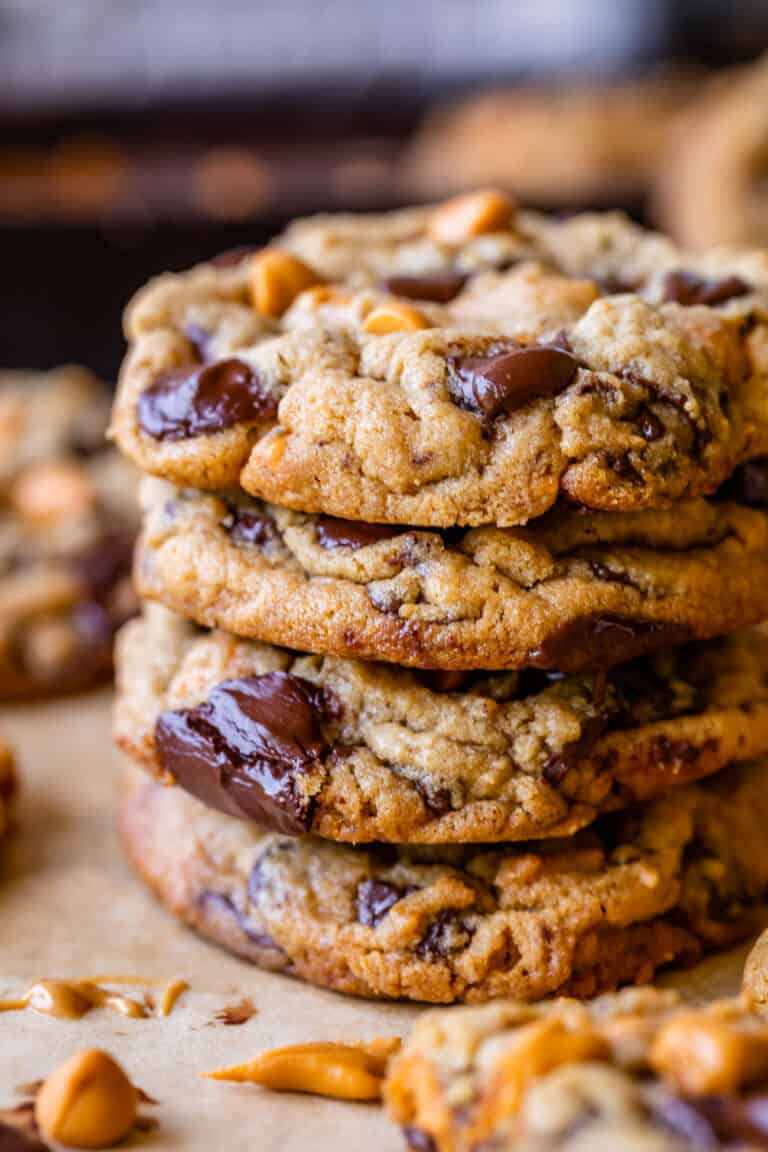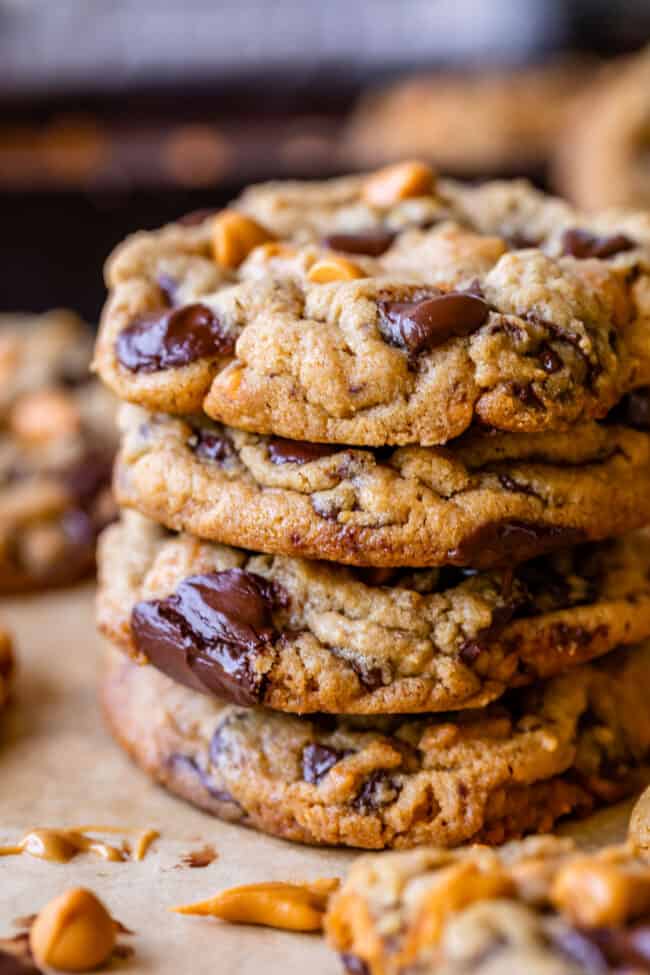 How to make Butterscotch Peanut Butter Cookies
This recipe is super easy! Once you get the hang of making cookies, they all feel easy. There are a few important things to remember, and the first thing is to beat the butter and sugar together really well. Like, even after you think it's all incorporated. The more you mix it the more air gets beaten in, resulting in a soft and tender cookie.
Next add in some peanut butter, eggs, and vanilla. Then the flour and salt and baking soda. Don't over mix the dry ingredients. In fact you want to add in your mix-ins before the flour is even all the way mixed in. Too much mixing and the cookie dough gets tough. Nobody wants a tough cookie!


Add in your dark chocolate and butterscotch. I like to chop up half of my dark chocolate so that there are little slivers of chocolate throughout the dough, in addition to the pools of chocolate from the chips.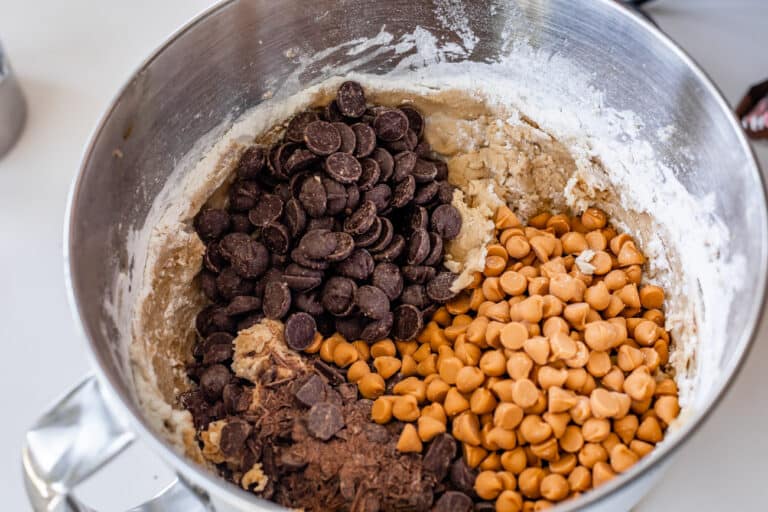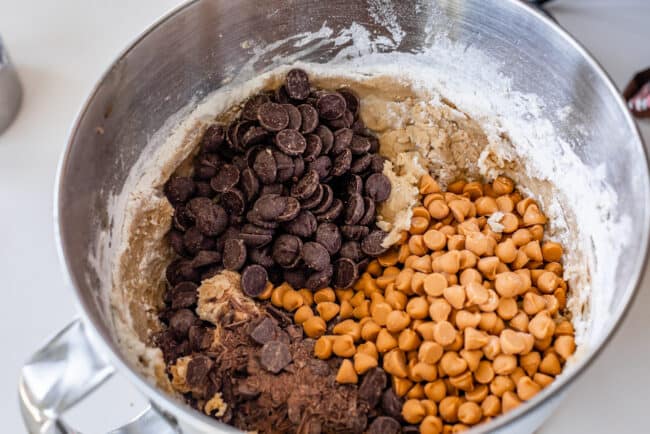 I also like to leave out some of the butterscotch chips and chocolate chips and add them to the top of each cookie to make them EXTRA delicious. This is not necessary but it sure does make your cookie look pretty!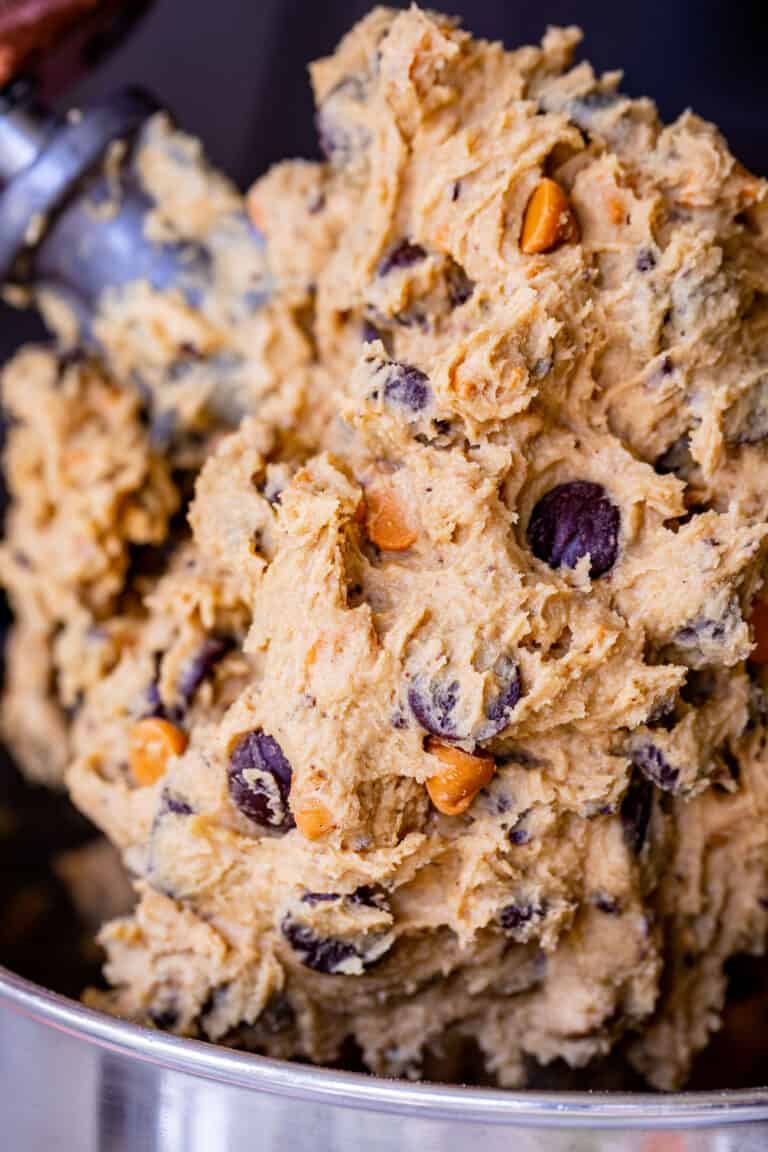 Bake the cookies until they are just barely starting to get golden brown on the edges. The centers should either be completely matte or just have a tiny bit of shine to them.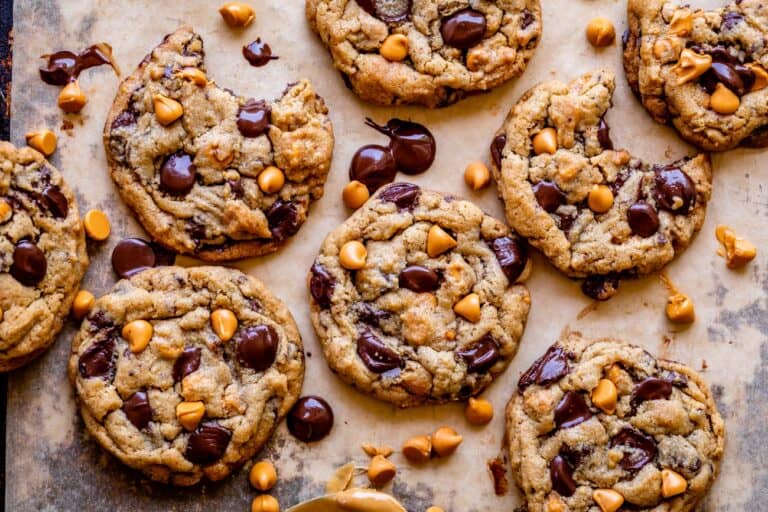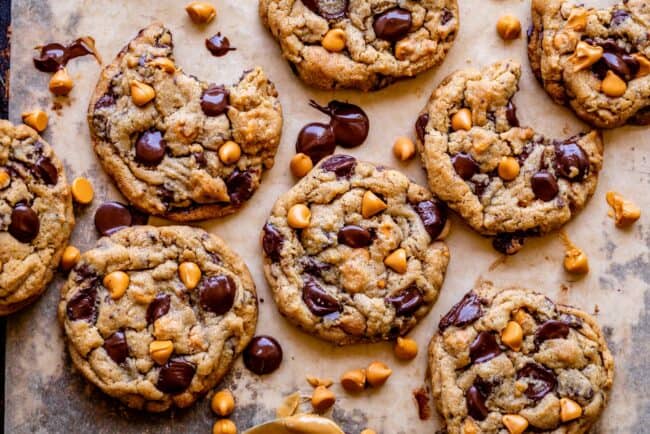 The best tip for chewy Chocolate Chip Butterscotch Cookies with Peanut Butter
My last tip is for how to get super fudgy and thick chewy centers for your cookies: right when you pull the pan of baked cookies out of the oven, use a spoon or the side of your spatula to nudge the edges of the cookie in toward the center. I call this "the spoon trick" and you can see lots of photos of the process on this 30 Minute Chewy Chocolate Chip Cookies post. It is such an easy way to make your cookies next level chewy!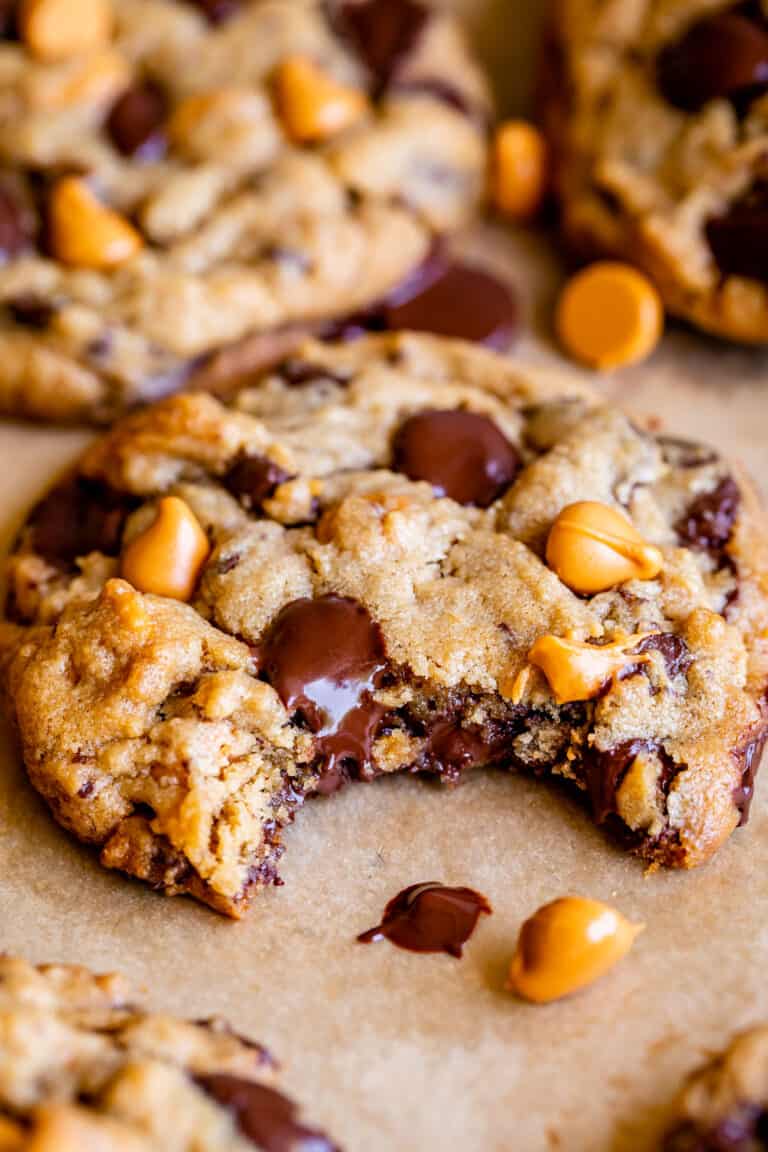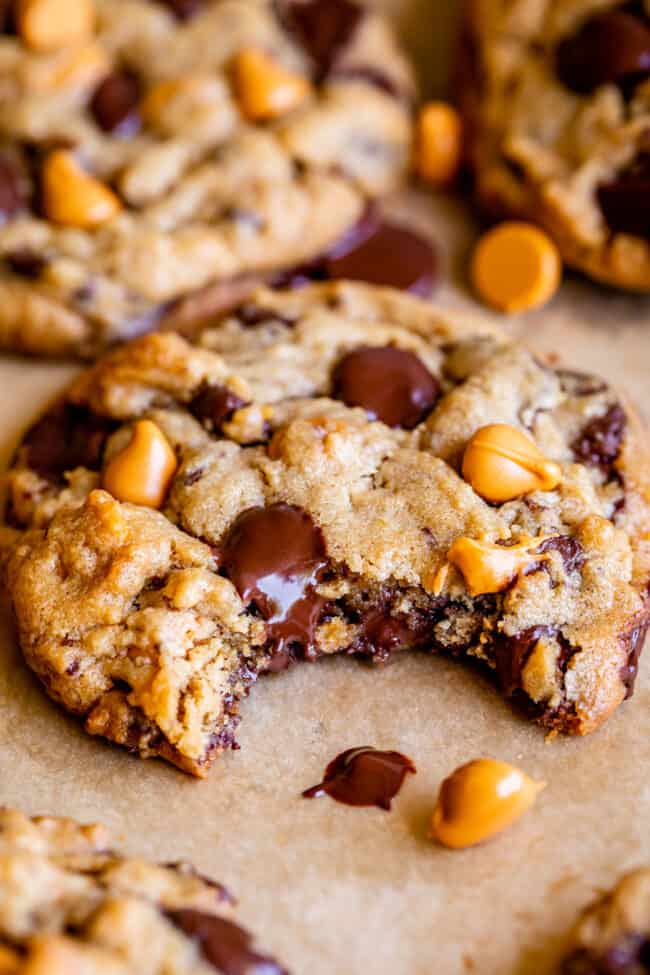 How to serve Butterscotch and Chocolate Chip Cookies
Warm, with a tall glass of cold milk. These are an amazing cookie to send in the mail, put in your cookie jar for after school snacks, take to your neighbors, bring to a potluck, bake up when you have a late night cookies craving, take in to the office, or apologize with (c'mon, is there anything you can't be forgiven for when you bring someone a plate of these??).
How to store Peanut Butter Chocolate Chip Butterscotch Cookies
These cookies should be stored on the counter in a tightly closed container for a few days, or if you haven't eaten them all, you can freeze them for 2-3 months.
Butterscotch Chocolate Chip Cookies FAQs
Why are my peanut butter cookies always hard?
Peanut butter cookies get hard for a few reasons. Here are some of the ways you might be keeping yourself from soft, tender cookies.
You overworked the dough. This dough doesn't need to be mixed beyond the point that there are no more (or almost no more) streaks of flour. If you go past that, you're starting to risk tough cookies. 
You added too much flour. Spoon your flour into a measuring cup and lightly level it off. Don't pack it in!
You baked the cookies for too long. If you're asking this question, I'm going to guess you're not a crispy cookie person. And you are CORRECT, cookies should be soft! Don't bake the cookies much past the point that the dough loses its shine on top. They'll continue cooking a little on the baking sheet after you pull them out of the oven. 
How do you keep peanut butter cookies from falling apart?
Don't add too much flour! Seriously. Always use the "fluff and scoop" method. Fluff up the flour with your spoon, then scoop it into a measuring cup. Level the cup off gently and don't add extra flour!
Does chocolate pair well with butterscotch?
Chocolate and butterscotch are an amazing flavor combination. It's why browned butter makes such an amazing addition to almost any kind of chocolate dessert, like these brownies or these cookies or these blondies (yes, I added chocolate to the blondies). If you haven't tried it, you are in for a treat!
More cookies you are going to love!
Facebook | Pinterest | Instagram

Peanut Butter Butterscotch and Chocolate Chip Cookies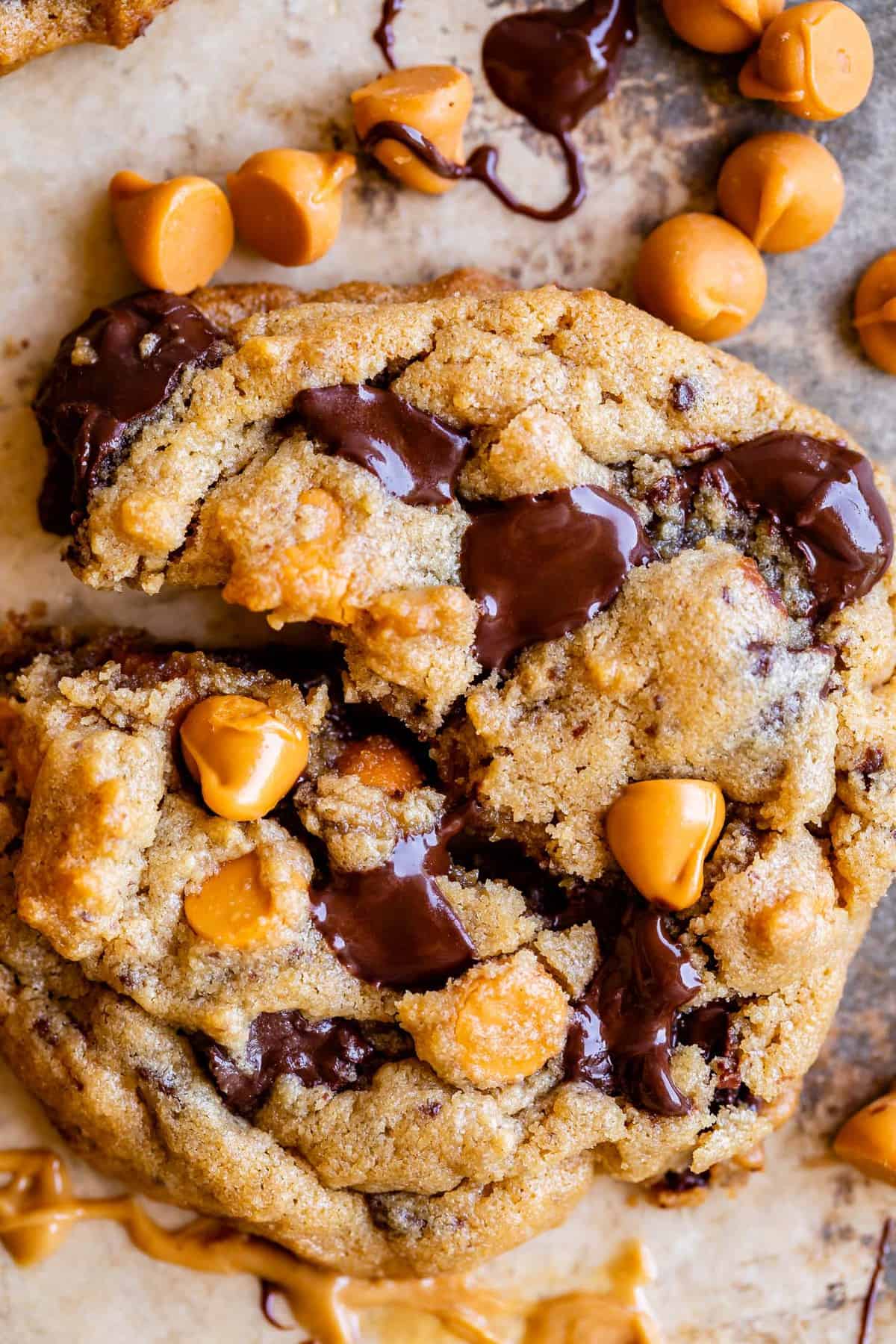 These Peanut Butter Butterscotch Chocolate Chip Cookies are a dream come true! A tender, chewy peanut butter cookie is loaded with tons of dark chocolate and butterscotch chips. They are easy to make and a family favorite!
Ingredients
1

cup

salted butter

,

softened (2 sticks)

1

cup

brown sugar

,

packed

3/4

cup

white sugar

1

cup

creamy peanut butter

2

large

eggs

1 & 1/2

teaspoons

vanilla

2

cups

all-purpose flour

,

spooned and leveled

2

teaspoons

baking soda

1

teaspoon

kosher salt

2

cups

dark chocolate chips

,

divided

2

cups

butterscotch chips

,

(11-ounce package), divided
Instructions
In

a large bowl

or stand mixer, beat 1 cup butter for 2 minutes until smooth, scraping the sides and bottom a few times in between.

Add 1 cup brown sugar and 3/4 cup white sugar. Beat for another 2 minutes, taking the time to scrape the bottom and sides of the bowl in between. Your butter and sugar should be light and fluffy with no chunks of butter.

Add 1 cup creamy peanut butter and mix well.

Add 2 eggs and 1 and 1/2 teaspoons vanilla. Beat well, scraping sides and bottom.

Add 2 cups flour but don't mix it in yet (make sure you spoon and level your flour). Use a small spoon to stir in 2 teaspoons baking soda and 1 teaspoon kosher salt into the flour, then beat in gently. There should still be flour streaks.

Chop one cup of the

dark chocolate chips

with a knife. Add to the dough. Add the other cup of dark chocolate chips, and most of the

butterscotch chips

. (Reserve a handful of the butterscotch chips if you would like to press them into the top of each cookie.)

Cover the bowl and chill the dough in the fridge for 1-3 hours (or overnight). You can bake the cookies right away without chilling (I tried it) but they will bake a little more flat.

When the dough is chilled, preheat the oven to 350 degrees F. Line 2 baking sheets with silicone baking mats or parchment paper.

Use a

2-inch cookie scoop

to shape the dough into balls. Place the cookies on the lined baking sheets with about 2 inches in between each one.

Bake the cookies at 350 for 10-11 minutes until the centers are alllmost done being shiny. The edges should be firm and light brown. Do not over bake.

Immediately after removing these cookies from the oven, use two spoons to push the edges of the cookie toward the center. This will give your cookies a more circular shape, make them thicker and chewier, and the centers even more fudgy. See this

Chocolate Chip Cookies post

for more details and photos.

If you saved any dark or butterscotch chips to add to the top, press them in while the cookies are still very warm, within 1-3 minutes of taking them out of the oven.

Let cool on the sheet for 5 minutes before removing to

a cooling rack

. You should definitely eat at least one of these warm. Or maybe 2 or 3.
Nutrition
Serving:
1
cookie
|
Calories:
247
kcal
|
Carbohydrates:
31
g
|
Protein:
4
g
|
Fat:
13
g
|
Saturated Fat:
7
g
|
Polyunsaturated Fat:
1
g
|
Monounsaturated Fat:
3
g
|
Trans Fat:
1
g
|
Cholesterol:
25
mg
|
Sodium:
257
mg
|
Potassium:
131
mg
|
Fiber:
1
g
|
Sugar:
22
g
|
Vitamin A:
183
IU
|
Vitamin C:
1
mg
|
Calcium:
43
mg
|
Iron:
1
mg