You can throw together this easy, cheesy, hearty Penne and Mozzarella Casserole in 45 minutes, tops. You don't have to cook the sauce, just stir some spices in and call it good. This is a great meatless Monday meal!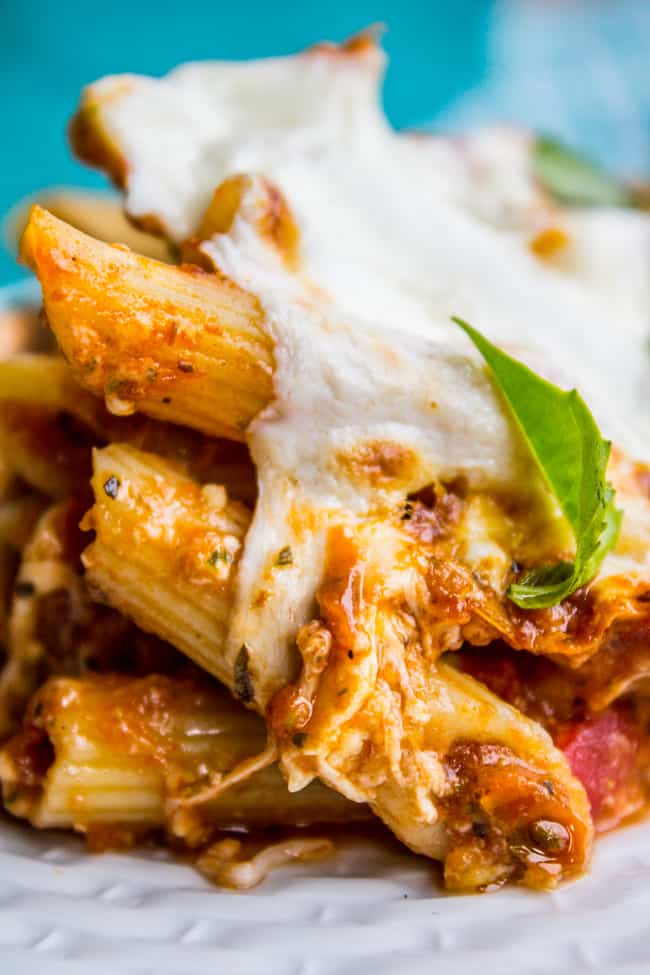 After posting my 30 Minute Pea Soup last week, I got an email from someone named Gary (hi Gary!) asking me to take him off my email list. "I like recipes with meat not with out meat."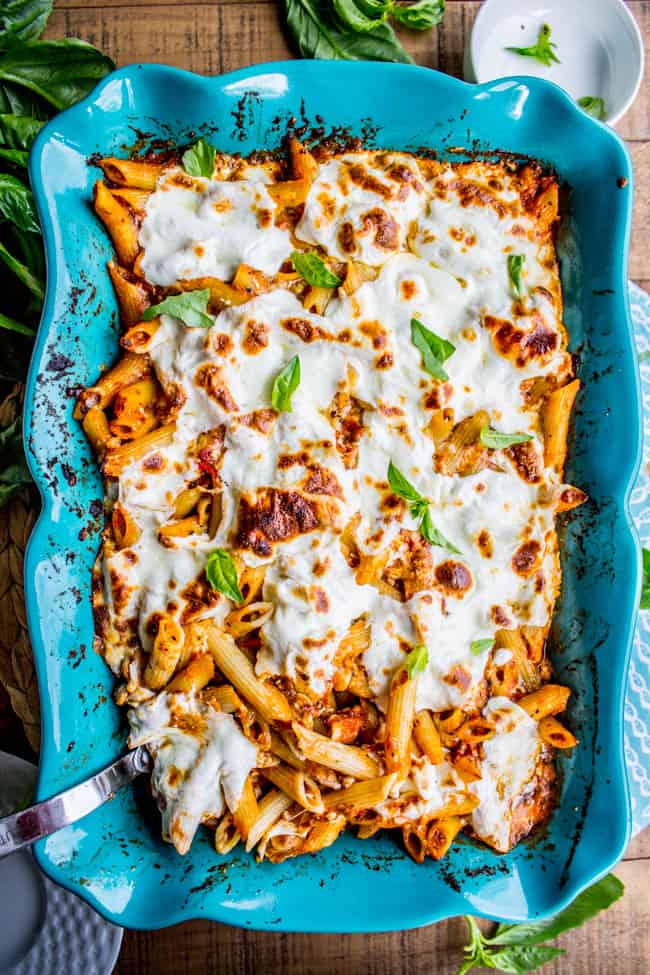 Fair enough. So I sent him some of my top recipes with meat in them (like this Cuban Mojo Marinated Pork, Beef Barley Soup, and Asian Pork Tenderloin with Ginger Glaze) and explained that I like meat too. It's good stuff. He said, "oh ok, I thought with that [pea soup] you might have been a vegetarian, I am a meatatarian."
Well Gary. Now you are going to think I'm a big fat liar, because today's recipe also happens to be meatless.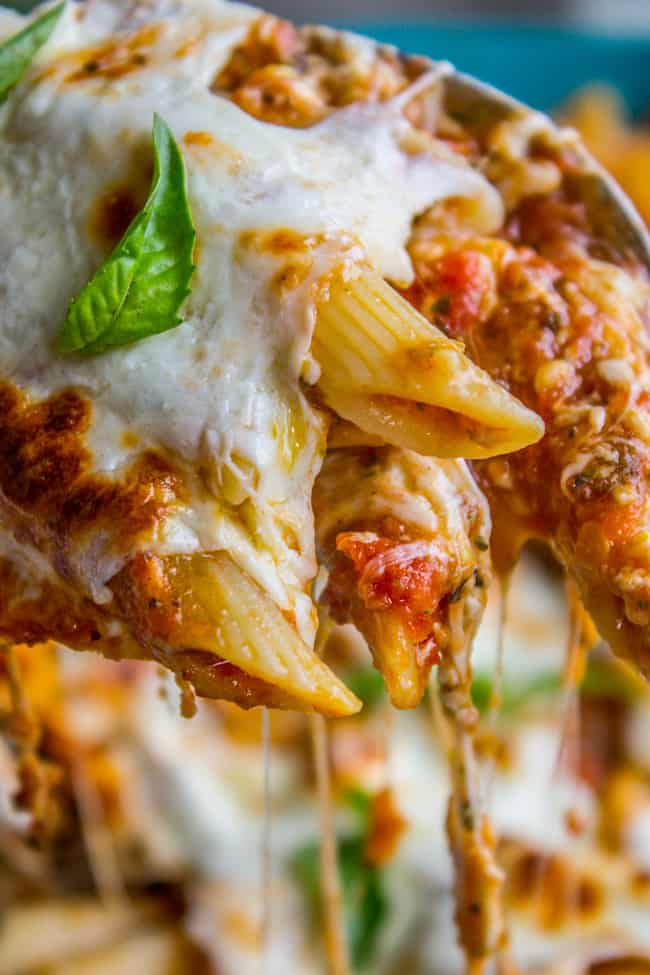 When my BFF Sarah dropped off her kids last week (I watched them while she and her husband vacationed in Sweden), Sarah also dropped off this ultra-cheesy casserole. It was delicious. I kept digging around with my fork for the sausage or whatever it was, but couldn't find any. Just cheesy saucy goodness.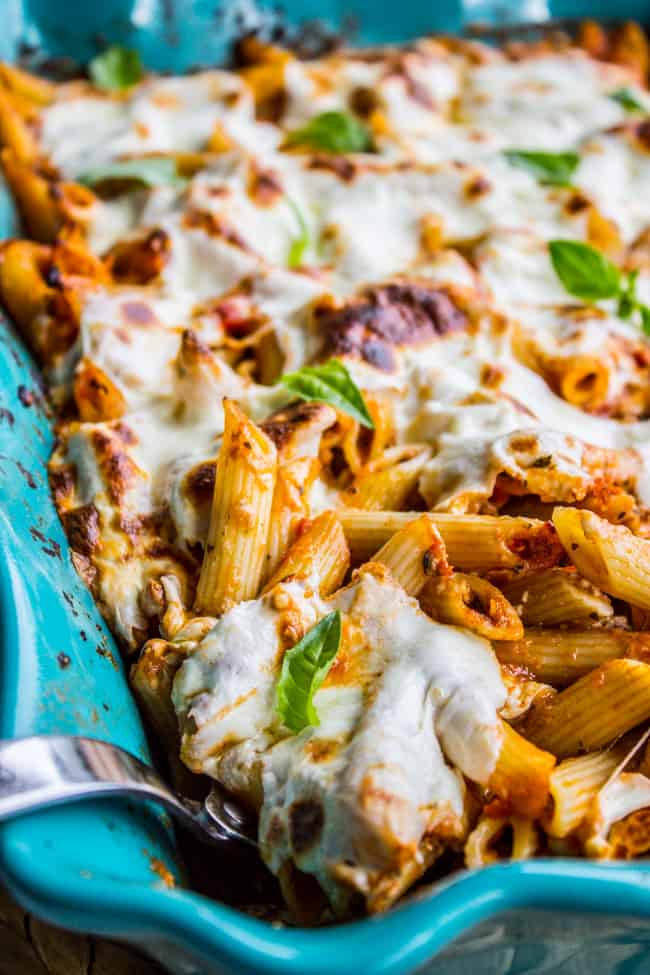 I asked for the recipe when she got back. She texted me her recipe and one step said, "Grate an entire Costco 2-pack of fresh mozzarella." I still had to double check. "You mean you did both logs of cheese in the casserole. Not just one?" "Yes, yes I did." She said that she threw the recipe together in an effort to use up the 2-pound package of fresh mozzarella she had bought at Costco so that it didn't spoil while they were gone. I like how you roll Sarah.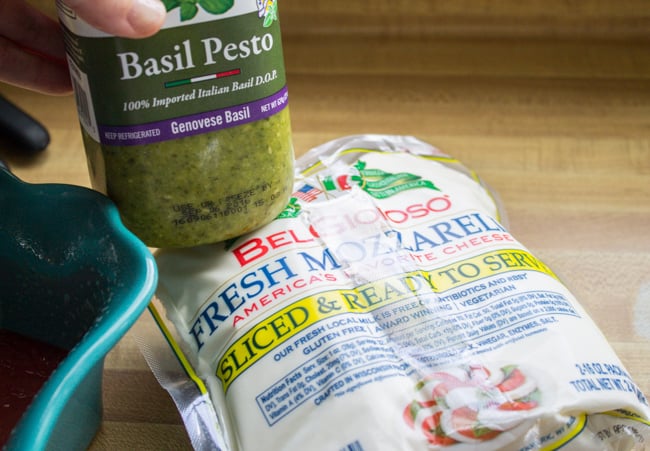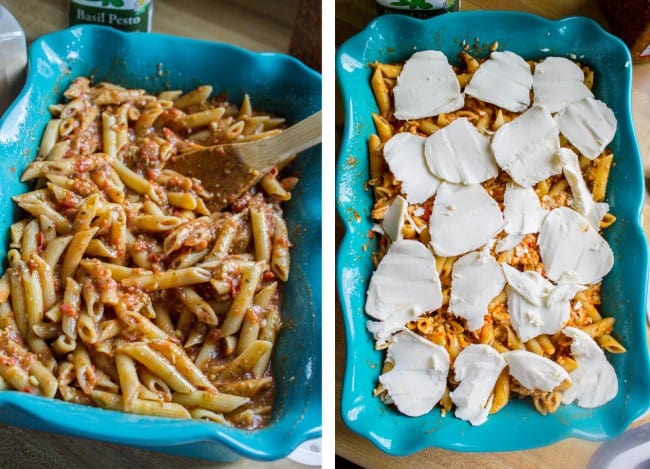 (This should not be surprising. Sarah and I were freshman roommates and didn't like each other when we met. I eventually changed my mind when I saw how much she ate for breakfast every morning at the dining center. Girl can pack it down. I knew we would be great friends from then on.)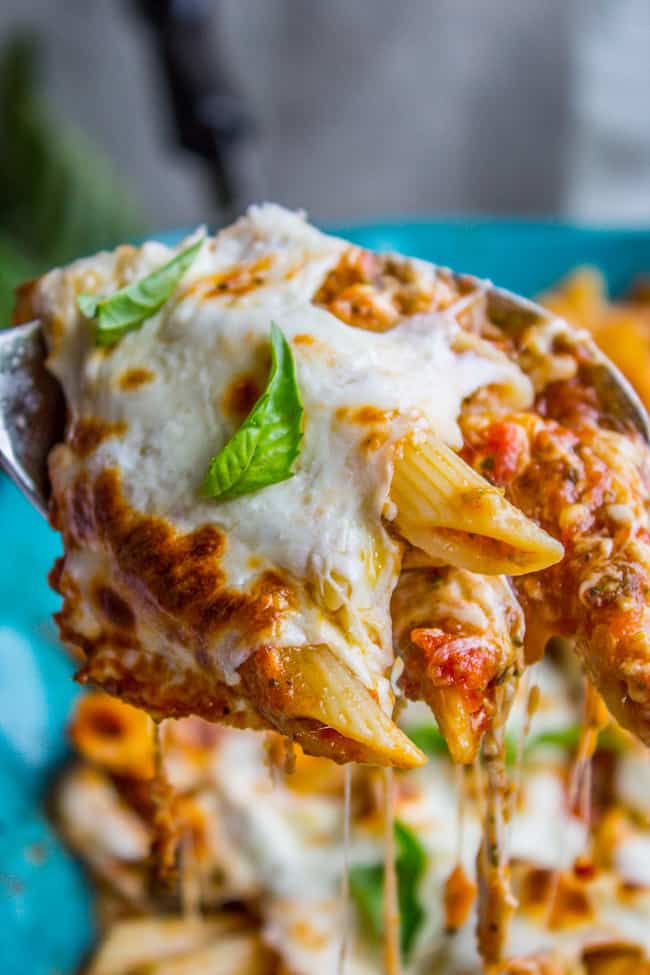 So anyway, sorry Gary. Throw some sausage in if you want, but I swear you don't need it. This is one hearty casserole.
(Also, to clarify, I only added 1 and 1/2 pounds of cheese in the recipe below. Because I want to live to see my grandkids, you know. Gary, you should add the full 2 pounds.)
You can see that I stirred up the sauce right in the casserole dish because of all the burned sauce on the edges. Oops. If that bugs you then use a bowl to combine everything and then dump in the dish.
If you make any of my recipes, share it on Instagram using the hashtag #TheFoodCharlatan so I can see it! I love that.
Facebook | Pinterest | Instagram | Twitter
Three years ago: Deep Dish Buttermilk Pancake << (read about the time I let my kids roll away in a cart at Costco.)
Four years ago: French Onion Soup
Five years ago: Irish Soda Bread with Browned Butter

Extra Cheesy Penne and Mozzarella Casserole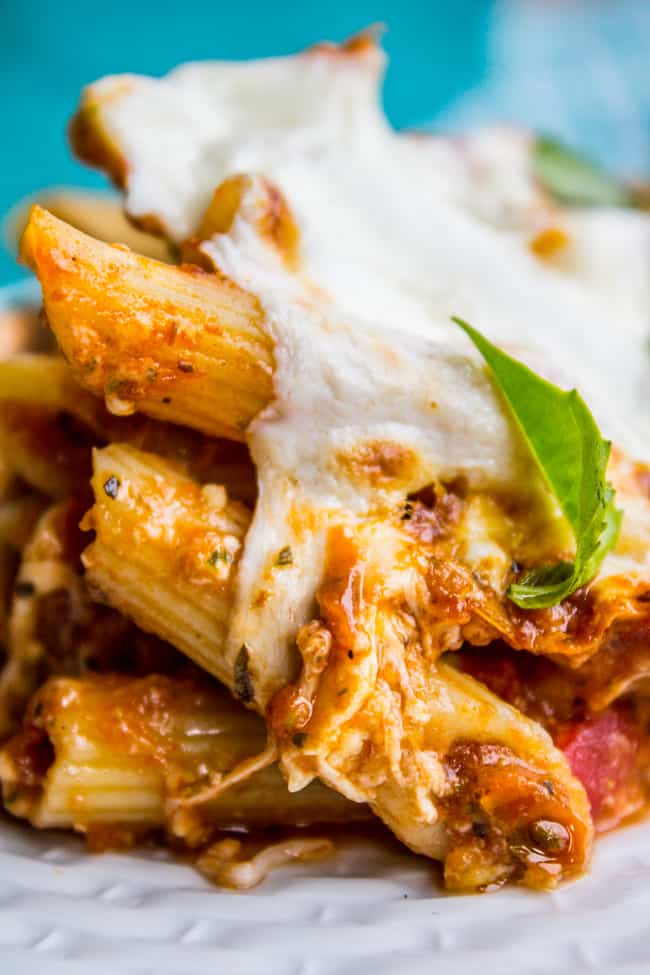 You can throw together this easy, cheesy, hearty Penne and Mozzarella Casserole in 45 minutes, tops. You don't have to cook the sauce, just stir some spices in and call it good. This is a great meatless Monday meal! 
Ingredients
1

pound

penne pasta

1 (28-oz)

can

crushed tomatoes

1

cup

basil pesto*

1

teaspoon

sugar

2

teaspoons

dried basil

2

teaspoons

dried oregano

1

teaspoon

garlic powder

1

teaspoon

salt

,

or more to taste

1/4

teaspoon

pepper

1

teaspoon

pepper flakes

1 & 1/2

pounds

mozzarella

,

fresh*
Instructions
Preheat your oven to 375 degrees F.

In a 3 quart pot or larger, add a few quarts of water and salt until it tastes like seawater (I usually add about 1 tablespoon.)

Bring to a boil, then add the penne and cook until al dente; check the package for times and check early. Nobody likes mushy pasta.

When the pasta is done, drizzle with a little oil to prevent sticking. (Or if the sauce is all ready to go, just dump it in.)

Meanwhile, spray the edges of a 9x13 inch casserole dish (or any shape dish that hold 3 quarts) with nonstick spray.

Add the can of crushed tomatoes to the casserole dish. Add the pesto, sugar, basil, oregano, garlic, salt, pepper, and red pepper flakes. Stir together.

Stir in the pasta.

Shred one pound of mozzarella. Stir into the pasta.

Shred or slice the remaining 1/2 lb mozzarella and sprinkle/arrange on top of the casserole.

Bake at 375 for 20 minutes.

Optional: if you like brown spots on your cheese broil for 1-2 minutes. Move the dish higher up toward the flame.
Notes
*I buy both of these at Costco. Great price!
Nutrition
Serving:
1
g
|
Calories:
740
kcal
|
Carbohydrates:
73
g
|
Protein:
33
g
|
Fat:
36
g
|
Saturated Fat:
14
g
|
Polyunsaturated Fat:
1
g
|
Monounsaturated Fat:
6
g
|
Cholesterol:
70
mg
|
Sodium:
1486
mg
|
Potassium:
650
mg
|
Fiber:
6
g
|
Sugar:
11
g
|
Vitamin A:
1799
IU
|
Vitamin C:
12
mg
|
Calcium:
572
mg
|
Iron:
4
mg
Here are some other casserole ideas you will love!
Easy Cheesy Ravioli Lasagna <<this is SO easy and a family classic. Eric grew up on this stuff.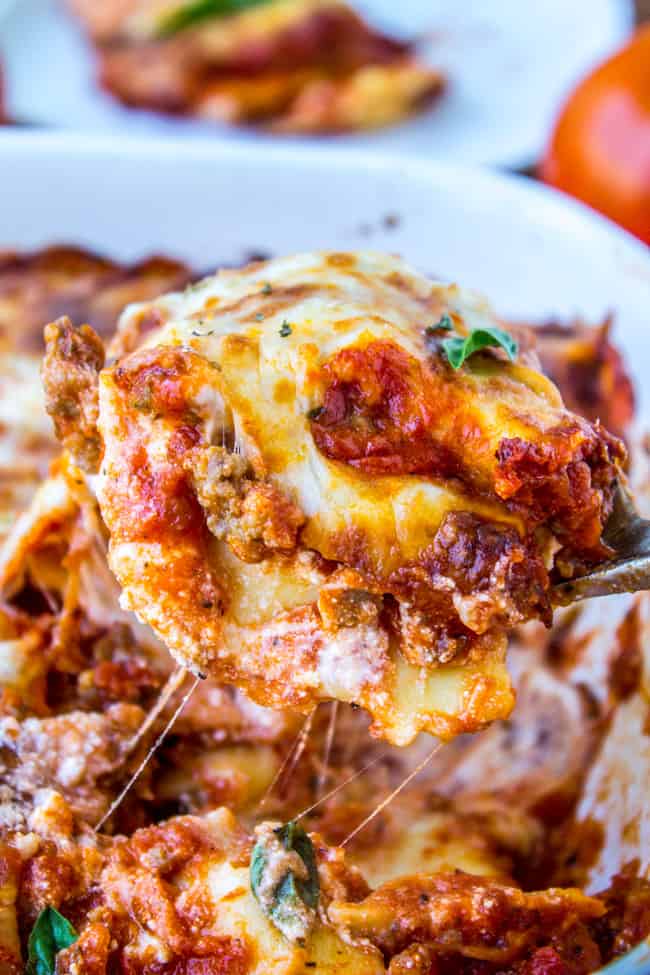 Tomato Basil Summer Veggie Casserole << It doesn't have to be summer to make this casserole! Sub whatever veggies you have on hand! Makes a TON.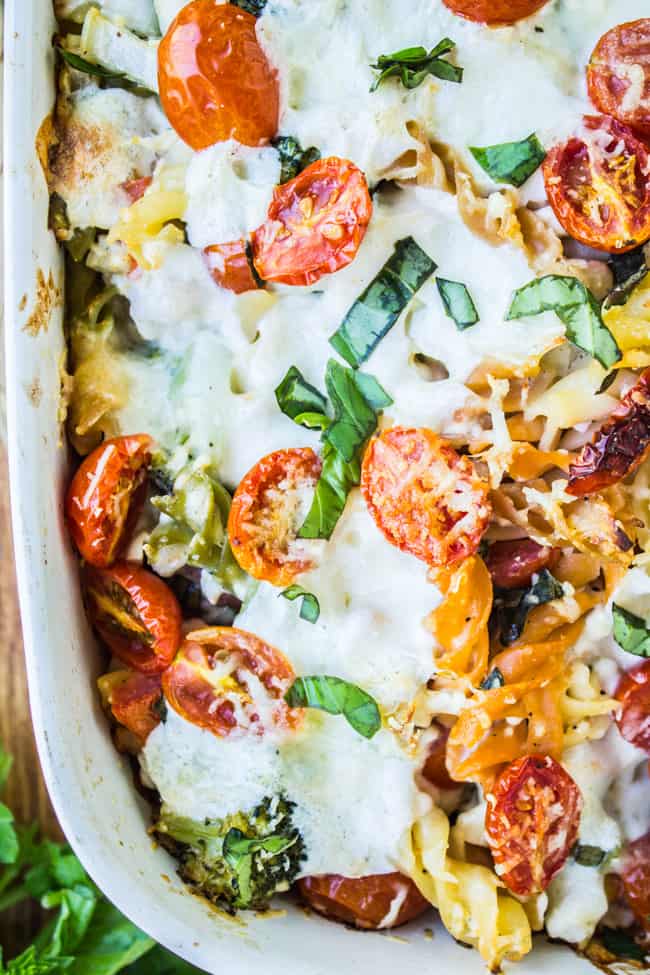 Easy Cheesy Asparagus Tortellini Bake << you don't have to boil the tortellini. Just throw it in and bake.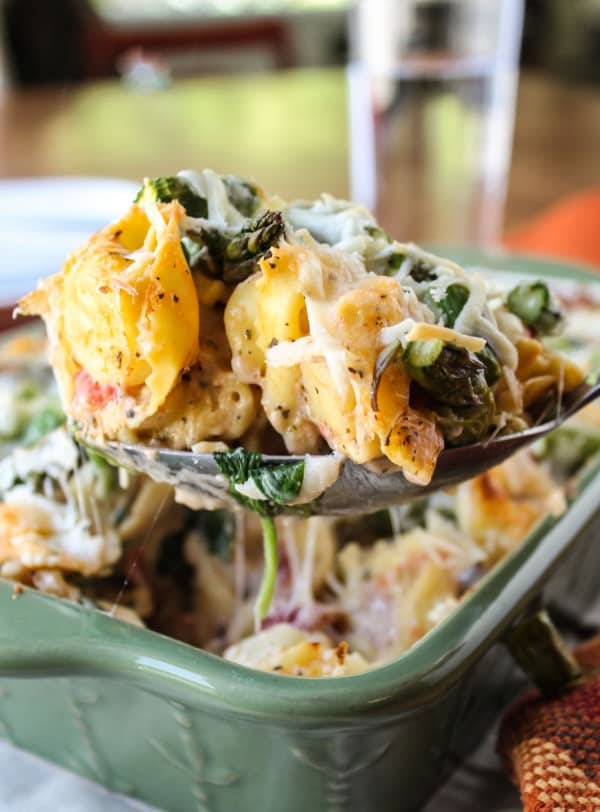 More cheesy pasta to love!
Healthier Cheesy Baked Ziti from My Gluten Free Kitchen
One Pot Penne Pasta with Tomato and Basil from The Little Kitchen
Tomato Eggplant Zucchini Bake with Garlic and Parmesan from Well Plated
This post contains affiliate links. Thanks for your support!