Eric and I live in the 20th century. I think I get it from my parents, who didn't even get a DVD player until a couple years ago. (I think it was mostly because my mom loved her sports-car-shaped-VHS-rewinder so much and couldn't bear to accept that once she got a DVD player it would be useless.)
Eric and I don't have a digital bathroom scale, it's just the old-fashioned dial kind. I accepted a long time ago that it is not really accurate enough to tell you your weight, but it is useful in tracking your fluctuation day to day. (Or week to week, or month to month…I kind of like having an estimate weight. It makes me less curious. It's also nice to get on the scale, see the number, and legitimately think, "Well, it's probably wrong.")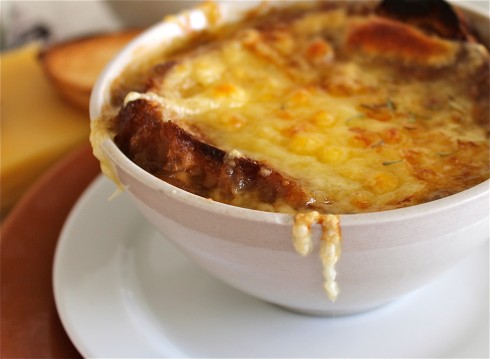 Eric's parents were in town a few weeks ago and Eric's dad informed him that our scale is 15 pounds too heavy. Eric was very concerned and wanted to buy a new digital scale immediately. I reminded him that I am 8 months pregnant and see a doctor once a week. The scale is not 15 pounds heavy. He brushed that aside and said, Karen, I have the potential to lose 15 pounds here, just buy the scale!
I think the moral of the story here is that Eric's dad needs to cut back on the Cheez-its when he goes on a road trip.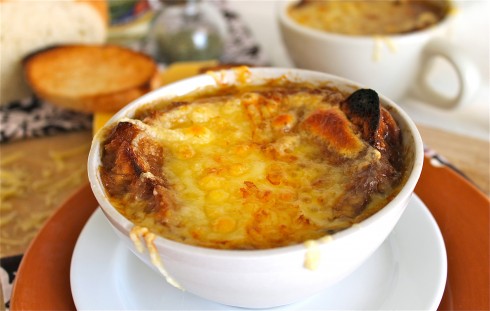 I used to think that I didn't like onions. I mean when I was a kid. I also didn't like mustard or blue cheese, so obviously I was way lame. Because of this onion aversion, I never ordered French Onion Soup in a restaurant because, hello, I thought it would be disgusting. I have since repented. Onions are a gift from the culinary gods, and French Onion Soup is not far behind. This is a basic recipe. Sometimes you just don't need to mess with the classics. Make this the next time you have a rainy afternoon at home. You can babysit your caramelizing onions while you enjoy some cocoa and a good book.
French Onion Soup

Source: Table for Two
3 pounds yellow onions, chopped or thinly sliced
3 tablespoons butter
1/2 tsp. salt, plus more if needed
1 pinch of sugar
1 tablespoon all purpose flour
4 cups of water
4 cups high quality beef broth
1 sprig fresh thyme (or 1/2 teaspoon dried thyme)
1/4 cup dry white wine (I used white cooking wine)
1 crusty baguette
8 ounces gruyere or swiss cheese
Melt butter in a large dutch oven or stock pot over medium heat. Add the onions, salt and sugar. Cover and cook for 10 minutes.
Take the cover off, turn the heat to low, and cook the onions for 90 minutes, stirring about every 20 0r 30 minutes. Don't rush this. I know 90 minutes seems long, but this is how you get that deep caramel-y onion flavor. You should achieve a golden brown color to the onions.
After 90 minutes, add a tablespoon of water and stir to loosen up the brown bits at the bottom. Add a tablespoon of water every 10 minutes or so for another 30 minutes until the onions are an even darker brown.
Add the tablespoon of flour, stir, and let cook for 1-2 minutes. Add the 1/4 cup of wine and let cook for another couple minutes.
Add the 4 cups of broth and the 4 cups of water. Add the thyme and bring to a boil. Reduce heat and simmer for 10 minutes. Add salt to taste.
Turn on your broiler and adjust the rack to the upper middle position. Slice the baguette into 3/4 inch thick slices and place on a baking sheet.
Broil the baguettes for 1-2 minutes on each side (or until they achieve a light brown crisp color – watch them carefully so they don't burn). Remove from oven and set aside.
Ladle the soup into oven-safe bowls. Place a slice of toasted baguette on top and a large slice of gruyere or swiss cheese on top of the baguette slice. Place the bowls carefully into the oven and broil until cheese has melted and is bubbly and slightly brown, about 3-5 minutes. It's easier to do several at once if you put the bowls on a baking sheet.
Let cool for 5 minutes before serving. Make sure you warn people not to touch the bowls, they will be very hot.