Slow Cooker Risotto with Italian Sausage and Butternut Squash (and newborn photos!)
Have you ever made risotto on the stove? You have to stir forever. Make it in your slow cooker instead, you only have to stir twice! This version has flavorful sausage, tender butternut squash, a healthy handful of spinach, along with a sprinkling of parmesan. It's perfect winter comfort food!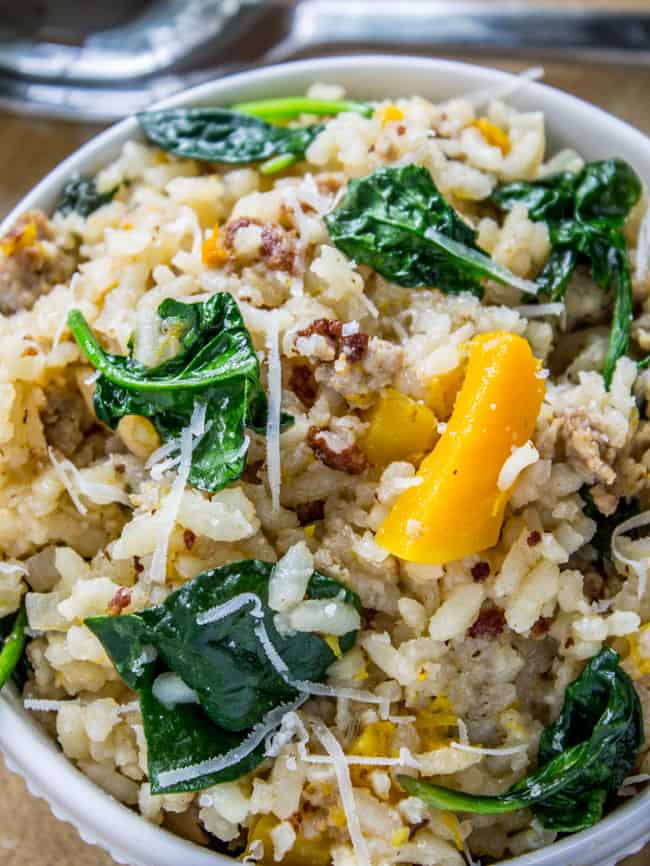 Babies used to die all the time in past generations. Disease was obviously a big culprit, but I've been thinking lately that some of it must have been related to breastfeeding.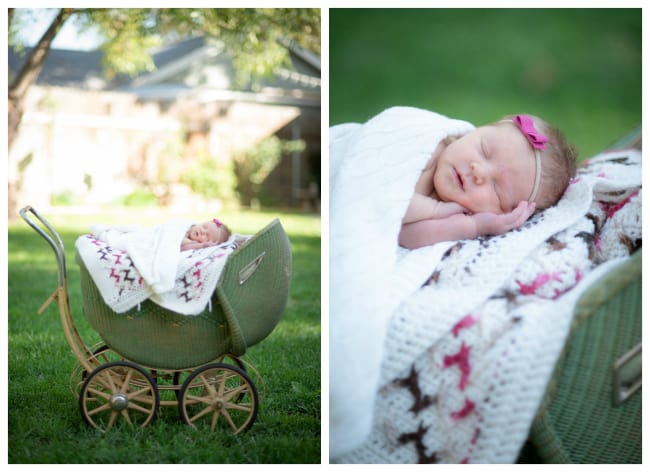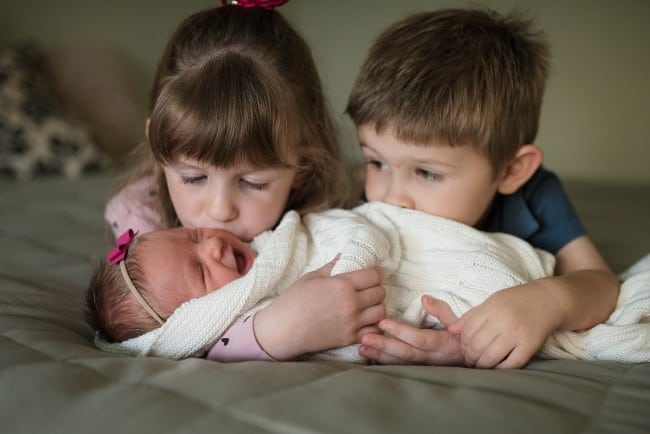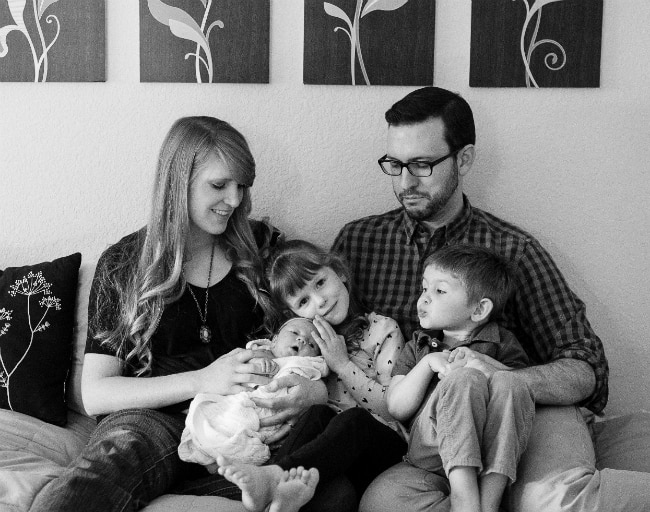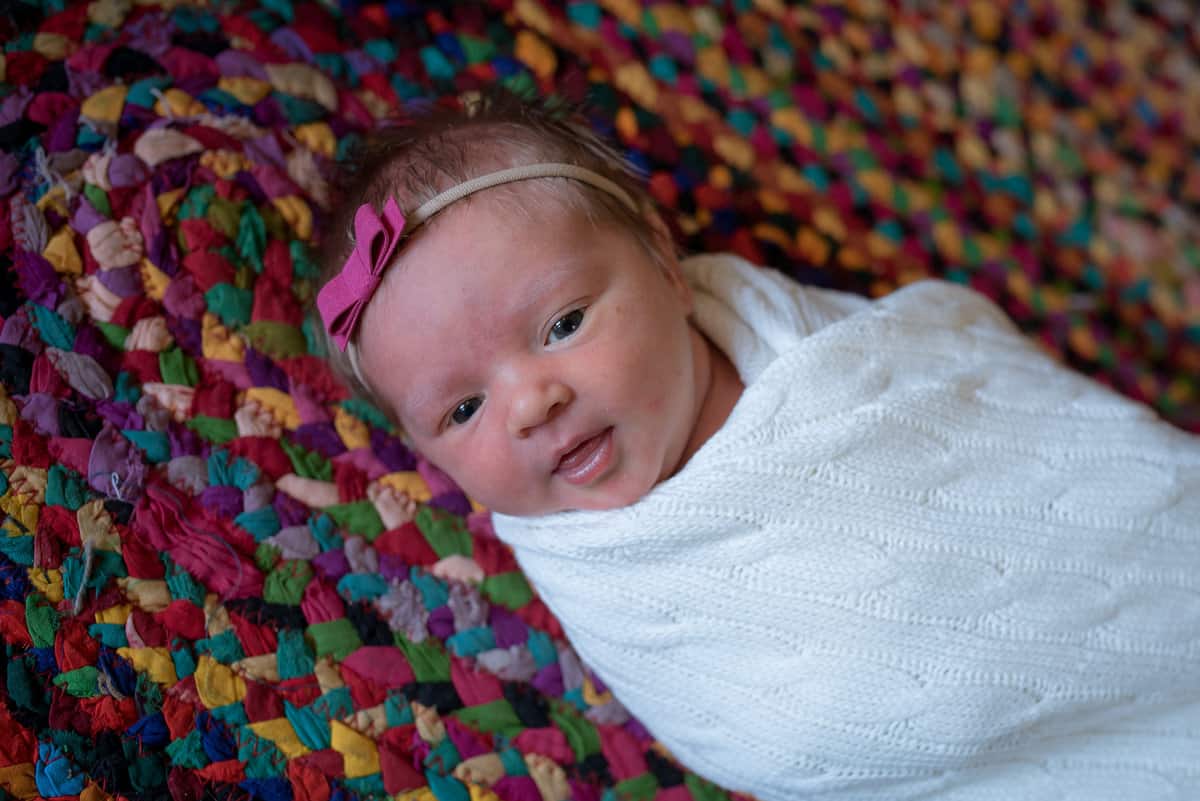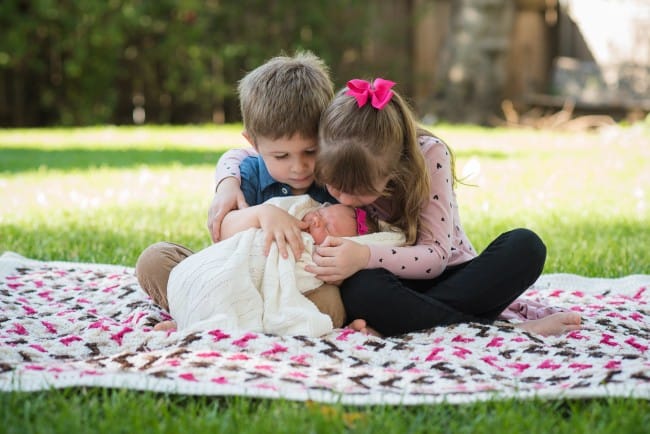 Some women just don't produce that much milk, and I'm one of them. It's such a strangely emotional issue. Somehow our society has duped women into connecting their self worth with whether or not they breastfeed. I'm sure this is partly a leftover mindset from a time when, if you didn't produce the milk, you had to deal with the guilt of a dead baby, which would obviously be devastating.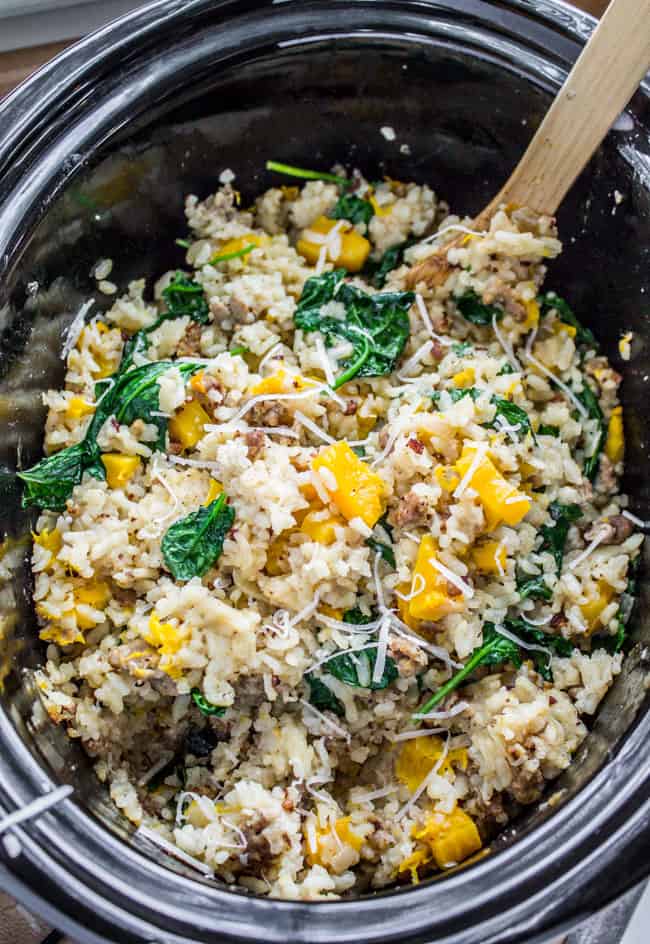 Even though logically I know there's only so much I can do, the emotional side of my brain keeps screaming, you're not doing it right! There's something wrong with you! Your only job is to feed this baby and you can't do it! If only you were more committed, then your baby would be healthier and gaining more weight.
Because there ARE  things you can do. (Eat more. Eat better. Take herbs. Drink mother's tea. Eat lactation cookies. Pump. Don't pump. Make sure you're latch is correct. Check for tongue tie. Go to a baby chiropractor. Give your baby tummy time. Sit in a chair and feed your baby all day, every day. Coast on all of your other responsibilities, including older kids.) And if you don't do all of these things until you reach the very brink of insanity, well then you aren't a good mom.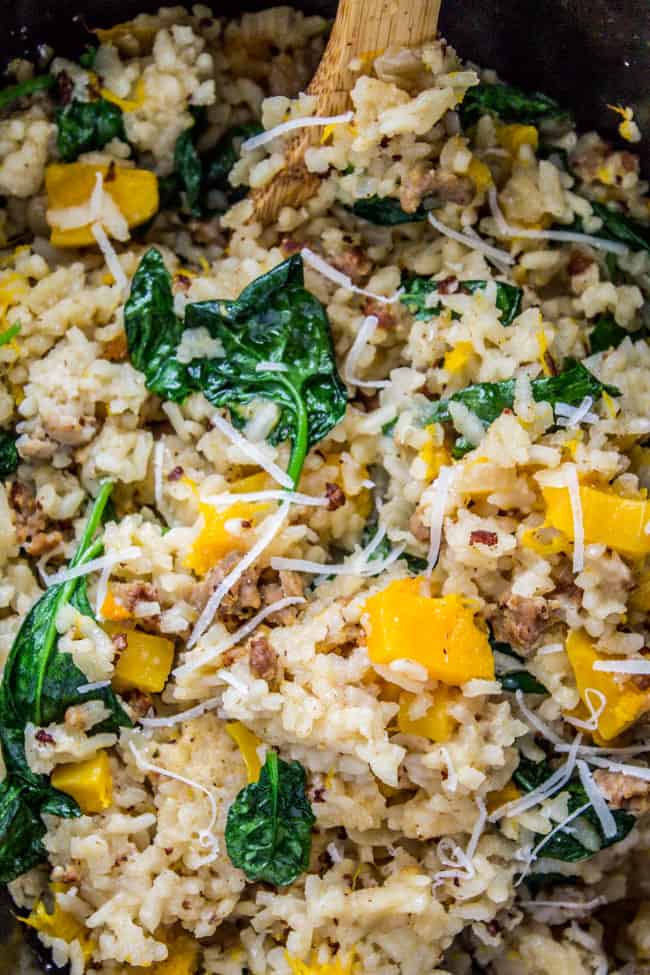 We went to stay with my brother over the holidays, he's a doctor. He told me that studies show pretty insignificant differences between breastfed and bottle fed babies. I said, why do people make such a big deal of it then? He said, "Because women like to be mean to each other." I know that's a bit of an exaggeration, but I do wonder if that's where some of the societal pressure comes from.
I opened up this discussion on Facebook and got an overwhelming response, all positive, all supportive. People gave their opinion on what I should do (I'm trying to decide if I should start supplementing formula) and then said things like, you're a good mom! Follow your gut! Fed is best! No shame! Whatever you do, it's going to be okay!
Mom guilt is totally a real thing. I feel so blessed to have support from really nice women who aren't going to judge me. I feel even more blessed to live in a time when there is a reliable back up when you can't produce enough! At the end of the day all I have to deal with are some tough feelings and perhaps hand washing bottles; not a funeral for my child. How lucky are we, seriously?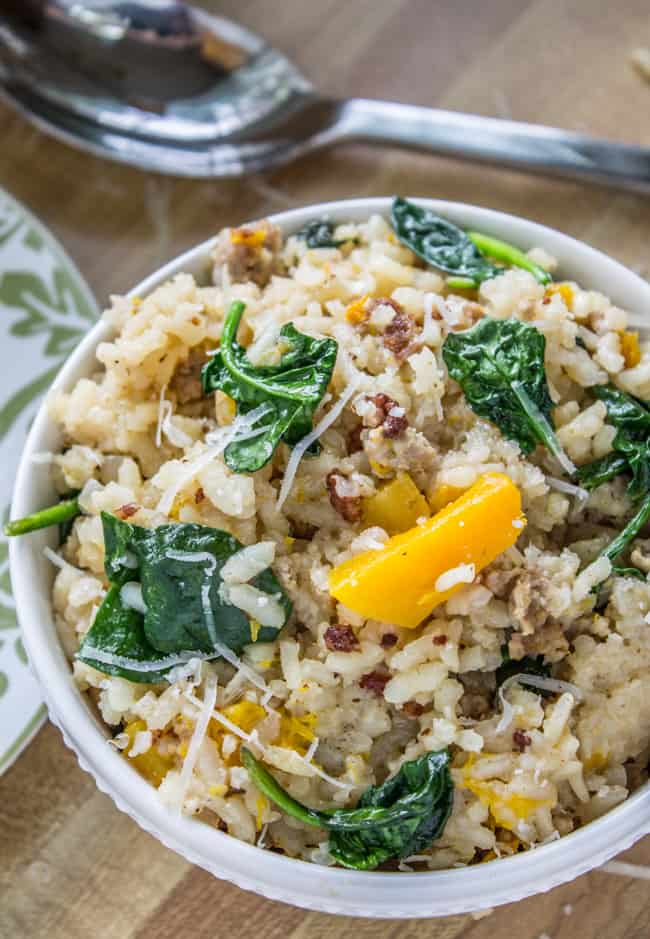 On to the recipe! Have you ever made a risotto dish? It's just a different (Italian) way of cooking short rice, arborio rice being the most common I think. Traditionally you have to cook it over the stove, adding broth in increments and stirring constantly (this makes it creamy). But for this recipe, there are only a couple steps on the stove before it goes in the slow cooker and then your job is basically done.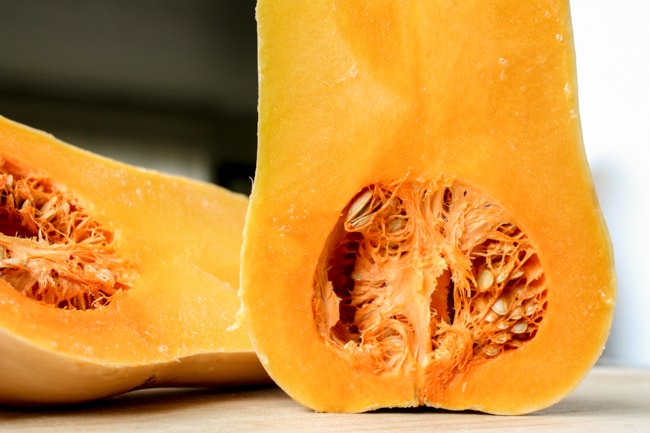 (Have you ever use a canning lid to scoop the goop out of a pumpkin or squash? It's so much easier, try it!)
 I've been making this risotto for a while now and it never disappoints. It's perfectly moist and creamy, has tons of flavor (Parmesan!! Sausage!!), and is healthy to boot. Perfect way to use up all those beautiful winter squash at the store!
P.S. Aren't those pictures up there of Valentine in the buggy adorable? That carriage is 80 years old. It was a gift to Eric's grandmother when she was 4 years old, she used it with her dolls. Can you believe she saved it all these years?? Nana gave it to Charlotte last summer, and now she pushes Valentine around in it.
Facebook | Pinterest | Instagram | Twitter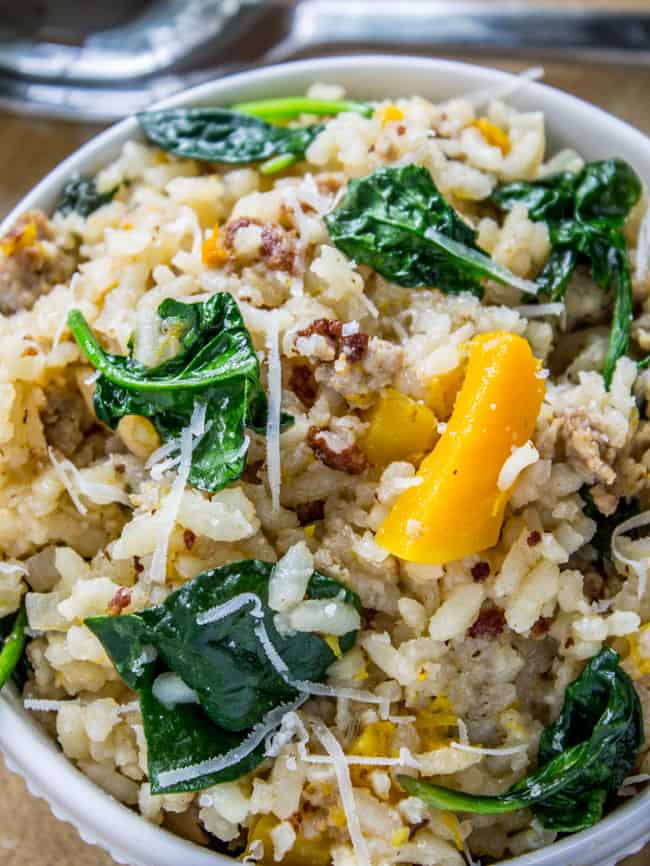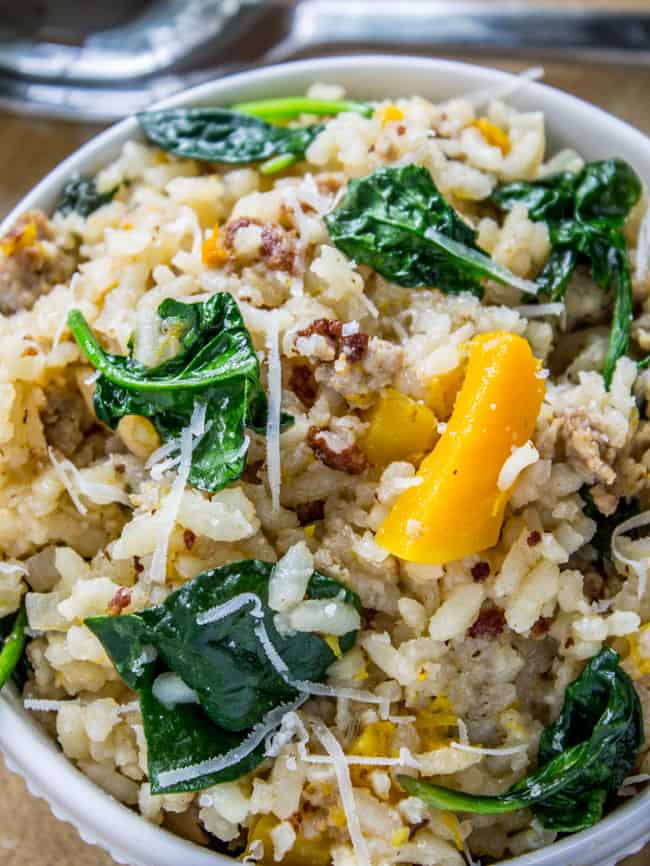 print
Did you make this recipe?
Leave a review »
Slow Cooker Risotto with Italian Sausage and Butternut Squash (and newborn photos!)
Serves 6-8
adjust servings
Ingredients
3

cups butternut squash, chopped into 1-inch pieces

1

pound mild Italian sausage

3

tablespoons water

3

tablespoons butter

1

medium onion, chopped

1/2

cup dry white wine (I used cooking wine)*

2

cups arborio rice (14 ounces)

4

and 1/2 cups chicken broth

2

teaspoons salt

2

tablespoons butter

3/4

cup Parmesan cheese

3-4

cups baby spinach

salt and pepper

more Parmesan, to serve
Instructions
Place chopped butternut squash into a 6 or 7 quart slow cooker. Cover and turn to high.
In a large skillet, crumble and brown the sausage with 3 tablespoons of water over medium-high heat until browned, about 10 minutes.
Meanwhile, chop the onion. Remove the sausage to the slow cooker and cover.
Melt 3 tablespoons of butter in the pan over medium heat (keep any drippings). When the butter is hot, add the onion and saute until translucent, about 5 minutes.
Add the wine and continue to cook over medium heat until the liquid is reduced by half, about 3-5 minutes.
Add the risotto and cook for another 2 minutes, until most of the wine has absorbed.
Add the chicken broth 2 teaspoons of salt, and stir until it is warm.
Pour the mixture into the slow cooker and stir it all together. Cover and let cook on high for 30 minutes. Stir the pot, then cover for another 30 minutes. Stir again and check to see if the risotto is tender. If not, cook for another 15-20 minutes.**
When the risotto is tender, turn off the slow cooker and add 2 tablespoons butter, 3/4 cup Parmesan, and 3-4 cups spinach. Stir together and let sit until the spinach wilts. Season with more salt and pepper to taste, and serve with fresh parmesan.
by The Food Charlatan

If you make this recipe,
share it on Instagram
 using the hashtag
#TheFoodCharlatan
so I can see it!
This recipe was originally posted by me on I Heart Naptime. I was a contributor for Jamielyn's blog in 2015, but I figure you guys want the recipes too!
You will also love these recipes!
Roasted Butternut Squash Soup: < I never get tired of this soup!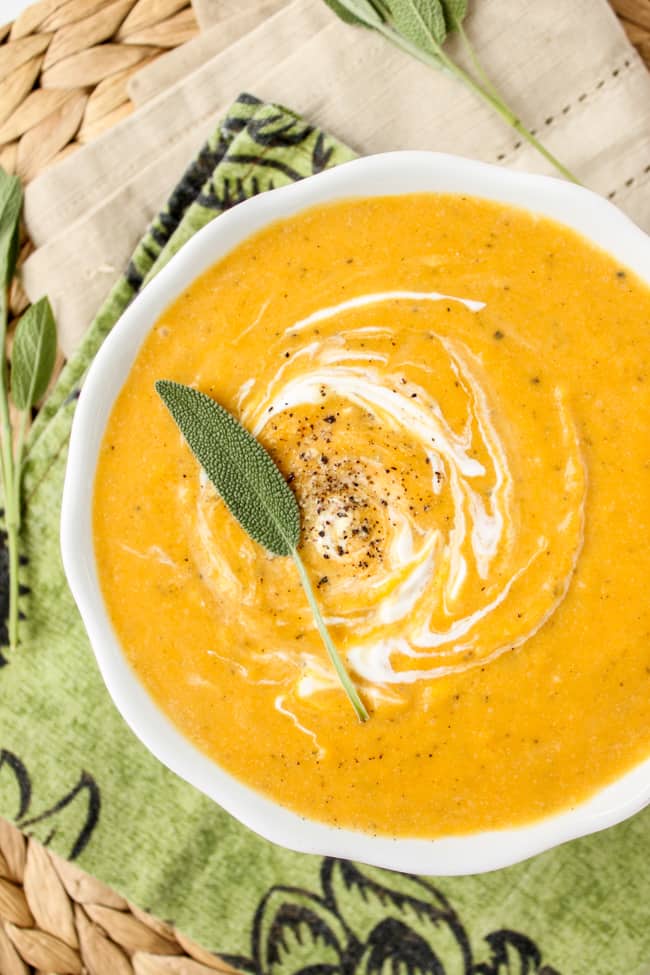 Pumpkin and Chipotle Corn Chowder: << You could easily replace the pumpkin in this with a different squash if you like.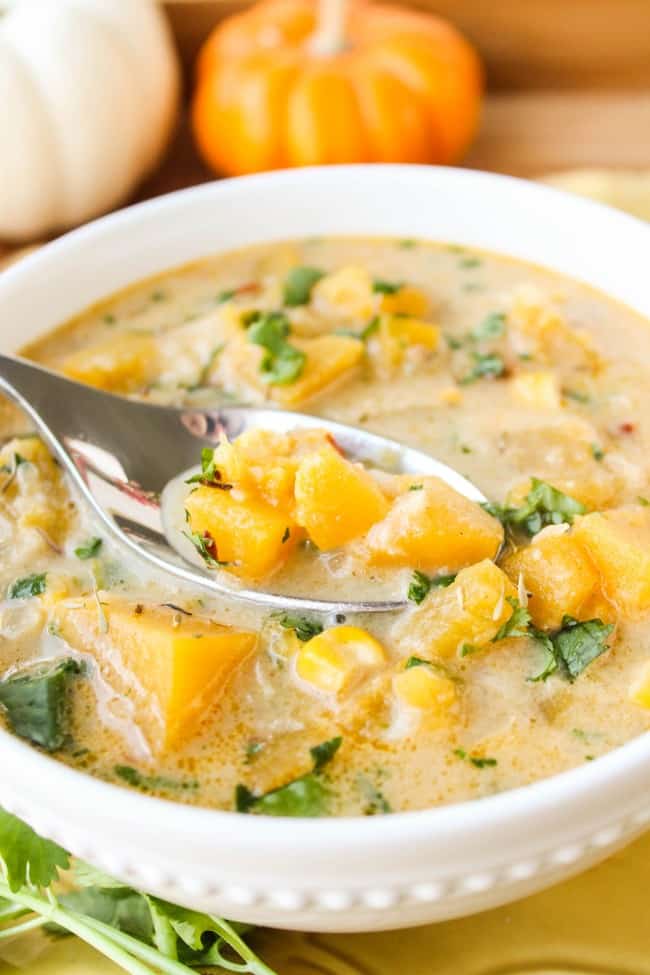 One Skillet Beef Meatballs with Rice and Peas << a get-er-done dinner that's delicious!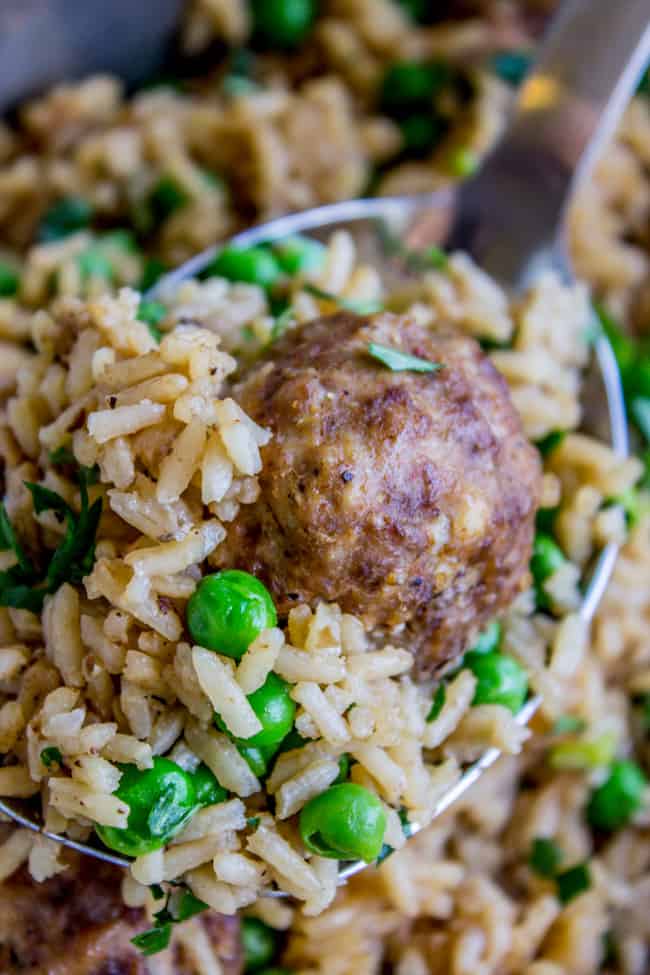 More recipes from friends!
Pumpkin Risotto with Bacon from Cooking and Beer
Baked Cheese Risotto from The Recipe Rebel
Creamy Leek Risotto with Crispy Pancetta from Joyful Healthy Eats
There are a couple affiliate links above. This means you pay nothing extra and I make a small commission. Thanks for supporting The Food Charlatan!
We are a participant in the Amazon Services LLC Associates Program, an affiliate advertising program designed to provide a means for us to earn fees by linking to Amazon.com and affiliated sites.