Banana Macadamia Pancakes
Fluffy buttermilk pancakes filled with banana flavor and studded with macadamia nuts, smothered in coconut syrup. Just like you had at that restaurant in Hawaii! These are so easy to make at home. Comes with free palm trees and a beach too.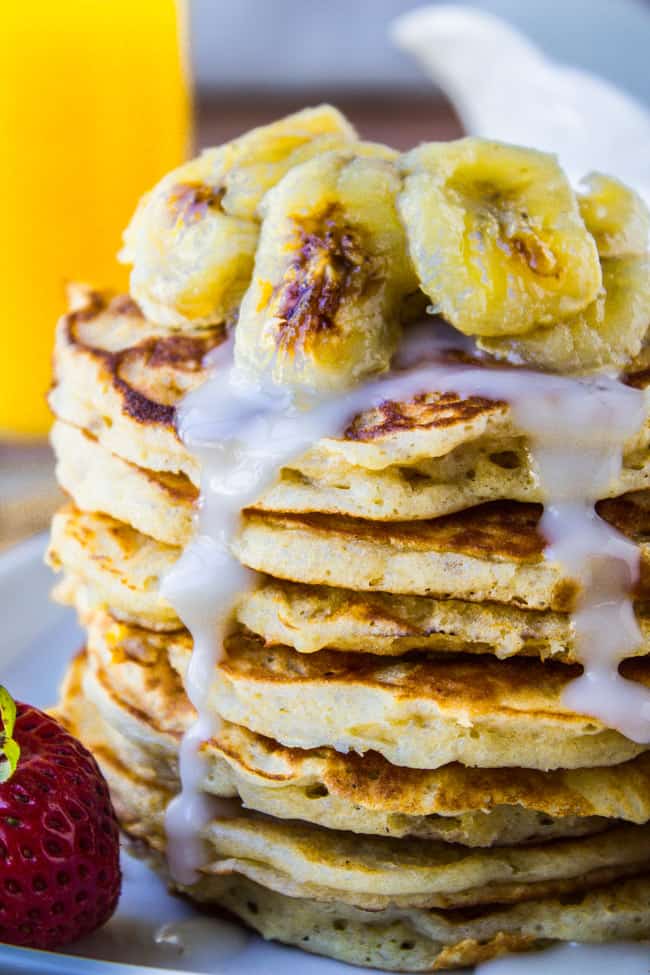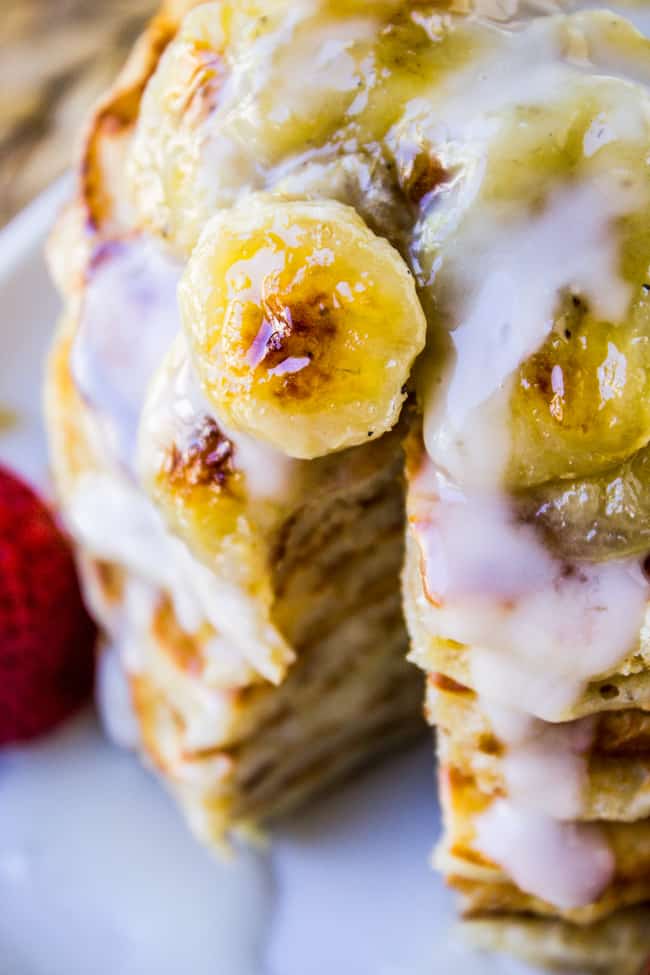 So tonight I get a text from my brother: "I let Lincoln (his 8-year-old son) make brownies tonight. He thought 2/3 cup oil meant 2 or 3 cups of oil. Had to triple the recipe. Now we have a lot of brownies."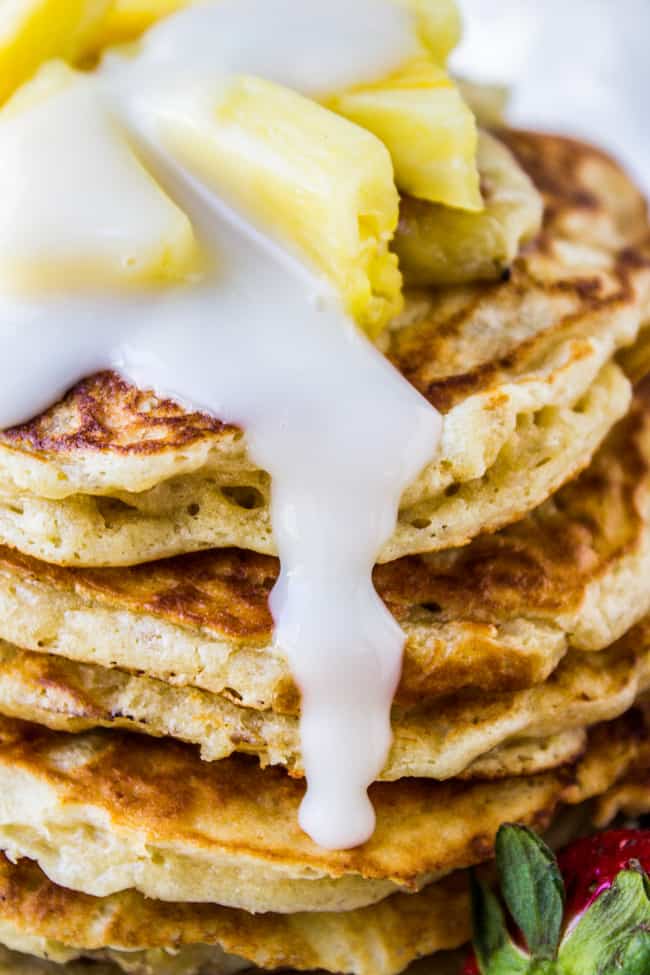 Why did an overload of brownies have to happen when I'm out of town?? I would so help a brotha out. (Probably next time I make brownies I will "accidentally" add 2 cups of oil. Or 3.)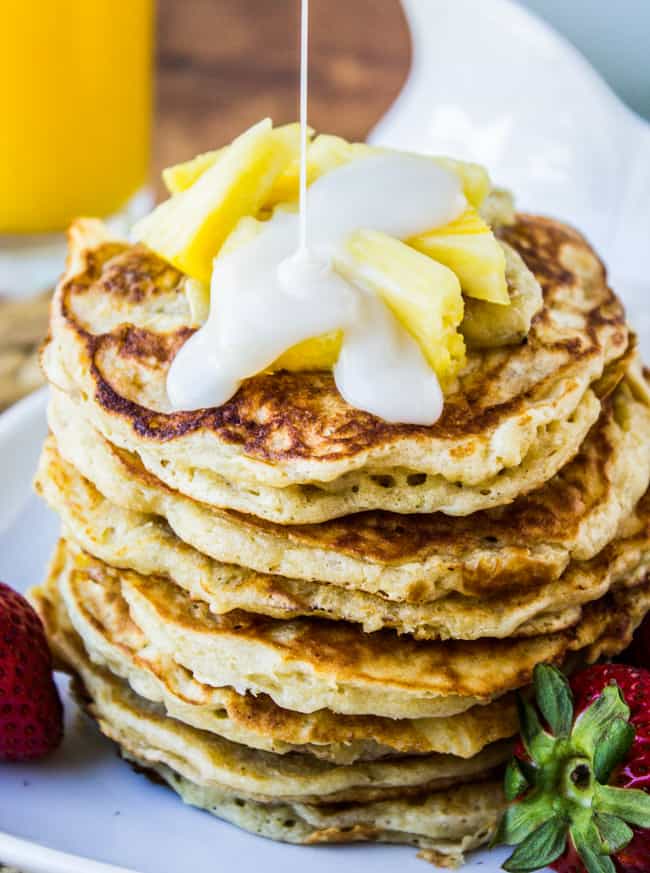 But instead I'm at a hotel a couple hours away from home at a Safeway event, where they are introducing their new brand of Open Nature Ice cream. So I basically will be eating ice cream from 9am onward tomorrow. Don't feel too bad for me.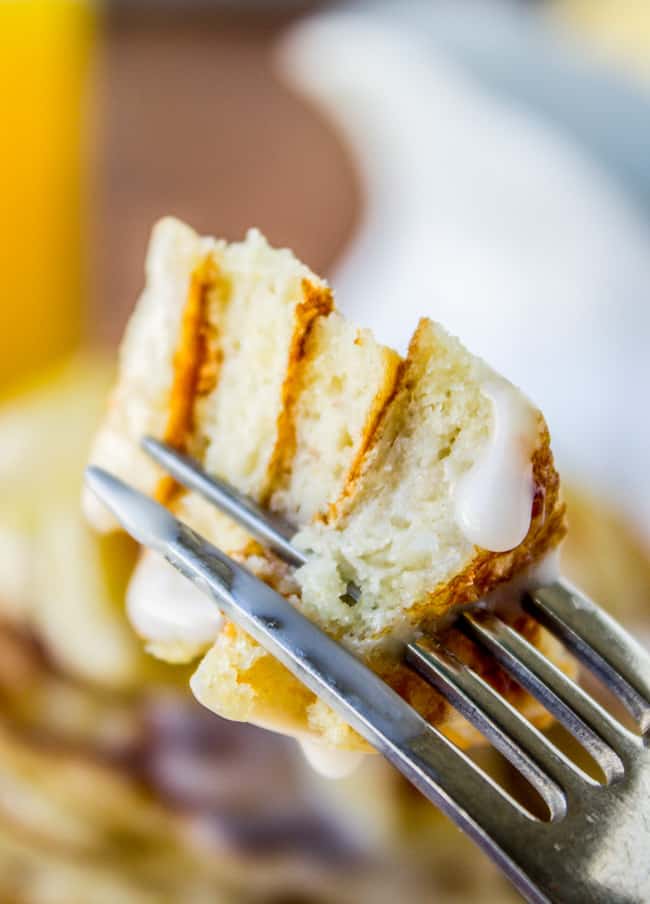 Bananacadamiapalooza!! Say that 3 times fast. On Tuesday I shared a recipe for the Coconut Syrup that goes on top of these pancakes. I could drink that stuff, for real. But on top of these Banana Macadamia Pancakes?? Fugetaboutit.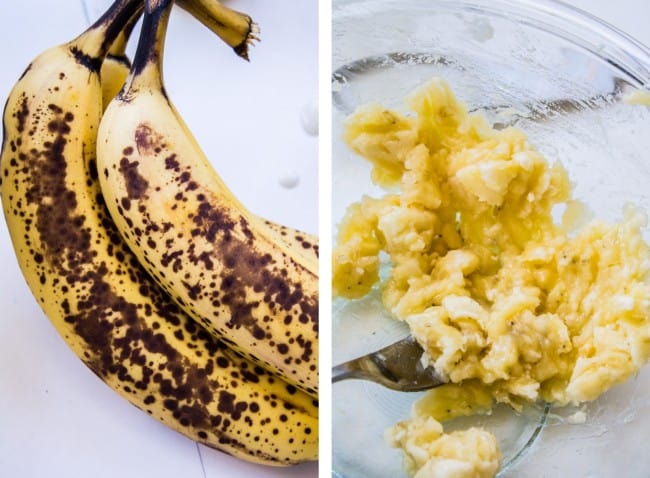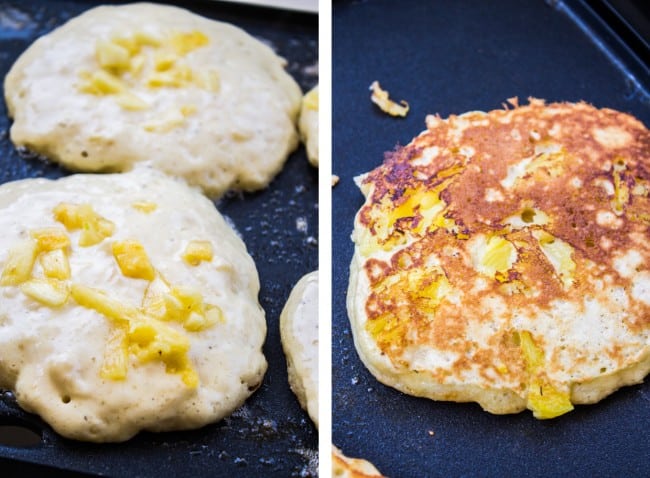 I really loved these with some fresh pineapple on top, which gives it a Pina Colada feel. Or you could even chop some up and put it onto the pancake before flipping. Then it gets all caramelized. Make these for Mom on Sunday!
Do you guys give up? Or are you thirsty for more?
Facebook | Pinterest | Instagram | Twitter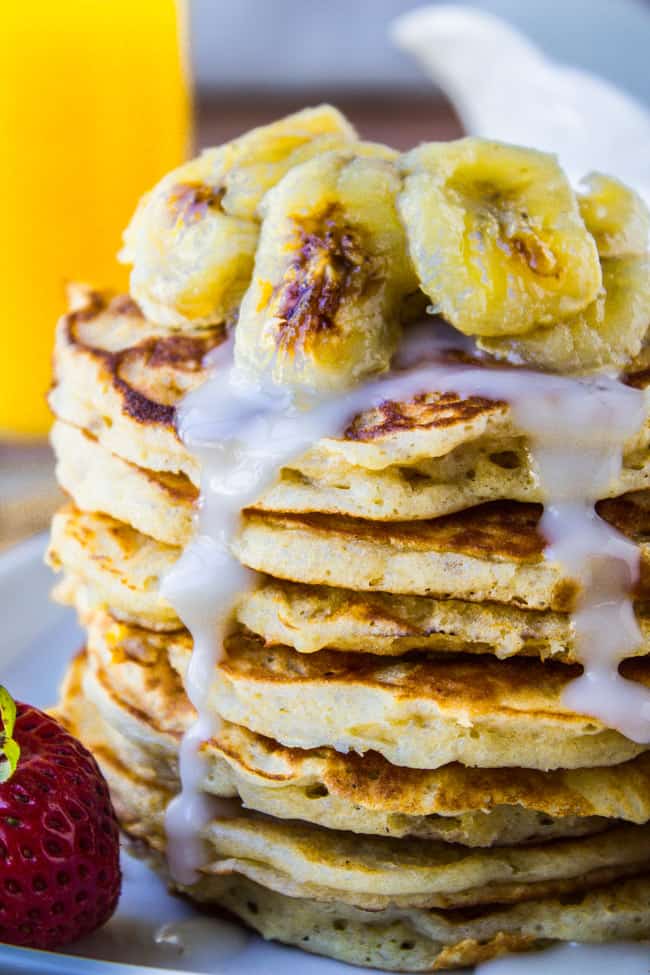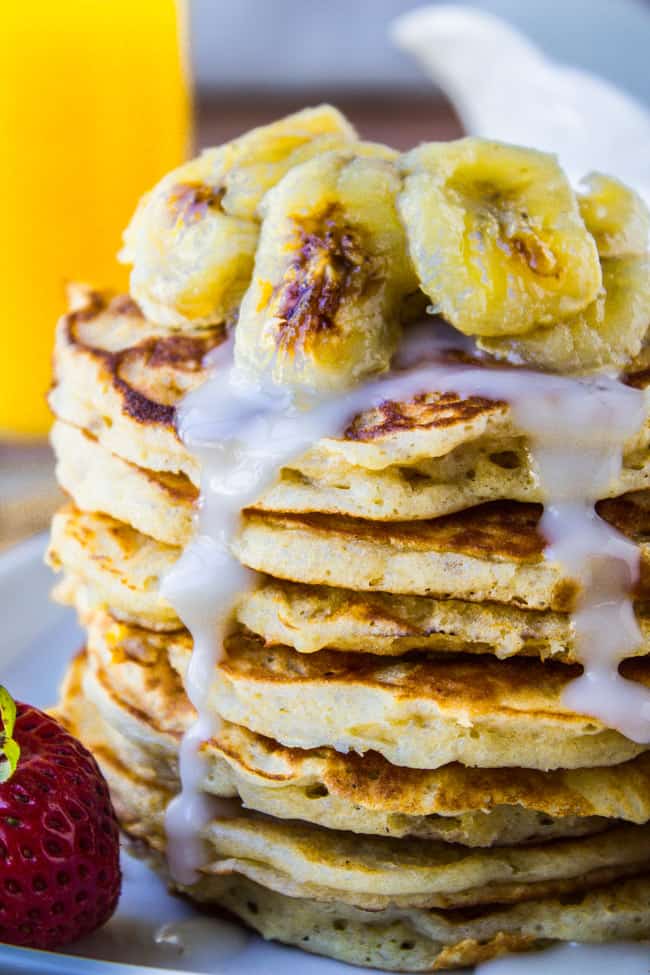 print
Did you make this recipe?
Leave a review »
Banana Macadamia Pancakes
Makes about 15 4-inch pancakes
adjust servings
Ingredients
1/2

cup salted roasted macadamia nuts (2 1/2 oz), chopped

1

and 1/2 cups flour, spooned and leveled

2

tablespoons sugar

1

and 1/2 teaspoons baking powder

1/2

teaspoon baking soda

1/2

teaspoon salt

3

tablespoons butter, melted and cooled a bit

1

and 1/2 cups buttermilk

2

large eggs

1

teaspoon vanilla

1

ripe (or overripe) large banana

1

recipe Coconut Syrup, click for recipe

more bananas, to garnish

pineapple, to garnish
Instructions
Chop the macadamia nuts. I used my food processor and pulsed it until there were some fine chunks and some larger ones.
Add the macadamias to a large bowl, along with the flour, sugar, baking powder, baking soda, and salt. Whisk together.
Melt the butter in a small bowl and set aside.
Whisk together the buttermilk, eggs, and vanilla in a medium bowl. Whisk in the butter.
In the bowl that you melted the butter, mash a banana with a fork. It doesn't need to be perfect, some chunks are ok.
Pour the wet mixture into the dry mixture, and add the mashed banana. Stir until JUST barely combined. Embrace the chunk.
Heat a large frying pan or griddle over medium heat. Grease well with butter or nonstick spray.
Use a 1/4 cup measuring cup to form pancakes. Cook for a few minutes, until the top has formed bubbles and they have started to pop.
At this point, you can add chopped pineapple to the raw side of the pancake. Make sure you spread it out otherwise the pancake won't cook in the middle.
Flip the pancakes and continue to cook until light golden brown.
Turn your oven to the warm setting (170 degrees F) and put a cooling rack inside. Keep the pancakes on the rack until ready to serve.
Serve with fresh bananas* or fresh pineapple and Coconut Syrup
by The Food Charlatan

If you make this recipe,
share it on Instagram
 using the hashtag
#TheFoodCharlatan
so I can see it!
Source: inspired by my mother-in-law Kris, adapted from Epicurious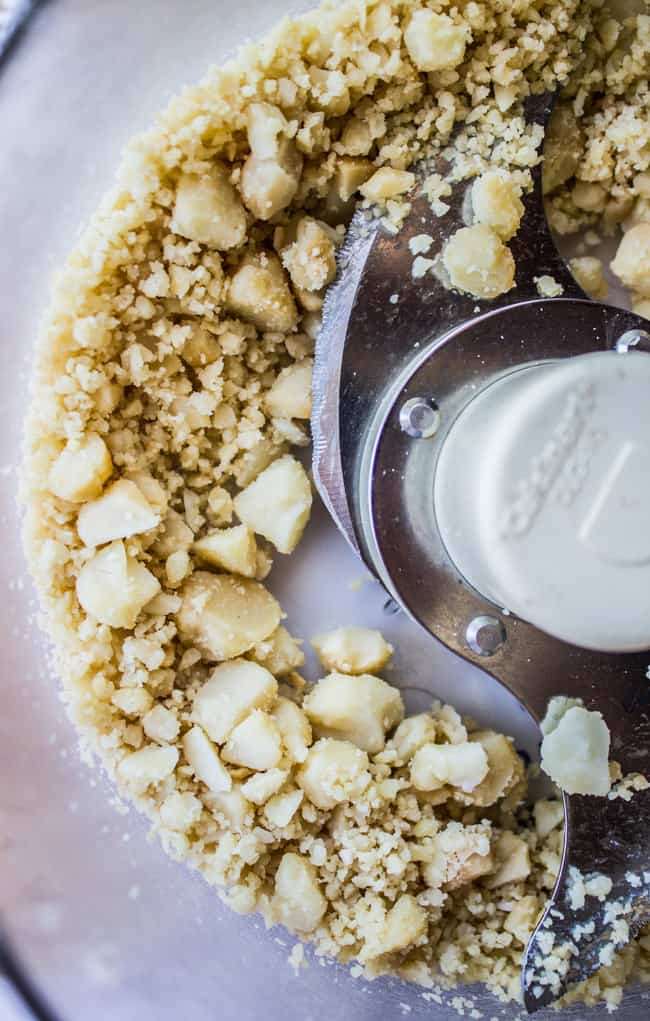 Here is the Coconut Syrup that you MUST eat with these pancakes!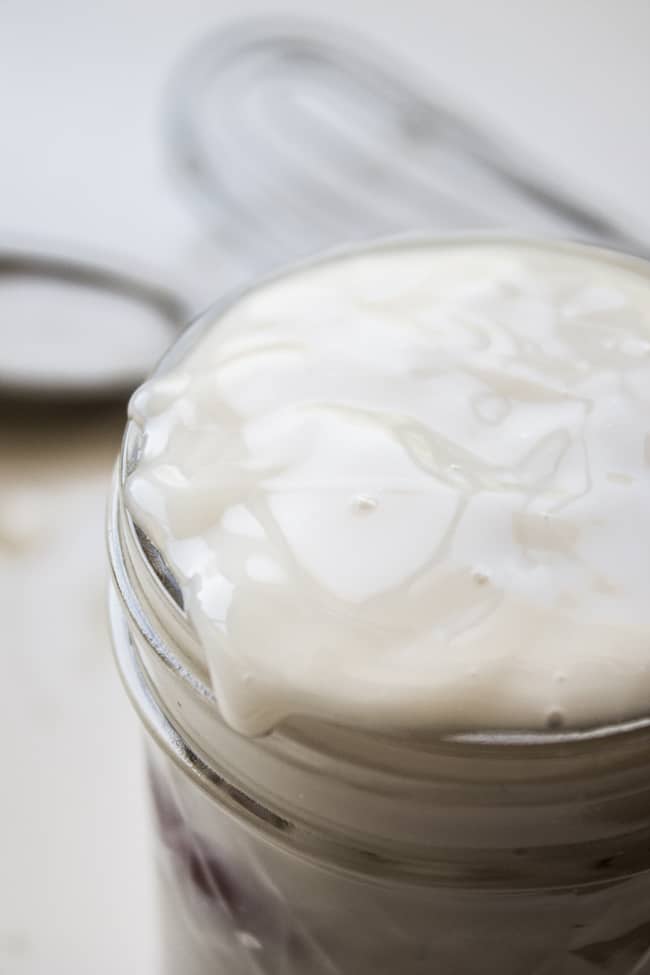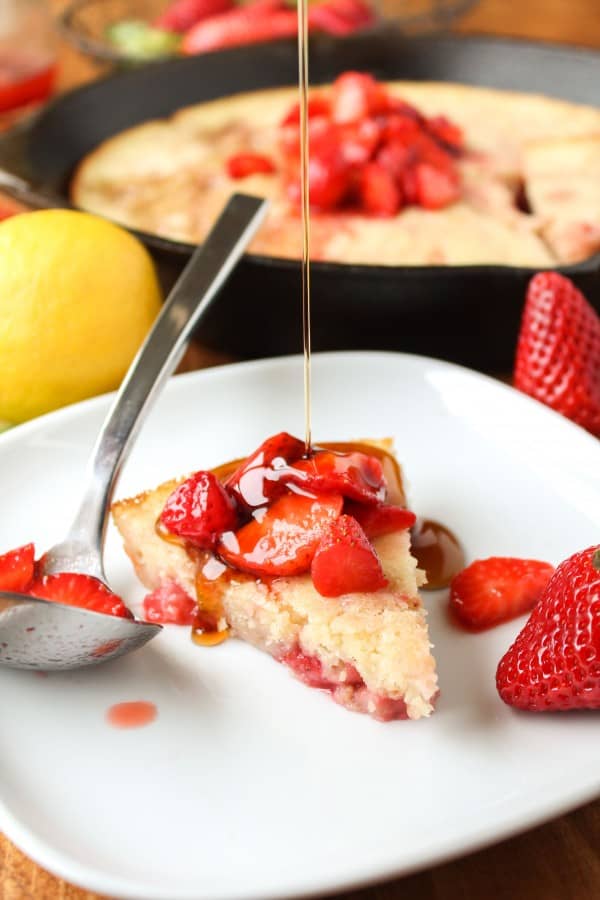 Cream Cheese French Toast Casserole: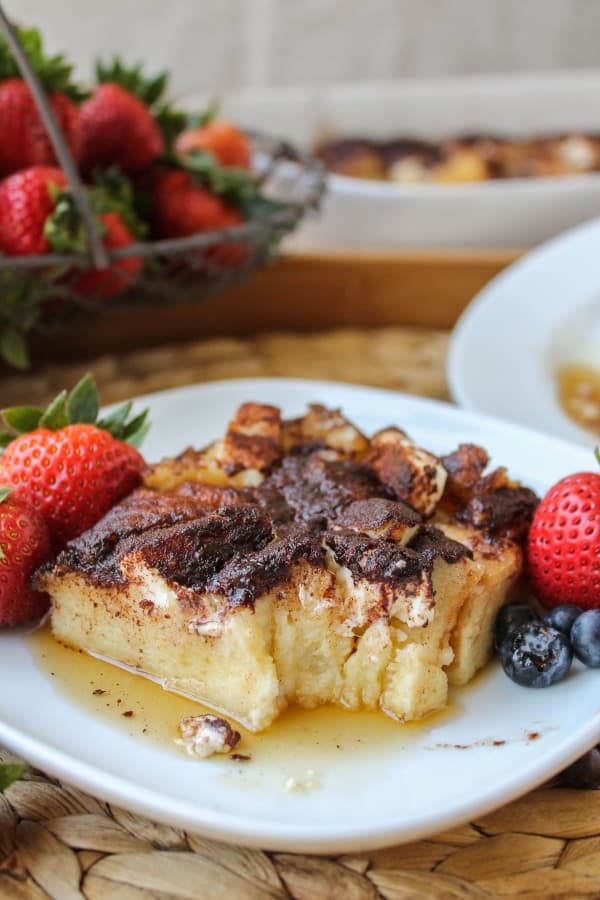 Gingerbread Pancakes with Lemon Syrup: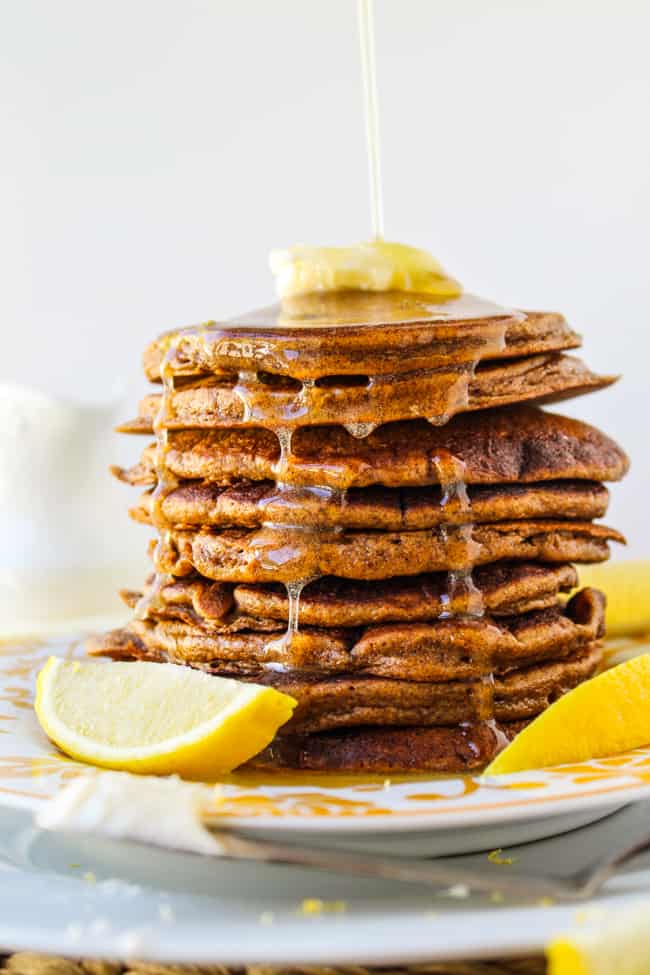 This one's an oldie but a goodie. Lemon Blueberry Pancakes: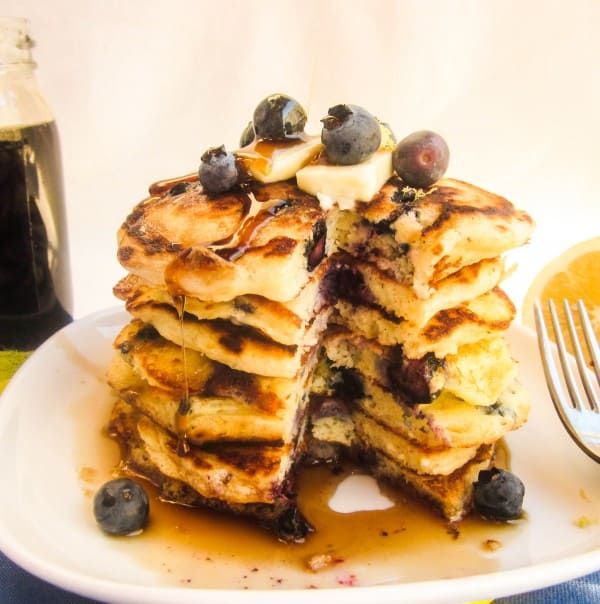 Another old recipe that is awesome. Oatmeal Buttermilk Pancakes: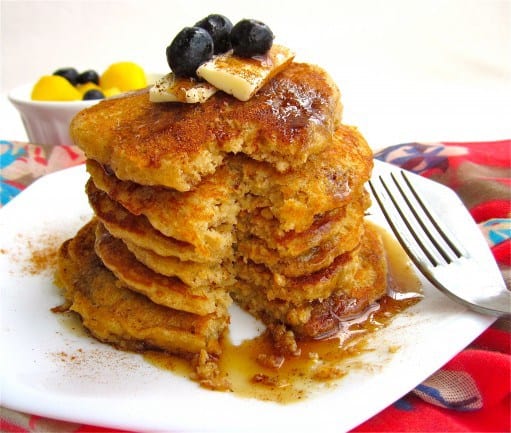 Other pancakes you will love!
Orange Vanilla Pancakes from Crazy for Crust
Blueberry Buttermilk Pancakes from Mom on Timeout
Lemon Poppyseed Pancakes from Kitchen Meets Girl
We are a participant in the Amazon Services LLC Associates Program, an affiliate advertising program designed to provide a means for us to earn fees by linking to Amazon.com and affiliated sites.