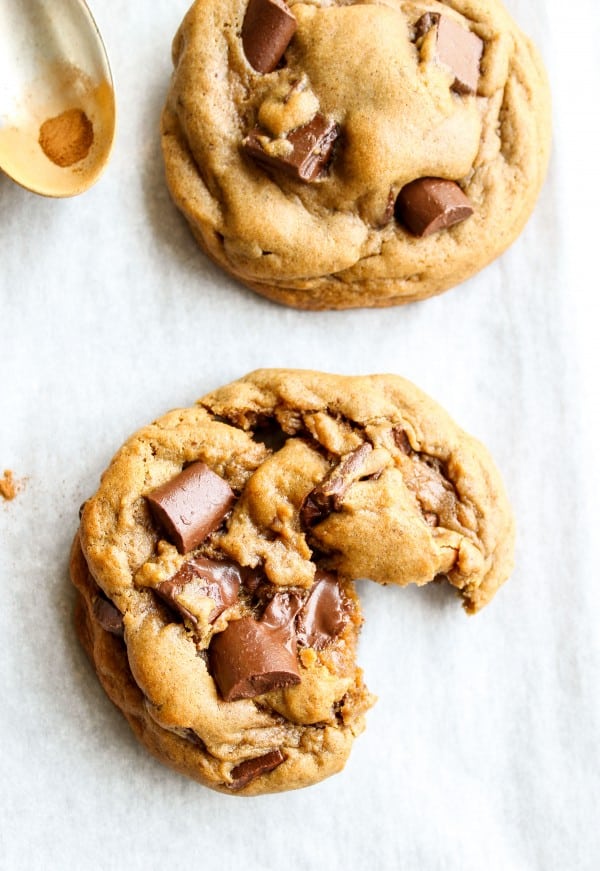 Guys. I'm in emergency mode over here. My 9-month-old son Truman is now army-crawl-mobile. This means anything on the floor that can be drooled on, chewed on, or choked on is fair game. Goodbye vacuuming every 3 months. Hello crawling around on the floor looking for anything baby-esophagus-sized.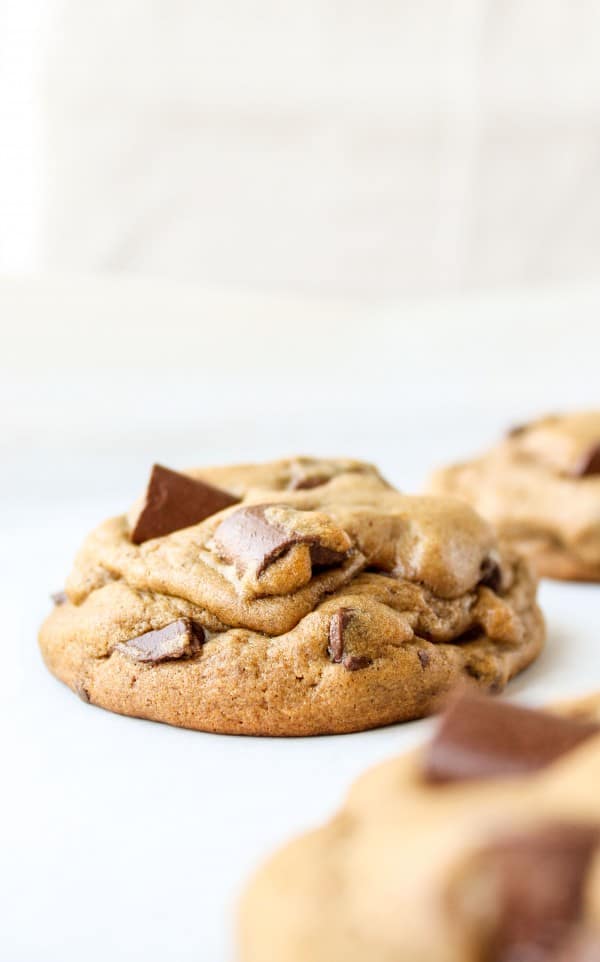 (By the way, "emergency mode" is a real thing. It's what Eric says I go into when I get panicky about stuff. This can include anything from Charlotte spilling a cup of milk, to when I think that Eric doesn't like something that I've made him, or this morning when I thought that Truman had crawled away and choked to death while I was busy making Chocolate Babka. I searched the whole house. I was about to call 911…when I remembered that I had put him down for a nap.)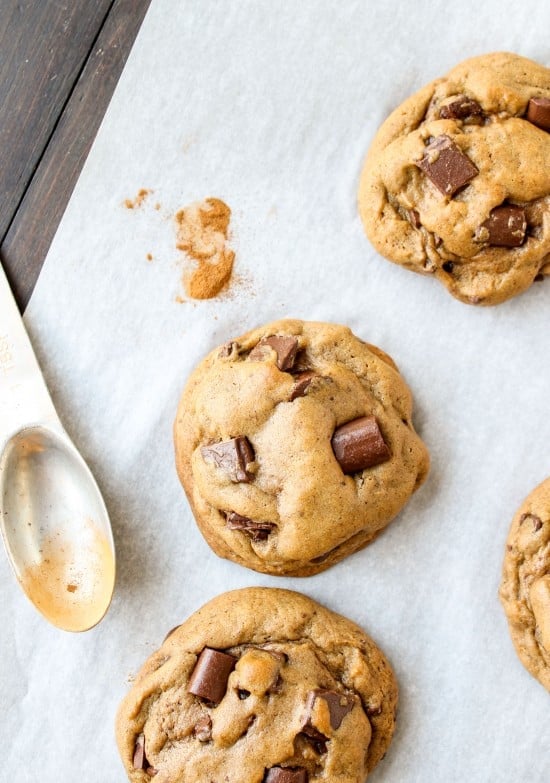 Emergency mode usually only lasts a couple minutes. Either I take a deep breath and get over it, or Eric tranquilizes me.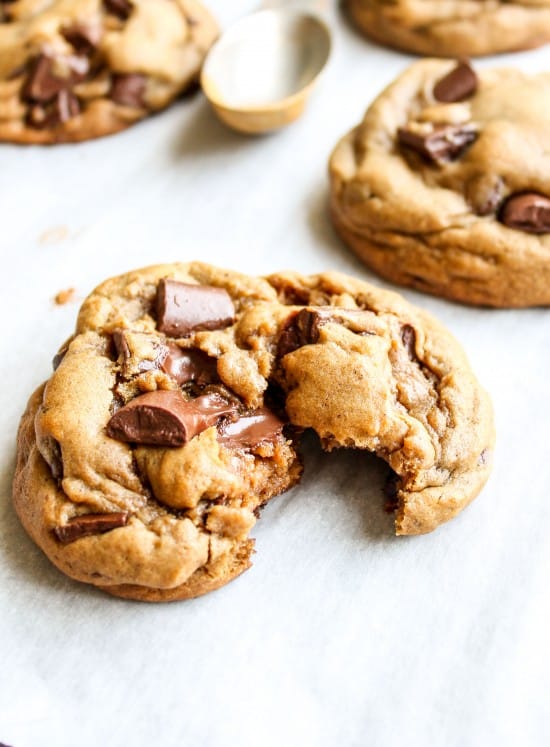 But back to the choking thing. I consider myself a pretty laid back parent (don't we all?) but I'm absolutely paranoid about kids choking on stuff. At Charlotte's first Christmas when she met my siblings she was 10 months old. I was cutting up a hot dog, that classic if-you-don't-cut-this-your-baby's-gonna-die-food, when suddenly I realize that everyone is laughing at me. Apparently cutting a hot dog into a thousand minuscule pieces is overkill.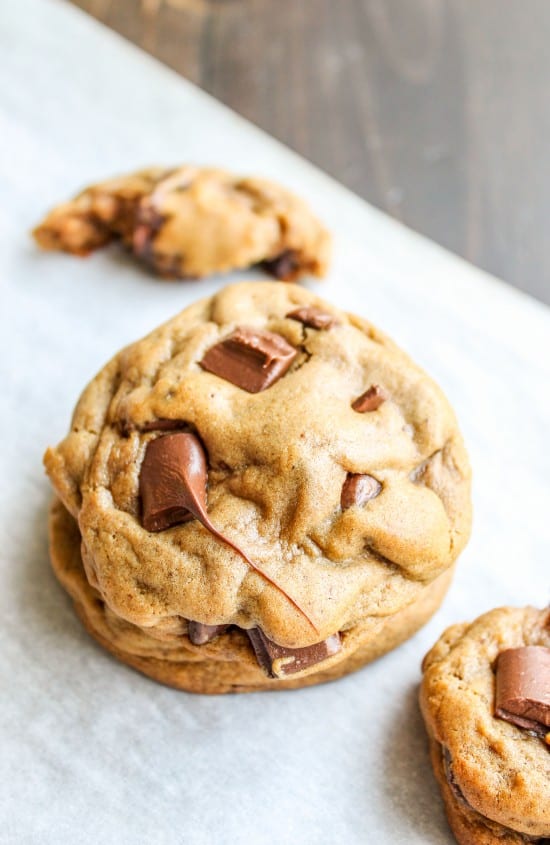 Whatever. It's good for their fine-motor-pincer skills anyway.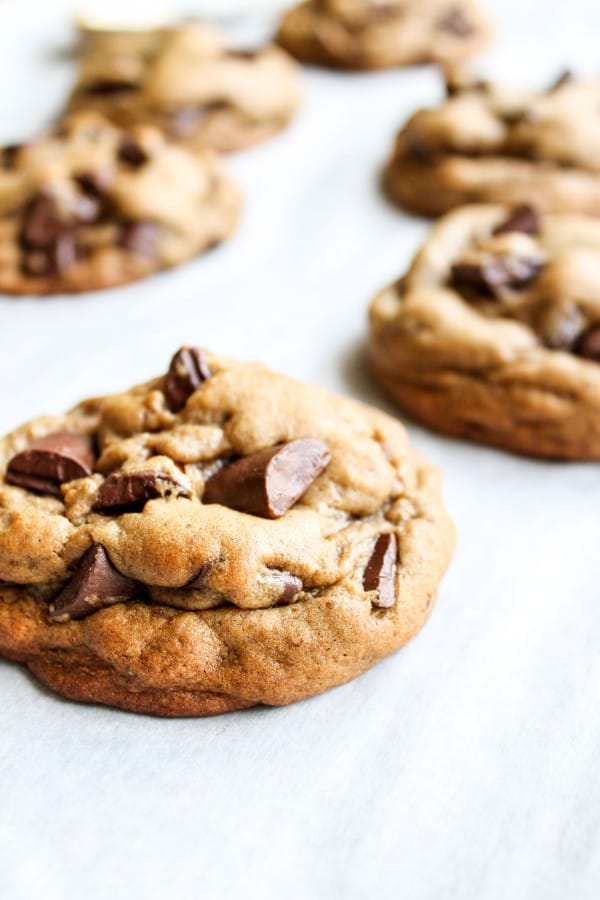 Now let's talk cookies. These are some of the richest and spiciest cookies you will ever eat. Not to mention some of the biggest and softest and gooiest. Normally I like my cinnamon and my chocolate to be very far away from each other, but it totally works in these cookies. The addition of cornstarch ensures that the cookies stay nice and soft for days. I'm a sucker for molasses, so I know I will be secretly making batches of these long after Christmas is over.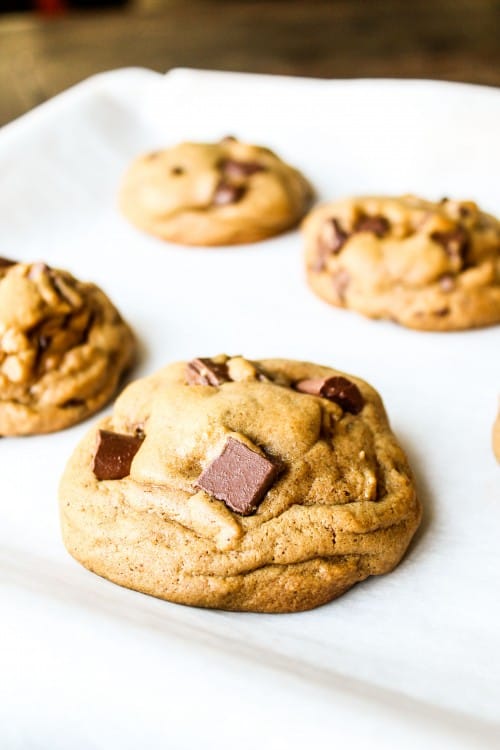 Do you guys give up? Or are you thirsty for more?
Facebook | Pinterest | Twitter

Chocolate Chunk Gingerbread Cookies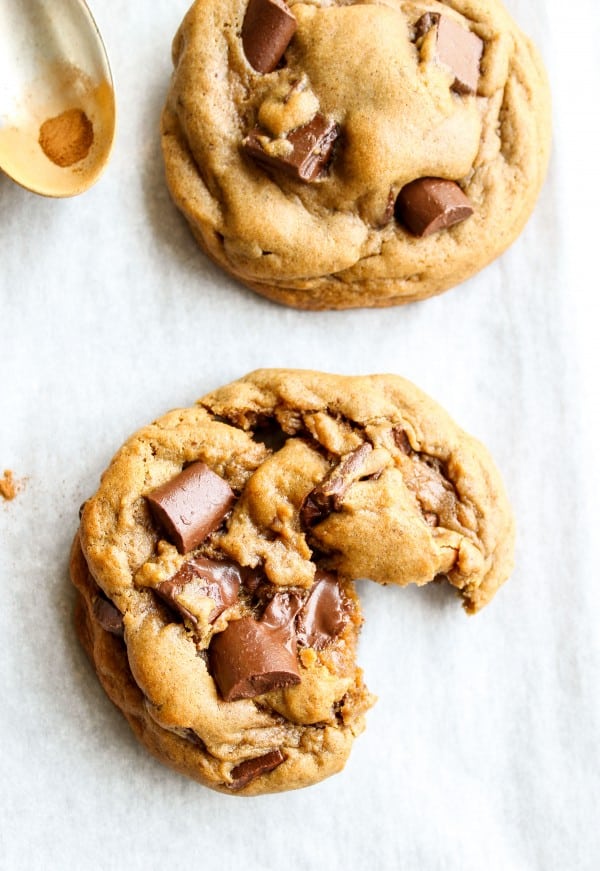 These chocolate chunk gingerbread cookies are some of the richest and spiciest you will ever eat. And the biggest and softest and gooiest.
Ingredients
1

cup

unsalted butter

,

softened (2 sticks)

1

cup

brown sugar

,

packed

1/4

cup

molasses

2

eggs

2

teaspoons

vanilla extract

2

teaspoons

ground ginger

1

teaspoon

cinnamon

1

teaspoon

nutmeg

1

teaspoon

ground cloves

3 & 1/2

cups

all purpose flour

,

spooned and leveled

2

tablespoons

cornstarch

1 & 1/2

teaspoons

baking soda

1/4

teaspoon

salt

2

cups

semi-sweet chocolate chunks
Instructions
In a large bowl or stand mixer, beat the butter and sugar together until they are combined. Scrape down the sides, then continue to beat for 2-3 minutes.

Add the molasses and beat until combined completely.

Add the eggs one at a time, mixing well and scraping sides.

Add the vanilla, ginger, cinnamon, nutmeg, and cloves. Beat well.

Add the spooned and leveled flour, but don't mix it in. Make a well in the flour, carefully add the cornstarch, baking soda, and salt, and mix it in with the flour with a small spoon. Then beat in the flour, using 1-second pulses so that you don't shoot flour everywhere.

When the flour is not quite all the way mixed in, add the chocolate chunks. Beat until just combined. You might need to use a wooden spoon to mix it in.

Cover the bowl and chill in the fridge for at least 45 minutes, or up to 4 days. The longer the better.

Line a baking sheet with a silpat or parchment paper. Use a 1/4 cup measuring cup to make balls of dough. Line them up on the pan. I did 8 per sheet.

Bake in a preheated 350 degree oven for 10-12 minutes, or until they are no longer shiny on top and the edges are set.

Remove from the oven. Let them set on the pan for about 5 minutes, then remove to a wire rack to cool.
Nutrition
Serving:
1
cookie
|
Calories:
365
kcal
|
Carbohydrates:
46
g
|
Protein:
4
g
|
Fat:
18
g
|
Saturated Fat:
11
g
|
Polyunsaturated Fat:
1
g
|
Monounsaturated Fat:
5
g
|
Trans Fat:
1
g
|
Cholesterol:
46
mg
|
Sodium:
140
mg
|
Potassium:
236
mg
|
Fiber:
2
g
|
Sugar:
23
g
|
Vitamin A:
352
IU
|
Vitamin C:
1
mg
|
Calcium:
44
mg
|
Iron:
3
mg