This classic German Pancake or Dutch Baby recipe has so many names! Whatever you like to call it, it's a super easy way to get delicious baked pancakes on the table fast. The edges puff up way past the edge of the pan, which is why they are sometimes called puffy pancakes! There are only a few ingredients, and you can even make it in the blender. Originally published December 17, 2020.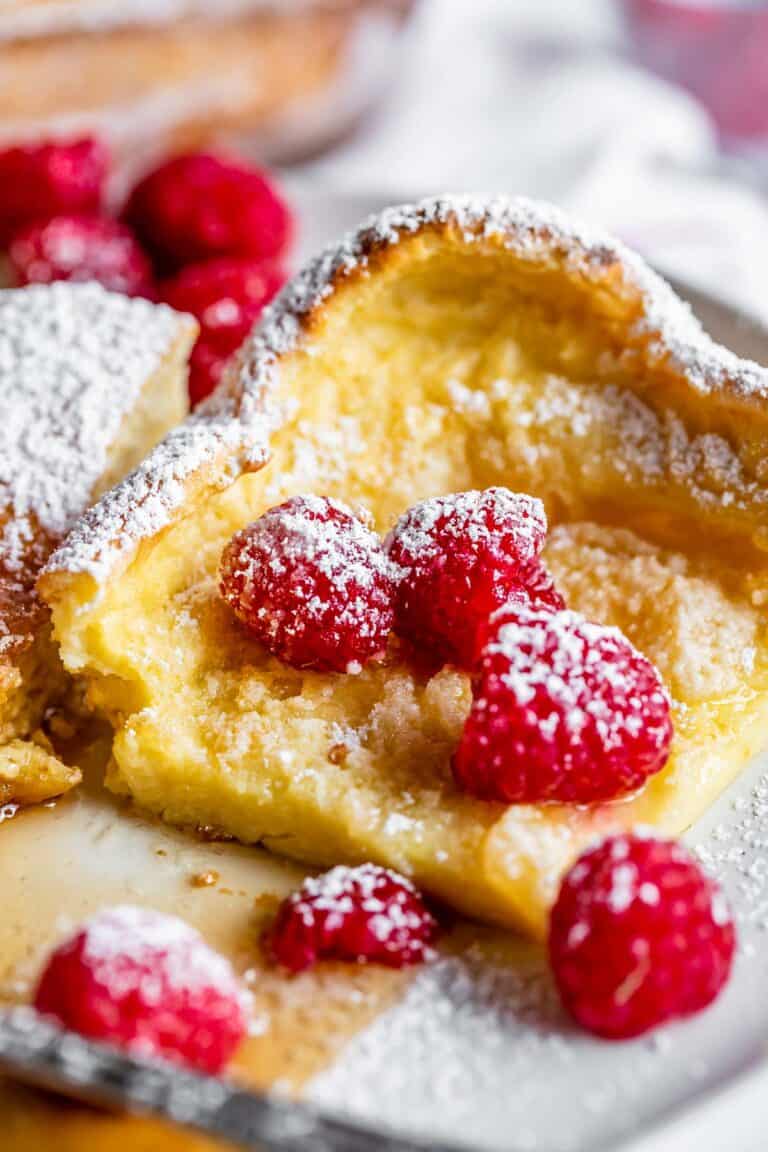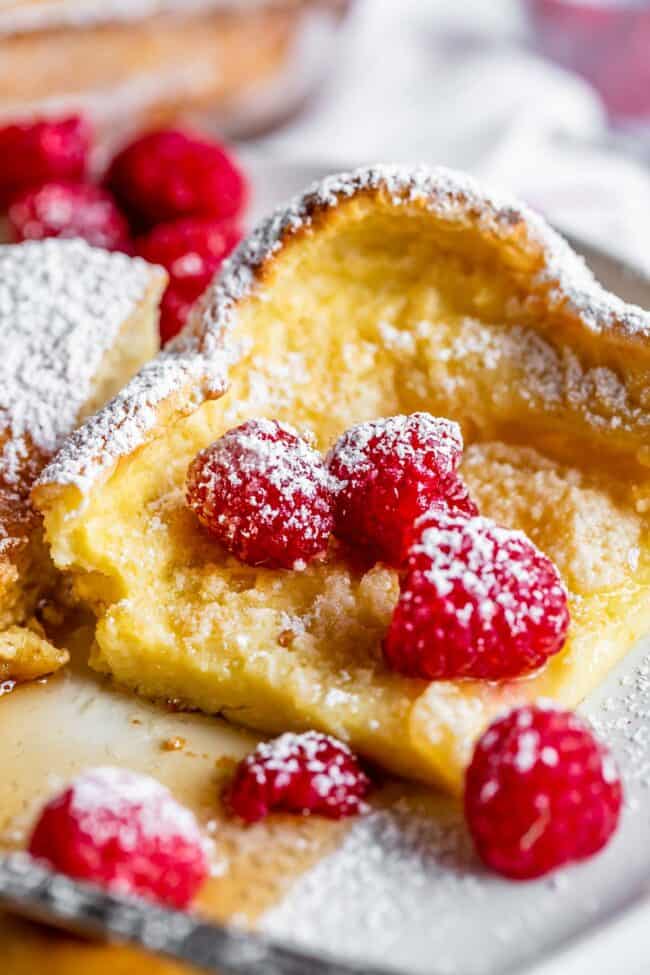 Table of Contents
Our kids are weird and don't like cereal. This is shocking to Eric and I, who both made it through college basically on cereal and milk alone. I remember my biggest Saturday morning conundrum as a child was having too much leftover milk, so that you had to add more cereal, and then there's too much cereal, so you have to add more milk, and before you know it, the entire box of Cinnamon Toast Crunch is GONE.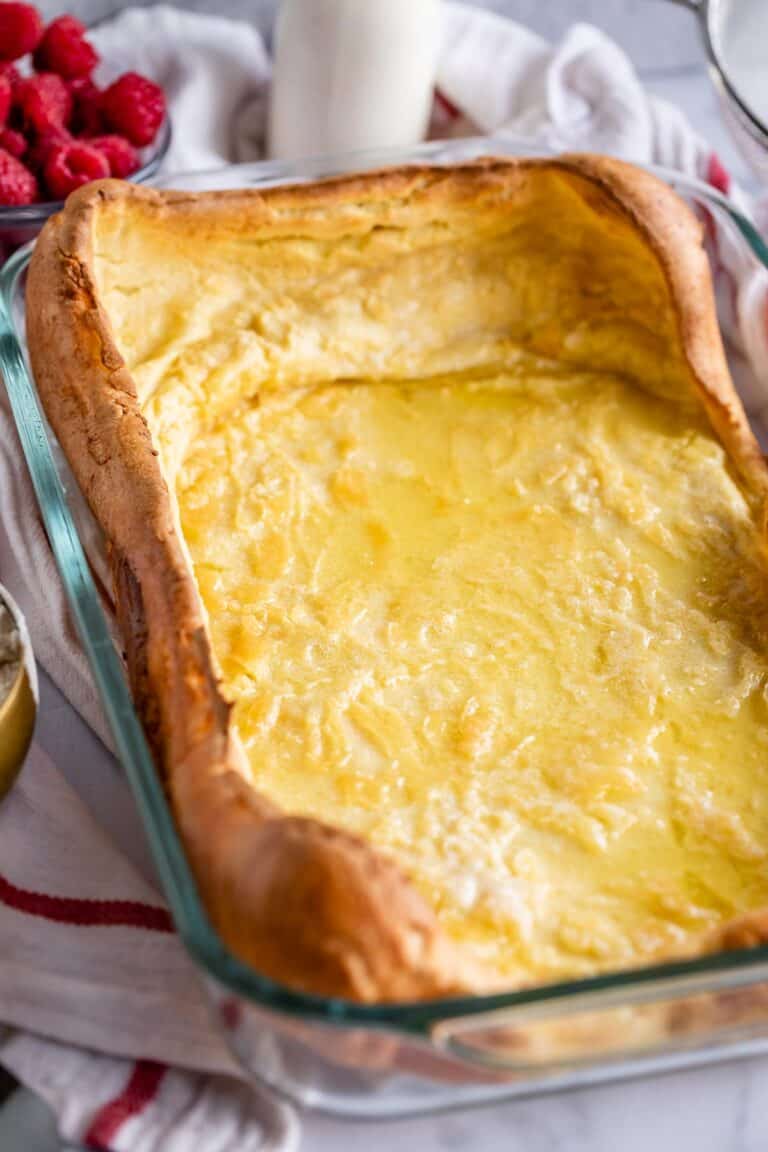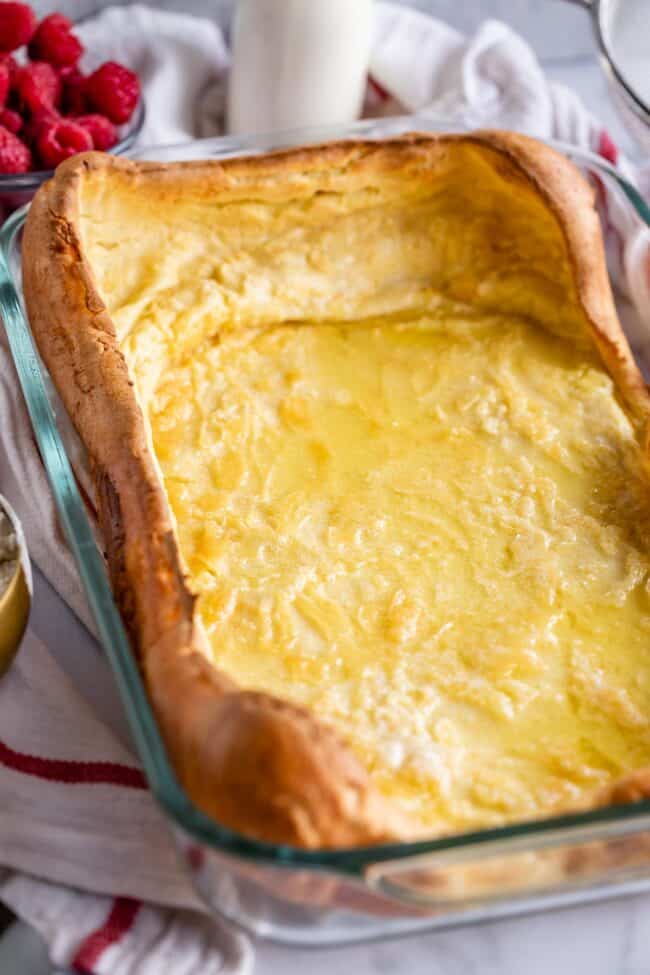 But our kids? They want oatmeal. They want scrambled eggs. They are carb-haters, I guess?? Or maybe aliens. We've tried everything. Sugary cereal, bland old-people cereal, taking them to the doctor, nothing works.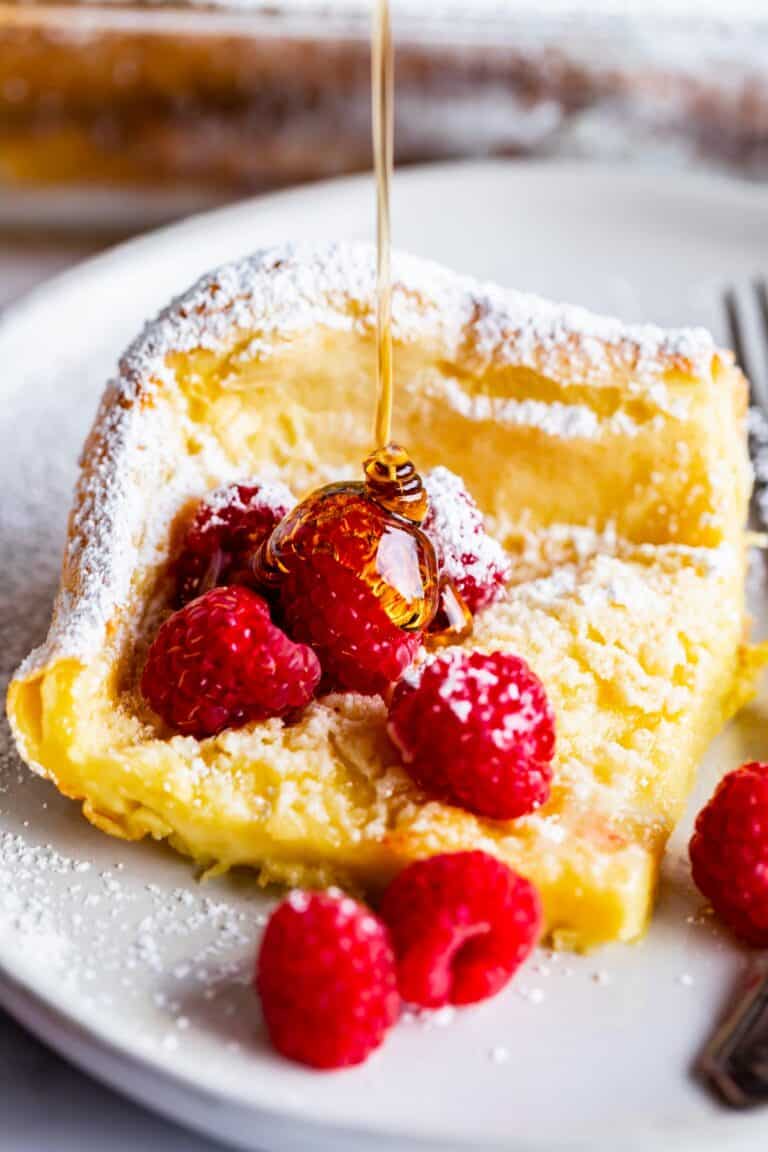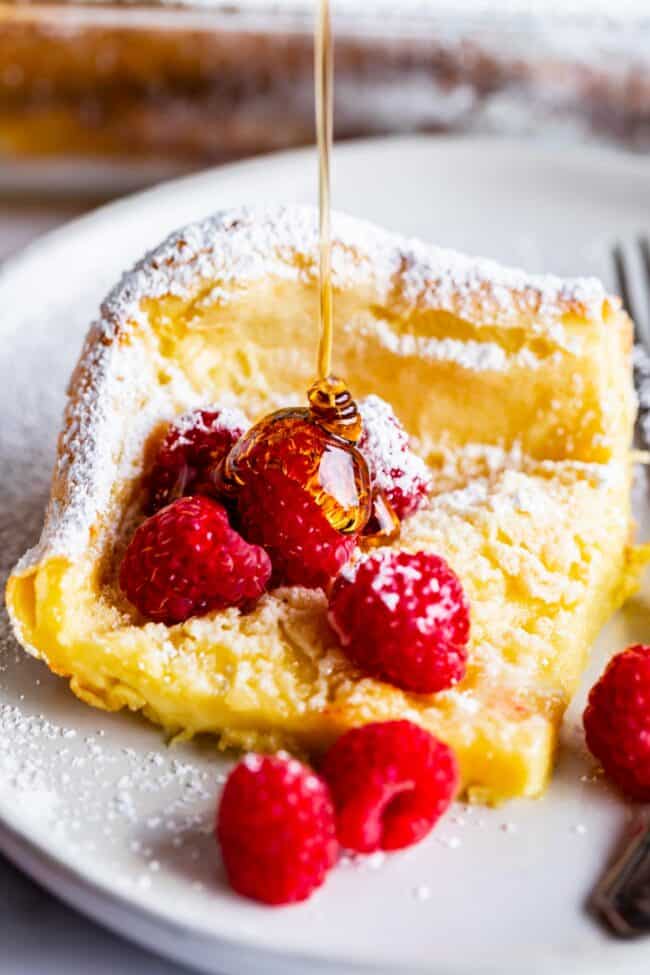 But we still keep trying. The other day Eric came home with a box of Pokemon cereal, which is basically Cap'n Crunch with Pokemon themed puffs and a really cool box to read while you're eating it. (Truman is very into Pokemon.) We thought, surely if they're so entranced doing the maze and reading the knock knock jokes on the back of the box, they will eat at least SOME of it??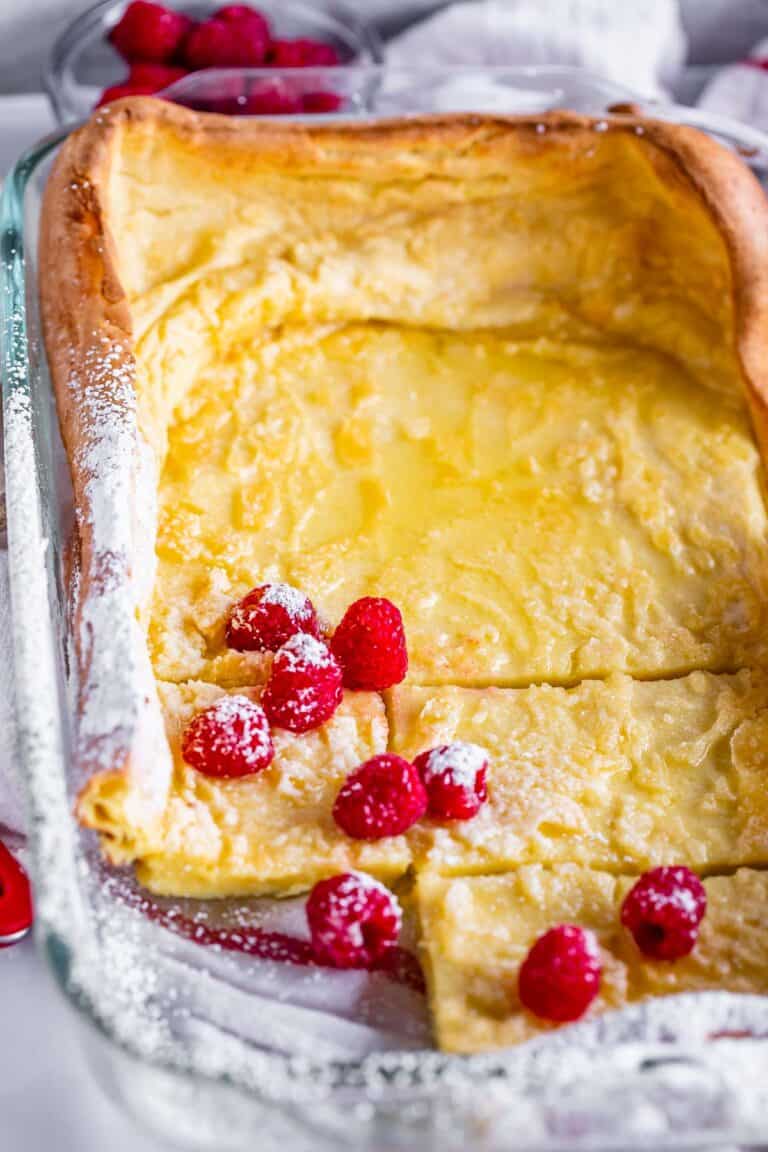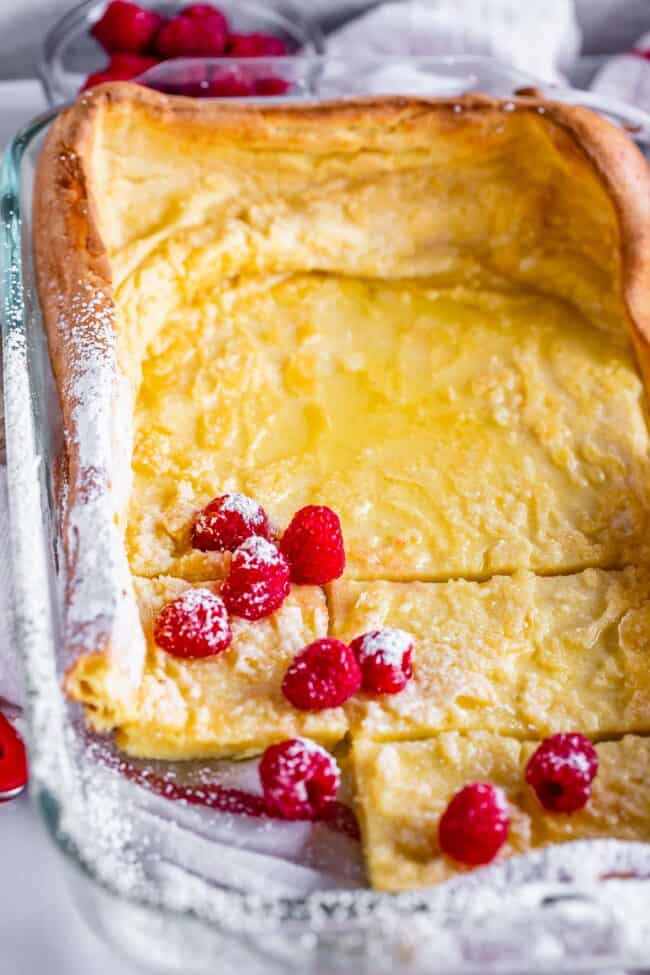 But we got poor reviews. Charlotte refused to try it. Valentine left most of it in her bowl. Truman said, "I like this cereal the way that Edison (the baby) likes his cereal. I eat it at first…and then I want to throw it on the ground."
Welp. I guess there's just no hope for them. I'll shake my fist at the cereal gods one last time for not blessing me with children who will eat the fastest, easiest-to-prepare (albeit nutritionally worthless) breakfast there is.
What are German Pancakes?
This is a long way to say that I have to get creative in the kitchen when it comes to breakfast.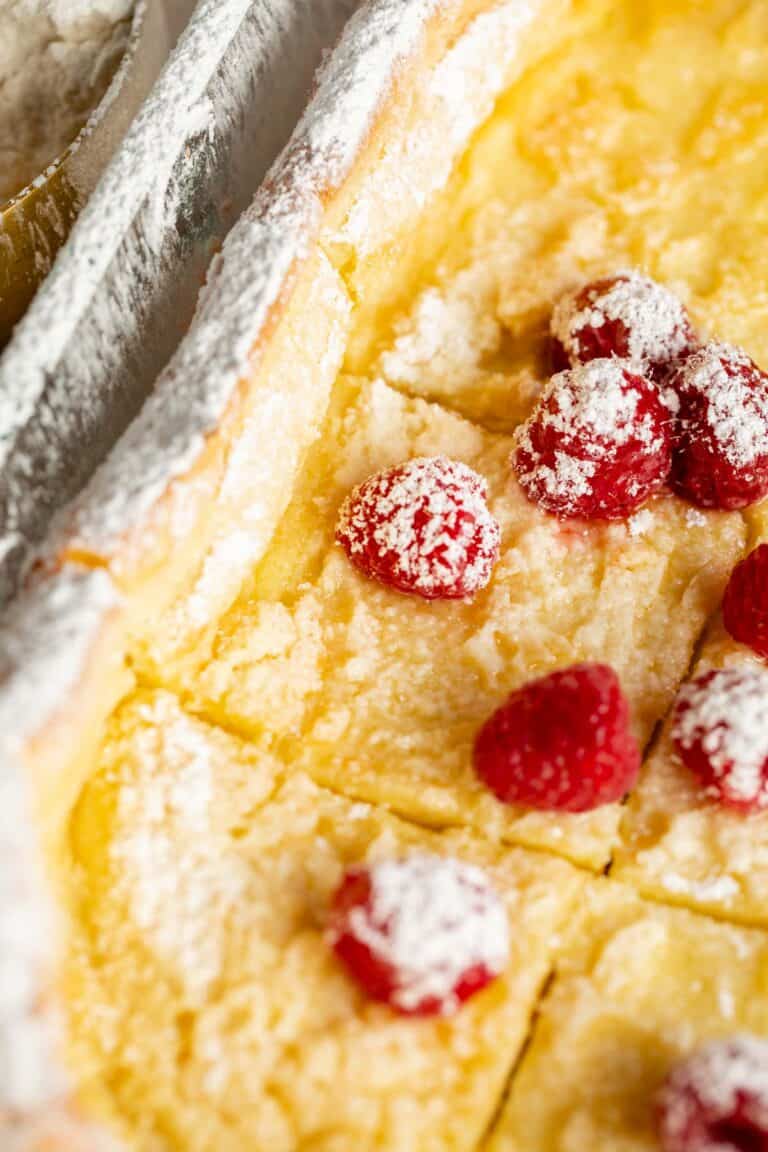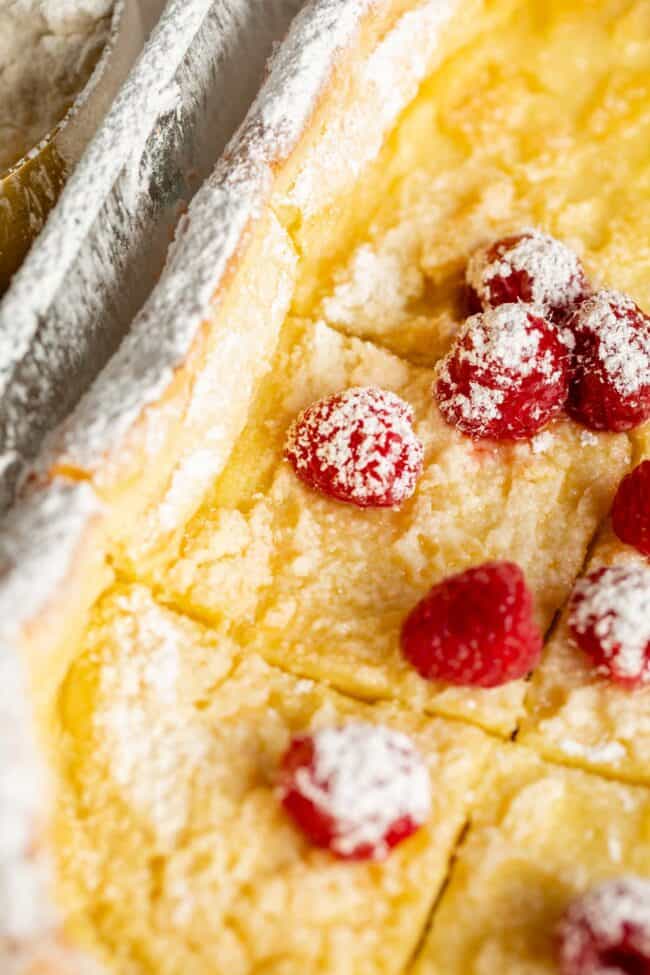 Enter these German Pancakes! Have you tried them? This is one of those recipes with a hundred names. German Pancakes. Puffy Pancakes. Dutch Babies. Hootenanny. Hootin' Annie. Dutch Puff. Bismarck. What do you call them? Is this a regional thing?
My mom never made these growing up but we are obsessed with them now. They are so so easy to make, and a quick way to feed the whole family without flipping pancakes for an eternity.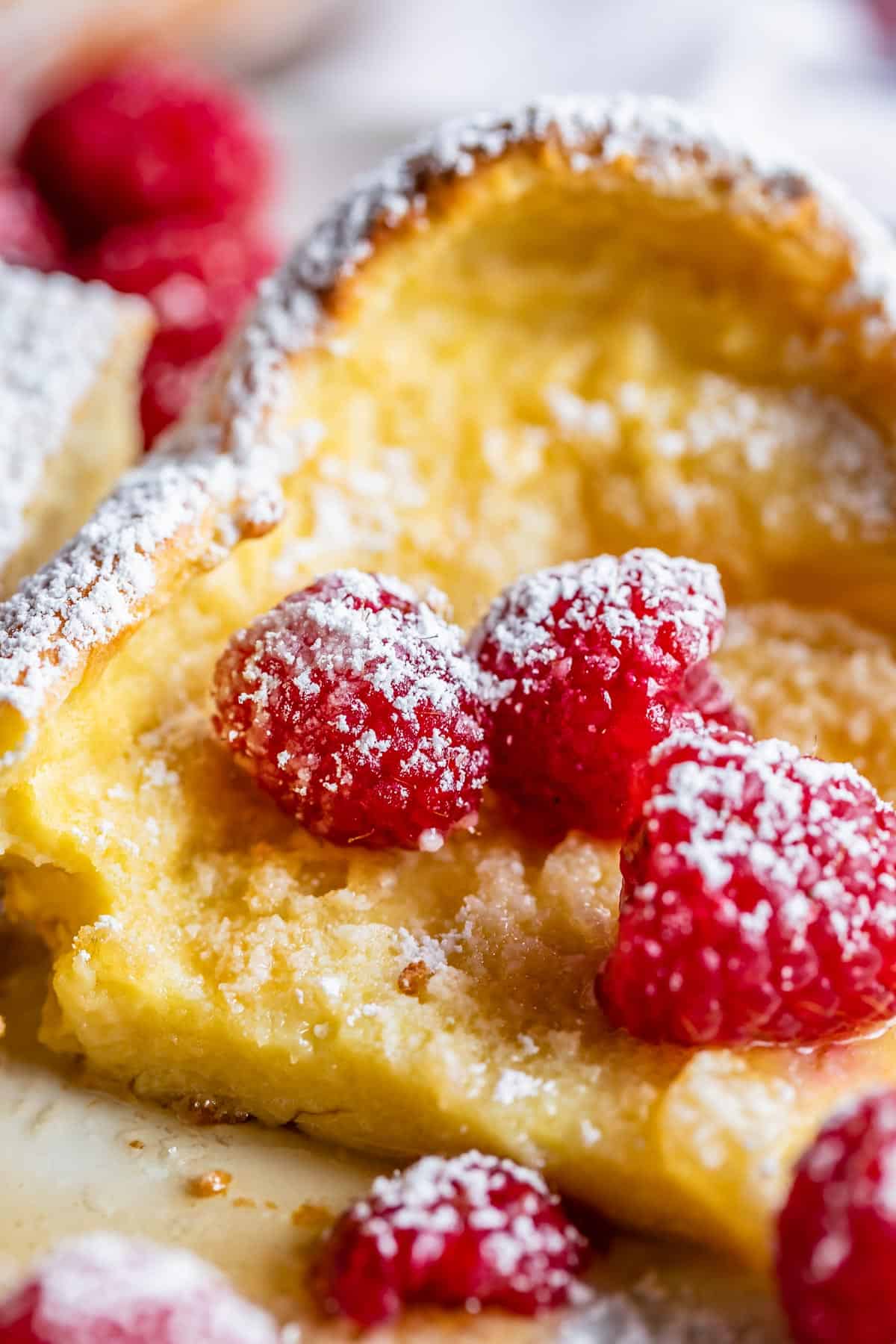 We like to serve these with maple syrup and berries! Raspberries, blueberries, strawberries, etc. A dusting of powdered sugar through a sifter is a must! It's also really good with a simple squeeze of lemon and powdered sugar.
What is the difference between a German pancake and a regular pancake?
German pancakes are basically a giant popover. They're much more eggy than a regular pancake, and they're baked in the oven rather than cooked in a skillet or on a griddle. They also take less hands-on time, standing in the kitchen sweating over flipping dozens of pancakes.
What are German Pancakes made of?
Here's a quick shopping list to help you gather your ingredients. See the recipe card below for the full ingredients and instructions!
Butter
Flour
Salt
Sugar
Milk
Vanilla
Eggs
Optional toppings (syrup, powdered sugar, fresh berries)
How to make German Pancakes
Here's a quick overview of how to make German pancakes – scroll down to the recipe card for complete instructions.
Add butter to a casserole dish and melt in the oven.
Whisk flour, salt, and sugar together in the bowl of a stand mixer.
Add milk, vanilla, and eggs to the stand mixer and beat until well combined.
Pour the batter into the hot melted butter and return the dish to the oven.
Bake until browned and puffy.
Serve immediately with syrup, berries, and/or powdered sugar.
This recipe is like a fun science experiment. Turn on the oven light and let your kids watch them puff up in the oven. Free entertainment right there! There are only 7 ingredients in this recipe. So easy.
First you start off by melting some butter in a casserole dish. I like to do this right in the oven as it preheats.


Now add some flour, salt, and sugar to a large bowl. Whisk it together, then add in some milk, vanilla, and eggs. Beat it for a while. I like to use an electric beater for this step. In fact, I like to add the eggs one at a time and beat for at least 30 seconds before adding the next egg. This is how you get ultra fluffy German pancakes!


It's kind of annoying cracking an egg, washing your hands, beating for a while, and then repeating the process, so I decided to just crack all the eggs into one bowl and add them one at a time.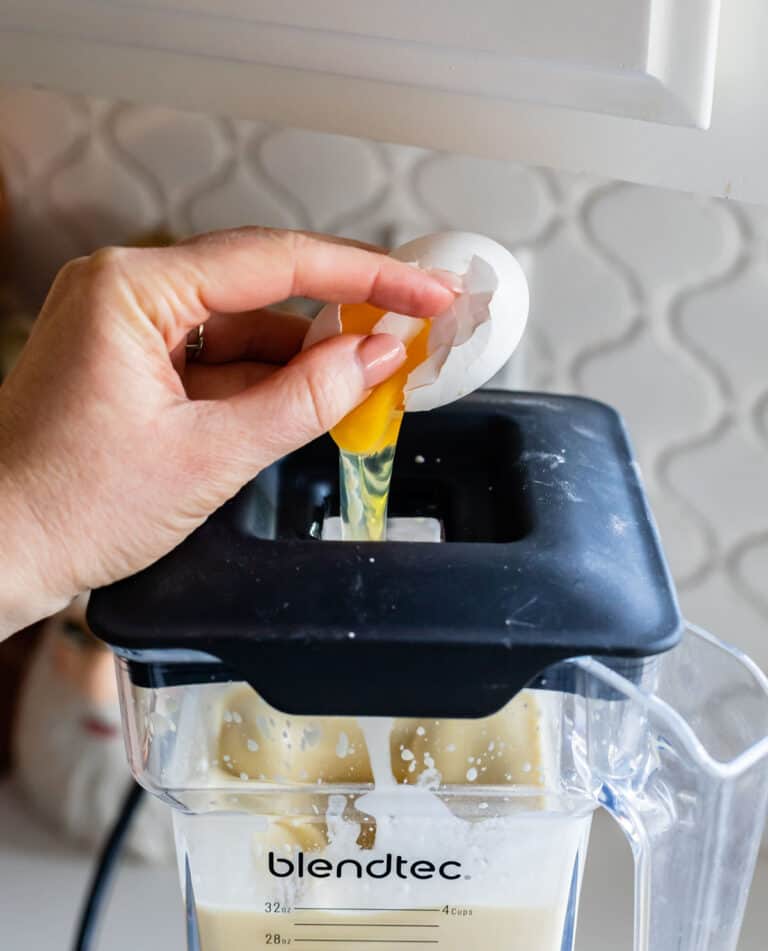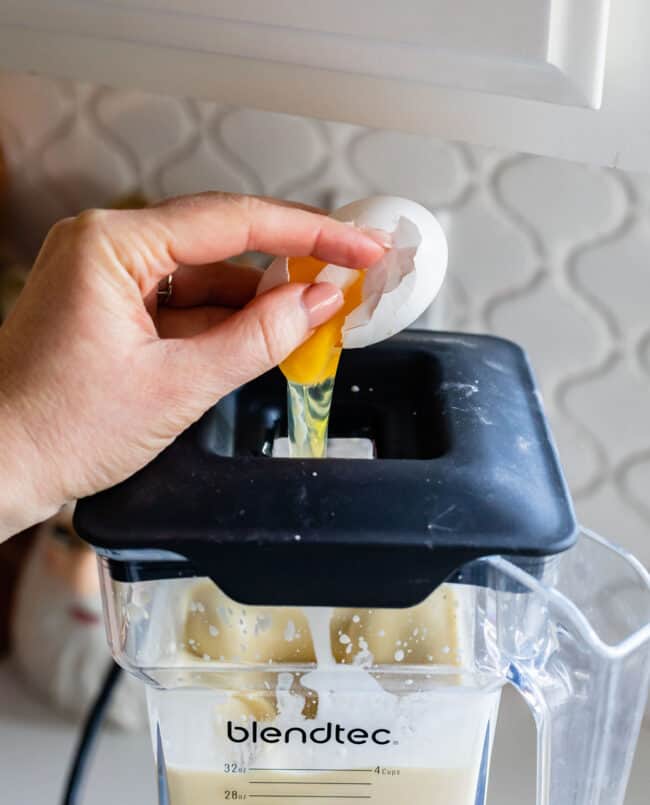 You can also make this recipe in the blender! Dump all the ingredients in except the eggs and blend to combine. Then, add the eggs one at a time and blend for a while before adding in the next one. This makes for the fluffiest pancakes!

Then pour the batter into the hot hot butter from the oven. Swirl it around a bit so the batter gets lots of contact with the butter!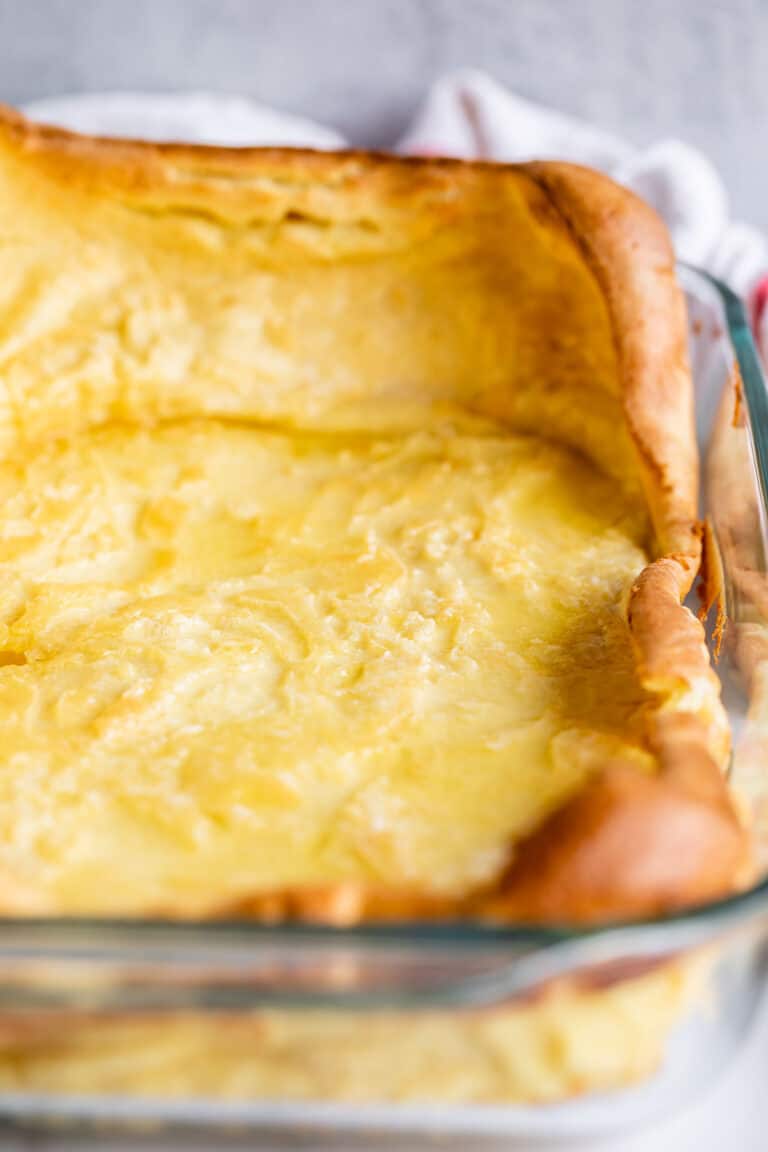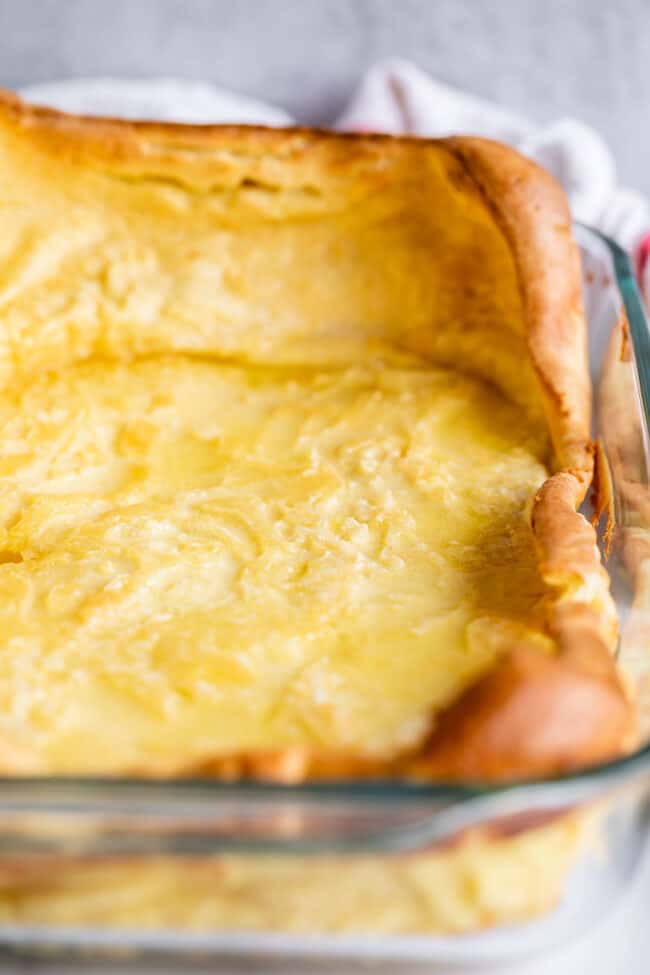 And that's it! So so easy!
How to make this recipe for German Pancakes EVEN FLUFFIER
I have a lot of thoughts and feelings about pancakes. I'm a little picky. I searched high and low to find The Best Pancakes I've Ever Made. (that title still stands!) The thing that sets that recipe apart is separating the egg whites and beating them a little bit before adding them to the batter.
My favorite waffle recipe includes a separate-the-egg-whites-step. Beating the egg whites is the only way to get magically fluffy waffles that are still crisp on the edges.
Can you see where this is going?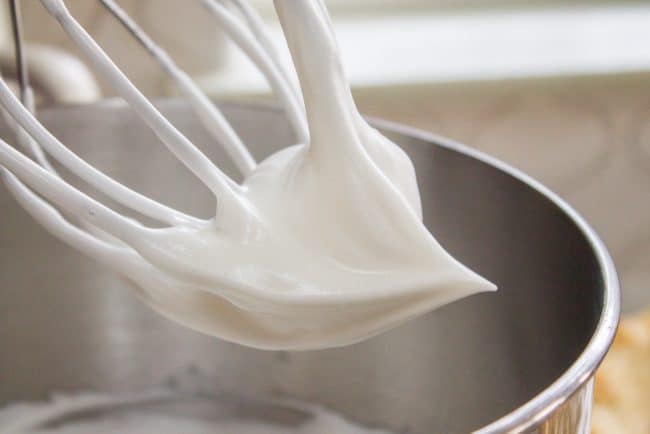 I just had to find out what happens to German pancakes if I separated the egg whites and beat them.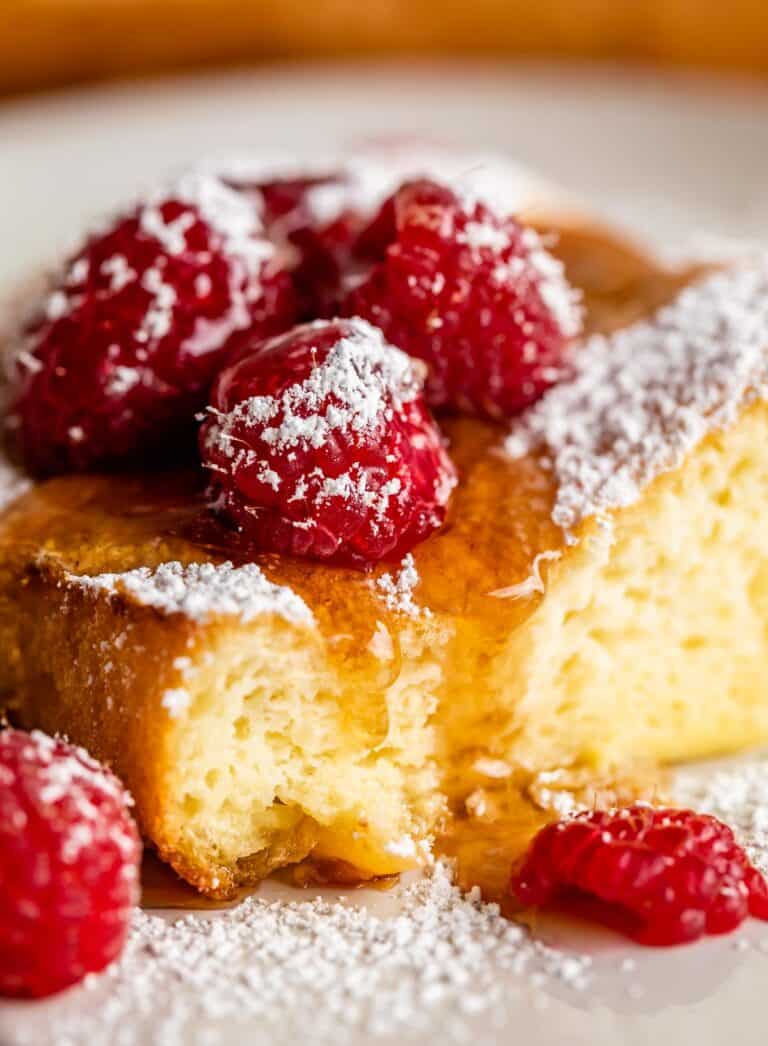 The result? SO. SO. FLUFFY.


Can you see how puffy the center is? Normal German pancakes are flat in the center and puffy on the edges of the pan. This version is puffy all the way through. The finished pan looks more like a cake than a traditional German pancakes. All the ingredients are exactly the same; I just beat the egg whites before adding them in. Isn't it crazy what a difference it makes?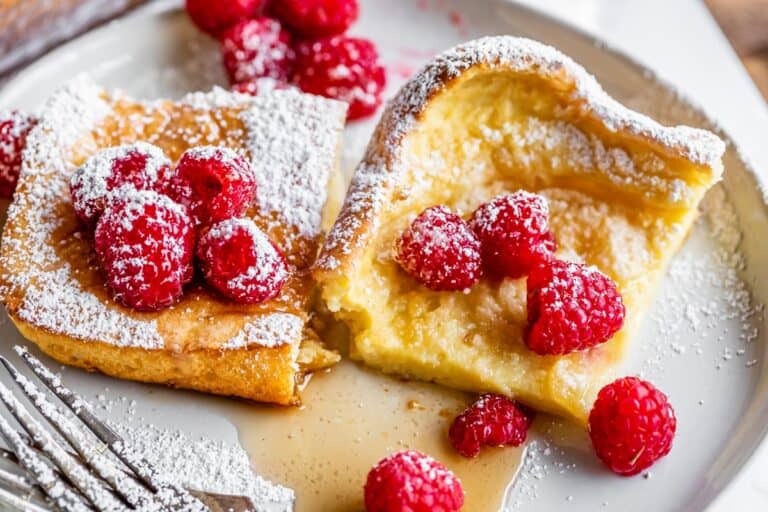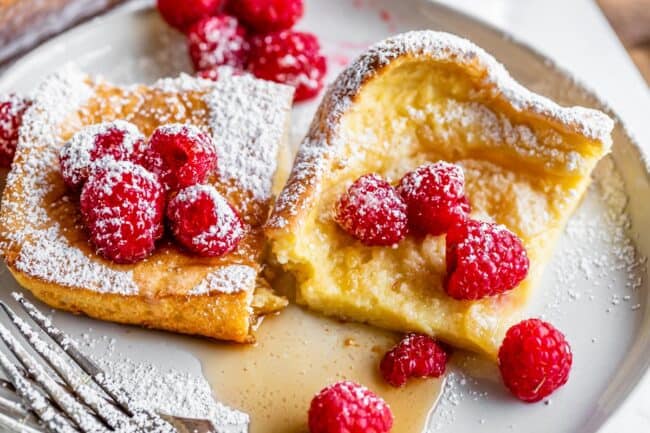 Look at the puff!! Anyway, I know it's not traditional, but it is a fun variation you might want to try sometime. I like both versions and know I will be making it both ways for my family from here on out! The instructions for how to make it this way is in the notes section of the recipe where it says "How to Make FLUFFY German Pancakes."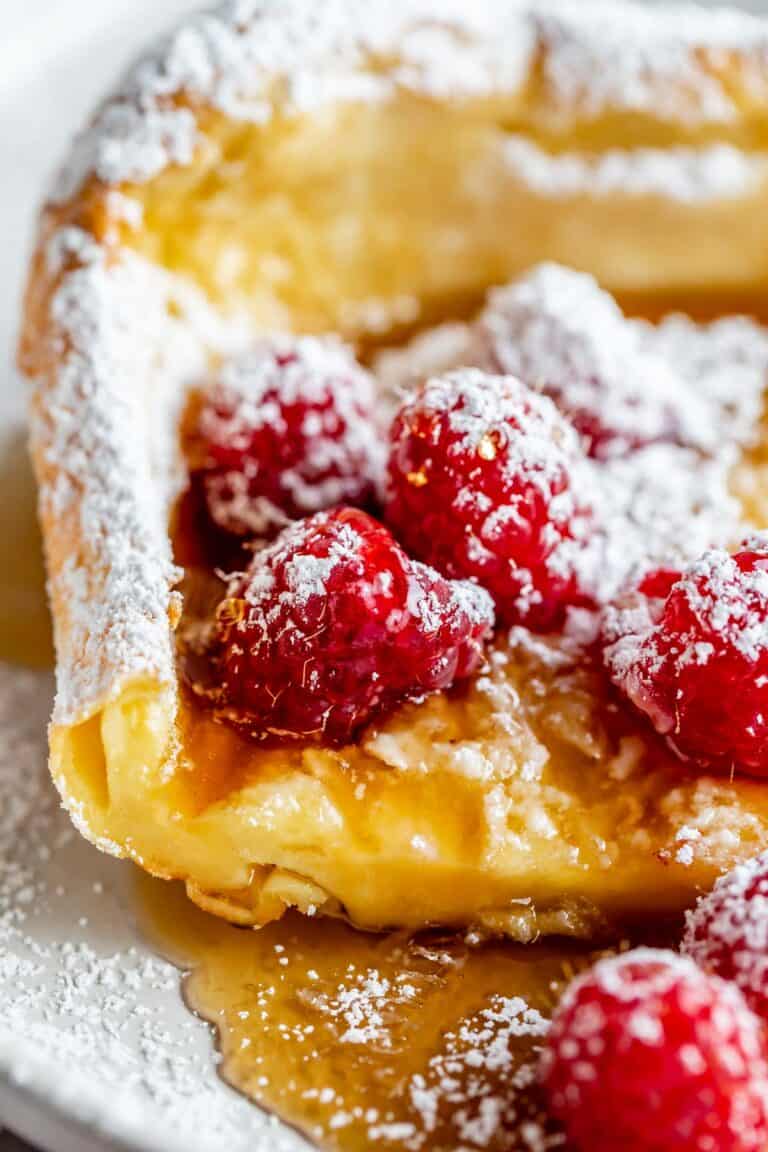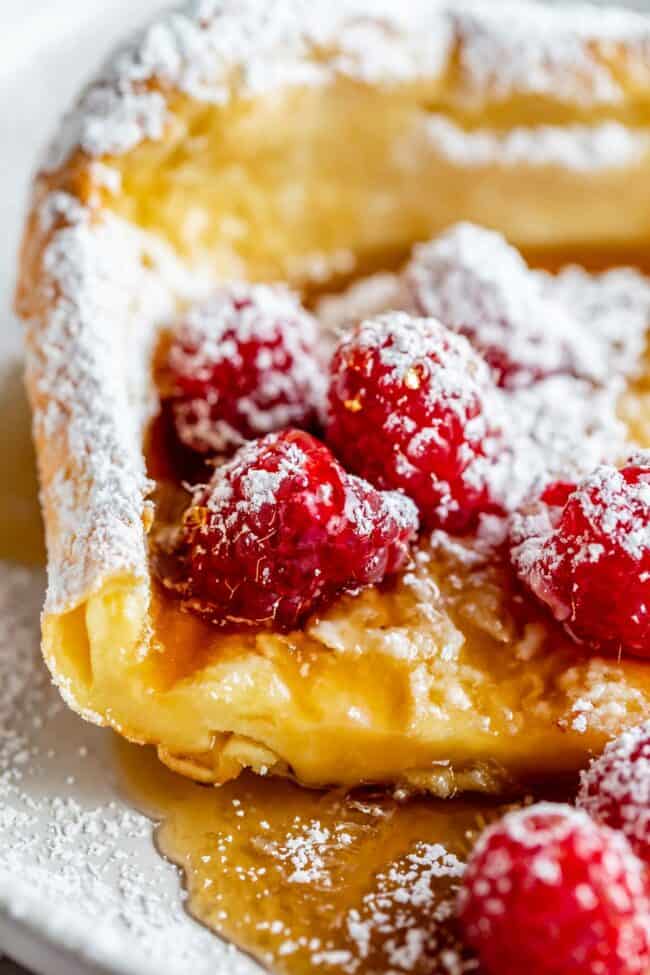 German pancakes would be a super easy breakfast option for Christmas morning! Make the batter the night before! Refrigerate over night, beat the heck out of it in the morning (again), and then bake. If I were doing it I would use the blender, stick the whole blender pitcher in the fridge overnight, and then blend again in the morning before pouring into the pan.
Even if you forget to do it on Christmas Eve, these are so easy to whip up it would still be a cinch to do on Christmas morning! Or heck, any random Tuesday. Who can say no to Dutch Babies??
German Pancake Serving Suggestions
My family loves German pancakes with maple syrup, a sprinkle of powdered sugar, and fresh raspberries and blueberries. Here are some more ideas for toppings:
Spread Nutella on individual slices
Try sliced bananas, peanut butter, and crisp bacon
Make some Coconut Syrup and add fresh pineapple
Top with ice cream and sundae toppings for dessert!
More breakfast recipes you are going to love!
That aren't cereal. Blasted children! ;)
Facebook | Pinterest | Instagram

German Pancakes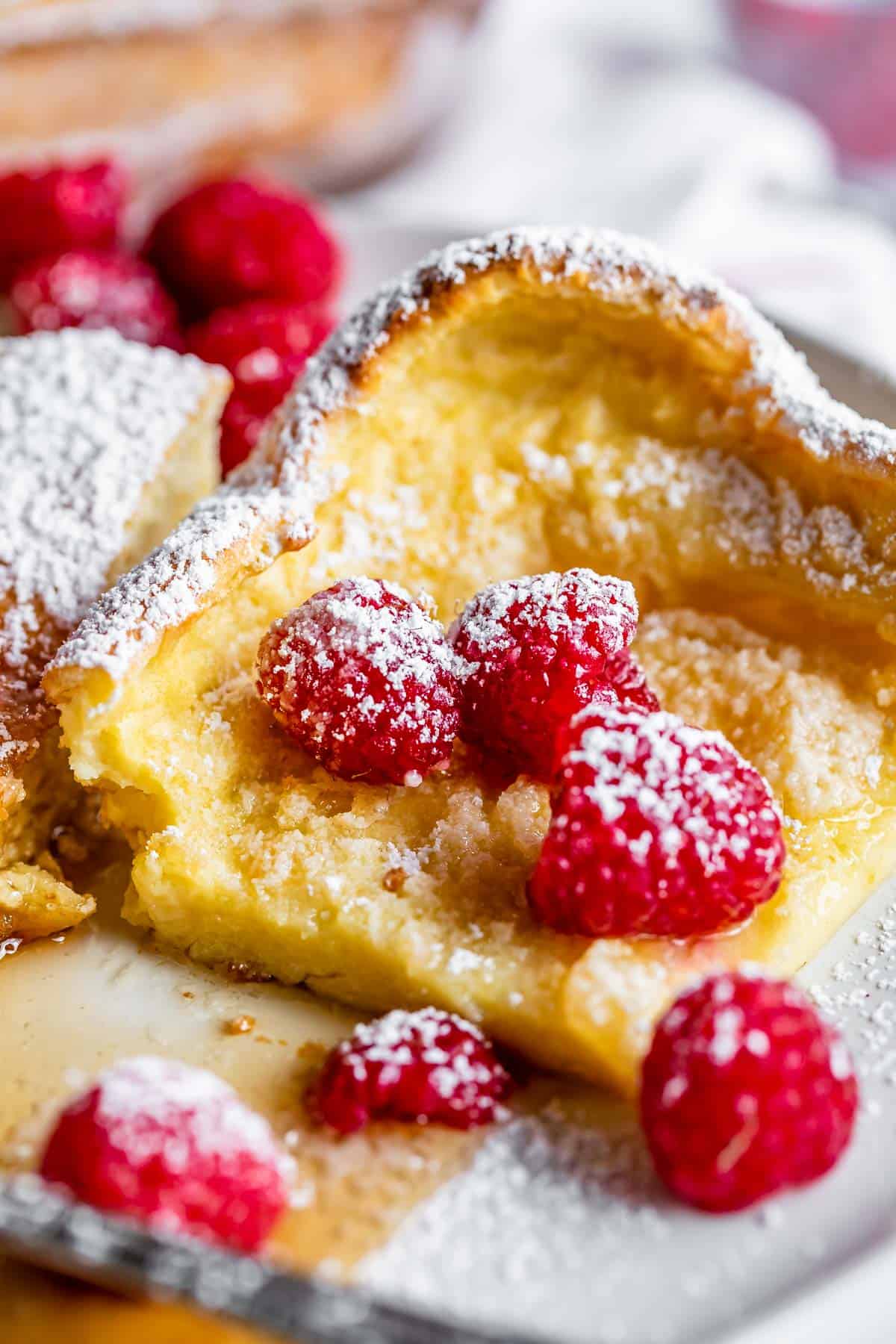 This classic German Pancake or Dutch Baby recipe has so many names! Whatever you like to call it, it's a super easy way to get delicious baked pancakes on the table fast. The edges puff up way past the edge of the pan, which is why they are sometimes called puffy pancakes! There are only a few ingredients, and you can even make it in the blender!
Ingredients
6

tablespoons

butter

1

cup

all-purpose flour

,

spooned and leveled

1/2

teaspoon

kosher salt

1/4

cup

granulated sugar

1

cup

whole milk

1

teaspoon

vanilla

6

large

eggs
To garnish
maple syrup

fresh berries

powdered sugar
Instructions
Add 6 tablespoons butter to

a 9×13 inch casserole dish

. Put in in the oven and start preheating the oven to 425 degrees F. The butter will be melted by the time you are ready to add the batter. (If you have any delays, take the melted butter out of the oven before is starts to brown. Set aside until batter is ready.)

In a large bowl or stand mixer,* add 1 cup flour, 1/2 teaspoon kosher salt, and 1/4 cup sugar. Whisk it together.

Add 1 cup whole milk and 1 teaspoon vanilla.

Use the whisk attachment on your stand mixer, or

an electric beater

, (or a regular old whisk and elbow grease) to beat in 6 eggs.* I like to add the eggs one at a time and beat well in between each addition, to make sure the German pancakes turn out nice and fluffy. I actually like to crack all the eggs into a separate bowl and pour them in one at a time, because it's easier than pausing every 30 seconds to crack an egg and wash hands.

Once all the 6 eggs have been well beaten into the mixture, take the pan with the melted butter out of the oven. Use a figure 8 motion to pour the batter slowly into the pan. The more contact that the batter has with the butter, the more craggy and puffy your German pancakes will be. If you hurry, you can even use a butter knife to swirl it around a bit if you like. If doesn't need to be combined; just swirled.

The mixture will start cooking right away once it hits the hot butter, so carefully but quickly transfer the sloshy mixture back to the oven.

Bake at 425 for about 20 minutes, until the edges are sky high, browned and puffy! There might be some butter pooled in the center of your German pancake. That's okay! Just spread it around a bit before serving.

Slice the pancakes and serve warm! It tastes delicious with warm maple syrup and fresh berries. A sprinkle of powdered sugar is also traditional and adds just the right touch!

These pancakes are best served fresh. Store leftovers in the fridge and they will keep 3-5 days!
Notes
*You can make this recipe in the blender! Add all the ingredients except the eggs. Blend well, then add the eggs one at a time, blending for at least 30 seconds between each addition.
Some people like to add a little cinnamon or nutmeg to German Pancakes! If you want to try it, start with 1/2 of cinnamon and maybe 1/4 teaspoon nutmeg.
Overnight instructions
Make the batter as usual. Refrigerate overnight. In the morning, beat the batter one last time before pouring it into the hot butter as usual. Bake as directed!
How to make FLUFFY German Pancakes:
Melt the butter in a pan as usual. Separate 6 eggs and add the whites to a large bowl or stand mixer. Beat whites until stiff peaks form (at least 2 minutes). Add the 6 egg yolks and all the other ingredients (1 c flour, 1/2 t salt, 1/4 c sugar, 1 c milk, and 1 t vanilla) to a large bowl and whisk together very well. Fold in the egg whites until incorporated. Pour into the hot butter in the pan. Return to the oven and bake as directed.
Nutrition
Calories:
460
kcal
|
Carbohydrates:
40
g
|
Protein:
15
g
|
Fat:
26
g
|
Saturated Fat:
14
g
|
Polyunsaturated Fat:
2
g
|
Monounsaturated Fat:
8
g
|
Trans Fat:
1
g
|
Cholesterol:
330
mg
|
Sodium:
574
mg
|
Potassium:
224
mg
|
Fiber:
1
g
|
Sugar:
16
g
|
Vitamin A:
1029
IU
|
Calcium:
121
mg
|
Iron:
3
mg