Soft, spicy gingerbread cookies stuffed full of Nutella. I could go on, but really I don't feel like I need too. GINGERBREAD AND NUTELLA. I mean come on.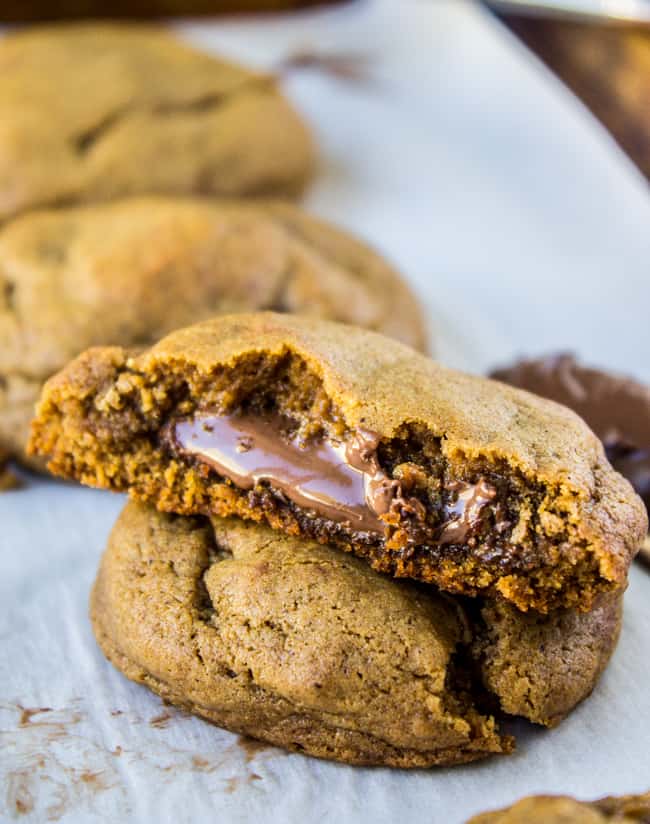 Growing up, my family had this tradition of cutting down a mammoth Christmas tree straight from the hillside every year. If Christmas trees were Harry Potter characters, ours would be Hagrid. "Simply too big to be allowed."
Seriously, we're talkin' like 12-13 feet. And every year my poor dad risks life and limb by standing tippy-toe on the highest step of the ladder, to lasso the lights and tinsel around the very top.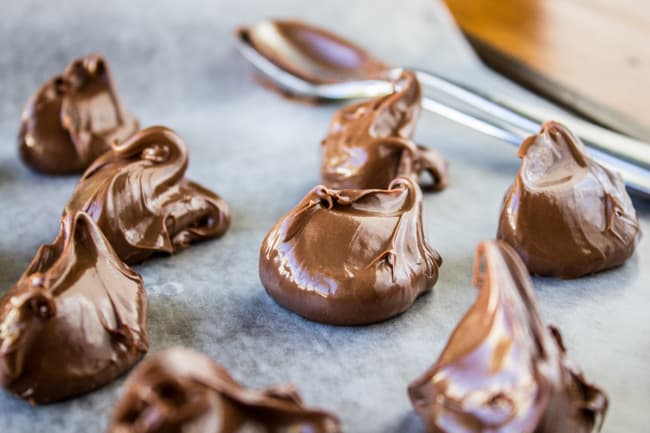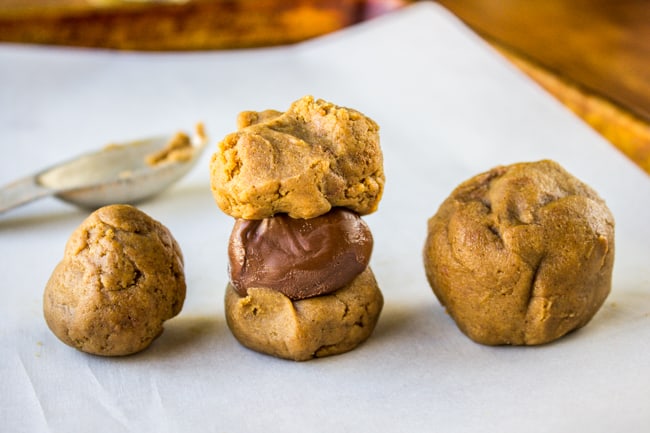 This week my parents were jet-lagged from vacation, and my Dad was sick, so a trip to The Mountains (what I dubbed any locale with even the slightest altitude as a kid—we are valley-folk, what can I say) had to be foregone this year. Instead we trekked on over to Costco. For a completely normal-sized tree. This is a first, folks.
With my dad out for the count, it was my job to light up that sucker. No big deal, right? How hard can it be? Just throw some lights up and plug it in.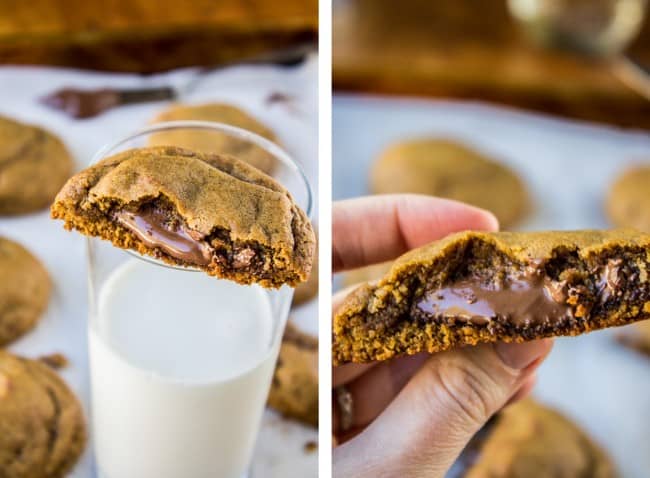 WRONG. That measly little tree DEFEATED me. I haven't thrown a tantrum like that since I found out Reese's shrunk the size of their cups. I mean we are talking foot-stamping, twinkle-light-hucking outrage, complete with girly squeals. Why is it so hard?? It looked like a nest for a bird of prey. And then since things had already gone to pot I let Charlotte do the tinsel All By Herself. This tree's a winner guys.
Hopefully the rest of you are not as twinkle-light inept as I am. In any case, I have this to make me feel better: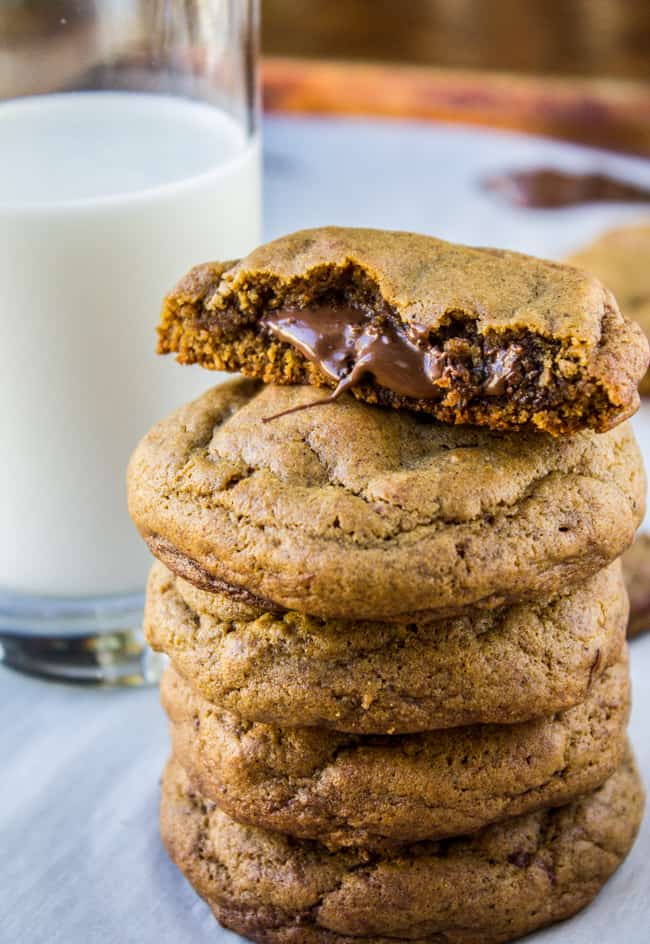 I officially (and retroactively) proclaim it gingerbread week. We started off on Monday with these Frosted Peppermint Gingerbread Bars, and today we are getting in your face with these Nutella Stuffed Gingerbread Cookies. Last year I made this same cookie but with chocolate chunks in them, and they were amaaaazing. The dough recipe is from the lovely Alaina over at Fabtastic Eats, who made these Caramel Stuffed Gingerbread Cookies. Yeah, read that again.
Pretty much any way you embellish this dough, you are going to have a winner. But I have to say I am partial to the Nutella version. Because, HELLO, Nutella. I just don't feel like I need more words here. I could not get enough of these. You know how cookies are usually kind of 'eh' by day 2? Not so with these. They get even softer by day 2. I wouldn't know about day 3. Because I know what's good for me.
Do you guys give up? Or are you thirsty for more?
Facebook | Pinterest | Twitter

Nutella Stuffed Gingerbread Cookies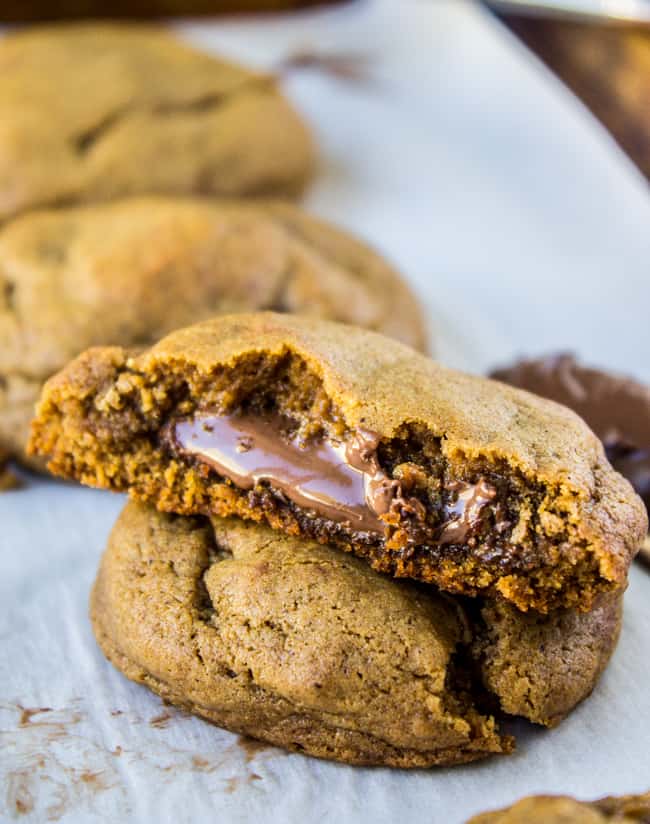 Soft, spicy gingerbread cookies stuffed full of Nutella. I could go on, but really I don't feel like I need too. GINGERBREAD AND NUTELLA. I mean come on.
Ingredients
1

cup

unsalted butter

,

softened (2 sticks)

1

cup

brown sugar

,

packed

1/4

cup

molasses

2

eggs

2

teaspoons

vanilla extract

2

teaspoons

ground ginger

1

teaspoon

cinnamon

1

teaspoon

nutmeg

1

teaspoon

ground cloves

3 & 1/2

cups

all purpose flour

,

spooned and leveled

2

tablespoons

cornstarch

1 & 1/2

teaspoons

baking soda

1/4

teaspoon

salt

1

cup

Nutella

,

or other hazelnut spread
Instructions
Start by freezing the nutella. Clear out some space in your fridge and line a baking sheet with wax paper. Use 2 spoons to dollop nutella on the sheet. You want them to be about a tablespoon and a half. It doesn't have to be exact.

Freeze for 2 hours, or until firm. Or 25 minutes like me, and deal with melty nutella oozing out of your cookie dough.

In a large bowl or stand mixer, beat the butter and sugar together until they are combined. Scrape down the sides, then continue to beat for 2-3 minutes.

Add the molasses and beat until combined completely.

Add the eggs one at a time, mixing well and scraping sides.

Add the vanilla, ginger, cinnamon, nutmeg, and cloves. Beat well.

Add the spooned and leveled flour, but don't mix it in. Make a well in the flour, carefully add the cornstarch, baking soda, and salt, and mix it in with the flour with a small spoon. Then beat in the flour, using 1-second pulses so that you don't shoot flour everywhere.

Beat until just barely combined. You might need to use a wooden spoon to mix it in.

Cover the bowl and chill in the fridge for at least 45 minutes, or up to 4 days. The longer the better.

Preheat the oven to 350 degrees F.

Line a baking sheet with a silpat or parchment paper.

Form balls out of the dough that are a little larger than 1 tablespoon. Take 2 balls and smoosh them around a frozen dollop of nutella. Seal it well. Place on the baking sheet and continue until the dough is gone. I lined up 8 cookies per pan.

Bake in a preheated 350 degree oven for 10-12 minutes, or until they are no longer shiny on top and the edges are set.

Remove from the oven. Let them set on the pan for about 5 minutes, then remove to a wire rack to cool. Eat warm! With milk!
Nutrition
Serving:
1
cookie
|
Calories:
343
kcal
|
Carbohydrates:
46
g
|
Protein:
4
g
|
Fat:
16
g
|
Saturated Fat:
11
g
|
Polyunsaturated Fat:
1
g
|
Monounsaturated Fat:
3
g
|
Trans Fat:
1
g
|
Cholesterol:
45
mg
|
Sodium:
145
mg
|
Potassium:
194
mg
|
Fiber:
2
g
|
Sugar:
25
g
|
Vitamin A:
343
IU
|
Vitamin C:
1
mg
|
Calcium:
50
mg
|
Iron:
2
mg
More Christmas treats! Never enough!!
Chocolate Chunk Gingerbread Cookies <<This is the same cookie, except with chocolate chunks. Also a fabulous choice: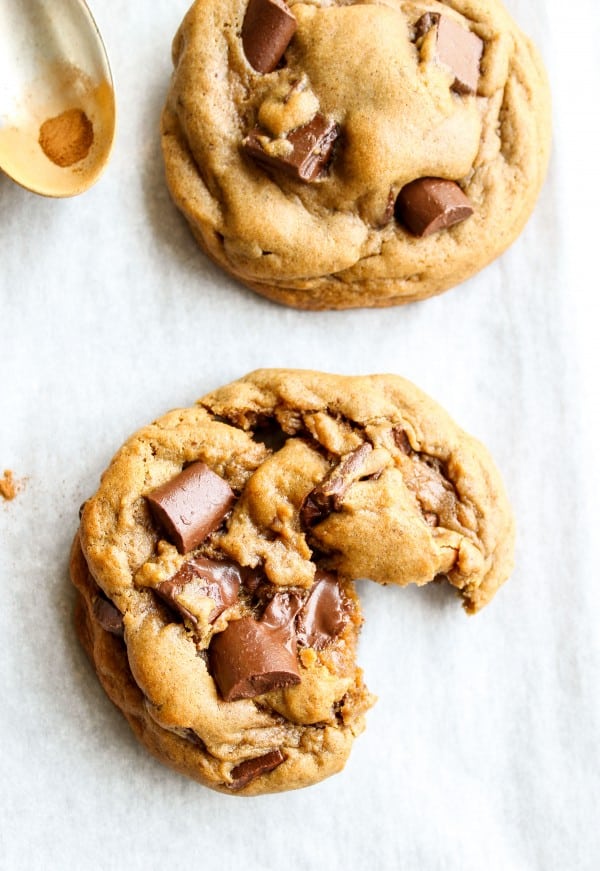 Frosted Peppermint Gingerbread Bars << I know I just posted these 2 days ago, but they deserve another shout out. SO GOOD:
 Nutella Stuffed Browned Butter Blondies. With over 76,000 pins to date, these guys are still hanging out at the 3rd most visited post (ever) on my blog. Let's give em a hand, huh?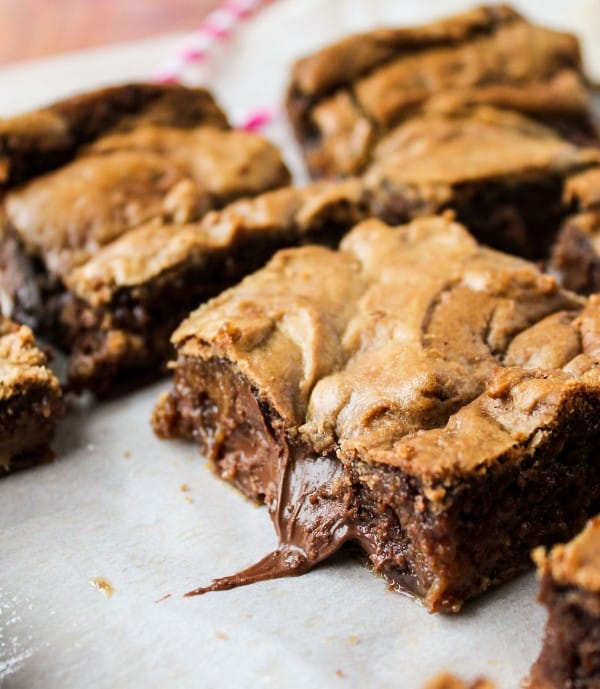 Other recipes from around the blog-o-sphere:
Nutella Chocolate Cake from Life, Love, and Sugar
Nutella Gingerbread Hot Cocoa from Anyonita Nibbles
Gingerbread Cupcakes with Gingerbread Frosting from Roxana's Home Baking