Frosted Peppermint Gingerbread Bars (Candy Lasses Bars)
Inspired by Candy Lasses, these gingerbread bars are full of peppermint flavor and frosted with vanilla buttercream. Gingerbread and candy cane. It's a thing. An amazing thing. Don't knock it til you try it.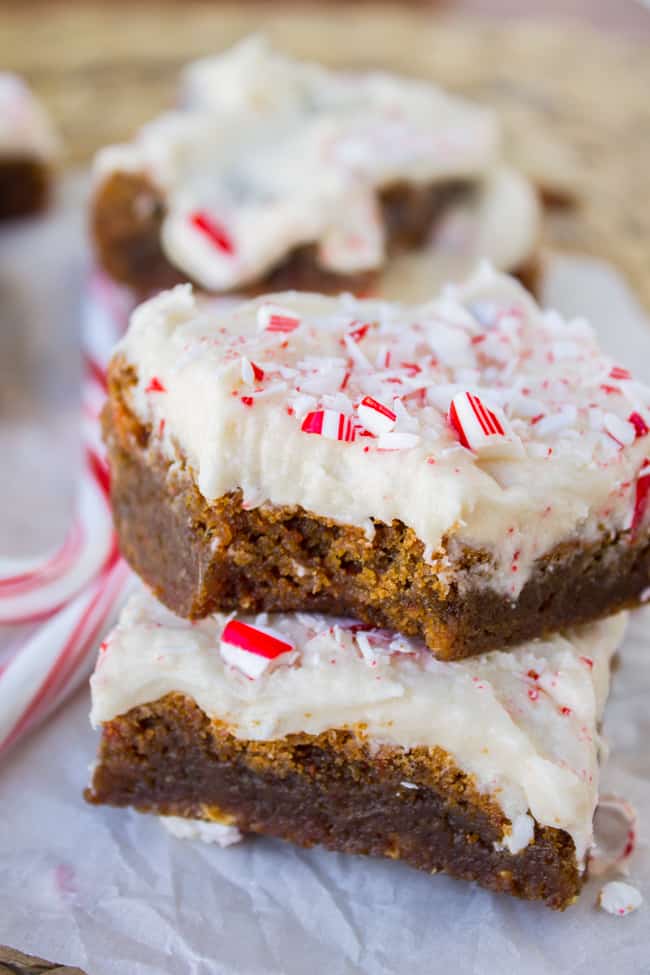 The other night we watched our friend's kids while they went on a date, and ALL 3 of them had been injured within the first 20 minutes of being in our house. THIS is the way to make friends, in case you are having trouble.
In my defense, their 4-year-old is in the baby-obsessed stage, and cannot leave her 6-month-old brother alone. Cooing, waving toys, rolling him over and over and over across the floor–wait, STOP! No, put him down! GET BACK HERE–! Head smash. Cerebellum'd. Poor baby. It wasn't me, okay?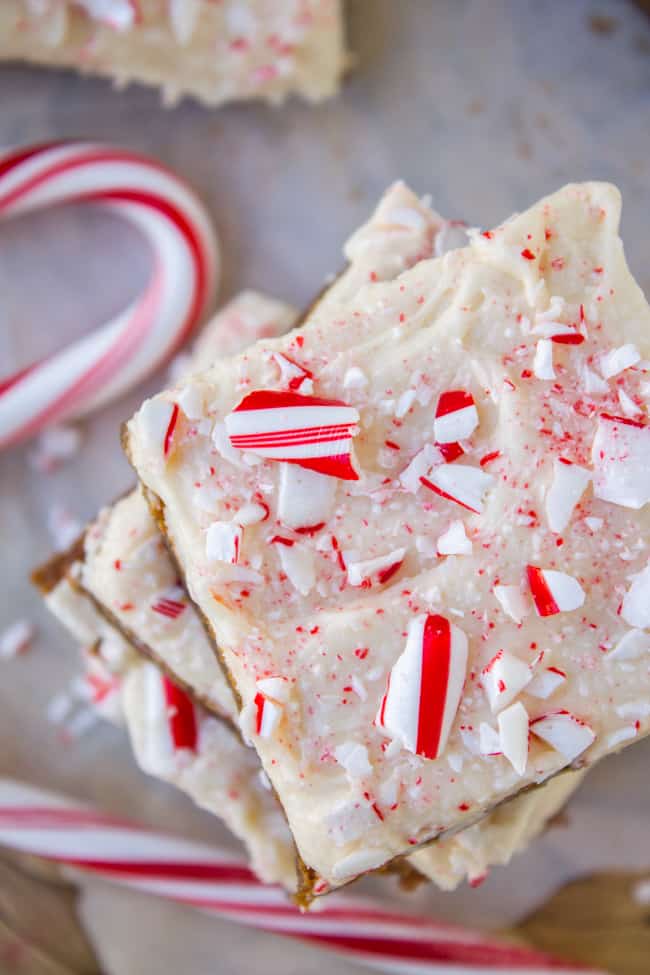 Sibling relationships are complex sometimes, I get it. My sister was working in her garden one day, with her new baby asleep in a carseat, which was in the shade by the house. She looked back to find her 2-year-old standing over the baby, both hands raised high above her head, clutching a jagged rock. Like a sacrificial knife.
Well. That's one way to make sure you stay the baby of the family. Get all crazy eyes.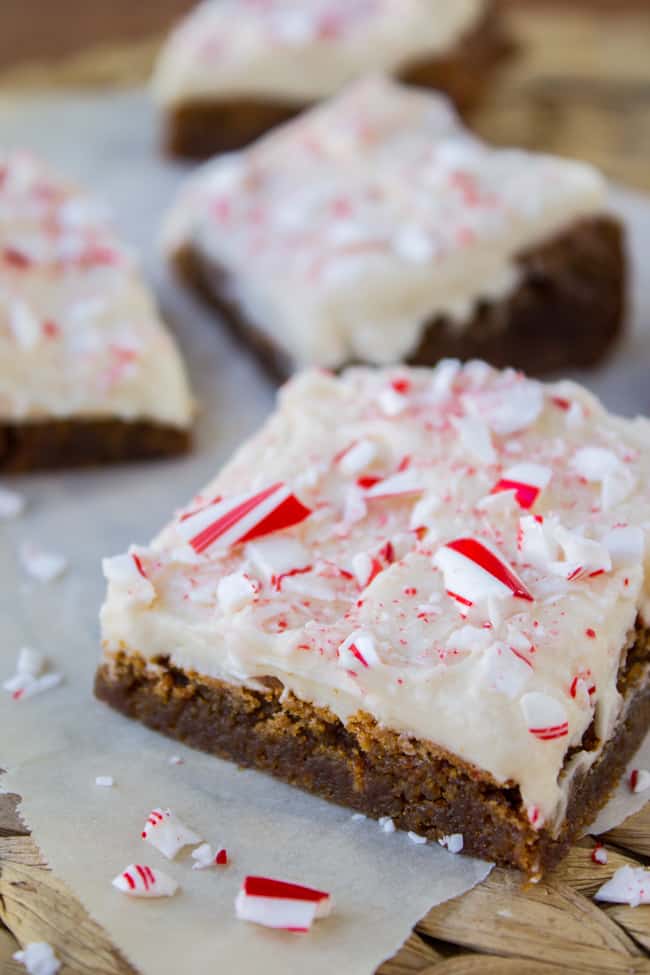 Speaking of crazy eyes, who's ready for holiday baking?? Guys. These Frosted Peppermint Gingerbread Bars are legit. They might just be my new favorite Christmas treat, ever. They beat Buried Cherry Cookies (barely). They are on par, if not surpassing, the Butterscotch Pumpkin Cake. I made 3 batches in one week.
Don't be a ginger + peppermint hater. I was dubious too, back when my best friend made these Candy Lasses for me the first time in college. A molasses-y gingery cookie…with candy canes? Uhhh… But I was immediately converted. This year I wanted to try a bar version, because the only thing better than a cookie is a bar. #preach
I used Gourmet Garden Lightly Dried Ginger in the bars. It's ginger that has been kind of half-dried, so it tastes like fresh but lasts a full 4 weeks. Such a good idea, right? I'm always throwing away half of my fresh herbs. Both my mom and my sister-in-law Sandi have been using Gourmet Garden Stir-In Paste for years. Same idea, but in a tube. I just used an Italian Herb blend in the impromptu soup I made for dinner. If you can't find the Lightly Dried products, never fear, this recipe still tastes fabulous with regular ol' powdered ginger. I tested it both ways.
Add these to your cookie plates this year. YES IT'S FINALLY TIME FOR COOKIE PLATES. Hallelujah.
P.S. More gingery sweets from friends!


print
Did you make this recipe?
Leave a review »
Frosted Peppermint Gingerbread Bars (Candy Lasses Bars)
Makes 12-16 bars
adjust servings
Ingredients
2/3

cup butter (1 stick plus 2 and 2/3 tablespoons)

1

and 3/4 cup brown sugar

1/4

cup molasses

2

eggs

2

teaspoons vanilla extract

2

cups all-purpose flour, spooned and leveled

1

teaspoon baking powder

1/4

teaspoon baking soda

1

teaspoon salt

1

teaspoon nutmeg

1

teaspoon cinnamon

4

teaspoons Lightly Dried Ginger (or powdered ginger--see note)

2/3

cup crushed candy canes (about 8)
Frosting
3/4

cup butter

2

and 1/2 cups + 2 tablespoons powdered sugar

1

and 1/2 teaspoons vanilla

2-3

tablespoons milk

1/4

teaspoon salt

3-4

crushed candy canes
Instructions
Preheat your oven to 350 degrees F. Line a 9x13 inch glass pan with parchment paper or foil. Spray with nonstick spray if you use foil.
In a large bowl or stand mixer, beat butter for 1-3 minutes, scraping sides, until light and fluffy.
Add the brown sugar and beat again.
Add molasses, eggs, and vanilla. Beat well, scraping sides.
In a separate bowl whisk together flour, baking powder, baking soda, salt, nutmeg, and cinnamon. Crush 8 candy canes in a food processor. (I like to add the Lightly Dried Ginger to let it get a little more chopped up, but you don't have to.) If you don't have a food processor put them in a ziplock and use a rolling pin. Add the candy cane and the Lightly Dried Ginger to the flour mixture and whisk in.
Stir the dry ingredients into the butter mixture until just combined.
Spread the batter evenly into the prepared pan. Bake at 350 for 27-28 minutes, or until a toothpick comes out clean. Err on the side of under baking, just as you would with brownies.
Remove from the oven and let cool completely. When cool, lift the bars from the pan.
Meanwhile make the frosting. Beat 3/4 cup butter until smooth, 1-3 minutes (depending on how cold your butter is).
Add 1 cup powdered sugar and the vanilla.
Add the remaining powdered sugar, 2 tablespoons milk, and 1/4 teaspoon salt. Beat well. Add more milk or powdered sugar to reach desired consistency. Beat well, scraping the sides and bottom of the bowl.
Spread the frosting over the bars. Sprinkle with 3-4 crushed candy canes right away. You could also stir them straight into the frosting. Then stuff your face.
by The Food Charlatan

If you make this recipe,
share it on Instagram
 using the hashtag
#TheFoodCharlatan
so I can see it!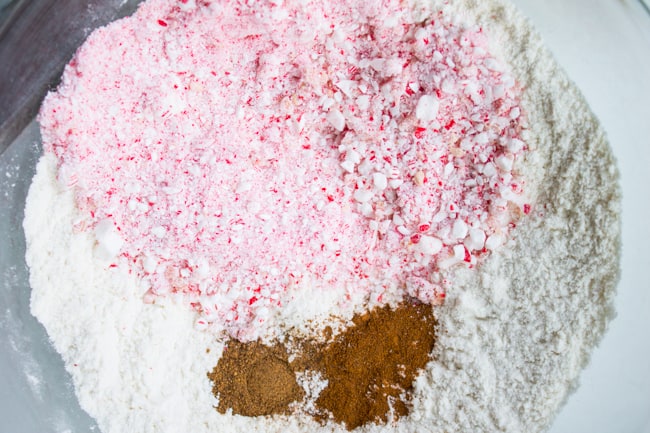 I like the peppermint that goes in the bars to be pretty finely crushed. I crush the sprinkle-on-top candy canes with a rolling pin so they are more even and coarse.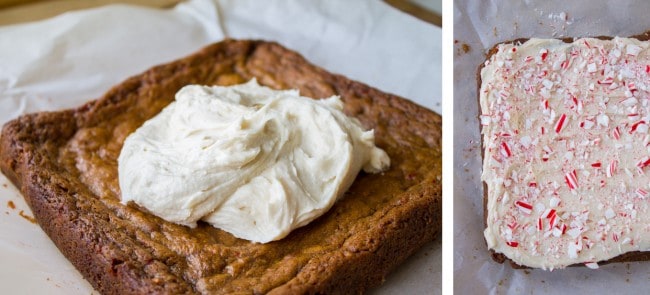 This post was sponsored by Gourmet Garden. All opinions are my own. Duh! Thanks for supporting the brands I love, so that I can keep handing out free recipes like it's Christmas or something.
Here are the original Candy Lasses Cookies! Soooo good: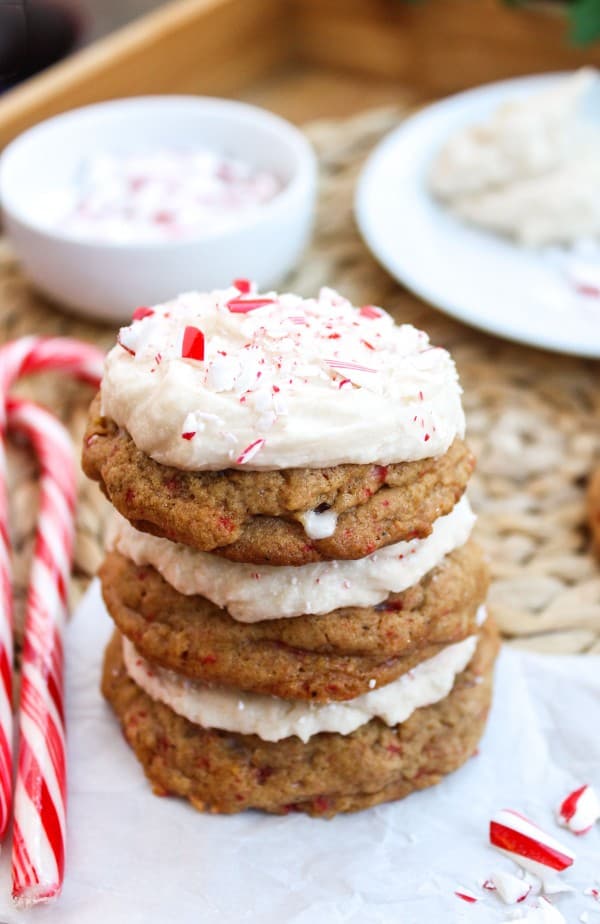 Other stuff you should definitely like: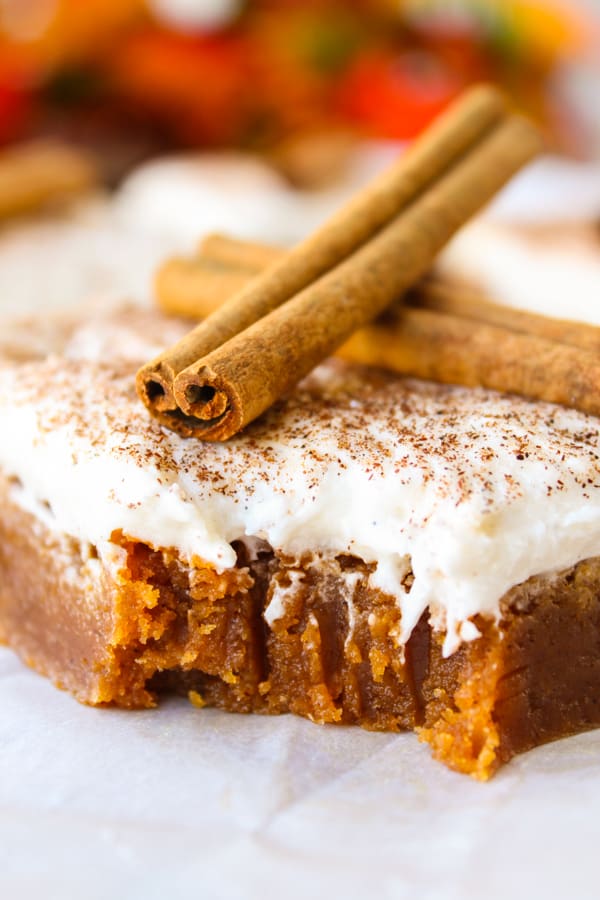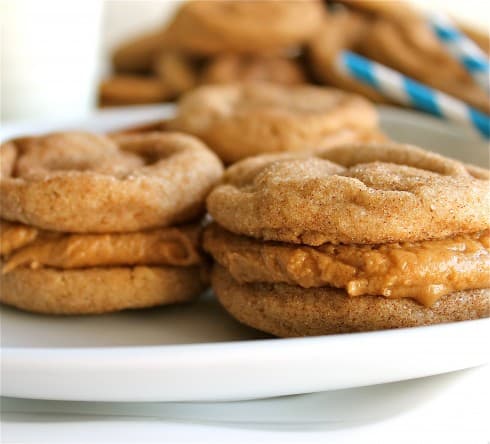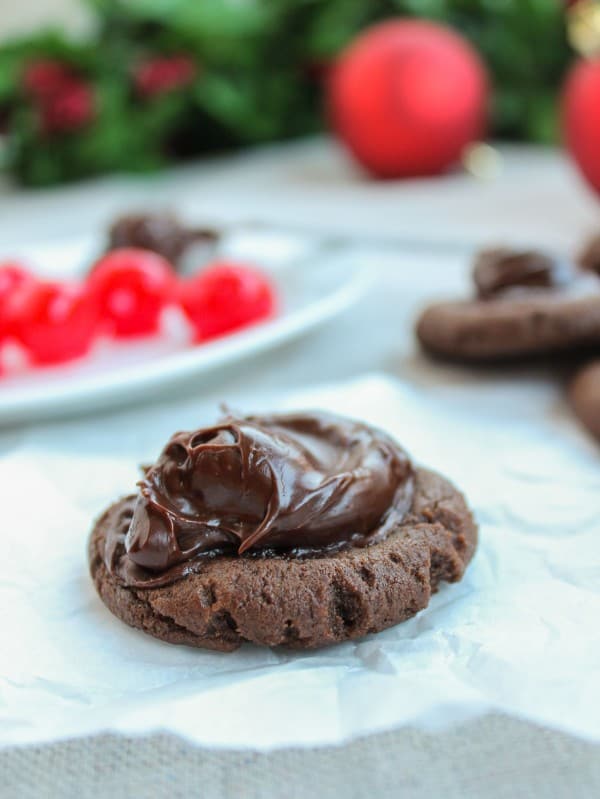 More stuff you'll like:
We are a participant in the Amazon Services LLC Associates Program, an affiliate advertising program designed to provide a means for us to earn fees by linking to Amazon.com and affiliated sites.