This Easy Pasta Frittata is done in 30 minutes and is so easy! The best part is that it uses mostly pantry ingredients (and sausage that you can freeze) so it's a good one to make when you haven't been shopping in a while! Swap out the veggies for whatever's in the fridge, and use leftover pasta if you have it!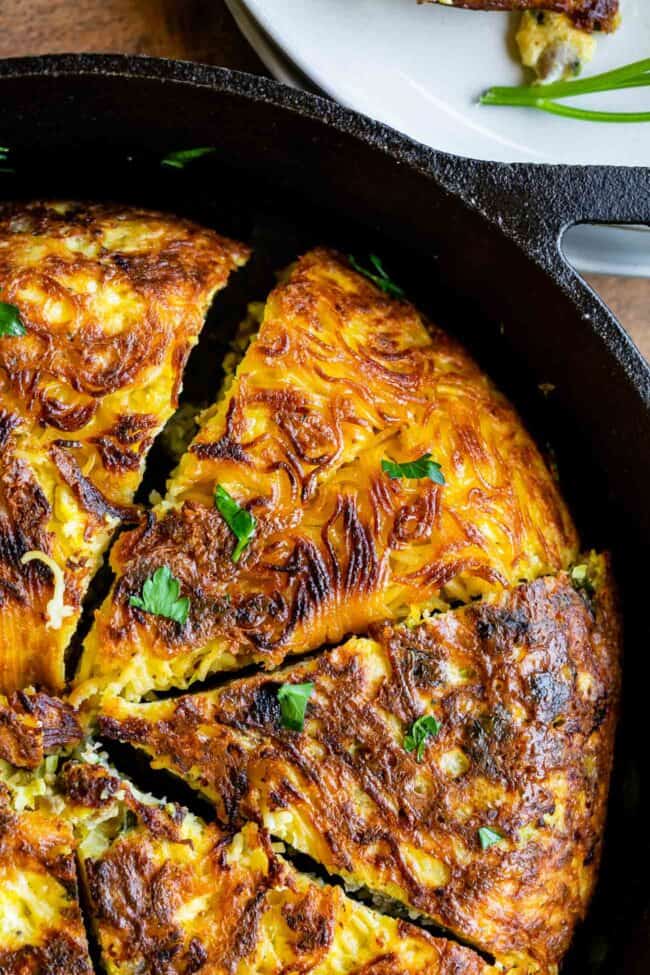 I just put my 2 year old daughter Valentine down for a nap and I can hear her in there. She's saying, "I'm so MAD at you Mommy," because she doesn't want to sleep. It's one of those phrases that makes me want to laugh and cry at the same time, especially since I know she got it from her 6 year old brother, who definitely got it from me.
Isn't saying, "I'm mad at you" better than yelling at people or punching the wall? Isn't it? Please?? Back me up here mamas ;)
Eric and I just got back from Everything Food Conference, and my mom had the kids for a couple days (thanks Mom!!!) This was especially nice of her because I literally just potty trained Valentine last week, and you know how that goes. "Potty trained" past tense, as if it's like a final thing, is a joke. I asked my mom if Val had any accidents and she said only one. Valentine came running down the hall at one point yelling, "PEEEEEEE!!!" while it trailed behind her. Thanks for the heads up Val, and thanks for making my mom clean 10 feet of hallway instead of one spot.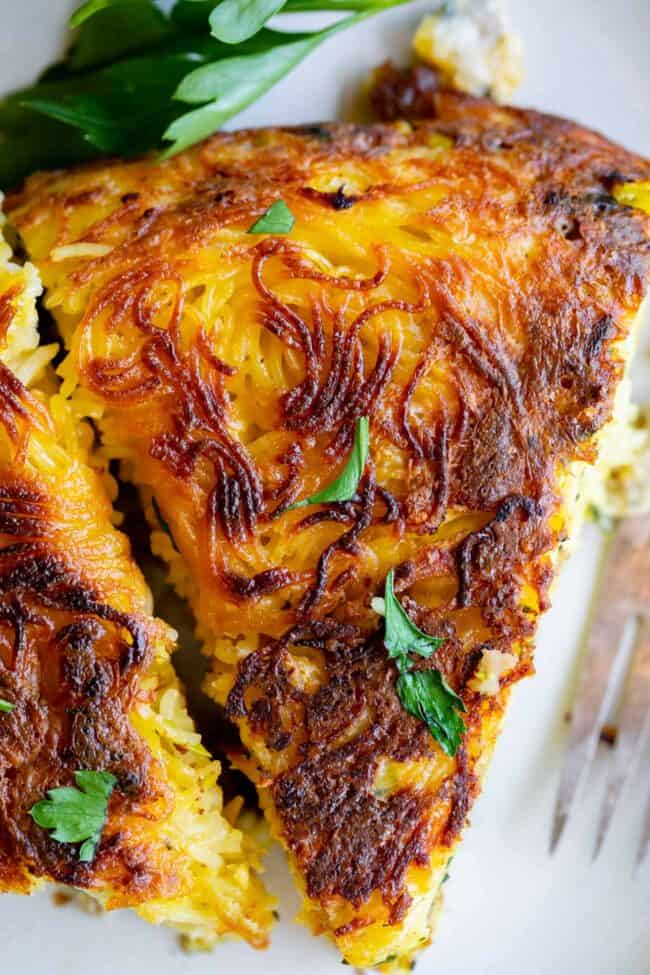 Eric and I had a great time at the conference! The food blogging community is such a special one. Technically we are all competitors, but it doesn't feel like that most of the time, and especially when you get together in person. Everyone is so free with their knowledge and willing to share. It's so refreshing! I've got a hundred new ideas I want to try.
What is Pasta Frittata?
Have you ever heard of Pasta Frittata?? I did not even know this was a thing until I saw a recipe in America's Test Kitchen. I was so intrigued that I knew I had to try it right away! I mean, frittatas are my favorite, and pasta is everyone's favorite, so what's not to love about combining the two?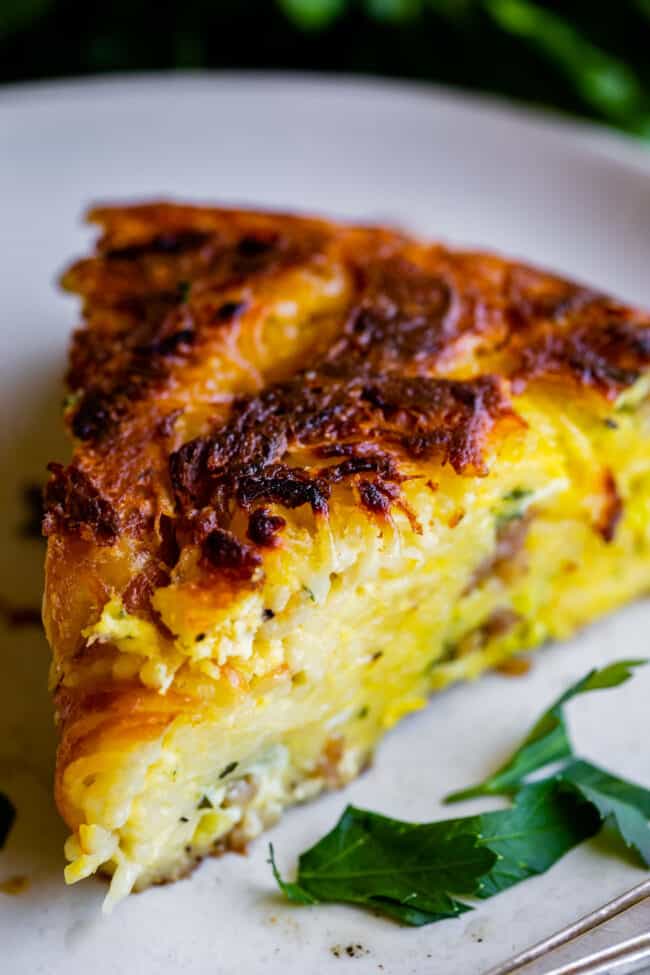 Frittata is my go-to when I need a last minute dinner. It's like an egg casserole, but made in a skillet (and minus the 40 minute bake time). I always have eggs on hand (I buy the huge 5 dozen boxes) and then you just use whatever veggies you have hanging out in the fridge, add in some protein and cheese and voila! This pasta frittata takes it a step further and incorporates angel hair pasta, meaning it feeds even more people. And it's a huge crowd pleaser. Just look at that crispy edge!!!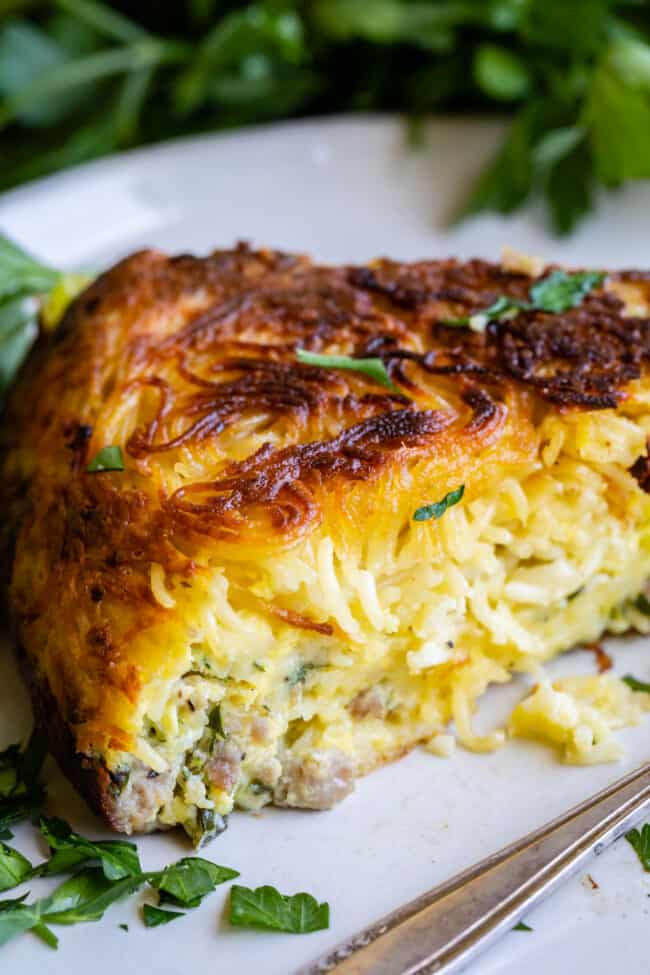 For this recipe, we're adding parmesan cheese, pepperoncini peppers (which are not too spicy, my kids ate it no complaints), and Italian sausage. I always buy Italian sausage in 1 pound bulk packages, so when I make this, I freeze the rest in a flattened-out ziplock. Then I have the 8 ounces I need for the next time I want to make this. And if you flatten it before freezing it only takes a few minutes to thaw.
How to make Pasta Frittata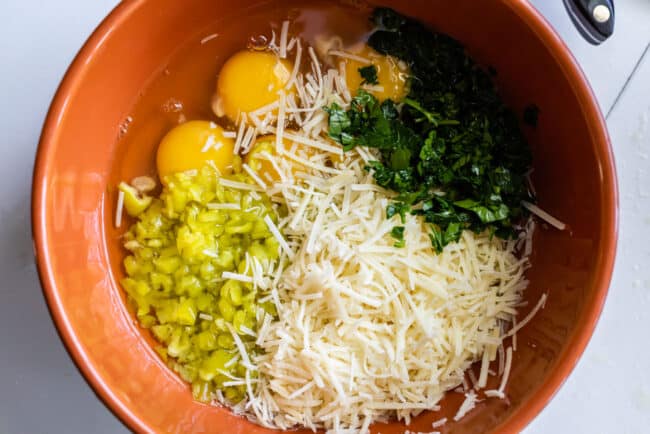 You start by whisking up some eggs in a bowl, and whatever mix-ins you want to add. I used Parmesan, but any cheese will work. If you have leftover cooked veggies in your fridge, toss them in. Cook up some sausage and onions, then add it to the eggs.

Then boil your pasta right in the skillet, if you're not using leftover pasta. It only takes a few minutes. Leave it in the pan so that the bottom gets nice and crispy.

Use tongs to lift the pasta and allow the eggs to flow in to the bottom of the skillet. Cook with the lid on for a few minutes, then flip and cook the other side. Done! Dinner in 30 minutes!
Can I use leftover pasta?
YES! This happens to me all the time. You make spaghetti or whatever, but make way too much pasta for the amount of sauce you have, and then what do you do with it? Pasta frittata to the rescue! Any type of leftover pasta will work.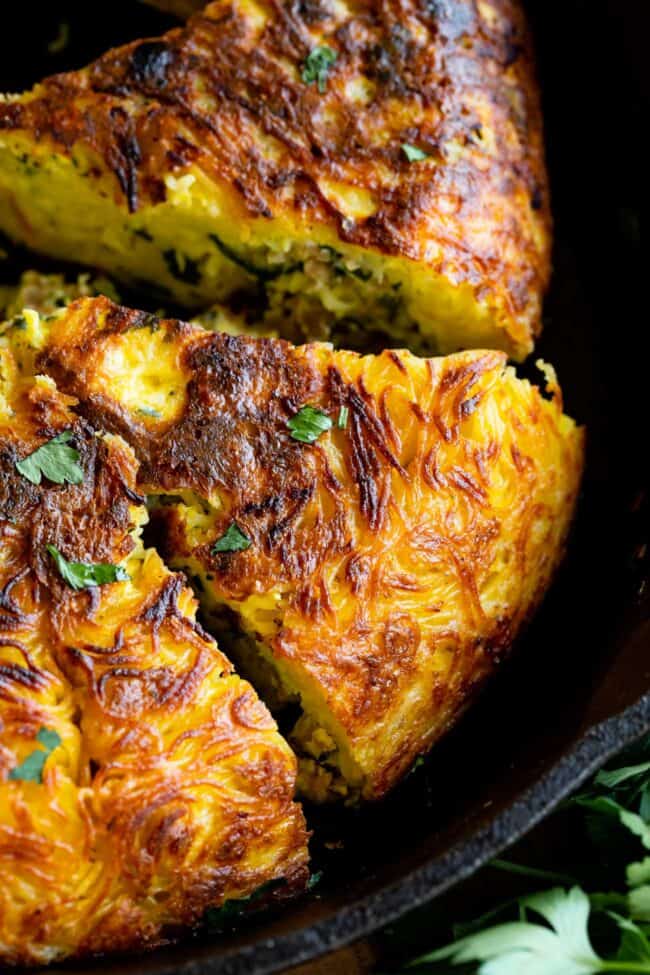 This is seriously my new favorite week night meal, I'm even considering making it again for dinner tonight because I once again have not planned our meals for this week, and right now it's 4:45pm. Story of my life. Pasta frittata for the win!
More easy frittata recipes you are going to love!
20 Minute Lemon Broccoli Pasta Skillet << one of the most popular recipes on my site!
Cheesy Ham and Broccoli Frittata << Instead of shredding the cheese, you cut it into chunks for ultimate gooey factor. Delish!
Bacon, Gouda, and Spinach Frittata<< Gouda is life. Amen.
Sheet Pan Frittata with Spring Greens from The View from Great Island
Mushroom Spinach Frittata Recipe from Wonky Wonderful
Sun-Dried Tomato Feta Fritatta from Sugar Free Mom
Facebook | Pinterest | Instagram

Easy 30-Minute Pasta Frittata with Sausage and Parmesan
This Easy Pasta Frittata is done in 30 minutes and is so easy! The best part is that it uses mostly pantry ingredients (and sausage that you can freeze) so it's a good one to make when you haven't been shopping in a while! Swap out the veggies for whatever's in the fridge, and use leftover pasta if you have it!
Ingredients
10

inch

nonstick skillet with a lid

8

large

eggs

1/2

cup

Parmesan cheese

,

shredded

1/4

cup

pepperoncini peppers

,

chopped

2

tablespoons

fresh parsley

,

chopped

1/2

teaspoon

salt

1/2

teaspoon

pepper

8

ounces

Italian sausage

1/2

medium

onion

,

chopped

2

cloves

garlic

,

smashed and minced

3

cups

water

3

tablespoons

olive oil

6

ounces

angel hair pasta

,

uncooked* broken in half

3/4

teaspoon

kosher salt

3

tablespoons

oil
Instructions
In a large bowl, whisk together 8 eggs, 1/2 cup Parmesan cheese, 1/4 cup chopped peppers, 2 tablespoons parsley, and 1/2 teaspoon each salt and pepper. Set aside.

In a

10 inch nonstick skillet

over medium high heat, crumble 8 ounces Italian sausage with half of a chopped onion. Break up the sausage and saute for about 4 minutes, until the meat is cooked through and the onion is translucent. Add 2 cloves garlic and saute for 1 more minute, or until the garlic is nice and fragrant. Remove from heat and scrape the sausage into the bowl with the egg mixture.

Use a paper towel to wipe the grease out of the skillet.

Add 3 cups water to the same nonstick skillet and set over high heat. Add about 6 ounces of pasta.* It's easiest to get it all in there if you snap it in half first. Add 3/4 teaspoon salt and 3 tablespoons oil.

Bring to a boil over high heat, stirring occasionally so that pasta doesn't stick to itself. Boil for about 8-12 minutes, until all the water has evaporated and you can hear the oil start to sizzle.

At this point, reduce the heat to medium and stop stirring. Instead, use

a rubber spatula

to occasionally lift the edges of the pasta to prevent sticking. (see photo). You can dig the spatula all the way in toward the center of the skillet to make sure it's not sticking.

Continue over medium heat, lifting the edges every now and then, for about 5-7 minutes, or until the bottom starts to crisp and turn golden (see photo).

Once the bottom has crisped, use your spatula to push the pasta up the sides of the skillet so the entire surface is covered in pasta. (Keep the heat on medium)

Pour the eggs over the top of the pasta. Use tongs to lift up sections of the pasta (WITHOUT disturbing the crispy bottom) so that the pasta gets incorporated with the eggs, and the eggs flow toward the skillet. See photo.

Once you have combined the egg mixture and pasta using tongs, cover the skillet with a tightly fitting lid. The heat should still be on medium. Set a timer for 5 minutes and check it. You want the bottom crust to be golden brown (lift edge with spatula), the eggs on top to be just set, but the eggs in the middle will still be raw. Cook up to 3 minutes longer with the lid on if necessary. Remove from heat.

Get someone in the kitchen to at least provide moral support, because right now you have to invert the whole thing onto a plate. It's easier than it sounds, I promise. Put on some oven mitts, place a large plate over the skillet, and flip it over. Your frittata should now be on a plate, brown side up. Slide the frittata back into the skillet, raw side down. Tuck it all back into place with a spatula if necessary.

Cook over medium heat until the second side of the frittata is light brown, 2-4 minutes.

Slide onto a plate and cut into wedges to serve! I like to serve this with

Raspberry Avocado Salad

. Or a fruit salad would be good too!
Notes
*You can totally make this frittata using leftover pasta! Skip the water and salt and just add a couple tablespoons of oil into the pan over medium. When hot, add your already-cooked pasta into the pan (any kind of pasta is fine, it doesn't have to be spaghetti), spread it out, and pick up with step 6.
Source: this recipe is adapted from America's Test Kitchen: One Pan Dinners. I picked it up in the magazine section at the grocery store!
Nutrition
Serving:
1
g
|
Calories:
371
kcal
|
Carbohydrates:
18
g
|
Protein:
16
g
|
Fat:
26
g
|
Saturated Fat:
7
g
|
Polyunsaturated Fat:
4
g
|
Monounsaturated Fat:
14
g
|
Trans Fat:
1
g
|
Cholesterol:
212
mg
|
Sodium:
749
mg
|
Potassium:
224
mg
|
Fiber:
1
g
|
Sugar:
1
g
|
Vitamin A:
417
IU
|
Vitamin C:
6
mg
|
Calcium:
120
mg
|
Iron:
2
mg