Cranberry Jalapeño Dip is one of my all-time favorite holiday appetizers! People go CRA-ZY for this stuff! Fresh cranberries are chopped up with jalapeños, green onions, and mint (or cilantro) to be salsa-like, then it's served over whipped cream cheese with crackers. It tastes so FRESH, and is perfectly festive for the holidays because it's red, green, and a lil sparkly! Perfect for Thanksgiving, Christmas, or New Years Eve.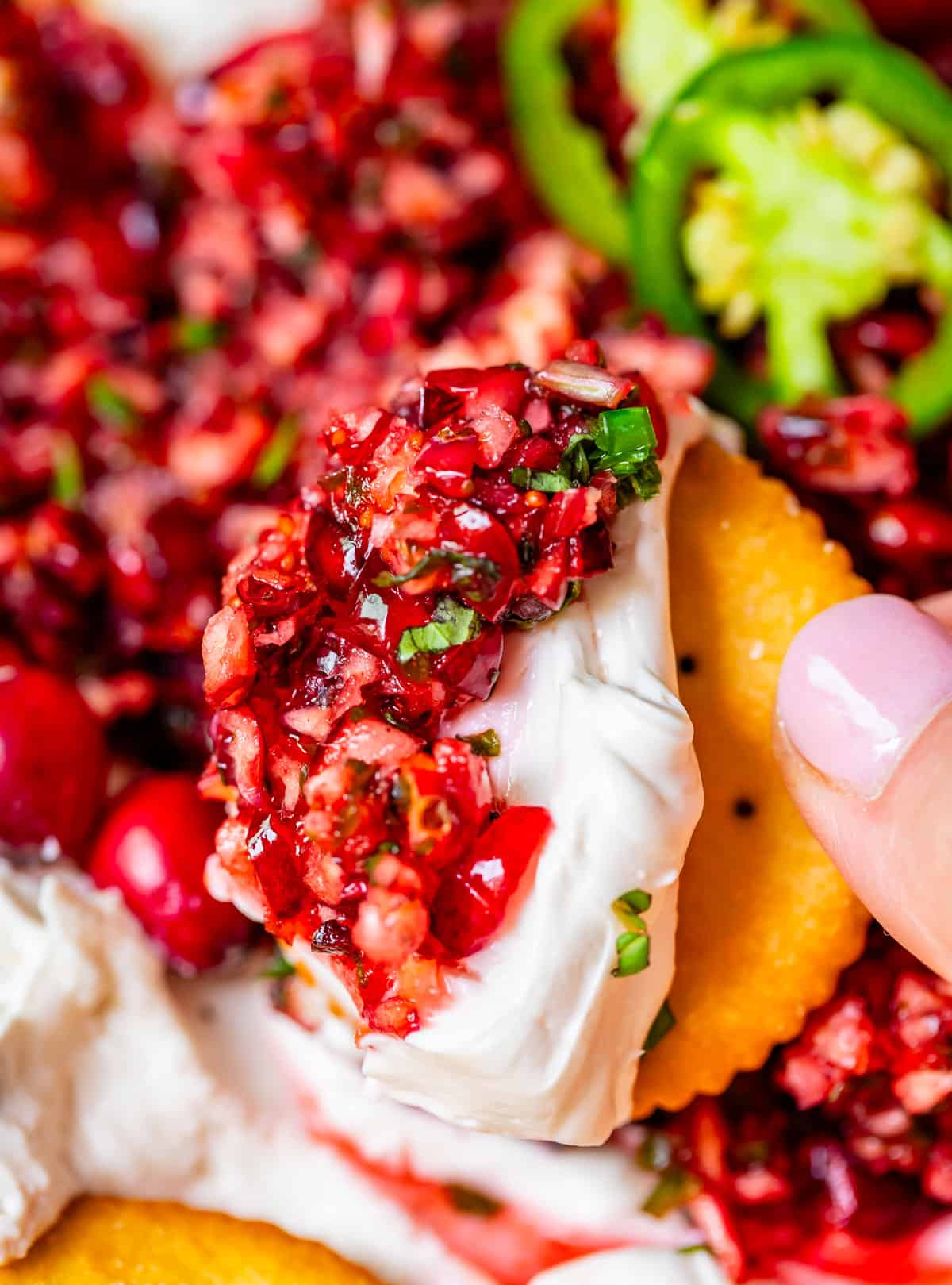 Table of Contents
When you have a naughty 3-year-old in the house who loves to get attention by pushing everyone's buttons, you have to be careful about what kind of explanations you give for potentially dangerous things around the house.
When you install a bidet, do you SHOW him the little lever that will allow him to shoot streams of water across the bathroom? Or do you just ignore it completely and hope he never tries it? Obviously, we made the wrong choice.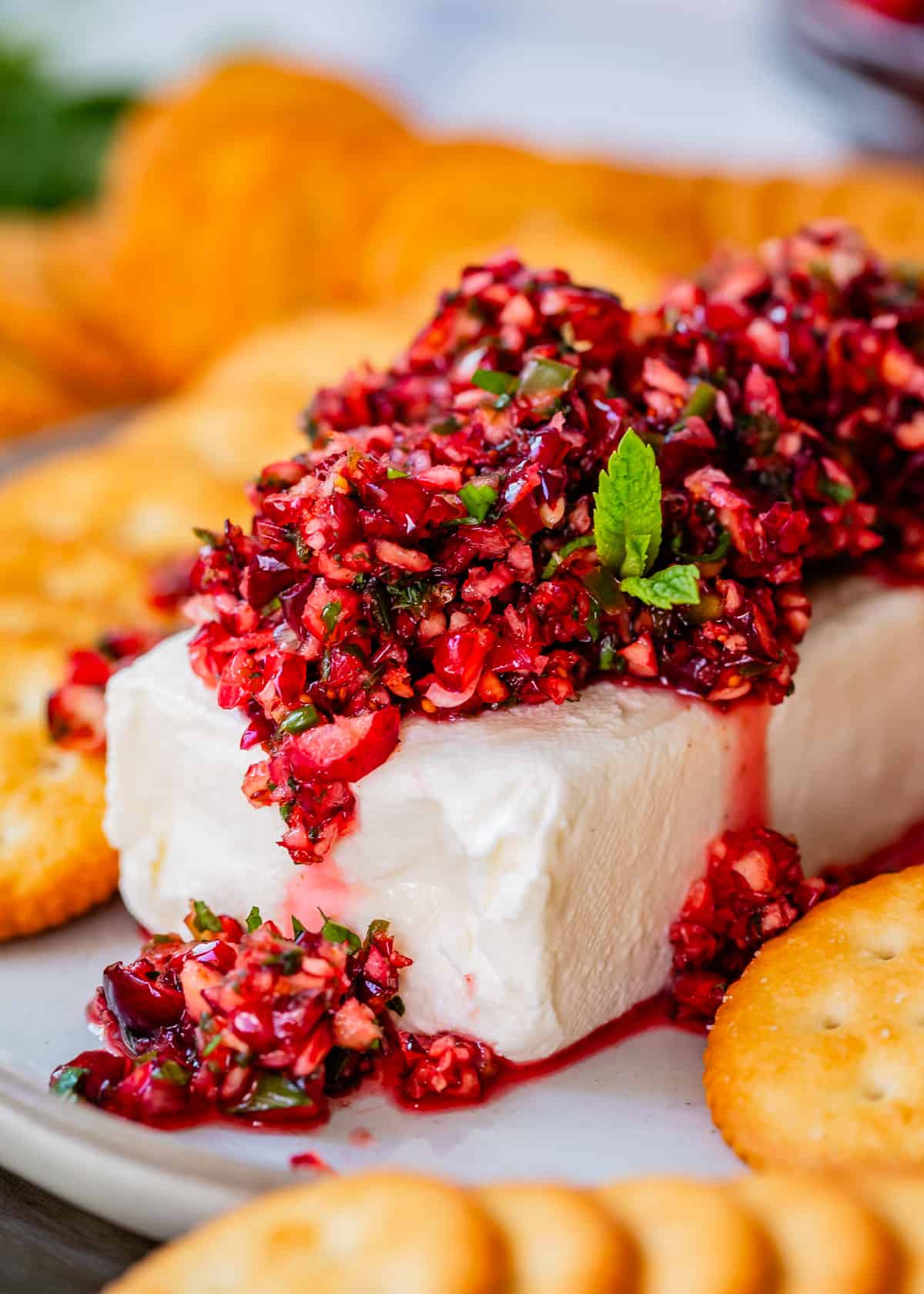 Last week, on the morning of my daughter Valentine's birthday, she woke up to dozens of balloons and streamers filling her room, a tradition we have for every birthday in our family. He waited until she went off to school and within an hour, Edison had used scissors to pop every single one of them. Then he opened up her brand new Barbie that she had just received, ruining all the stickers.
After swearing that I was going to lock him in his room (just like Harry Potter) for the duration of the Harry Potter themed birthday party later that afternoon, he collapsed into a 3 hour nap. He woke up 20 minutes before a dozen 7-year-olds were scheduled to arrive, apologized, then used scissors to cut Val's Halloween costume into a tiny million pieces. (WHY have I not locked up all the scissors in my house??)
Then one of the dads dropping off his daughter asked, "Did you know there is water in the hall? And Edison is all wet?"
Welp. Turns out our toilet is situated such that when you turn on the bidet with the door open, it will shoot water ALL THE WAY across the house, reaching the piano and window across the sitting room, dousing the whole entryway.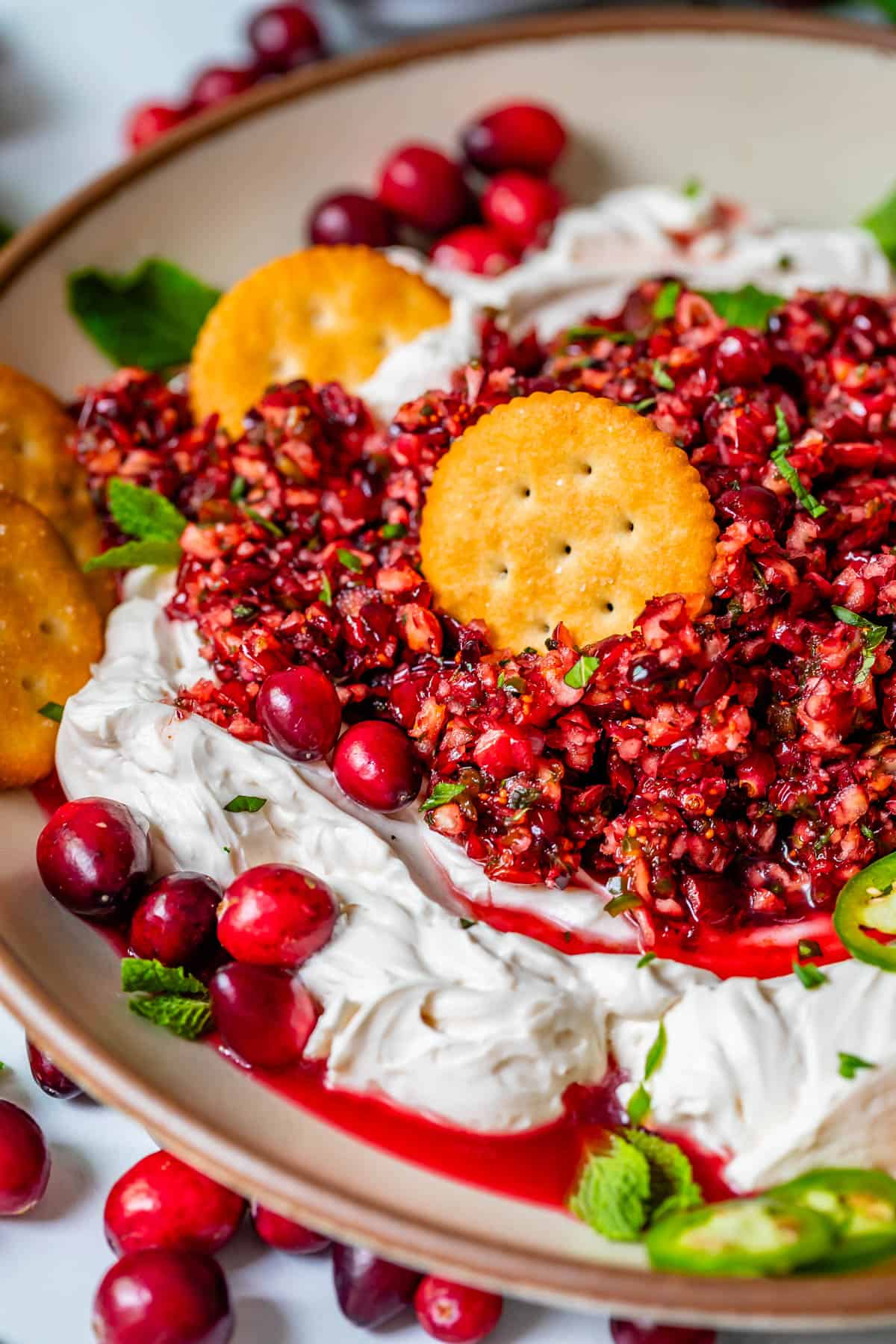 You can't make this stuff up guys. After lots of screaming and mayhem, and much toweling of furniture, we asked him, what happened? And he said, "I didn't know what to do." Well of course he didn't. We never showed him what a bidet is. Note to self: Next time, inform the hellions about what the shiny new button is, AND how to turn it off! Sheesh.
I hope your November is starting off a little less wet and be-scissored than mine. In any case, there is still Cranberry Jalapeño Dip in this world, so there is hope for the future. Thanksgiving is coming you guys! It's the most wonderful time of year! I'm SO excited!
Homemade cranberry jalapeño dip is better
Have you tried this dip? I won't tell you how much of this stuff Eric and I ate on shoot day. I'd never be able to look you in the eye again.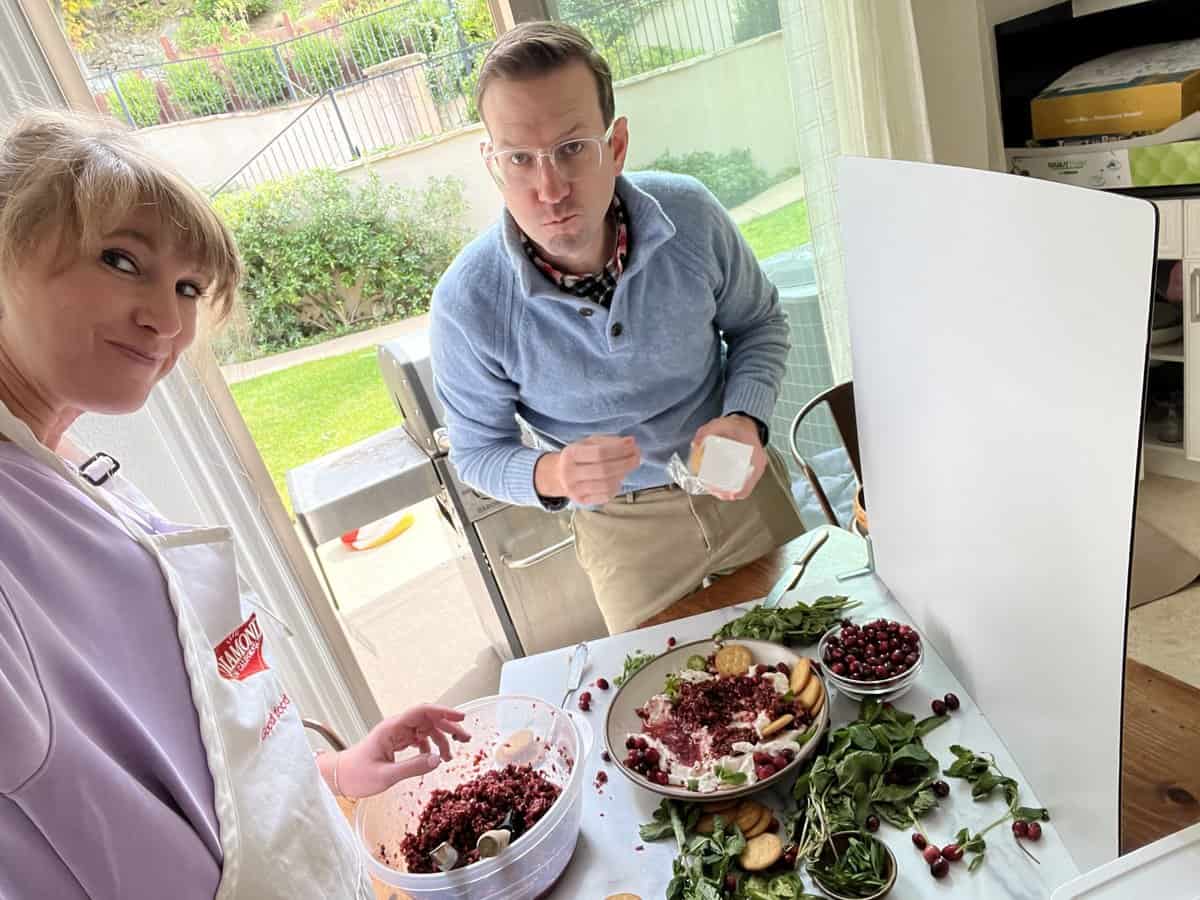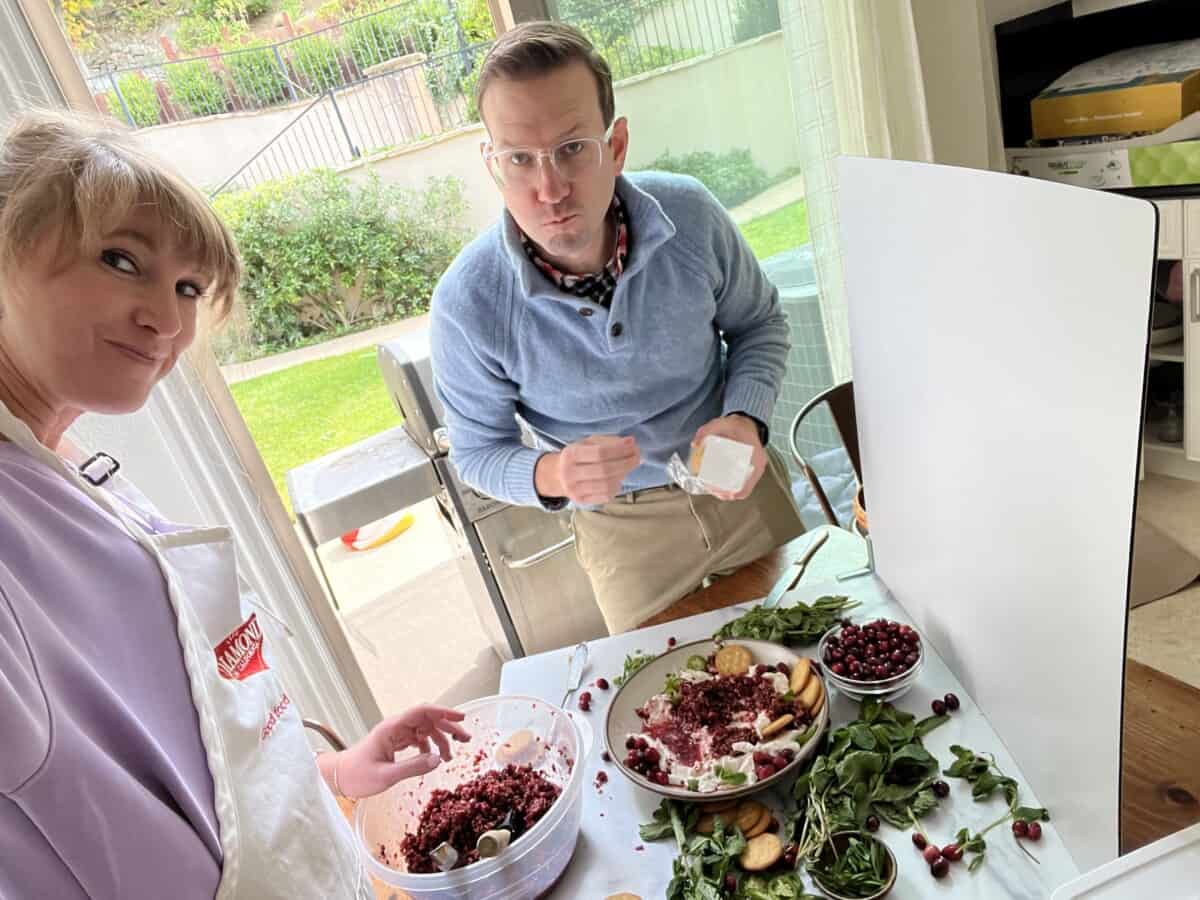 Look at those guilty faces.
This dip is a classic that's been around holiday parties for years and years. You are starting to see watered down versions of it pop up in stores, I know they have it at Costco. But I'm TELLING YOU, there is no comparison to making it at home. It's incredibly simple to make, and the flavors are so much more fresh and inviting. You and everyone else will be able to tell the difference.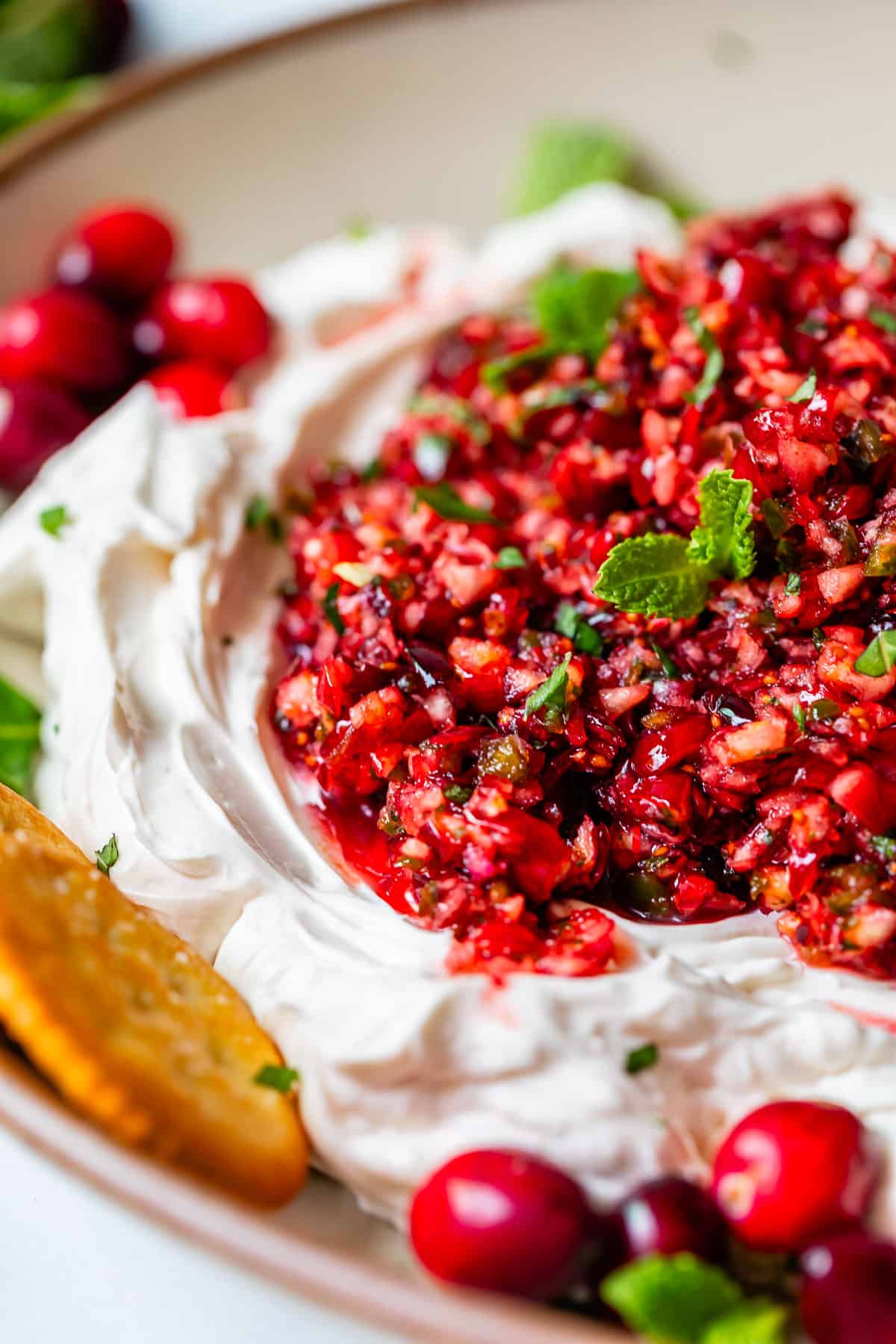 The dip is basically like a cranberry salsa that is poured over fluffy whipped cream cheese. Some people actually call it Cranberry Salsa. The crunchy, spicy, sweet-tartness of the cranberries and jalapeño peppers pair perfectly with the smooth creaminess of the whipped cream cheese. Definitely a match made in heaven!
Normally this dip is made with cilantro, but I decided to take my own spin on it with fresh mint, lime, and jalapeño! I love this twist. We're also adding a hint of cinnamon and cardamom, which lends an especially-holiday-forward flavor, balanced perfectly by the (not-too-spicy) jalapeño. I have notes in the recipe for how to make this recipe both ways: if you choose to use cilantro and spice with cumin, your dip will feel a little more savory. If you choose mint and cinnamon, it will feel a little more sweet. Try both! I absolutely love it either way.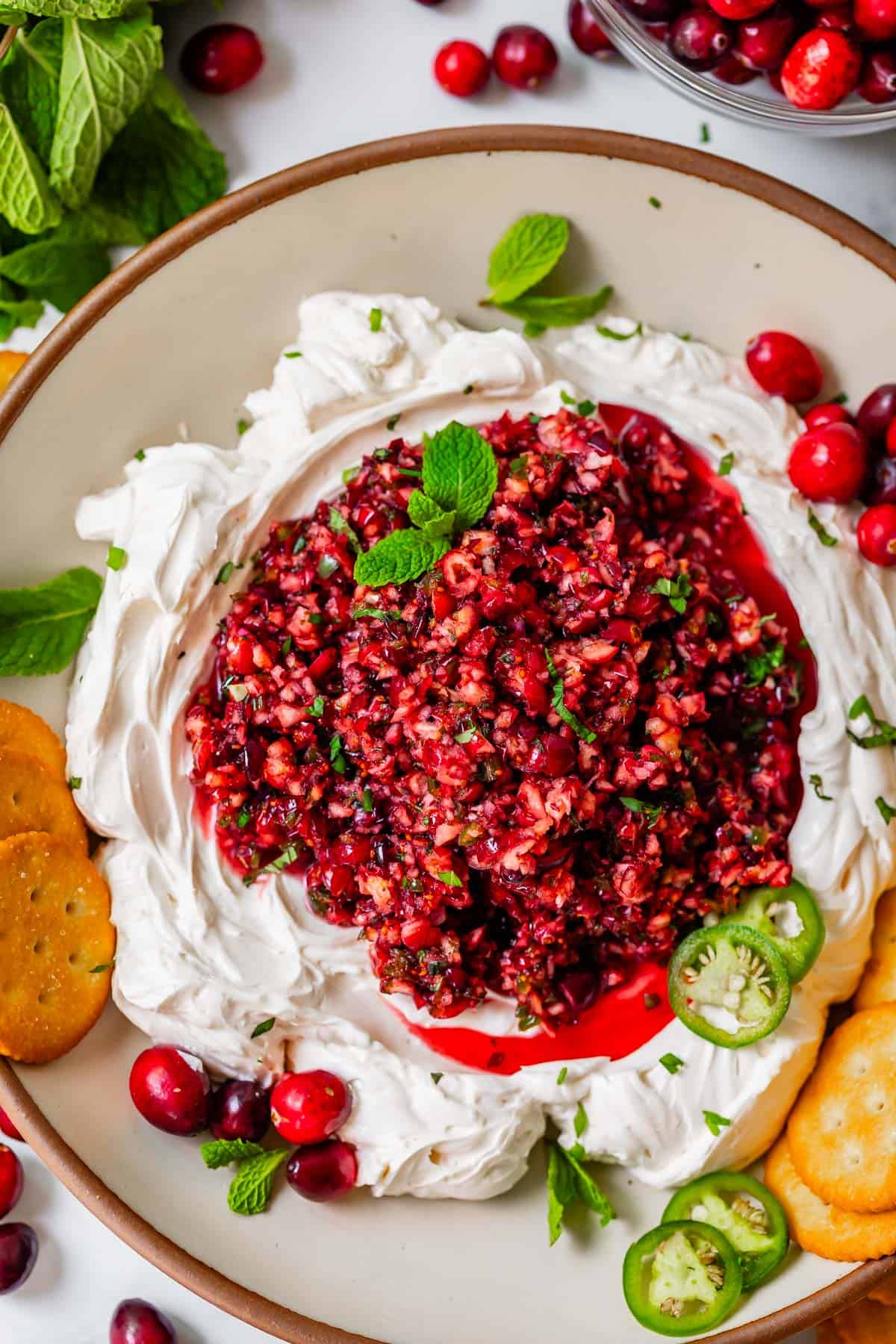 It's one of those unstoppable appetizers. You know, once you start, you just can't stop. I apologize in advance for ruining your Thanksgiving dinner!
Cranberry jalapeño dip ingredients
You're going to love how easy this is to throw together. A few quick whirls in the food processor, stir it all together, and you're pretty much set. This is a list to give you an idea of what you'll need. Be sure to look at the recipe card for full ingredient amounts and instructions!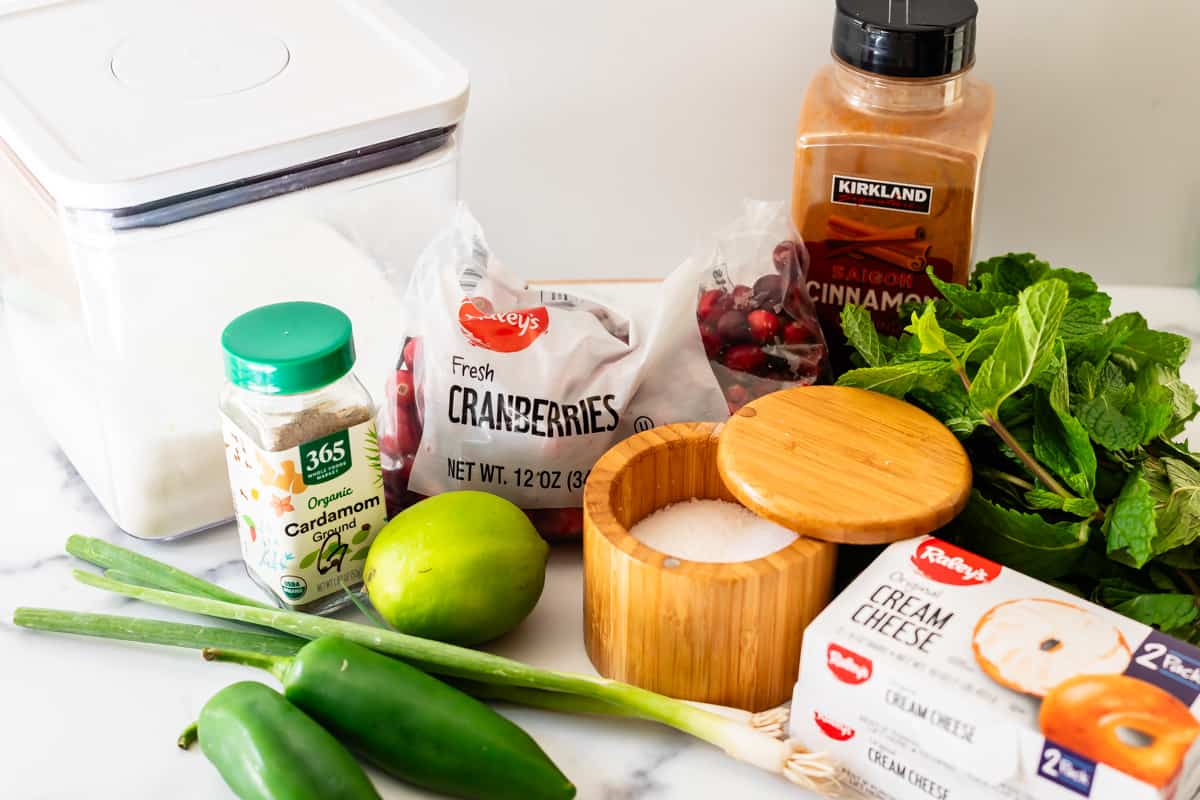 fresh cranberries
green onions
jalapeños
fresh mint leaves
lime
granulated sugar
cinnamon
cardamom (optional)
cream cheese
crackers or baguettes
How to make cranberry jalapeño dip
Toss a whole bag of cranberries in your food processor. Maybe you rinse them in a colander first, maybe you don't. No one will know this information except for you. You can take it to your grave.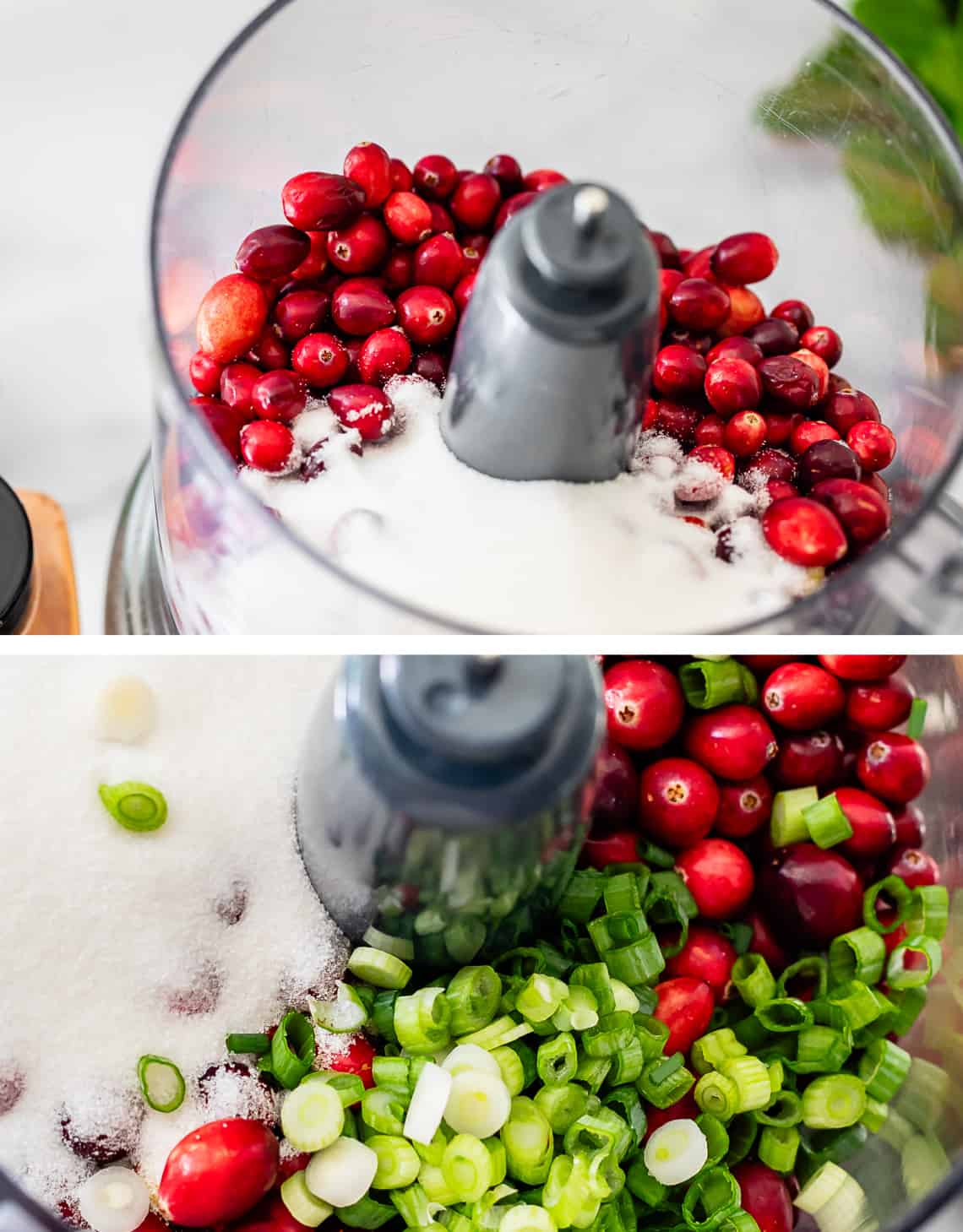 Next we're adding in some green onions and jalapeños. I used 2 jalapenños and didn't think it was that spicy. Once you take out the seeds and membranes, jalapeños are pretty weak sauce. But they have AMAZING flavor so don't skip it!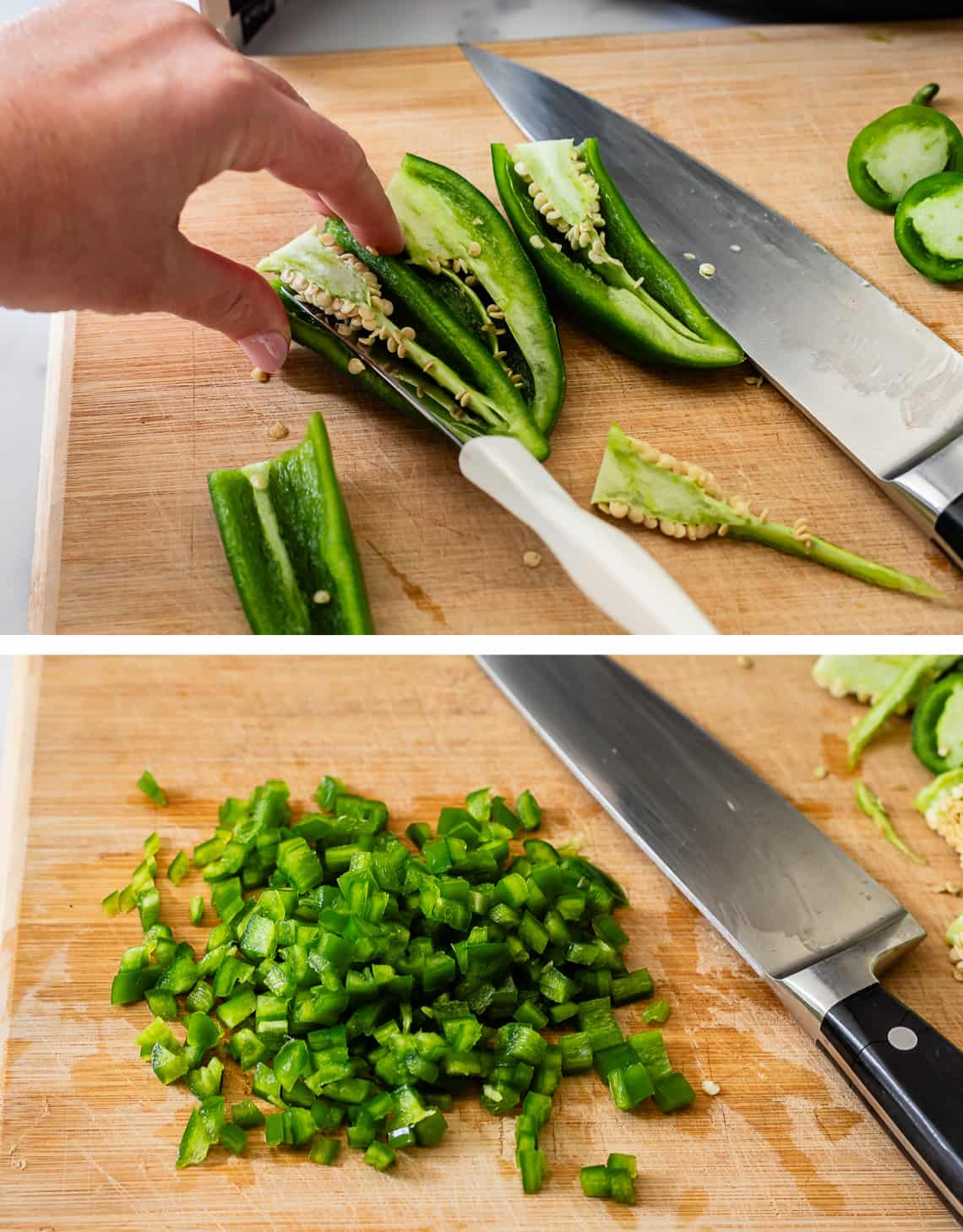 You might think I'm crazy for chopping up my veggies before putting them directly in a food processor that is designed to chop veggies, but hear me out!
Food processors are great to puree and pulse food. They are not so great at getting a very even, fine chop. You could use a food chopper, but I like the much smaller pieces you get in a food processor. If you can throw your food processor a bone by doing a simple dice before tossing it in, your dip will be a lot more homogenous, which is what we want.
I even chopped up my mint first. Even pieces, people.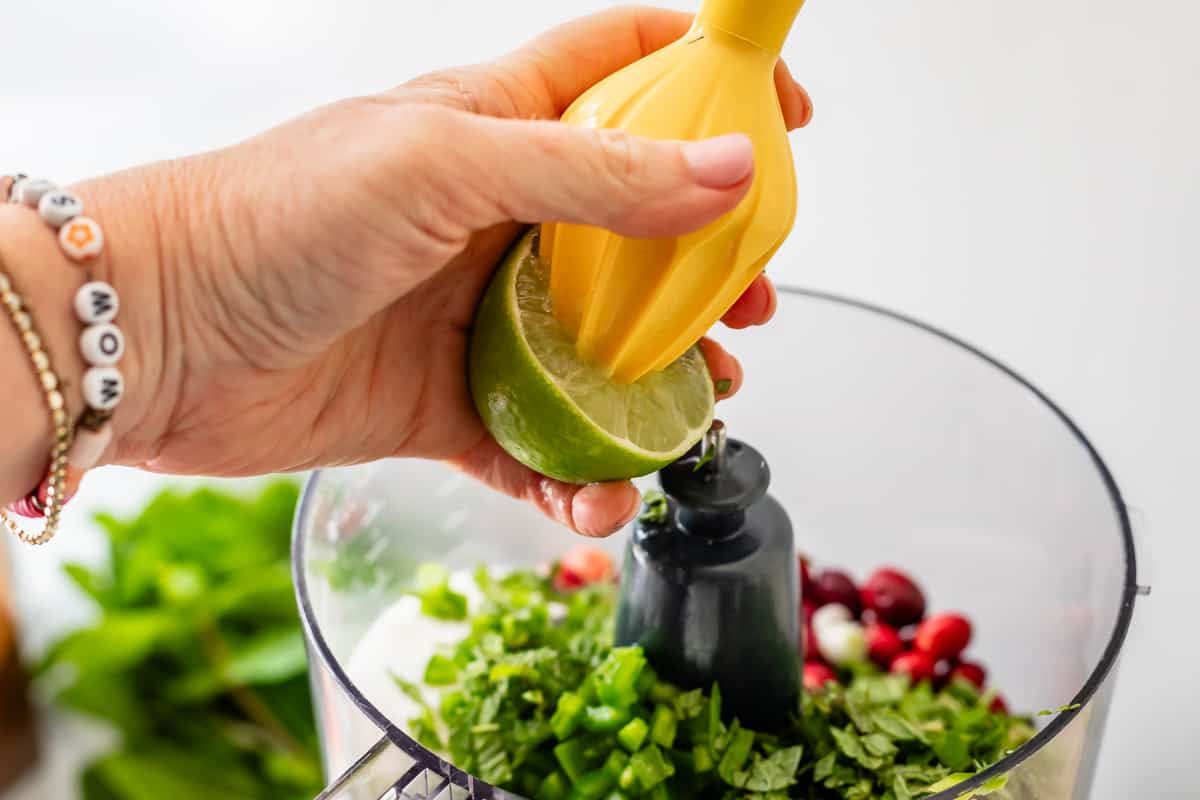 Don't forget a squeeze of lime. It's not the same without it! (Can you read the friendship bracelet Charlotte made for me? "T.S. MOM" 😂)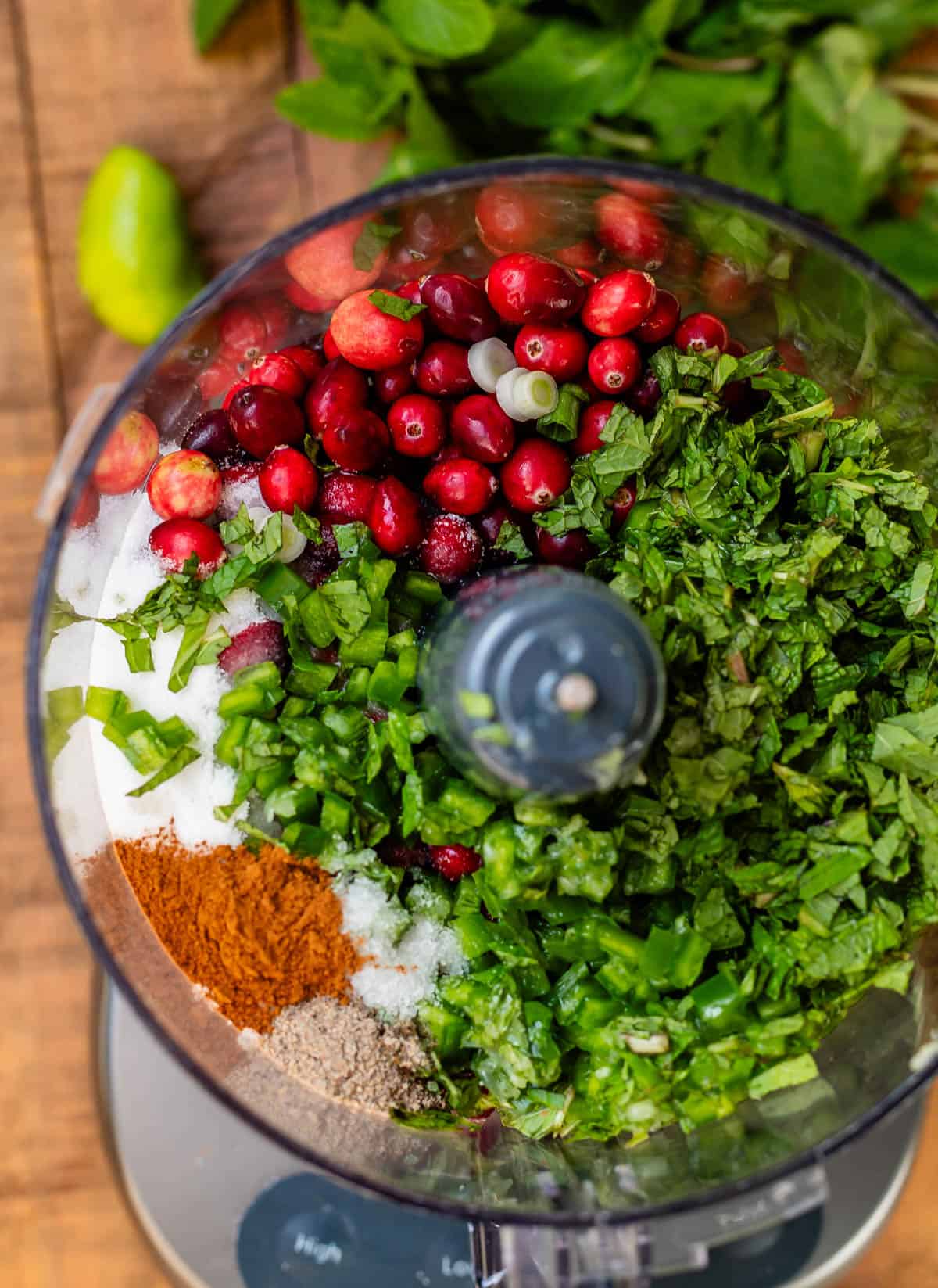 Ready to whirl!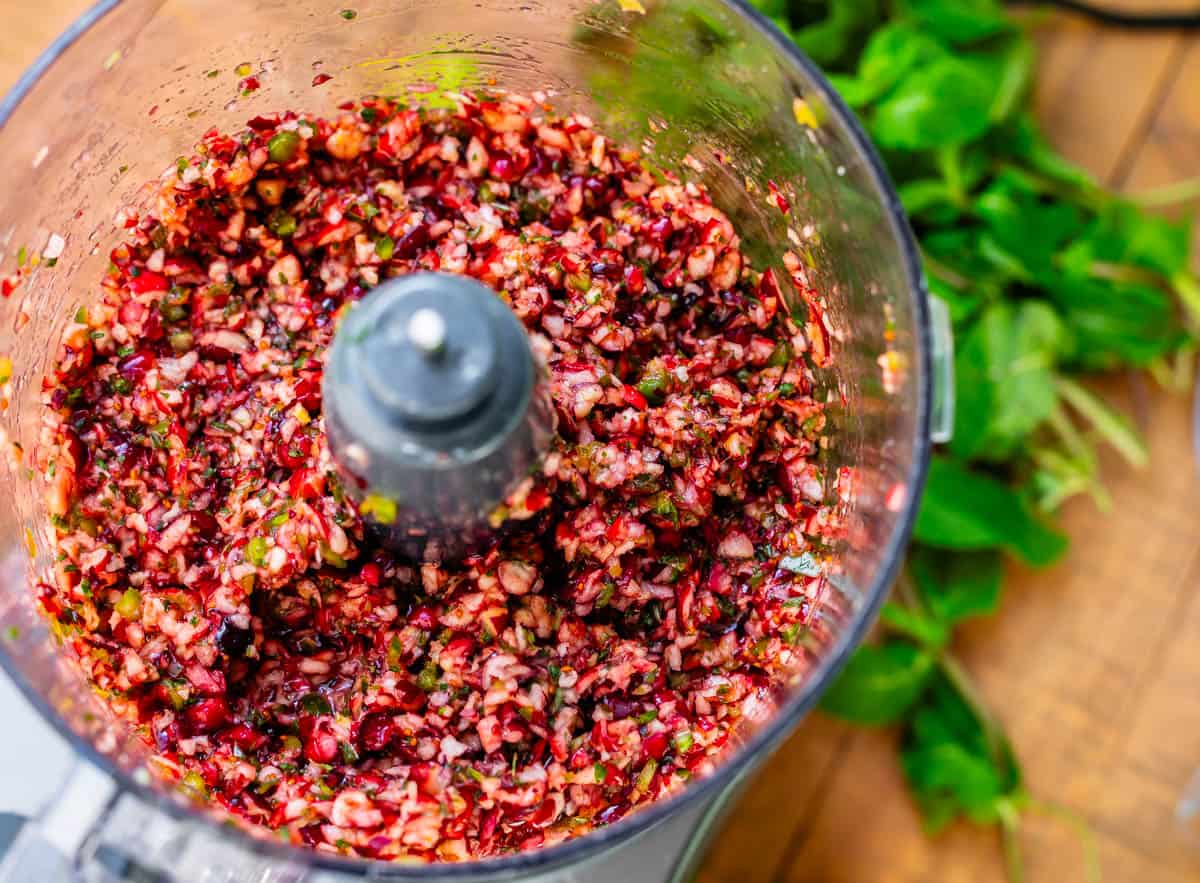 Here's where I stopped. You want to still be able to see pieces of everything, but don't want anything too big.
You do NOT want to go too far when you are chopping this relish in the food processor. Eventually you will pulverize it to the point that it's like a smoothie, and I would NOT drink that, just sayin. Maybe for like, 10 bucks I would. Wait, maybe it would be amazing?? Why am I limiting myself here??
This is the part where you are supposed to let it sit overnight. But guys! I tried it both ways, and I couldn't tell THAT much of a difference. If you have time, let it marinate 4-24 hours, if not, it's okay, I promise it still tastes amazing.
Even if you don't have 4 hours, do give it at least 15-30 minutes to sit and get comfy.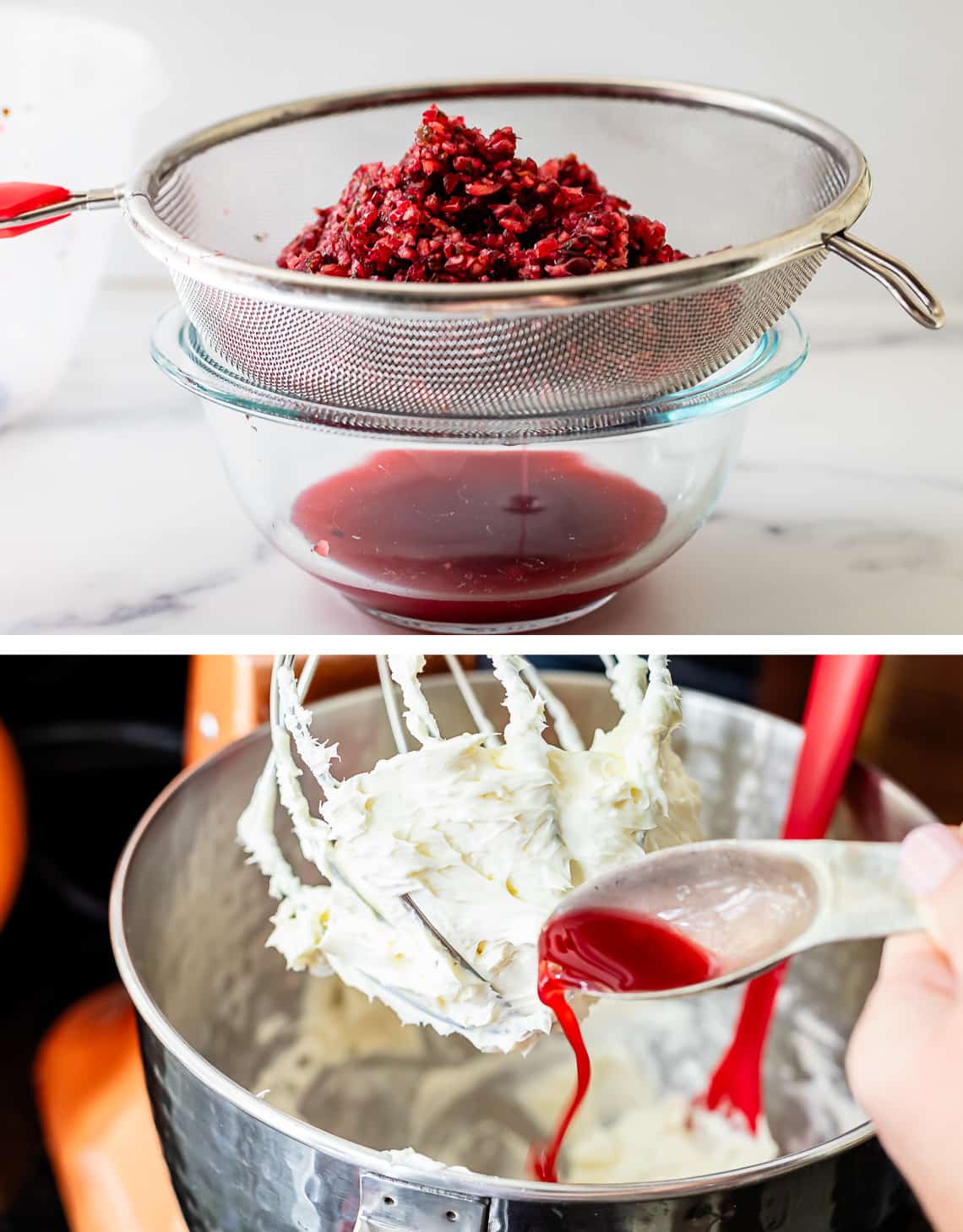 Now it's time to whip the softened cream cheese! Use a stand mixer or hand mixer. If you want to be a little extra, strain your cranberries and add a couple tablespoons of the juice to the cream cheese. It makes it extra smooth and easy to dip into. (Add the remaining juice right back into the cranberries.)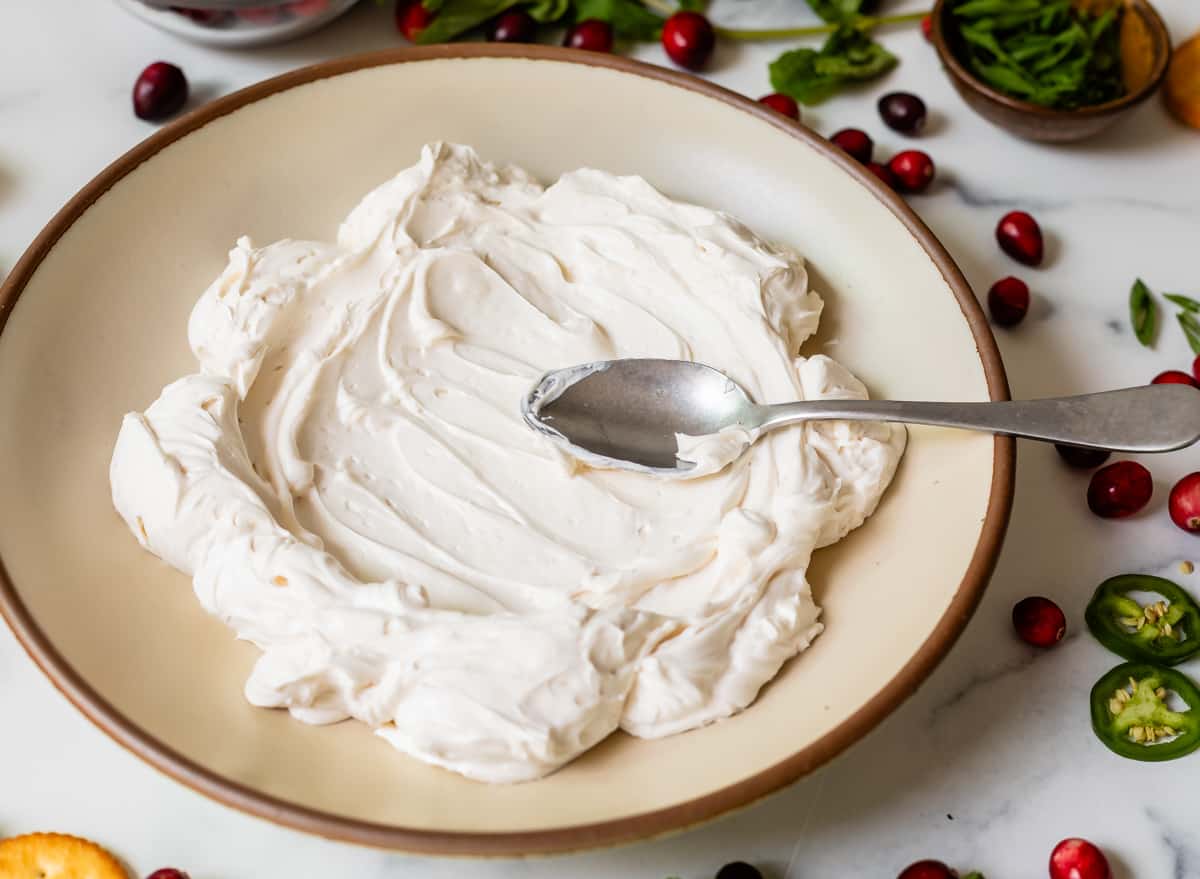 Either way, spoon your cream cheese into a shallow bowl for serving. A pie plate works nicely.
Technically, you don't have to whip the cream cheese. There are a few photos on this post that show a block of square cream cheese that obviously isn't whipped. But it only takes a couple minutes and it makes serving it SO much easier. Instead of people having to grip the edge of the plate and dip ever so gently (so as not to have a casualty cracker), they will be able to just slide their dipper right through the cream cheese. Be kind to your guests!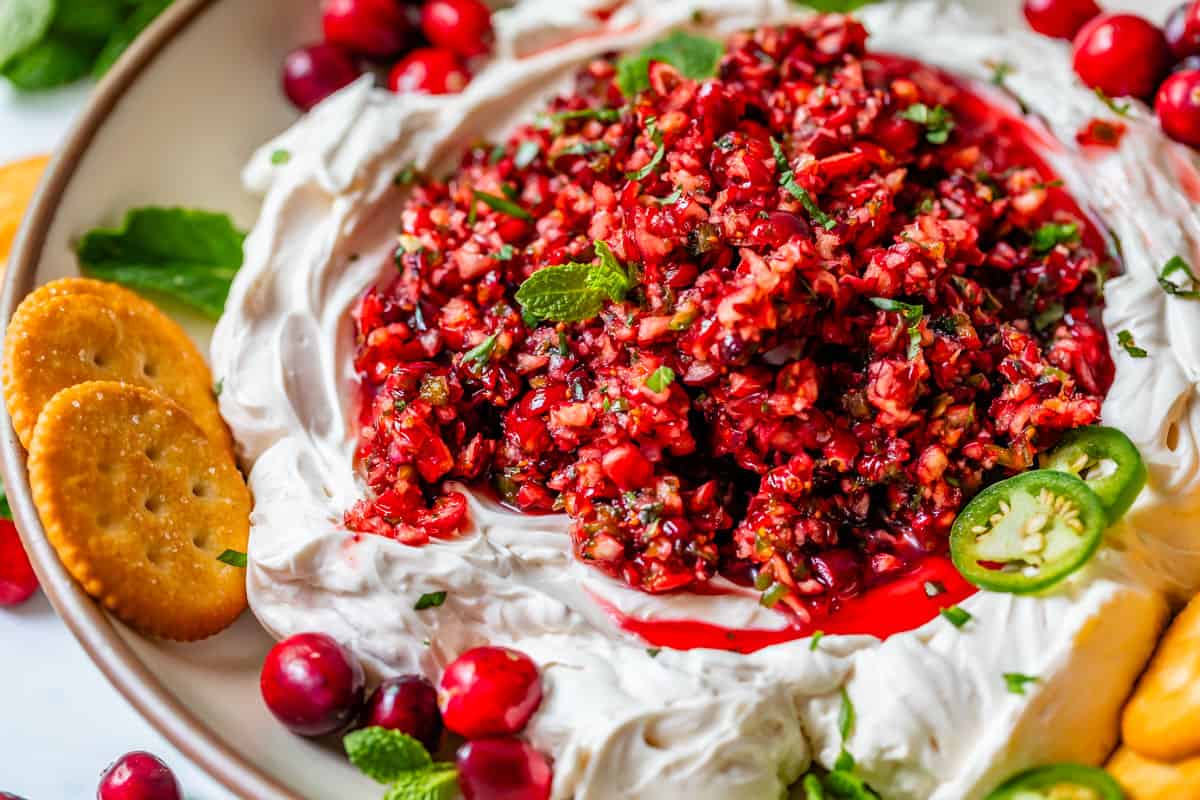 Lastly, spoon the cranberry mixture over the top of the cream cheese! You're set! Look at this beauty! Garnish with fresh mint and fresh cranberries if you're going to a party!
What to serve with cranberry jalapeño dip
Can't forget about the dippers! Anything flies here, just make sure you choose ones that are study enough for the scoop.
crackers (like Ritz, Club, or Wheat Thins)
pita chips (For a super fun twist, try Stacy's Cinnamon Pita Chips! Not if you're doing the cilantro version of the dip though.)
pretzels or pretzel crisps
toasted baguette slices
apple slices, celery sticks, or any other fruit or veggie that you think would pair well
This dip would actually be an amazing condiment to add to your traditional Thanksgiving or Christmas plate. It's very similar to my absolute favorite Fresh Cranberry-Orange Sauce, which is just cranberries blended with a whole orange, plus sugar. It's SUCH a refreshing bite of tart on a plate full of carbs and turkey.
Add it to a sandwich. Can you imagine your T-day leftovers sandwich with THIS amazingness? Yum.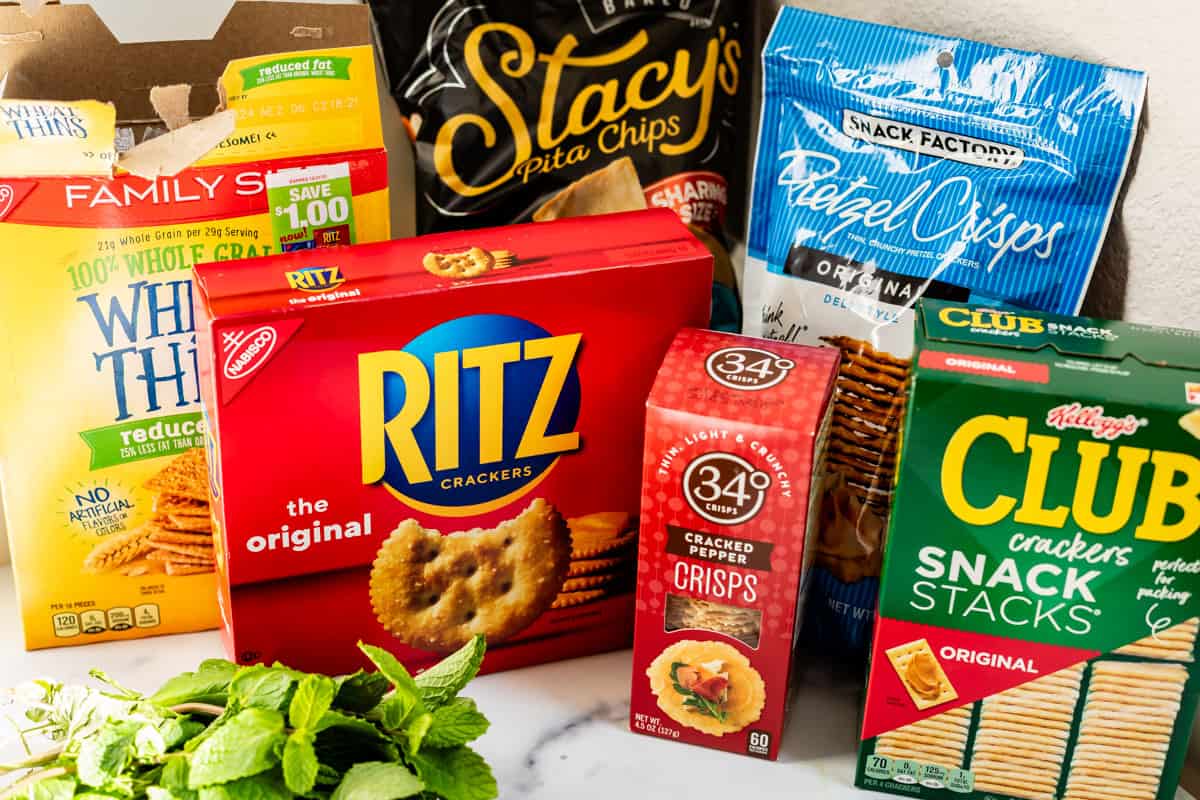 Can you tell Edison was the one to open the Wheat Thins? Destruction is all he knows 😂
How to store leftover cranberry cream cheese dip
You'll definitely want to store any leftover dip in the refrigerator. Just add everything to an airtight container and you're done! If the salsa has a lot of liquid when storing or when you pull it out to use it again, pour it off so the dip doesn't get soupy. You can also consider how many people you're serving. If it's a small group, you could set out only half the dip and store the remaining salsa and cream cheese separately. Both the salsa and the cream cheese mixture should last about 3-4 days in the refrigerator.
This creamy dip is also a great make-ahead option for the holidays (or really any time – the flavor really gets better after several hours sitting together). Make the cranberry salsa recipe and store in the fridge. The day of, follow the remaining instructions for the whipped cream cheese and pouring the salsa over the top, and you're all set! You can also let the completely prepared dip (with salsa on top) sit in the fridge for a couple hours before your event. Pull it out about 30 minutes in advance so it's not rock hard and again, just pour off any extra liquid as needed.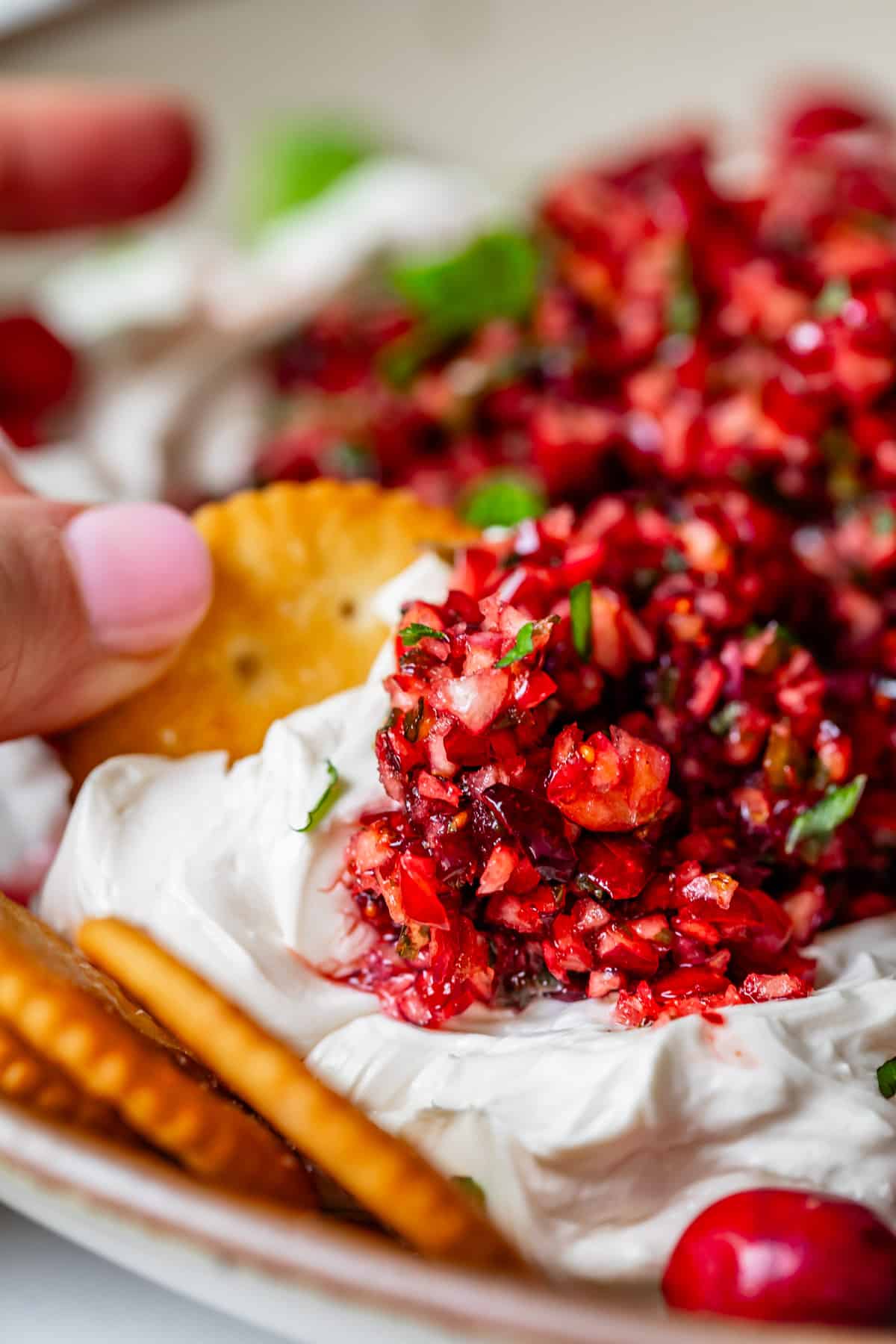 Can you freeze cranberry jalapeño cream cheese dip?
I think I would rather just eat leftover dip for every meal until it's gone instead of freezing. What? You don't want to eat your weight in cream cheese? I guess we can still be friends.
Seriously though, don't freeze this stuff. The texture of cream cheese changes after freezing, turning it grainy and just no good! Cranberry jalapeño salsa will fare better in the freezer and can be frozen by itself if you must. But the cranberries, jalapeños, green onion, and mint will all become wilted. In other words, not as crisp or fresh, and just a little bit sad. Save your tears and eat it for breakfast instead!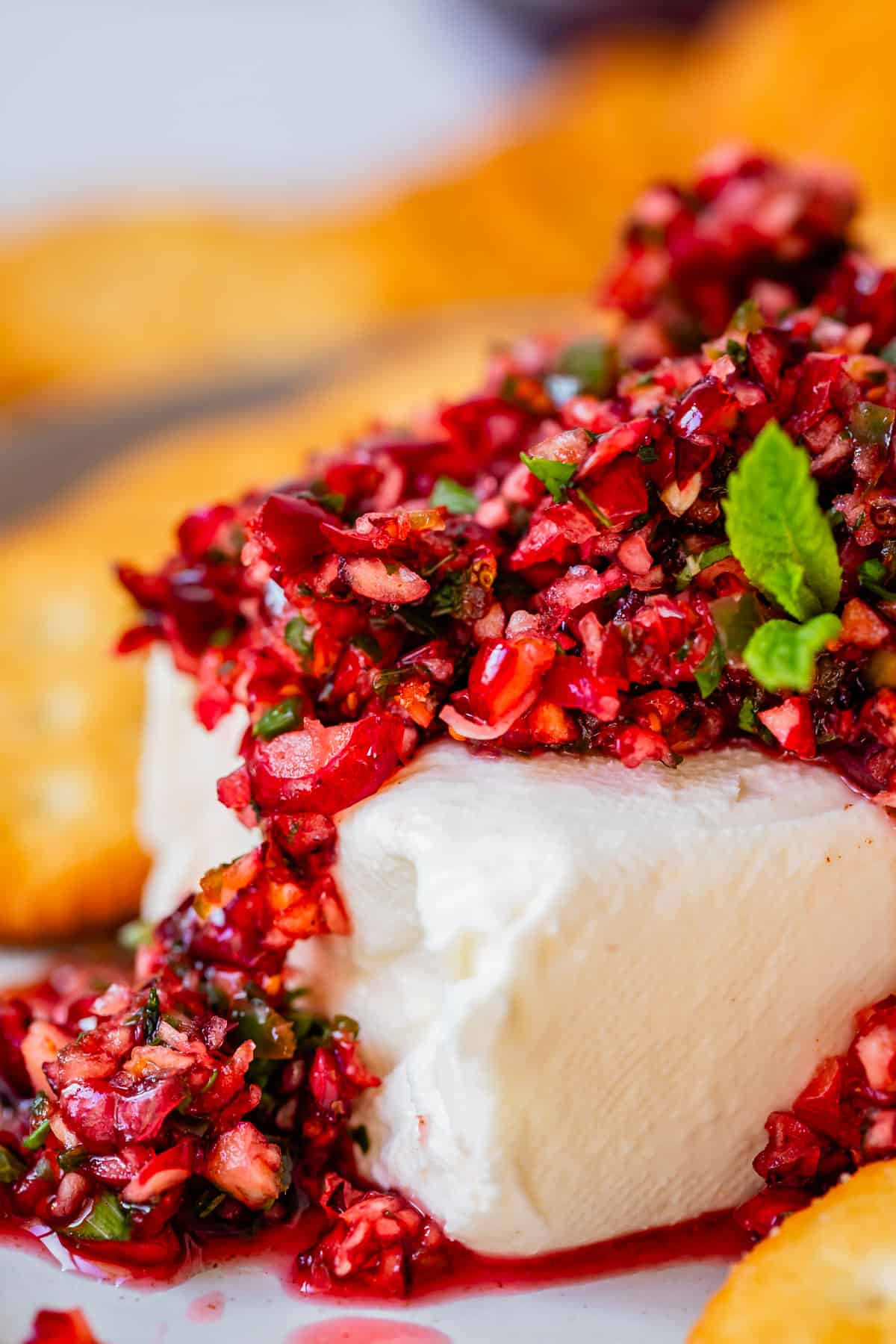 Frequently asked questions
Where to buy cranberry jalapeño dip?
You can buy the ingredients for this dip at virtually any grocery store! Nicer stores will start carrying fresh cranberries a little earlier in the season than other stores, but I almost always start seeing them stocked by early November. If you're looking for a store bought dip, I think they have it at Costco and Target.
Who makes cranberry jalapeño dip?
You do! And I do! With a recipe this simple, you'll be whipping this up for all your get togethers this holiday season. (But also, there are lots of brands these days that make a store bought version!)
What to eat with cranberry jalapeño dip?
My favorite dippers are crackers (think Ritz, Club, Wheat Thins) and pita chips, and especially Stacy's Cinnamon Pita Chips. So good! Other options are pretzels or pretzel crisps, baguette slices, and fruit or veggie slices. You can even add it to a holiday plate or make an amazing sandwich with it!
When I dip, you dip, we dip
There are so many amazing dips! No joke, one time with my extended family we made a whole dinner and dessert night of different dips. It was so much fun! No matter the occasion, holidays, parties, or just a fun night in, here are some dips that you (and everyone else) are sure to love.
Facebook | Pinterest | Instagram

Cranberry Jalapeño Dip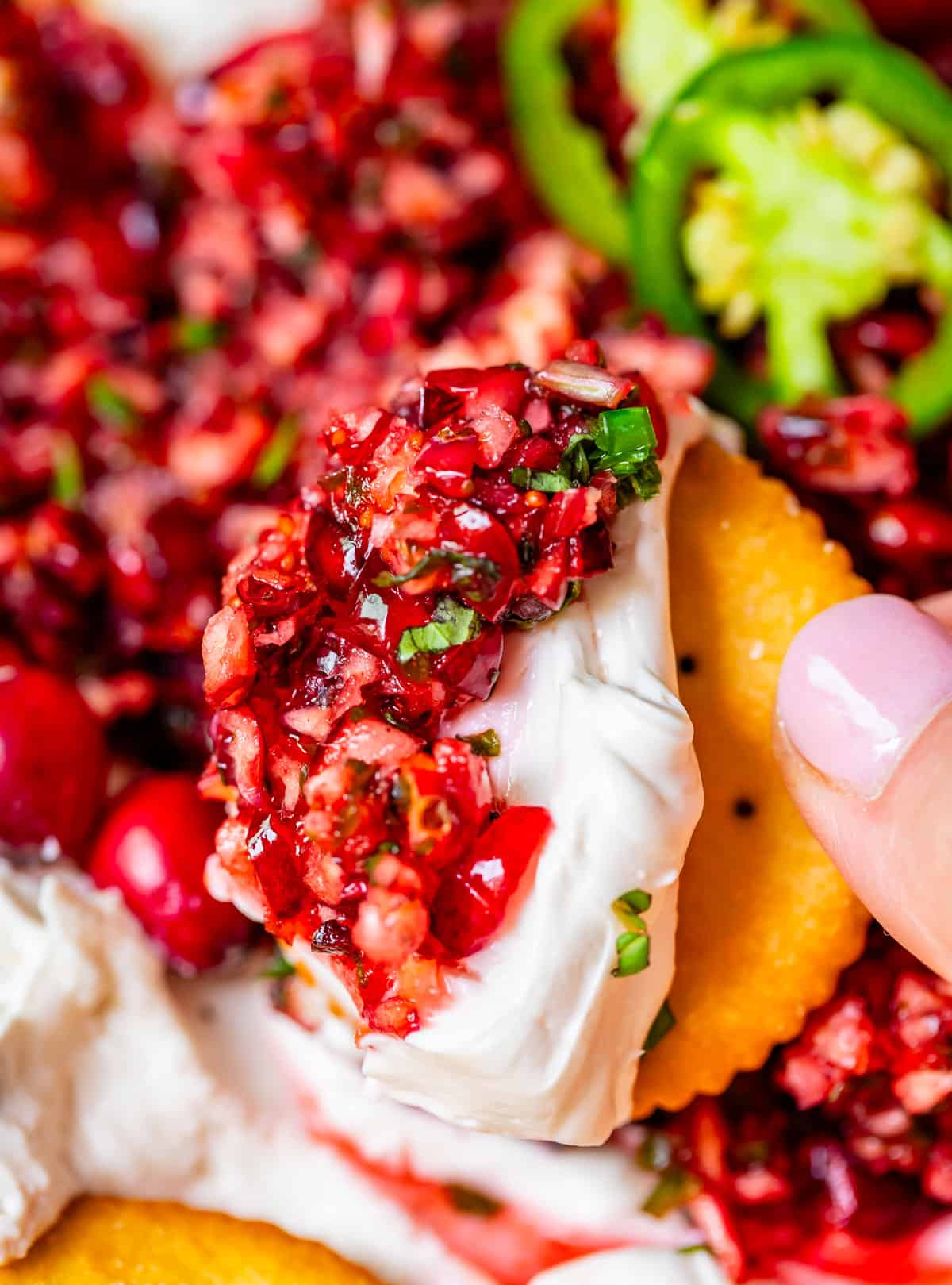 Cranberry Jalapeño Dip is one of my all-time favorite holiday appetizers! People go CRA-ZY for this stuff! Fresh cranberries are chopped up with jalapeños, green onions, and mint (or cilantro) to be salsa-like, then it's served over whipped cream cheese with crackers. It tastes so FRESH, and is perfectly festive for the holidays because it's red, green, and a lil sparkly! Perfect for Thanksgiving, Christmas, or New Years Eve.
Ingredients
12

ounces

fresh cranberries

,

1 bag

2

green onions

,

both green and white parts

2

jalapeños

,

seeds and membranes removed

1/4

cup

fresh mint leaves

,

packed (see note for options)

1

large

lime

,

juiced (about 3-4 tablespoons)

3/4

cup

granulated sugar

1/4

teaspoon

kosher salt

1/4

teaspoon

cinnamon*

1/4

teaspoon

cardamom*

,

optional; can replace with cinnamon

16

ounces

cream cheese

,

softened (2 blocks)

crackers or baguettes

,

for serving
Instructions
Set out 2 blocks of cream cheese to soften on the counter.

Make the cranberry mixture: Add 12 ounces cranberries to a food processor. Roughly chop 2 green onions, both the white and the green parts, all the way to each end, and add it to the food processor.

Slice 2 jalapeños in half lengthwise. Use a small knife to carefully remove the white membranes and all the seeds. Roughly chop the jalapeño halves, and add to the cranberries.

Roughly chop a handful of mint leaves and pack them into a 1/4 measuring cup. Keep chopping until you have a packed 1/4 cup. Add to the food processor. (see note for alternative herb ideas, this dip is also GREAT with cilantro.)

Chop the lime in half and squeeze all of the juice into the food processor.

Add 3/4 cup sugar, 1/4 teaspoon kosher salt, 1/4 teaspoon cinnamon, and 1/4 teaspoon cardamom. (It is quite subtle, but if you really don't like cardamom, skip it and increase your cinnamon to 1/2 teaspoon).

Use the pulse button on your food processor to chop the cranberries and other ingredients. Pulse in 1-2 second intervals. Scrape down the sides occasionally. You do not want to pulverize or puree this mixture; we are going for a chunky salsa texture. Stop when you have homogenous small pieces. (This is why I take the time to roughly chop most of the veggies before adding them to the food processor: I don't want any big chunks.)

Optional: At this point, you can cover and refrigerate the cranberry mixture for 4 hours or up to 2 days. This helps marry the flavors. (I tried both marinating and eating a batch right away, and didn't think it was such a big difference that I'm calling this a mandatory step. If you have time, do it, if not, don't sweat it. It is handy to have it made ahead of time though, especially for a holiday party!)

Whip the cream cheese: Add 2 blocks of softened cream cheese to a large bowl or stand mixer.** Beat with the whisk attachment (if you have one) until it is smooth and creamy, scraping down the sides.

Set a strainer over a bowl. Add the cranberry mixture to the strainer. There should be plenty of juice that lands in the bowl below. Add 2 tablespoons juice to the bowl with the cream cheese. Beat the juice into the cream cheese, scraping the sides, until is it smooth, soft, and creamy.

Spoon the cream cheese onto a plate or shallow bowl and spread it around, making a well in the middle. (Serving this in a pie plate is handy, especially if you are traveling.) Add all the strained juice back into the cranberries and stir. Spoon the cranberries over the cream cheese.

Serve with crackers, pita chips, pretzels, or toasted baguette slices. I love butter crackers like Ritz or Club crackers. If you like pita chips, try Stacy's Cinnamon Pita Chips, it's a great sweet addition. Pretzel crisps (those large, flattened pretzels) are great for dipping. If you do baguettes, toast the slices in a single layer on a baking sheet at 450 degrees F for 5-7 minutes, flipping each toast once halfway, until crisp.

Storage: Store leftovers in a covered tupperware in the fridge. If it is very juicy, you might consider straining it before storing, or strain before serving again.
Notes
*As written, this recipe trends in the "sweet" direction. The mint, cinnamon, and cardamom contribute to this. I love how fresh it tastes. Traditionally, this recipe calls for cilantro instead of mint, which I also LOVE. It gives the dip more of a savory twist. If you want to take the dip in that direction, make these changes:
1/4 cup cilantro (to replace mint)
1/2 teaspoon cumin (to replace 1/4 teaspoon each cinnamon and cardamom)
Consider reducing the sugar to 1/2 cup, but taste it and see what you like.
**You can skip these whipping steps if you are in a hurry! Simply open your block of softened cream cheese, set it on a plate, and dump the cranberry mixture over the top. I prefer a smoother, creamier texture, (and it's easier to dip into) which is why I beat it first, but it's not totally necessary if you are in a hurry.
Nutrition
Calories:
237
kcal
|
Carbohydrates:
23
g
|
Protein:
3
g
|
Fat:
16
g
|
Saturated Fat:
9
g
|
Polyunsaturated Fat:
1
g
|
Monounsaturated Fat:
4
g
|
Cholesterol:
46
mg
|
Sodium:
202
mg
|
Potassium:
115
mg
|
Fiber:
2
g
|
Sugar:
18
g
|
Vitamin A:
735
IU
|
Vitamin C:
11
mg
|
Calcium:
55
mg
|
Iron:
0.3
mg