Ham and Cheese Dip
This Ham and Cheese Dip is SO easy to put together! And such a crowd pleaser too. Sour cream and cream cheese form a rich and creamy base, with cheddar cheese to make it ultra cheesy and chunks of ham studded throughout. Perfect for football watching!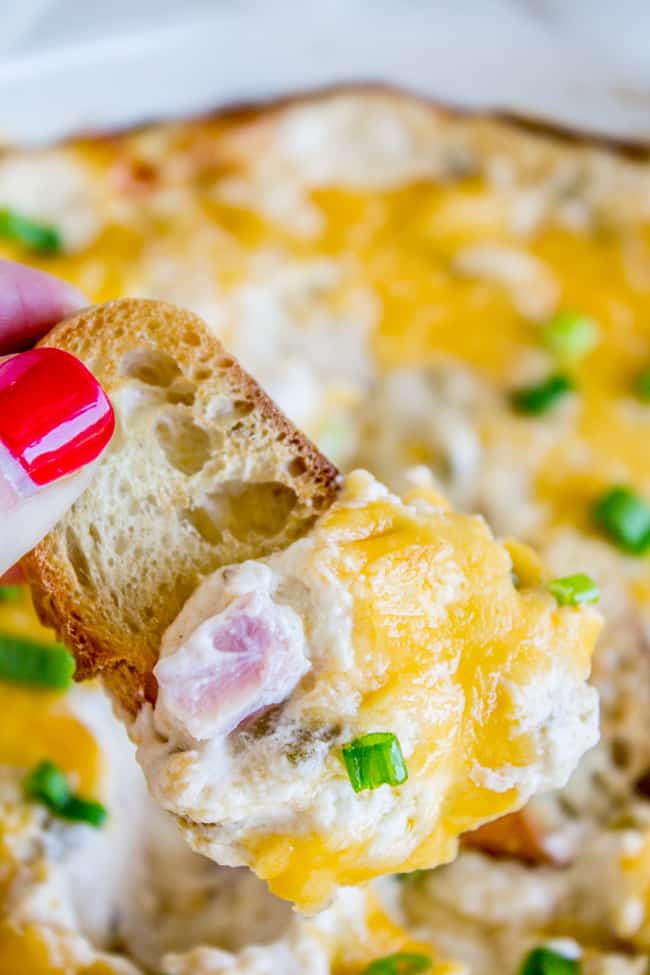 Yesterday Eric and Charlotte were in the car when suddenly she pipes up from the back: "Dad, when we get home I want to look up some safety facts about your car."
It's like somehow she can TELL Eric drives a beat up 25 year old car with 250,000 miles on it or something. I can't imagine why she would be concerned about "safety facts."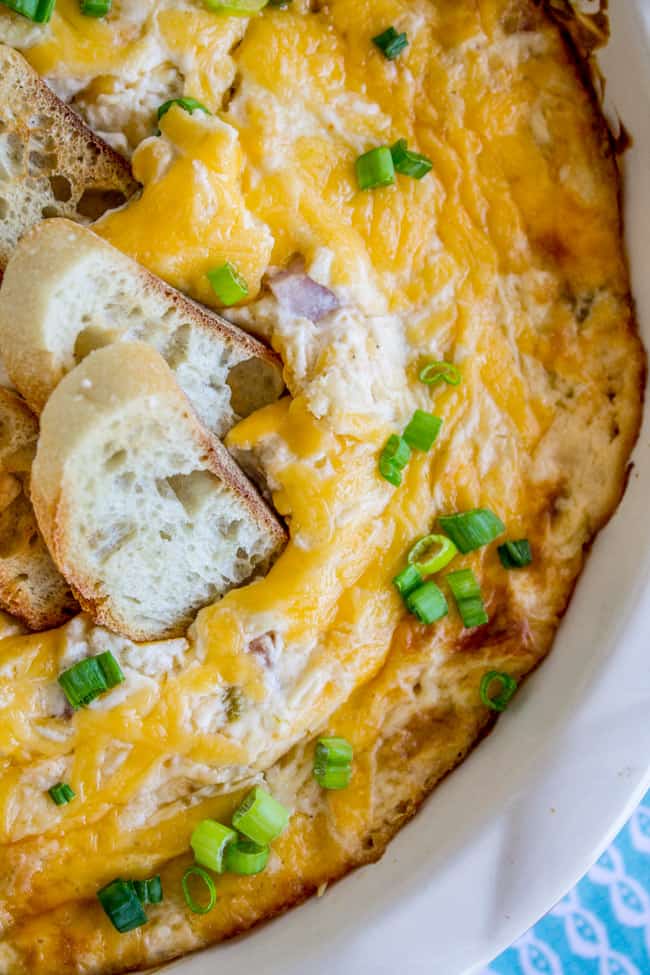 One time Eric mentioned to our brother-in-law Adam that he drives a 1992 Honda. Later Adam told us that when Eric said that, he thought to himself, "obviously he actually means a 2002." But then he saw the car. DEFINITELY a 1992.
One perk is the missing radio. It was ripped out of the dash by a thief before we bought the car. There's just a giant hole in the dash. But hey, probably we would be the last car in the lot to get broken into.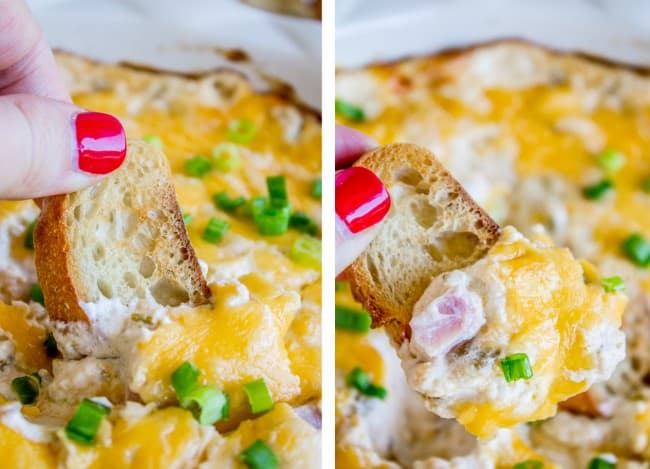 Do you want to hear the kicker? We've had this car about 4 years now. It's a stick shift. I CAN'T DRIVE STICK.
Eric tried to teach me one time, 4 years ago. It didn't go so well, and that was the last time we tried. That means I can't drive 50% of our cars. I'm pathetic. Try not to judge me.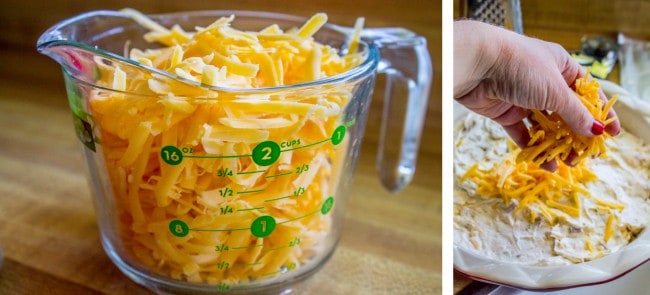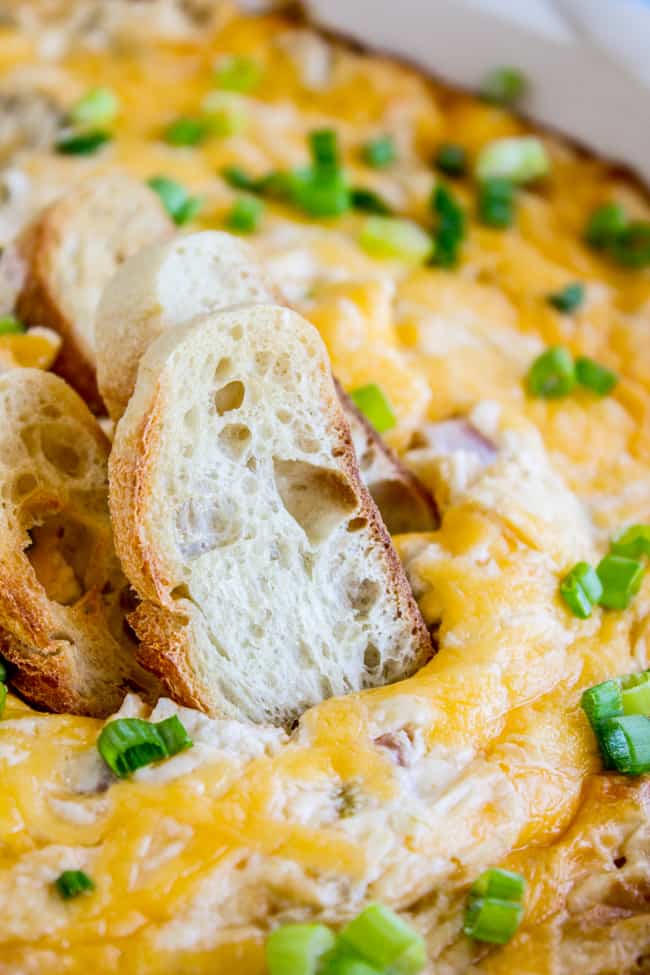 I will bribe you with Ham and Cheese Dip. This stuff is legit guys. SO cheesy and creamy! It's a very simple recipe and not spicy at all. The green chiles just add flavor, not heat. This is so simple and easy to throw together, it's perfect for football watching. Also perfect for lunch, since I don't exactly watch football that often, and I'm pregnant so I get to eat dip for lunch. (Who am I kidding. Has nothing to do with being pregnant.)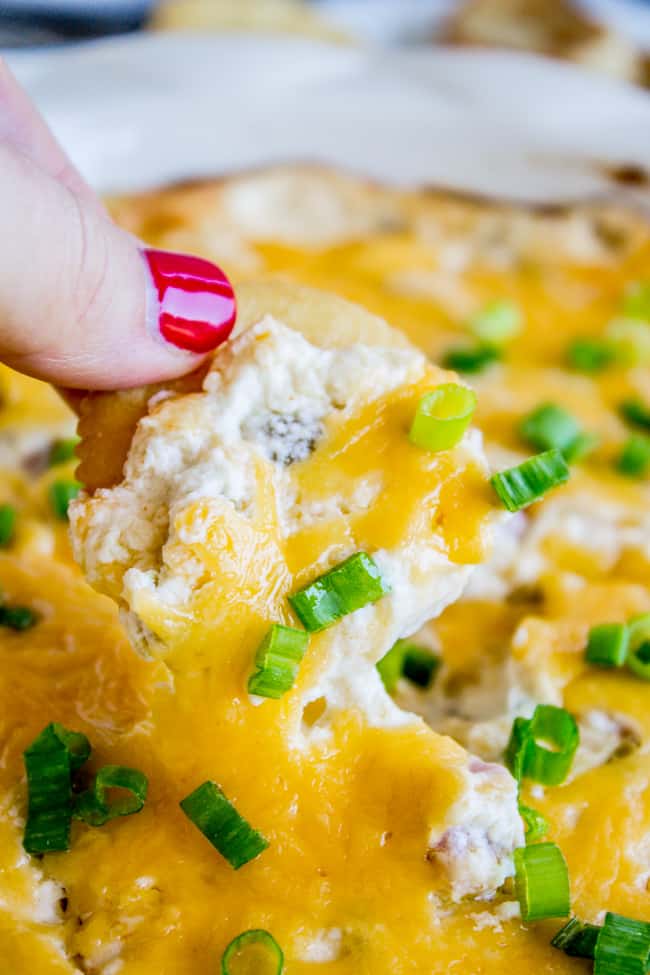 One of the reviews I saw for this recipe said, "This was okay but too much cheese." Uhhhh I'm sorry but you're wrong, BECAUSE THAT'S IMPOSSIBLE. Obviously don't trust this person. Trust me. Dip is good.
Facebook | Pinterest | Instagram | Twitter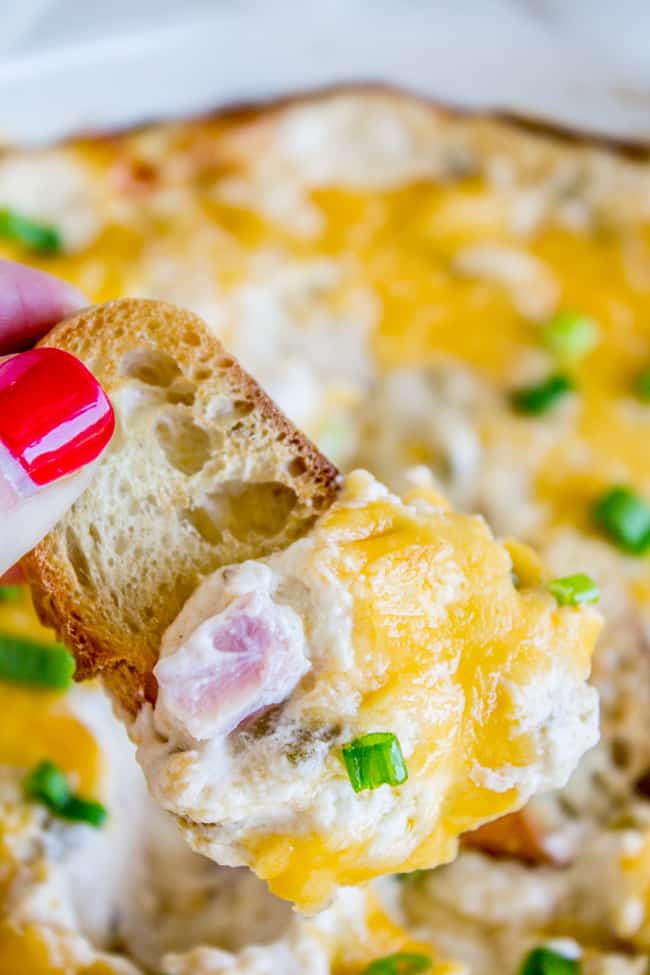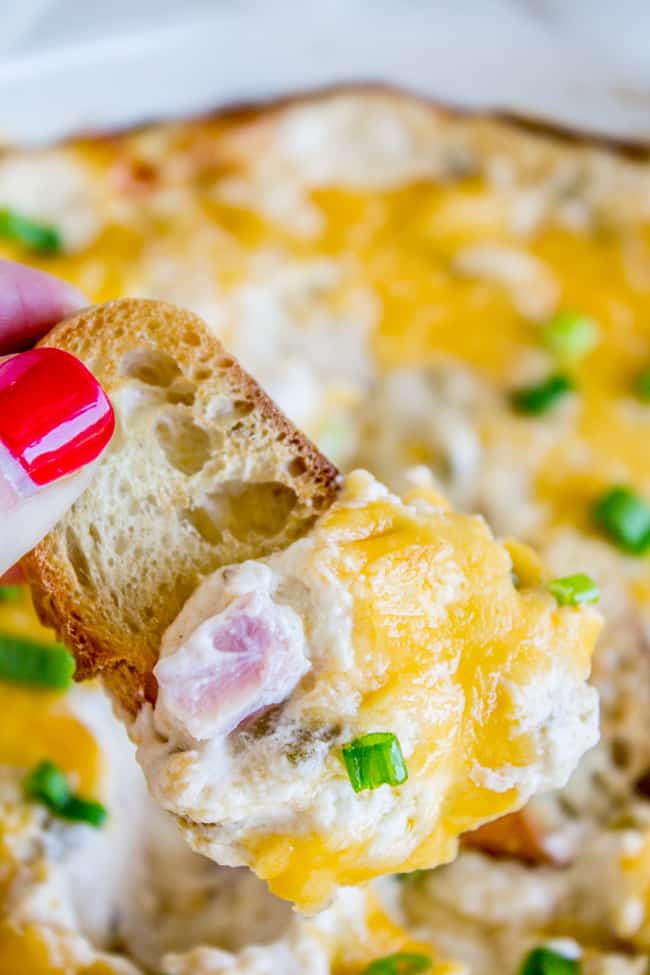 print
Did you make this recipe?
Leave a review »
Ham and Cheese Dip
Serves 4-8
adjust servings
Ingredients
2

packages cream cheese, softened

1 8-ounce

tub (1 cup) sour cream

2

cups cheddar cheese, shredded

1

(4-ounce) can diced green chiles (I like fire-roasted)

1/4

teaspoon smoked paprika

fresh black pepper, to tastes

1

cup smoked ham, chopped into bite-size pic

1/2

cup cheddar cheese, shredded (to top with)

green onions, chopped (to garnish)

Ritz crackers or toasted baguette slices, to serve with
Instructions
Preheat the oven to 350 degrees F.
In a mixing bowl, beat cream cheese for about 1-2 minutes until fluffy. Add the sour cream and beat.
Add 2 cups cheddar, green chiles (don't drain), smoked paprika, and pepper.
Beat again, then use a spatula to fold in the ham.
Scrape the mixture into a pie plate or other 1-quart dish. Spread evenly.
Top with 1/2 cup cheddar cheese.
Bake at 350 for about 30 minutes, until the top is just starting to brown.
Sprinkle with chopped green onions if you like.
Serve hot with Ritz crackers and/or toasted baguette slices.
by The Food Charlatan

If you make this recipe,
share it on Instagram
 using the hashtag
#TheFoodCharlatan
so I can see it!
Source: this one is adapted from Allrecipes.com.
When I dip, you dip, we dip:
Cheesy Buffalo Chicken Dip << I know it looks very similar, but the flavors of these dips are way different! Both amazing.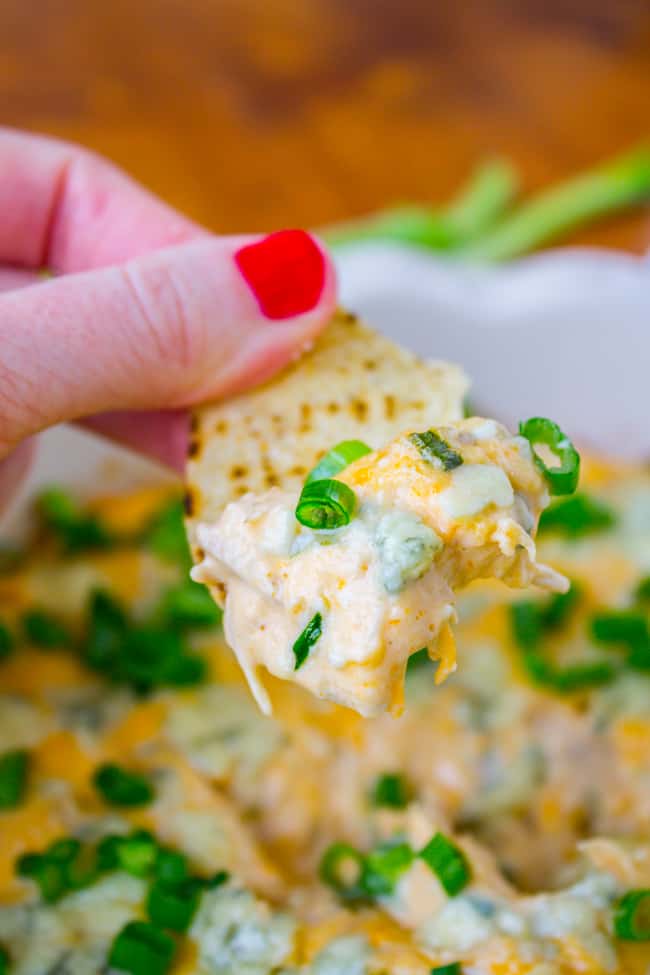 Pimiento Cheese Dip: << this one's a classic! So addictive!!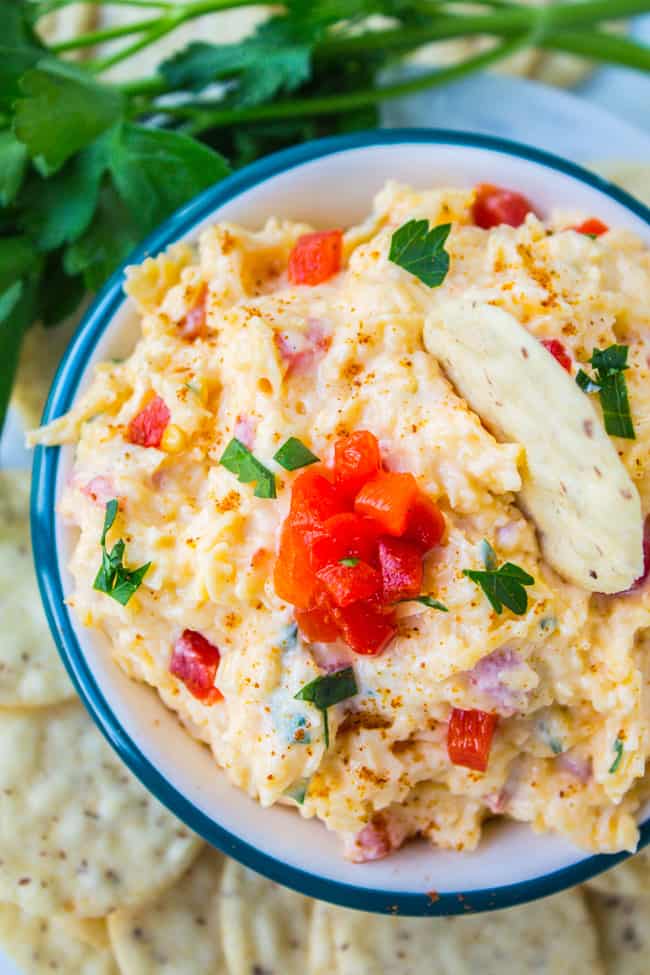 Hot Pizza Dip: << STILL one of my favorite dips. It's made in the microwave, guys!!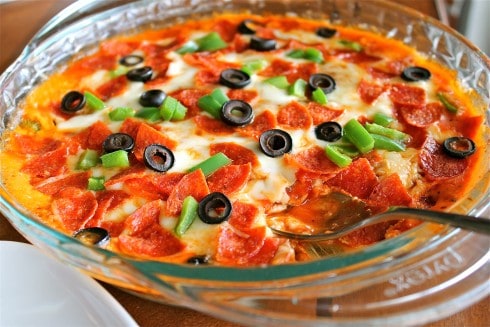 More dip from other awesome bloggers!
Skinny Southwest Chicken Dip from Yellow Bliss Road
Wedge Salad Dip from Lemon Tree Dwelling << this sounds amazing!
Roasted Garlic White Bean Dip from Jessica in the Kitchen
We are a participant in the Amazon Services LLC Associates Program, an affiliate advertising program designed to provide a means for us to earn fees by linking to Amazon.com and affiliated sites.