Technically you could call this Cranberry Relish, but I really hate that word because it makes me think of pickle relish. Gross. Call it what you like, this Cranberry Sauce is amazing. I grew up eating canned cranberry jelly, which was great when I was a kid because it's essentially solidified high-fructose corn syrup. I loved it.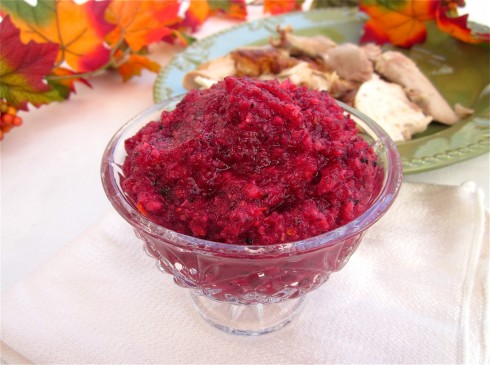 My parents used to take us kids to Home Town Buffet at the end of each semester if we had made good grades. I remember one time going to the huge salad bar and piling my plate with little or no lettuce, tons of cheese, ham, bacon bits, sunflower seeds, croutons, and a gallon of ranch dressing. My brother Nathan and I discovered a tray of cranberry sauce at the end of the bar. Cranberry sauce as we knew it each Thanksgiving was shunked out of the can in one ker-splut, then placed on a plate and sliced into neat little disks. And here it was at Home Town Buffet, in the middle of June. What luck! We piled it onto our salad plates, ran back to the table, and quickly discovered that we did NOT like beets.
I've tried lots of different versions of cranberry sauce since I gave up the canned kind, and this is by far my favorite. It is very tart and fresh and tastes amazing with turkey. Be sure to adjust the sugar to taste.
Fresh Cranberry-Orange Sauce

Source: my mother-in-law Kris
Makes about 2 cups
1 naval orange
12 ounce package fresh cranberries
1/2 cup sugar, more or less to taste
Cut the orange in a few chunks – don't peel. Put the orange pieces & cranberries in a food processor and process until it's finely chopped but not pureed. Add sugar, starting with 1/4 cup and moving up from there. Pulse to combine. Transfer to a tupperware and refrigerate for at least a few hours if not overnight. This gives the flavors time to meld. Plus then you have one less thing to do on Thanksgiving! Serve cold or room temperature.