I can't tell you exactly how much of this queso dip I can eat in one sitting, because I would never be able to look you in the eye again! This is a copycat of the queso dip recipe served at Chili's, made in the slow cooker or on stove top. It's absolutely addictive and perfect for game day!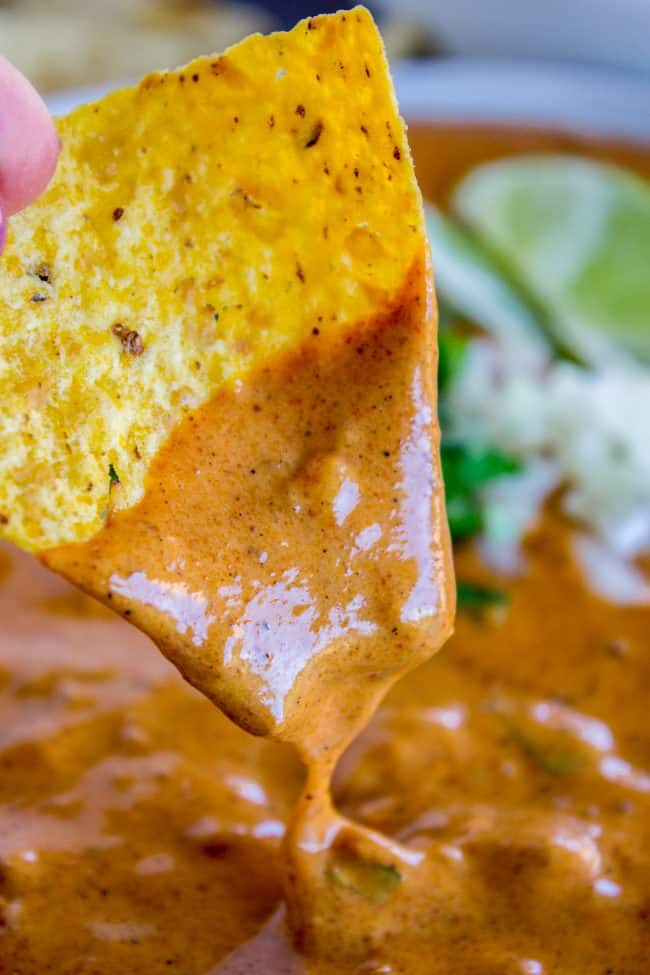 I just asked 2-year-old Valentine, "Hm, what is something healthy I can feed you for breakfast?" and she yelled "PIZZA!!!" I think we are on the same track. I almost ate this chili queso dip for breakfast myself. It's almost the weekend, right??
Do you have any fun plans? Eric and I are going on a retreat for the blog, just the two of us. I asked my mom to babysit for us so we could go, and I found out later she had no idea what I meant, haha. We're holing ourselves up in a hotel conference room to make long term plans for the blog, basically. I always seem to be drowning in day-to-day tasks (such as my children), and never make time for long-term strategies.
One of the things I REALLY want to do is create some Ebooks for you guys. I have a variety of topics I want to cover, but first up will be Meals for Two (or something like that) because SO many of you email me asking for dinner ideas that don't feed an army. Tell me in the comments if there are any other ebook topics you would like me to cover!
Queso Dip is Life
Have you ever had the queso dip at a Chili's restaurant? This recipe is a copycat. I haven't actually ordered Chili's Queso dip before (have you?), I just know it's good enough that the internet has dozen's of recipes for it. The recipe is from my sister Laura, who has been bringing queso dip to family parties for years and years. I love it so much. Why pay 7 bucks at a restaurant when you can make it at home!?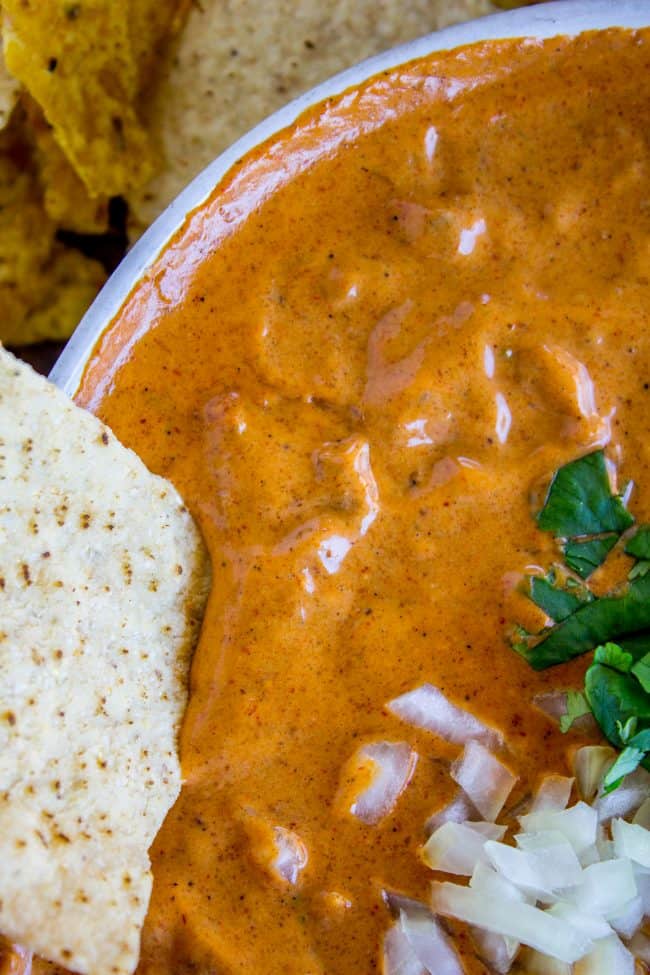 We are using no-bean chili for this homemade queso dip. Beans are apparently a controversial ingredient in chili, which I had no idea about until recently. I thought chili by definition had beans in it. NOT SO. Not so in Texas, anyway. Apparently they have very strong opinions about this.
(Speaking of Texas, has anyone else watched Dumplin' on Netflix yet?? It's about a plus size girl who is the daughter of a pageant queen, played by Rachel from Friends. It's hilarious. Also, I know her name is Jennifer Aniston but she will always be Rachel to me!)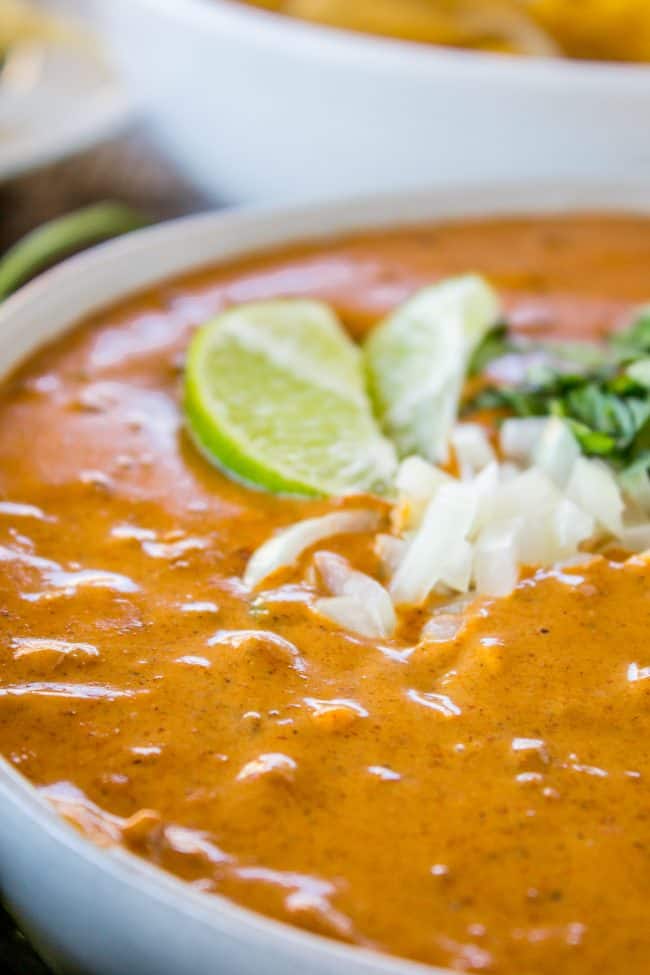 Anyway, back to the beans in chili debate. Recently my sister (who is from California like me, but lives in Texas now) was invited to a chili cook off. She decided to make a white chicken chili. (< not this one, but just in case you needed a recipe :)
When she showed up, the guy hosting it saw her pot of chili and said, "Oh. You can put it out there, but no one is going to eat that." I think it was one of those situations where he wasn't exactly trying to be rude, but just letting her know the facts: she would not even be entered into the cook off because beans AUTOMATICALLY disqualifies your chili.
Isn't that crazy??? I can't even imagine making chili without beans. It's one of the best parts!
How to make queso dip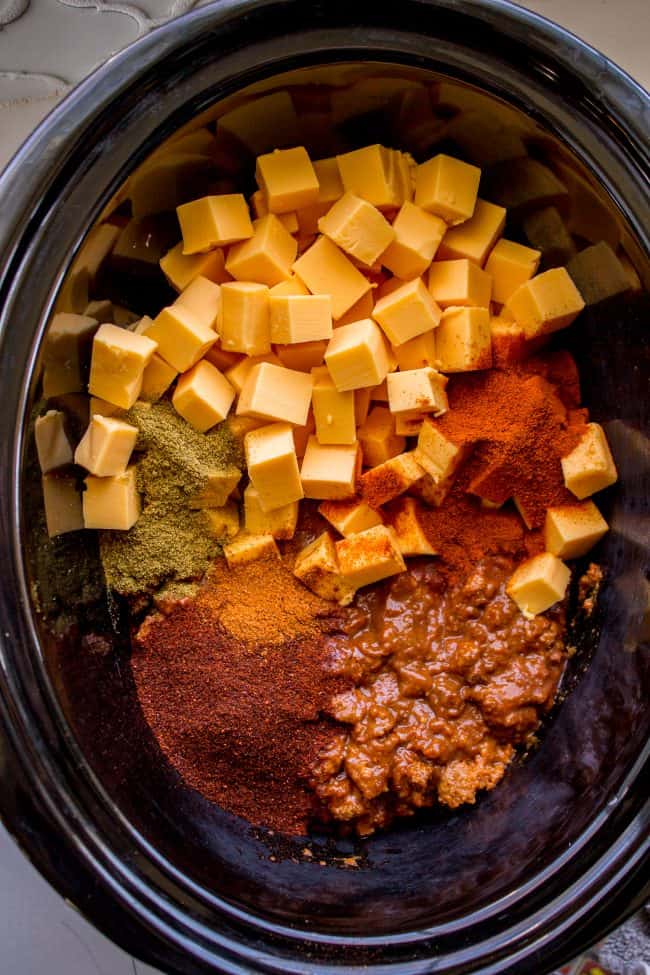 But no-bean chili definitely works in today's recipe, and guess what, we're not even making it from scratch. (If you want from-scratch chili, go make The Best Chili Recipe I've Ever Made. Spoiler alert, it has BEANS IN IT. Sorry Texas.)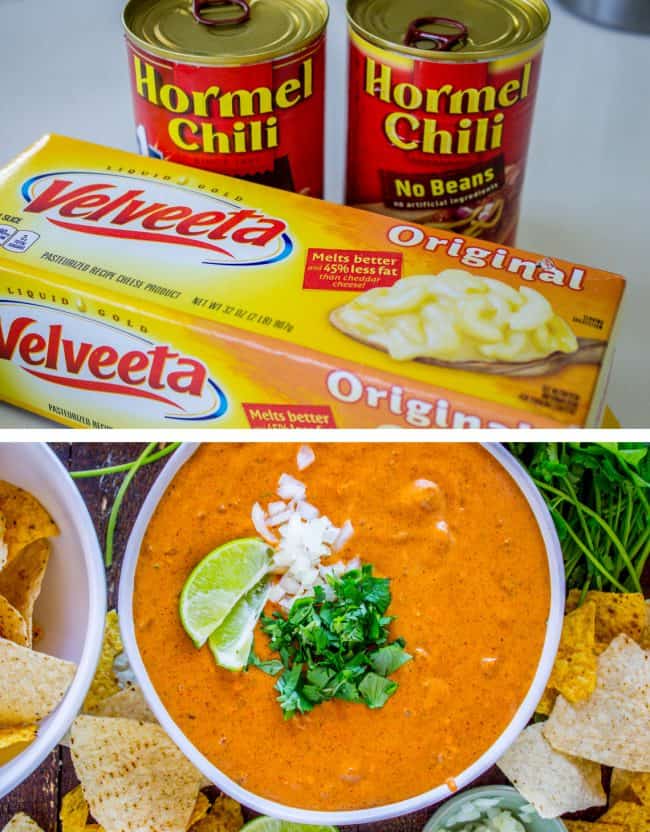 All you need for today's queso dip recipe are a couple cans of chili and a block of Velveeta cheese. There is nothing in the universe that melts quite as beautifully as Velveeta, so no cheating. It was the only cheese my mom had when she was growing up!! Can you believe that?
Add in some spices, milk, and lime juice, and you're golden! It's so easy. You can make it in the crock pot (about an hour) or in 20 minutes on the stove top.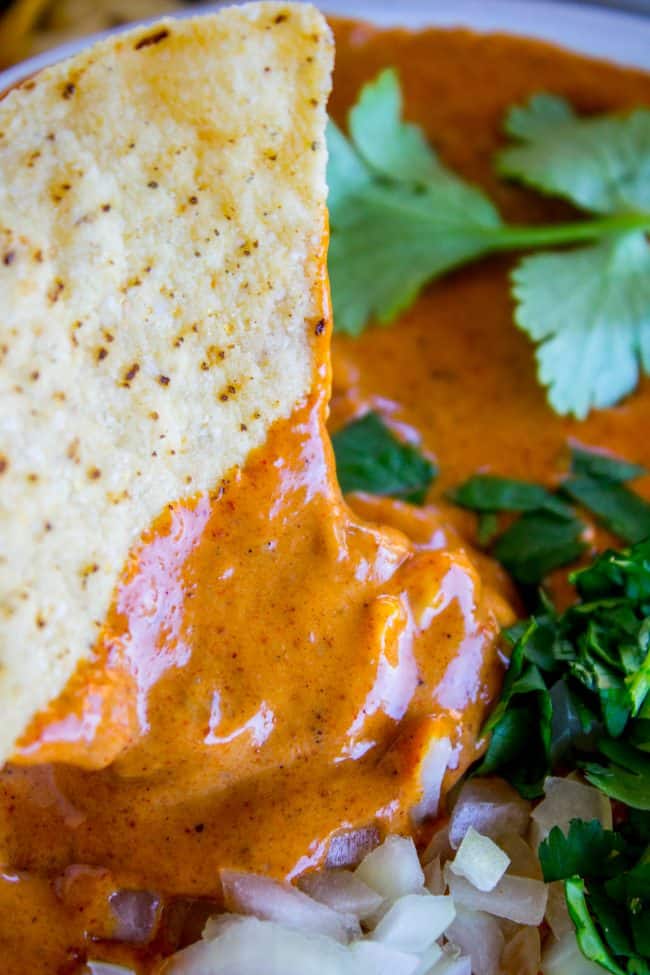 Happy weekend everybody! Make sure you stick to your diet this week so you can make this queso dip on Super Bowl Sunday and eat the whole thing!!
Snowy Chili Cheese Dip << this may not look like much, but I'M TELLING YOU, this dip is insanely delicious. Who knew humble cottage cheese could be so delicious??
Carol's Legendary 7-Layer Dip << This is your classic bean dip with all goodies!
Sausage Cream Cheese Dip Recipe (Slow Cooker) << This is a family classic over here!
Mozzarella Stuffed Soft Pretzels << because if you can't eat cheesy bread on Super Bowl Sunday, when can you??
Bacon Wrapped Jalapeño Poppers << Add a little heat to the party.
Ultimate Chili Nachos with Queso and Guacamole << The ULTIMATE Nachos!
Cheesy Buffalo Chicken Dip << This dip is amazing and everyone else will too!
Queso Fundido Bites from Lemons for Lulu
Jalapeno Spinach Queso from Shugary Sweets
Steak Queso Dip from Barefeet in the Kitchen
Facebook | Pinterest | Instagram

Copycat Chili's Queso Dip (Slow Cooker)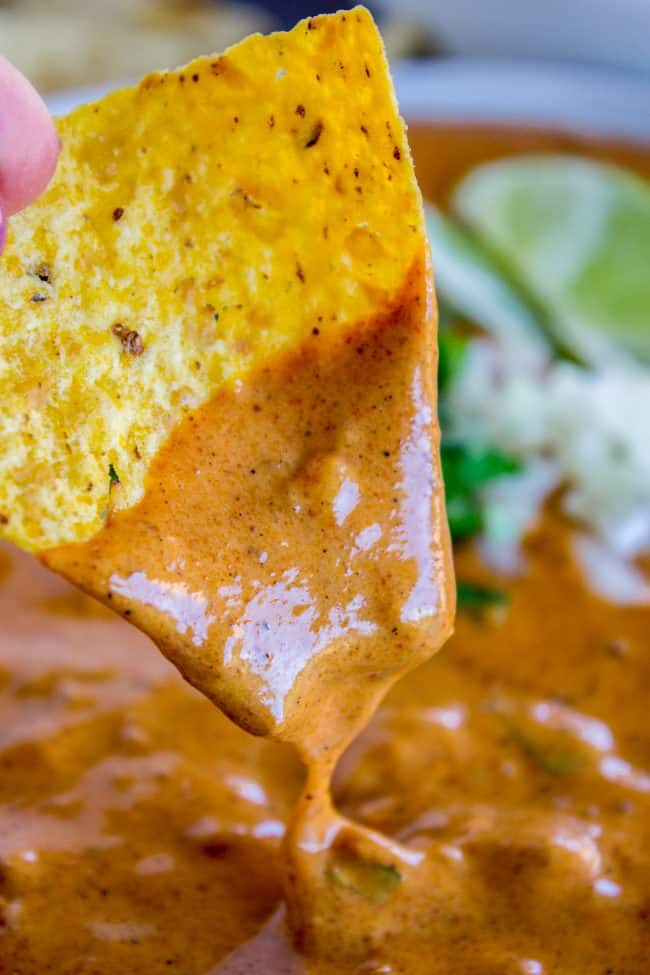 I can't tell you exactly how much of this queso dip I can eat in one sitting, because I would never be able to look you in the eye again! This is a copycat of the queso dip recipe served at Chili's, made in the slow cooker or on stove top. It's absolutely addictive and perfect for game day! 
Ingredients
32

ounces

Velveeta cheese

2 (15-oz)

cans

no bean chili*

2

cups

whole milk

6

tablespoons

lime juice

,

juice from 3 limes

3

tablespoons

chili powder

2

tablespoons

paprika

2

tablespoons

cumin

1/2

teaspoon

cayenne pepper

tortilla chips

chopped onions

,

to garnish, optional

chopped cilantro

,

to garnish, optional

lime wedges

,

to garnish, optional
Instructions
Slow Cooker Instructions:
Chop the Velveeta into chunks. Add it to a slow cooker. Add all the other ingredients (except garnishes..and tortilla chips. Did I have to say that? :)

Place the lid on top and set to high heat for 1 hour. Stir once halfway through. Or you can cook it on low for 2-3 hours, stirring once halfway through. The longer it sits, the more time the flavors have to marry, so feel free to make this ahead of time! It reheats in a jiffy (microwave, stove top, or in the slow cooker).

Serve with tortilla chips and garnishes!
Stove Top Instructions:
Chop the Velveeta and add to a large pot. Add all the other ingredients and turn the heat to low. Stir frequently until it's all melted. Serve with chips and garnishes!
Notes
*My sister Laura has been making this dip for years, and she says Wolf brand no bean chili is the best. I live in CA and couldn't find it at the store, so I used Hormel and it was delicious!
This basic recipe can be found all over the internet, but I think it might have come from this Top Secret Restaurant Recipes Cookbook. Not 100% on that! My sister Laura gave me the recipe for her version.
Nutrition
Serving:
0.5
g
|
Calories:
349
kcal
|
Carbohydrates:
22
g
|
Protein:
27
g
|
Fat:
18
g
|
Saturated Fat:
9
g
|
Polyunsaturated Fat:
1
g
|
Monounsaturated Fat:
3
g
|
Cholesterol:
61
mg
|
Sodium:
1833
mg
|
Potassium:
647
mg
|
Fiber:
2
g
|
Sugar:
11
g
|
Vitamin A:
2432
IU
|
Vitamin C:
5
mg
|
Calcium:
625
mg
|
Iron:
3
mg