These classic, rich chocolate Buried Cherry Cookies have a hidden maraschino cherry in the center. The baked frosting is crazy delicious. You just can't get enough!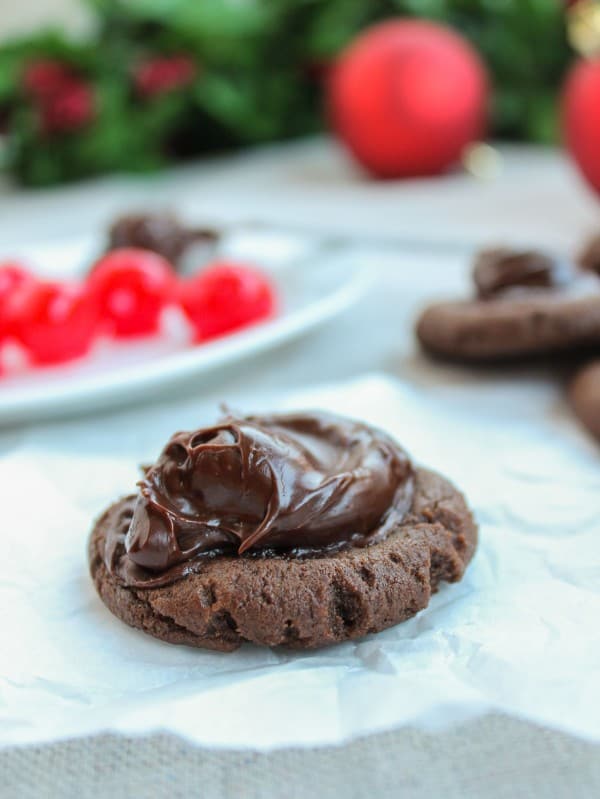 Originally posted December 7, 2011
My brother Nathan would probably kill a man for these cookies.  Okay not really, he would probably only maim or injure, but the point is that anytime I want him to do anything I just have to make these cookies and it's done.  I sound like a mafia boss. Don't worry your children are safe.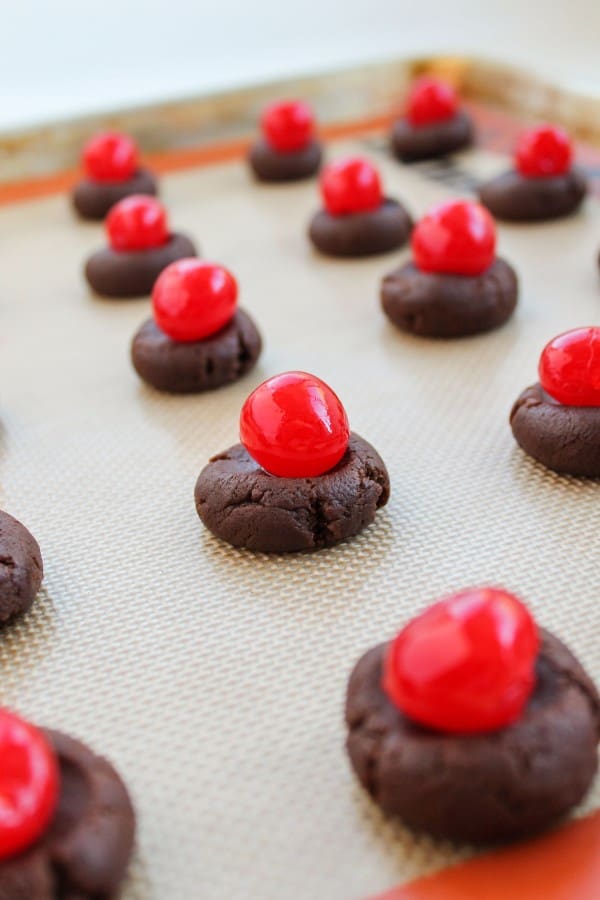 I'm usually not into maraschino cherries, but my friend Sarah made these a couple years back and I fell in love.  I never would have picked out the recipe myself, which is why it's good to have friends who bake.  What's not to love about a dense chocolate cookie covered in chocolate glaze, plus a surprise in the middle?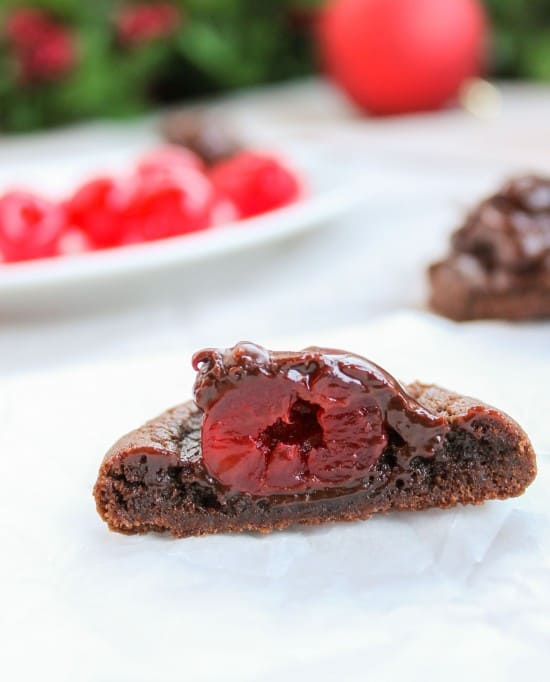 I make these every year for Nathan's birthday, which is coming up soon.  I've always felt bad for Nate because his birthday usually falls during finals week, when he has no time to relax.  (I don't take shortcuts.  If my birthday was during finals week I never would have graduated. But Nate is a much harder worker than I am.)  So instead of being birthday cookies they usually end up being I need to jam 3 of these in my mouth right now because I have a test in 2 hours that I have not started studying for yet, a presentation tomorrow morning at 8am and a final project due the next day, details for which still need to be finalized with my group.  Again, I'm realizing that this probably never happened to Nate.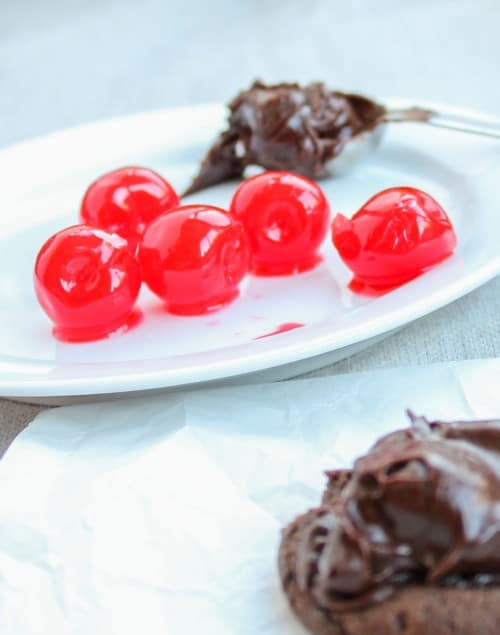 One time I made a big batch of these and joined Nate who was studying in the library.  We sat in the "sh zone" (as opposed to the "no sh zone") and probably made just about everyone in the room want to sh us, but it's BYU so they were too nice to say anything.  In appreciation, we offered cookies to the poor souls trying to study at the same table with us, laughing our butts off about nothing in particular and making a huge ruckus.  Everything is a lot more funny when you are supposed to be studying, but have really in your secret heart completely given up on the prospect.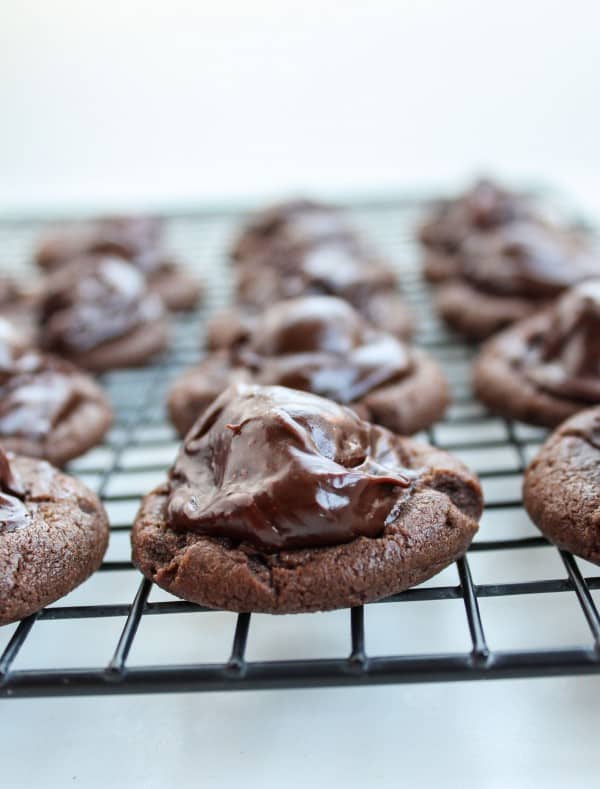 I think Nate and I together (along with some new table friends) ate the entire batch, like over 50 cookies.  All this in a library that does not allow food.  I smuggled them in in my backpack. (BYU Police, I wasn't the only one.  Taco Bell wrappers don't randomly appear in library trash cans.)
Happy birthday Nathan!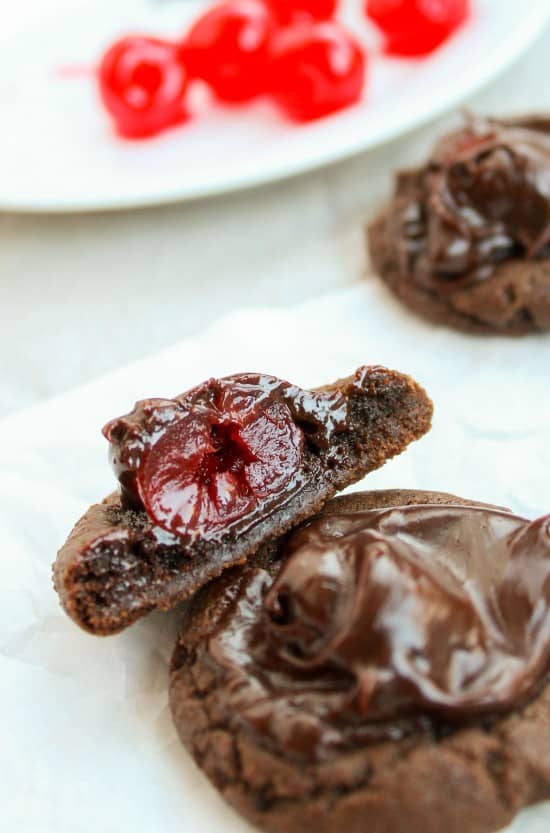 How to make Buried Cherry Cookies
You start by rolling the dough into small balls, about 1/2 inch thick, and lay them out on your cookie pan.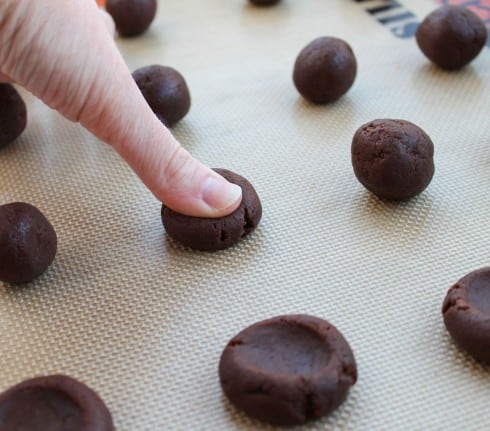 Then you press them down with your thumb. Leave an indentation where you bury the cherries. Work that thumb!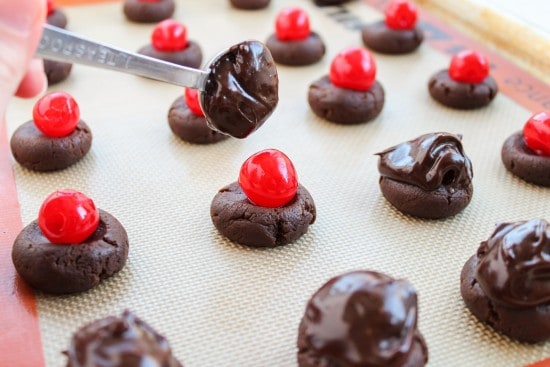 Add the cherries. Then use 2 spoons to get the frosting onto the cookie. This takes a bit of cajoling and spreading. Keep your frosting as hot as you can.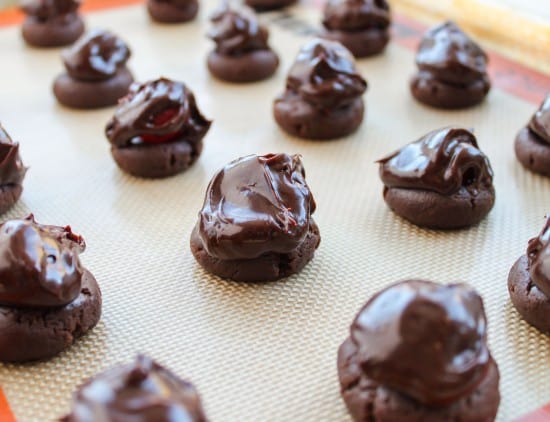 And they are ready to bake!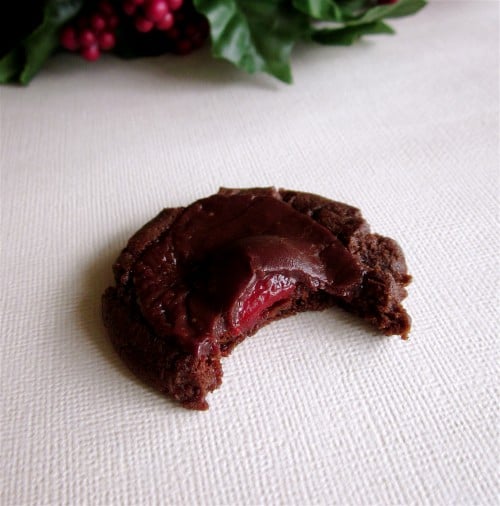 Flashback :)
Look at this little thief!  Don't worry I took it away before she actually had any.  I'm keeping the magic of sugar a secret a while longer yet.

Buried Cherry Cookies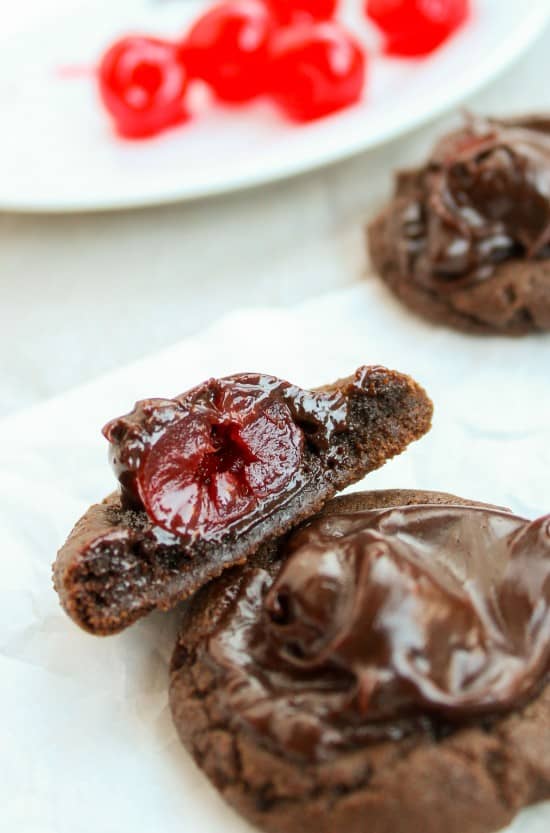 These classic, rich chocolate Buried Cherry Cookies have a hidden maraschino cherry in the center. The baked frosting is crazy delicious. You just can't get enough!
Ingredients
10

ounces

maraschino cherries*

,

1 jar, about 45 cherries

1/2

cup

unsalted butter

,

softened

1

cup

sugar

1/4

teaspoon

baking powder

1/4

teaspoon

baking soda

1/4

teaspoon

salt

1

egg

,

at room temperature

1 & 1/2

teaspoons

vanilla

1/2

cup

unsweetened cocoa powder

1 & 1/2

cups

flour

,

spooned and leveled

1

cup

semisweet chocolate chips

1/2

cup

sweetened condensed milk

,

about half a can
Instructions
Drain the cherries, reserving the juice. Lay the cherries out onto paper towels to let them dry off a little bit.

In a medium mixing bowl beat butter with electric mixer (or with stand mixer) until fluffy, about 2 minutes. Add the sugar and beat for another minutes, scraping the sides.

Add the baking powder, baking soda, and salt. Beat until combined. Beat in egg and vanilla. Beat in the cocoa powder, and then the flour until it is just combined. If you are using an electric mixer you might need to do this by hand.

Chill the dough in the fridge for about an hour.

Shape the dough into 1 inch balls and place about 2 inches apart on a silpat or parchement paper-lined cookie sheet. Press your thumb into the center of each ball. Place a dried-off cherry in each center.

For frosting, in a small saucepan combine chocolate chips and sweetened condensed milk. Cook and stir over medium low heat until chocolate melts. Stir in 4-5 teaspoons of the reserved cherry juice. (Or as much as you want until it is the consistency you like).

Spoon 1 teaspoon frosting over each cherry, spreading to cover. Use 2 spoons: one teaspoon for scooping chocolate, and the other for scraping it off the first spoon onto the cookie. The frosting will be harder to work with the cooler it gets. I like to leave the saucepan on the heat on low so that the frosting stays workable.

Bake for 10 minutes at 350 degrees, or until the edges are firm. Cool on cookie sheet 1 minute. Transfer to wire rack and let cool.
Notes
*The maraschino cherry people must be trying to cut costs. The original recipe calls for 1 10-ounce jar, but lately they have been having fewer and fewer cherries in them. The first jar I used for this recipe only had 28, so I had to open another one. Buy two to be safe, and use the leftovers for sundaes. Alternatively, you could buy one jar and split some of the cherries in half.
One more thing: You really do want 1 inch balls of dough. Any larger and they will start to spread weird when you bake them.
Nutrition
Serving:
1
cookie
|
Calories:
99
kcal
|
Carbohydrates:
15
g
|
Protein:
1
g
|
Fat:
4
g
|
Saturated Fat:
2
g
|
Polyunsaturated Fat:
1
g
|
Monounsaturated Fat:
1
g
|
Trans Fat:
1
g
|
Cholesterol:
10
mg
|
Sodium:
28
mg
|
Potassium:
58
mg
|
Fiber:
1
g
|
Sugar:
10
g
|
Vitamin A:
82
IU
|
Vitamin C:
1
mg
|
Calcium:
20
mg
|
Iron:
1
mg