A lightly-spiced molasses cookie with crushed peppermint in the dough, covered with frosting and more peppermint. Sounds weird…trust me.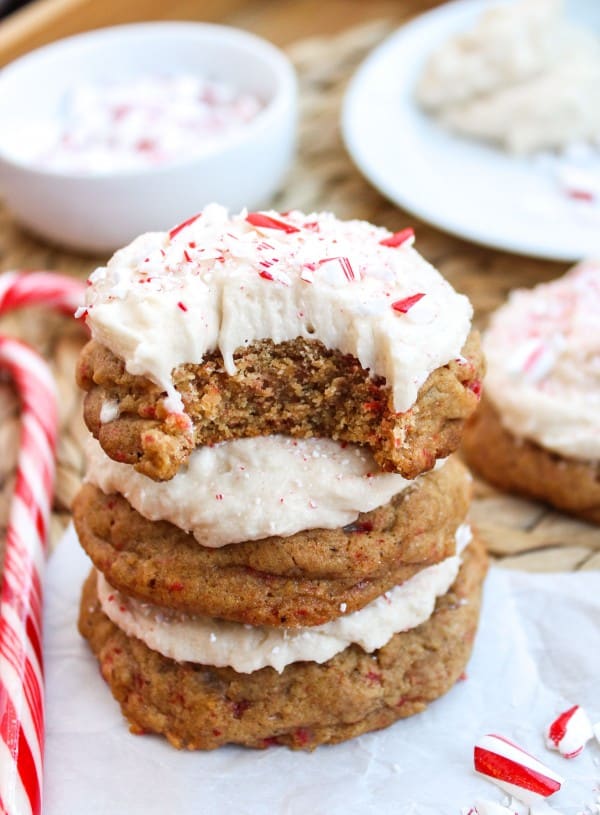 So have you got your house all decked out for Christmas? We're trying over here. We really are. This is the first year we've ever been in an actual house and not an apartment. Before when I put up my 8 decorations, it felt cozy and festive in our 20 square foot living room. But now that I have all this empty furniture-less space, my hand-made-Pinterest-wanna-be paper decorations are just not cutting it.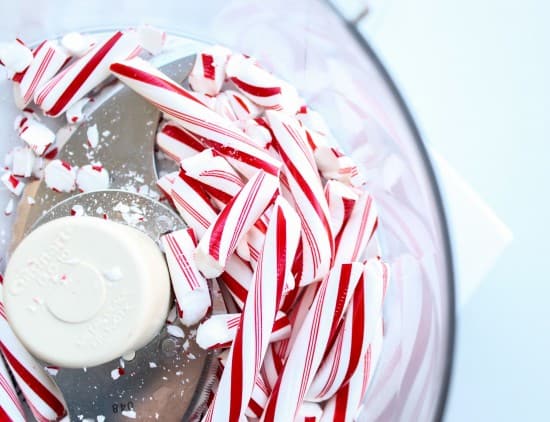 Even Eric noticed. He asked if I could pick up a tree skirt while I was at the store. This to cover up the plastic claw-like foot of our fake 5-foot Walmart Christmas tree. (We always travel during the holidays so have never been able to justify buying a real tree. To my everlasting shame, I assure you.)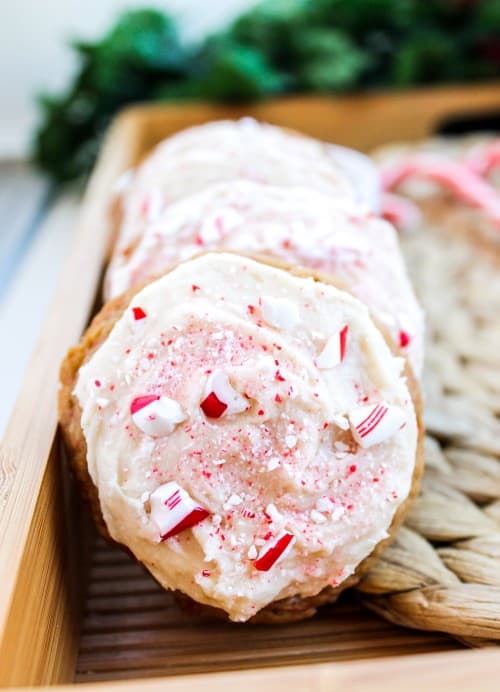 We must have lost our box of ornaments during the move, because the only ones we could find were a couple homemade paper ones, a shatter-resistant glass ball with a Star Wars Stormtrooper sticker on it (why??), and a creepy little babushka ornament that I got at a white elephant party.
Also there is a 4-foot string of popcorn that we made for our first Christmas. We were all like, hey, we're poor, let's do popcorn strings and then 12 hours later we realized just how insane it is to needle through popcorn, so we gave up. It's not long enough to wrap around the tree, so we just zig-zag-drape it across the front and hope no one notices. Supa classy.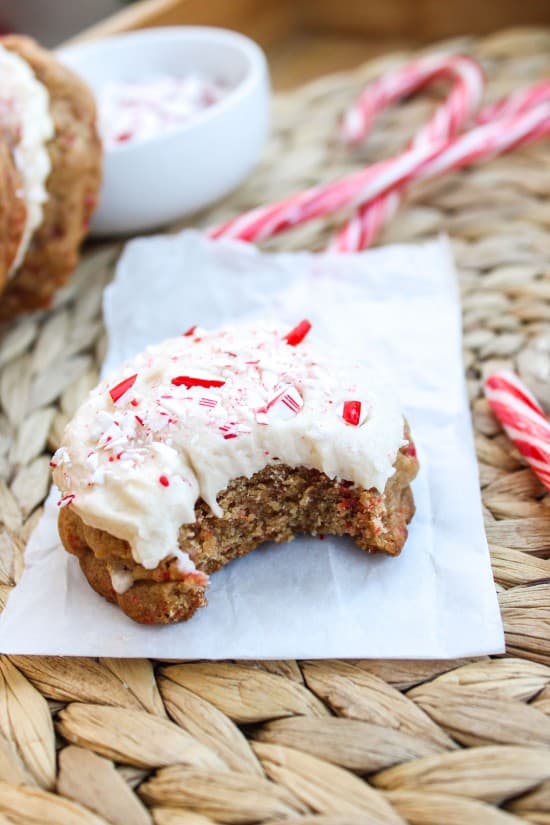 But back to the tree skirt. Do you KNOW how much those things cost?? Like, more than our tree, apparently. All the ugly ones were $35, and then I saw one that was actually cute…for $40. Bummer!
I was trying to think of a way that I could make a paper tree skirt (I'm kidding, geez) when I walked past the aisle with the mini counter-top trees. You know, like the 24-inch ones. And lo and behold…tree skirts. Mini tree skirts. 8 bucks! I snagged one up faster than you can say ghetto Christmas.
Our pitiful tree now has what is essentially a red wool sock that doesn't extend past the lowest branches. It's festive, dangit.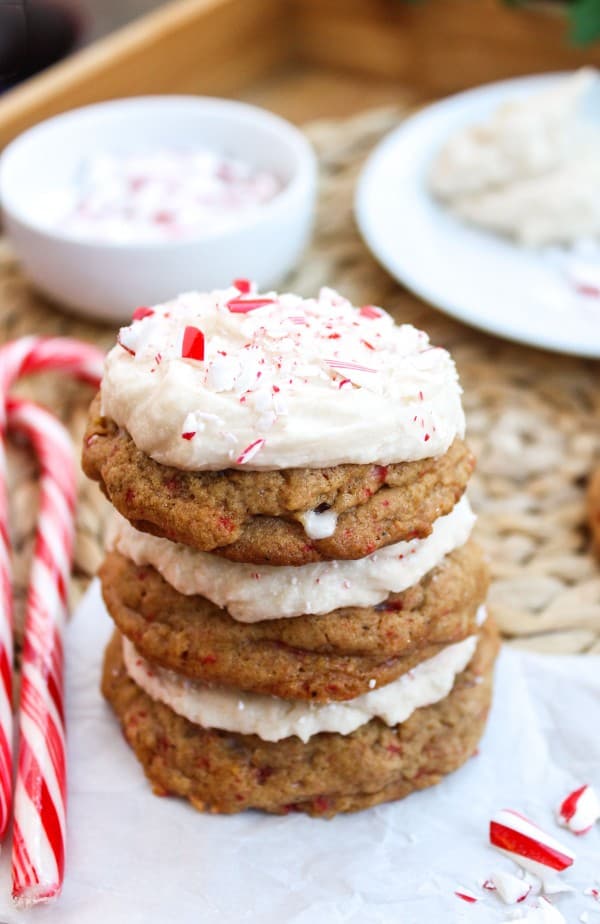 My best friend in college made these Candy Lasses for Christmas every year. I love them. It's her grandmother's recipe. These cookies are kind of hard to describe without tasting them, but essentially they are a lightly-spiced molasses cookie with crushed peppermint in the dough, covered with frosting.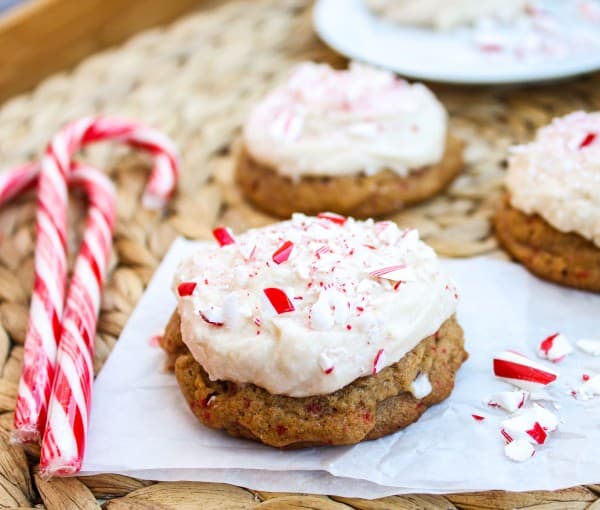 This sounds weird. I know. Molasses and peppermint? It is not a flavor combination that I would have ever thought of, but it totally works. There are only a couple tablespoons of molasses, so it is not overwhelming, but it still provides that deep golden flavor. These would be a great addition to your neighbor gifts! What cookies have you guys made so far this year?
Do you guys give up? Or are you thirsty for more?
Facebook | Pinterest | Twitter

Candy Lasses (Molasses Cookies with Peppermint)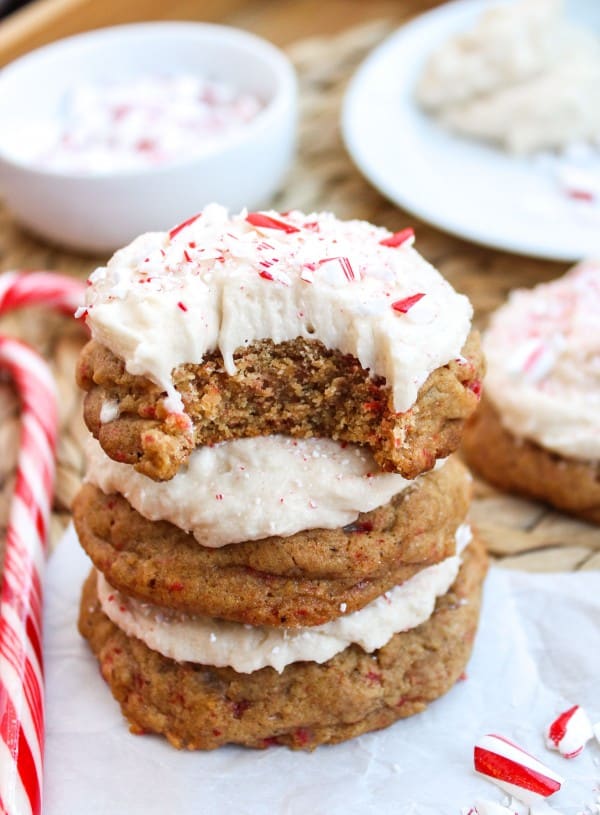 A lightly-spiced molasses cookie with crushed peppermint in the dough, covered with frosting and more peppermint. Sounds weird...trust me.
Ingredients
2

cups

flour

1

teaspoon

baking powder

½

tsp

salt

½

tsp

cinnamon

½

tsp

nutmeg

¼

tsp

ginger

2/3

cup

butter

1/4

cup

brown sugar

1/4

cup

white sugar

1

egg

,

room temperature

2 & 1/2 tablespoons

molasses

1/2

cup

crushed candy canes

,

about 7
For the frosting:
1

stick

salted butter

2

cups

powdered sugar

1 & 1/2

teaspoons

vanilla

1

tablespoon

milk

2-4

candy canes

,

crushed
Instructions
In a medium bowl, whisk together flour, baking powder, salt, cinnamon, nutmeg, and ginger. Set aside.

In a large bowl or stand mixer, cream together 2/3 cup butter*. Add ¼ cup packed brown sugar and ¼ cup white sugar. Beat for about 2 minutes, scraping the sides well.

Add egg and molasses. Beat on high until it's not lumpy anymore.

Use a food processor or a rolling pin to crush 7 candy canes. Add crushed candy and dry ingredients all at once and mix until just combined, scraping sides.

Line a baking sheet with parchment paper or a silpat. Use a 2-inch cookie scoop to drop them on the sheet about 2 inches apart. Bake at 350 degrees for 11-14 minutes. Take them out when they are no longer shiny on top.

Remove to a wire rack after a couple minutes and let cool completely.

Meanwhile, cream the butter in a large bowl. Add the powdered sugar, vanilla, and milk and combine well, scraping the sides of the bowl. Add more milk if it is too thick, powdered sugar if it is too thin.

Crush 2-4 candy canes in a food processor or with a rolling pin.

When the cookies have cooled, frost the cookies and immediately sprinkle with crushed candy canes. Or if you want you can stir that candy cane into the frosting, then spread it on. These will keep on the counter in a sealed container for 2 or 3 days.
Notes
*I know 2/3 cup butter is kind of an awkward measurement. It's just one stick of butter, plus 2 and 2/3 tablespoons. Use the measurements on the wrapper to figure this out, it's not too bad.
You don't need to refrigerate this dough, but if you wait a long time in between batches I would stick it in the fridge just so they don't get melty on you when you bake them.
Source: adapted from my best friend's grandma, Dorothy Millikin
Nutrition
Serving:
1
cookie
|
Calories:
342
kcal
|
Carbohydrates:
48
g
|
Protein:
2
g
|
Fat:
16
g
|
Saturated Fat:
10
g
|
Polyunsaturated Fat:
1
g
|
Monounsaturated Fat:
4
g
|
Trans Fat:
1
g
|
Cholesterol:
52
mg
|
Sodium:
255
mg
|
Potassium:
39
mg
|
Fiber:
1
g
|
Sugar:
32
g
|
Vitamin A:
491
IU
|
Vitamin C:
1
mg
|
Calcium:
32
mg
|
Iron:
1
mg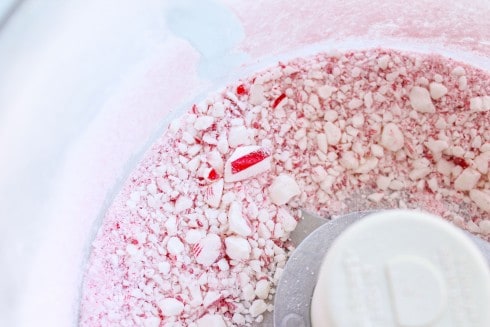 Here's what your candy canes will look like if you use a food processor. I like to have pretty fine pieces in the actual dough.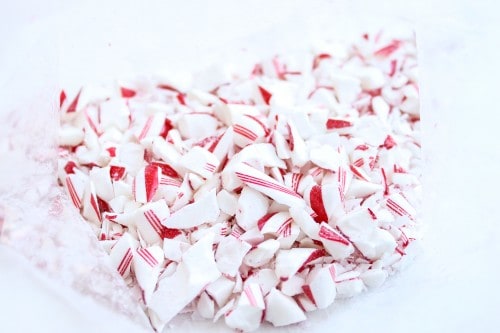 I used a rolling pin for these guys. You won't be able to crush them as fine. I sprinkled this on the top.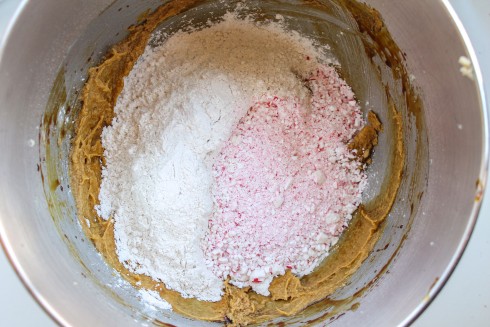 Add the candy canes and dry ingredients all at once.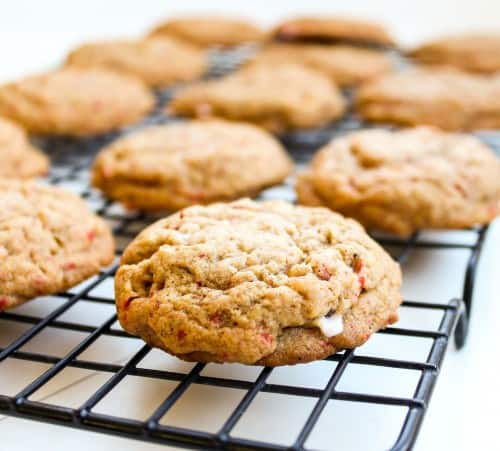 Here they are just out of the oven.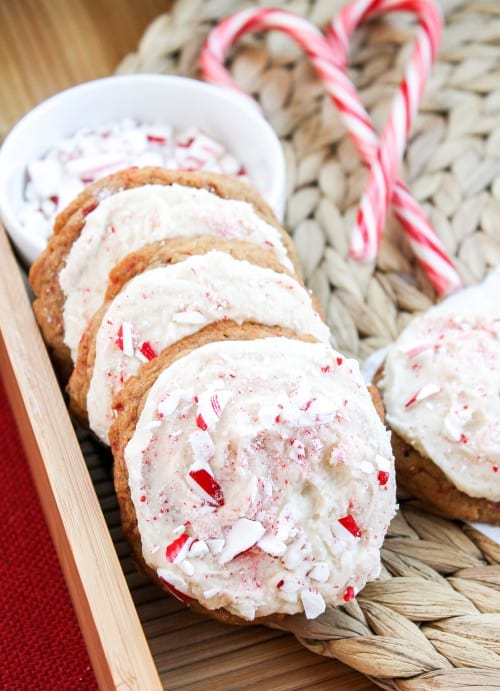 And there you have it! Enjoy!