These rich chocolate cookies are topped with Reeses Peanut Butter Cups and then smothered with chocolate frosting. Perfect for leftover Halloween candy! And by "leftover" I mean "inspected for poison," or maybe just "stolen from children."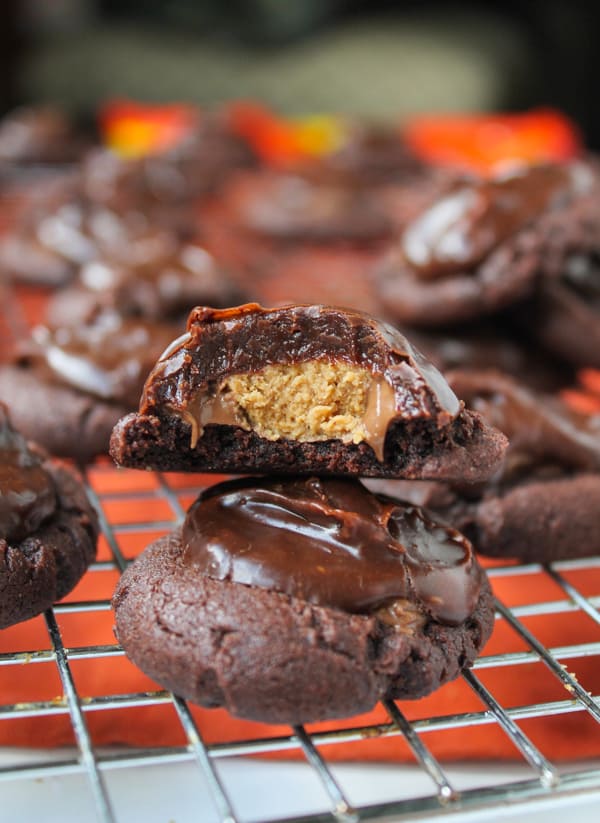 Am I the only Halloween candy inspector out there? I mean how can we be sure that our children's candy is safe if we don't test it for poison? It's a sacrifice, really. I mean, I could DIE.
Because I'm sure tons of Halloween candy is laced with anthrax or ebola or worse. Get out the biohazard suit, everyone, it's time to eat all the Butterfingers.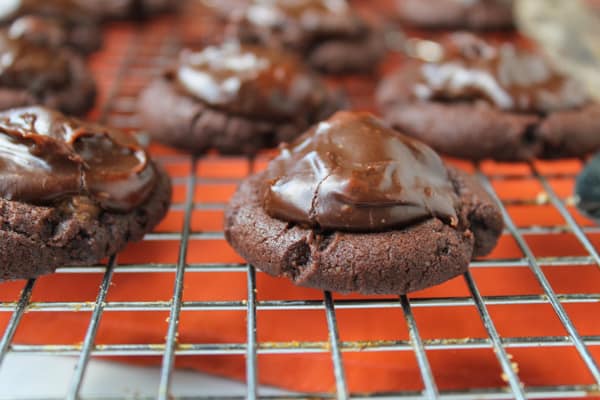 The truth guys? I'm super stingy. I'm that stingy mom, and someday when Charlotte is a teenager we are going to have lots of conversations about why there are no Frosted Flakes in the pantry. (The short answer? It's not healthy. The truth? I would EAT IT ALL.) She will whine about it to her friends, and I will feel old remembering when I used to whine about the same thing to my friends , and the circle of life continues. NAAAAH SEVENYAHH…
(I just had to watch that YouTube video, because Lion King, duh, and I read this in the comments, "I use this as my alarm tone. It's kind of a problem when it goes off when I'm REALLY tired and I end up picking up my cat and holding it over a balcony without really realizing what I'm doing.") YouTube comments are the best.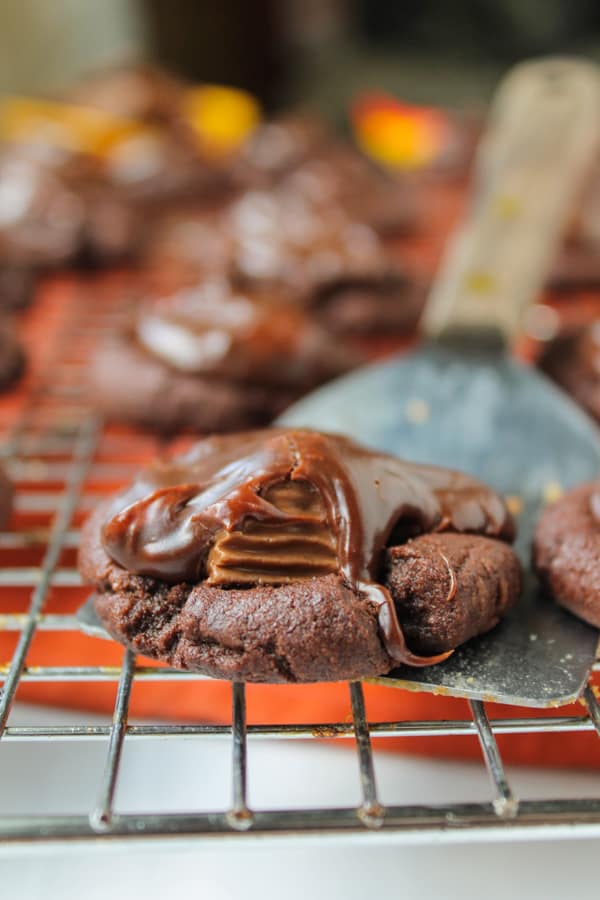 Today I come bearing gifts. Of the virtual peanut-butter-chocolate variety, that is. These cookies are inspired by these Buried Cherry Cookies (which I may or may not be able to eat an entire batch of in one sitting). Instead of stuffing maraschino cherries inside I added Reeses Peanut Butter Cups. What's not to love about a soft chocolate cookie with a Reeses and frosting on top? Yeah. Nothing. You can either add one whole mini Reeses cup, or split in in half; it's your own level of peanut butter coma, the choice is yours.
Also, this frosting? It's just chocolate chips melted with sweetened condensed milk. You bake it with the cookie. It works, I promise. Sweetened condensed milk…it makes the world go round, my friends. Go out and buy a bag of Reeses PB cups for this recipe. I know you don't have any left.
Do you guys give up? Or are you thirsty for more?
Facebook | Pinterest | Instagram | Twitter

Buried Reeses Cookies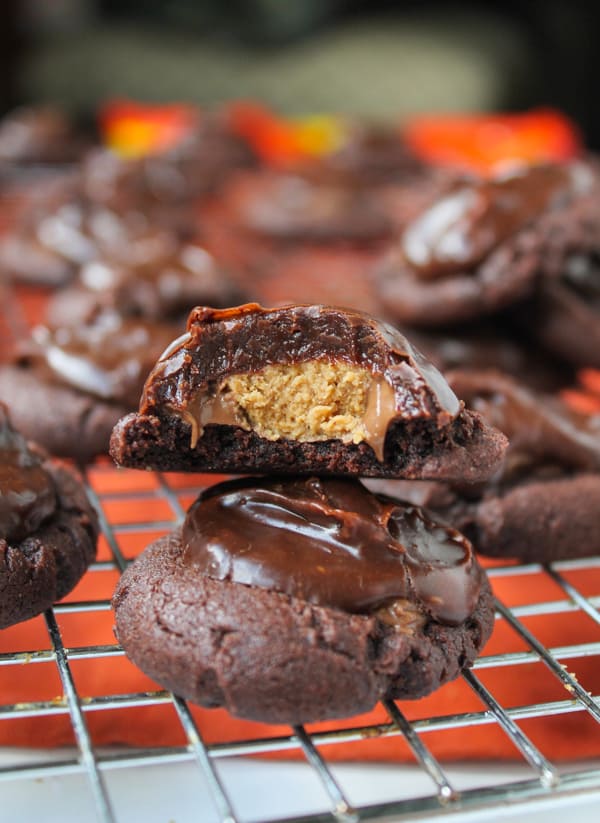 These rich chocolate cookies are topped with Reese's Peanut Butter Cups and then smothered with chocolate frosting. Perfect for leftover Halloween candy! And by "leftover" I mean "inspected for poison," or maybe just "stolen from children." 
Ingredients
For the cookies:
1/2

cup

unsalted butter

,

softened

1

cup

sugar

1/4

teaspoon

baking powder

1/4

teaspoon

baking soda

1/4

teaspoon

salt

1

egg

,

at room temperature

1 & 1/2

teaspoons

vanilla

1/2

cup

unsweetened cocoa powder

1 & 1/2

cups

flour

,

spooned and leveled
For the frosting:
1

cup

semisweet chocolate chips

1/2

cup

sweetened condensed milk

1-2

teaspoons

creamy peanut butter

Either 21 or 42 mini Reeses cups

,

see note
Instructions
In a large mixing bowl or stand mixer, beat butter and sugar until fluffy, about 2 minutes. Make sure to scrape the sides and the bottom.

Add the baking powder, baking soda, and salt. Beat until combined. Beat in egg and vanilla. Beat in the cocoa powder, and then the flour until it is just combined. If you are using an electric mixer you might need to do this by hand.

Chill the dough in the fridge for about an hour.

Preheat the oven to 350 F.

Shape the dough into 1 inch balls and place about 2 inches apart on a silpat or parchement paper-lined cookie sheet. Press your thumb into the center of each ball.

Press a Reese cup into each cookie. You can either use the whole thing or split it in half.

For frosting, in a small saucepan combine chocolate chips, sweetened condensed milk, and peanut butter. Cook and stir over medium low heat until chocolate melts. Turn the heat to low and leave it on the stove while you spoon on the frosting, stirring occasionally.

Spoon 1 teaspoon frosting over each Reeses, spreading to cover. Use 2 spoons: one for scooping chocolate, and the other for scraping it off the first spoon onto the cookie. The frosting will be harder to work with the cooler it gets.

Bake for 10 minutes at 350 degrees, or until the edges are firm. Cool on cookie sheet 1 minute. Transfer to wire rack and let cool.
Notes
*You can use either a mini Reese's cup (by mini I mean the kind that is about the diameter of a quarter) that has been split in half with a knife, or use the whole thing. It will be harder to get the frosting on if you don't split it, but I think the ratio of peanut butter is better when you use the whole thing.
Source: adapted from this Buried Cherry Cookies recipe, originally from the Better Homes and Gardens Cookbook.
Nutrition
Serving:
1
cookie
|
Calories:
96
kcal
|
Carbohydrates:
13
g
|
Protein:
1
g
|
Fat:
5
g
|
Saturated Fat:
3
g
|
Polyunsaturated Fat:
1
g
|
Monounsaturated Fat:
1
g
|
Trans Fat:
1
g
|
Cholesterol:
11
mg
|
Sodium:
31
mg
|
Potassium:
62
mg
|
Fiber:
1
g
|
Sugar:
8
g
|
Vitamin A:
85
IU
|
Vitamin C:
1
mg
|
Calcium:
18
mg
|
Iron:
1
mg
More stuff you'll probably like!
Halloween Cheesecake Parfaits: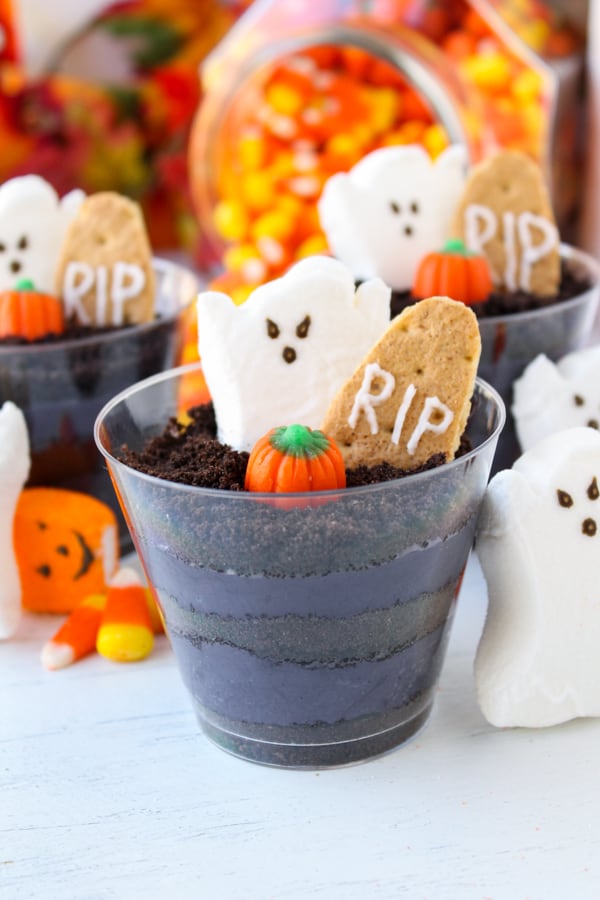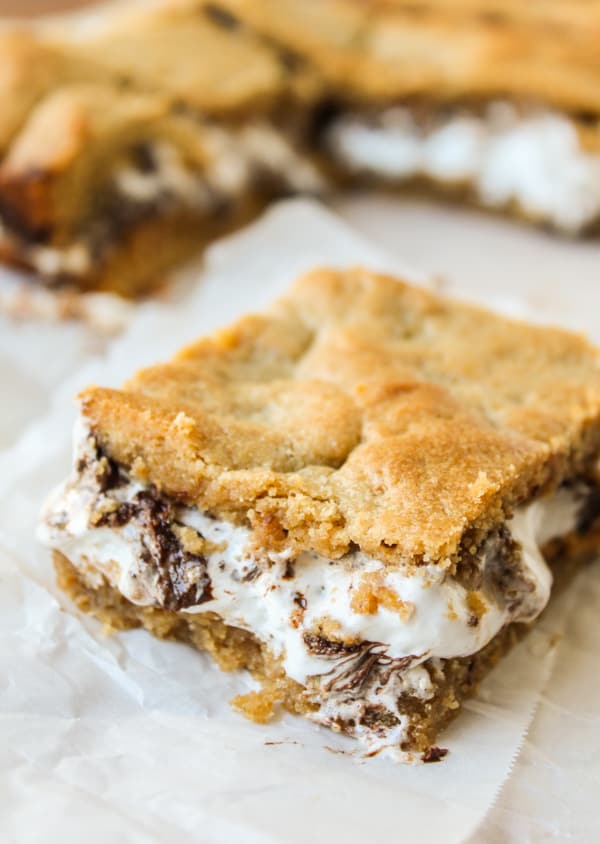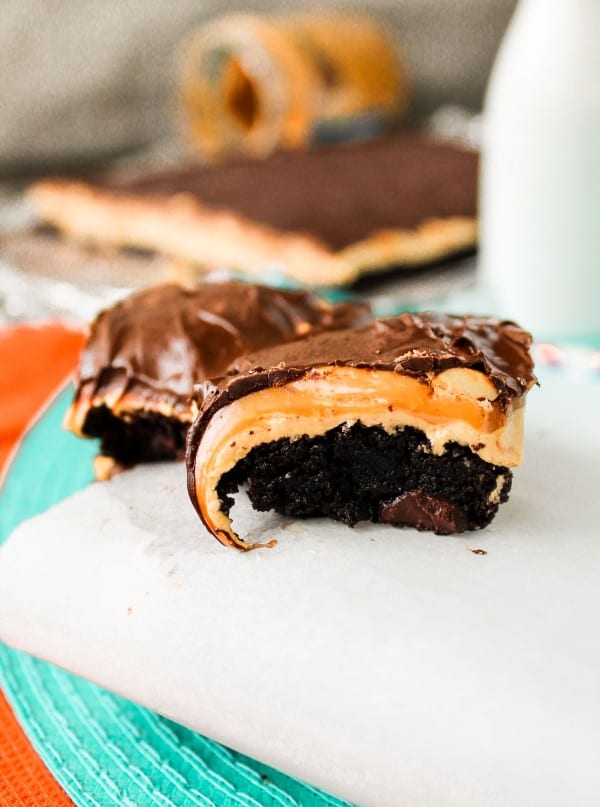 More awesome ideas from blog-land!
Leftover Halloween Candy Blondies from Just a Taste
Milky Way Poke Cake from Chef in Training
Reeses Peanut Butter Cup Frosting from Beyond Frosting