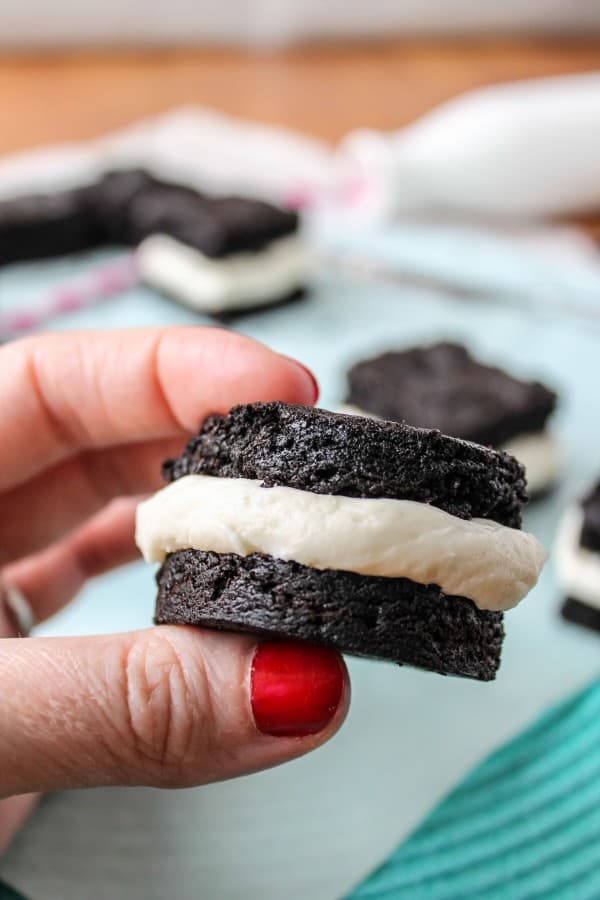 There is a special spot in my pantry that is the designated Oreo Hiding Place. It's the spot where I have to actually stick my head in the pantry to see what is there. Sometimes I get lucky and there are Oreos there that I've forgotten about. (And sometimes I cry.)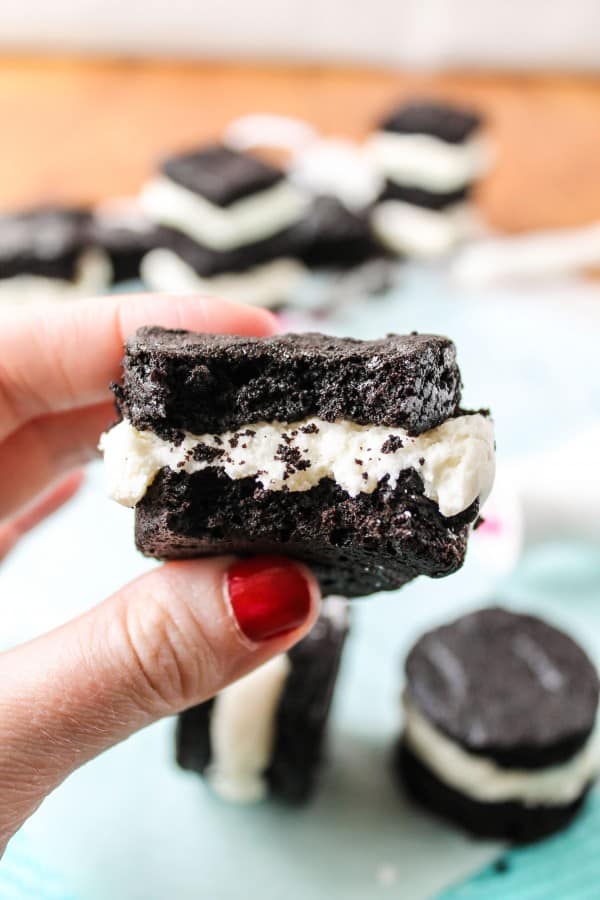 I think it's a sign I'm getting old. I remember my mom used to hide candy from herself. I always balked at this and insisted that if there was candy to be had, there was no way I could forget about it. But here I am, hiding something way better and more addictive than candy and forgetting that it's there. Please tell me I'm not the only one who can throw down Oreos like nobody's business?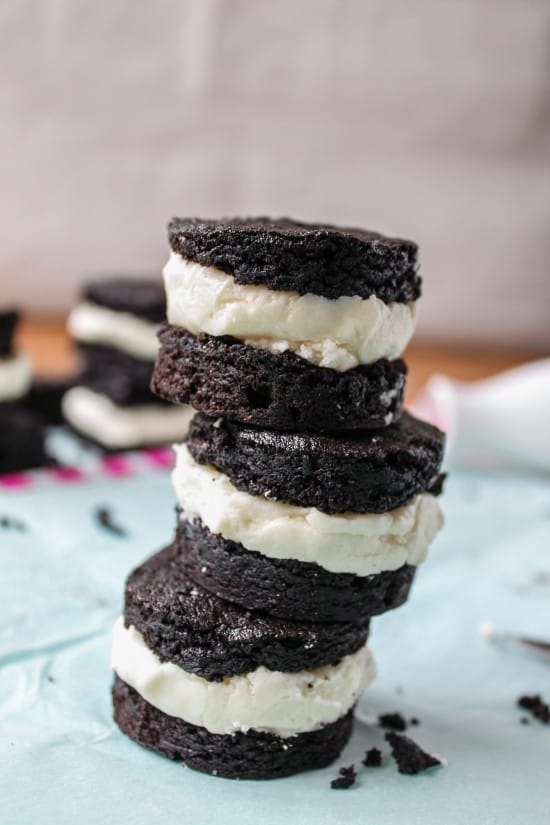 In other news, I hosted my first book club last night. It's actually an article club. Most of my friends that I talked to about a book club said they don't have time for reading. So instead of discussing 400 page books, I decided we should discuss 15 minute articles/podcasts instead. Much easier to manage, and then we still get to hang out once a month to eat food and chat. Has anyone else tried anything like this? It was so fun! We discussed this 5 minute video about what your parents most want you to be (Good? Happy? Successful? Smart?) Made for some awesome discussion.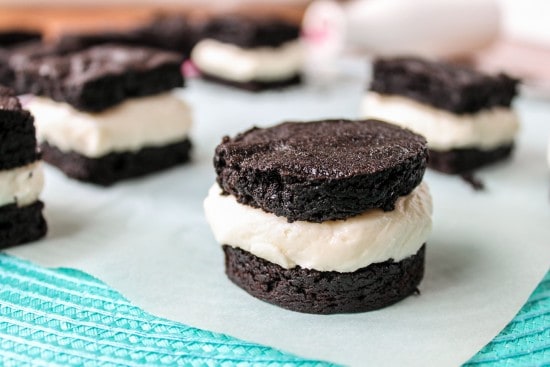 I made these Raspberry Almond Crumb Bars from my friend Julie over at Lovely Little Kitchen and they were aaaamazing. You guys have to pin that one. They were so good.
But back to the Oreos. I made some Fauxreos. Get it???
I know homemade cookies with homemade frosting is not a new idea, but I'd never seen anyone smoosh a super dark chocolate brownie together with some frosting. (until I googled it of course. Shelly from Cookies and Cups had this same idea just a month or so ago. Check out her recipe here. Great minds think alike! Google is always there to reassure you that You're Just Not That Original. I love you too Google. Shelly's recipe looks a lot different than mine though, I will have to try hers out next time.)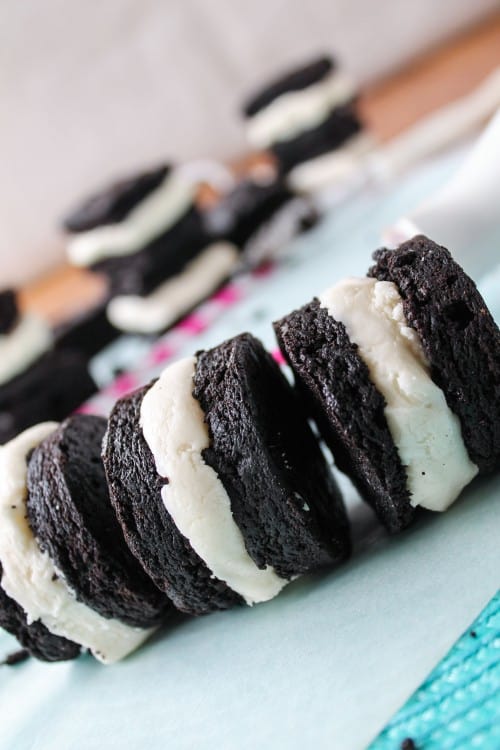 This recipe starts out with a deep dark chocolate brownie with a secret ingredient: browned butter. I know, I know, I talk about browned butter too much. But hear me out guys. These Browned Butter Brownies are the. best.
I used Special Dark Cocoa and left out some of the sugar, which resulted in a not-that-sweet super-dark brownie. Kinda like an Oreo, right? Then filled it with firm vanilla buttercream. They are kind of amazing, and made me not-so-sad that my Oreo Hiding Place was indeed empty.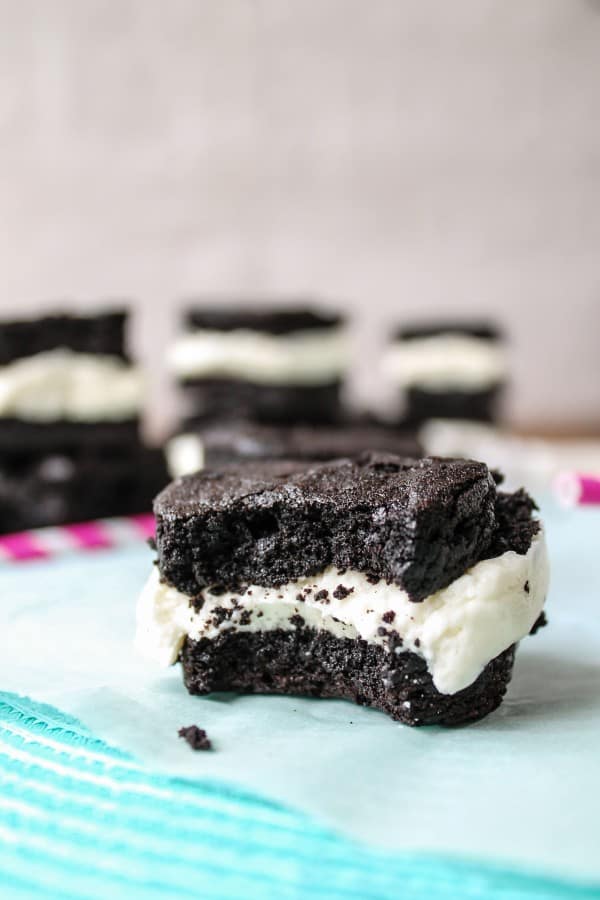 PS. Today is the last day to enter the giveaway for the Blendtec! Hurry!
PPS. Remember how my sister wrote a novel and got signed with a literary agent this week? Yeah, that happened. Enter her giveaway!
Do you guys give up? Or are you thirsty for more?
Facebook | Pinterest | Instagram | Twitter

Homemade Brownie Oreos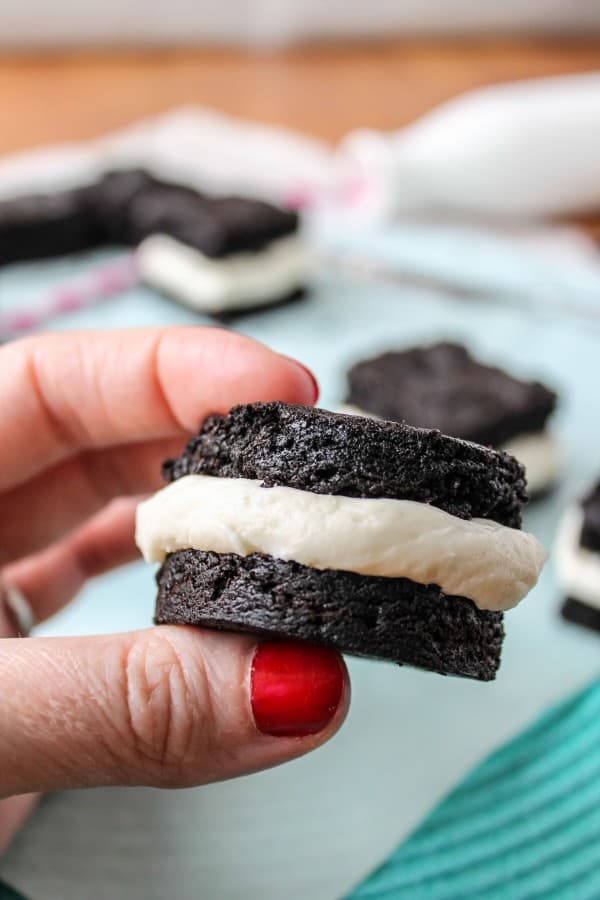 Homemade Brownie Oreos--2 moist dark chocolate brownies with a cream filling.
Ingredients
For the brownies:
1 & 1/4

cup

salted butter

2

cups

granulated sugar

1 & 1/2

cups

Special Dark cocoa powder

1/2

teaspoon

salt

1

tablespoon

water

2

teaspoons

vanilla extract

4

eggs

1

cup

all-purpose flour

,

spooned and leveled
For the cream filling:
2/3

cup

salted butter

,

softened

5

cups

powdered sugar

3-4

tablespoons

cream

4

teaspoons

vanilla
Instructions
Preheat the oven to 350 F.

Melt butter in a large saucepan over medium heat. Stir occasionally. The butter will foam up, then back down and start forming brown colored milk solids or "bits". When it is light brown and starts to smell like you could drink it straight, that's when you know it's done. (

Here's

a good lesson on browned butter.)

Meanwhile in a stand mixer or large bowl combine the sugar, cocoa powder, and salt. Add the butter when it is nice and brown, and beat it together.

Add the water and vanilla and beat again.

Add the eggs, one at a time, beating thoroughly between each addition.

Add the flour and stir until it is just barely incorporated.

Line a 9x13 inch pan with parchment paper. Or line it with foil and spray with nonstick spray, or you can spray the pan itself.

Spread the batter into the pan. Bake for 25-30 minutes, or until the toothpick inserted comes out clean.

Let cool completely.

Cut the brownies into small squares, or use a 2-inch biscuit cutter to make circles. Dip a knife in very hot water, then wipe dry with a cloth. Then slice each brownie horizontally, so that you can fill it like a sandwich.

Make the frosting: Cream the butter with a mixer until smooth. Add one cup of powdered sugar and combine. Add 1 tablespoon of cream, then another cup of powdered sugar. Add the vanilla. Add in the rest of the cream and powdered sugar in increments.

Spread a tablespoon or two of the frosting on the cut side of a brownie and cover with the top half. Then smoosh it in your face!
Notes
This recipe is really easy to cut in half. Bake the brownies in an 8x8 inch pan.
Source: Oreo idea from The Food Charlatan, brownie recipe adapted from here.
Nutrition
Serving:
1
brownie
|
Calories:
257
kcal
|
Carbohydrates:
37
g
|
Protein:
2
g
|
Fat:
13
g
|
Saturated Fat:
8
g
|
Polyunsaturated Fat:
1
g
|
Monounsaturated Fat:
3
g
|
Trans Fat:
1
g
|
Cholesterol:
52
mg
|
Sodium:
143
mg
|
Potassium:
79
mg
|
Fiber:
1
g
|
Sugar:
31
g
|
Vitamin A:
390
IU
|
Vitamin C:
1
mg
|
Calcium:
13
mg
|
Iron:
1
mg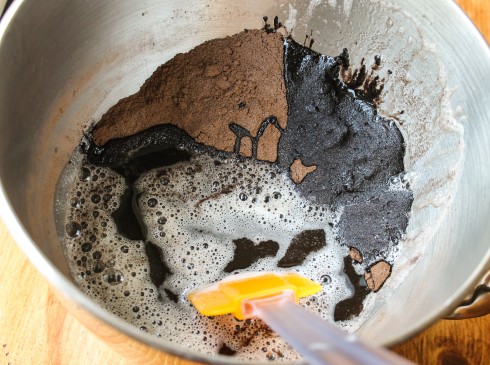 Brown butter makes the world go round.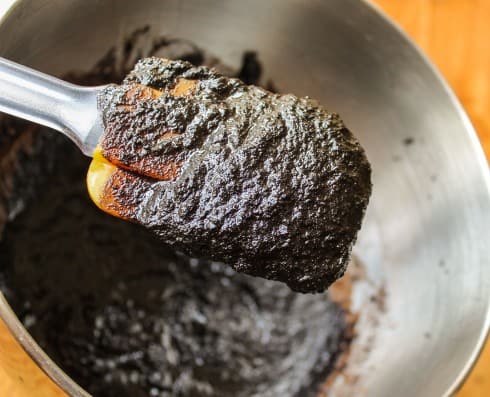 After the vanilla and water, pre-eggs.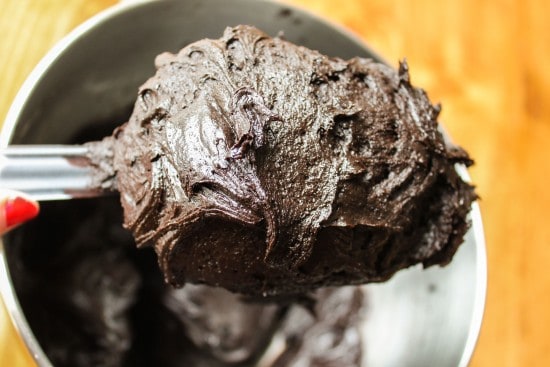 Try not to eat all this finished product here. It has the consistency of cement, so have fun spreading! :) It's not that bad, I promise.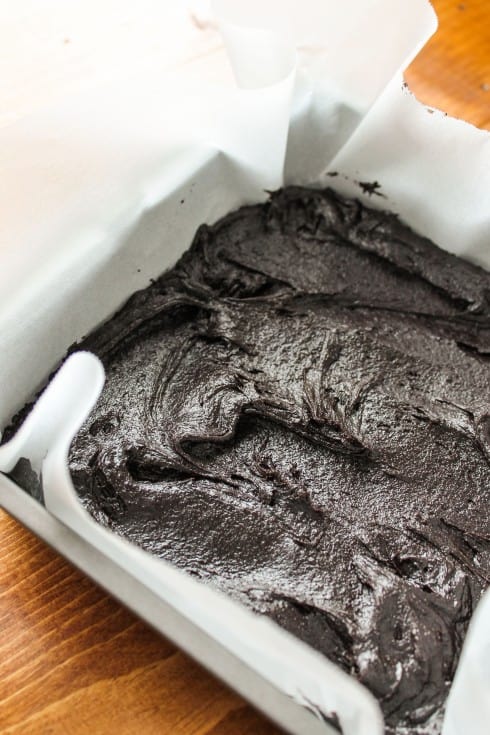 Ready for the oven. I love parchment paper and I use it for just about everything.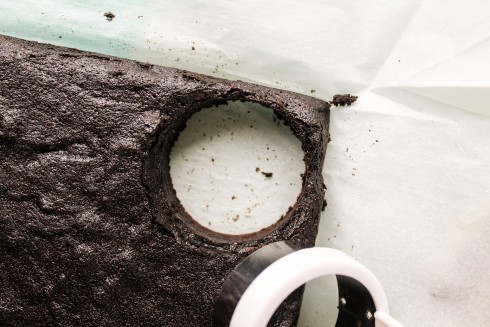 Use a tiny biscuit cutter to make circles. Or if you don't want to waste the edges, do squares.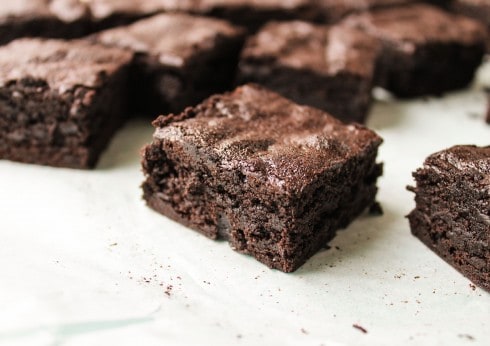 Sooooo daaaaaaark….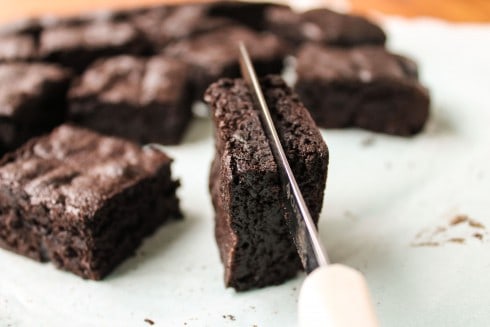 Chop em like so. I could have baked a thinner brownie and skipped this step, but I wanted them to bake up really soft. Then fill and stuff! (your face.)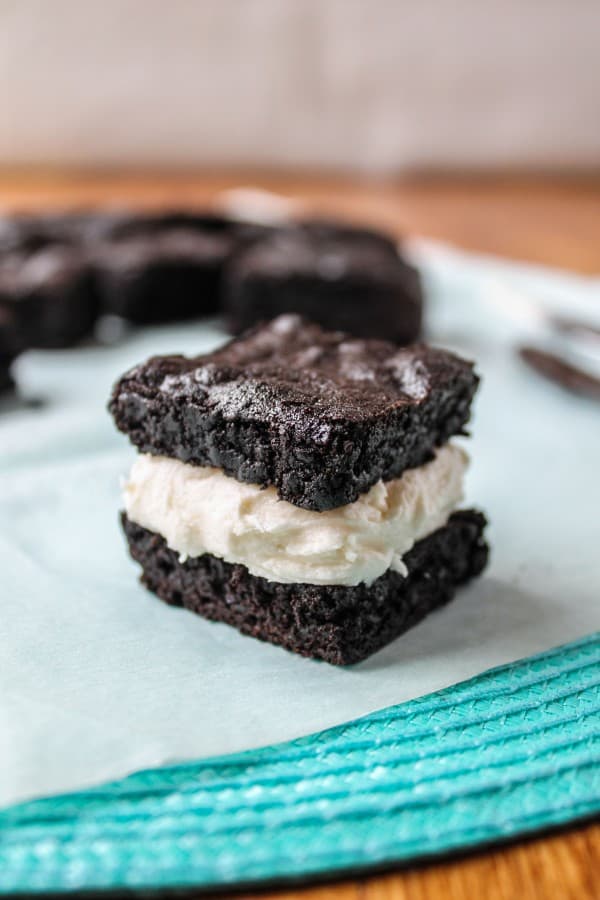 Some other fun Oreo desserts: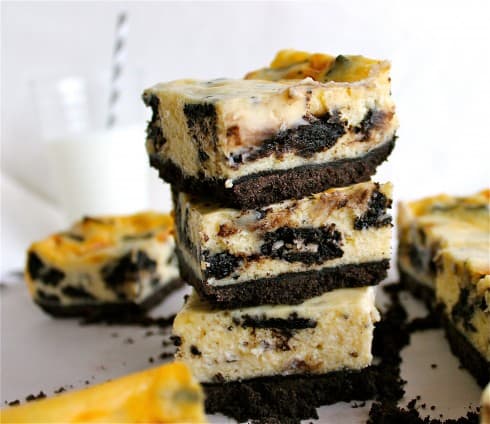 Oreo Cheesecake Bars from The Food Charlatan
Oreo Rice Krispie Treats from Chef in Training
Cookies and Cream White Chocolate Blondies from Cooking for Keeps
The original Oreo-Stuffed Chocolate Chip Cookie from Picky Palate