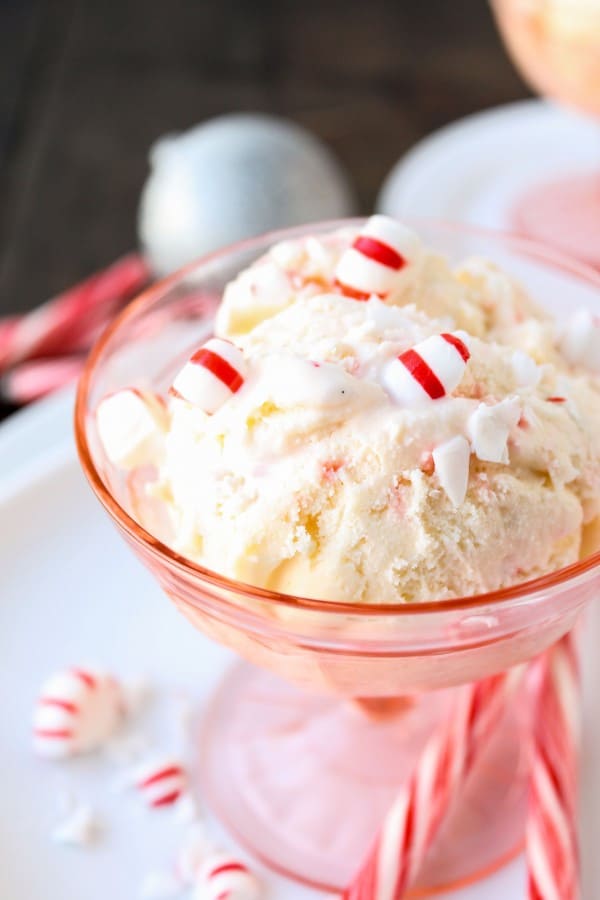 Okay, am I the only one who spends like 45 minutes wrapping a present, and in the end it still looks like it came out on the losing end of a cat fight?
I am so bad. I always measure wrong, so when I pull it together it's an inch or 2 short. Then I have to do some work-around that may or may not include copious amounts of ribbon and extraordinarily large bows.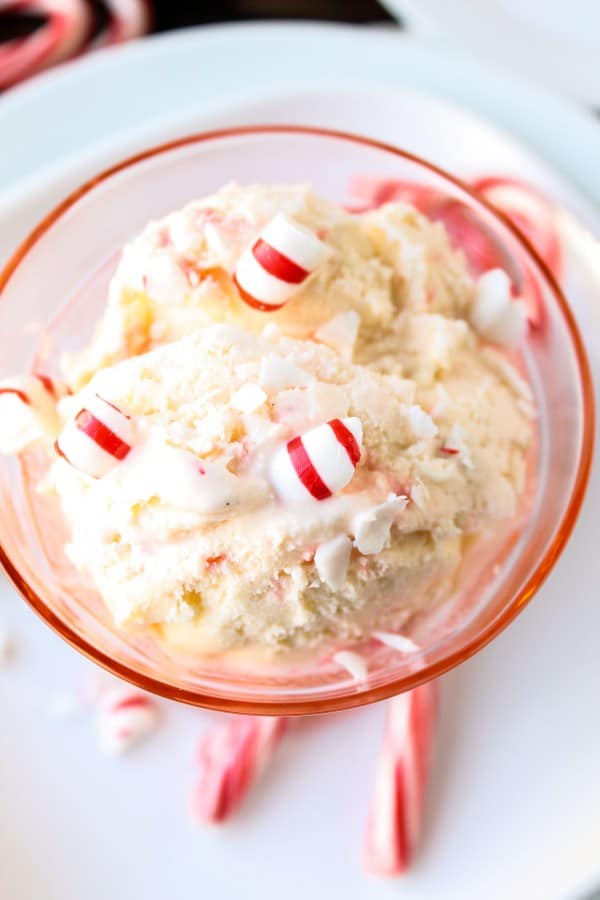 Or the opposite: I cut enough paper to cover a baby grand piano for the DVD I'm wrapping. Face-palm.
Sometimes I seriously think I need girl-lessons. I learned a couple years ago that I've been curling my hair backwards for my entire life (away from your face, Karen, away). And don't even get me started on painting my nails. I just had a mini-manicure session with my sister-in-laws, and my sparkly red nails are pretty much just sparkly red fingers. It looks like my 2-year-old was in charge. I even got some in my hair and on my white sweater.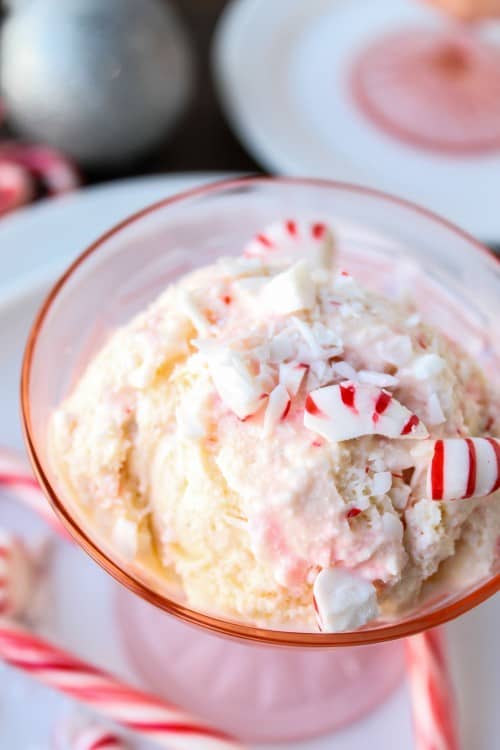 Oh, and I tried to give my son a haircut tonight and actually drew blood. Not his, I cut my own finger. Between the blood and the red-nail-polish-gone-wrong, I look like I just got out of a boxing match. Being a girl is hard.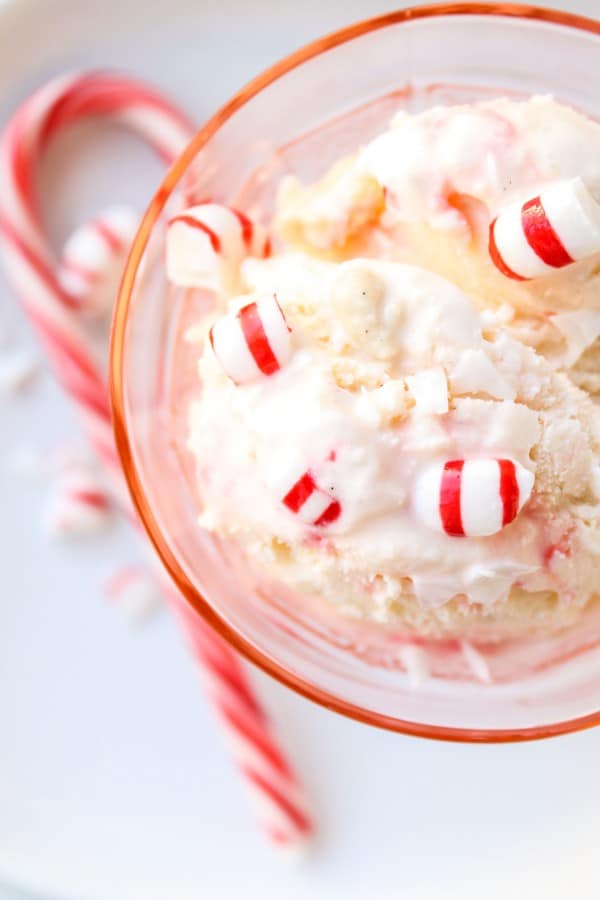 But this ice cream's not! (Sorry, that segue was just too perfect to pass up.) Really though, that's why I'm posting this recipe a couple days before Christmas. If you are scrambling to find a dessert that is impressive but ridiculously easy because you're too busy trying to cover up your horrible wrapping jobs scouring Target for last-minute stocking stuffers, then I've got the recipe for you.
You've heard of doctored cake-mix recipes? This is a doctored ice cream recipe. Take vanilla ice cream and add a few simple ingredients, refreeze, and tell everyone it's homemade. Just kidding! Kind of.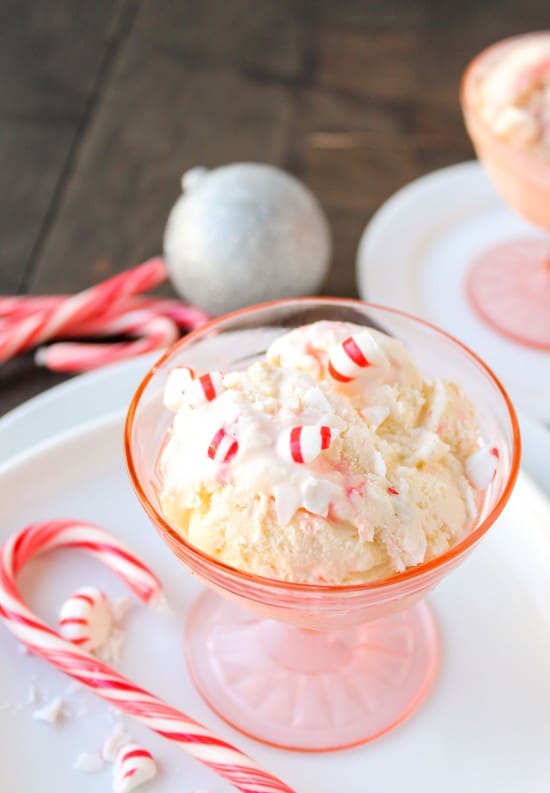 I know it looks like ordinary peppermint ice cream, but I promise it's not. Peppermint is a strong flavor, so it usually kind of takes over whatever it's in, but not so with this ice cream. It's big on vanilla, light on the peppermint. And the white chocolate adds the perfect touch without being overwhelming.
Simplify your life and make this for Christmas. If you want to dress it up, pair it with these Browned Butter Brownies. There is probably nothing better than ice cream and brownies. (And this was not on purpose, but the topic of that post is actually about brownies and ice cream. Brownies and ice cream should probably just get married.)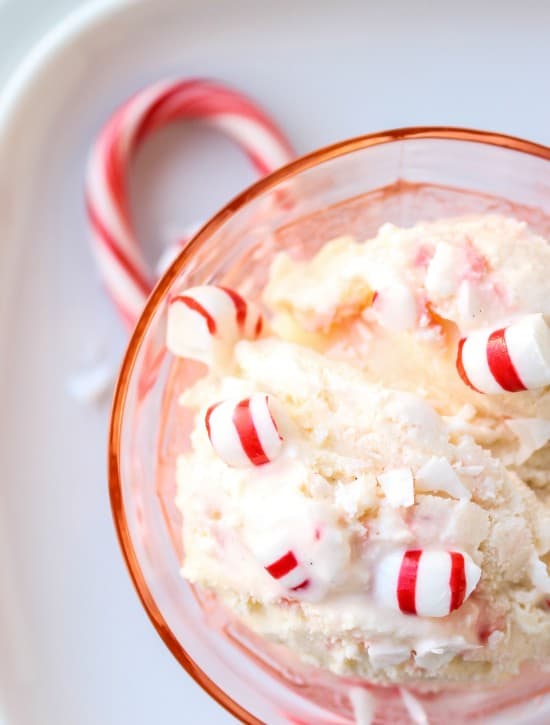 Do you guys give up? Or are you thirsty for more?
Facebook | Pinterest | Twitter

Very Vanilla Ice Cream with White Chocolate and Peppermint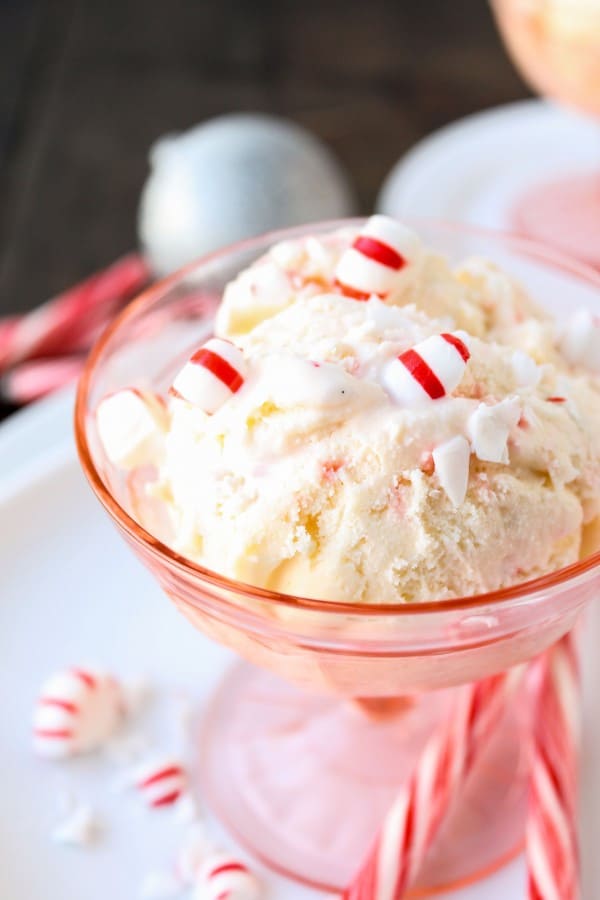 Very Vanilla Ice Cream with White Chocolate and Peppermint is a delightful treat any time of the year!
Ingredients
1 & 3/4

quarts

vanilla ice cream

,

7 cups, good quality

4

ounces

white chocolate

1

tablespoon

vanilla bean paste

1/2

cup

round peppermint candies or candy canes

,

crushed (about 15 candies)
Instructions
Place the ice cream in a large bowl and leave it out for about a half an hour until it is soft and workable.

In a small bowl, melt the white chocolate in the microwave. Melt for 20 seconds, stir, then stir every 10 seconds after that until it is mostly smooth. Some little lumps are okay.

Immediately add in the vanilla bean paste to the chocolate. Stir quickly and then mix all of it into the vanilla ice cream, stirring with a large spoon. There will be some steaks of white chocolate, but that's a good thing.

Gently stir in most of the peppermint, reserving some to sprinkle on top of each serving. Transfer the mixture to a 2-quart baking dish or large tupperware. Freeze until firm, about 3-4 hours. Sprinkle with remaining peppermint and serve.
Notes
If you don't have any vanilla bean paste, sub vanilla extract. But you really should invest in some paste, it is liquid gold!
You can crush the peppermint candy as little or as much as you want, it just depends on how chunky you want your ice cream.
Source: Better Homes and Gardens
Nutrition
Serving:
1
cup
|
Calories:
444
kcal
|
Carbohydrates:
55
g
|
Protein:
6
g
|
Fat:
22
g
|
Saturated Fat:
13
g
|
Polyunsaturated Fat:
1
g
|
Monounsaturated Fat:
6
g
|
Cholesterol:
75
mg
|
Sodium:
143
mg
|
Potassium:
362
mg
|
Fiber:
1
g
|
Sugar:
48
g
|
Vitamin A:
701
IU
|
Vitamin C:
1
mg
|
Calcium:
235
mg
|
Iron:
1
mg