Tis the season for Chocolate Peppermint Cookies! A fudgy, chewy chocolate cookie with a hint of peppermint in the dough, topped with crushed candy canes and dipped in dark chocolate for good measure. Add this recipe to your baking list this year! Everyone loves these!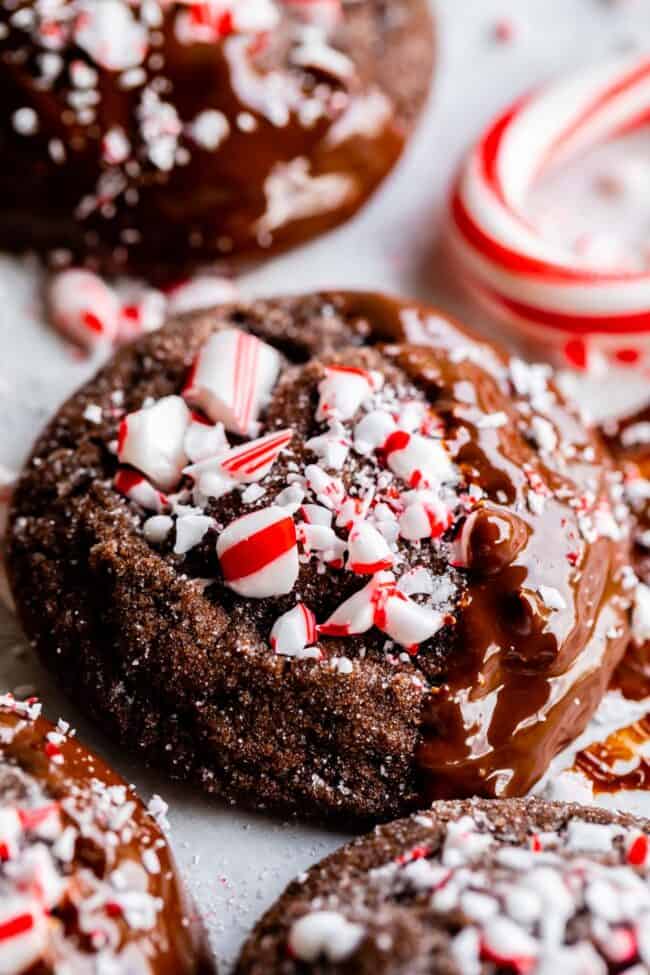 I'm due to have a baby any day, and yesterday I got a call from my dad. "Say, can you do me a favor? When you're in the hospital, can you pretend to be nauseated so that they give you one of those pink buckets? The one we got from the hospital when you were born just broke. It's the perfect size, I need a new one for the cement I'm mixing." And then he started describing the size and shape of the bucket.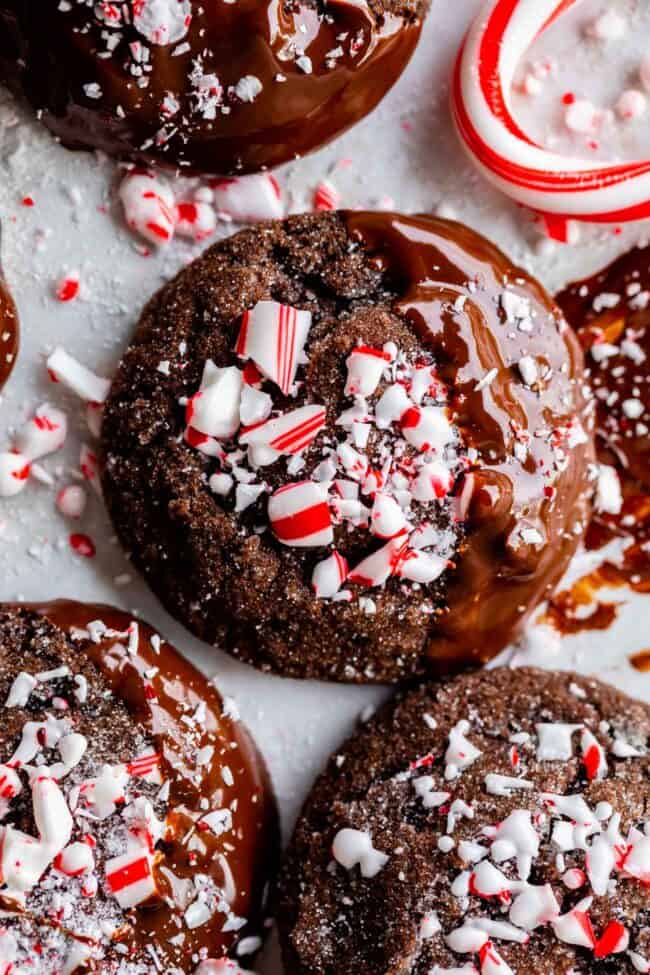 In case you thought this was a story about how my dad is weird for keeping a bucket from the hospital for 30+ years, the plot thickens. I stopped him mid sentence and sent him this picture: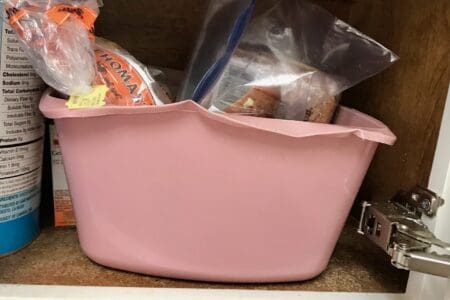 "You mean a bucket like this?" I said. This is the pink bucket that I got at the hospital when my 6 year old was born. I keep my bread stored in it in the cupboard.
"Yes, that's the exact one I need!!"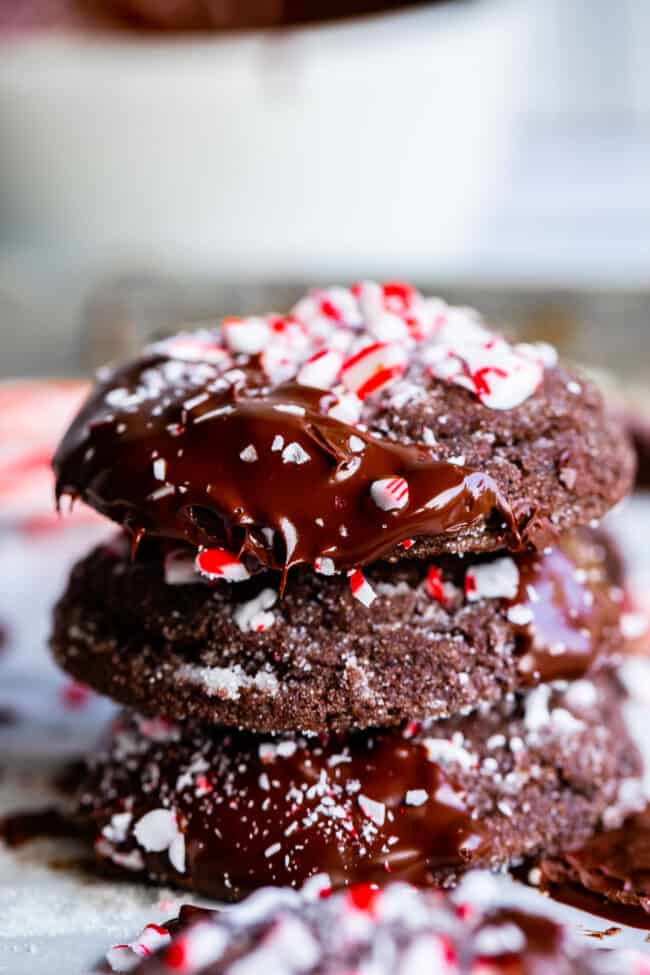 Well guys, what can I say. Waste not want not. Also, the apple doesn't fall far from the tree.  (By the way, in case you actually think my family is crazy, he was totally joking. But now I'm on a mission. I got your back Dad. One pink bucket coming right up.)
Peppermint Christmas Cookies
Now before I have this baby, I have to get this recipe out to you!! It's my new favorite! These chocolate peppermint cookies were gone SO fast, and there are a lot of cookies in my house right now, so that's saying something. We could NOT stop eating them. I mean just look at all this fudgy goodness!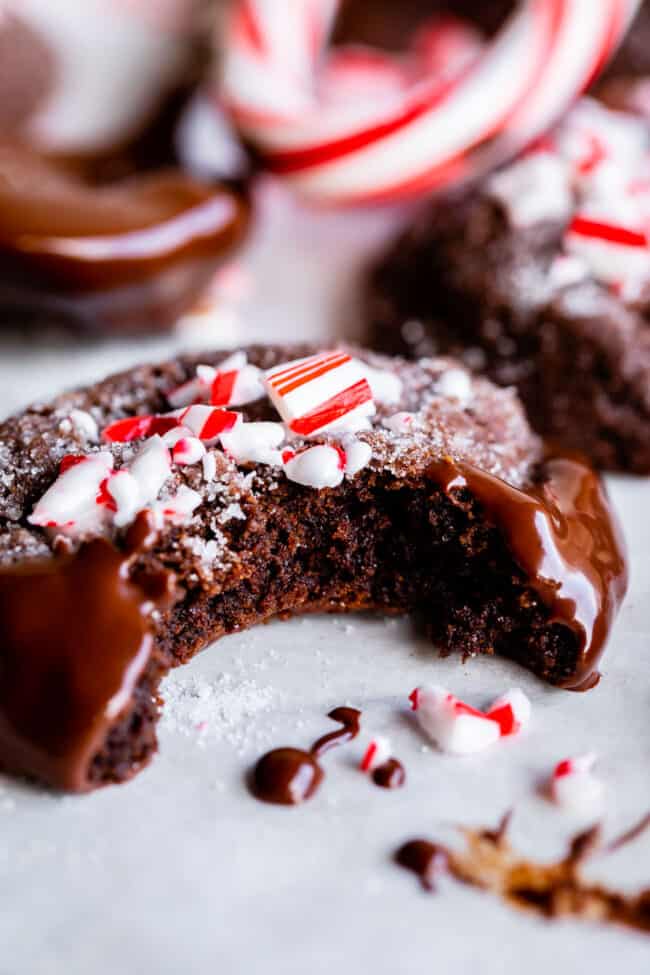 My friend Melissa brought cookies like this to a cookie exchange we did last year, and I hunted her down for it this year. I changed it up and used my own recipe to make the cookie (it's actually the same basic recipe as the last cookie I posted, these Homemade Rolo Cookies!) but I love the crushed candy canes on top and the fact that it's dipped in chocolate. There are just never too many things dipped in chocolate this time of year.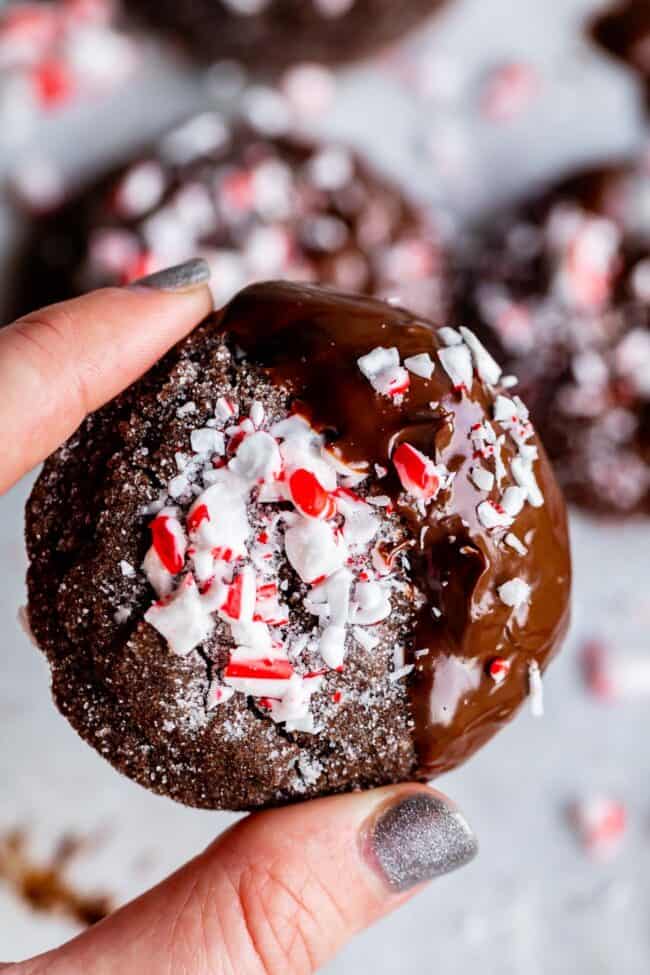 How to Make Chocolate Peppermint Cookies
These chocolate peppermint cookies only take a few minutes to put together! It is a rich and buttery dough with a hint of peppermint and tons of cocoa to get that deep flavor.

On the left is the dough before it has even come together all the way. You don't want to over mix it! Mix until it has mostly come together, then scrape the sides and bottom of the bowl, and mix one last time for just a few seconds. On the right is how big I made my cookies. I used this cookie scoop, which is about a tablespoon and a half. The best part about the recipe is that there is NO DOUGH CHILLING required. You can go from zero to cookies in 30 minutes. YESS.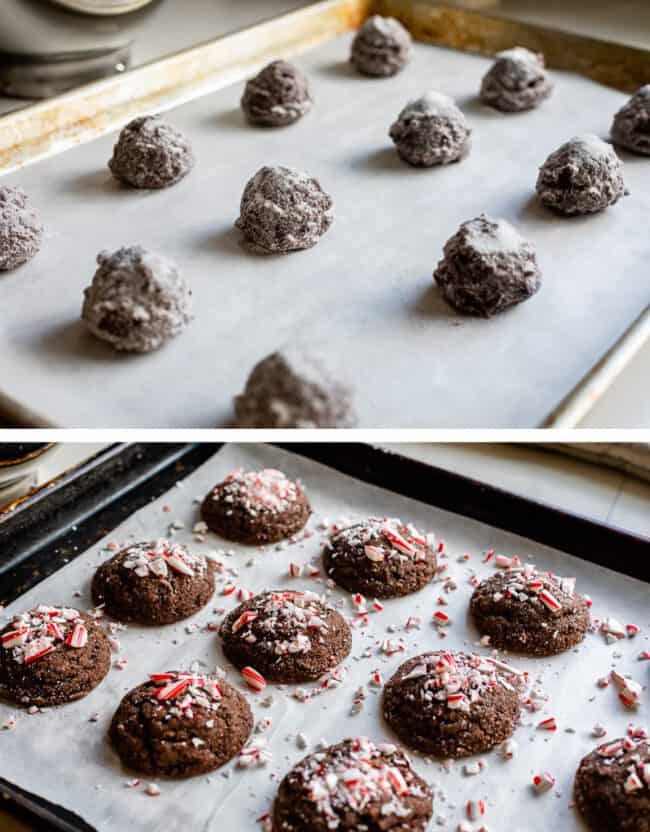 Bake the cookies for 8 minutes, then take them out of the oven and press the crushed candy canes into the top. Return to the oven and finish baking for 2 minutes, so that the peppermint can melt a bit into the cookies. If you add the peppermint at the beginning of the bake time, the peppermint melts too much for my taste.

Make sure you don't scorch your chocolate in the microwave. When it is mostly melted but they are still a few lumps, just stir it together for a minute or two until it's smooth.
What is the best chocolate for dipping?
The chocolate you use for dipping really does matter! Be sure to buy a name brand and not a generic brand. When it comes to chocolate, quality really matters! I like to buy Nestle, Ghirardelli, Hershey's, etc.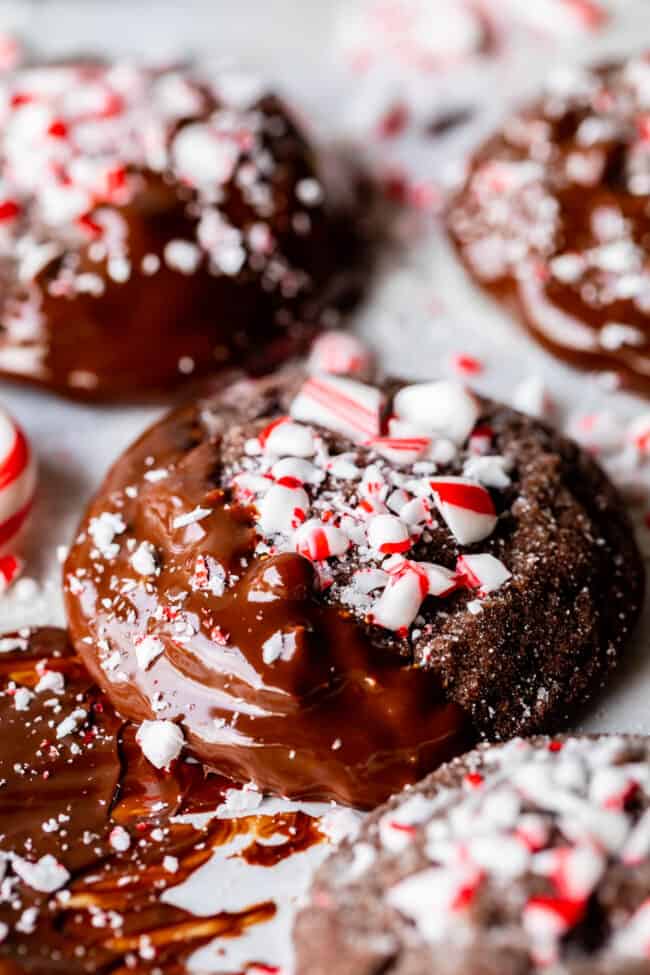 Chocolate chips work totally fine for this recipe. For dipping candies, you will want to buy candy melts since those are designed to be melted. Chocolate chips have ingredients in them to help them keep their shape, not conducive to melting. But for something as big as a cookie, and that doesn't need to harden perfectly smooth, chocolate chips work great. I used Ghirardelli dark chocolate chips. They also have Ghirardelli melting wafers that work really well. Feel free to use dark, semi sweet, or white chocolate!
Tips for Dipping Cookies in Chocolate
Dipping cookies in chocolate is super easy! Not nearly as intimidating as dipping candies, in my opinion, because you don't need to have a completely smooth finish. Cookies are naturally uneven and craggy on the edges!
The most important thing to remember is to add a bit of shortening or oil to the chocolate. This gives you a smoother, more liquid-y chocolate for dipping in, and makes the finished cookie easier to bite into. Do not use butter. Butter has water in is, which can ruin the melting process. Never add water to chocolate!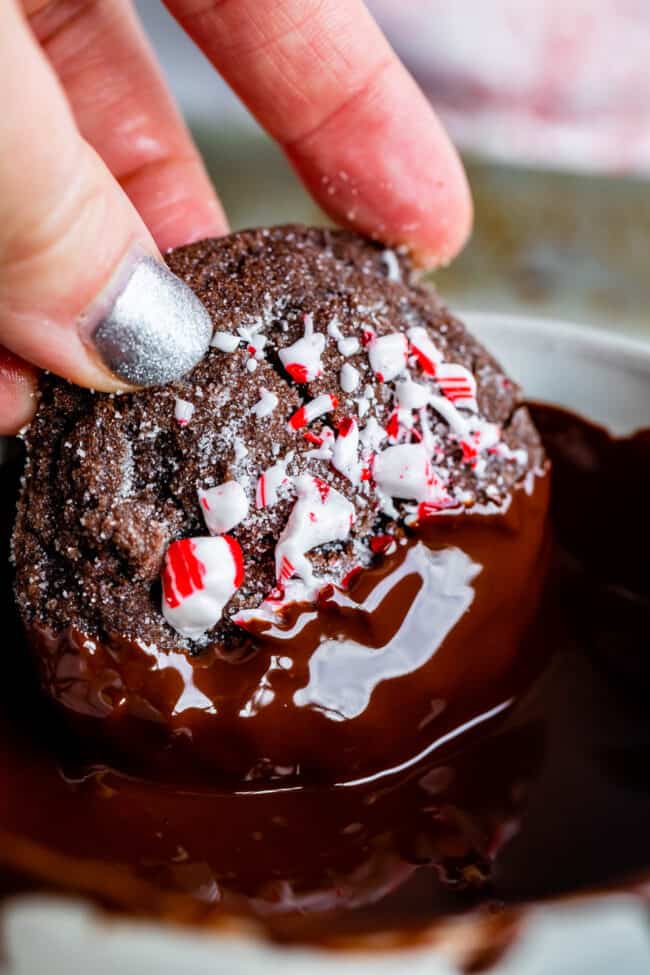 Once you have dipped your cookie, let them cool on a sheet of parchment paper or wax paper. I actually used the same baking sheet and parchment paper that I baked the cookies on. Easy peasy! Once they are cool, they lift off the paper just fine. You can chill or freeze to speed up the cooling process.
Can I Freeze Chocolate Dipped Cookies?
Yes absolutely! I have some in my freezer right now! Seal tightly in a tupperware or a ziplock and they will keep for at least 2-3 weeks. On an Instagram post recently, I asked people to share how they make their cookie plates for neighbors. (Lots of types of cookies? Just one cookie that you make a ton of? Do you do something savory?) And someone commented that they have a friend who starts baking and freezing goodies for neighbor plates in OCTOBER! Oh man. #goals.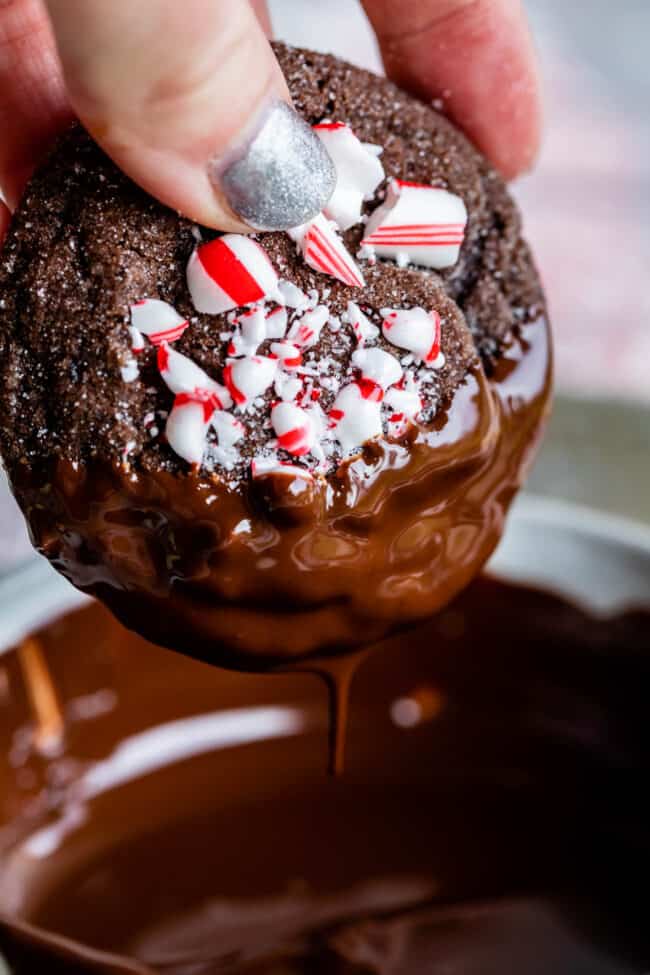 October might be  little early for these cookies, but they will definitely keep for a few weeks so they are ready to go when you are assembling your plates! See notes below the recipe for details on how to freeze the dough ahead of time.
I hope you guys get a chance to make these cookies before all the fun and pepperminty-ness of Christmas is over! I'm hoping for this baby to come like, yesterday, but if he holds off til the weekend then I will be able to get you one last recipe that I just took photos for, a decadent Penuche fudge that is adapted from My Mom's Famous Chocolate Fudge. That recipe never fails and I'm so excited to bring you the brown sugar version! Stay tuned! (And forgive me if I try to sell it to you as New Year's Fudge! ;) You know how due dates are.
Merry Christmas to all!!
More chocolate peppermint treats for the holidays!
Facebook | Pinterest | Instagram

Dipped Chocolate Peppermint Cookies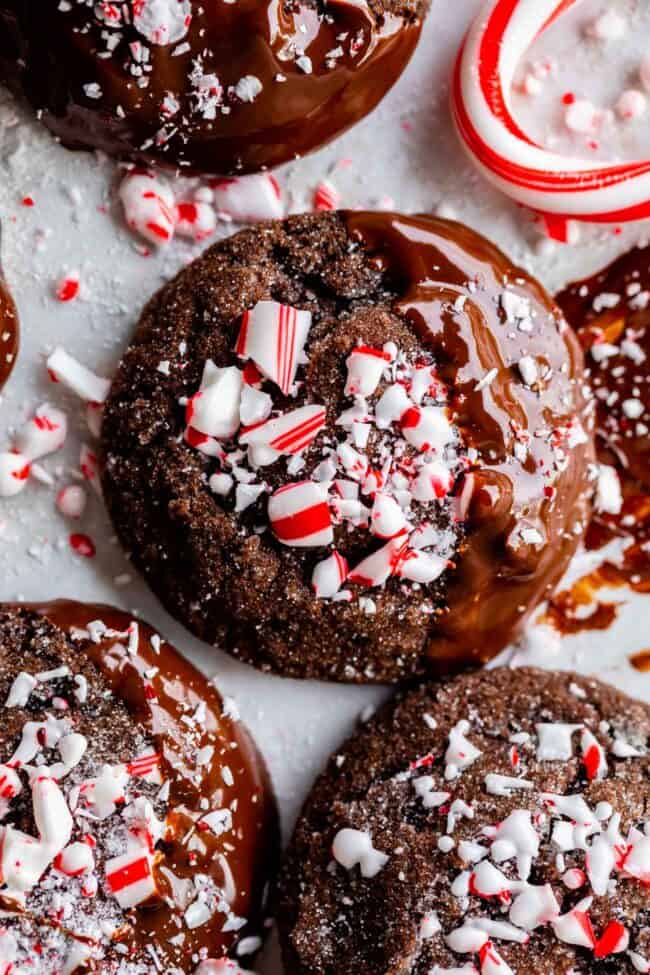 Tis the season for Chocolate Peppermint Cookies! A fudgy, chewy chocolate cookie with a hint of peppermint in the dough, topped with crushed candy canes and dipped in dark chocolate for good measure. Add this recipe to your baking list this year! Everyone loves these!
Ingredients
For the cookies
1

cup

butter

,

(2 sticks)

1/2

cup

granulated sugar

1

cup

brown sugar

,

packed

2

large

eggs

1

teaspoon

peppermint extract

2

cups

flour

,

spooned and leveled

1

cup

unsweetened cocoa powder

,

sifted

1

teaspoon

baking soda

3/4

teaspoon

kosher salt

1/2

cup

granulated sugar

,

for rolling
For sprinkling and dipping
6-8

candy canes

,

or 12-ish mini candy canes, crushed

1 (6-oz)

cup

dark chocolate chips

,

or semi-sweet

1

tablespoon

shortening
Instructions
Preheat the oven to 350 degrees F.

Start by making the dough.

In a large bowl or

stand mixer

, beat 1 cup butter until light and fluffy, 2 minutes or so, scraping the edges. If you have a mixer that is powerful enough, start with cold butter, otherwise you will have to let it soften a bit.

Add 1/2 cup granulated sugar and 1 cup brown sugar and beat 1 more minute, scraping bottom and sides.

Add 2 eggs and 1 teaspoon peppermint extract and beat well, scraping the edges and bottom of the bowl.

Add 2 cups flour (spooned and leveled!), but do not mix it yet. Add 1 cup cocoa powder (if your cocoa looks clumpy, sift it into the bowl through a strainer. You don't want chunks of cocoa in your cookies.) Don't stir yet.

Add 1 teaspoon baking soda and 3/4 teaspoon salt. Stir the dry ingredients into the flour and cocoa a bit with a small spoon so you don't end up with any lumps of salt or soda in your cookies. Then beat the dry ingredients into the dough, but ONLY until just incorporated.

When the dough is just starting to come together and there are still streaks of flour, take a second to scrape the sides and bottom of the bowl. Finish mixing it all together but don't go overboard; over-beaten cookies turn out tough. We want nice tender cookies.

Use a spoon or

cookie scoop (this one is my favorite)

to scoop about 1 and 1/2 tablespoons of dough into a ball. It should be about the size of a large walnut. Don't be alarmed that the dough is pretty sticky, I promise it bakes up great.

Add about 1/2 cup or more of granulated sugar to a bowl or plate. Roll each cookie dough ball in sugar, making sure it gets well coated.

Place each ball on the prepared baking sheet. I did 12 cookies per sheet, but make sure you have at least 1-2 inches in between each cookie.

Bake the cookies at 350 for 8 minutes.

Meanwhile, crush the candy canes. Add 6-8 candy canes to a ziplock bag. Use a rolling pin or can of food to crush the candy canes as coarsely as you like. I find that the finer you crush them, the easier they stick to the cookies. Pour the candy into a bowl.

After 8 minutes in the oven, carefully remove the cookie pan from the oven and shut the door. Sprinkle the top of each cookie with the crushed candy canes. Use your fingers to gently press them in if necessary.

Return the pan to the oven for 2 minutes. The cookies need to bake a total of about 10 minutes. Use your best judgment, every oven is different and the size of the cookie affects the bake time. Do not over bake! When they are done, the edges will have cracked. The cookies should not be shiny in the middle. The edges should be firm.

Let cool on the pan for 5 minutes before removing to

a cooling rack

to cool.

When the cookies are completely cool, they are ready to dip. Add 1 cup of dark or semi sweet chocolate chips to a small bowl. Add 1 tablespoon shortening to the bowl. Microwave in 30 second increments, stirring every time, until the chocolate chips are mostly melted. Stir until the mixture is completely smooth.

When the cookies are cool enough to handle without falling apart, dip each one halfway into the chocolate. Let the excess chocolate drip off, then place back on the baking sheet that you baked the cookies on, which should have parchment paper or a silicone mat on it. (Or if you've already cleaned up your pans, you can place each dipped cookie on a sheet of wax paper.) Sprinkle extra crushed candy canes on top of the chocolate, if you want.

Let sit at room temperature until the chocolate has hardened. You can speed this up by sticking them in the fridge or freezer for a few minutes. These cookies are really delicious when chilled. You won't hear me say that very often! They are so good chilled with a cup of hot chocolate.

They are also great warmed up in the microwave for 10 seconds or so on day two. If you're a melty-chocolate kind of person. (I am :)
Notes
Make ahead instructions: Freezer: You can freeze this dough to bake later. After step 10 (when you've rolled each cookie ball in sugar) you can store these in a ziplock for up to 2 months. You can bake straight from frozen, just bake a couple minutes longer. Alternatively, you can freeze the dough for 2 months before shaping it. Let thaw before shaping, then bake as directed. Refrigerator: This dough will keep in the refrigerator for 2-3 days. You can either refrigerate the dough in a covered bowl all together, or shape the dough and then chill. Make sure they are well covered! Bake as directed.
Nutrition
Serving:
1
cookie
|
Calories:
167
kcal
|
Carbohydrates:
24
g
|
Protein:
2
g
|
Fat:
8
g
|
Saturated Fat:
5
g
|
Polyunsaturated Fat:
1
g
|
Monounsaturated Fat:
2
g
|
Trans Fat:
1
g
|
Cholesterol:
25
mg
|
Sodium:
139
mg
|
Potassium:
90
mg
|
Fiber:
1
g
|
Sugar:
15
g
|
Vitamin A:
178
IU
|
Vitamin C:
1
mg
|
Calcium:
27
mg
|
Iron:
1
mg