Candy Cane Brownie Trifle Recipe
This rich Brownie Trifle recipe is an impressive dessert to serve after Christmas dinner. You can't get more decadent than brownies topped with Chocolate Peppermint Sauce and whipped cream. It's one of my favorite holiday desserts. I make it every year!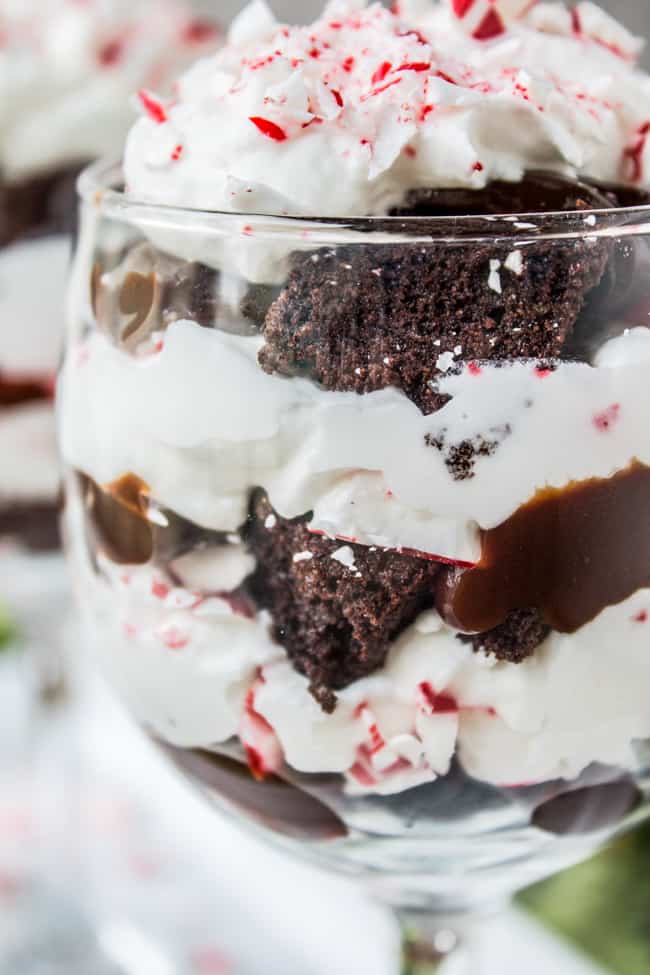 Originally posted December 19, 2014
So I'm busy choosing what spinach to buy in the produce section at the store yesterday, when a frazzled-looking employee comes up to me. "Ma'am, you're spilling sugar."
"What?" He points behind me, to this: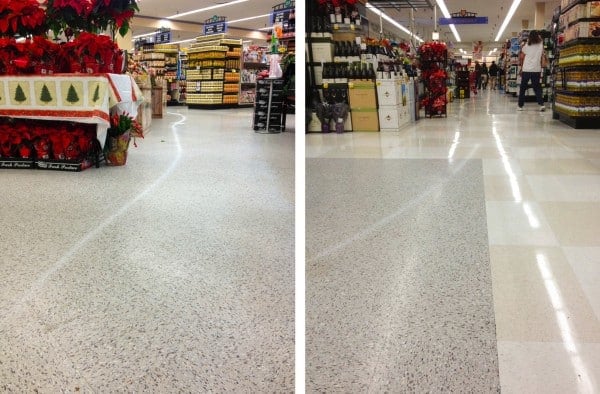 I had picked up the sugar in the baking aisle, then went to the freezer section AND the paper aisle before heading to produce, which is on the opposite end of the store.
Here's where I stopped to pick out some apples: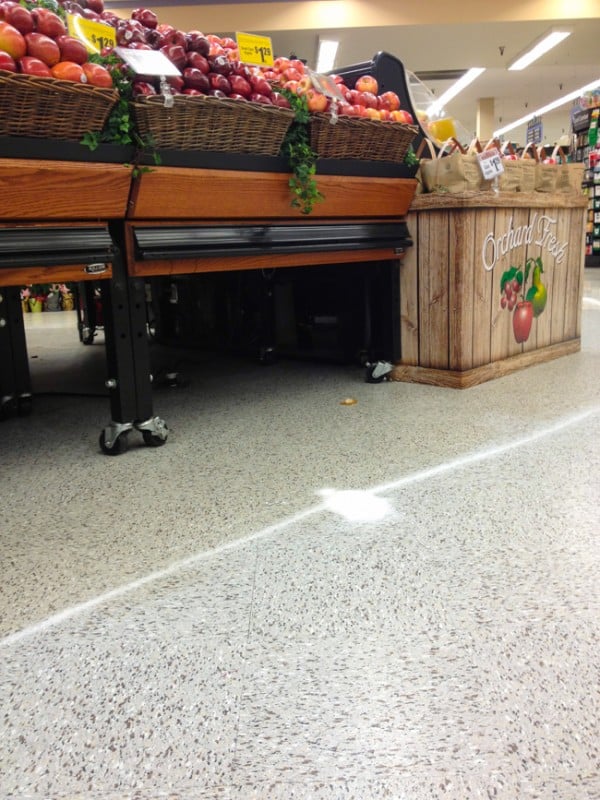 Not just a tiny little sprinkle of sugar coming out. NIAGRA FALLS worth of sugar coming out, enough for me to make my own little mountain here. I felt pretty bad for the guy who had to clean it up, but I was laughing so hard. I felt like someone had told me that I had toilet paper stuck to my shoe, toilet paper that trailed for hundreds of feet behind me. Like, who doesn't notice that?? What's wrong with me??
Candy Cane Brownie Trifle Recipe
Maybe it's just a representation of what's going on at our house this week making this chocolate trifle recipe for Christmas. All the sugar, trails of sugar!! Fudge and frosting exploding from the kitchen! Cookies bursting out of thin air!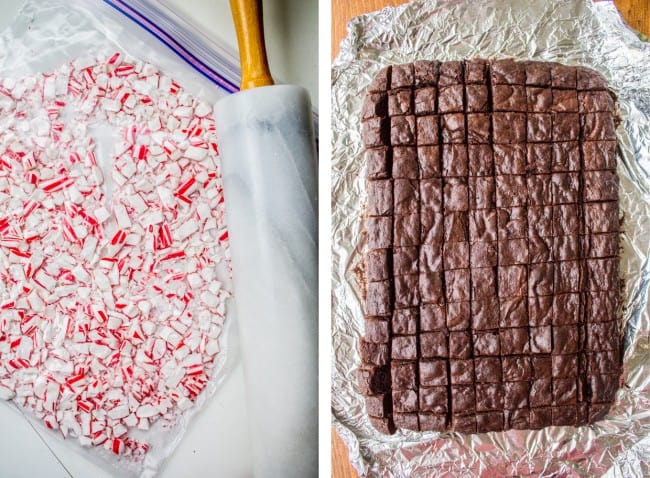 Not to mention the chocolate peppermint sauce. And the peppermint whipped cream! I love this trifle. I make it every year. It is so rich and Christmasy. I feel like an impressive dessert is called for on Christmas or Christmas Eve. This one is nice because it feeds a lot of people. It's so rich you can only have a little bit.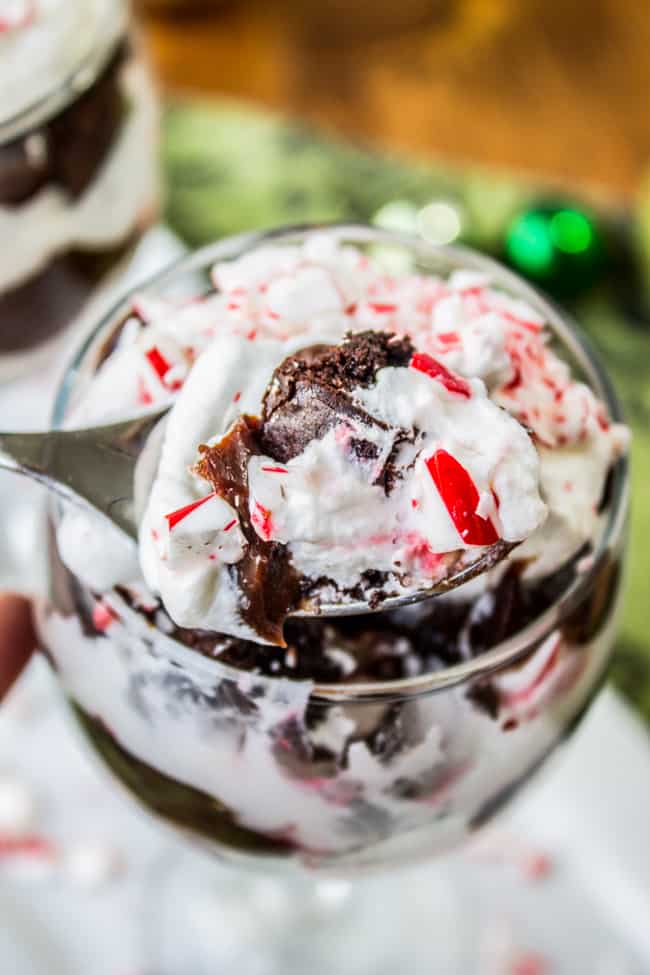 How to make a trifle recipe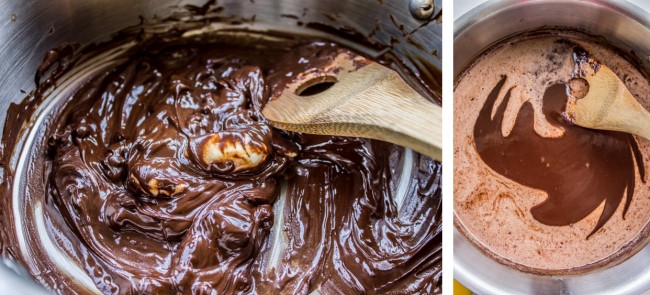 It's really all about the layers, people. Here's the chocolate peppermint sauce. I would gladly bathe in this. Also, try to make a cooler octopus-ghost out of chocolate when you make this. Oh wait, that's impossible.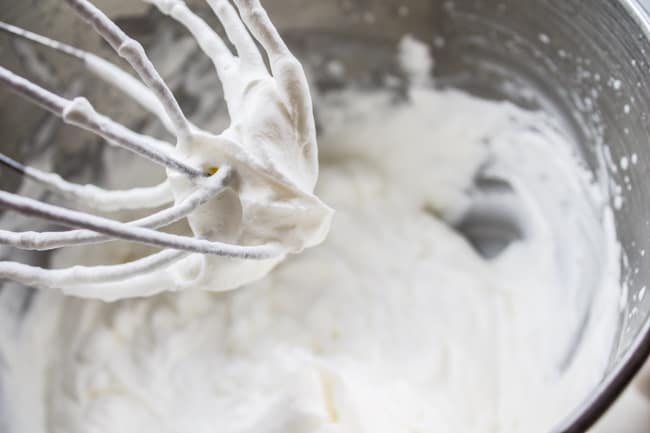 P.S. I originally posted this recipe a couple months after I started my blog back in 2011. I didn't know much about food photos back then, but I was soooo proud of this picture. Kind of makes me smile:
More great holiday sweets:
Sticky Sweet-and-Salty Chex Mix (Christmas Crack Recipe)
Raspberry Almond Thumbprint Cookies
Swedish Sour Cream Twists (Layered Yeast Cookies)
Ginger Bread Pancakes with Lemon Syrup
Nana's Famous Homemade Peppermint Ice Cream – A family tradition!
Caramel Apple Trifles from Life, Love and Sugar
Turtle Cheesecake Trifle from Mom on Timeout
Kahlua Cake Trifles from Just Putzing Around the Kitchen
Facebook | Pinterest | Instagram | Twitter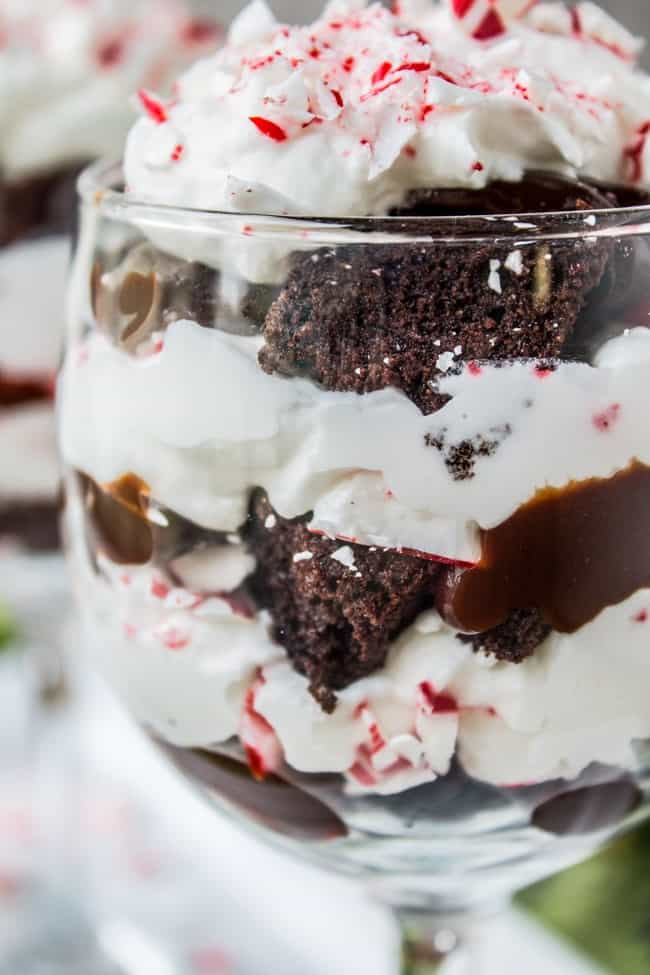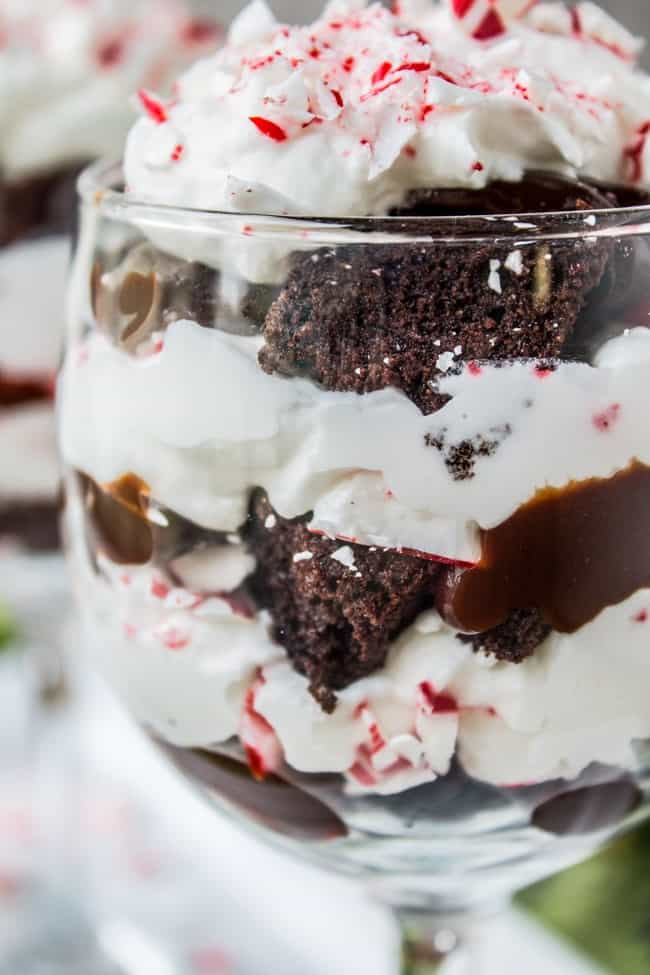 print
Did you make this recipe?
Leave a review »
Candy Cane Brownie Trifle
Serves 16
adjust servings
Ingredients
1 9x13

inch pan of baked brownies (This recipe is my favorite)

6

ounces (1 cup) semi-sweet chocolate chips

3

tablespoons butter

1

and 1/4 cup half and half or cream

3/4

sugar

3

tablespoons light-colored corn syrup

1/4

teaspoon peppermint extract

2

cups whipping cream

1/4

cup powdered sugar

1/4

or 1/2 teaspoon peppermint extract

1

cup crushed candy canes (about 12 candy canes)
Instructions
Start by making the brownies. A box mix is fine. Make sure not to over bake them. Remove brownies from the oven and cool completely (if you are in a hurry stick them in the freezer). Cut brownies into bite-size chunks and set aside.
Meanwhile, in a saucepan combine chocolate chips and 3 tablespoons of butter. Cook and stir over low heat until melted.
Stir in 1 and 1/4 cups half and half or cream, 3/4 cup sugar, and corn syrup. Bring to a gentle boil over medium heat. Boil over medium heat, stirring frequently, about 8 minutes (set a timer!) or until sauce is reduced to about 2 1/3 cups. Remove from heat. Let cool for a minute or two, until it stops bubbling.
Stir in 1/4 teaspoon peppermint extract. Cool to room temperature; mixture thickens as it cools. (Freezer or fridge also helps here).
For the whipped cream, in a chilled mixing bowl combine 2 cups cream, powdered sugar, and 1/4 or 1/2 teaspoon peppermint extract. Beat with the chilled beaters of an electric mixer on medium speed until soft peaks form.
In 16 small dessert cups, alternately layer brownie chunks, chocolate sauce, whipped cream, and crushed candy canes, ending with whipped cream and candy canes. Serve immediately.
If you want to do this all in one trifle bowl, place 1/3 of the brownie chunks in a 3-quart bowl or trifle dish. Drizzle with 1/4 of the chocolate sauce. Sprinkle with 1/4 of the candy canes. Top with 1/3 of the whipped cream. Repeat layers twice more. Drizzle with remaining chocolate sauce; sprinkle with remaining candy canes. Serve immediately.
by The Food Charlatan

If you make this recipe,
share it on Instagram
 using the hashtag
#TheFoodCharlatan
so I can see it!
We are a participant in the Amazon Services LLC Associates Program, an affiliate advertising program designed to provide a means for us to earn fees by linking to Amazon.com and affiliated sites.