The very BEST Homemade Rolo Cookies recipe! No cake mix here, my friends. I have nothing against cake mix but we can make a better cookie than that, can't we? Yes. Yes we can. Tons of cocoa and butter make an ultra fudgy cookie with a surprise caramel center! No one can resist these!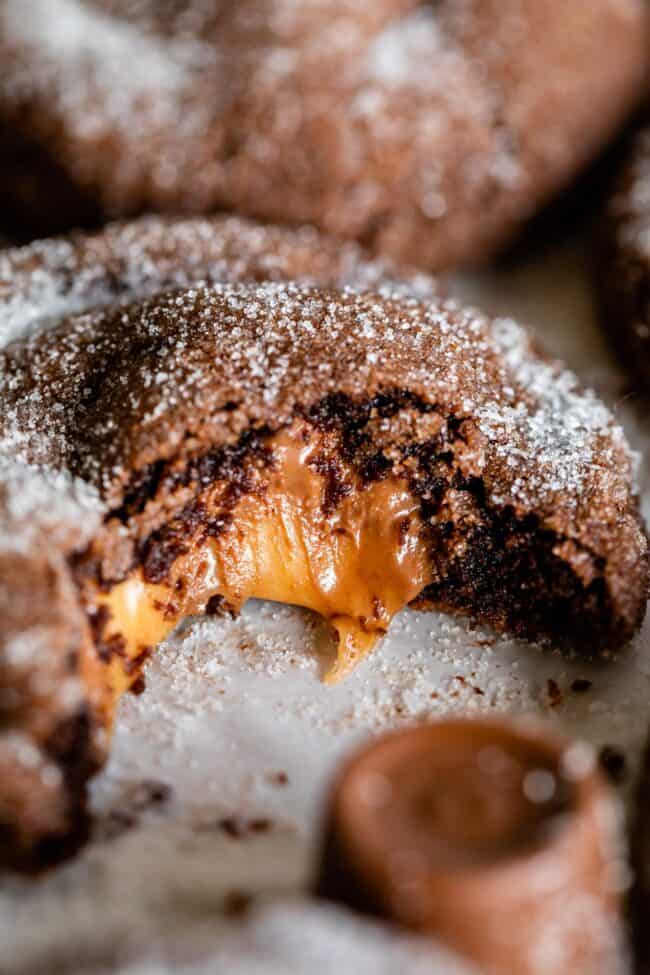 The other day Truman was having fun making a paper airplane zoom around the room. At one point it landed on the floor next to where I was sitting, and he said, "Mom, can you get that for me?"
I was confused. "What, like, you want me to pick it up for you?" He was standing 2 feet away. "Yeah."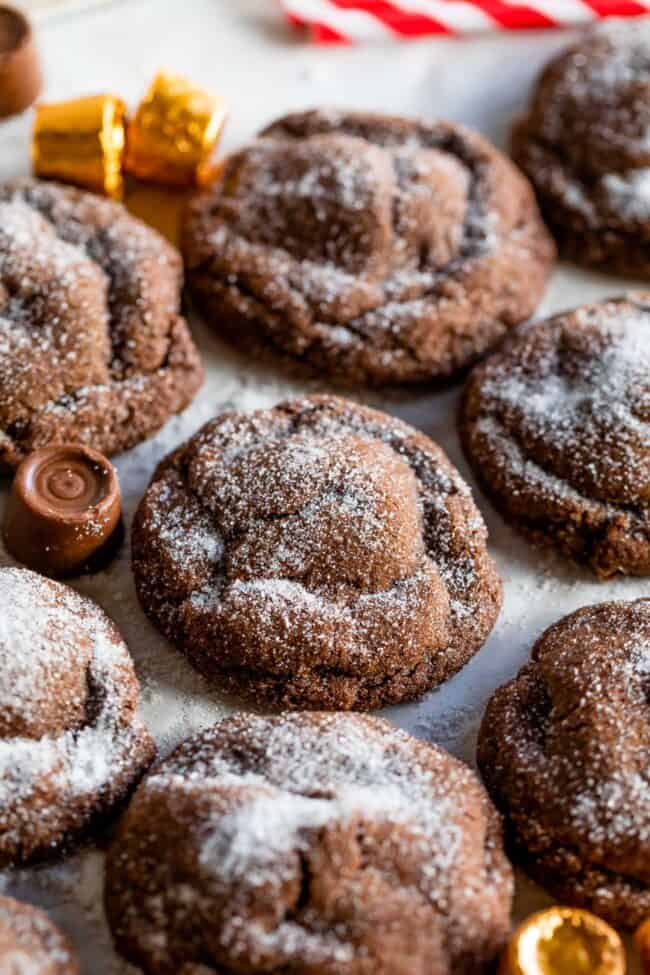 And that's when I exploded. "NO I CAN'T PICK IT UP FOR YOU, DO YOU NOT EVEN REMEMBER THAT I'M 9 MONTHS PREGNANT, ANYTHING THAT FALLS ON THE GROUND IS DEAD TO ME!!"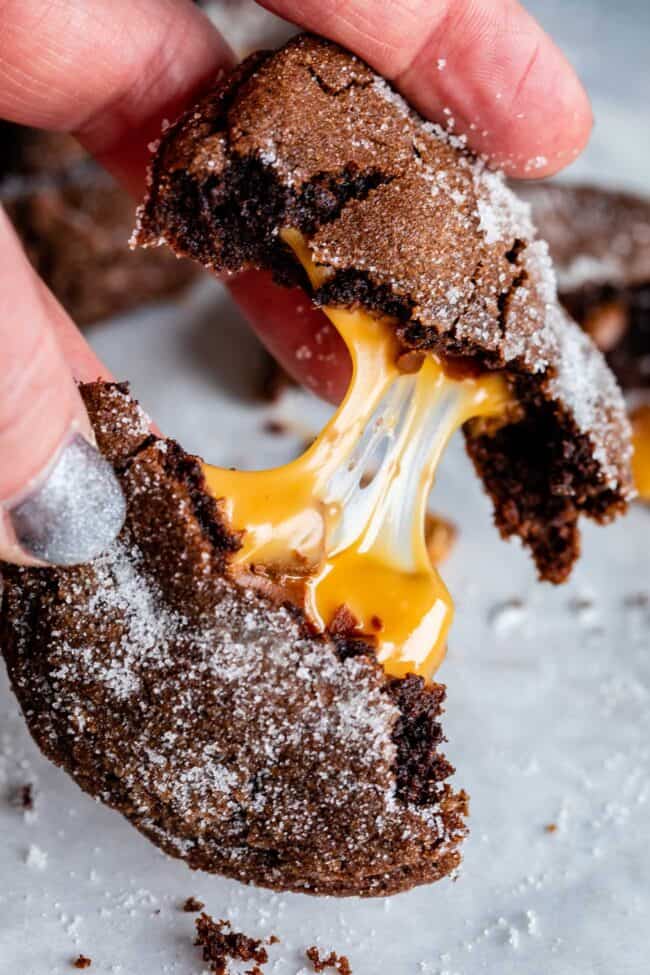 Hi, welcome to my house these days, where I will yell at you for asking me to do small favors. Poor kid's going to be traumatized. I actually have big fears about what my kid's early childhood memories will be. Truman's only 6, is his first memory going to be about his mom losing it over a paper airplane?? Noo! I'm a nice mom most of the time! Just not when I'm pregnant!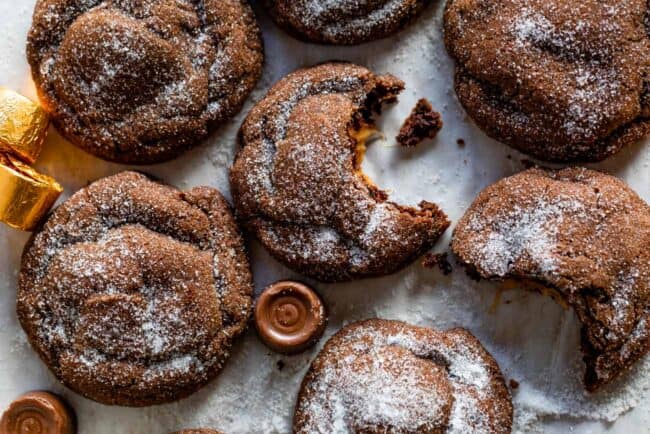 2 weeks to go you guys, and then I will stop complaining about this nonstop. Also PS the baby countdown is the same as the Christmas countdown, so you've got 2 weeks left to get your shopping done! Hop to it!!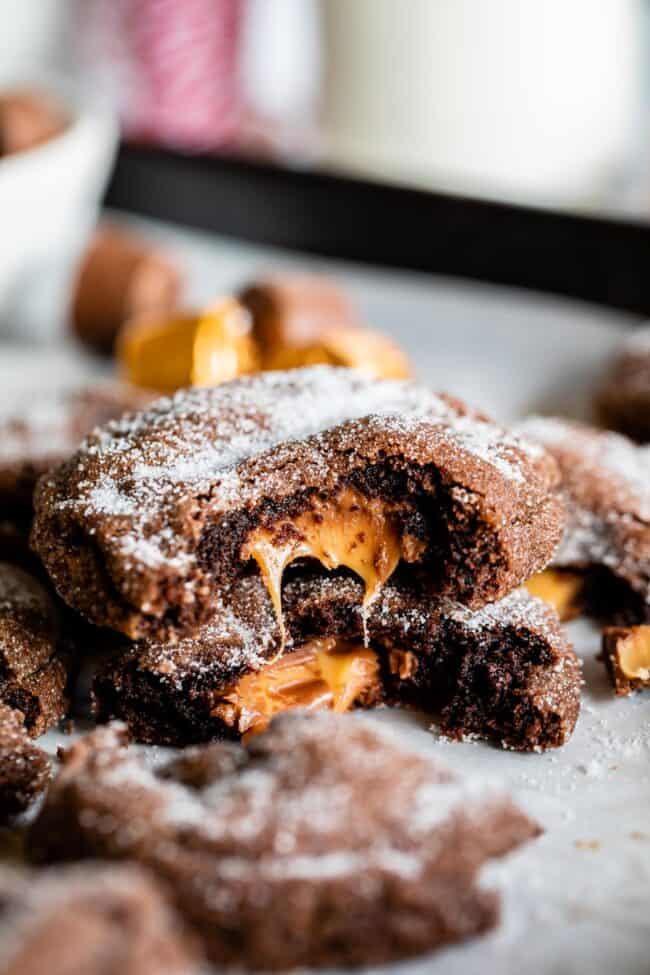 But until then, I'm baking ALLLL the cookies. I just make a huge double batch of everything and freeze the rest for later. You've never seen baking like a 9 month pregnant nesting food blogger. We've already made Butter Pecan Cookies, Gingersnaps, Spritz (hopefully updating that post soon), Cardamoms, Chocolate Chunk Gingerbread Cookies, and these AMAZING Rolo cookies.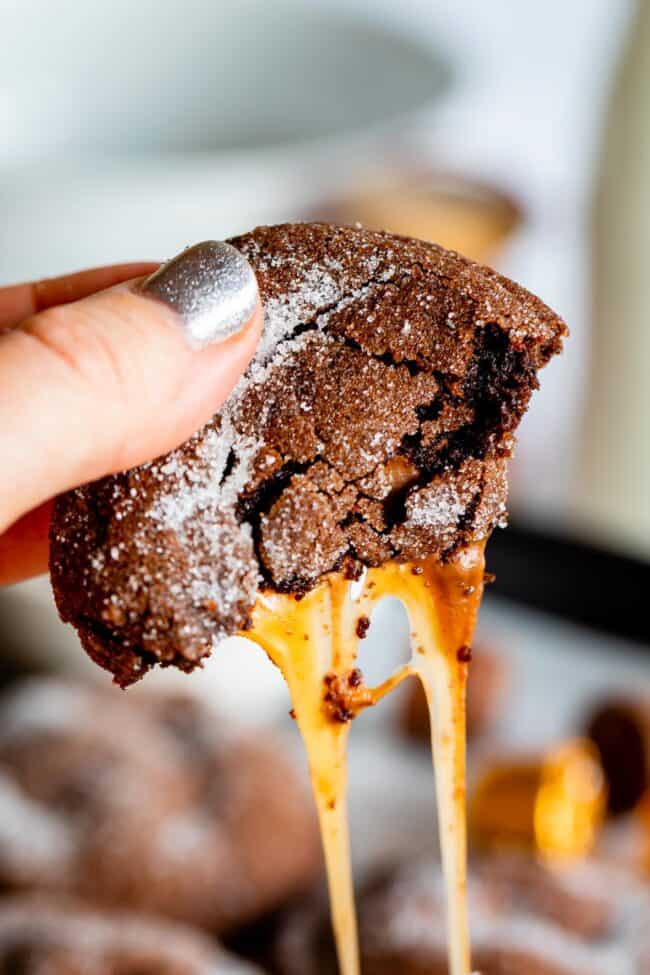 How to Make Rolo Cookies
You've had rolo cookies before, right? Or some version of them. They are a classic! Usually you see them made with cake mix cookies (one cake mix, 1/3 cup oil, 2 eggs, as found in these Homemade Oreo Cookies.)

(Sift your cocoa if it's clumpy)
But the basic idea is a chocolate cookie wrapped around a rolo, rolled in sugar and baked. Today's homemade version is 10x better than the cake mix version in my humble opinion, and only takes a few more minutes to put together. You don't even have to chill the dough! Can we get a hallelujah!!

Wrapping one rolo in chocolate cookie dough is good.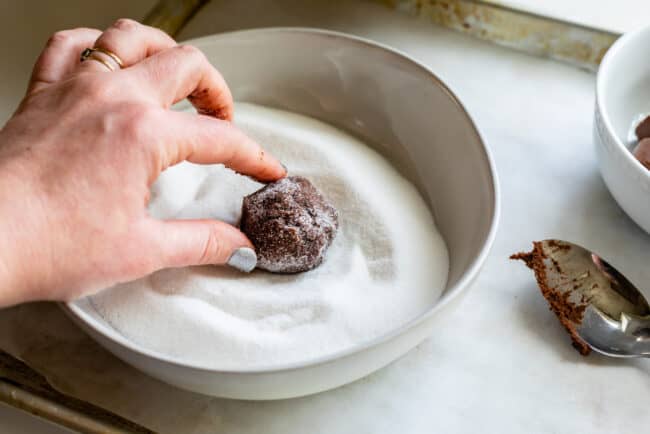 But wrapping TWO rolos in chocolate cookie dough is even BETTER. Yes please. Come on now, you didn't visit my blog because you suddenly wanted to embrace moderation, did you? Accept it.
If you do two rolos (you should) try to use the same amount of dough as you would for one rolo. The goal is to get a higher ratio of caramel to cookie, not to have a giant cookie. When I used two rolos, I made the dough balls a little more oval shape than round, as shown in the above photo on the left. One rolo sitting on top of the other (wrapped in dough).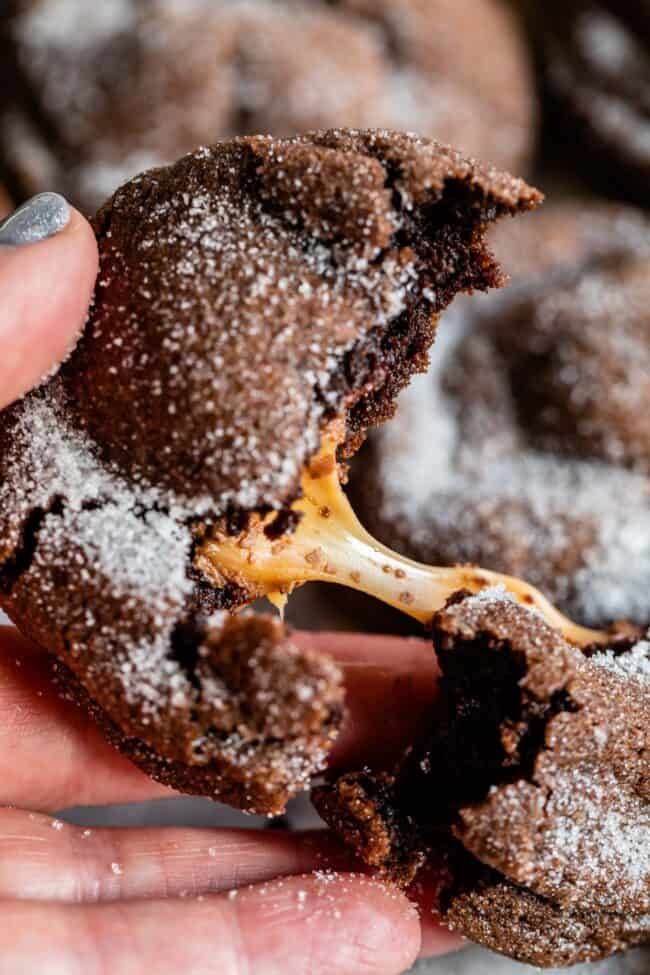 You can see the dough all over my fingers in the process shots above. It's quite sticky. You are going to think these cookies will be a disaster and bake as flat as pancakes if you don't chill them for at least a little while. That's what I thought. But I'm glad I tried it without chilling, just to make sure! These cookies puffed up and cracked like a dream, no chilling at all. Hooray! You can go from zero to cookies in about 30 minutes with this recipe!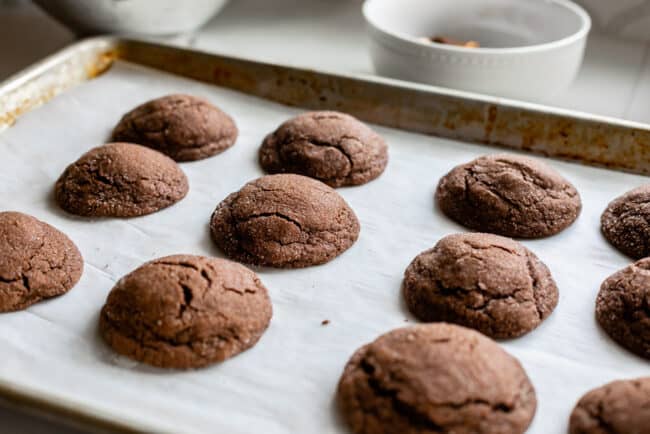 See how nice and puffy they are? This is immediately out of the oven. I sprinkled with extra sugar after baking. See note above about my lack of moderation issues.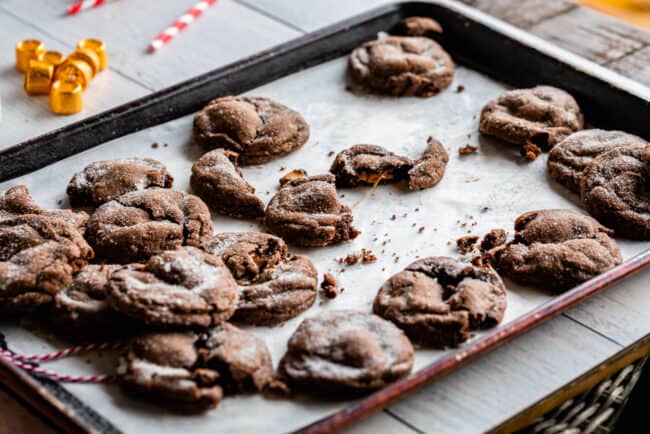 (How many cookies do you have to take bites out of or break in half to get all the caramely photos for this blog post? About one thousand.)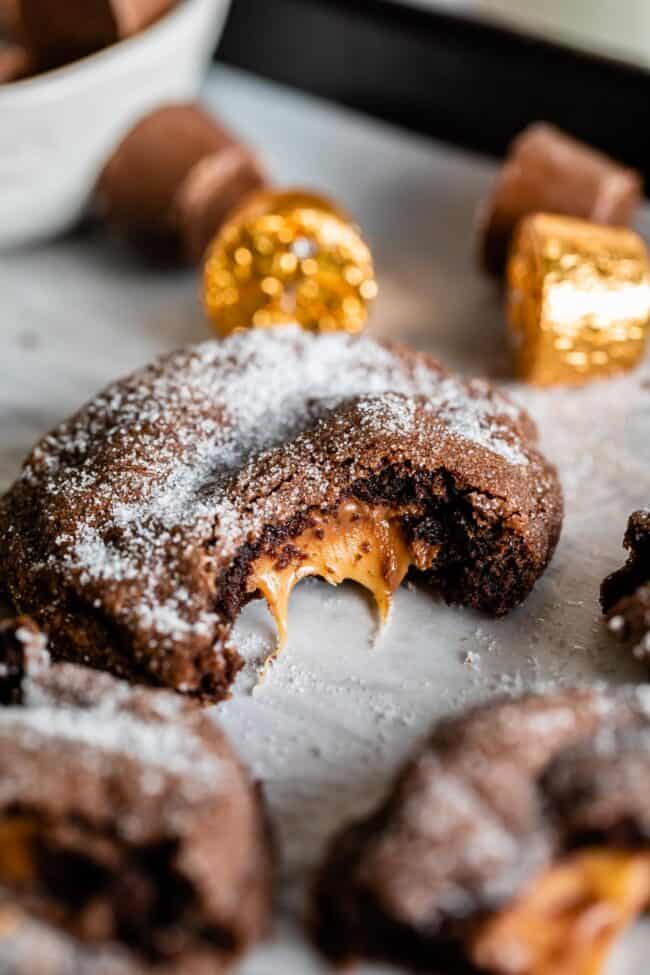 These would be such a fun cookie to add to your Christmas plates this year! No one can resist rolo cookies!
More Christmas cookies you are going to love!
Facebook | Pinterest | Instagram

Homemade Rolo Cookies Recipe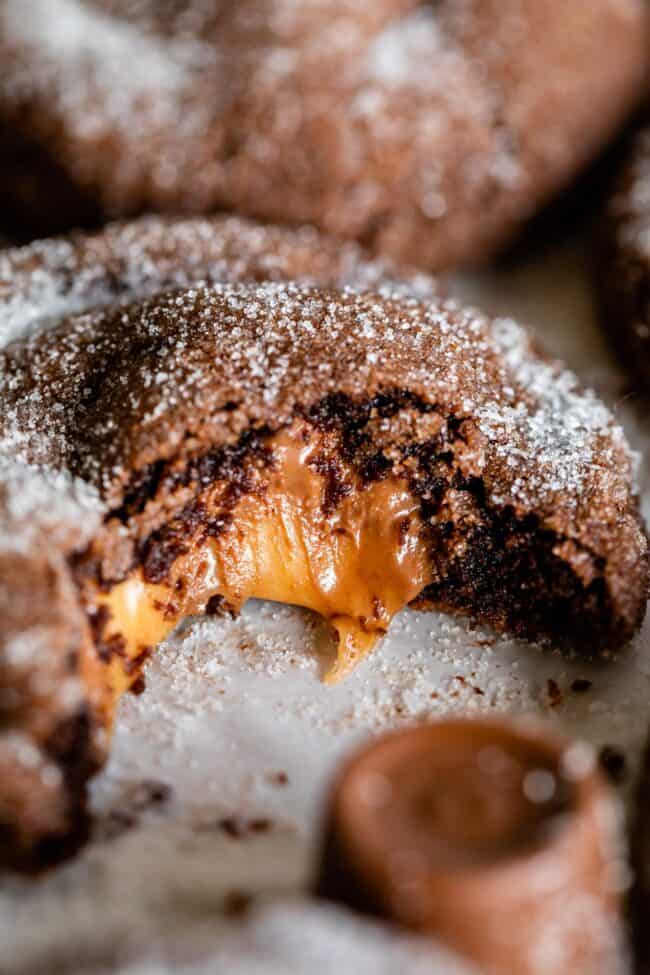 The very BEST Homemade Rolo Cookies! No cake mix here, my friends. I have nothing against cake mix but we can make a better cookie than that, can't we? Yes. Yes we can. Tons of cocoa and butter make an ultra fudgy cookie with a surprise caramel center! No one can resist these!
Ingredients
1

cup

butter

,

(2 sticks)

1/2

cup

granulated sugar

1

cup

brown sugar

,

packed

2

large

eggs

1

tablespoon

vanilla

2

cups

flour

,

spooned and leveled

1

cup

cocoa

,

sifted

1

teaspoon

baking soda

3/4

teaspoon

kosher salt

35-70

rolos*

granulated sugar

,

for rolling
Instructions
Preheat the oven to 350 degrees F.

In a large bowl or

stand mixer

, beat 1 cup butter until light and fluffy, 2 minutes or so, scraping the edges. If you have a mixer that is powerful enough, start with cold butter, otherwise you will have to let it soften a bit.

Add 1/2 cup granulated sugar and 1 cup brown sugar and beat 1 more minute, scraping bottom and sides.

Add 2 eggs and 1 tablespoon vanilla and beat well, scraping the edges and bottom of the bowl.

Add 2 cups flour (spooned and leveled!), but do not mix it yet. Add 1 cup cocoa powder (if your cocoa looks clumpy, sift it into the bowl through a strainer. You don't want chunks of cocoa in your cookies.) Don't stir yet.

Add 1 teaspoon baking soda and 3/4 teaspoon salt. Stir the dry ingredients together a bit with a small spoon so you don't end up with any lumps of salt or soda in your cookies. Then beat the dry ingredients into the dough, but only until just incorporated.

When the dough is just starting to come together and there are still streaks of flour, take a second to scrape the sides and bottom of the bowl. Finish mixing it all together but don't go overboard; over-beaten cookies turn out tough. We want nice tender cookies.

Unwrap one thousand Rolos. Just kidding, but it might feel like a thousand. Enlist help if you can! This recipe makes about 35 cookies give or take, so you either need 35 Rolos or 70, depending on how excessive of a person you are. Obviously I added 2 Rolos for every cookie. I promise they still taste great with only one. It's totally up to you!

Use a spoon to scoop about 1 and 1/2 tablespoons of dough into a ball. It should be about the size of a large walnut. Don't be alarmed that the dough is pretty sticky, I promise it bakes up great. Press either 1 or 2 Rolos into the center of the dough and then wrap the dough around it so that it is completely covered. Make sure no rolo is peeking out.

Add about 1/2 cup or more of granulated sugar to a bowl or plate. Roll each cookie dough ball in sugar, making sure it gets well coated.

Place each ball on the prepared baking sheet. I did 12 cookies per sheet, but make sure you have at least 1-2 inches in between each cookie.

Bake at 350 for 9-10 minutes. Do not over bake! When they are done, the edges will have cracked. The cookies should not be shiny in the middle. The edges should be firm.

Let cool on the pan for 5 minutes before removing to

a cooling rack

to cool. Be aware that the center of these cookies are approximately the temperature of molten lava for the first couple minutes.

Eat warm with a tall glass of milk! These are great warmed up in the microwave for 10 seconds or so on day two.
Notes
*How many Rolos you need depends on whether you want to stuff one rolo or two in each cookie. There are about 50 rolos in one 10.6 ounce package.
Make ahead instructions:
Freezer: You can freeze this dough to bake later. After step 11 (when you've stuffed the cookie and rolled it in sugar) you can store these in a ziplock for up to 2 months. You can bake straight from frozen, just bake a couple minutes longer. Alternatively, you can freeze the dough for 2 months before shaping it. Let thaw before shaping, then bake as directed.
Refrigerator: This dough will keep in the refrigerator for 2-3 days. You can either refrigerate the dough in a covered bowl all together, or shape the dough with the Rolos and then chill. Make sure they are well covered! Bake as directed.
Nutrition
Serving:
1
g
|
Calories:
236
kcal
|
Carbohydrates:
34
g
|
Protein:
3
g
|
Fat:
11
g
|
Saturated Fat:
7
g
|
Polyunsaturated Fat:
1
g
|
Monounsaturated Fat:
2
g
|
Trans Fat:
1
g
|
Cholesterol:
28
mg
|
Sodium:
179
mg
|
Potassium:
102
mg
|
Fiber:
1
g
|
Sugar:
26
g
|
Vitamin A:
209
IU
|
Vitamin C:
1
mg
|
Calcium:
44
mg
|
Iron:
1
mg