It's not even Christmas with Chocolate Crinkle Cookies! They are just a classic. Chocolate Christmas cookies are a must on your cookie plate; they always seem to disappear first. This recipe is ultra fudgy and decadent because we're using cocoa AND baking chocolate!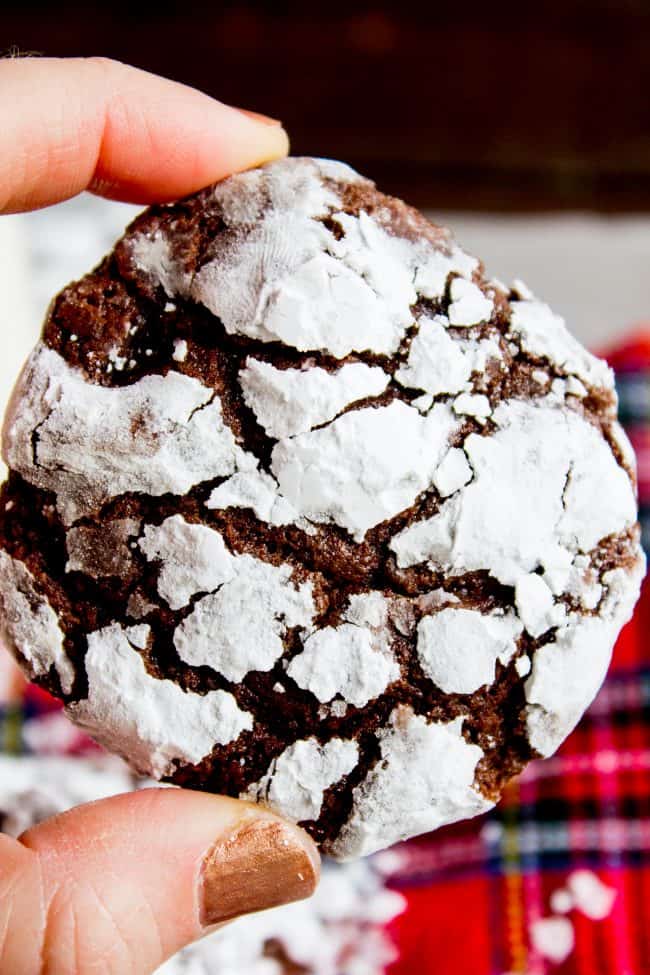 Does anyone have any good reasons to explain why our Elf on Shelf has not moved in like 3 nights? Let's not mention the fact that it's only December 5, and he only showed up at the beginning of the month.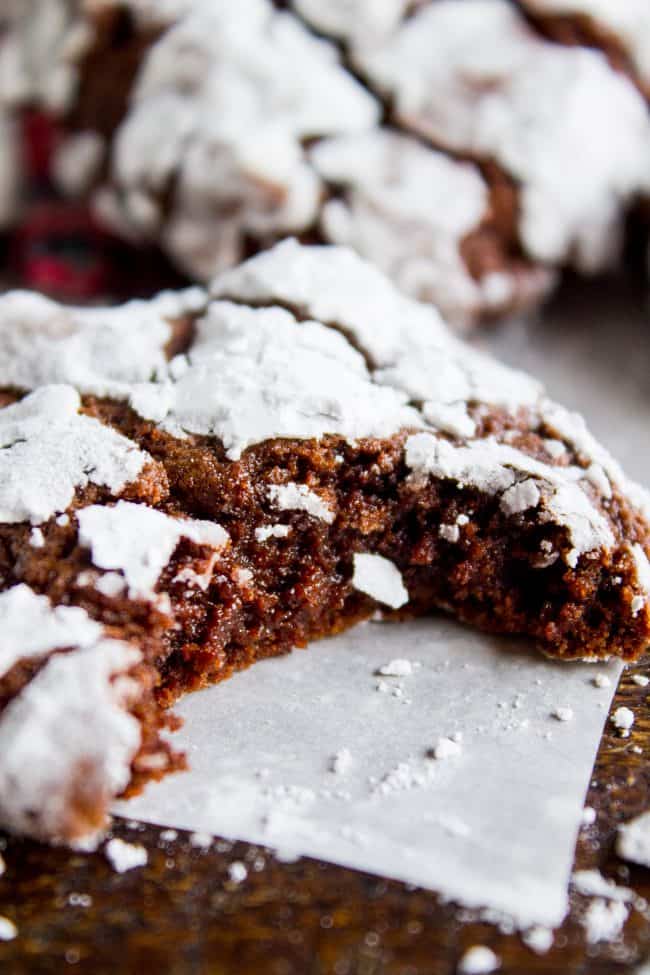 Every day we have to come up with a new excuse. "It's a long way to the North Pole…" "There must have been a snow storm…" I think we're slowly crushing our kid's spirits. Also, Truman told me about a friend of his who's Elf was OUTSIDE one morning, and one elf who brought them hot chocolate, and another who was swimming in a mini pool of marshmallows. Can you Other Moms stop being so darn creative already?? I can't even remember to move mine, let alone come up with adventurous/naughty things for him to do.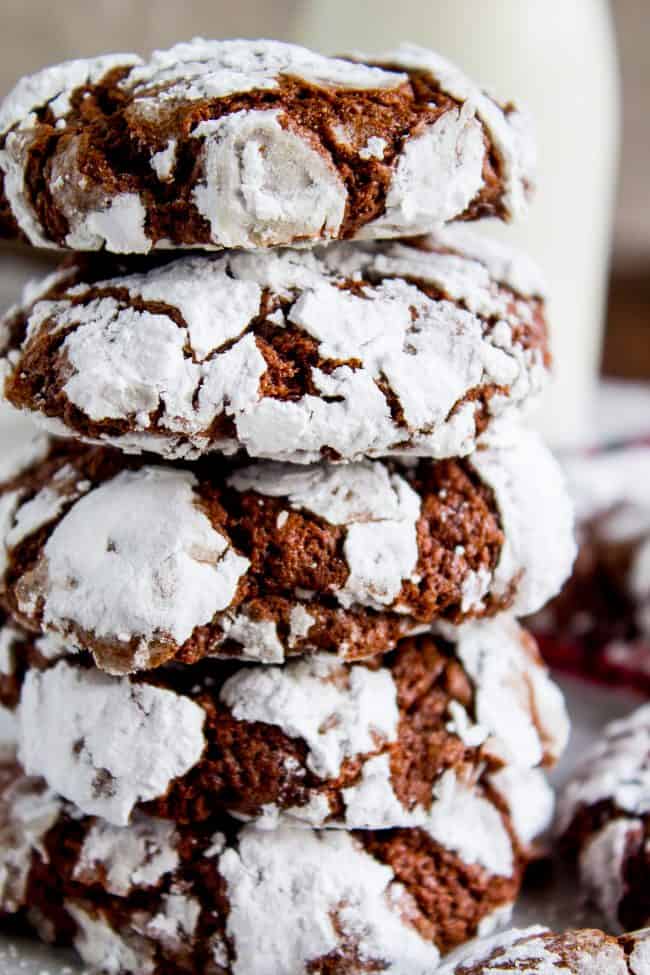 But at least I can play the cookie card. Next time they wake up to Elfie in the same exact spot maybe I'll just tell them we're having these Chocolate Crinkle Cookies for breakfast, and they'll forget all about it. Right?? Mom of the year right here.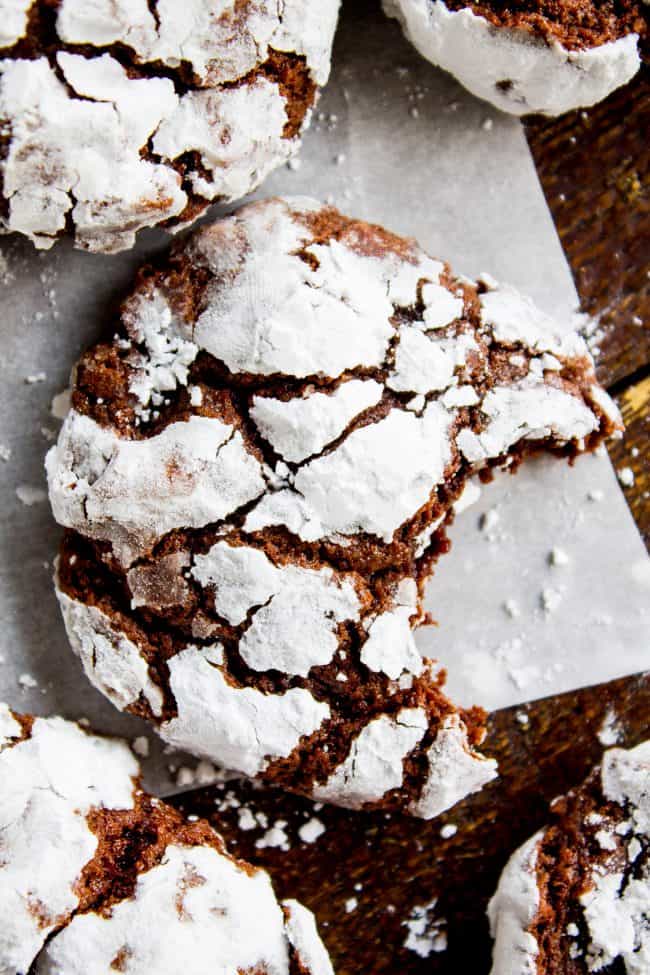 How to make Chocolate Crinkle Cookies
Everyone has had a chocolate crinkle cookie, right?? These cookies are ubiquitous around the holidays, and with good reason! They are the ultimate in fudgy chocolate decadence. Chocolate just never lets you down, you know?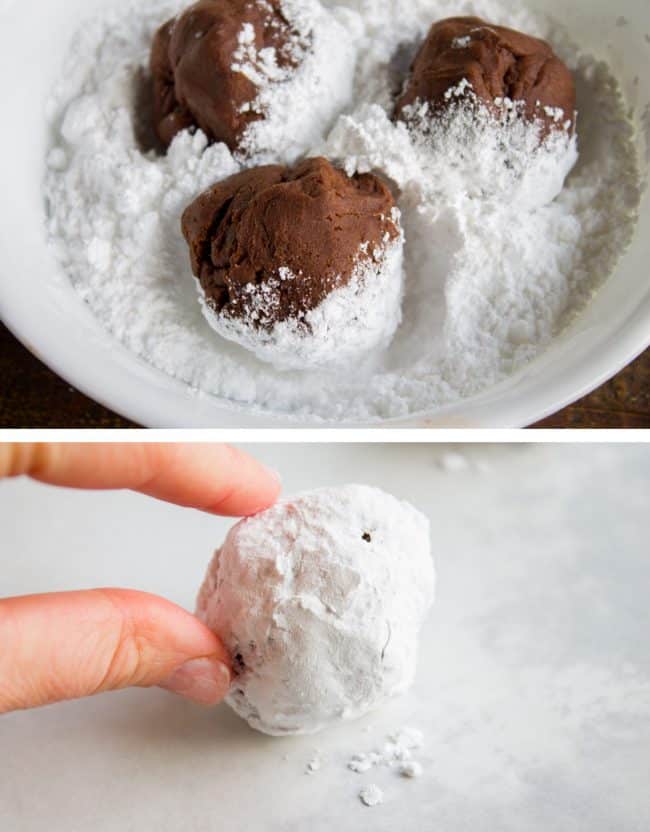 Lots of recipes for these cookies call for doctoring up a cake mix, like the cookies for these Homemade Oreos. NO thank you. Cake cookies are good if they are smeared with vanilla buttercream, or have something else going on, but in my opinion when you eat them straight-up, they are nothing to write home about.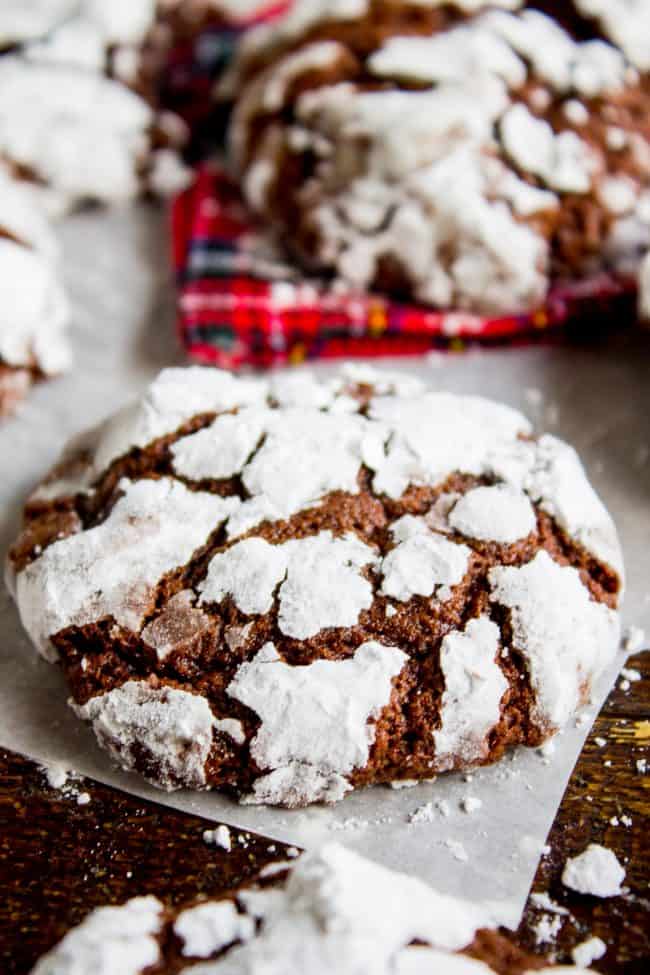 These cookies are from scratch deliciousness. There are tons of different recipes for Chocolate Crinkle Cookie out there, but I created one that uses REAL chocolate, plus cocoa powder on top of it. They are ultra chocolate-y and ultra fudgy.
We're also using oil in these cookies, instead of butter. Don't worry, you will not miss the flavor. The chocolate in this recipe really does take care of you. Actually, the ingredients for this recipe resemble a brownie more than they do a cookie. I just realized that. NOT COMPLAINING. That's what makes them so fudgy! Oil and real chocolate ftw.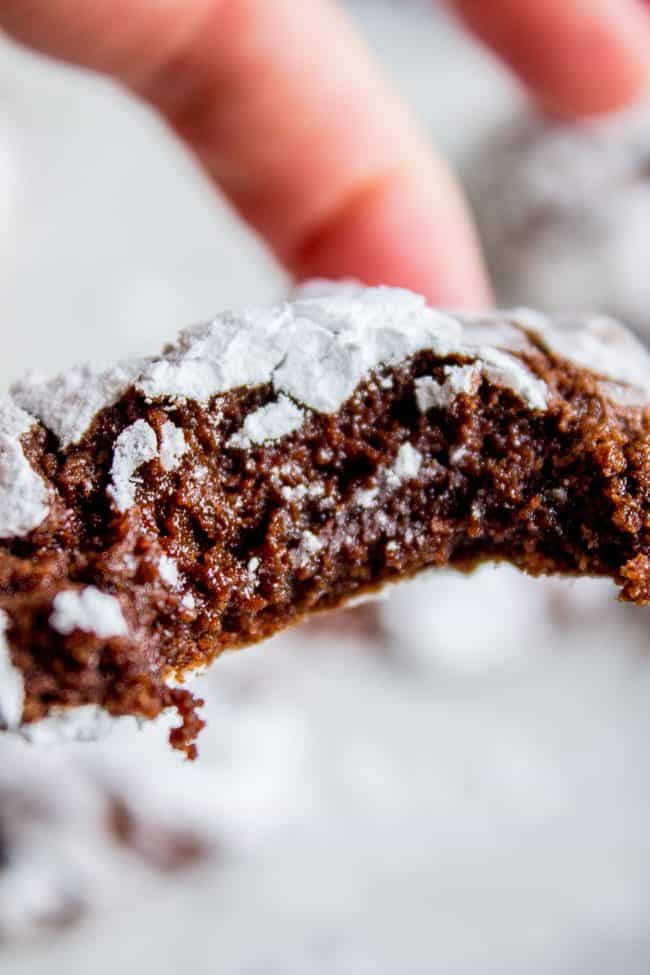 These chocolate crinkle cookies are really delicate when they come out of the oven. They are supposed to be pretty soft when you take them out. If you let them cool on the pan for 5-10 minutes, they will firm up. They are PERFECT.
Don't forget these other classic Christmas cookies!
Dipped Chocolate Peppermint Cookies << I'm drooling over here…
The Best Bakery Style Double Chocolate Chip Cookies << chocolate OVERLOAD
Chocolate Crinkle Cookies (Ultra Fudgy) << You know you can't say no to these when they're out on a plate
Perfectly Soft and Chewy Molasses Cookies << I'm in love with these. Also check out Ginger Molasses Sandwich Cookies, it is my absolute favorite.
Mexican Hot Chocolate Cookies (Chocolate Snickerdoodles)
More chocolate cookies you will love!
30 Minute Chewy Chocolate Chip Cookies << Can't go wrong with a quick classic!
Soft Chocolate Cookies with Peanut Butter Frosting << Yes, they ARE as good as they sound.
Peanut Butter Chip Chocolate Cookies << Yet one more way to to PB + Chocolate!
Double Chocolate Peppermint Surprise Cookies from Taste and Tell
Perfect Paleo Double Chocolate Cookies from Texanerin
Flourless Chocolate Mudslide Cookies from My Gluten Free Kitchen
Facebook | Pinterest | Instagram

Chocolate Crinkle Cookies (Ultra Fudgy)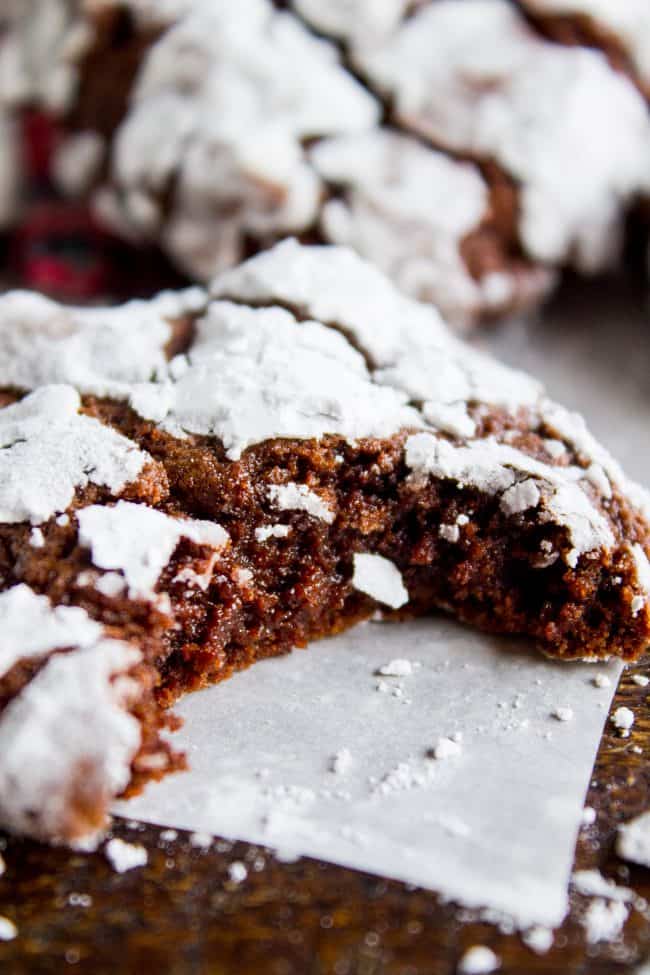 It's not even Christmas with Chocolate Crinkle Cookies! They are just a classic. Chocolate Christmas cookies are a must on your cookie plate; they always seem to disappear first. This recipe is ultra fudgy and decadent because we're using cocoa AND baking chocolate!

Ingredients
4

ounces

Unsweetened Baking Chocolate

1 & 1/2

cups

granulated sugar

1/2

cup

powdered sugar

1/3

cup

unsweetened cocoa powder

1/2

cup

vegetable oil

,

I like using Light Olive Oil*

4

large

eggs

2

teaspoons

vanilla

2

cups

flour

,

spooned and leveled

2

teaspoons

baking powder

3/4

teaspoon

kosher salt

1 & 1/2

cups

powdered sugar

,

(or more) for rolling dough
Instructions
In small bowl, break the unsweetened chocolate bar into chunks. Microwave in 30 second increments until mostly melted with some lumps, then stir until smooth. (Chocolate scorches easily, so make sure to check on it often.) Set aside to cool slightly.

In a large bowl or stand mixer, add 1 and 1/2 cups granulated sugar, 1/2 cup powdered sugar, and 1/3 cup unsweetened cocoa powder. Whisk together.

Add 1/2 cup oil and beat well, scraping sides.

Beat in the melted chocolate.

Beat in the 4 eggs one at a time, making sure each on gets incorporated well.

Add 2 teaspoons vanilla and beat.

Add the 2 cups of flour but don't stir it in yet. Make sure you spoon and level the flour!

Use a small spoon to stir the 2 teaspoons baking powder and 3/4 teaspoon kosher salt into the top of the flour.

Beat the dry ingredients into the wet ingredients until just combined. Scrape the sides and bottom of the bowl. Don't over mix but make sure all the white streaks are gone.

Cover the dough and chill completely, it should take about 2 hours.

Preheat your oven to 350 degrees F. Prepare

a few baking sheets

with parchment paper or silicone baking mats.

Add some powdered sugar to a shallow bowl. Shape the dough into 1 and 1/2 inch balls, about the size of a walnut. Roll each ball in the powdered sugar, coating well.

Place each ball on the prepared baking sheets with about 2 inches in between each one.

Bake at 350 for 9-12 minutes. The cookies should look crackly and be set on the edges, but may still be quite soft. A tiny bit of shine in the center is okay, but not much.

The cookies will need at least 5-10 minutes to set up on the pan. These cookies are pretty delicate.

Use a spatula to remove the cookies to

a cooling rack

to cool completely. Eat these with lots of milk and DON'T breathe in when you take a bite, or you will inhale powdered sugar and choke half to death ;)
Notes
*Light olive oil refers to the flavor, not the calorie count. Sad, right?? :) Don't use extra virgin olive oil!
Nutrition
Serving:
1
g
|
Calories:
176
kcal
|
Carbohydrates:
28
g
|
Protein:
3
g
|
Fat:
7
g
|
Saturated Fat:
2
g
|
Polyunsaturated Fat:
2
g
|
Monounsaturated Fat:
2
g
|
Trans Fat:
1
g
|
Cholesterol:
27
mg
|
Sodium:
104
mg
|
Potassium:
70
mg
|
Fiber:
1
g
|
Sugar:
19
g
|
Vitamin A:
39
IU
|
Calcium:
28
mg
|
Iron:
1
mg