Pan-seared salmon always feels so fancy, but it is really easy to make, and fast! Cherry tomatoes star in this dish, along with marinated mozzarella and oregano. Perfect summer weeknight meal to take advantage of summer tomatoes!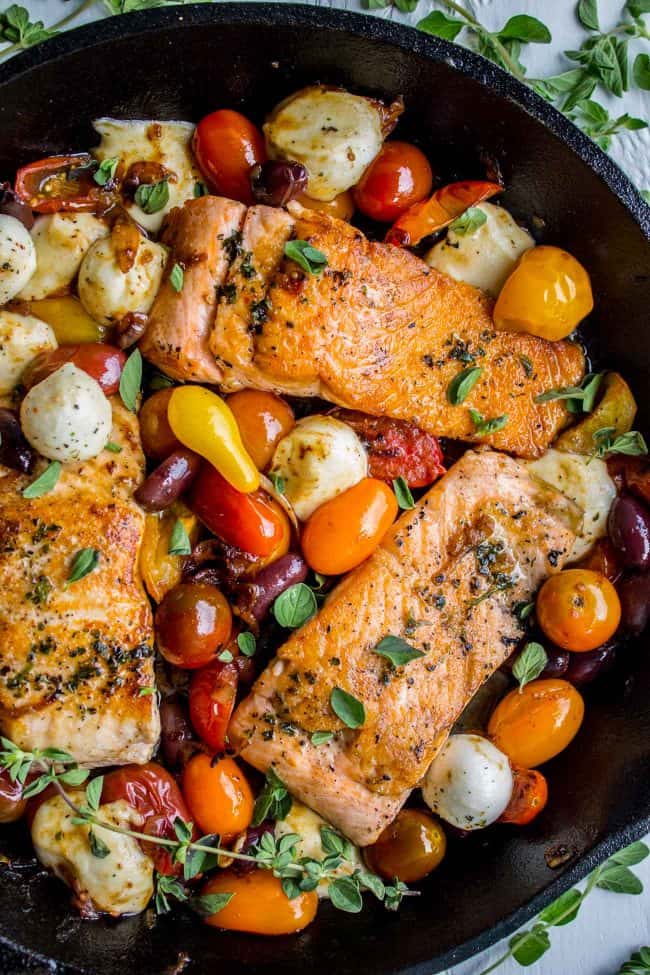 "Karen, you got half fat."
"Sorry, what??"
"The ice cream. It's like…healthy."
"UUGH!"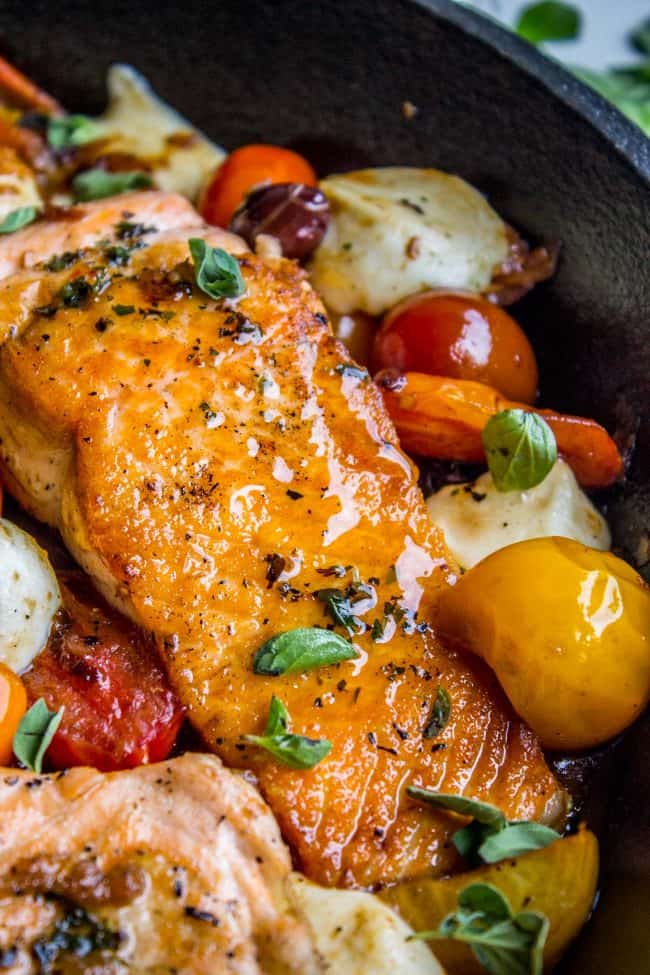 That was the conversation that just happened between Eric in the kitchen and me in the living room. I am NOT a healthy dessert person. (Okay, except these cookies.) Diet ice cream is just not the same. (And for the record, I just finished my bowl and now I feel like I need a "real" dessert. A follow up, not fake one.)
I much prefer to eat healthy dinners and then splurge on real ice cream. I know that's not everyone's philosophy, but that's what's so great about food! There are so many right ways to eat it. Today's recipe is one of those healthy gems that makes it possible for me to eat not-half-fat ice cream, without having to roll everywhere instead of walk.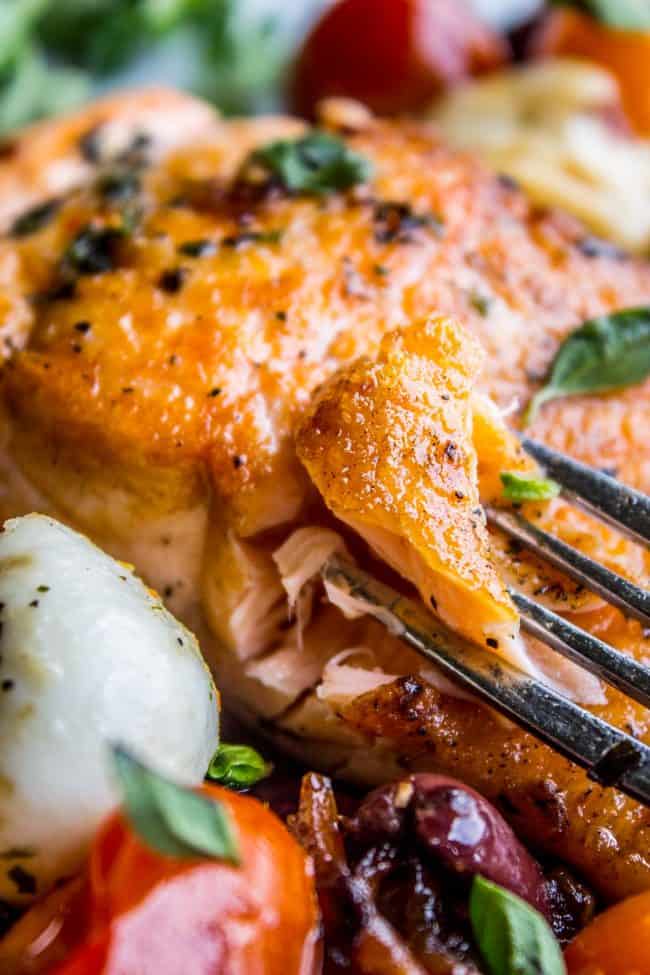 I was in line at the grocery store the other day when this Better Homes and Gardens special interest magazine caught my eye. It's all about tomatoes and I knew Eric would love it (he's totally obsessed with tomatoes). I was not wrong. I handed him the magazine when he got home and he was SO excited. He laid on the couch to look at every single page, and I told him to mark the recipes he wanted me to try. There are more dog-eared pages than not now, I guess I should have known. He would burst out every couple minutes, "KAREN, listen to this one," and describe the recipe to me in detail. (Can you tell why Eric and I got married?)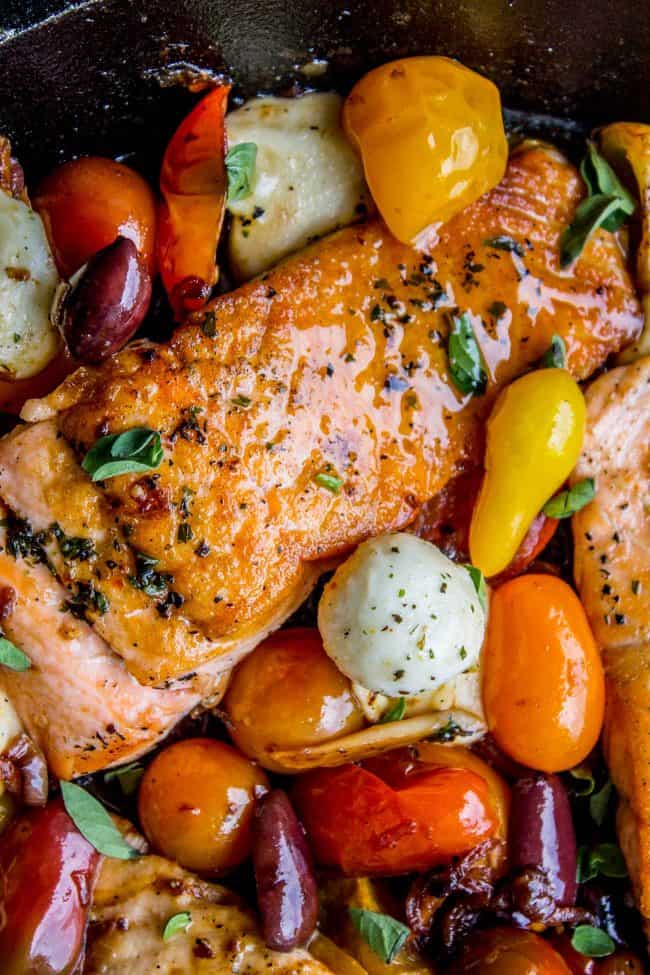 Today's recipe is my spin on one of the ones he picked out, Salmon with Tomatoes and Olives. I mashed it with this recipe for Easy Caramelized Gnocchi with Cherry Tomatoes and Mozzarella recipe. Cheese, guys. It's never a bad idea.

I could probably eat all of this single handedly.


I used to think I didn't like Kalamata olives, or any olives. Crazy, right? They have so much flavor! So briny! I don't think I would necessarily snack on them plain, but added to a dish like this they really pack a punch. And they are healthy to boot. If you don't like them you can leave them out though, no prob.
I served this for dinner over a bed of arugula, which sounds ridiculously fancy, but I happened to have some in the fridge, so there you have it. You could also serve it over spinach, or with a nice green salad and a side of mashed or roasted potatoes. Or any green side dish: broccoli, green beans, asparagus, etc.
More easy salmon recipes!
The best thing about salmon/fish is how FAST it is to make. All of these ideas look fancy, but most of them are 30 minutes tops. Here's a link to all my fish recipes. 
Facebook | Pinterest | Instagram | Twitter

Pan-Seared Salmon with Cherry Tomatoes and Mozzarella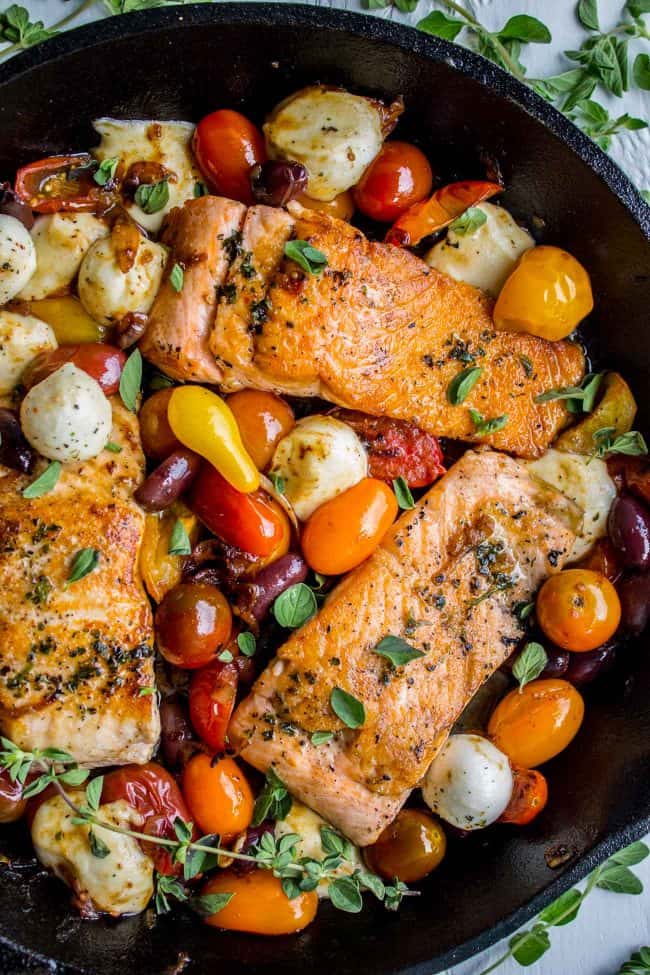 Pan-seared salmon always feels so fancy, but it is really easy to make, and fast! Cherry tomatoes star in this dish, along with marinated mozzarella and oregano. 
Ingredients
4 (4-oz)

filets

salmon filets

,

fresh or frozen

salt and pepper

2

teaspoons

flour

1 & 1/2

tablespoons

olive oil*

1

medium

shallot

,

sliced

2

cloves

garlic

,

smashed and sliced thin

2 (12-oz)

cups

cherry tomatoes

,

**red or yellow

1/2

cup

pitted Kalamata olives

12

ounces

marinated mozzarella balls

1

tablespoon

fresh oregano

,

to garnish, optional
Instructions
Thaw the salmon if it is frozen. Use paper towels to dry the salmon on both sides.

Season the skin side with salt and pepper (if there's no skin then it doesn't matter.) Sprinkle the filets with about 1 teaspoon of flour.

Heat a wide skillet over medium high heat. When it is very hot, add 1 and 1/2 tablespoons oil to the pan.

Sear the salmon, skin side down, for about 3-4 minutes, until the bottom is very brown. Before flipping, sprinkle the untreated side of the salmon with salt, pepper, and the other teaspoon of flour.

Flip the salmon, adding more oil if necessary. Cook for 1 more minute, maybe 2, just until the salmon is barely starting to flake. Remove to a plate and cover. (I stick mine in the microwave; not on, just to reserve the heat.)

Add a little more oil to the pan, if it is dry. Lower the heat to medium and add the shallots. Saute for 1-2 minutes, then add the sliced garlic. Cook for another 1-2 minutes until garlic is fragrant.

Wash your tomatoes and use a serrated knife to halve any large ones. Add the tomatoes to the pan. Cook another 3-5 minutes, until the tomatoes begin to soften and a few have popped.

Use a knife to half the olives, if you want. Stir them into the pan and turn off the heat.

Return the salmon to the pan.

When it has cooled down a bit, add the mozzarella balls. You don't want them to melt or even loose their shape, so wait it out.

Sprinkle with fresh oregano, or 1-2 teaspoons dried is great too

Serve hot! I plated this on a bed of arugula and spinach.

Roasted potatoes

would be a great side dish.
Notes
* You can use the oil from the marinated mozzarella. It will spit a little bit when you first put it in the hot pan, but it will calm down after a few seconds.
** 1 dry pint of cherry tomatoes (often sold in stores) is about 1 and 1/2 cups, so grab 2. You can use all of both packages if you want, a few extra tomatoes won't hurt anything.
***I know these aren't available everywhere. Buy fresh mozzarella, chop it into 1 inch cubes, and use that instead. Use about 1 cup.
Adapted from Better Homes and Gardens.
Nutrition
Serving:
1
g
|
Calories:
472
kcal
|
Carbohydrates:
7
g
|
Protein:
39
g
|
Fat:
33
g
|
Saturated Fat:
8
g
|
Polyunsaturated Fat:
4
g
|
Monounsaturated Fat:
8
g
|
Cholesterol:
93
mg
|
Sodium:
392
mg
|
Potassium:
769
mg
|
Fiber:
2
g
|
Sugar:
3
g
|
Vitamin A:
498
IU
|
Vitamin C:
18
mg
|
Calcium:
359
mg
|
Iron:
2
mg