Let me introduce to you how to make the Best Grilled Cheese of Your Life! Fresh challah bread, ultra stretchy cheese in the middle, and a crispity crunchy cheese skirt on the outside of the sandwich. Did I mention the bacon? BOOM.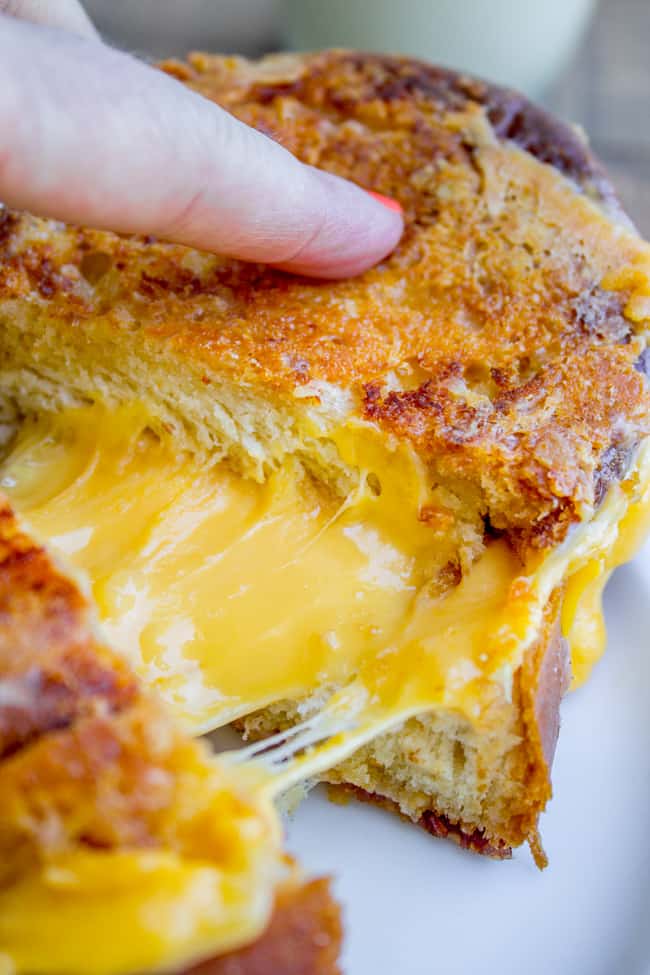 Originally posted June 8, 2017
One time my parents painted their house pink. (I believe the official color was "mauve.") I don't think it was on purpose. You know how the color looks one way on the paint swatch, and another way when it's painted on the giant siding of your two story house? Yeah.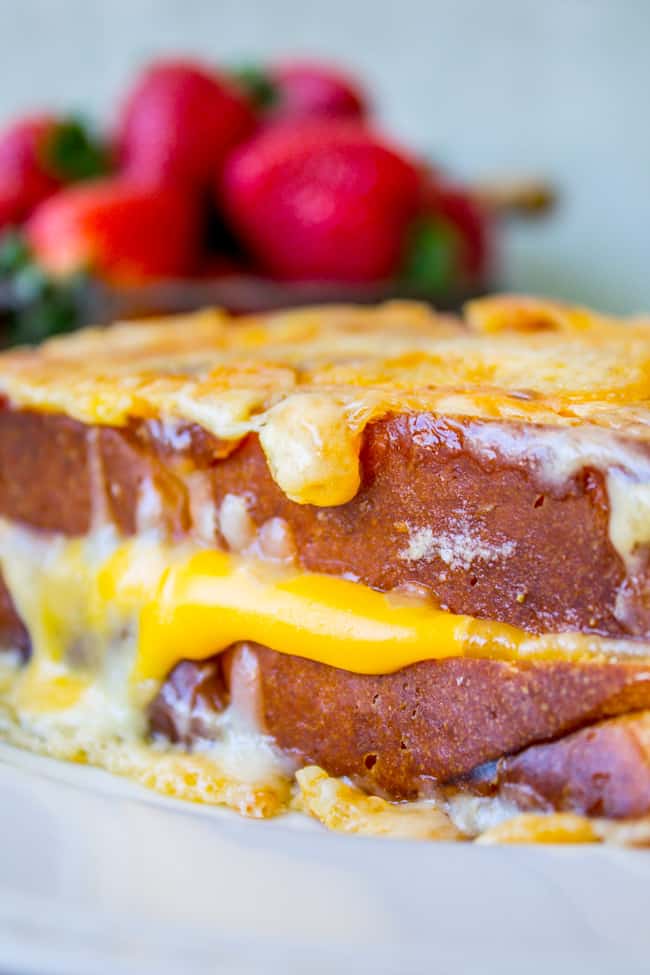 We are in the middle of painting our kitchen cabinets right now and had to pick colors. We knew we wanted white on the top cabinets, and gray on the bottom cabinets (<like this). The problem is that Eric and I don't know stuff about colors. (see above about the pink house. Them's my roots.) People (and Pinterest) are always talking about "warm whites" and "cold grays" and my eyes start to glaze over.
I was at the paint store the other day and held up a white swatch to the clerk at the store: "Does this look like a warm white or a cold white to you?" The dude just looks at me and is like, "Lady, just pick a color you like, it doesn't matter that much." And I thought, THANK YOU, finally a sane person. But then I remembered our pink two story house. I'm going to end up with puke gray cabinets if I'm not careful guys.
The best part about this story is me asking my mom for clarification about how they managed to paint their house light pink.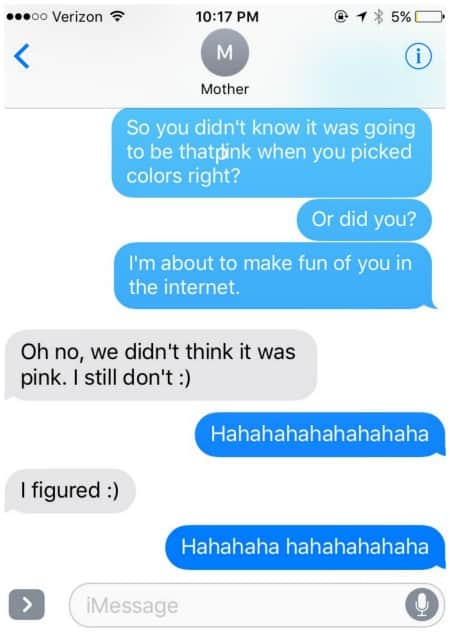 My mom never thought it was pink. The paint was called MAUVE, GUYS.
How to make the Best Grilled Cheese
Okay so are you guys ready for the best grilled cheese of your life? Nobody really thinks making this comfort food is really that hard, but with a few little tweaks to the process you can easily take this deliciously ordinary staple to the next level. It truly becomes a work of art. Let's break this down.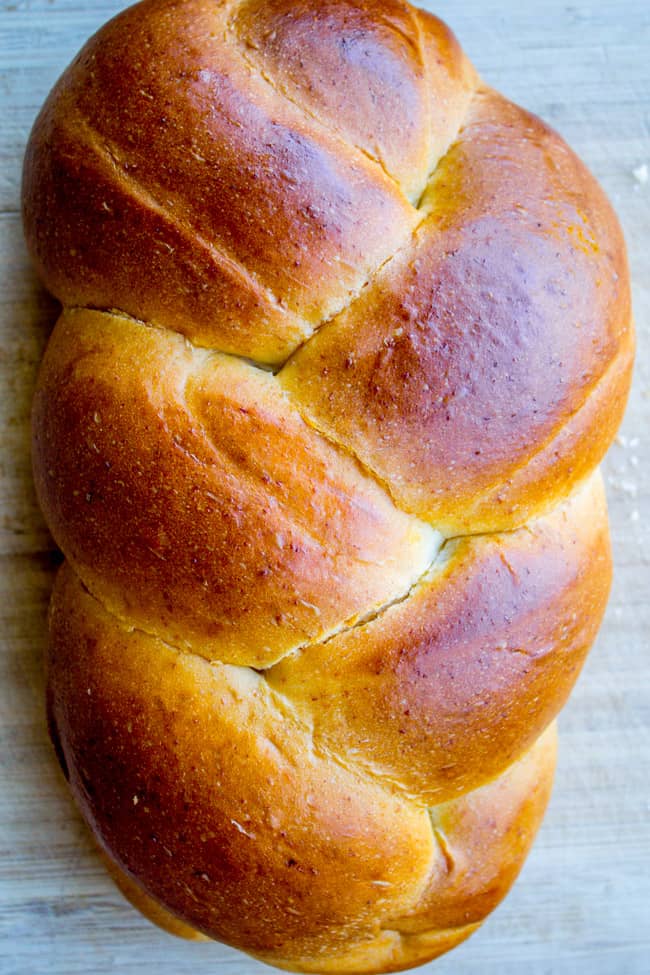 Hollaaaaaaa
First get your hands on some challah bread (I bought mine at a bakery). When you're making something as simple as grilled cheese, the easiest way to seriously kick it up a notch is to buy finer ingredients. Slice it up and throw it in a pan with a lot of butter. Cover one slice with cheese.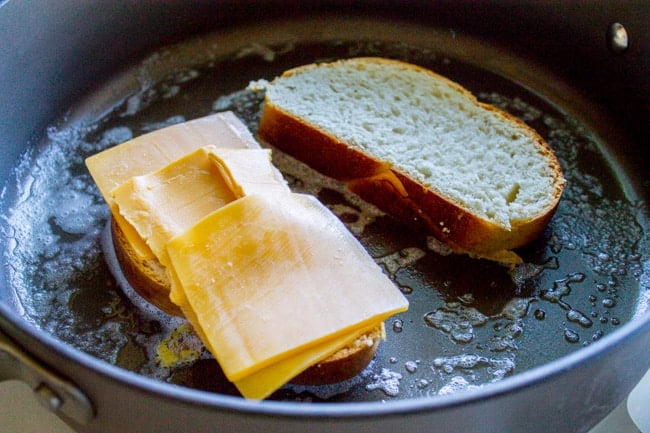 See those slices in the middle? It's Velveeta. I know, I know. The other slices are sharp cheddar. But nothing melts quite like Velveeta, even though I prefer the flavor of cheddar. If you have childhood memories of grilled cheese sandwiches made from Kraft Singles, add the Velveeta. You will get that amazing cheese-stretch when you take a bite from the center.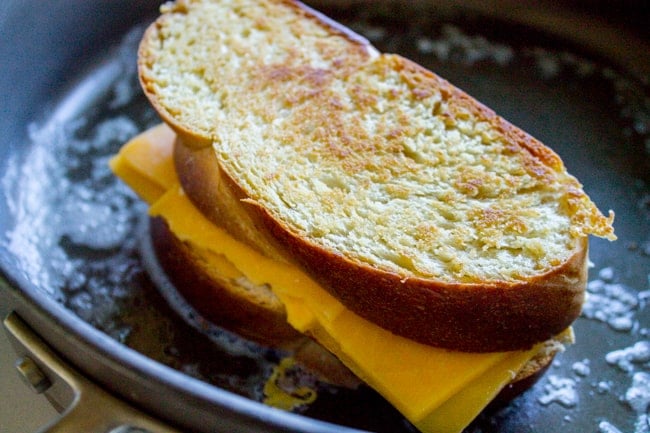 Top to make it a sandwich. But instead of leaving it and waiting for it to get seriously crispy on the bottom, layer some cooked bacon on the outside of the bread, sprinkle with cheese, and THEN flip.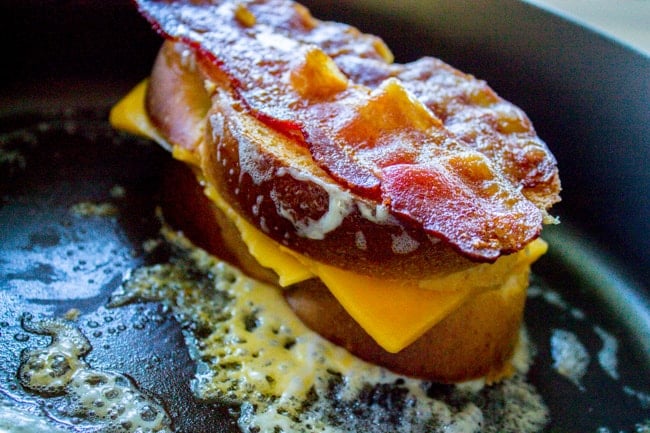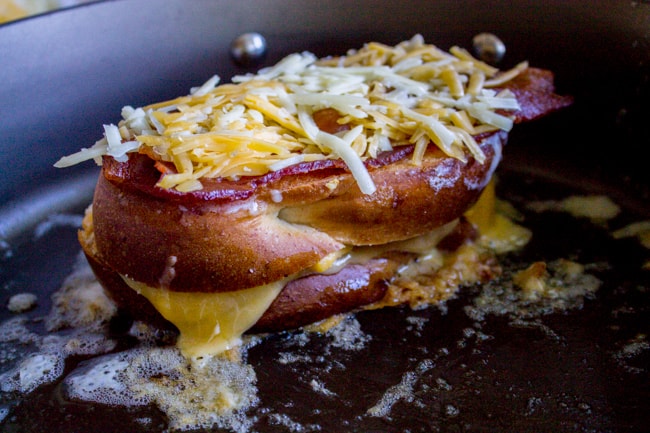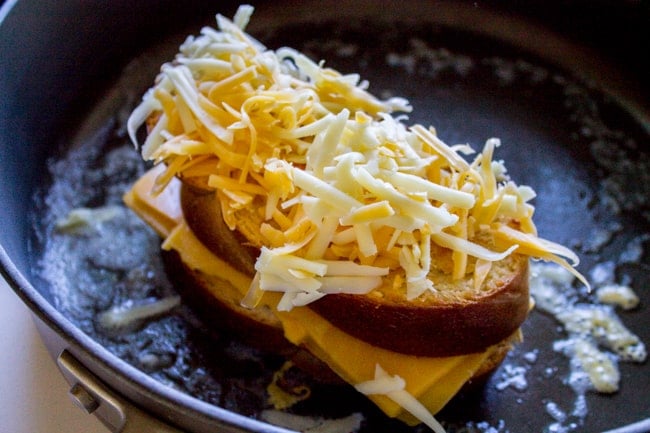 (Of course you can skip the bacon if you want, it's still amazing without it.)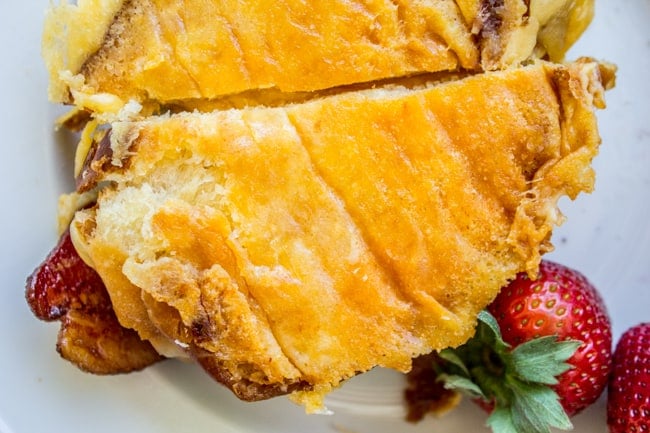 Then sprinkle with more cheese and flip again. This will give you a crispy cheesy layer on the OUTSIDE of your grilled cheese, in addition to the gooey stretchy cheesy center. What are you waiting for?? Make one!
The recipe for Grilled Cheese Eggs Benedict that I've been teasing you with is coming soon! We're going to make an eggs benedict out of these bad boys.
If you make this recipe, share it on Instagram using the hashtag #TheFoodCharlatan so I can see it! I love that.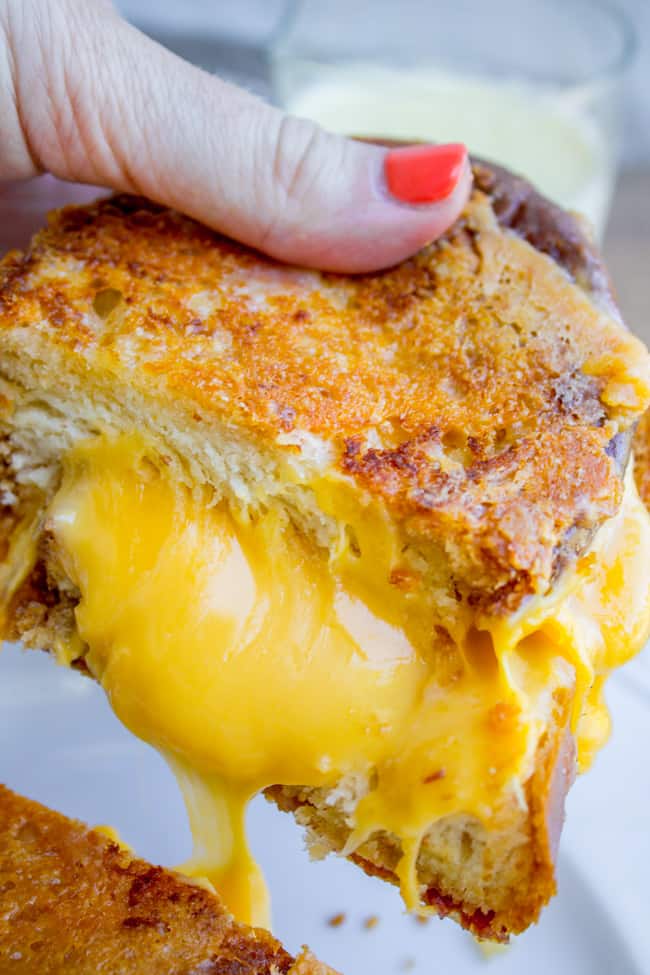 More cheesy goodness:
Facebook | Pinterest | Instagram

The Best Grilled Cheese of Your Life
Let me introduce to you how to make the Best Grilled Cheese of Your Life! Fresh challah bread, ultra stretchy cheese in the middle, and a crispity crunchy cheese skirt on the outside of the sandwich. Did I mention the bacon? BOOM.
Ingredients
8

slices

challah bread

4-6

tablespoons

butter

,

at least

8

thick

slices of sharp cheddar* cheese

,

or more

8

slices

bacon,

cooked

1 +

cup

shredded cheese*
Instructions
Slice the challah bread into 1/2 or 3/4 inch slices. You will need 8 slices of bread (for 4 sandwiches).

In a wide nonstick skillet, heat about 2 tablespoons of butter over medium low heat until melted. Add 2 slices of bread to the butter in the pan. Make sure you get butter on the bottom of each slice of bread.

Add 2 thick slices of cheese to one piece of bread. Or add more, I'm no judge.

Place the other slice of bread, butter side up, on top of the cheese.

Sprinkle about 2 tablespoons of shredded cheese on top of the bacon.

Melt another 1/2 tablespoon butter in the pan, off to the side. Carefully flip the sandwich over onto the melted butter, so that the cheese and bacon are on the bottom of the pan. Cook on medium low for 3-4 minutes until crispy and grilled.

Add another 2 tablespoons of cheese to the top of the sandwich. Flip so that the cheese is on the bottom, and cook until crispy, another 3-4 minutes.

Repeat with remaining bread, cheese, bacon, and butter until all 4 sandwiches are done. When each sandwich is finished, put it on a cooling rack in the oven, so that the bottom stays crispy! (see note)
Notes
*You can use any kind of cheese you like. The restaurant dish that I recreated this from says they use 3 kinds of cheese. I used sliced cheddar and Velveeta in the center. (I love the flavor of cheddar best, but Velveeta melts so beautifully. So I did both. Not necessary unless you're posting your cheese stretch on the Internet.) I used sharp white cheddar cheese and Monterey jack for the shredded cheese.
If you are making these sandwiches for a crowd, put the finished sandwiches in the oven to keep warm. Preheat your oven to the "keep warm" setting (170 degrees F.) Set a cooling rack over a baking sheet and place it in the oven. This will help keep the bottoms crispy. (I use this same method for pancakes and waffles. Nobody like a soggy bottom.)
Nutrition
Serving:
1
sandwich
|
Calories:
790
kcal
|
Carbohydrates:
52
g
|
Protein:
36
g
|
Fat:
48
g
|
Saturated Fat:
26
g
|
Polyunsaturated Fat:
3
g
|
Monounsaturated Fat:
15
g
|
Trans Fat:
1
g
|
Cholesterol:
181
mg
|
Sodium:
1301
mg
|
Potassium:
282
mg
|
Fiber:
2
g
|
Sugar:
2
g
|
Vitamin A:
1330
IU
|
Calcium:
649
mg
|
Iron:
4
mg