Pimiento Cheese, Tomato, and Biscuit Sandwiches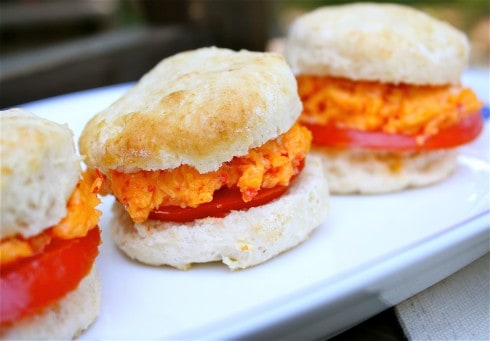 When I was about 16 my parents took my brother and I to see "The South." We rented a car and hit 8 states in 2 weeks. We went to the Grand Ole Opry, visited Graceland and Monticello, and experienced Waffle House. My brother discovered bluegrass (and loves it to this day) and I discovered humidity. I actually had to buy a new skirt while I was there because I truly had never been so hot and sweaty in my entire life. (I still have that skirt actually. It's a good one. But maybe I shouldn't be admitting that I still wear clothes from high school?)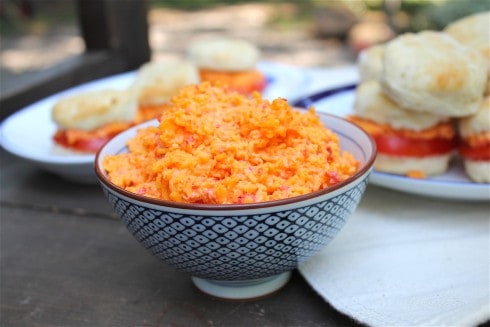 Somehow I missed the pimiento cheese phenomenon though. It's a Southern classic, apparently. (Although I read somewhere recently that if a dish is fattening and delicious, the Southerners automatically claim it as their own, regardless of whether or not it originated in the South. I'm cool with that. I like having an innocent-sounding label for food that is fat and delicious.)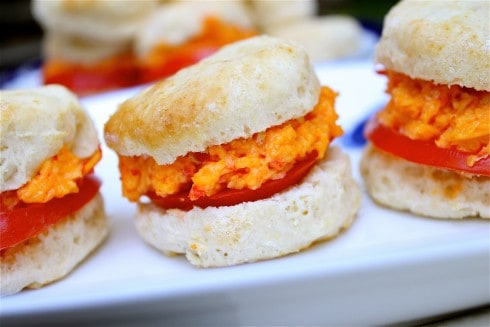 This stuff is amazing. Cheese, mayonnaise, pimientos. Pretty simple, yet mind-blowing when you top a cracker with it. It's really good with Wheat Thins or Ritz, or even carrots. I spread it on some biscuits and added tomato to make these fun little appetizers. Let the dip come to room temperature before you serve it. Way to go, South. This one's a winner.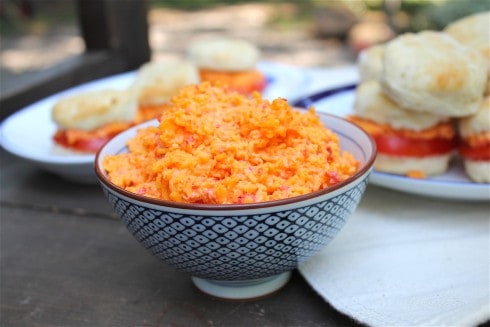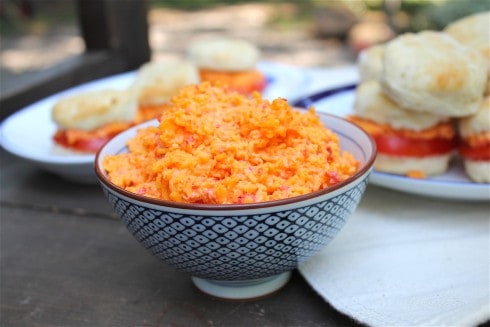 print
Did you make this recipe?
Leave a review »
Pimiento Cheese, Tomato, and Biscuit Sandwiches
Makes about 16 sandwiches
adjust servings
Ingredients
For the biscuits
2

cups flour

1

tablespoon baking powder

1/4

teaspoon salt

4

tablespoons butter flavored Crisco

3/4

cup buttermilk, well-shaken
For the dip
2 7-ounce

jars sliced pimientos, drained

3 10-ounce

bricks sharp cheddar cheese, finely shredded

1

cup mayonnaise

cayenne pepper to taste

3

tomatoes, sliced
Instructions
First make the biscuits. Preheat oven to 450. Lightly grease a baking sheet, or use a silpat. In a medium bowl, whisk together the flour, baking powder, and salt. Use a pastry cutter or fork to cut in the Crisco. When it reaches the crumb stage, use a fork to stir in the buttermilk to make a soft dough. Don't overdo it or your biscuits will be tough. You just want the dough to come together. Turn dough onto a lightly floured surface, and knead 3 or 4 times until manageable.
Use your hands to flatten the dough to a thickness of 1/2 inch. Cut using a 2-inch floured biscuit cutter. Reroll the dough as many times as necessary, trying not to work it too much.
Place the biscuits on the baking sheet 1 inch apart. Bake 7-8 minutes, or until lightly browned.
For the dip, drain the pimientos and throw them in the food processor or blender. Puree until almost smooth. In a large bowl or stand mixer, beat together the shredded cheese and pimientos. Beat in mayonnaise.
To assemble sandwiches, split a biscuit in half. Spread one side with pimiento cheese dip. Top with a sliced tomato and top with the other half of the biscuit. If you are just serving the dip with crackers, make sure you let the dip come to room temperature before serving. Dip can be stored in the fridge for about a week.
by The Food Charlatan

If you make this recipe,
share it on Instagram
 using the hashtag
#TheFoodCharlatan
so I can see it!
Source: adapted from Better Homes and Gardens, July 2013
We are a participant in the Amazon Services LLC Associates Program, an affiliate advertising program designed to provide a means for us to earn fees by linking to Amazon.com and affiliated sites.