Cuban Sandwiches (Cubanos)
A classic homemade Cuban sandwich recipe (Cubano) with mojo-marinated pork, swiss, pickles, and lots of mustard. And also lots of butter, but let's try to focus on the calorie-free mustard.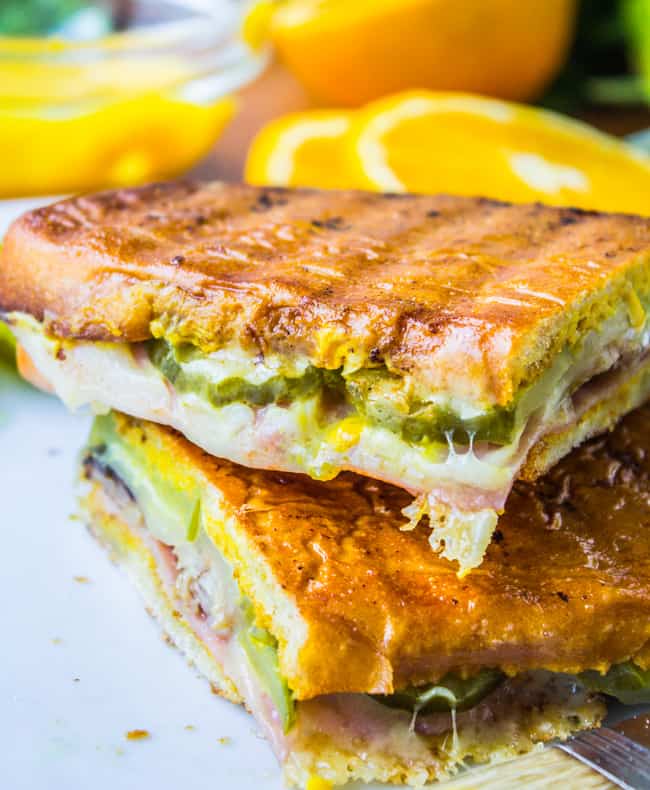 The other day I was discussing eye color with Charlotte's friend Milo, who is four:
"What color are your mom's eyes, Milo?" Green.
"What color are your dad's eyes?" Yellow.
"Humans don't have yellow eyes."
"My dad's not human."
Aside from making the decision to start doing actual background checks on Charlotte's friends, I've been making Cubanos. Lots, and lots, and lots of Cubanos.
How to make Cuban Sandwiches (Cubanos)
Last week I shared the recipe for this Cuban Mojo-Marinated Pork, which is a totally awesome stand alone recipe. It is some of the tenderest, juiciest, crustiest meat I've ever had. But slap it on some buttery bread and smother it with swiss cheese, pickles, and mustard? Now we're talkin.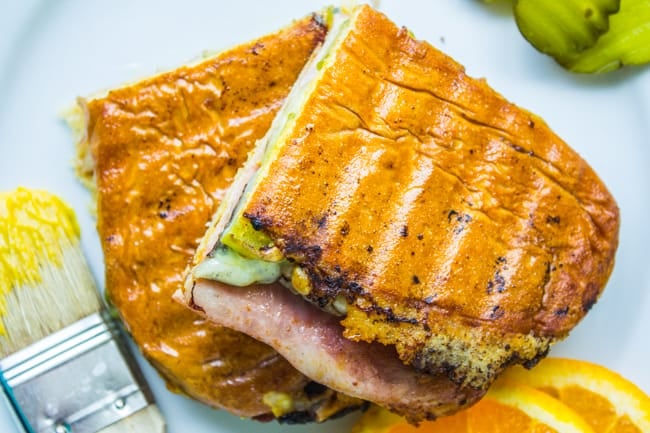 I found the boiled ham in the lunchmeat section at the store. The recipe called for boiled ham, and after thinking to myself, "what the heck is boiled ham," I asked someone in the meat department before even bothering to check. She led me right to this perfect little 6-ounce package that clearly says "boiled ham."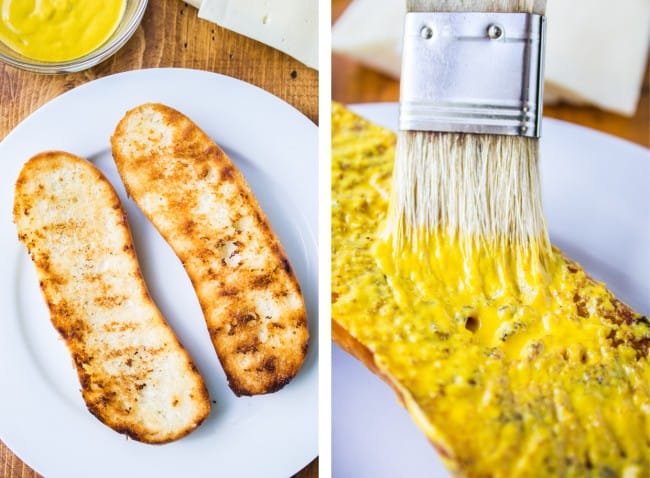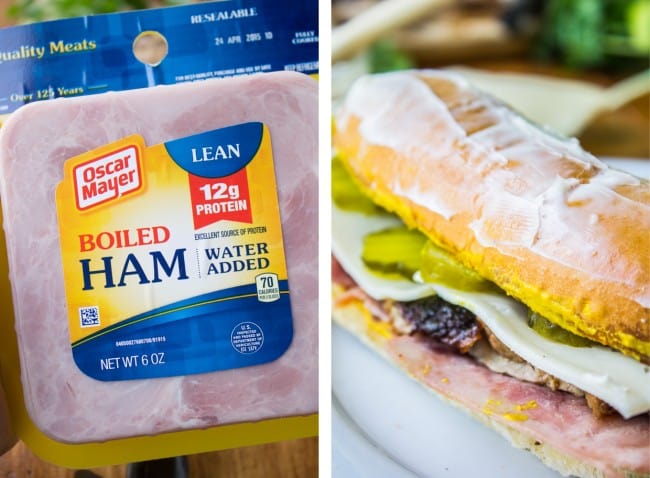 I must have had a really stupid look on my face, because she pointed at the other lunchmeat packages: "See, you've got your honey ham, your smoked ham, lots of different kinds of ham. This one's just boiled." I felt idiotic and relieved that I didn't have to ask for more information on boiled ham. Apparently a two word description of EXACTLY WHAT IT IS isn't enough for me.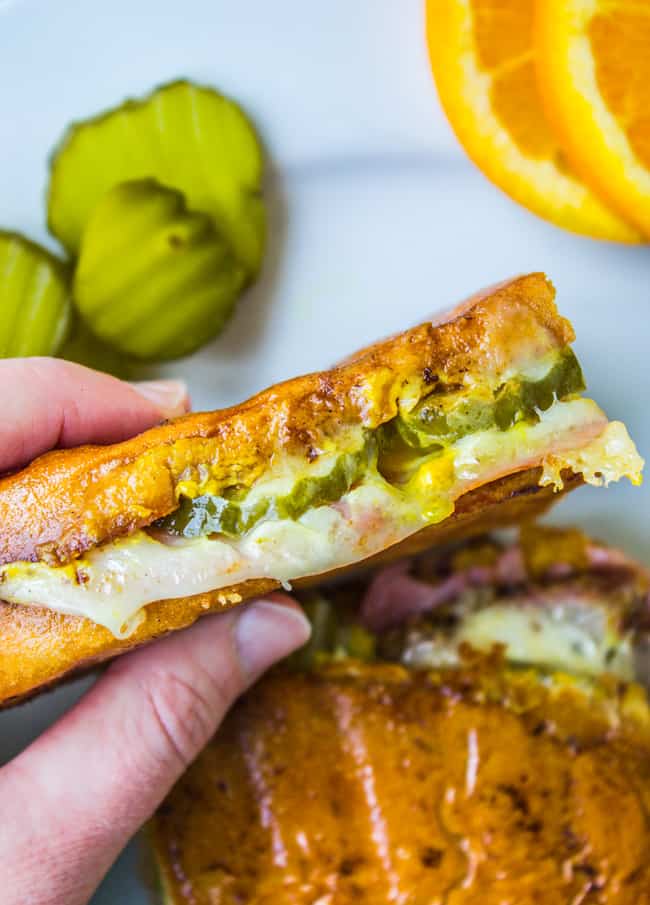 Make yourself at least one Cubano soon, or 4 or 5 if you're normal. If you get really ambitious, you could even buy a food truck and start selling Cuban Sandwiches across the nation. It worked in Chef!
Do you guys give up? Or are you thirsty for more?
Facebook | Pinterest | Instagram | Twitter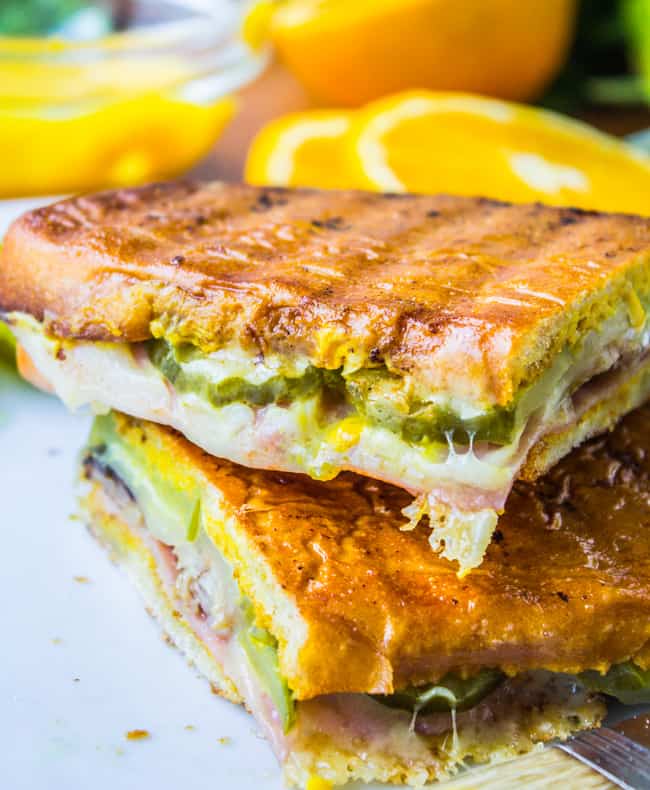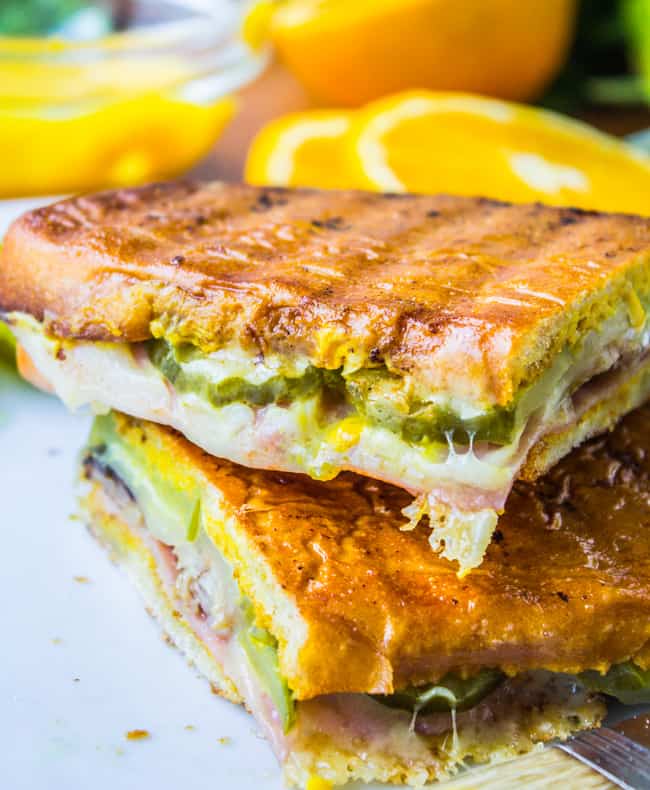 print
Did you make this recipe?
Leave a review »
Cuban Sandwiches (Cubanos)
Ingredients
6

ounces thinly sliced boiled ham

Softened butter, for brushing

6

six-inch soft baguettes or hero rolls, split lengthwise

Yellow mustard, for brushing

3/4

pound thinly sliced Cuban Mojo-Marinated Pork, or store-bought roast pork

8

ounces thinly sliced Swiss cheese

3

half-sour dill pickles, thinly sliced (I used regular ol' dill chips)
Instructions
Heat a skillet over medium, and add the sliced boiled ham. Cook for about 1 minute on each side, or until brown spots start to appear. Remove to a plate.
Brush or spread softened butter over the cut side of each roll. Add to the skillet and brown the cut side of the bread until it is golden and starting to toast.
When the bread is toasted, spread with mustard. Use as much as you like.
Layer the pork, browned ham, Swiss, and sliced pickles. Top with the bread. Brush the top and bottom of the sandwich with butter.
Grill the sandwiches in the same skillet, using another heavy skillet to press down the sandwich. Add cans or something else heavy if it's not being pressed well. If you have a George Foreman or a panini press, use that. Cook for about 3 minutes, then flip the sandwich, squish it again, and cook for another 2-3 minutes or so. Keep an eye on it. You want to outside to be crisp and golden and the cheese melted.
Slice in half and devour immediately!
by The Food Charlatan

If you make this recipe,
share it on Instagram
 using the hashtag
#TheFoodCharlatan
so I can see it!
Source: People.com, who published the recipe from the chef who cooked for the movie "Chef."
Here is the Cuban Mojo-Marinated Pork I used in the Cubanos. Soooo good: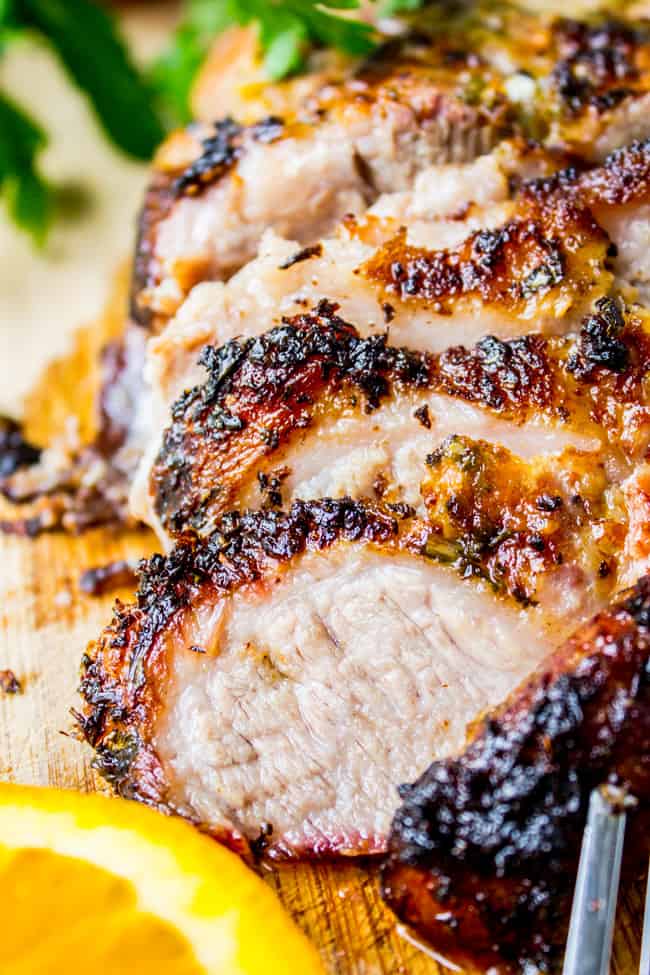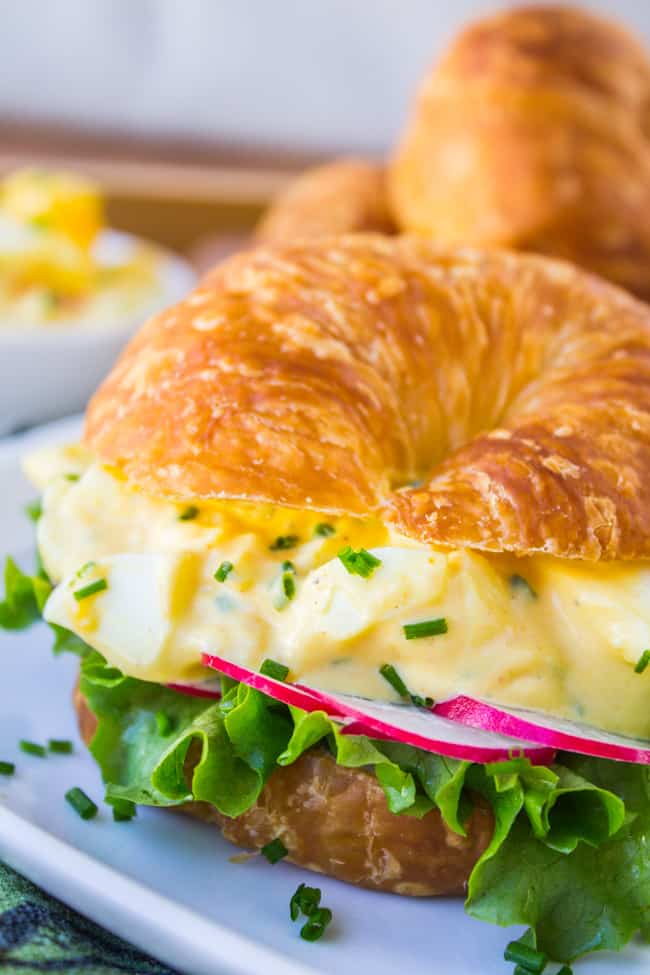 Reuben-Stuffed Crescent Rolls: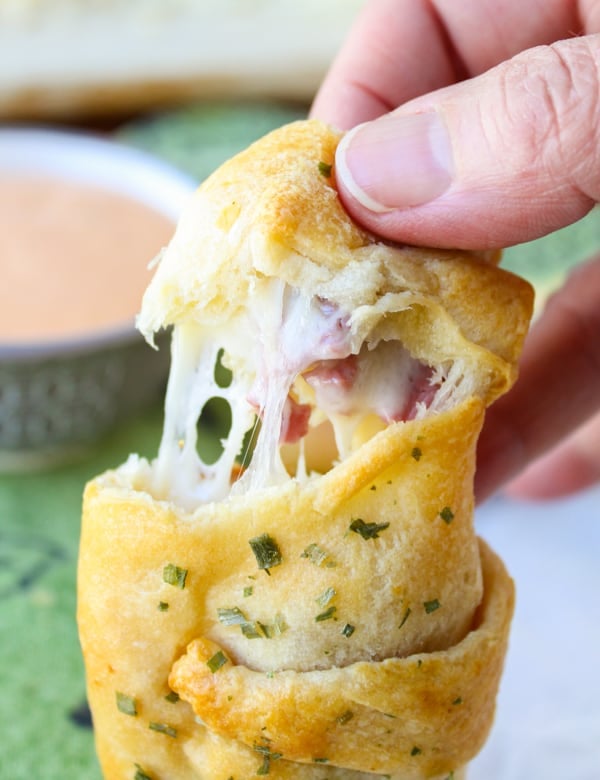 Curried Chicken Salad Sandwiches with Naan: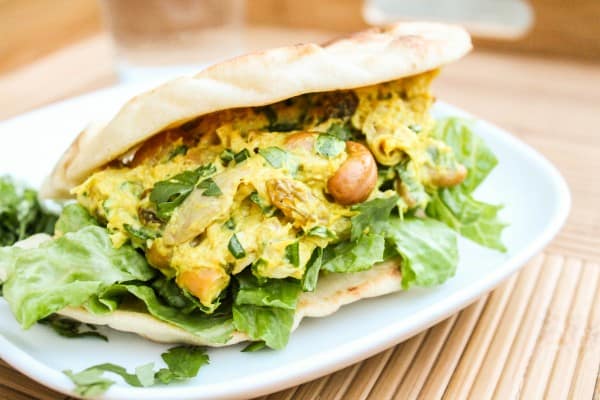 More sandwiches!
Steak Sandwiches from Cravings of a Lunatic
Monte Cristo from She Wears Many Hats
Bacon Brie Grilled Cheese Sandwiches from Simply Delicious
This post was originally published on April 16, 2015. Updated March 2018.
We are a participant in the Amazon Services LLC Associates Program, an affiliate advertising program designed to provide a means for us to earn fees by linking to Amazon.com and affiliated sites.