Greek Spinach Feta Chicken Pockets
So are you guys ready for the weekend? Sometimes I get excited for the weekend and then I remember I'm a stay-at-home mom. And that my infant will still wake up every four hours to eat and that my toddler will still wake up screaming at the top of her lungs, "Bug!! Bug in here! Bug!!!" While this last occurrence is frustrating because I have to get out of bed, it is also hilarious. Every time Eric and I hear her we bust up laughing and have to work to straighten our faces before we go in to calm her down.
I think her bug phobia is partly my fault. We have an animal book which has one page that features all different kinds of insects, and instead of asking her to name all the different bugs like we do with the animals on the other pages, I taught her to say "ew."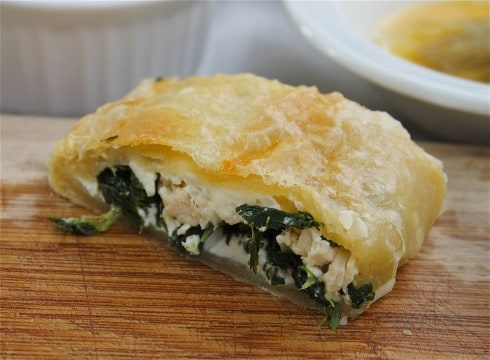 Say hello to these beauties. They are basically foot-long Greek-flavored Hot Pockets. I don't know how you could not be excited about this. A foot long hot pocket? Awesome. But these are even better because they don't taste like microwave. (I mean, hot pockets are great and everything…but they're also kind of repulsive.) But these Greek pockets are awesome. I've said it before and I'll say it again, add feta to anything and it automatically becomes amazing. Add puff pastry, spinach, chicken, and a ton of cheese, and you've got it made.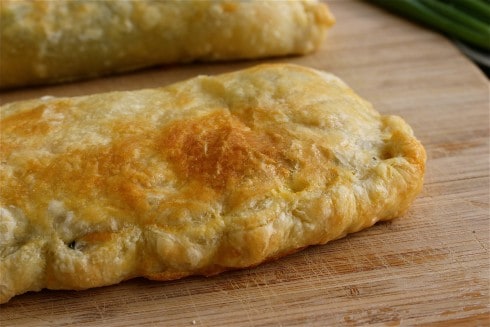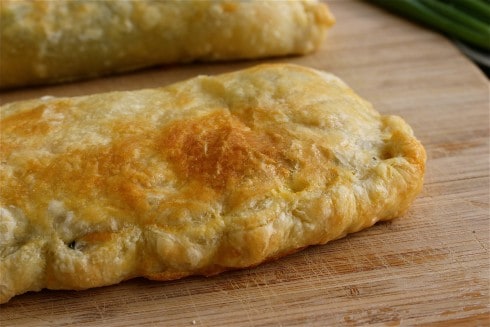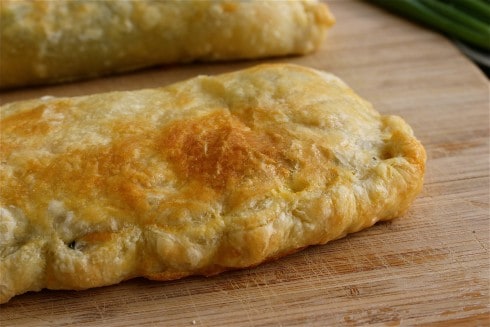 print
Did you make this recipe?
Leave a review »
Greek Spinach Feta Chicken Pockets
4-5 servings
adjust servings
Ingredients
1 17-ounce

package Puff Pastry, both sheets thawed

4

ounces cream cheese, softened

1 10-ounce

package frozen chopped spinach, thawed and well drained

2

cups cooked and shredded chicken

1/2

cup chopped green onions

1

cup crumbled feta cheese

1 1/2

cups shredded mozzarella cheese

1

egg, beaten (for brushing on top; optional)
Instructions
Preheat oven to 400 degrees F.
Unfold both sheets of puff pastry onto a lightly floured surface. Roll them out a little bit if they are looking small.
Spread softened cream cheese evenly over pastry sheet leaving about 1/2 inch space along the edges.
Evenly distribute the spinach over half of the puff pastry sheet (width wise), again leaving about a 1/2 inch space along the edges.
Next, evenly distribute chicken and green onions over the spinach, still saving that 1/2 inch space around the edges.
Lastly, evenly sprinkle crumbled feta and shredded mozzarella cheese over the top of the chicken, still leaving a 1/2 inch space around edges.
Fold over the half of the puff pastry that doesn't have the ingredients on it and seal edges tightly.
Place on a cookie sheet (greased, or lined with parchment paper or silpat). If you want your the top to be browned and shiny, brush some beaten egg over the top of the puff pastry.
Bake at 400 for 15-20 minutes or until top is nice and golden brown.
Cut into slices and stuff your face.
by The Food Charlatan

If you make this recipe,
share it on Instagram
 using the hashtag
#TheFoodCharlatan
so I can see it!
Source: slightly adapted from
Chef in Training
We are a participant in the Amazon Services LLC Associates Program, an affiliate advertising program designed to provide a means for us to earn fees by linking to Amazon.com and affiliated sites.