Moussaka is a delicious lasagna-style dish from Greece. It layers potatoes and eggplant with a tomato based meat sauce, as well as a white sauce, then is topped with cheese. Lamb and cinnamon come together in traditional Greek flavors. It is so good!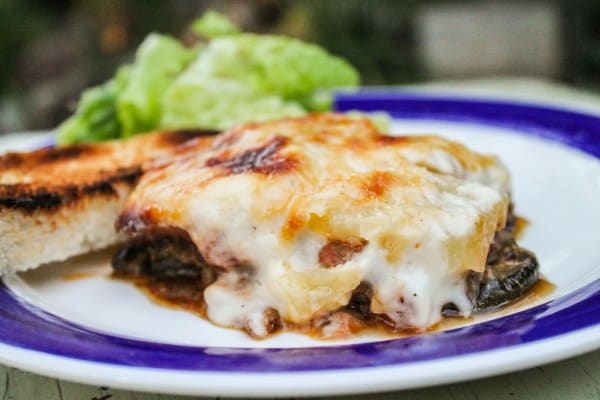 "How sentimental. I haven't been this choked up since I got a hunk of MOUSSAKA caught in my throat!"
Okay, if you can name this movie, I will be eternally impressed.
Or should I say…Olympically impressed.
Okay. Terrible joke. And olympically's not even a word. Whatever. It's Monday, don't talk to me.
I had no idea this line was in Hercules until after I made this Moussaka. I put it on for Charlotte one day (thanks Netflix), finally understood Hades' first line in the movie, and pretty much died laughing. Hades was already my favorite character.
And by the way, it's pronounced moo-sock-uh, not moose-uh-ka like I was saying it until Hades set me straight. Thanks Hades, I owe you one. Also, if you say moussaka out loud the correct way enough times it will make you want to watch Lion King. Just sayin'.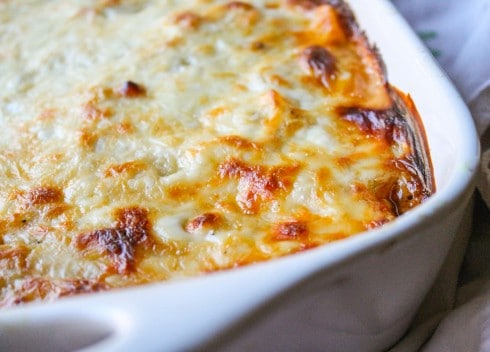 This recipe is madness. MADNESS, I tell you. But IT IS WORTH EVERY SINGLE MOMENT. I'm not one of those cooks that's going to lie to you and be like all, oh, you can whip this up on a weeknight, no prob. All you have to do is go to a specialty store to buy ground lamb, make a homemade meat sauce, make a homemade white sauce, salt and compress your eggplant slices, rinse them and pat dry, boil potatoes, slice up some zucchini, bake for an hour, and you're DONE! Um…no.
Having said this, every recipe has it's place in the world. If no one ever made time-consuming food, we would never have croissants, or French onion soup, or anything from the entire country of India. (am I right or am I right?) And I for one refuse to live my life without croissants. Or moussaka. And since you can't cheat and get moussaka at the bakery…well, you're welcome.
I think it would be fun to make this for a date. Either with your spouse, or someone new, or even a small party of people. Chatting it up in the kitchen is fun.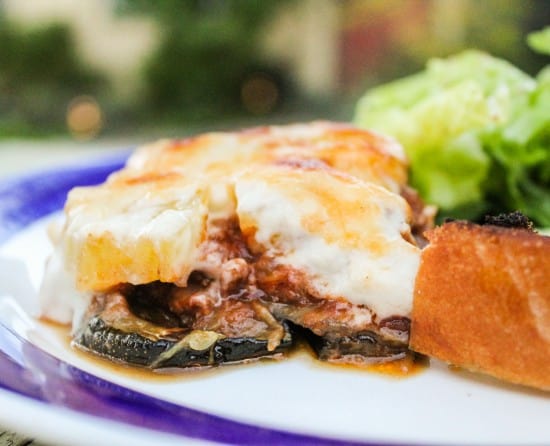 I guess I should tell you what it is before I start planning your dinner party. Moussaka is a traditional Greek dish. (In case you couldn't tell by the lamb-cinnamon-eggplant combo. It's practically screaming Greek. ("You don't eat meat? You DON'T eat MEAT? That's okay…I make you lamb.") I don't know what it is with me and the movie references today.
This is probably one of the best things I've ever eaten. And I eat. I eat a lot. I ate a lot of this moussaka and didn't regret a single bite. It was so, so good. It's definitely not your typical casserole. Don't let the cinnamon scare you. It's not sweet, it just adds great flavor. Take an afternoon sometime and make this with friends. You could even turn on Hercules or My Big Fat Greek Wedding if you wanted to be real authentic. :)

Moussaka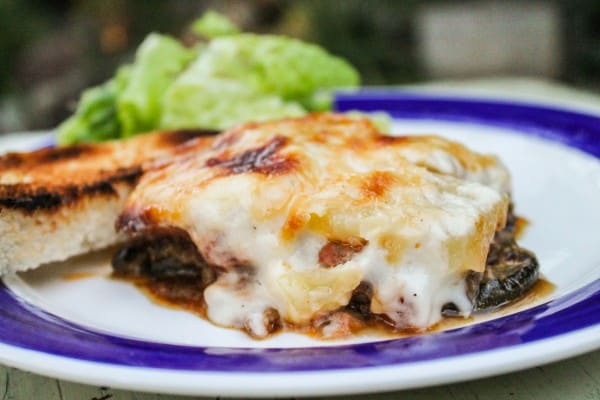 Moussaka is a delicious lasagna-style dish from Greece. It layers potatoes and eggplant with a tomato based meat sauce, as well as a white sauce, then is topped with cheese. Lamb and cinnamon come together in traditional Greek flavors. It is so good!
Ingredients
2

large

potatoes

,

or 4 small

2

medium

eggplants

salt

1

large

zucchini

2

tablespoons

olive oil
For the Meat Sauce
2

tablespoons

olive oil

1

cup

onion

,

diced, from 1 medium, or 1/2 large onion

3

cloves

garlic

,

minced

1

pound

ground lamb

2

tablespoons

tomato paste

2

bay leaves

2

cinnamon sticks

,

or 1/2 teaspoon ground cinnamon

1/8

teaspoon

ground cloves

1

15-oz can

diced tomatoes

,

undrained

1/4

cup

red wine

,

or 1 tablespoon red wine vinegar

salt

,

to taste
For white sauce
1/4

cup

butter

1/4

cup

flour

2

cups

milk

,

divided

2/3

cup

parmesan cheese

,

or grated kefalotyri

pinch

nutmeg

salt

,

to taste
Instructions
Peel the potatoes and boil them whole, until they are just tender. When cool, slice into 1/4 inch rounds and set aside.

Slice the eggplants crosswise into 1/2 inch rounds and spread on a baking sheet or cutting board lined with paper towels. Sprinkle generously with salt on both sides, then top with another baking sheet weighted down with books, your cat, a giant bag of protein powder, whatever you've got. You just need to squeeze out all that eggplant-y water. Set aside for about 15 minutes. Preheat your broiler.

Pat the eggplant slices with paper towel to remove as much moisture as possible. Rinse under running water, and dry once again.

Slice zucchini into 1/4 inch rounds. Toss zucchini and eggplant slices on baking sheet with 2 tablespoons of olive oil, then arrange in a single layer. (I needed a couple baking sheets to fit everything.) Broil on highest oven rack for 6 minutes, or until slightly charred, then flip slices and repeat on the other side. Set pan aside.

Make the meat sauce: Heat 2 tablespoons olive oil in a large saucepan over medium heat. Add onions and cook until translucent, then add garlic and cook for 1 minute, or until fragrant. Add ground lamb and cook until browned, stirring often and breaking up the meat. Stir in tomato paste and cook 1 minute, then stir in diced tomatoes and red wine, or red wine vinegar. Add the bay leaves, cinnamon sticks, and cloves. Reduce heat to low and simmer, about 30 minutes. Season to taste with salt and pepper.

Make the white sauce: Melt butter over medium heat in a medium saucepan. Stir in flour and cook 1 minute, stirring constantly (reduce heat if necessary; you want to cook out the starch, not brown it). Whisk in 1/4 cup of the milk until fully incorporated, then very slowly whisk in the remaining milk. Stir frequently until sauce is thickened. Slowly sprinkle in cheese and stir to combine. Season to taste with salt and nutmeg. Remove from heat, or leave it on low and stir occasionally.

Assemble the moussaka: Preheat the oven to 350 degrees. In a large 9x13 casserole dish, arrange the bottom layer with half of the charred eggplant and zucchini slices. Spread all the meat sauce over top. Add the rest of the eggplant and zucchini, then layer the potato slices. Pour the white sauce over top. Bake for 45 minutes to 1 hour, until bubbly and browned.
Notes
You can make this a day ahead of time and store covered in the refrigerator for 24 hours. It might take a few more minutes to bake. I made the white sauce and the meat sauce ahead of time, that worked great too.
Nutrition
Serving:
1
cup
|
Calories:
646
kcal
|
Carbohydrates:
46
g
|
Protein:
25
g
|
Fat:
41
g
|
Saturated Fat:
17
g
|
Polyunsaturated Fat:
3
g
|
Monounsaturated Fat:
18
g
|
Trans Fat:
1
g
|
Cholesterol:
91
mg
|
Sodium:
384
mg
|
Potassium:
1419
mg
|
Fiber:
9
g
|
Sugar:
14
g
|
Vitamin A:
707
IU
|
Vitamin C:
41
mg
|
Calcium:
302
mg
|
Iron:
4
mg