I will show you exactly how to make the best BLT sandwich of your life! Sometimes the simplest recipes are the easiest to mess up. Nobody wants a soggy sandwich, or one that is flavorless and bland! I will show you all the tips and tricks you need to make a perfectly toasted, crispy-yet-tender, juicy and drippy avocado Bacon Lettuce and Tomato Sandwich. Originally posted May 11, 2012.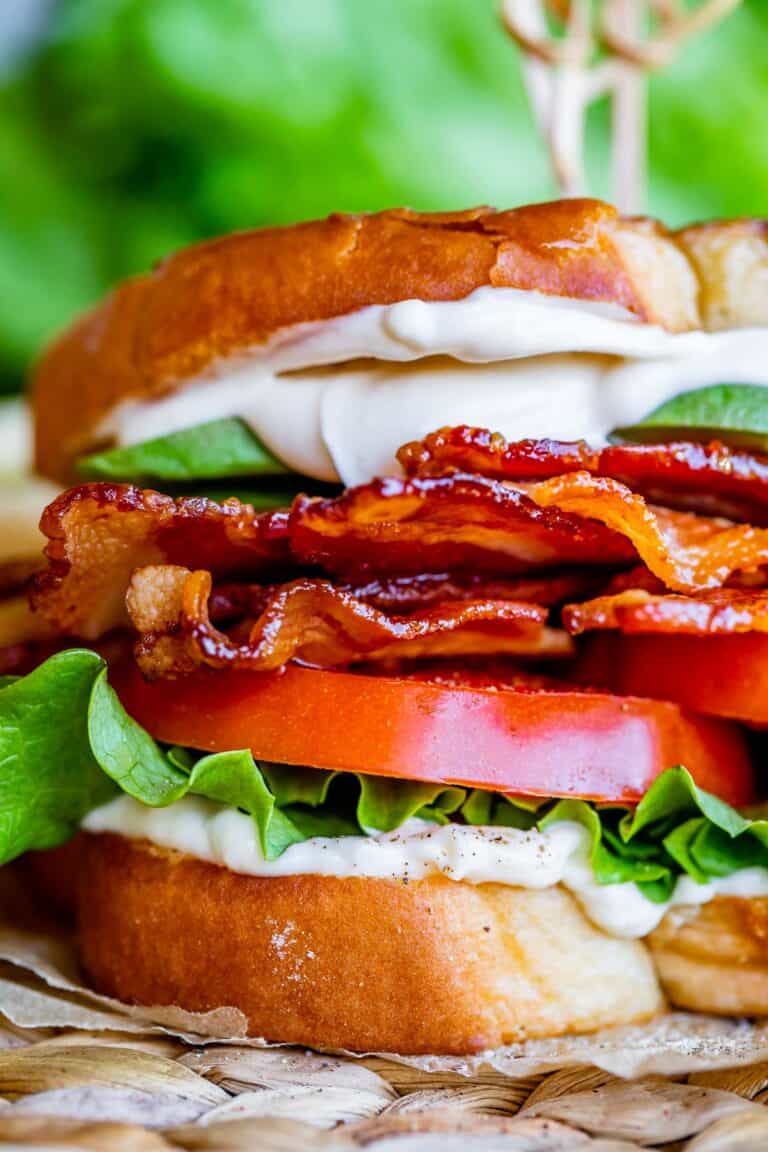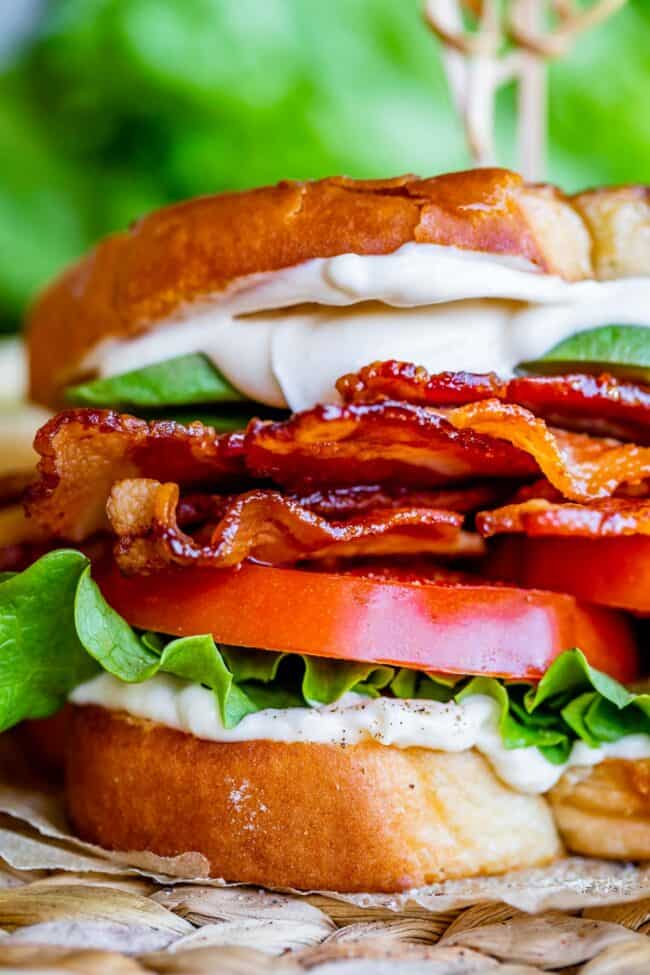 When Eric was in college, he and his friend Brian formed the Sandwich Club. Activities included sandwich making, sandwich supplies shopping, and the creation of new and tasty sandwich combinations. There were exactly 2 people in this club, and with good reason: one sandwich was not enough for a hearty lunch, but two sandwiches was too much. The solution? Every meeting of the sandwich club saw the making of exactly 3 sandwiches. One and a half sandwiches is just enough for young college boys apparently.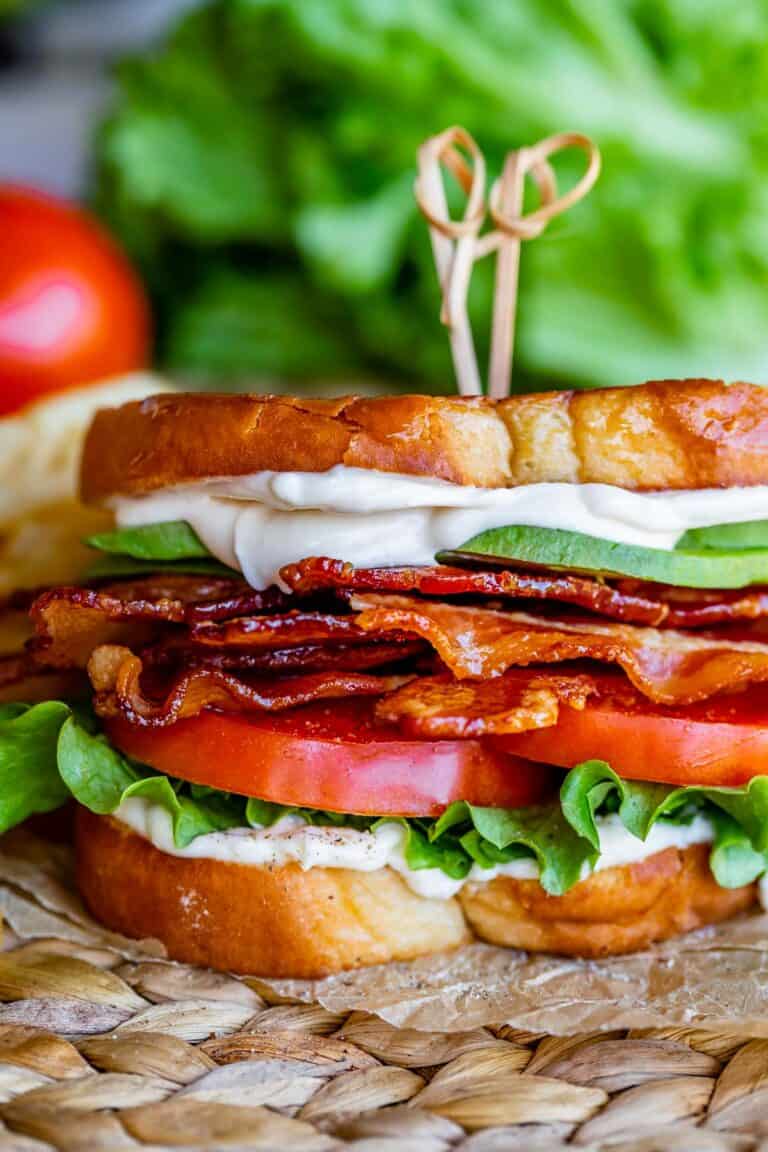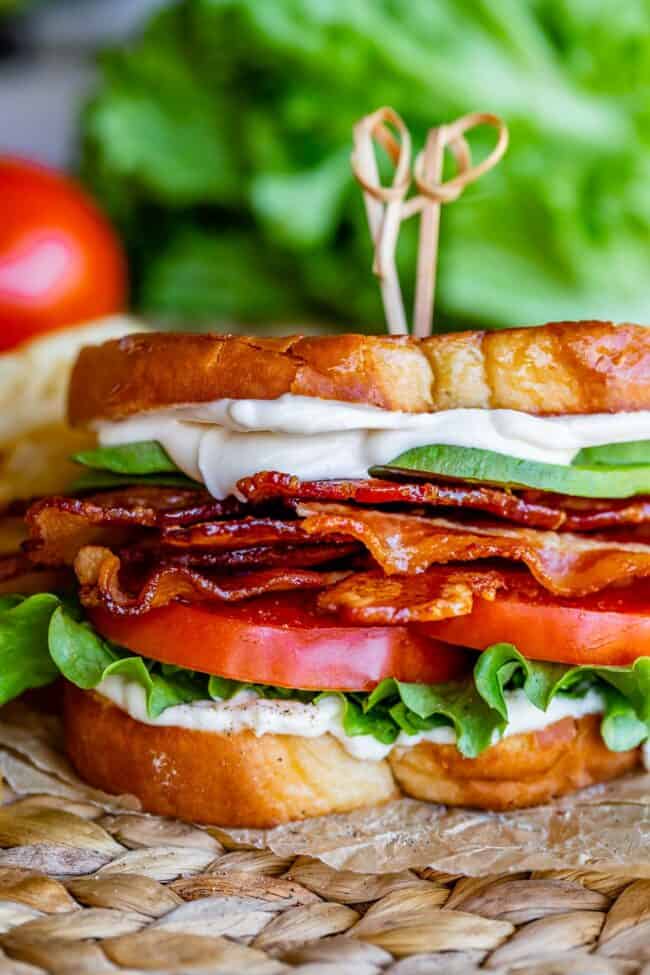 The final and unwritten mission of the sandwich club was to double the membership by getting married to two sandwich-loving women. So Eric and Brian found my roommate Sarah and I, and we all rode off into the sunset together. With sandwiches packed for the road, of course.
Sandwiches. These are my roots, people.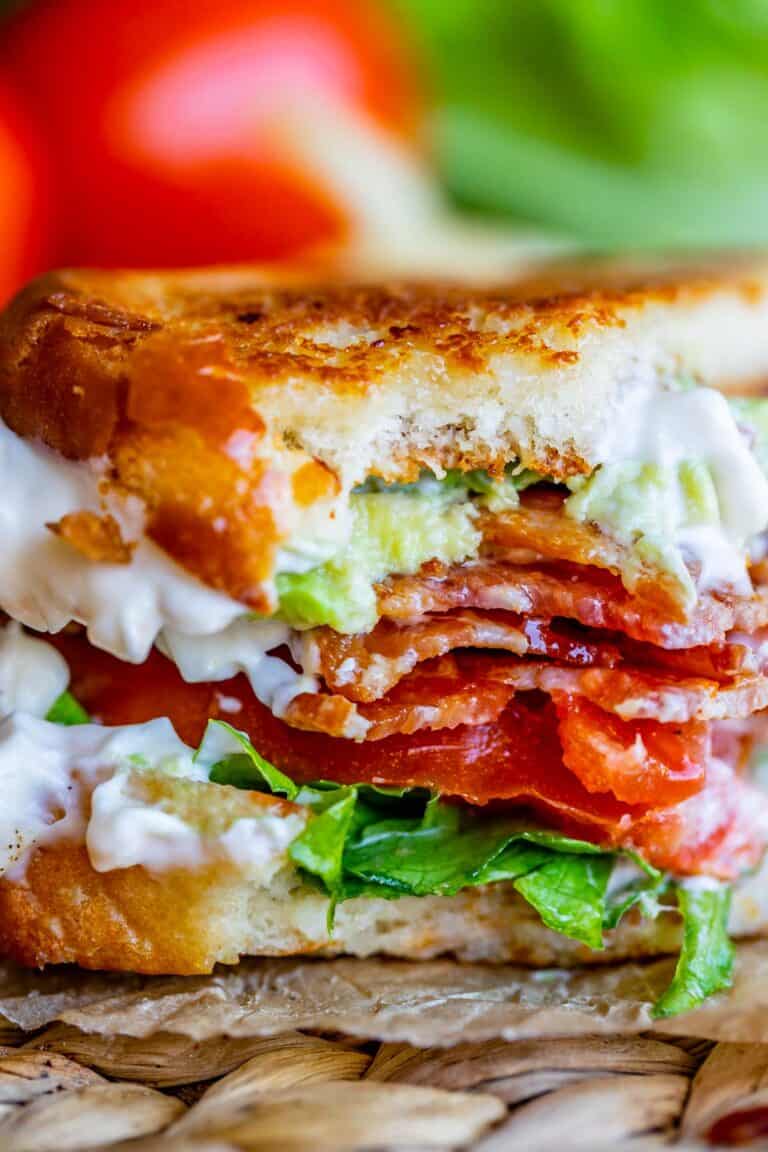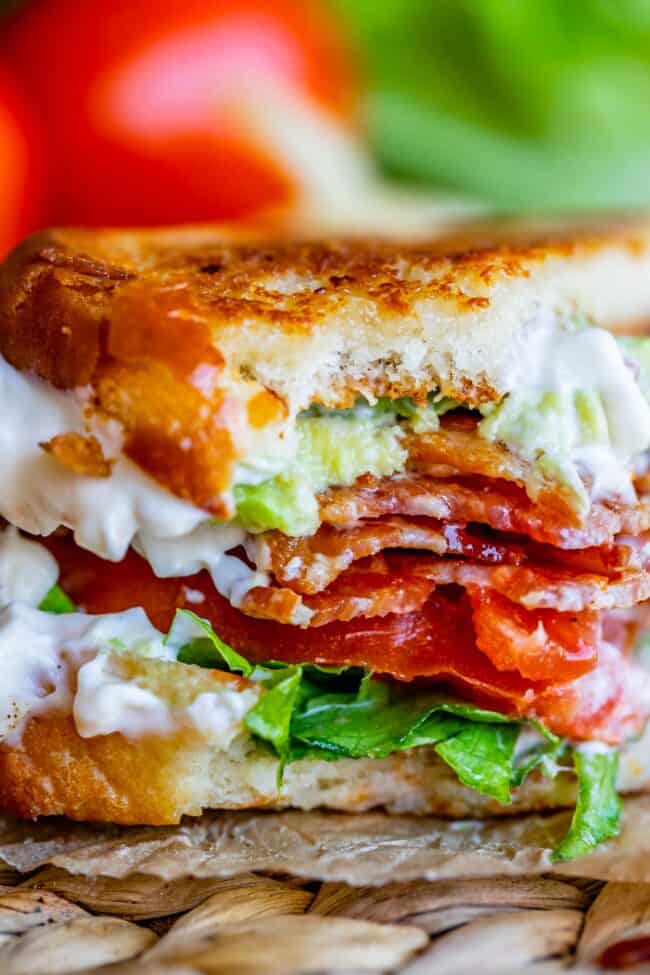 And that's what brings me to our BLT today. You might think it's silly to have a "recipe" for a BLT. Do I really need to write an entire blog post about this? YES. YES I DO. SANDWICHES ARE LIFE.
Ahem. Now let's get down to business.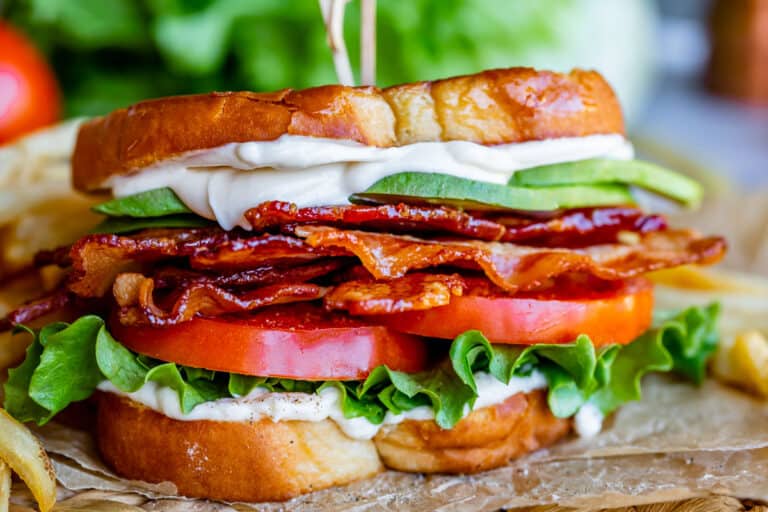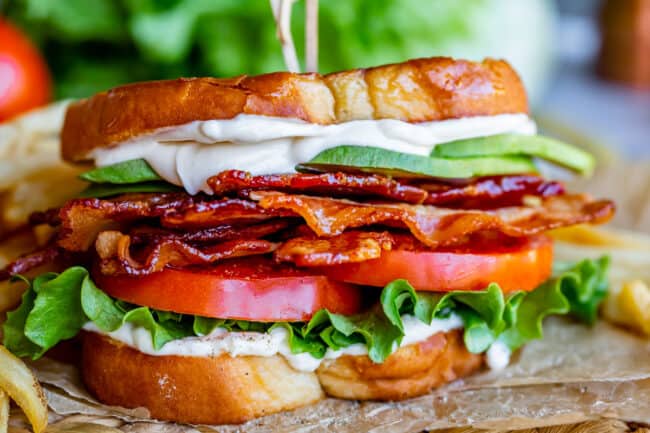 This is a simple sandwich my friends. There are only a few ingredients, and the rule when you are making something with very few ingredients is that all those ingredients have to be awesome. Let's break it down!
The Bread
A good sandwich is only as good as the bread it is sandwiched with. For the perfect BLT I recommend a hearty white bread. Some say this is too flimsy; you need a hearty French bread or Italian loaf to hold up to all that juicy tomato. Wrong I say. The crusts are too chewy. You need a nice and tender edge crust, the easier to bite into. (This is one of my main tips for getting the Best French Toast, too). Those chewy crusts will ruin that first bite faster than you can say gnawing.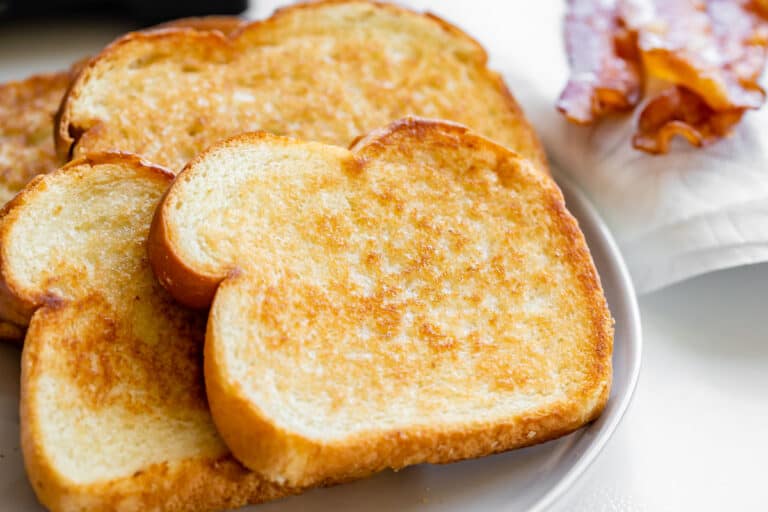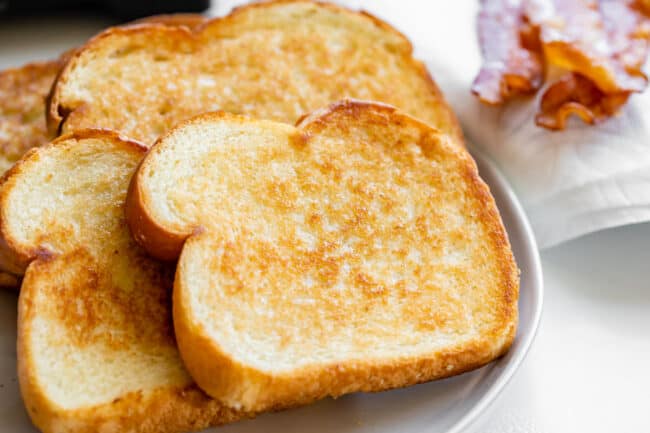 But we're not just slapping the ingredients on plain bread, oh no. First we are going to butter each side and lightly toast it on the stove. I said this was the BEST BLT, not the lowest in calories. Skip the butter if you must; but it really does add tons of flavor. (Butter, making everything better, you say?? What else is new.)
I chose to toast my buttered bread in a skillet, but you could easily pop dry bread in the toaster and then butter each side when it pops out.
Do NOT over toast your bread! We don't even want it to be dark brown. Just a nice, light, golden touch of toast and you are good to go. This will keep your bread from dissolving into a soggy mess as you eat, and add the perfect amount of crunch, without turning your bread into a mess of shattering crumbs that tears up the roof of your mouth. No thank you. (Does this happen to anyone else? Eric doesn't even know what I'm talking about when I've mentioned this in the past, but anytime I eat a toasted sandwich I have to be careful not to shred my own mouth. So only light toasting for me, thankyouverymuch.)
The Sauce
MAYONNAISE. I've said it before and I'll say it again, mayonnaise is God's greatest gift to the condiment kingdom, by a long shot. It is the perfect seal for so many sandwiches: creamy and smooth and perfectly tart. A nice BLT is no exception.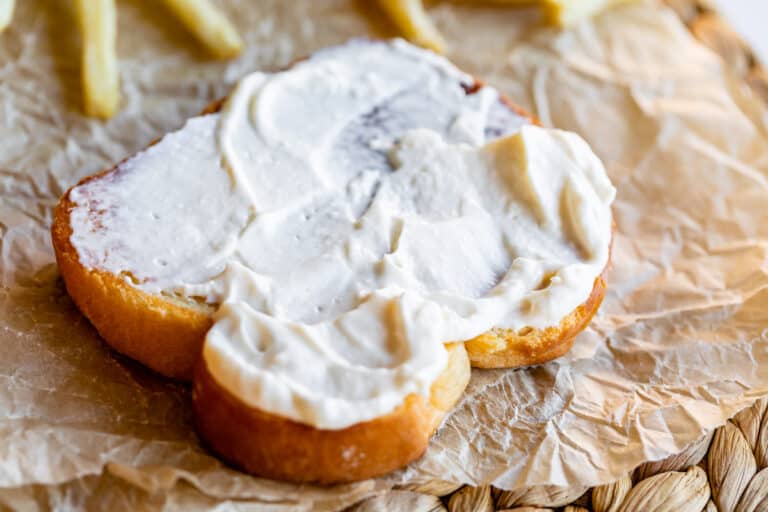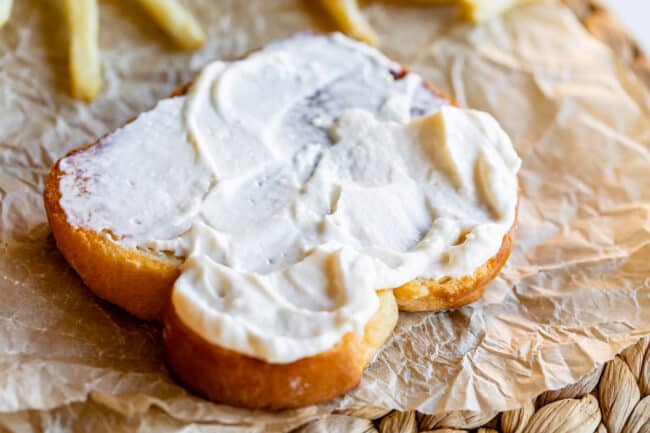 If you are not a "mayonnaise person" then I hate to say it, but maybe you just aren't a BLT person.
Okay okay, maybe that's a little harsh. Here are some other options. But be warned, most of them involve mayonnaise. It only gets better you guys. It's time to convert yourself.
Other sauce ideas for your BLT:
These are listed in the order that I'm most excited about trying next:
This BLT would be SO amazing made with Garlic Aioli. (Note to all the mayo haters: aioli is just glorified mayo with garlic and lemon. #sorrynotsorry
Stir together 2 tablespoons mayonnaise with 1 tablespoon of this Balsamic Reduction. Or, make a regular BLT with mayo and then drizzle the whole thing with a Balsamic Reduction before closing your sandwich. That would be so amazing!!
Mix together 2 tablespoons mayonnaise with 1/2 or 1 tablespoon mustard. I generally don't approve of squirting straight up mustard onto my BLT, but stirring a little into your mayo to spice it up is acceptable. Regular old French's or Dijon will do.
Sriracha mayo!! Oh I love this stuff. Start with 2 teaspoons sriracha with 2 tablespoons mayo and move up from there according to your tastes.
Fry sauce: mix together equal parts ketchup and mayonnaise.
Stir together 2 tablespoons mayonnaise with 1 tablespoon Buttermilk Ranch Dressing. Then sprinkle fresh dill on your sandwich. YES.
Simple garlic sauce: 1/4 cup mayo, 2 tablespoons sour cream, 2 tablespoons mustard, and 1/2 teaspoon garlic powder.
Here's what this BLT looks like made with the Chipotle Mayo I just posted! It's spicy and creamy and so so perfect. It's only in last place because I just made it last week: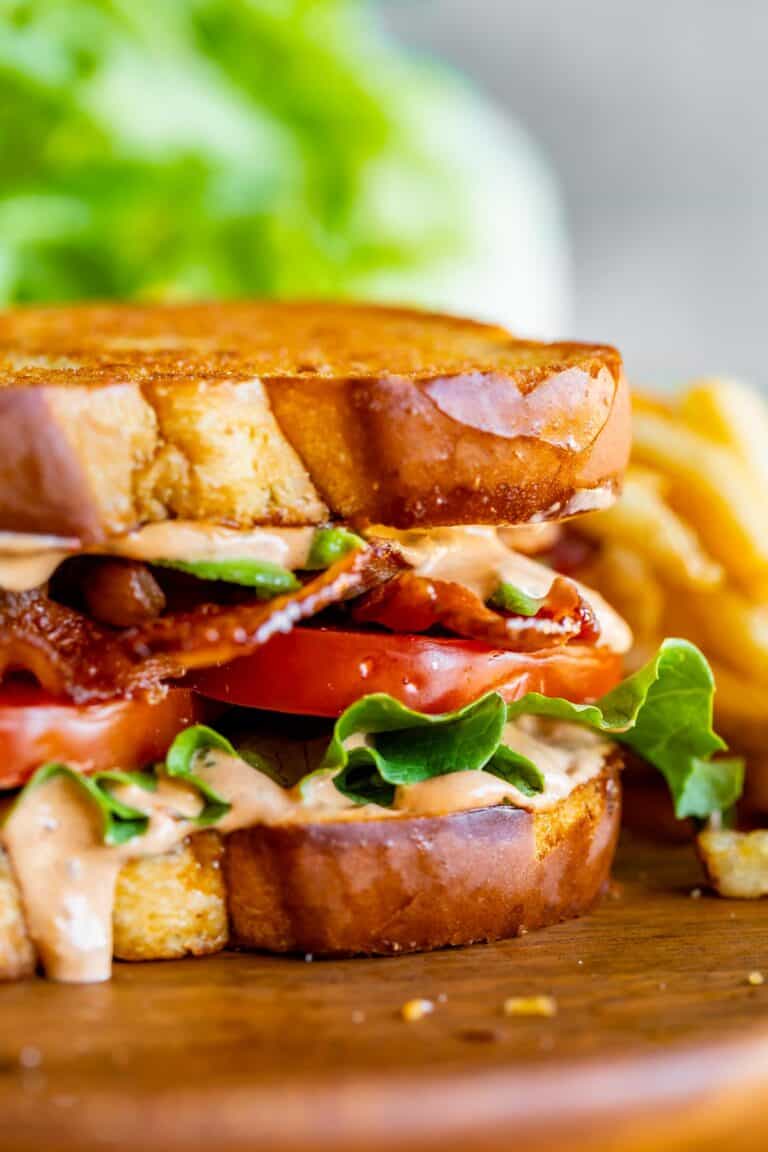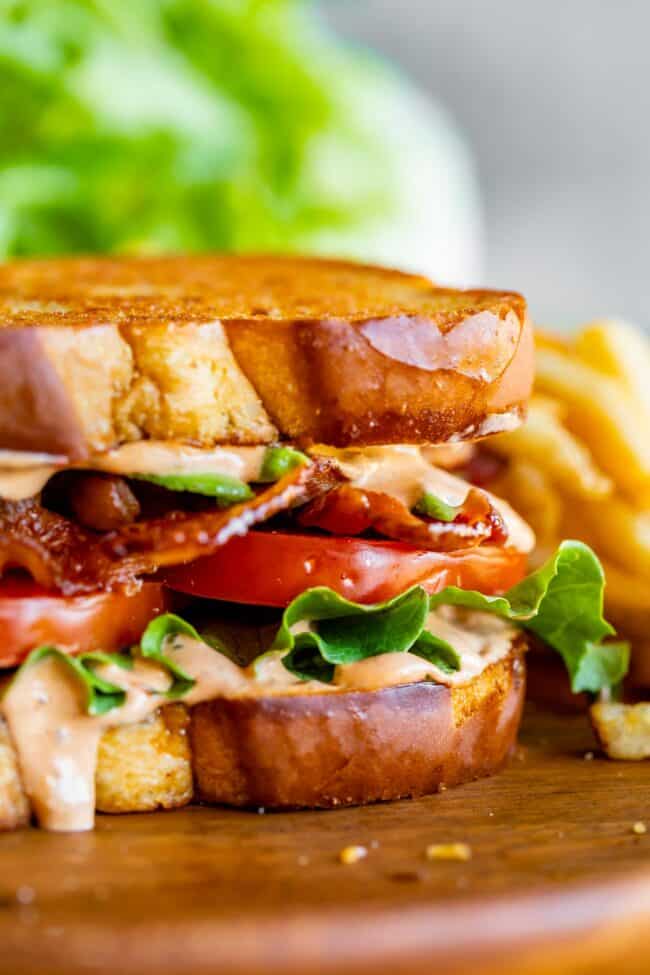 The Lettuce
The lettuce you choose is directly related to how much crunch you prefer. I like green leaf. It's green enough to make you feel healthy but not so crunchy that you're overwhelmed and literally can't hear anything that's going on in the room when you take a bite. Romaine is my second choice. Regular ol' iceberg will do ya in a pinch!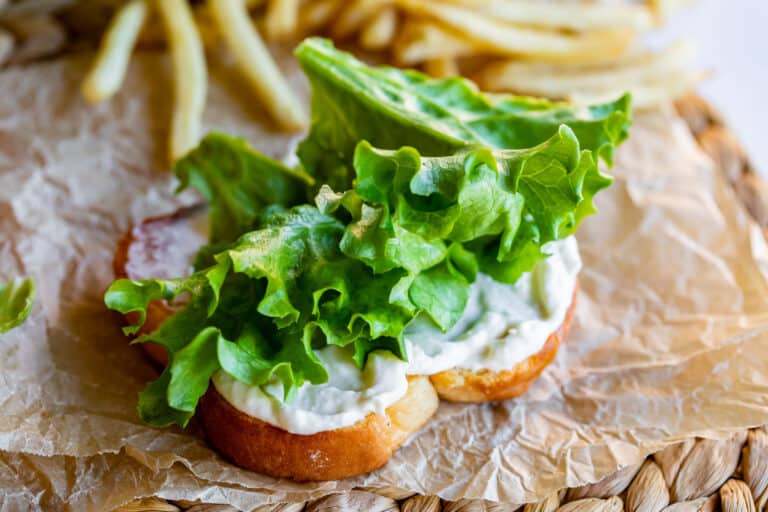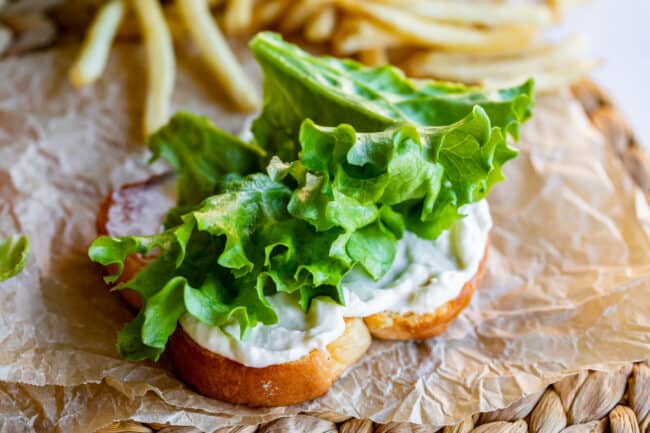 The Tomato
The tomato is arguably the most important element of a BLT, mostly because there are so many ways for it to go wrong! Have you ever had one of those tomatoes that is mostly pink instead of red? Ugh. (Hint: You can find them any day at Taco Bell.)
Tomatoes bring the flavor. If you don't have access to great tomatoes, my advice is to wait until summer or grow your own, if you can. Homegrown tomatoes are out of this world!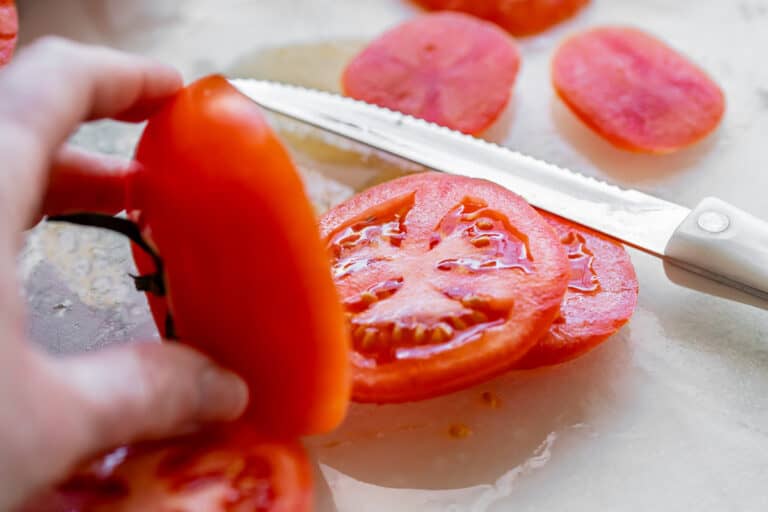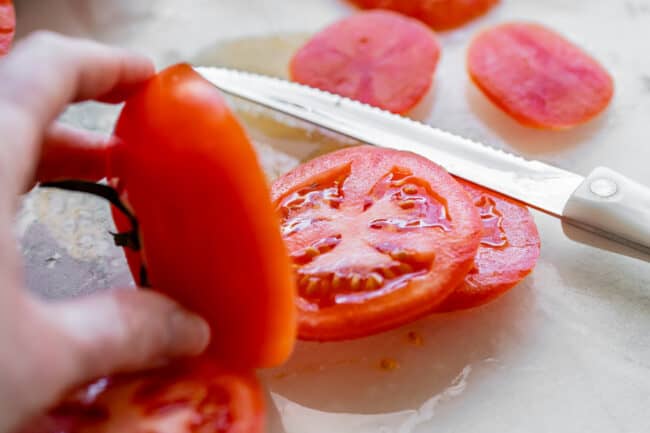 I like vine ripe tomatoes, Beefsteak, or Heirlooms best. But really, any type of tomato will do as long as it is perfectly ripe. It should be bright red and ridiculously juicy.
My tip for the best BLT when it comes to tomatoes is to slice the tomato about 3/8 inch thick (not quite 1/2 inch, but more than 1/4 inch) and lay out your slices on paper towels for a couple minutes. They will absorb some of the juice from your tomatoes and make them a little more manageable on your sandwich.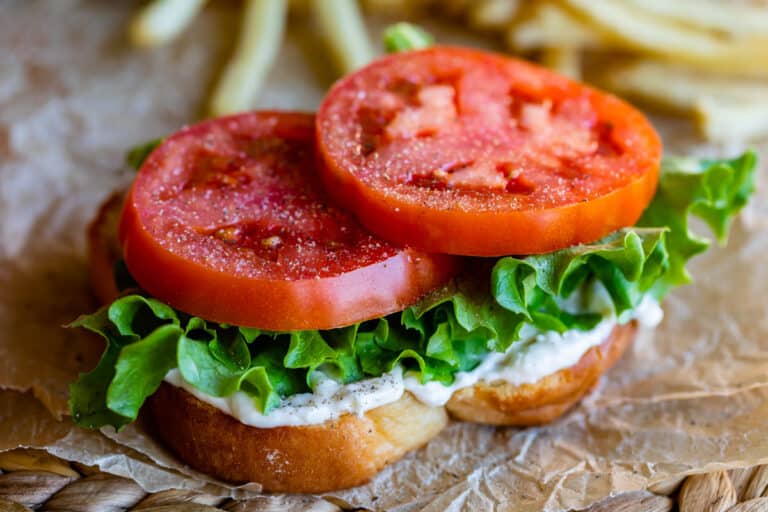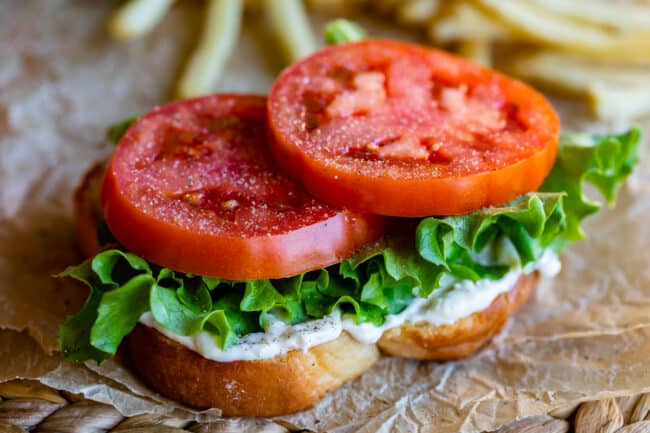 The other important thing to remember: you MUST salt and pepper your tomato before closing your sandwich. It's essential! What's a tomato without a little salt and pepper?
The Bacon
The main rule here with the bacon is that there has to be a freaking ton of it.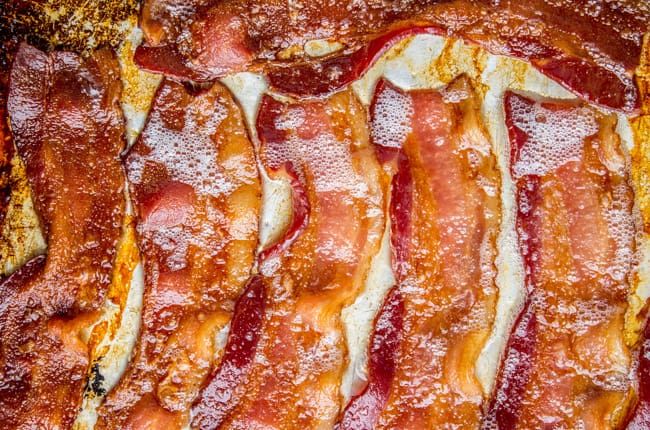 My other rule is using thin cut bacon. Get that thick cut bacon outta here. I love thick cut to go alongside my eggs at breakfast, but I don't want to have to chew through a thick slab in my BLT. I want thin crispy strips that SHATTER in my mouth when I take a bite. We are not skimping: rather than using thick cut bacon I just recommend adding MORE layers of thin cut. (This is the same theory for my Smashburgers. Say no to big thick burgers. Two smashed burgers is way better.)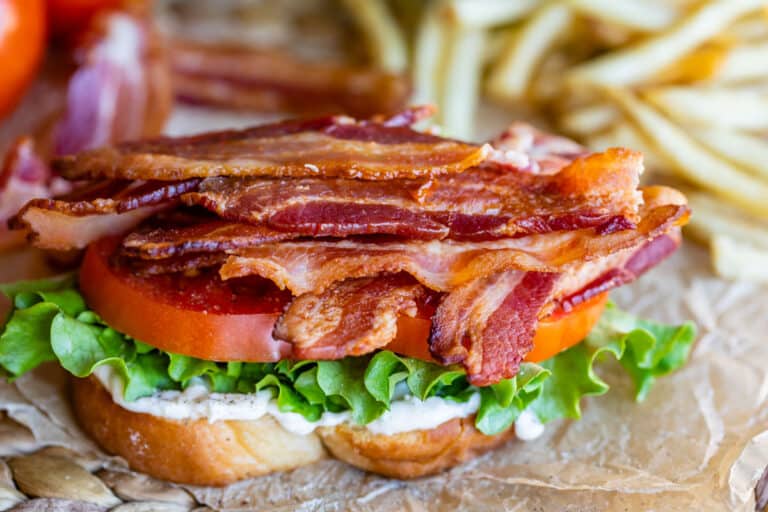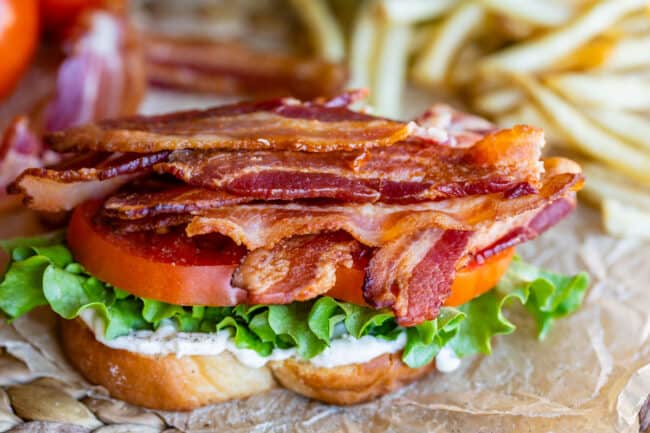 The Avocado
I have news: it's not really a BLT anymore. Sorry, Grannie BLT, but the world has moved on to a place where avocados are available almost everywhere in America. Such are these modern times. I know it's not your fault that avocados weren't around when you were made up, BLT, and we don't blame you. But it's time to move on. From here on out, you are a BLTA or bust. (Or is it BALT? BLAT??) How bout we stick with BLT and just know in our hearts that avocado is the secret ingredient that's not in the title.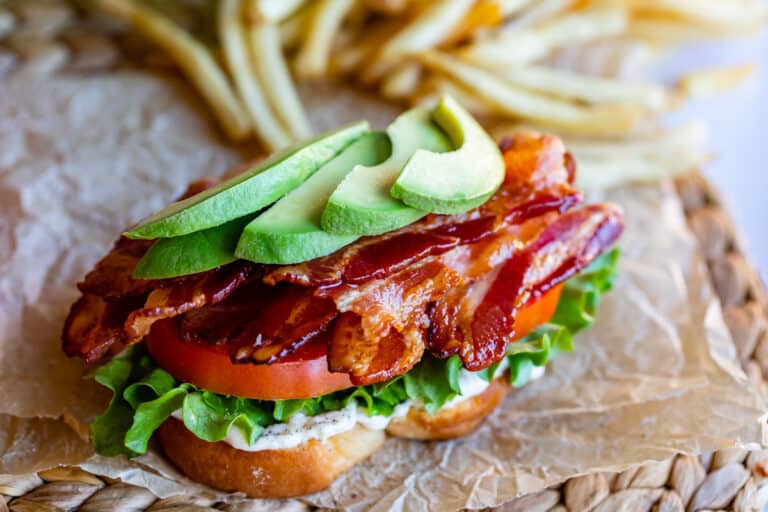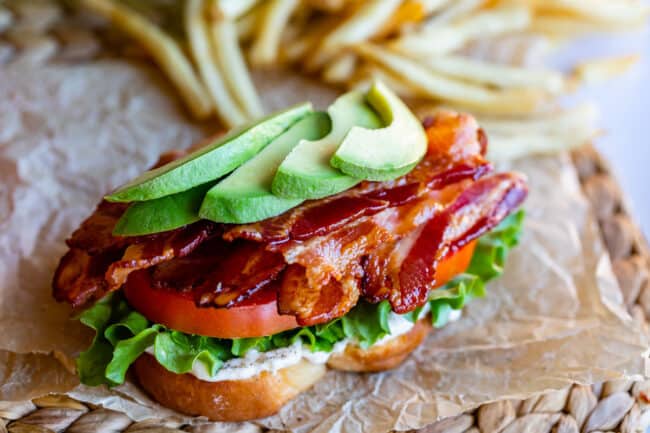 Make sure your avocado is nice and ripe. Slice it up and and add it on top of your bacon. Sprinkle a little salt and pepper on there too, if you're feeling extra.
Lastly, slather that other toasted slice of bread with a healthy dose of mayo or your chosen sauce, and top off your sandwich.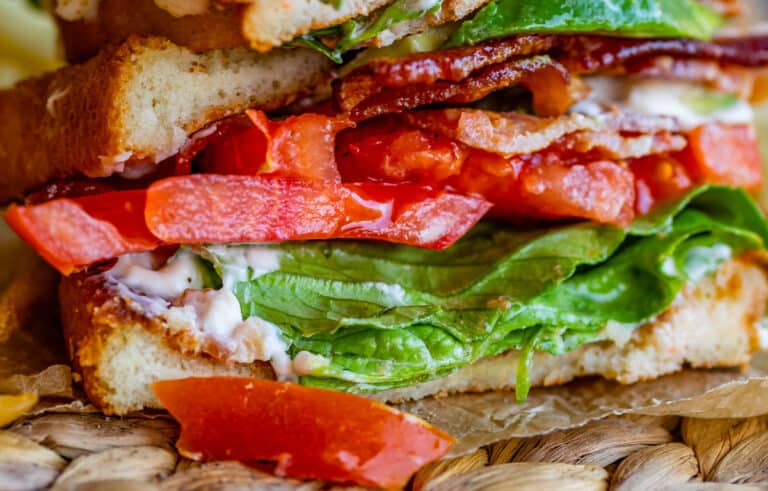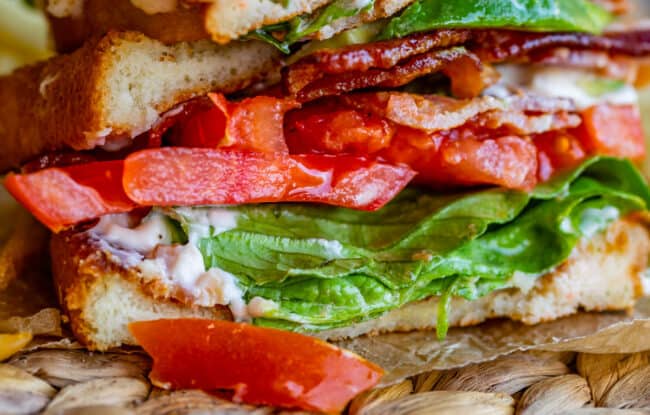 The last rule is that you have to gently press down and slice in half. I'm not going to get into an argument with you about whether to slice into triangles or rectangles. I feel like I've been bossy enough today. You do you. If you don't slice, you might have to unhinge your jaw, snake-like, to get this sandwich down your gullet. I'm not saying it'd be the worst way to go.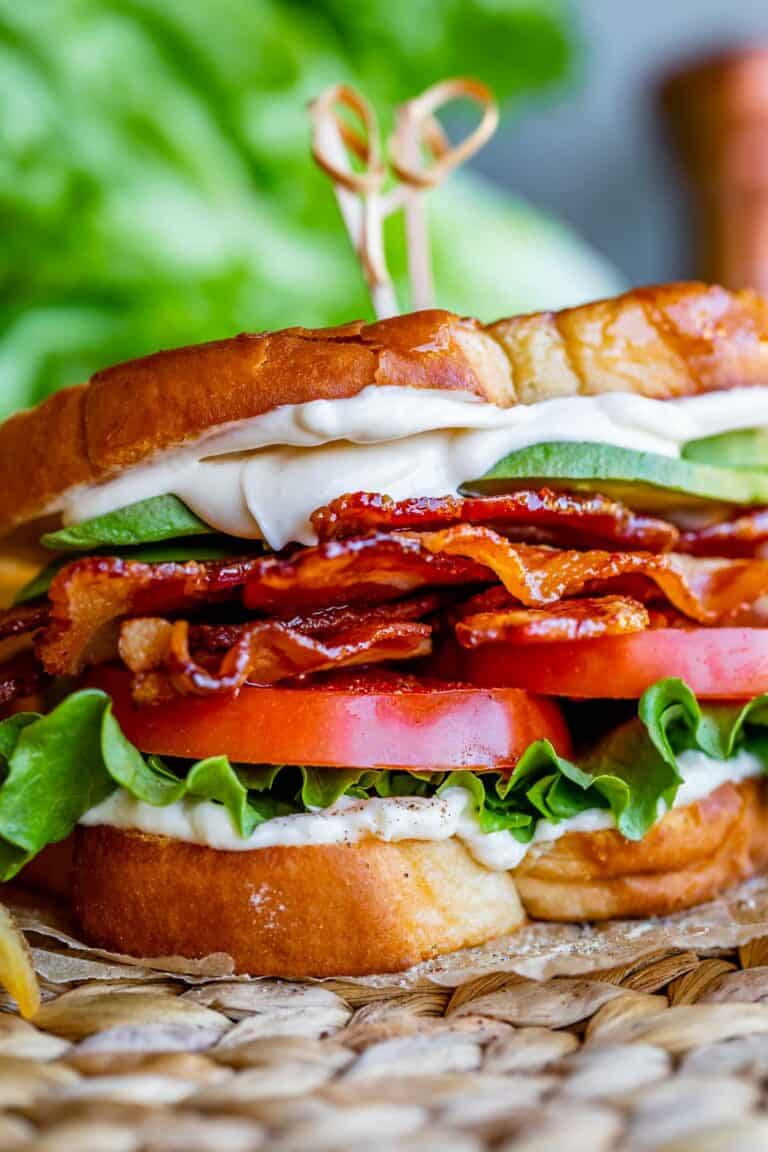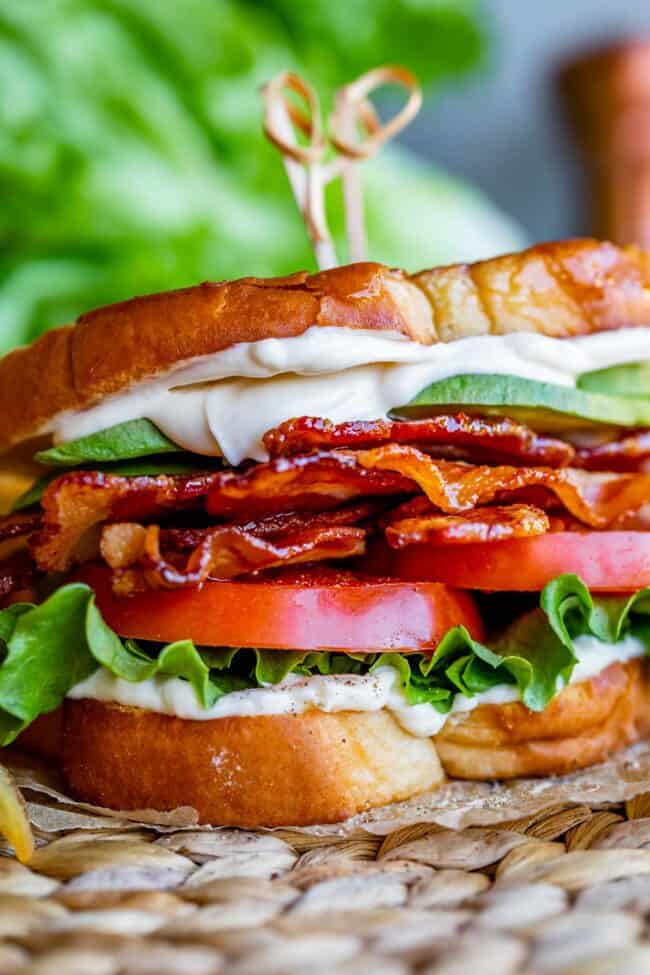 How to make a BLT next level
Here are some variations and additions to try. This is your sandwich! Don't let some food blogger tell you what to do!
Add a fried egg
Sprouts. YUM.
Add pickled cherry peppers.
Add roasted red pepper.
Use Pimiento cheese instead of mayo. OMG I NEED THIS.
Cheddar cheese. Feta. Provolone. Goat Cheese. Muenster. Mozzarella. You really can't go wrong here.
Make fried green tomatoes and use that instead of tomatoes.
Thinly sliced radishes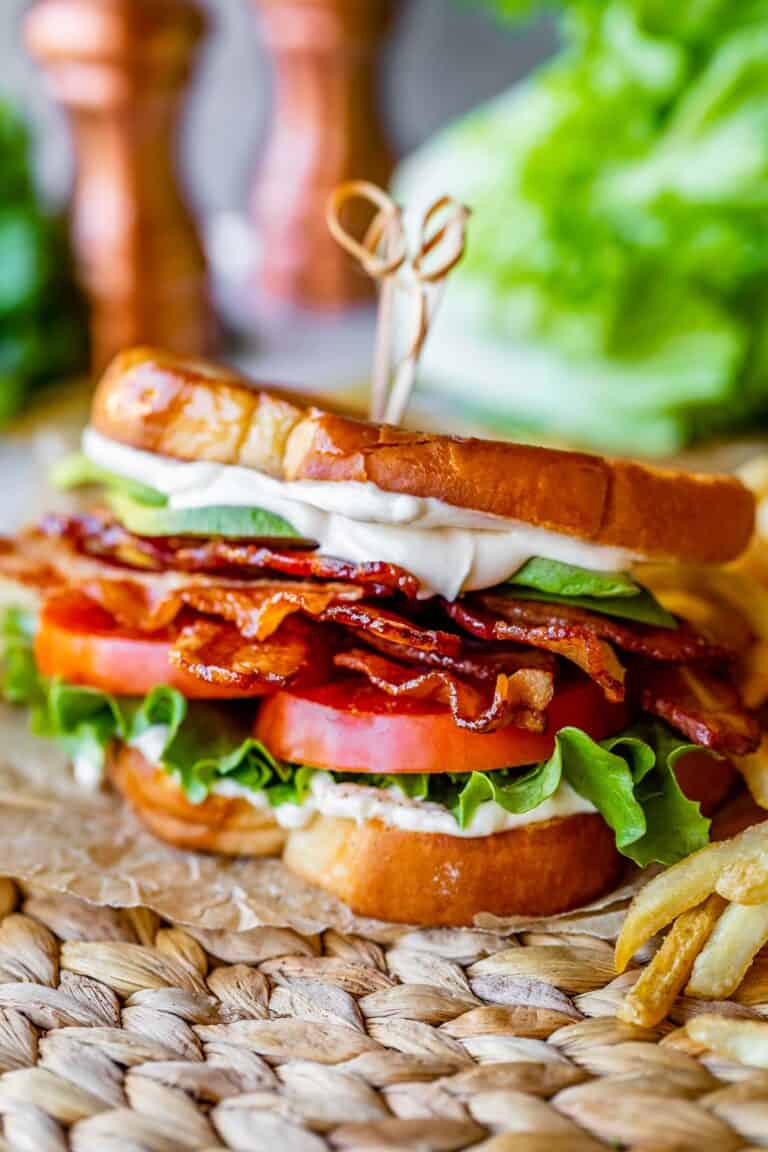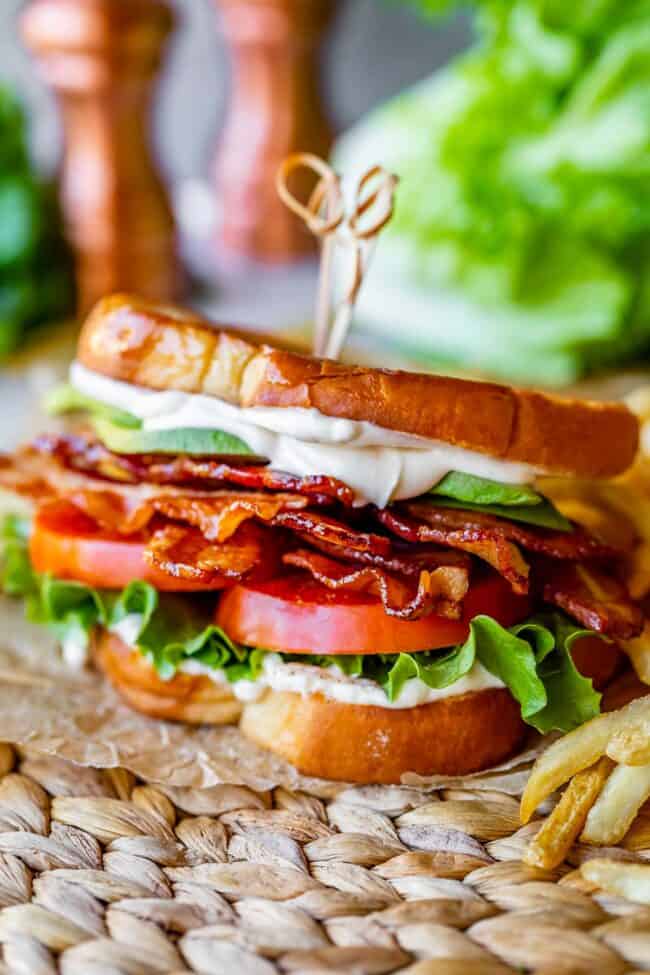 Finally, I have to show you my old BLT picture from when I posted my first BLT back in 2012. It was the first sandwich I posted on the blog, a BLAT with Garlic Aioli and feta cheese. I made it on this Focaccia Bread, which is so amazing! I don't feel like a BLT necessarily needs cheese, but I mean if you put some feta on my sandwich I'm not going to say no!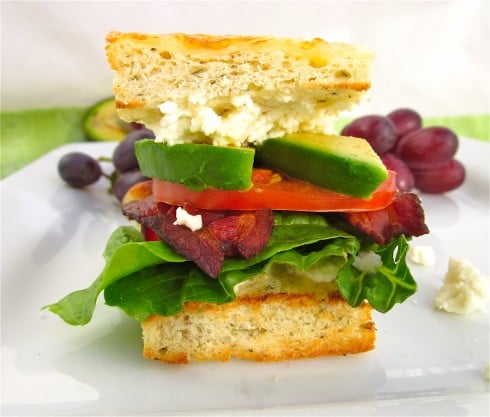 I can't put a BLT recipe on my blog without this quote: "True love is the greatest thing in the world!…Except for a nice MLT. A mutton lettuce and tomato sandwich, where the mutton is nice and leeean, and the tomato is ripe…they're so perky! I love that." Name that movie!!
More sandwich and sauce ideas!
Facebook | Pinterest | Instagram

How to Make the Best BLT!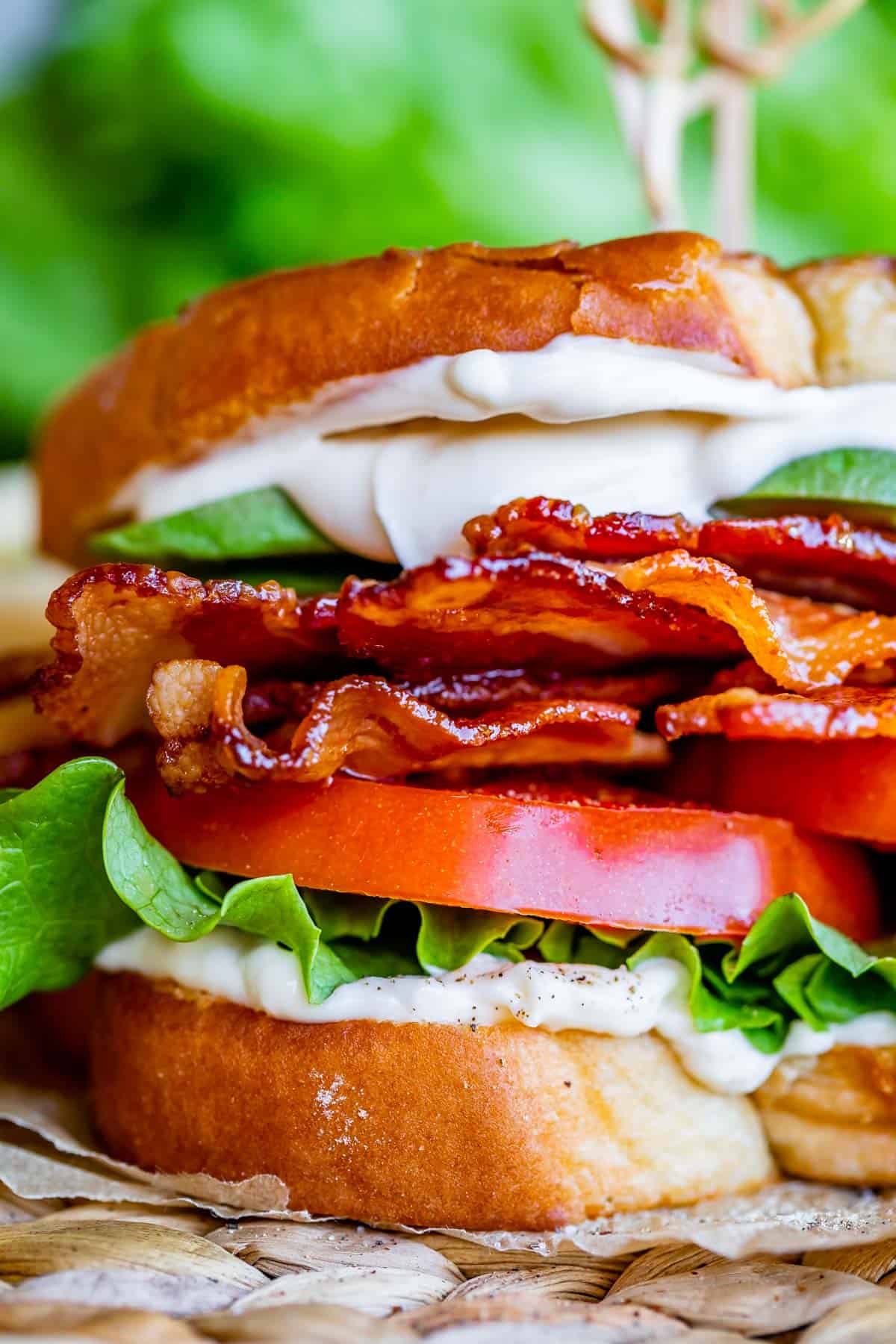 I will show you exactly how to make the best BLT sandwich of your life! Sometimes the simplest recipes are the easiest to mess up. Nobody wants a soggy sandwich, or one that is flavorless and bland! I will show you all the tips and tricks you need to make a perfectly toasted, crispy-yet-tender, juicy and drippy avocado Bacon Lettuce and Tomato Sandwich.
Ingredients
2

slices

thick slices hearty white bread

4

teaspoons

butter

,

soft

3

tablespoons

mayonnaise OR other sauce*

4

slices

thin cut bacon

2-4

pieces

green leaf lettuce

1

perfectly ripe tomato

1/2

perfectly ripe avocado

salt and pepper
Instructions
Start by frying your bacon. I highly recommend

baking your bacon

! The clean up is so much easier. Click here to learn

How to Bake Bacon

. When the bacon is crispy (but not TOO crispy!) take it out and remove to a paper-towel lined plate. Tear each slice of bacon in half so there are 8 strips. Keep warm until ready to assemble.

While the bacon is cooking, prepare your bread. Spread both sides of your bread with butter. Place in a skillet over medium heat and toast lightly, it will only take a couple minutes. Flip each piece of bread and toast the other side. Don't overdo it! You only want a light browning. (Alternatively, you can toast your bread lightly in a toaster and then spread each side with butter). Set aside.

Wash and dry your green leaf lettuce. Slice your tomato into slices that are about 3/8 inch thick. Place the tomatoes on a paper towel-lined plate so absorb some of the water.

Cut your avocado in half, then slice one half into strips.

Assemble your sandwich: Spread about 1 and 1/2 tablespoons mayonnaise* on your toasted bread. Top with lettuce fronds. Next add 2 tomato slices that have been sitting on a paper towel for at least a few minutes. Sprinkle your tomatoes with salt and pepper.

Add all the bacon. You should have 8 half-strips of bacon. Pile 'em on!

Top the bacon with avocado strips. Sprinkle with a little more salt and pepper, if you like.

Spread the other piece of toasted bread with mayonnaise or whatever sauce you are using. Top the sandwich and gently press down. Use a sharp serrated knife to slice the sandwich in half. This recipe makes 1 amazing sandwich. Eat right away!
Nutrition
Serving:
1
g
|
Calories:
1219
kcal
|
Carbohydrates:
60
g
|
Protein:
29
g
|
Fat:
100
g
|
Saturated Fat:
30
g
|
Polyunsaturated Fat:
28
g
|
Monounsaturated Fat:
37
g
|
Trans Fat:
1
g
|
Cholesterol:
119
mg
|
Sodium:
1491
mg
|
Potassium:
2421
mg
|
Fiber:
19
g
|
Sugar:
13
g
|
Vitamin A:
55047
IU
|
Vitamin C:
93
mg
|
Calcium:
426
mg
|
Iron:
9
mg