Apple Pie Bars are the best way to eat pie with your hands! There is a crazy amount of buttery crust in this recipe, that we divide between the bottom and top of a luscious apple pie filling. Apple season is upon us my friends! It's glorious!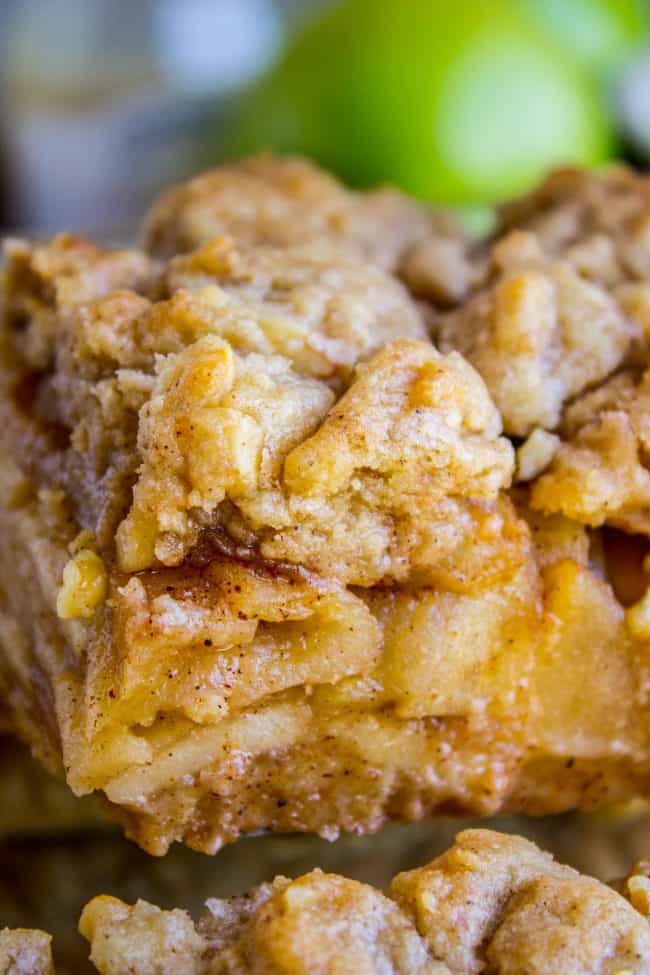 Eric and I are sick this week. I got it first, chills and body aches and wonderful flu symptoms. The other night I woke up at 2am freezing cold, so I got up to take some advil and grab an extra blanket, then waited it out until I fell back asleep, sneaking my icy toes over to Eric's side of the bed.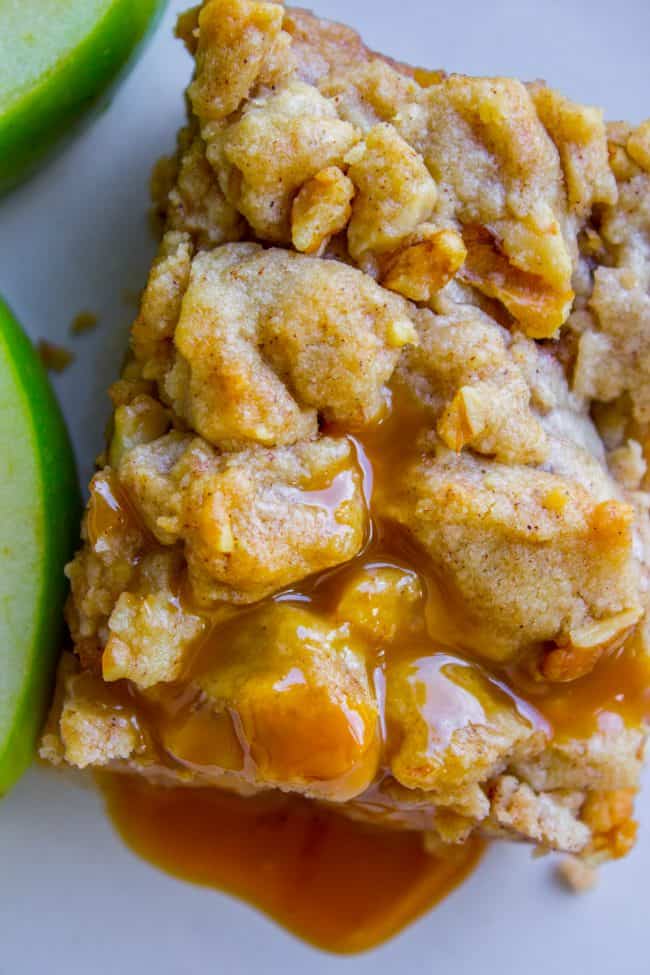 The next night I was a lot better. I slept soundly for several hours but was violently awoken to incessant chattering in my ear, and an entire human wrapped around me. Like an octopus. Like a vice grip. It was Eric of course, who was having chills and using me as a human heater.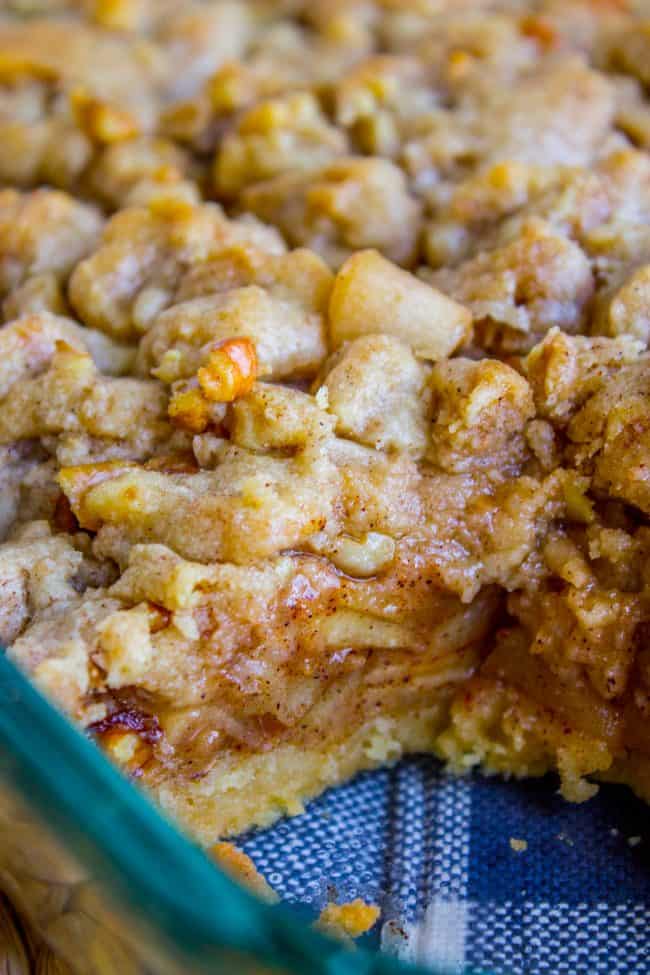 I had to laugh. I don't think he noticed through the chattering. Is there anything more pathetic than a sick husband? It's kind of cute.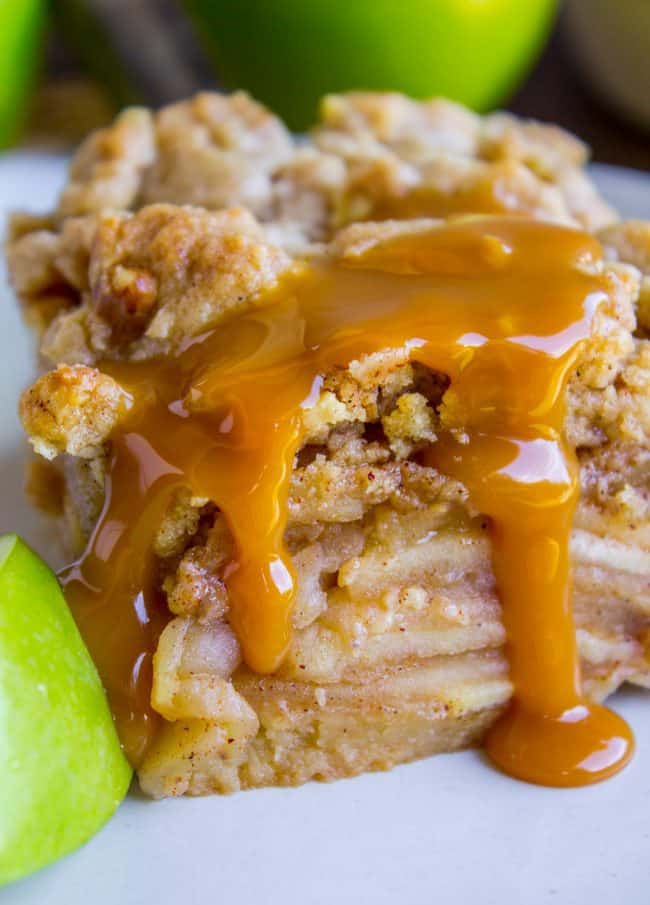 You will note that the first ingredient called for in these Apple Pie Bars is A POUND OF BUTTER. Oh Ina, how I love you. The Barefoot Contessa definitely knows where it's at. I saw this recipe in the Food Network Magazine last year and finally got around to trying it out, with a couple of my own twists. (That's code for nutmeg. I'm a huge nutmeg fan!)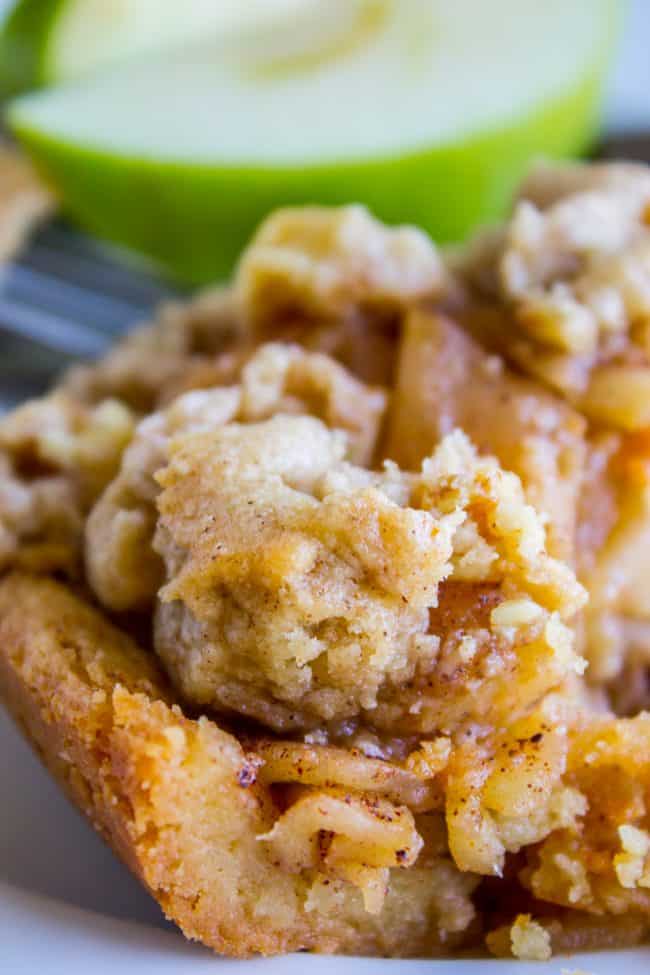 How to make Apple Pie Bars
These bars do not disappoint. (I mean just look at this crust!!) It's mainly to do with that pound of butter called for; you just can't go wrong when there is that much crust in a pie recipe. You combine the shortbread (butter, flour, salt, etc.) then divide and press half into a pan and bake. Then you add a couple more ingredients (nutmeg, walnuts) to the rest of the shortbread mixture and tear off pieces of that to go over the apple pie filling. It's SO buttery and SO worth it. Trust me. Trust Ina!!
(I love Ina so much because she is the creator of this amazing 1770 House Meatloaf with Garlic Sauce, which is hands down my favorite ever and I'm pretty sure always will be.)


We are also cooking the apples on the stove before they get put into the oven. I love this method for apple pie and do the same thing with my Apple Custard Pie with Cinnamon Streusel (another favorite apple dessert recipe of mine. Custard forever) Apples are kind of stinkers about softening up in the oven, they take a good 45-50 minutes usually, which is right on the edge of overbaking your pie crust. So it gets a little dicey. Cooking the apples ahead of time solves that problem, and gives you the most tender, melt in your mouth, cinnamon-iest apples ever, with a crust that is baked only until perfectly golden and no more.

There are walnuts in the shortbread topping of these Apple Pie Bars. Normally I'm NOT a huge fan of nuts in my desserts, but I decided to try it out in this recipe and I'm so glad I did. (I think this means I'm officially getting old.) The walnuts add the perfect crunch and slight hint of flavor. I didn't even toast them ahead of time, although that would be delicious if you did. I think roughly chopped pecans would also be delicious if you wanted to try that.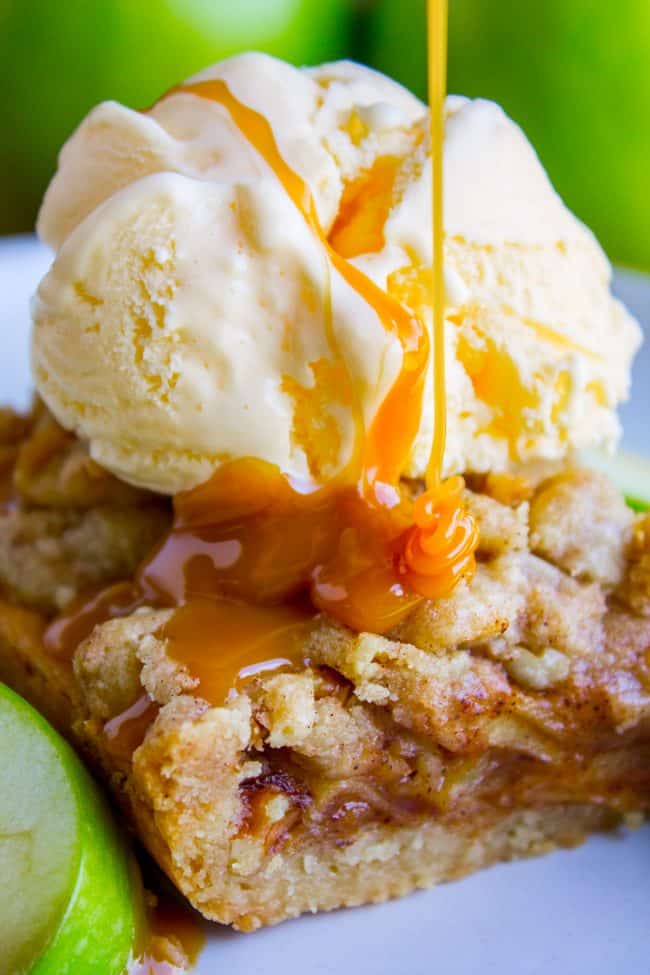 I love eating these bars when they have cooled completely. There is something I love about room temperature pie, am I the only one? These apple pie bars hold up to their name: they are sturdy enough that they can be picked up and eaten with your hands, no fork required. But….if you want to add ice cream and My Favorite Caramel Sauce to your slice, I'm not going to judge you. Ice cream and pie go together like…well, like apples and cinnamon!
Facebook | Pinterest | Instagram
One year ago: Creamy Make Ahead Scrambled Eggs for a Crowd
Three years ago: Chocolate Cake with Coconut Custard 
Six years ago: My Favorite Chocolate Chip Cookies 

Apple Pie Bars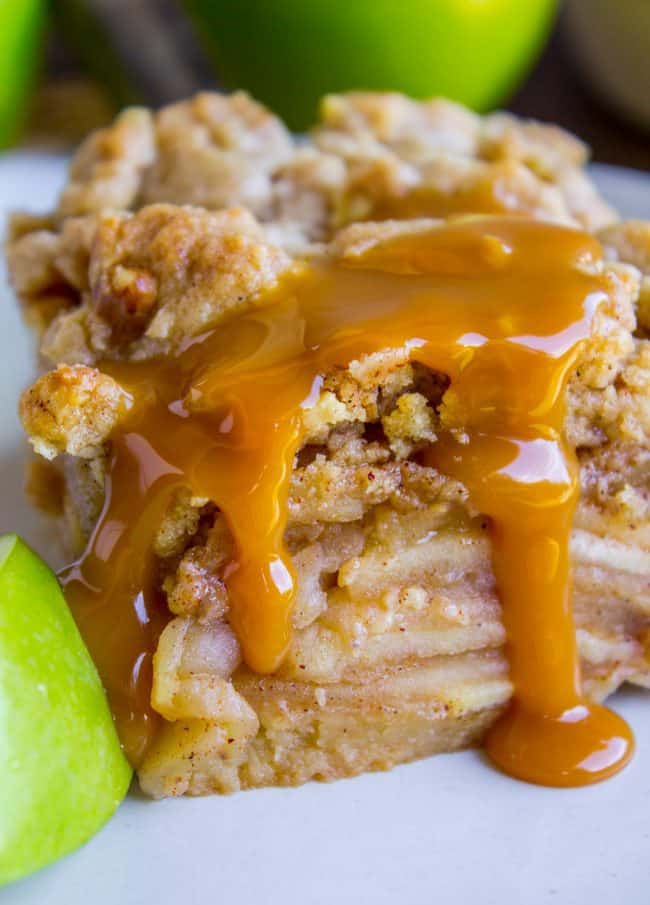 Apple Pie Bars are the best way to eat pie with your hands! There is a crazy amount of buttery crust in this recipe, that we divide between the bottom and top of a luscious apple pie filling. Apple season is upon us my friend! It's glorious!

Ingredients
For the crust
1

pound

butter

,

4 sticks, softened

3/4

cup

white sugar

1/2

cup

brown sugar

,

packed

2

teaspoons

vanilla

4

cups

all-purpose flour

1 & 1/2

teaspoons

kosher salt

1/2

cup

chopped walnuts

,

or pecans

1

teaspoon

cinnamon

,

or up to 2 teaspoons

1

teaspoon

nutmeg
For the apple mixture
3

pounds

apples

,

variety of types, peeled (Golden Delicious and Granny Smith are what I used)

2

tablespoons

lemon juice

,

fresh

1/4

cup

white sugar

1

teaspoon

cinnamon

1/2

teaspoon

nutmeg

4

tablespoons

butter

,

1/2 stick
Instructions
Line a 9x13 inch pan with parchment paper. (This is optional. It makes it really easy to lift the bars out of the pan and slice them.)

In a large bowl or stand mixer, beat 1 pound of butter until smooth and creamy. Add 3/4 cup sugar, 1/2 cup packed brown sugar, and 2 teaspoons vanilla and beat for 1-2 minutes, remembering to scrape the bottom and sides of the bowl. It should be light and creamy.

Add 4 cups of flour and 1 and 1/2 teaspoons salt. Beat until just combined. Do not over mix.

Add about 2/3 of the dough to the prepared pan. (Leave the remaining 1/3 of the dough in the bowl; we're not done with it yet)

Flour your hands lightly and press the dough into the bottom and up the sides of the pan. The crust should go about a half inch up the sides of the pan. Use a glass or a measuring cup to press the edges and bottom.

Refrigerate the crust for 20 minutes. Don't skip this step! Cold shortbread going into a hot oven is what makes for amazing, tender crusts.

Preheat your oven to 375 degrees F.

Bake the crust for about 18 minutes, until the the crust is golden brown. Set aside. Lower the oven temperature to 350 degrees F.

Meanwhile, add the walnuts (or pecans) to the remaining dough in the mixing bowl. Add 1 teaspoon cinnamon and 1 teaspoon nutmeg. (The spices are totally up to you; add as little or as much as you like)

Mix on low speed just until combined. Cover the bowl and stick it in the fridge.

For the apple filling, start by prepping your apples. You can use any combination of apple flavors that you like. A variety is always best for baking. (Granny Smith, Fuji, Golden Delicious, Pink Lady are all good options. I used half Golden Delicious and half Granny Smith.)

Squeeze about 2 tablespoons fresh lemon juice into a large bowl.

Peel the apples, core, and cut into 1/8 inch slices. See photos for my method. The thinner you slice them, the better!

As you slice the apples, toss them into the bowl with the lemon juice and mix around to coat them. Stir every couple minutes as you are slicing. This will stop your apples from getting brown.

In a large 10 or 12 inch skillet, melt 4 tablespoons butter over medium heat. Add the sliced apples (and any juice in the bowl), 1/4 cup sugar, 1 teaspoon cinnamon, and 1/2 teaspoon nutmeg. (Again, the spice level is totally up to you. Some people don't love nutmeg and you can just omit it entirely if you want.)

Simmer the apples over medium heat, stirring often, for about 12-15 minutes. If it looks like they are boiling too hard, lower the heat to medium-low. When the apples are tender and the liquid has mostly evaporated, turn off the heat.

Pour the apples into the baked crust, leaving a half inch border along the edge.

Get the remaining crust dough out of the fridge. Use your fingers to pinch medium pieces of dough and drop them over the apples (see photos).

Bake at 350 fro 25-30 minutes, until the top is golden brown. Cool and cut into bars. OR don't cool, cut out a falling-apart-piece right away, and top it with vanilla ice cream and

My Favorite Caramel Sauce

. You really can't go wrong here!
Notes
This recipe is from Ina Garten. It was published in the October 2017 Food Network magazine, but it's also online here, where you can read some of the reviews. I made a couple changes but nothing significant. I love Ina's recipes so much!
Nutrition
Serving:
1
bar
|
Calories:
651
kcal
|
Carbohydrates:
74
g
|
Protein:
6
g
|
Fat:
38
g
|
Saturated Fat:
22
g
|
Polyunsaturated Fat:
4
g
|
Monounsaturated Fat:
9
g
|
Trans Fat:
1
g
|
Cholesterol:
91
mg
|
Sodium:
599
mg
|
Potassium:
216
mg
|
Fiber:
4
g
|
Sugar:
38
g
|
Vitamin A:
1125
IU
|
Vitamin C:
6
mg
|
Calcium:
40
mg
|
Iron:
2
mg
More apple dessert recipes you are sure to love!
Apple Crisp, With a Ridiculous Amount of Streusel << we all the know streusel is the best part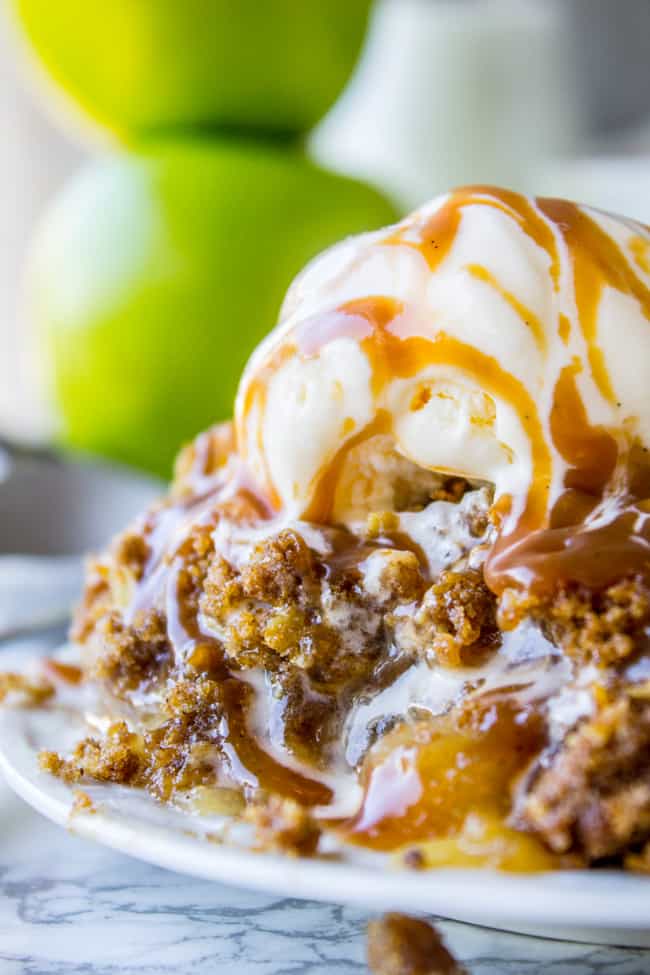 Apple Custard Pie with Cinnamon Streusel << custard in pie is my absolute FAVORITE!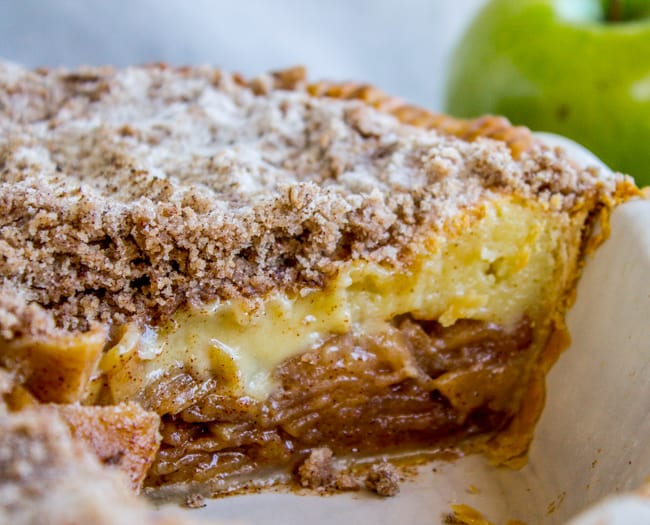 Caramel Apple Upside Down French Toast Bake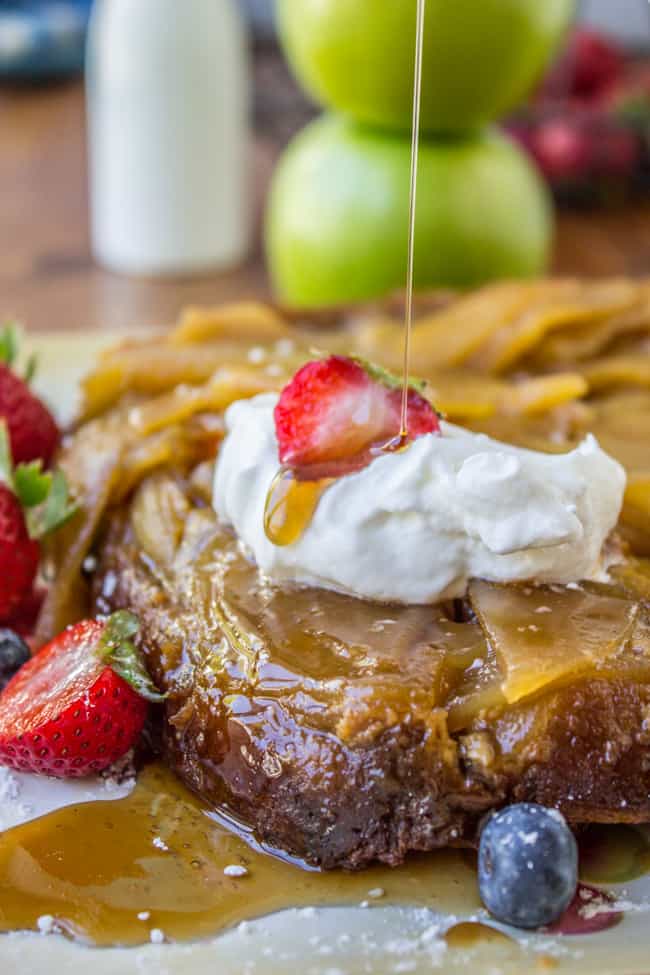 More apple dessert recipes from friends!
Cinnamon Apple Cheesecake Parfaits from Shugary Sweets
Dulce de Apple Streusel Pie from Wine and Glue
Crockpot Apple Cobbler from Amanda's Cookin'