Chocolate Cake with Coconut Custard
Rich and moist chocolate cake that is drizzled with a creamy coconut custard instead of frosting. A refreshing twist! It's the perfect end-of-summer dessert.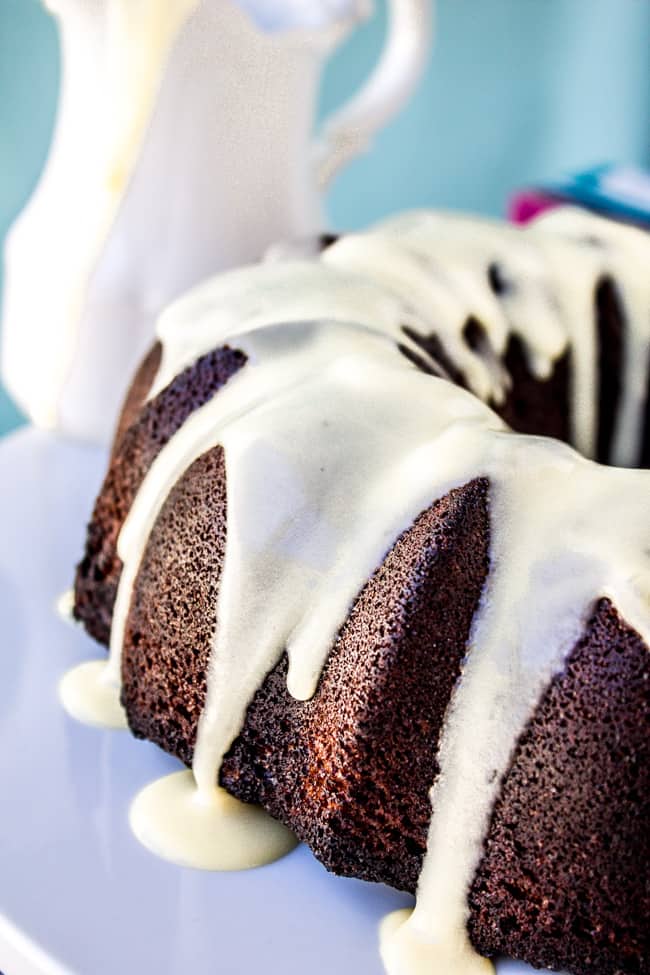 I just saw an ad today for a new product: "The wearable tracker for mindfulness, [our product] gives you awareness of when you're feeling tense."
Are you kidding me? I understand the Fitbit phenomenon. Who doesn't want a constant reminder of how healthy they're being (or not being).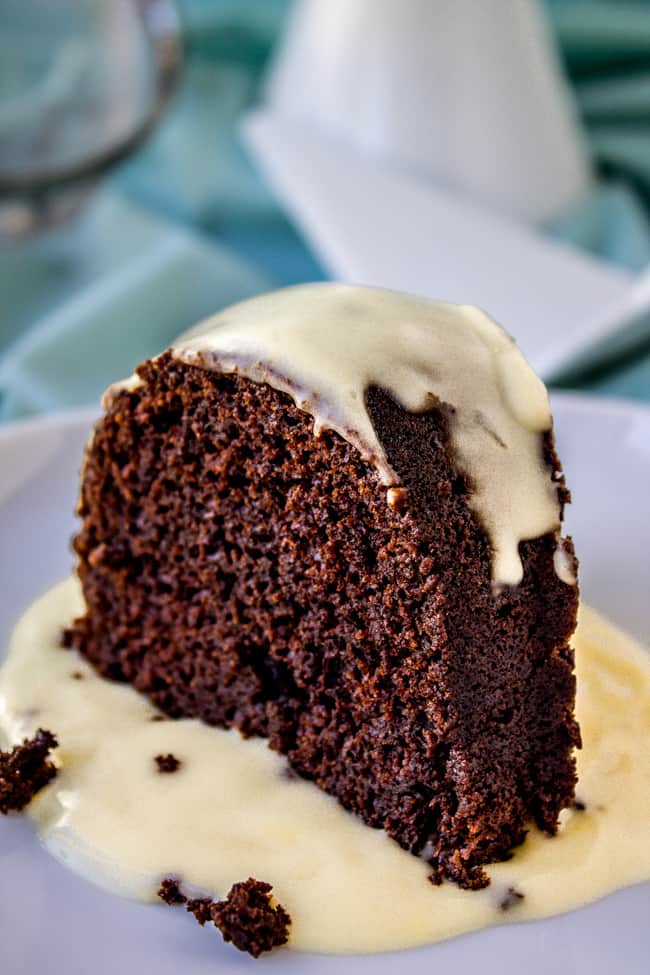 But a freak-out tracker??  "ALERT: Karen, you're feeling VERY TENSE right now. HIGH STRESS SITUATION GOING ON." How exactly is this supposed to help me? (It's like when someone tells you you're in a bad mood. Nothing makes me grumpier than someone calling me out, even when it's deserved.) Hold up, don't stress Karen, but YOU ARE STRESSED.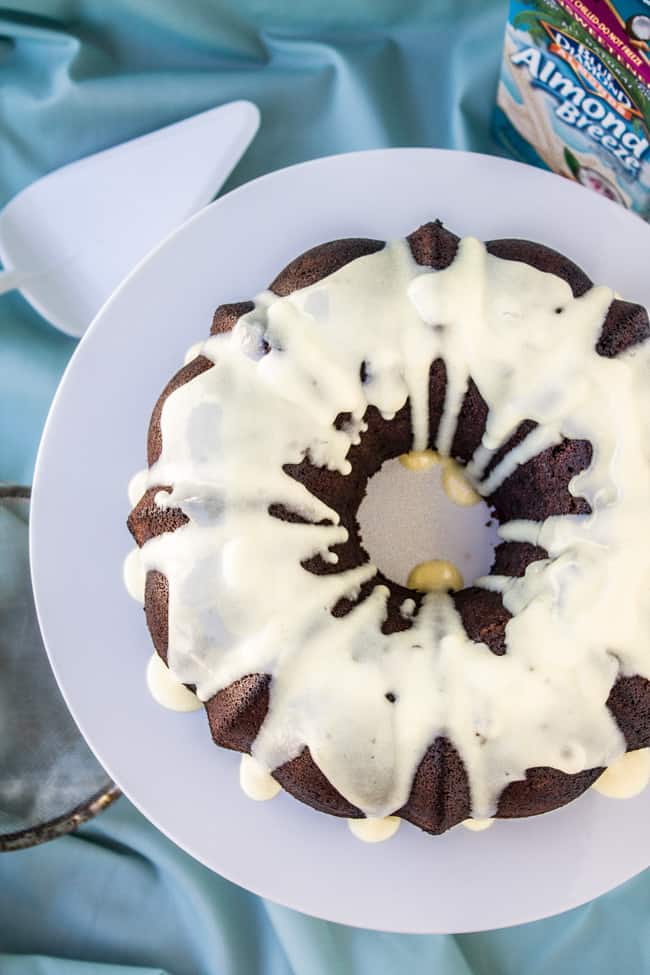 Speaking of high stress situations. We took the kids to Chuck E Cheese this weekend. Like, whoa. I've never been as an adult. Eric went once as a kid and his only memory is that he threw up in the ball pit. Kinda hard to forget that one. (Those poor, poor Chuck E Cheese employees. I bet the stress-tracker would have gone haywire on them.)
We arrived and found security guards at the entrance. Um, excuse me, what exactly is going on in here that we need a bouncer outside? The kids loved it though, of course. (The games and pizza. Not the guards.) They thrive in greasy situations. (The kids. Not the guards.) (This is the best I can offer as a description for Chuck E Cheese.)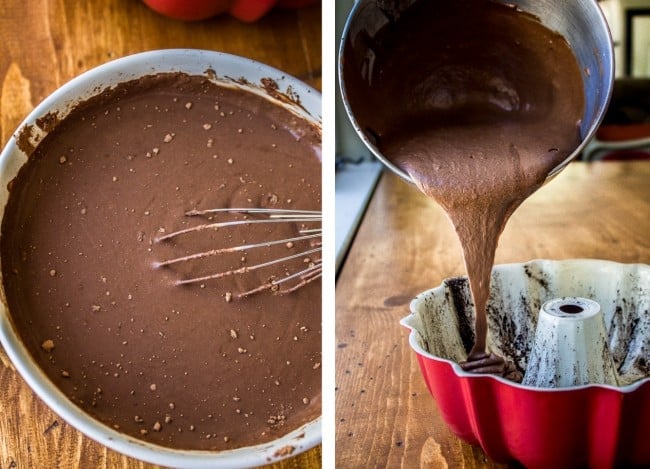 Now let's talk decadent cake. This beauty is dreamy, creamy, and rich (anything but greasy :) The cake is moist and flavorful, thanks to the buttermilk. I like it because it doesn't feature your typical sugary frosting. Instead it is topped with a thick and creamy coconut custard, which is not as sweet as frosting, but still offers amazing flavor and texture. I love this combination! Chocolate and coconut is the perfect match for late summer. I like it served cold or warm, but warm would be especially appropriate for the coming fall months.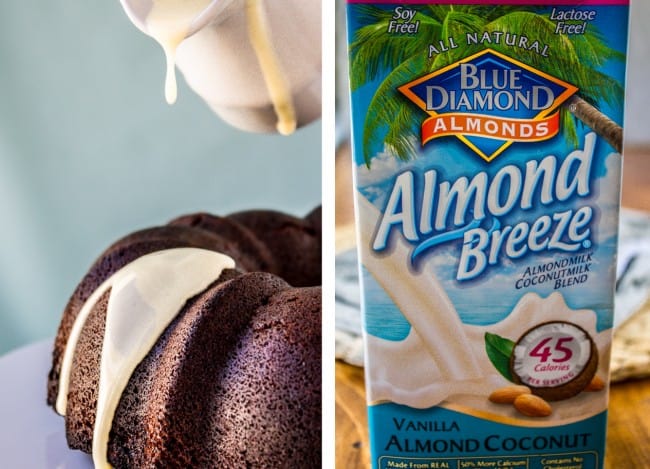 P.S. Can I make a formal complaint about the Whack-a-Mole game? They've ruined it. It's digitized so that you are whacking a computer screen instead of an actual mole. No wonder we need stress-trackers these days. We can't even whack a real mole to let it all out. Am I beating a dead horse? A dead mole?
Chocolate Cake with Coconut Custard
Chocolate Cake with Coconut Custard
Rich and moist chocolate cake that is drizzled with a creamy coconut custard instead of frosting. A refreshing twist! It's the perfect end-of-summer dessert.
Ingredients
For the cake:
2

cups

cake flour

,

spooned, leveled, and sifted

1

teaspoon

baking soda

1/2

teaspoon

salt

2/3

cup

cocoa powder

1/2

cup

water

1

cup

buttermilk

1

teaspoon

vanilla

1

teaspoon

coconut extract

1/2

cup

salted butter

,

softened

1

cup

white sugar

1

cup

brown sugar

2

large

eggs
For the Coconut Custard:
1

cup

Almond Breeze Almondmilk Coconutmilk Vanilla Unsweetened

1

cup

cream

3/4

cup

sugar

4

egg yolks

1

tablespoon

cornstarch

1

tablespoon

water

,

cold

1/4

teaspoon

salt

1/4

teaspoon

almond extract

1/2

teaspoon

coconut extract
Instructions
Preheat oven to 350 degrees F. Grease a bundt pan well, then sprinkle with a little cocoa powder. (You can use flour, but it might show up on your cake.)

In a medium bowl, sift 2 cups of cake flour. Stir in the baking soda and salt.

In another medium bowl, whisk together cocoa, water, buttermilk, 1 teaspoon vanilla, and 1 teaspoon coconut extract.

In a large bowl or stand mixer, beat the butter until light and fluffy, scraping sides. Add the white and brown sugar and beat for another minute. Add 2 eggs and beat very well, scraping sides.

Add half the cocoa mixture and half the flour mixture, and beat. Add the remaining cocoa mixture and flour mixture. Beat until combined, making sure to scrape the sides.

Pour the batter into the prepared bundt pan, then place in the oven at 350.

Bake for about 32-36 minutes, or until a toothpick comes out clean and the cake is beginning to pull away from the sides of the pan.

Remove from the oven and let cool for 15 minutes (set a timer!) Loosen the edges of the cake as carefully as you can with a knife, then invert onto a cake plate.

While the cake is finishing up in the oven, start the custard sauce. Add the Almondmilk Coconutmilk to a medium saucepan, along with the cream. Turn the heat to medium and add the sugar.

Stir occasionally for about 4-5 minutes or until the liquid is just about to boil. Meanwhile in a small bowl whisk together 4 egg yolks.

Temper the eggs by gradually adding the hot milk to the egg yolks. Whisk constantly. Once you have added a half cup or so of the liquid, add it all back to the pot, whisking as you go. You don't want the eggs to curdle.

Continue to cook over medium heat for about 7-10 minutes, or until it just barely starts to boil. At this point it should be getting thicker. In a small bowl, combine 1 tablespoon cornstarch and 1 tablespoon COLD water. Add this to the custard and stir. Turn the heat to low if it is starting to pop and boil.

Stir together until thick. You should see marks on the top of the custard when you drag the whisk over the surface, and it should coat the back of a spoon.

Remove from heat and add salt, almond extract, and coconut extract.

Serve warm with the warm cake. Store in the fridge. It's also really good served cold on a room temperature cake.
Notes
You can make this cake in a 9x13 inch pan too! You may have to adjust baking times. I would start checking at 30 minutes to be safe.
You can drizzle some of the custard over the top of the cake, like in these photos, or you can spoon it over individual slices. If you pour it over the top, store the cake in the fridge; otherwise it can sit on the counter.
Nutrition
Serving:
1
slice
,
Calories:
685
kcal
,
Carbohydrates:
101
g
,
Protein:
10
g
,
Fat:
29
g
,
Saturated Fat:
17
g
,
Polyunsaturated Fat:
2
g
,
Monounsaturated Fat:
8
g
,
Trans Fat:
1
g
,
Cholesterol:
219
mg
,
Sodium:
573
mg
,
Potassium:
274
mg
,
Fiber:
3
g
,
Sugar:
72
g
,
Vitamin A:
1039
IU
,
Vitamin C:
1
mg
,
Calcium:
151
mg
,
Iron:
2
mg
Other cakes you will love!
Cranberry Cake with Warm Vanilla Butter Sauce << seriously one of the best cakes I've ever put in my mouth.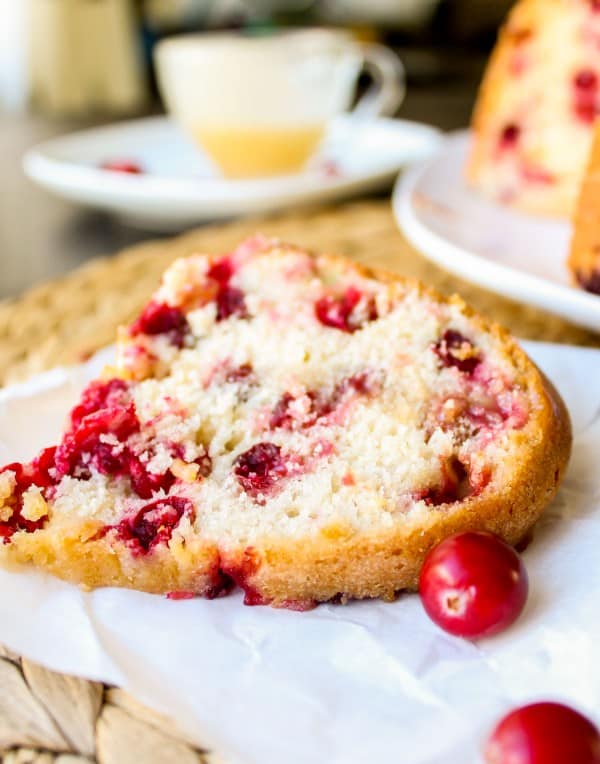 Coconut Almond Sheet Cake: (this one's vegan!)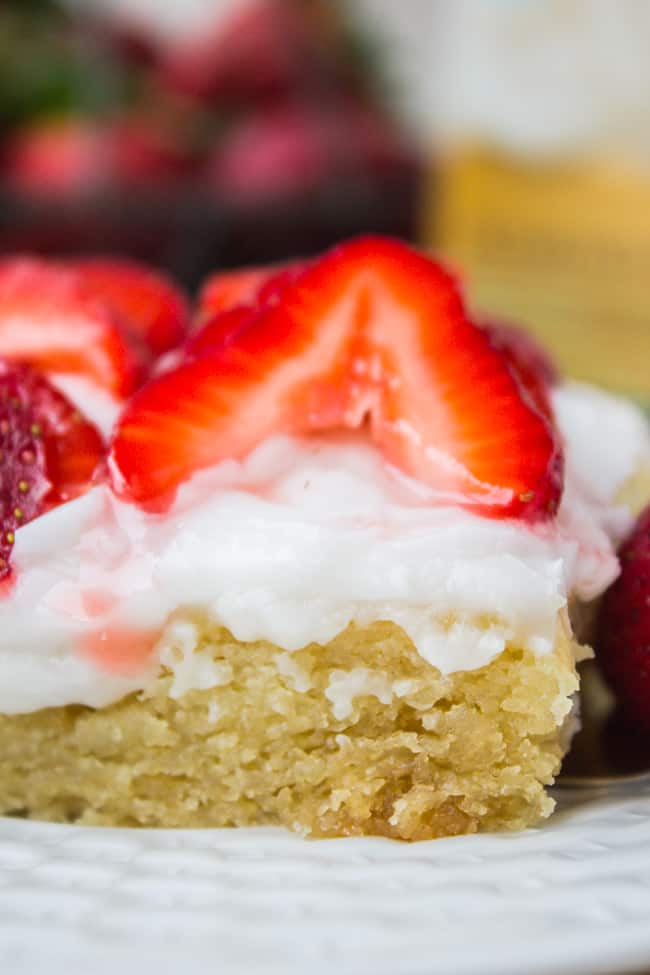 Cinnamon Cake with Maple Pecan Frosting (a fall favorite of mine :)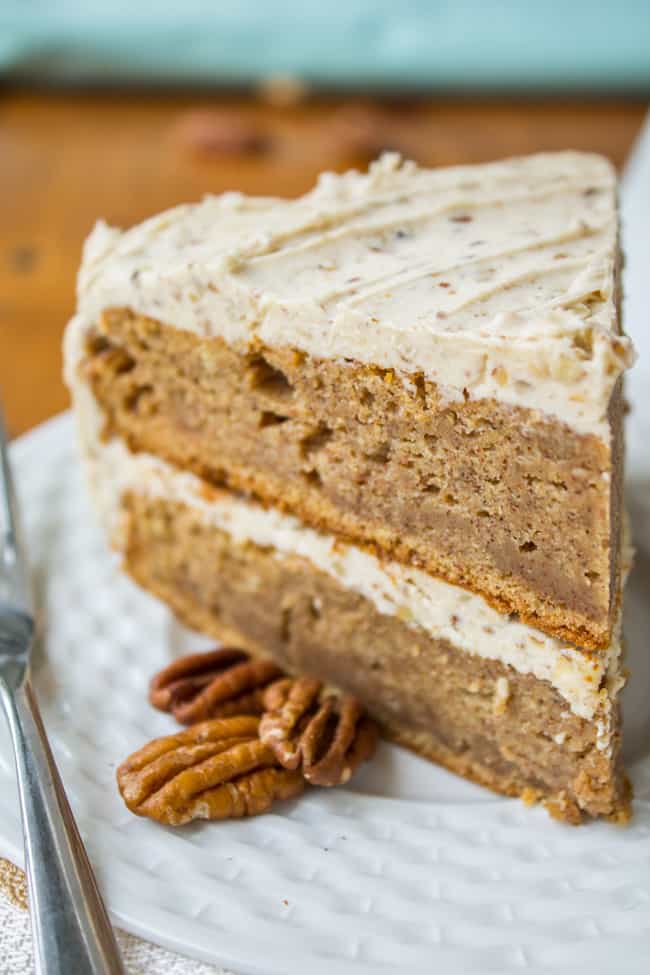 More cakes and custards you will love!
Triple Chocolate Bundt Cake from How Does She
Irish Apple Cake with Custard Sauce from my girl Kayley at The Kitchen McCabe
Vanilla Custard Bundt Cake from Las Recetitas de Mirasen << This blog is in Spanish but it looks so good! I want to try it.
This post is sponsored by Almond Breeze Almondmilk. All opinions are my own of course! Thanks for backing up my sponsors!
We are a participant in the Amazon Services LLC Associates Program, an affiliate advertising program designed to provide a means for us to earn fees by linking to Amazon.com and affiliated sites.