Ultimate Chili Nachos with Queso and Guacamole
Why do we ever even eat nachos without turning them into chili nachos?? It's so much better!! This is the ULTIMATE chili nachos recipe, loaded up with beefy chili, white queso, guacamole, sour cream, and corn salsa! It is the best game-day food ever!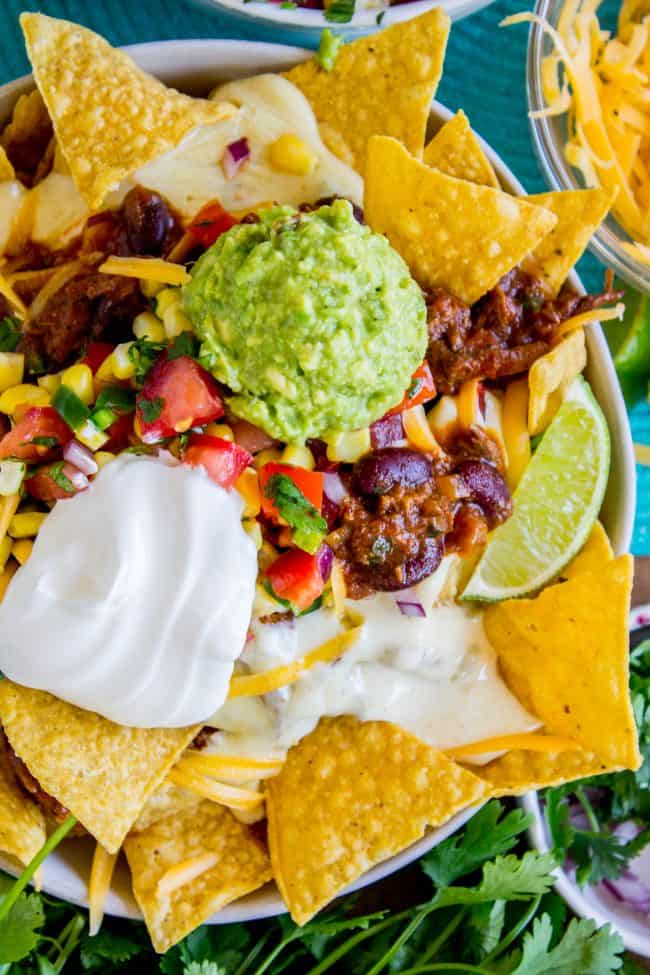 So yesterday I lit my oven on fire. I had two things going on: It was 10 o'clock at night and I was using the stove to test out the white queso dip used for today's chili nachos one more time. Either I was trying to perfect the recipe, or I just really needed some chips and dip on a random Monday night, I'll let you decide. QUESO IS LIFE << that's my new mantra.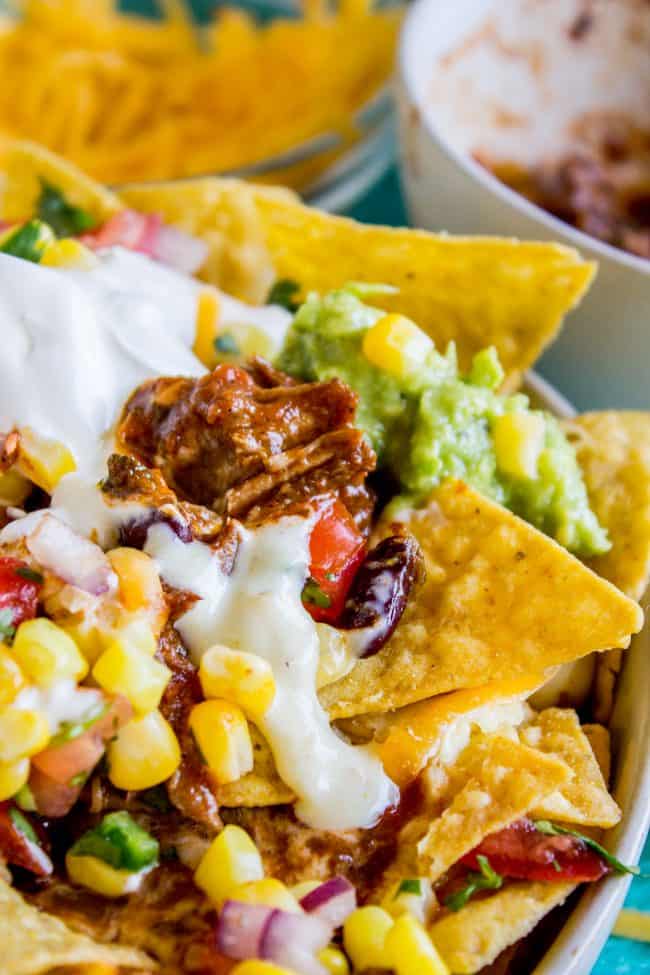 I also had a cake in the oven. A cake recipe that I found on a German food blog. I think Google translated it wrong or something, because the cake overflowed and a copious amount of butter ended up on the bottom of my oven. No big deal, I thought, I'll just throw down a sheet of foil on the bottom and that will catch it. And then POOF it burst into flame.
So I scream for Eric and start googling "gas oven fire what to do." Thank you, God, for the internet, seriously, because I think we would have blown our house up. We were all ready to go with the fire extinguisher. (I also later learned that you can throw salt or baking soda on oven fires, fyi.)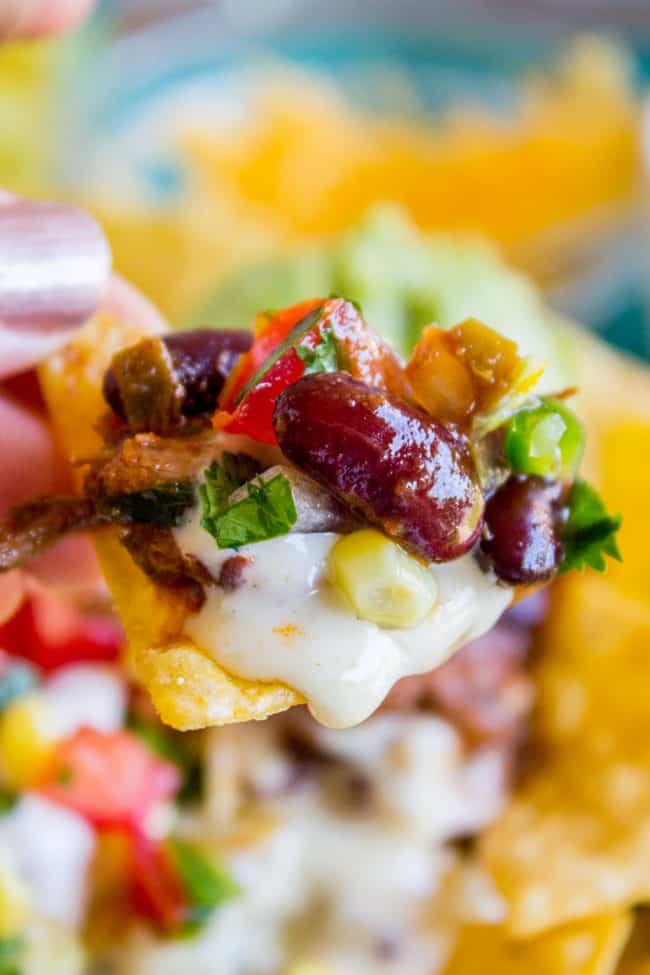 Well at least we're alive, and more good news, the cake AND the queso made it out ok. It's a miracle! Also convenient because turns out all I want to do after a near death experience is carbo load ;)
Are you a nachos person? It's not usually my go to, but that was before I discovered chili nachos. Even more specifically, chili CHEESE nachos, with dreamy creamy queso and not just melted cheddar from a pre-shredded package that solidifies the minute you take it out of the microwave. I know you, you microwave nacho-er, you.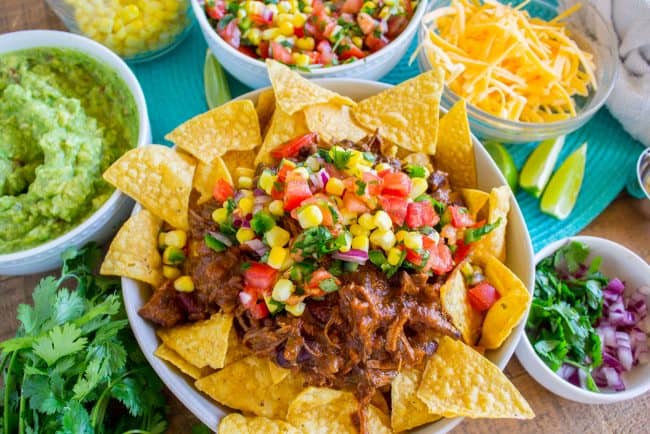 Eric and I went on a trip to Australia last year, and at the first restaurant we went to, we ordered the chili nachos. We had been traveling for about 30 hours (turns out Australia is really far away!) and were completely delirious from exhaustion.
But apparently all I need to perk me up when I'm tired is a giant plate piled to the ceiling with tortilla chips, beef chili (with shredded beef), white queso, shredded cheddar, corn salsa, and TONS of guacamole and sour cream. I think they used a cookie scoop to dollop both the guac and the sour cream. What is it with Americans being so stingy with the guacamole??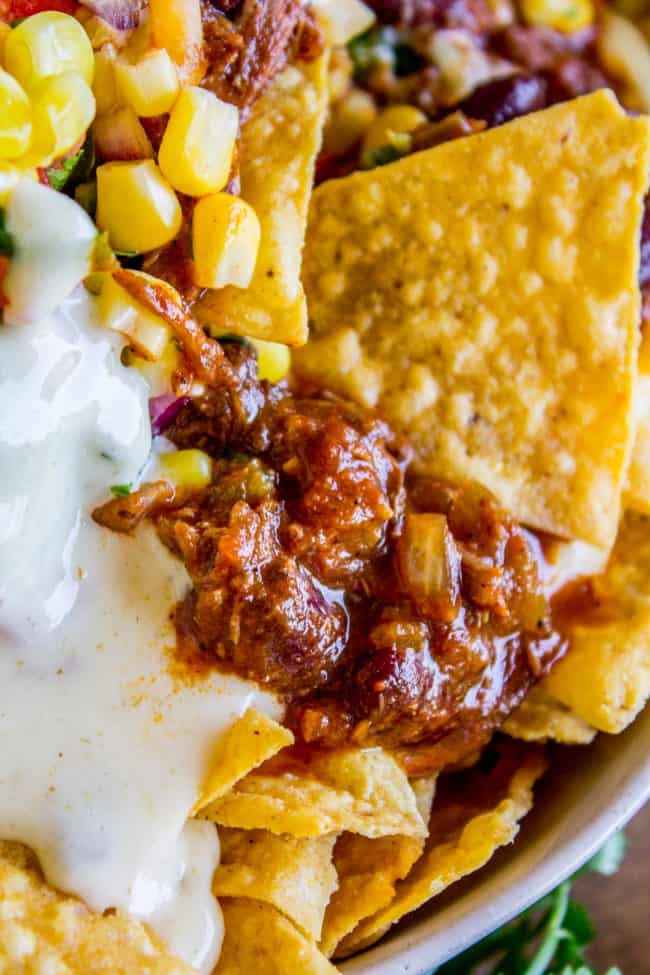 How to make chili nachos with queso and guacamole
So here's how we're doing this my friends. First you have to start off with AMAZING chili. Click here for The Best Chili Recipe I've Ever Made. This is not just any chili, guys. The secret is using real shredded beef instead of ground beef. (It's not undercooking the onions, like Kevin from The Office claims, as he spills the entire pot of chili on the office floor. I always think of that when I make chili, haha!) These nachos are the perfect recipe to make with leftover chili that you don't know what to do with.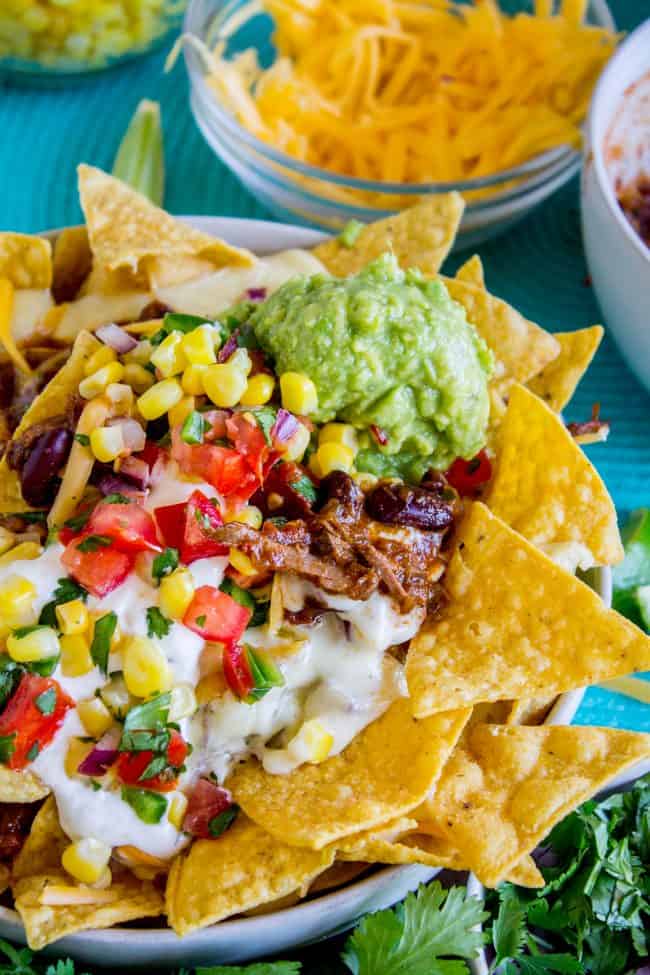 Next you have to make homemade queso dip, which is so easy it should be illegal. You will understand why once you have made it, it literally takes 3 minutes and you will want to eat ALL of it with chips before you even pour it over your nachos. It's so good.
Just make sure that you get White American Cheese from the store, not white cheddar, not any other white cheese. It has to be American cheese or it will not melt properly! (And don't get on me for using American cheese. Read this article instead! Long live the cheese!)
Whatever you do, when making your queso, DON'T turn your burner up to high and think to yourself "Oh I'll totally turn that down in a second, I just want it to get hot." Not that I ever do that all the time. (Even now that I'm using a gas oven, which is instant heat, I still do it. So dumb.) You need low low low heat for queso.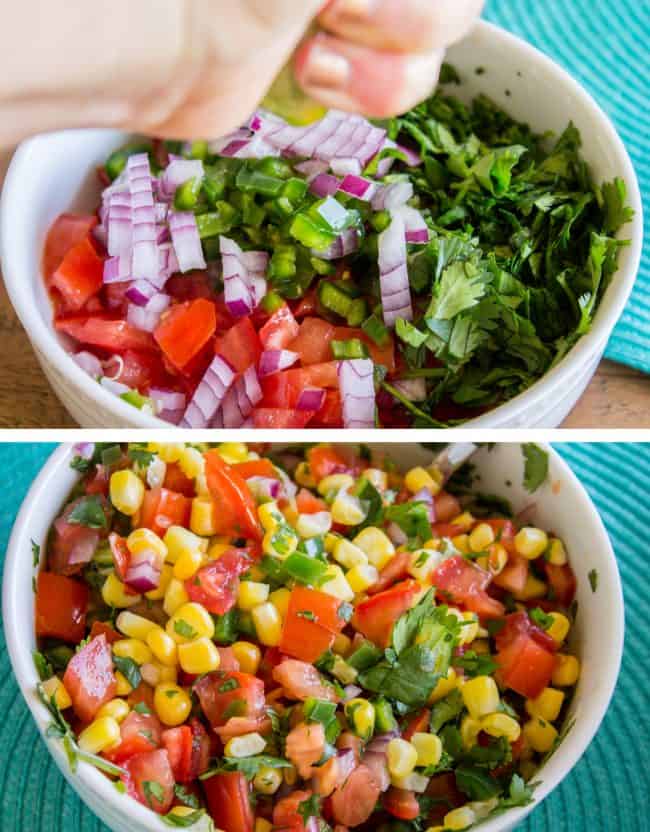 Once that's done you need some corn salsa and guac. You can pretty much make these however you want, I've included my basic recipe below. If you want more red onions, add them! If you like sliced jalapeno, toss em on top! These are your chili nachos. Don't let some food blogger tell you how to do garnishes.
Serve chili nachos for dinner or as a party appetizer
I mean who's going to say no to nachos for dinner? If you have kids, they are going to love you. For dinner, plate each serving individually. To serve them as an appetizer at a party (or to serve family style instead of plating for dinner), layer the chips, chili, and queso on a sheet pan, put it in the oven on the "keep warm" setting (170 degrees F) and pull it out when your guests are ready to eat. (Don't wait too long, no more than a couple minutes, or your chips will get soggy!) Serve the guac, salsa, and other toppings in bowls, and people can serve themselves.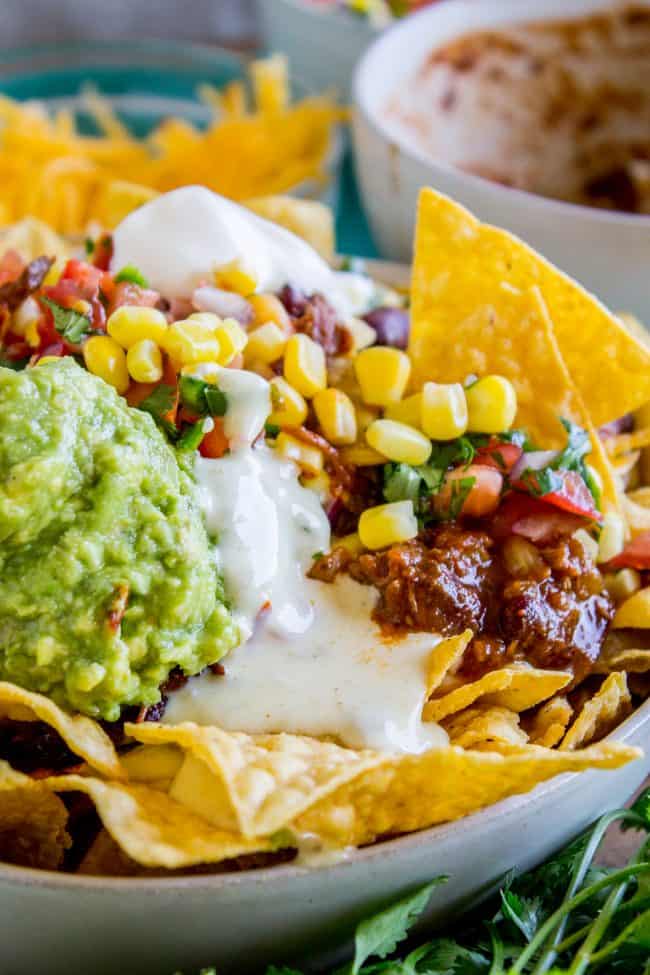 This would be absolutely amazing to eat while watching the Super Bowl. Chili nachos and queso forever!!
Here is the recipe for The Best Chili Recipe I've Ever Made that you will need for these nachos! They really do live up to their name!
More game day food for the Super Bowl!
Carol's Legendary 7 Layer Bean Dip << it's not a party without bean dip.
Mexican Street Corn Dip << You could toss this on your nachos instead of the corn salsa in today's recipe. Either one would be so good!
Easy Rotisserie Chicken Nachos << this is even easier than today's recipe! Just buy a chicken at the store.
Cheesy Buffalo Chicken Dip << One of those you won't be able to stop eating!
Bacon Wrapped Jalapeño Poppers << The classic with some bacon added. How can that be bad?
Copycat Chili's Queso Dip (Slow Cooker) << Queso is a must!
Cheeseburger Egg Rolls << Oh yes I did.
Chicken Nacho Casserole from Cookie Rookie
Waffle Fry Nachos from Wine and Glue
Chicken Reuben Sheet Pan Nachos from Melanie Makes
Facebook | Pinterest | Instagram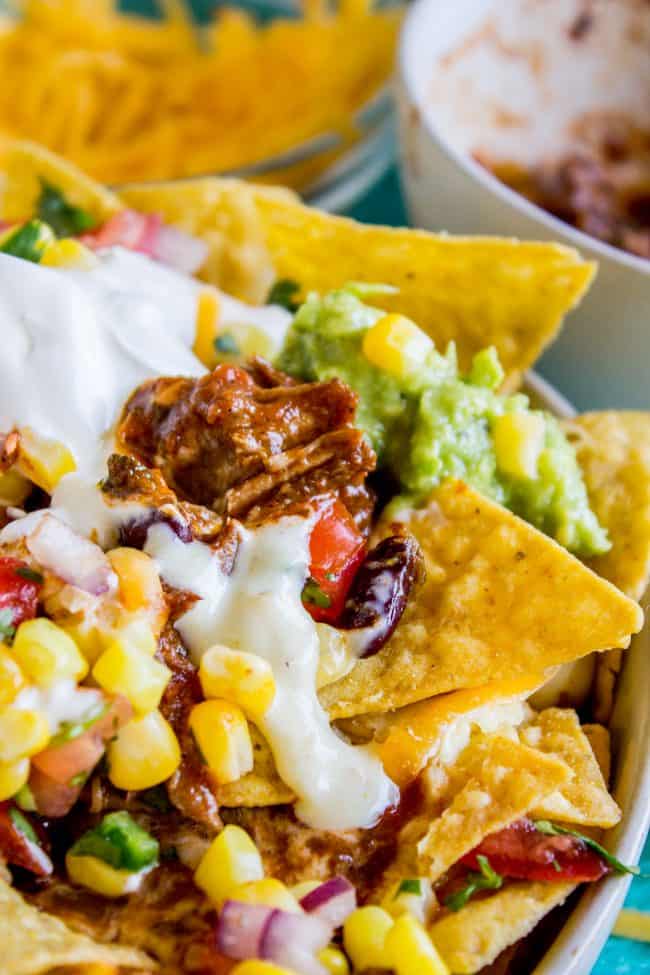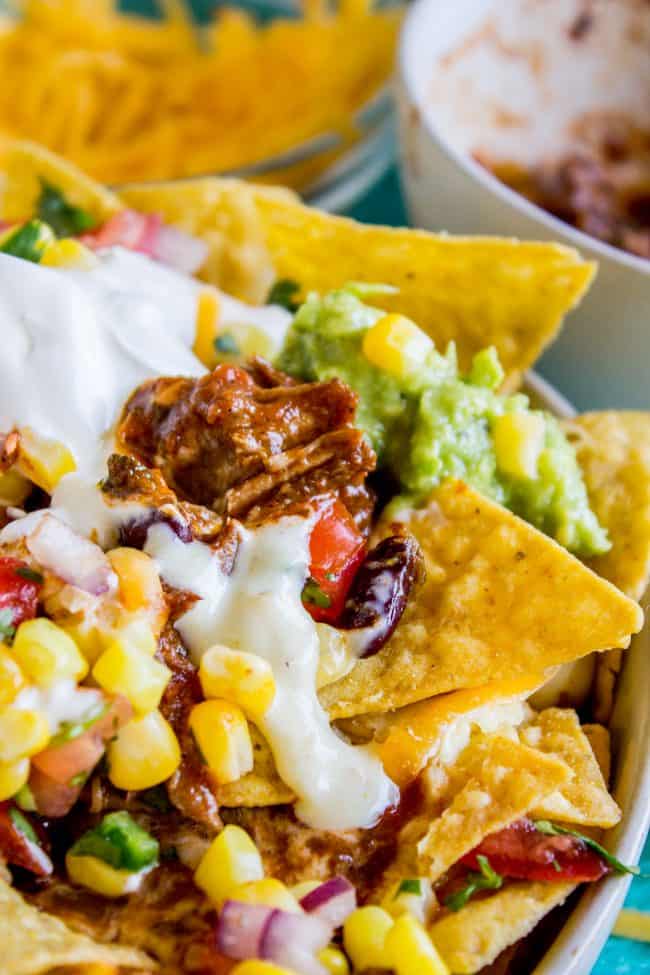 print
Did you make this recipe?
Leave a review »
Ultimate Chili Nachos with Queso and Guacamole
4
adjust servings
Why do we ever even eat nachos without turning them into chili nachos?? It's so much better!! This is the ULTIMATE chili nachos recipe, loaded up with beefy chili, white queso, guacamole, sour cream, and corn salsa! It is the best game-day food ever!
Ingredients
For the guacamole
4

large avocados

3/4

teaspoon salt

juice from 2 small limes
For the corn salsa
4

cups frozen corn, thawed

3

roma tomatos, chopped

1

or 2 jalapenos, seeded and chopped

1/2

cup fresh cilantro, chopped

1/2

cup red onion, chopped

1

teaspoon salt

juice from 2 small limes
For the queso
8

ounces White American Cheese*

6

tablespoons milk, or more

1

tablespoon butter

1

(4 ounce) can chopped green chilies

1

teaspoon cumin

1

teaspoon garlic powder

1

teaspoon onion powder

1/4

to 1/2 teaspoon crushed red pepper flakes
To assemble
1

large bag tortilla chips

1

cup cheddar cheese, shredded (divided)

1

and 1/3 cups sour cream, divided

additional sliced limes (to garnish)
Instructions
Start, of course, my making The Best Chili Recipe I've Ever Made. This recipe is different from most because it uses beef chuck instead of ground beef. It is melt in your mouth delicious! Any homemade chili recipe will do, of course, this is just my favorite.
Make the guacamole. You can make this as fancy as you want, I chose to keep it simple. Mash 4 avocados in a bowl and add 3/4 teaspoon salt and lime juice to taste (about 3-4 tablespoons, or about 2 limes).
Make the corn salsa. Let frozen corn thaw to room temperature.
In a medium bowl, combine corn, 3 chopped tomatoes, 1 or 2 chopped jalapenos (to taste), chopped cilantro, chopped red onion, salt, and lime juice. Stir it together and adjust salt to taste.
Make the queso. Break up the White American cheese into chunks and add to a small saucepan. Add 6 tablespoons milk and 1 tablespoon butter. Turn the heat to LOW.
Cook, stirring frequently, over low heat until the cheese is melted and smooth.
Add the can of chopped green chilies (you don't need to drain it, just dump in the whole thing.)
Add 1 teaspoon each cumin, garlic, and onion powder. Add 1/4 teaspoon crushed red pepper, or more if you want it spicy. Keep stirring occasionally over low heat until you are ready to assemble (the cheese starts to thicken as it cools).
To assemble: Add tortilla chips to 4 large shallow bowls or plates**. Top with about 1 cup of hot chili. Drizzle the chips with the white queso dip. Top with a large scoop of corn salsa. Add a huge scoop of guacamole. Add a large dollop of sour cream. Sprinkle the whole thing with shredded cheddar cheese. Garnish with additional lime slices.
by The Food Charlatan

If you make this recipe,
share it on Instagram
 using the hashtag
#TheFoodCharlatan
so I can see it!
We are a participant in the Amazon Services LLC Associates Program, an affiliate advertising program designed to provide a means for us to earn fees by linking to Amazon.com and affiliated sites.