Cheeseburger Egg Rolls have got to be one of the best mashups of all time! I mean, cheesy hamburger filling, deep fried in wrappers?? How can we go wrong here? Dip it in a delicious fry sauce and you will be in cheeseburger heaven in no time!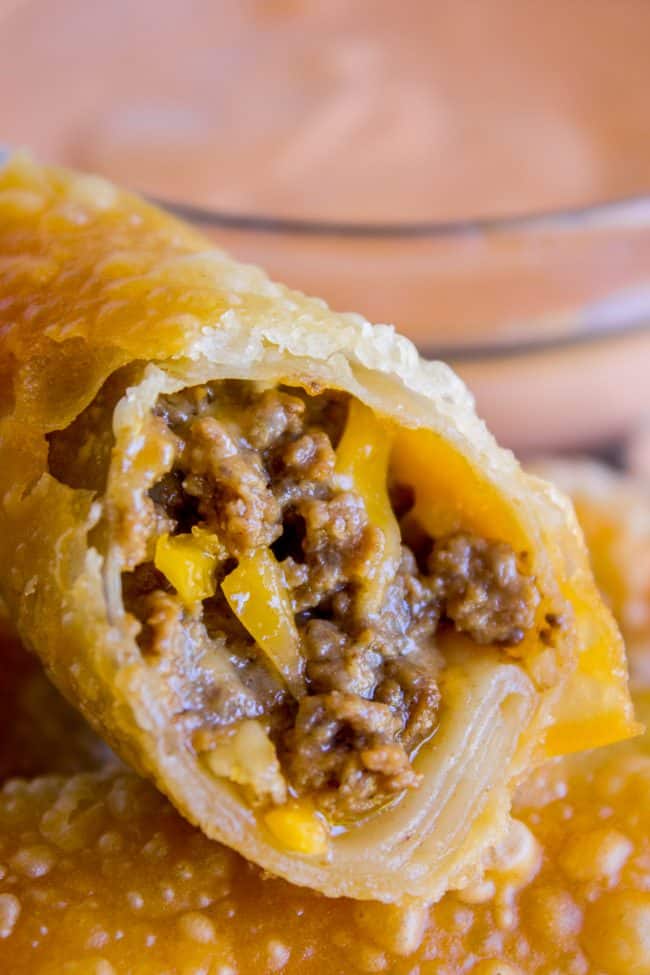 I'm one of those super boring restaurant people. You would think, as a food blogger, that I would be the one who's ready to try the new and exciting things on a menu. Nope. Not me. I'm the one ordering the bacon cheeseburger again and again, because guess what you guys? Cheeseburgers will NEVER let you down!!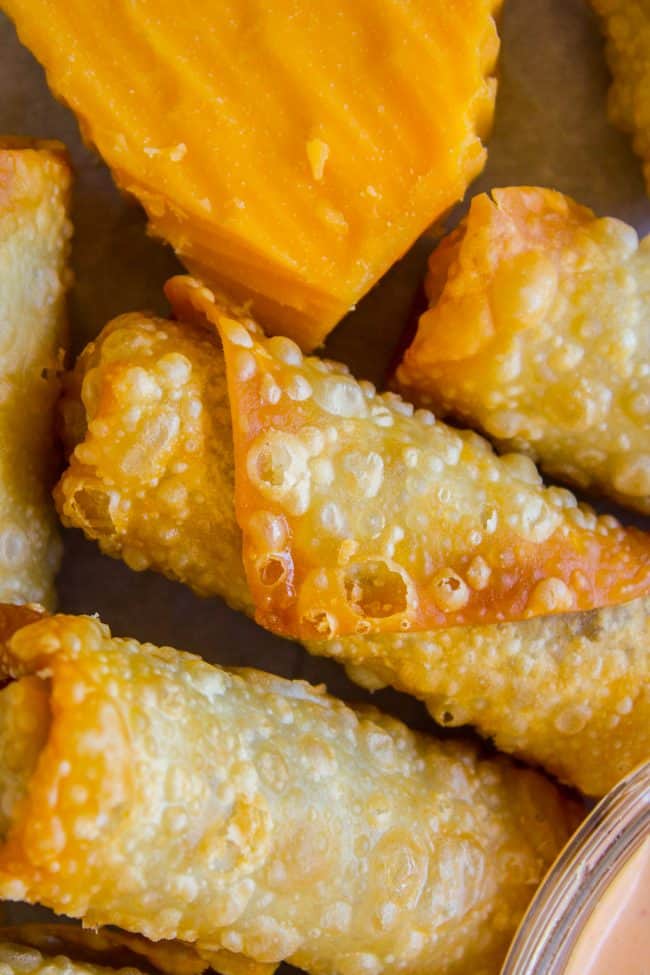 That crudité and stone fruit platter you were thinking of getting? You're going to get halfway through it and realize that you just paid $19 for raw vegetables. Wild Woodland Mushroom Risotto with Truffle Oil served with Bundles of Vegetables? Puh-lease. Pretentious menu items have a tendency to disappoint.
But the classics never will. Particularly cheeseburgers. As Ron Swanson says, "It's a hamburger made out of meat on a bun, with nothing. Add ketchup if you want, I couldn't care less." Ah, Parks and Rec, how I love you!
We're throwing cheeseburger filling into egg roll wrappers and deep frying them. So in other words, even better than a hamburger.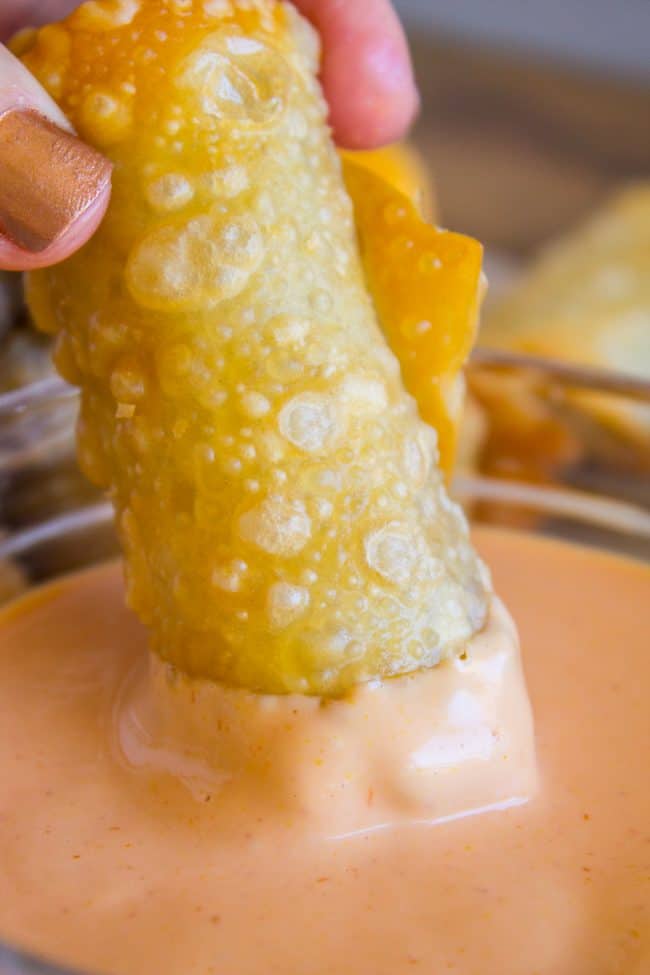 In other news, two of my kids decided to hit major milestones in the same day yesterday. I think they're trying to drive me to an early grave, or at least give me panic attacks about time passing much too quickly.
Truman, who started kindergarten this year, read me an entire book. And Valentine (not even 2!) asked to go on the potty, and hasn't had a single accident since. I never thought I would be the mom who is sad about THAT particular milestone, but I still call her a baby most of the time, so how can this be happening?? Denial going on strong over here.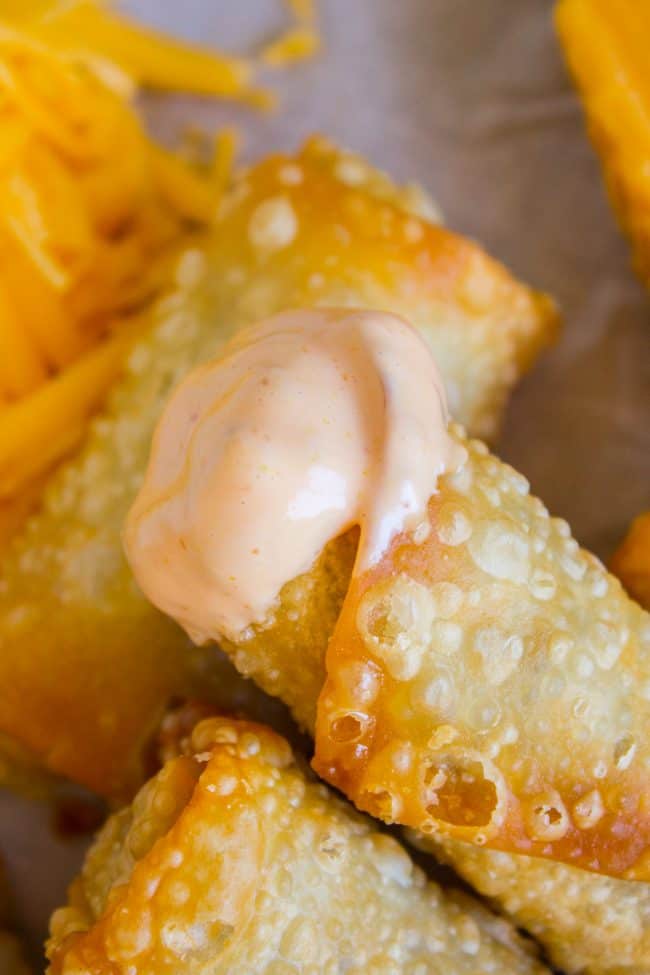 But back to the egg rolls. I think they have cheeseburger egg rolls at Applebees, which I just found out while googling. Has anyone had them? Are they any good? Mine are better. Okay okay it's my ego coming out, because I've definitely never ordered them. (But really. Homemade is always better :)
How to make cheeseburger egg rolls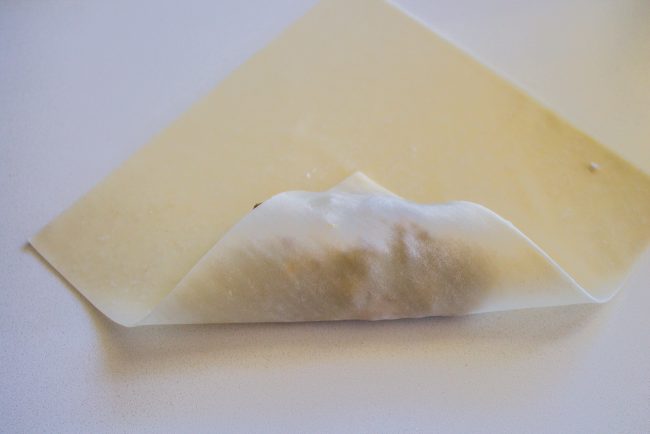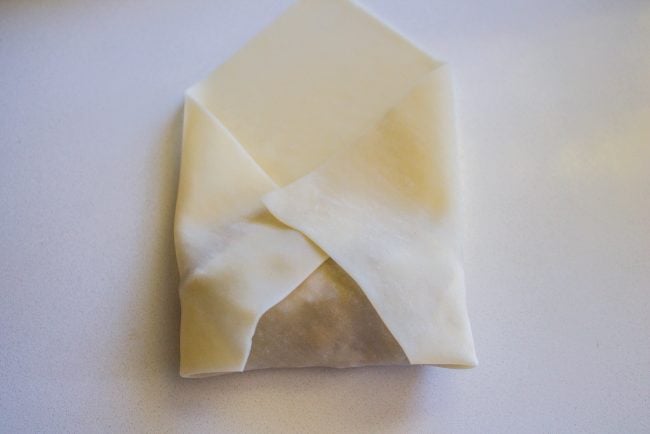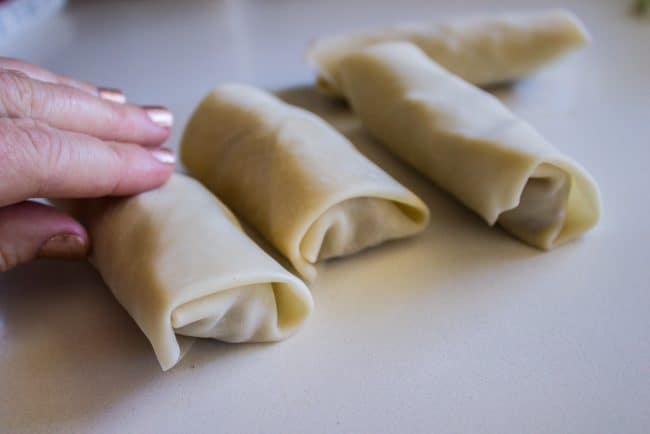 Here's how to roll an egg roll. You find egg roll wrappers in the produce section usually. Wonton wrappers and egg rolls wrappers are basically the same, except wonton wrappers are smaller. Get egg rolls wrappers so that there is plenty of space for all that amazing mustardy cheeseburger filling.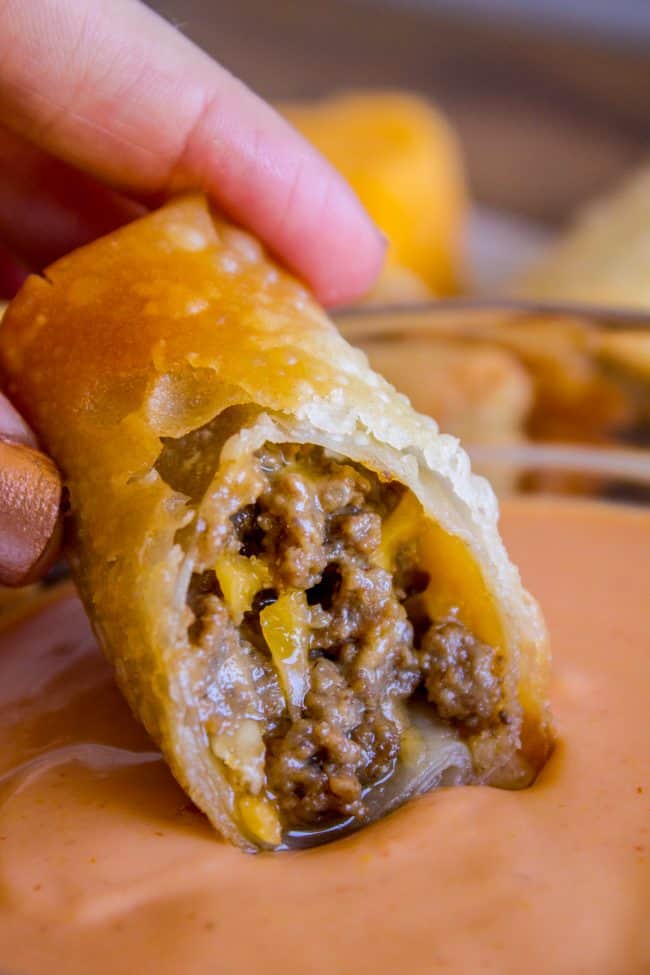 Deep fry until golden on the edges, then dip in fry sauce! Have you ever had fry sauce? Eric and I are obsessed. We always ask for a side of mayo whenever we get fries at a restaurant, so that we can stir it with the ketchup and make our own. Kind of like how my brother used to carry Koolaid packets in his wallet as a teenager, and stir it into his water at restaurants. Yes, we are a super classy family.
These would be a really fun appetizer to serve at a Halloween party! Keep them warm in the oven on the lowest setting until ready to serve. They would also be perfect to serve on a football watching day!
Facebook | Pinterest | Instagram
One year ago: Almost One Hour Pumpkin Cinnamon Rolls with Caramel Cream Cheese Frosting
Four years ago: Restaurant-Style Olive Oil and Balsamic Bread Dip
Seven years ago: Slow Cooker Chicken Taco Soup

Cheeseburger Egg Rolls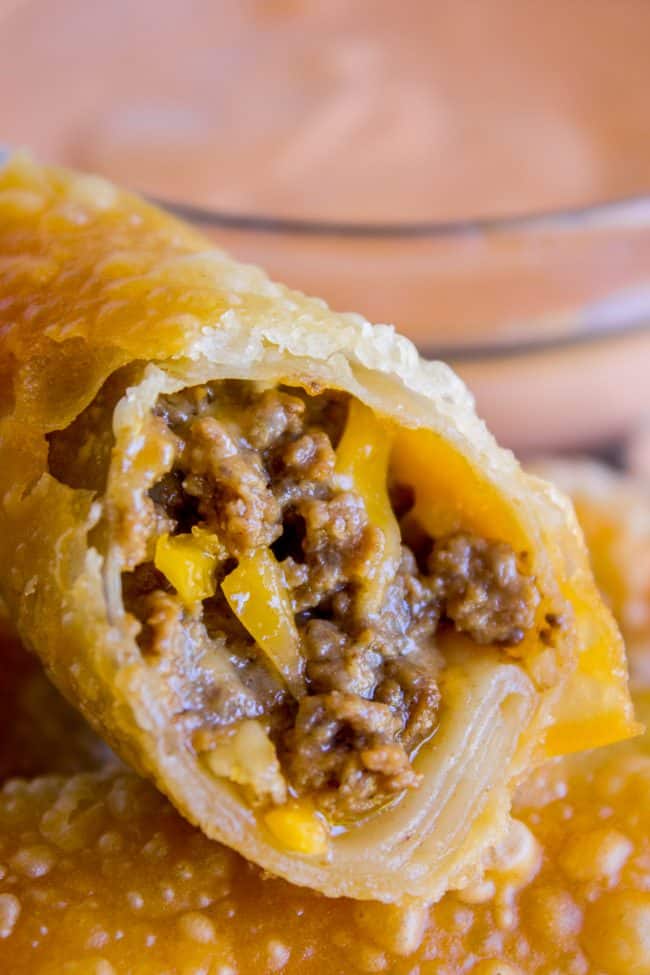 Cheeseburger Egg Rolls have got to be one of the best mashups of all time...I mean, hamburger filling that's deep fried in wrappers?? How can we go wrong here? Dip it in a delicious fry sauce and you will be in cheeseburger heaven in no time.
Ingredients
For the egg rolls
1

pound

ground beef

1

ounce

package onion soup mix*

,

(about 1 and 1/2 tablespoons)

2

teaspoons

Worcestershire sauce

1

tablespoon

dijon mustard

1/2

cup

mayonnaise

1

cup

cheddar cheese

,

shredded

17-20

egg roll wrappers

oil

,

for frying
For fry sauce
3/4

cup

mayonnaise

1/2

cup

ketchup

1-2

tablespoons

yellow mustard

a few squirts of sriracha sauce

,

optional
Instructions
In a skillet, cook and crumble ground beef over medium heat until it's no longer pink. Drain the fat.

Return to medium heat and add half a package of onion soup mix.* Stir in the Worcestershire sauce and dijon, and stir well.

Turn off the heat and add the mayonnaise and cheddar cheese. Set aside to let cool slightly.

Meanwhile, in a high-sided skillet, heat about 1 and 1/2 inches of oil over medium heat. You want the temperature to be about 350 degrees F. I used light flavored olive oil (NOT extra virgin!) You could also use vegetable oil or peanut oil.

Add about 2-3 tablespoons of the filling to the center of an egg roll wrapper, fold in the edges, and roll. (See photos.) Dip your fingers in water and seal the edge of each roll with a bit of water so that it doesn't come apart when you are frying. Cover them with a tea towel so they don't dry out, if your oil isn't hot yet.

Add a few egg rolls to the oil and let fry for about 2 minutes, then flip if necessary. Continue frying for another 1-3 minutes, until the edges are a light golden brown. They will continue to darken after you take them out of the oil, so be careful not to overdo it.

Remove the egg rolls to a paper towel lined plate. Continue until they are all fried.

In a small bowl, combine mayo, ketchup, a little mustard, and a squirt of Sriracha (or any hot sauce) if you want a bit of heat. I didn't measure anything, because it turns out that pretty much any ratio of these ingredients is delicious. Just throw it together and it will be great.

Serve the egg rolls hot! Don't eat them all at once!

To take care of the leftover oil, I always place the bottle of oil that I poured it from in the sink (in case it spills), get someone to hold a funnel over the top, and a mesh strainer over that. Pour the oil back in the bottle, label it "Frying oil," and put it in your cupboard until the next time you want to make donuts or anything fried. I always use my oil 2-3 times before discarding.
Nutrition
Serving:
1
g
|
Calories:
469
kcal
|
Carbohydrates:
53
g
|
Protein:
15
g
|
Fat:
21
g
|
Saturated Fat:
6
g
|
Polyunsaturated Fat:
8
g
|
Monounsaturated Fat:
6
g
|
Trans Fat:
1
g
|
Cholesterol:
40
mg
|
Sodium:
869
mg
|
Potassium:
192
mg
|
Fiber:
2
g
|
Sugar:
2
g
|
Vitamin A:
127
IU
|
Vitamin C:
1
mg
|
Calcium:
99
mg
|
Iron:
4
mg
You will love these other game day snacks!
Easy Cheesy Cheeseburger Sliders << the filling for these is almost the same as the filling for today's eggrolls. It's so good!!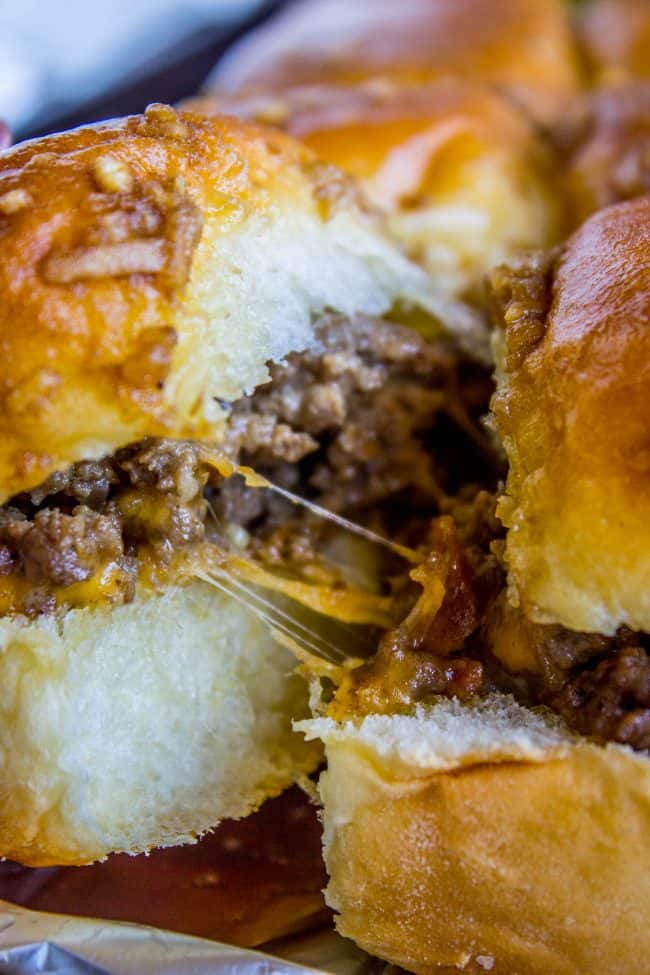 Carol's Legendary 7 Layer Dip << This is the BEST party appetizer!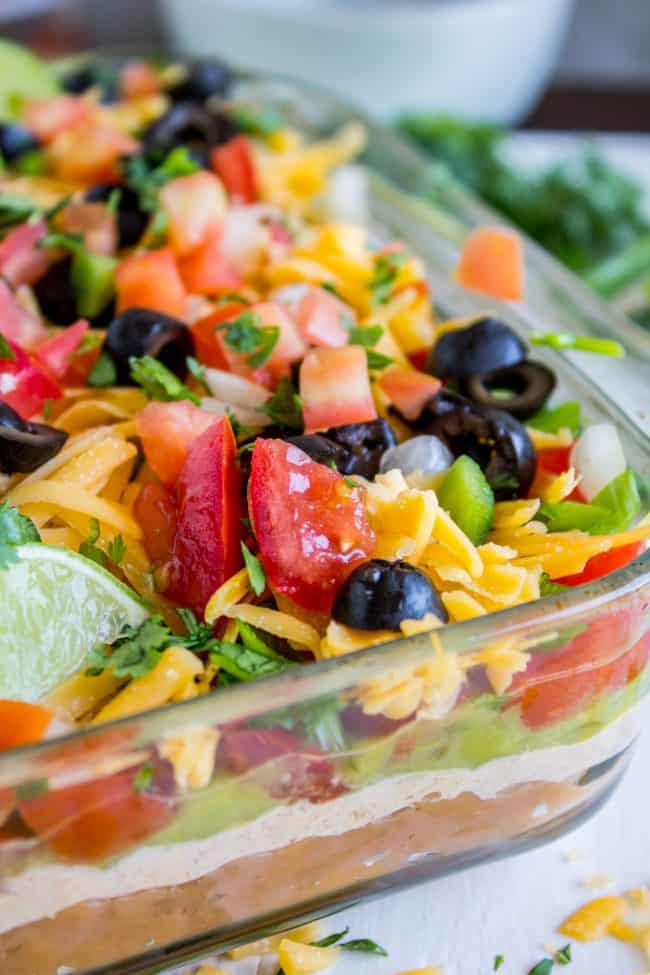 Jalapeno Popper Cheesy Bread with Bacon << this can also be dinner, if you're in my family…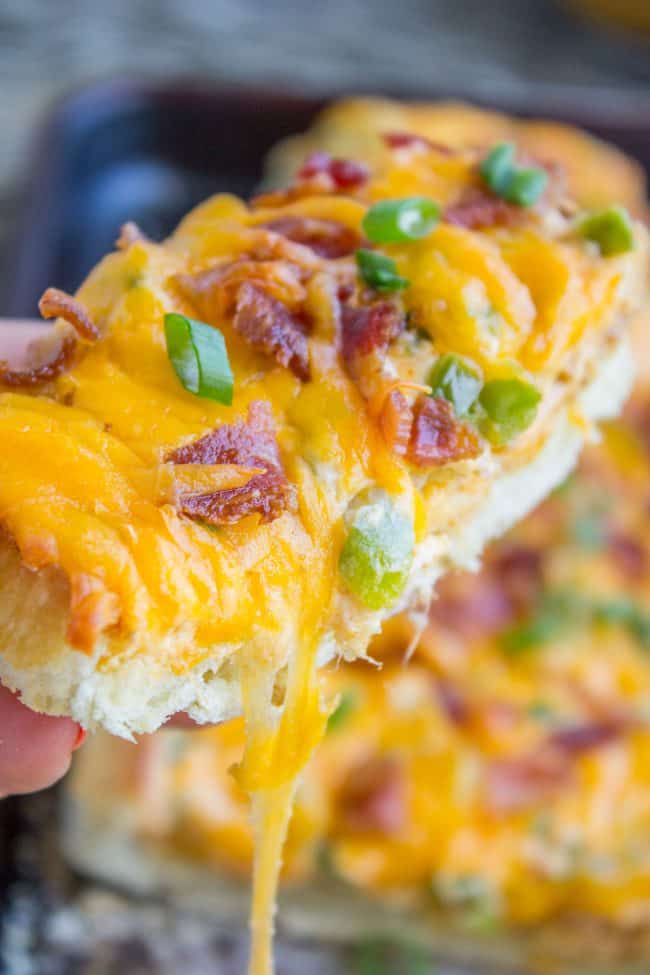 More egg rolls to love from blog friends! 
Chicken Cordon Bleu Egg rolls from Barefeet in the Kitchen
Baked Mexican Egg rolls with Enchilada Guacamole from Taste and Tell
Sausage Egg Roll Skillet from Shugary Sweets