This BEST homemade Virgin Piña Colada recipe! It's so good you won't even miss the booze. A couple secret ingredients take this mocktail from overly-sweet to just-right. They are so easy. I will show you exactly how to make them! Originally published April 30, 2021.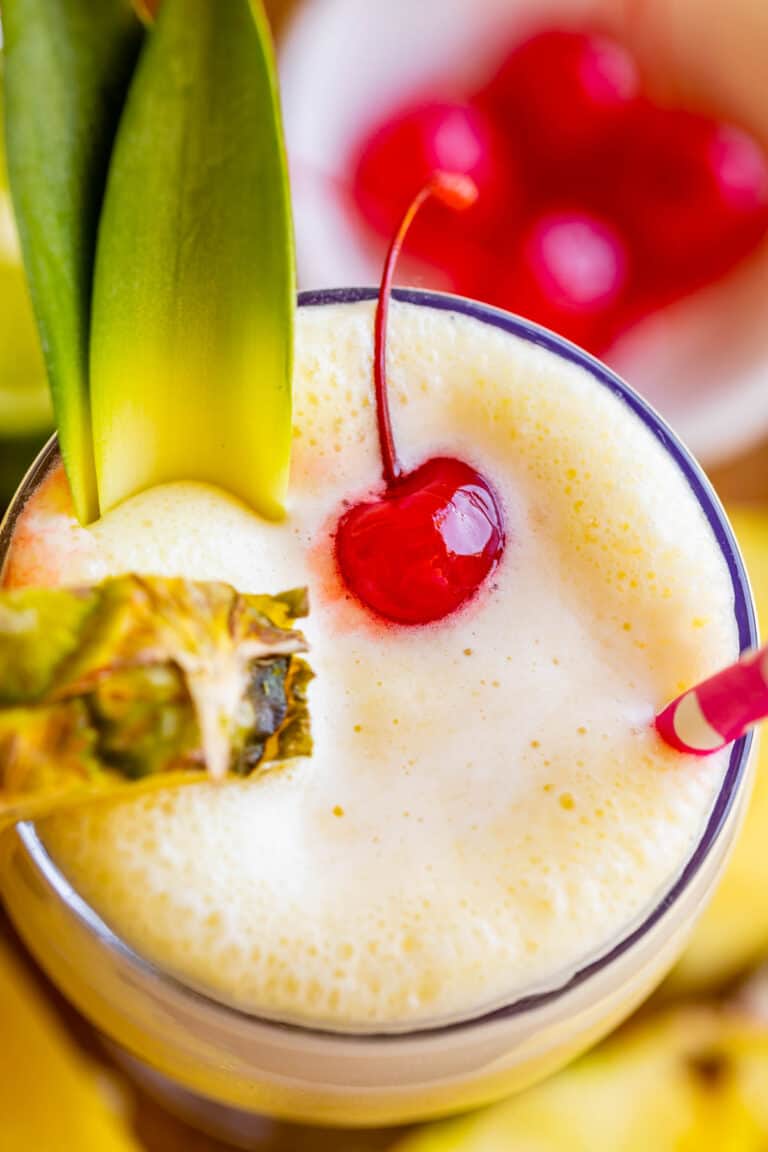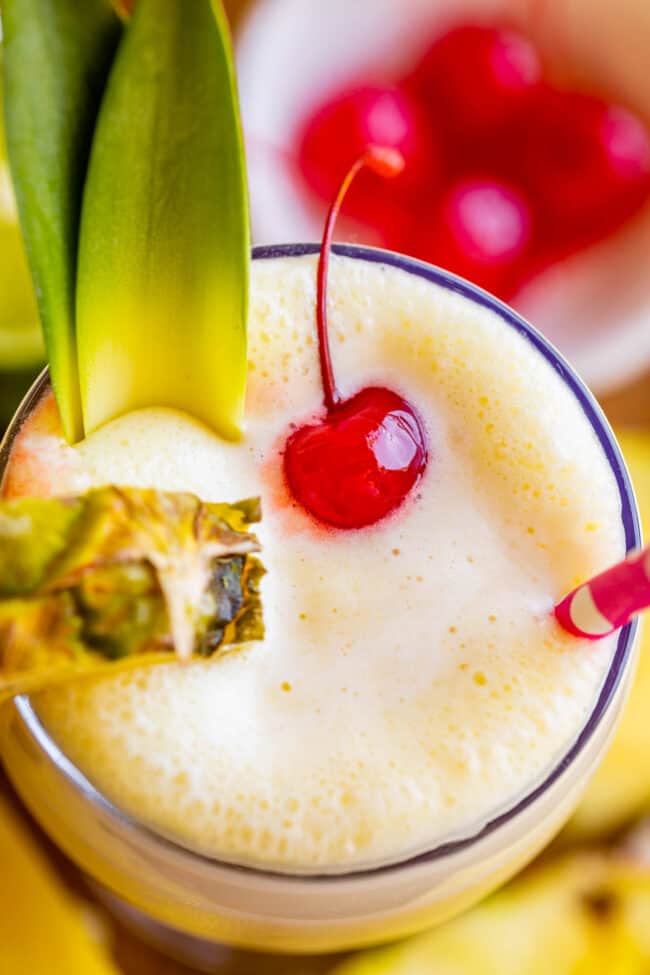 Table of Contents
The other day we were reading scriptures and Eric started asking the kids some follow up questions. He turned to our 4 year old. "Who gives us the commandments, Valentine?" She immediately answered, Mom.
I hope God doesn't mind, but I busted up laughing. She's not wrong; I really do give out a lot of commandments.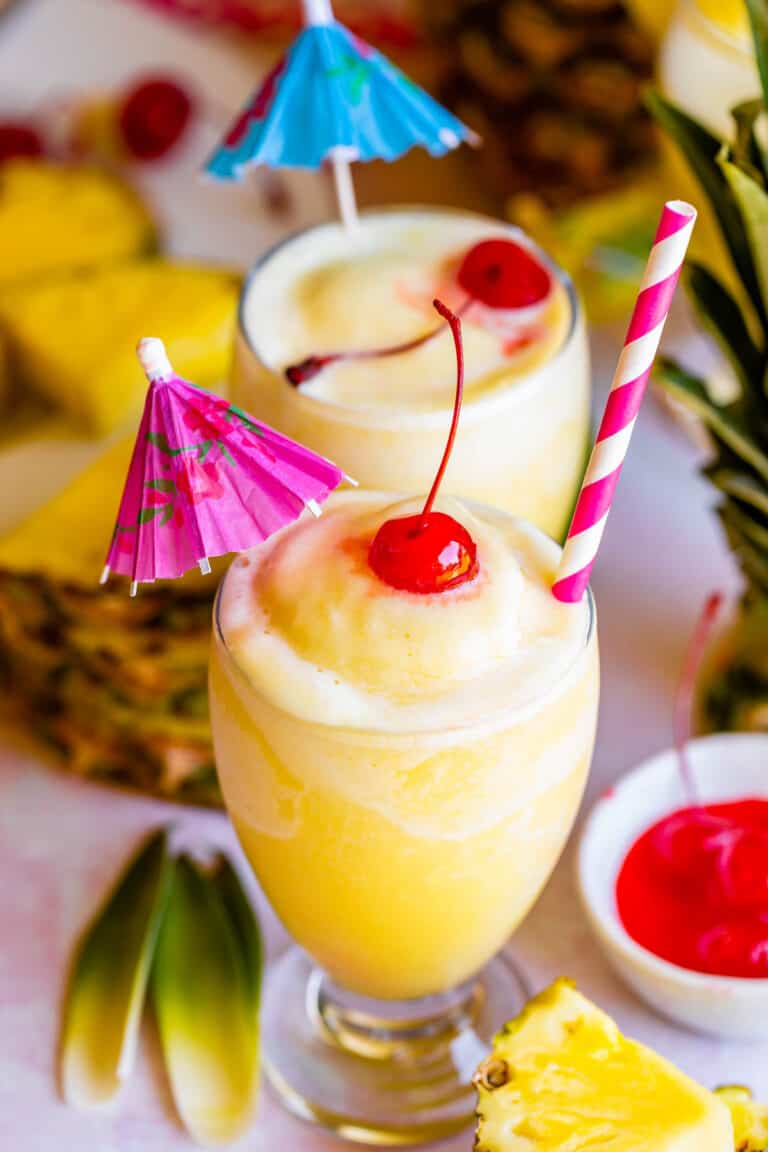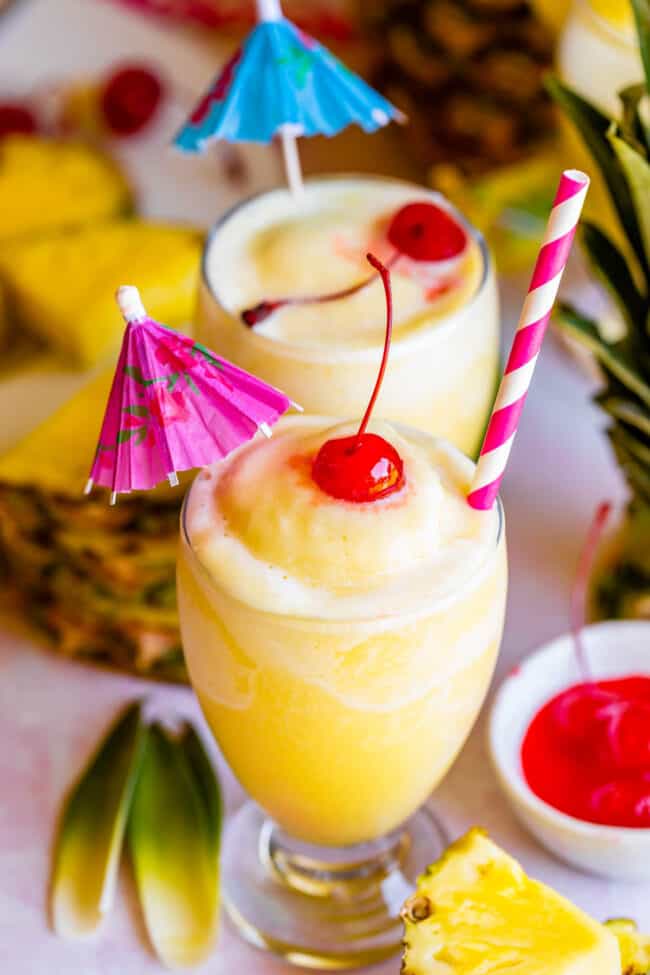 They just have a lot more to do with putting your shoes away (or brushing your teeth for heavens sake, or not spraying water all over the bathroom, or get to bed already, if you come out one more time I swear…), rather than loving thy neighbor and all that stuff.
My favorite commandment lately is Honor thy parents, by the way, in case you were wondering. My kids just LOVE it when I hammer this in. "Your days will be long upon the land though, who doesn't want that??!"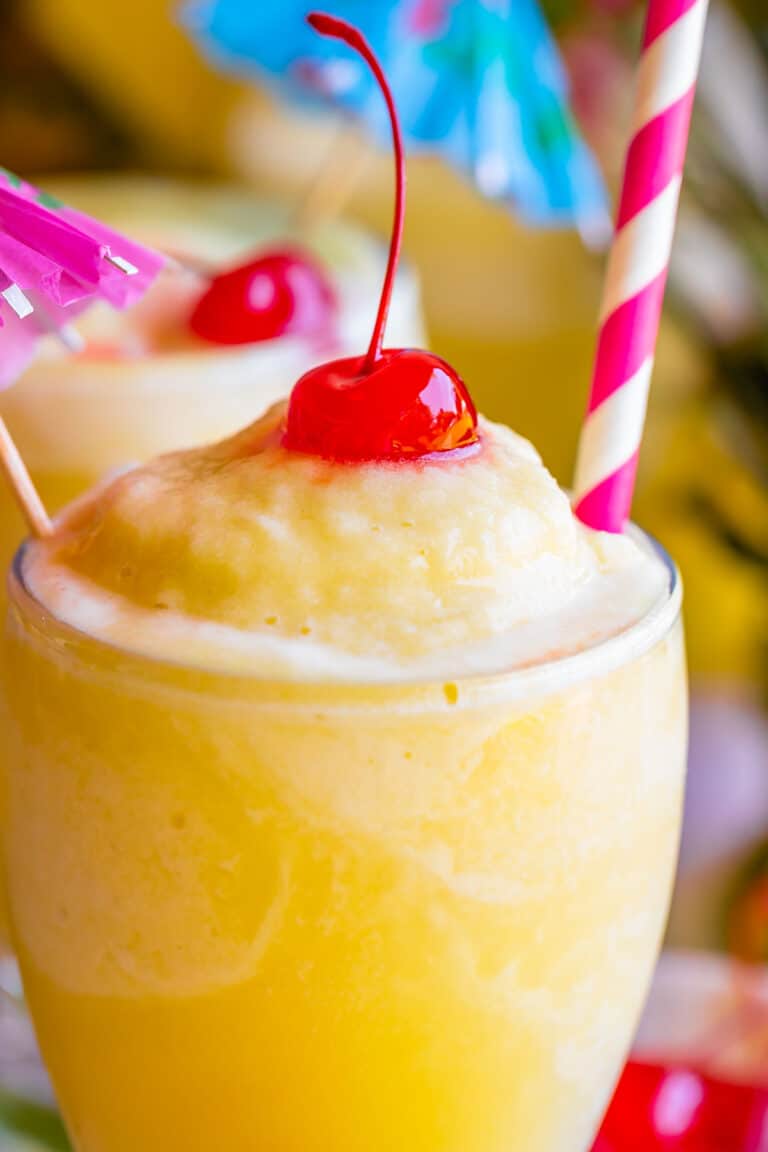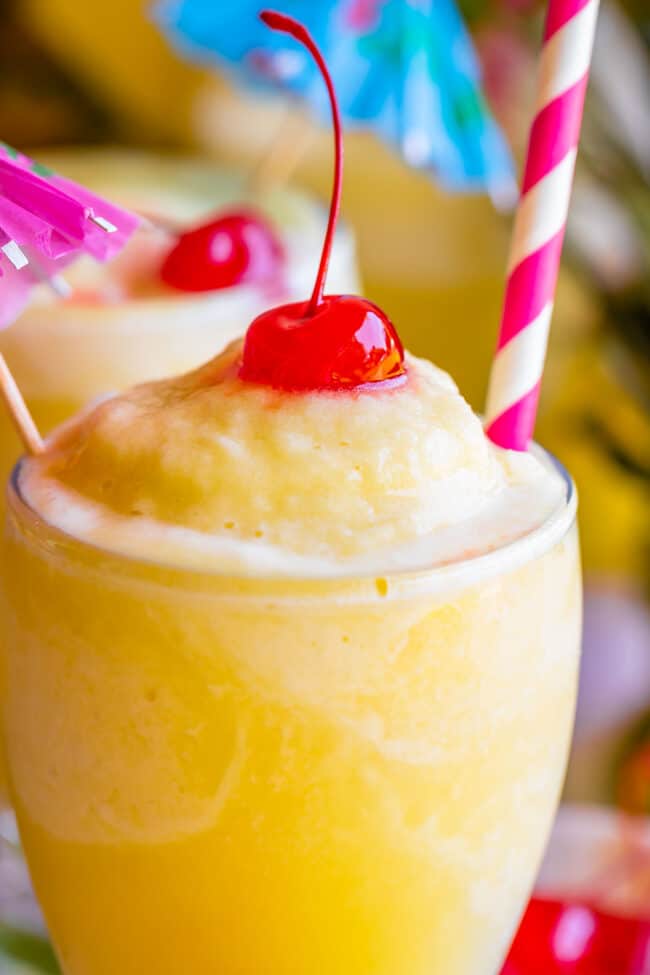 This week we celebrated Eric's birthday, and when I realized it was coming up a few weeks ago I couldn't remember how old he was. "You're turning thirty…four, right?" Nope. "For real, 35?? We are so old!!" He's actually turning 36. I guess my memory is going already, I thought I had longer. Age is weird.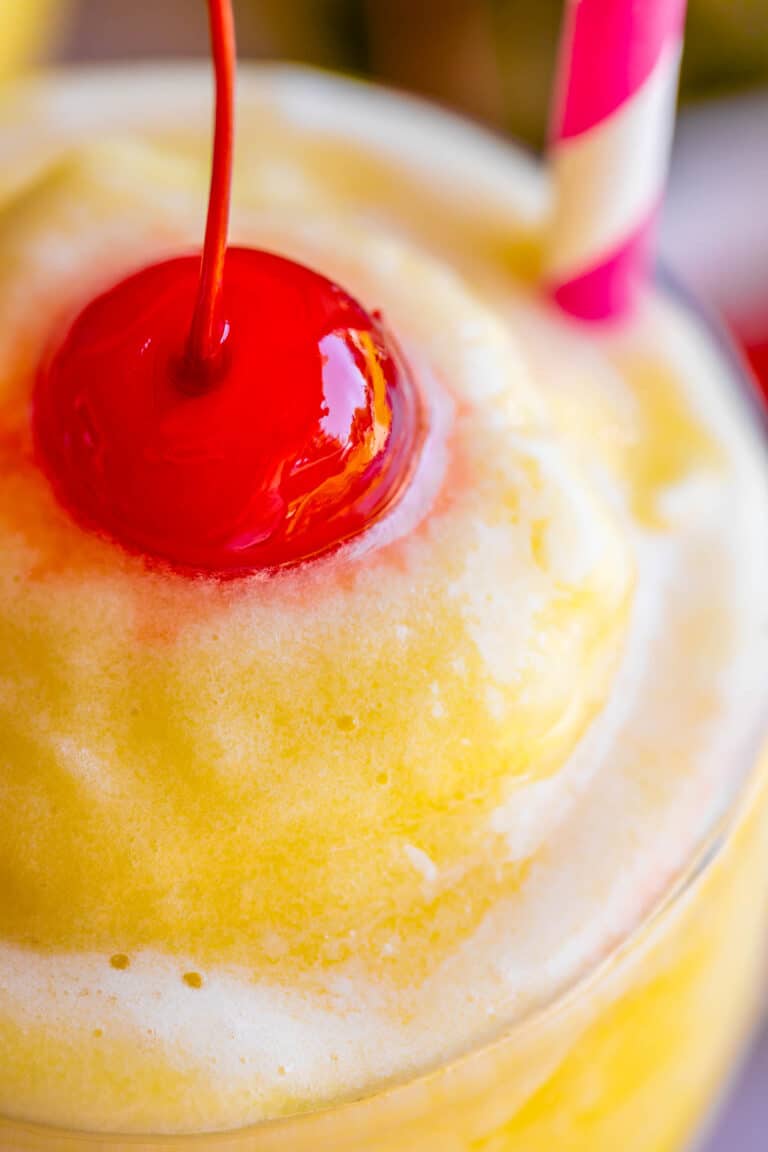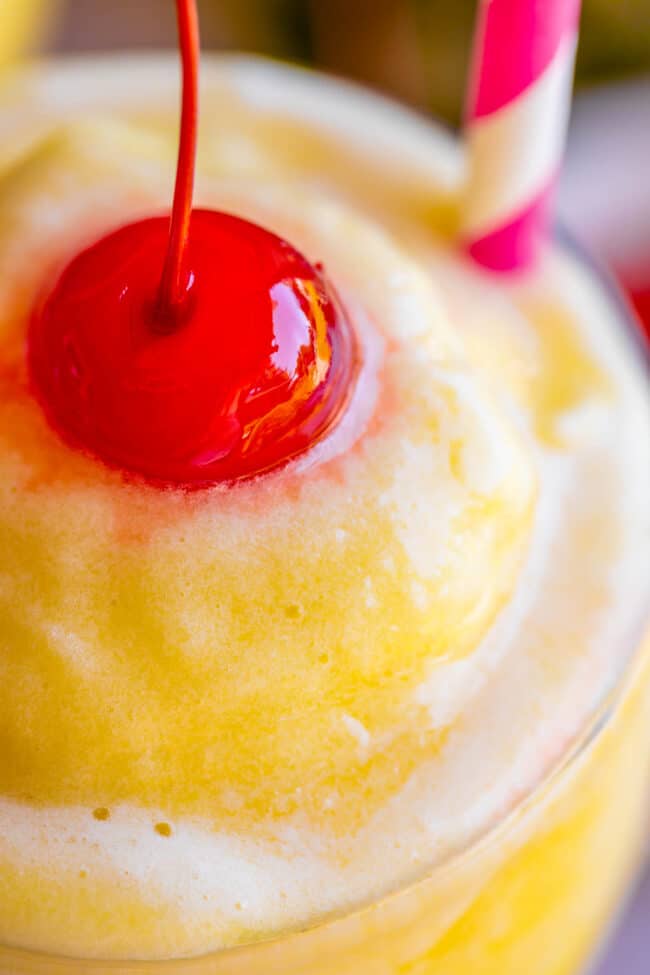 I always make a fun dinner for birthdays, and Eric requested something Mexican as usual. We made these Chimichangas (nothing makes you feel better about getting older than eating fried food, right?) and topped it off with some homemade Virgin Piña Coladas. You HAVE to make these happen soon. Cinco de Mayo is next week! Or honestly any day ending in y will do ya just fine.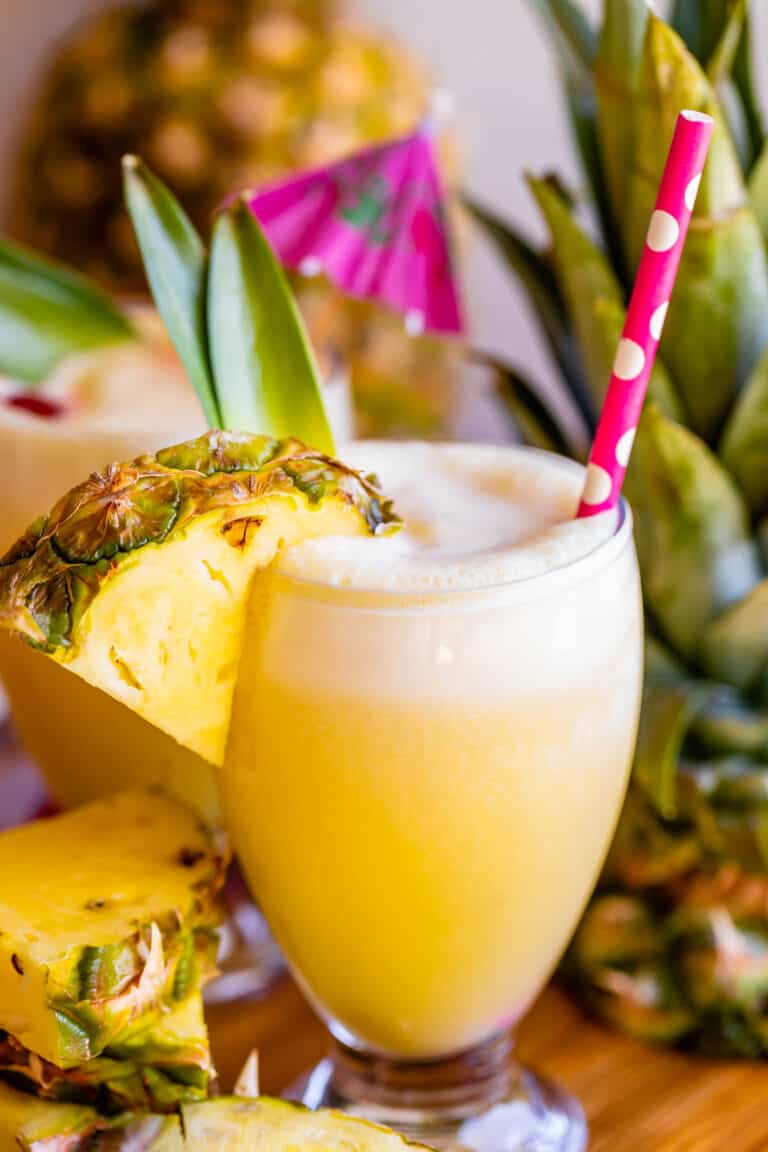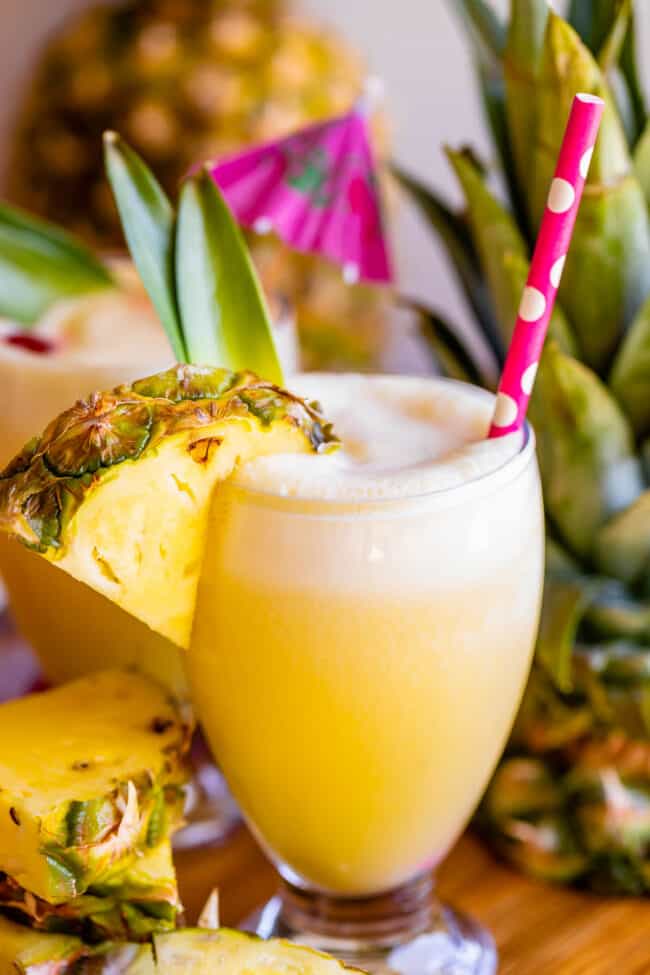 Fun fact: I kept looking up Piña coladas and all the pictures online showed images with these little green leaves. I thought, where are people getting these leaves from? Their own yards? They look cool, but why? I even was on the lookout during my morning run for neighbors who might have a plant with leaves like this that I could steal. Then I realized they are the spiky leaves on the top of a fresh pineapple. You can just pull them right out. Guys, I am so dumb.
One more fun fact: I have listened to the Piña Colada song approximately 12,000 times since starting research on this recipe. It's just impossible not to start singing it!! I mean right??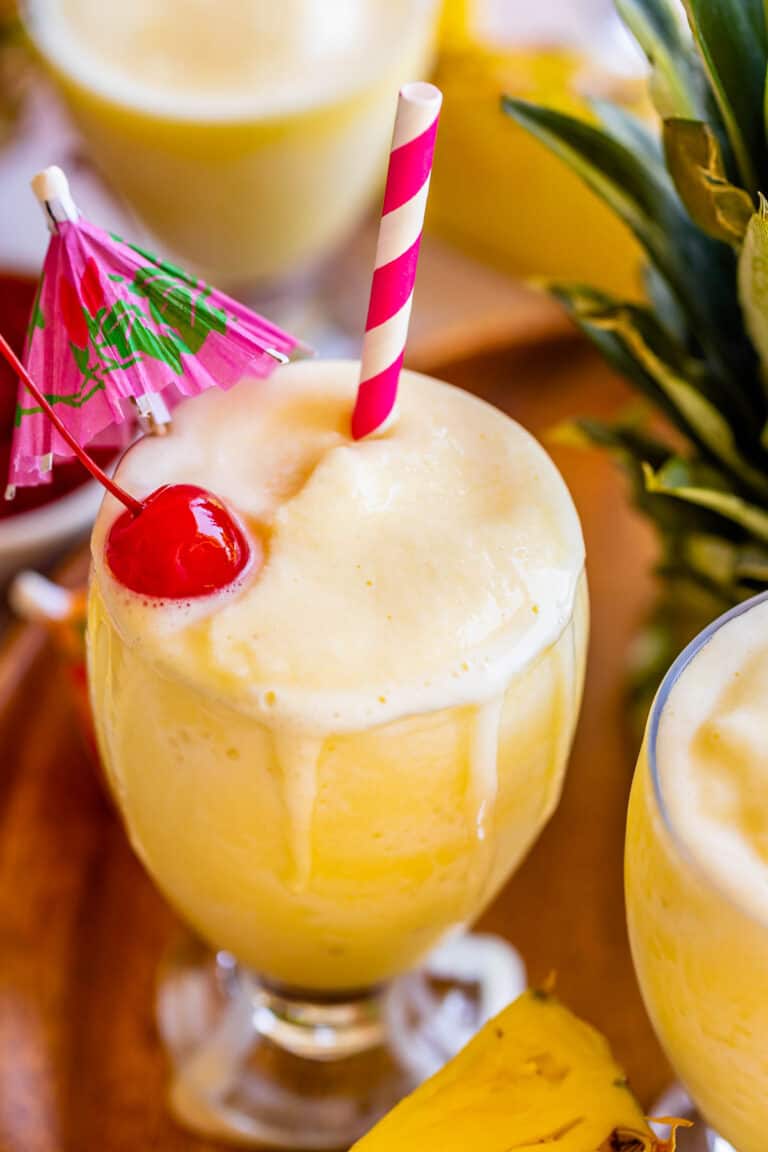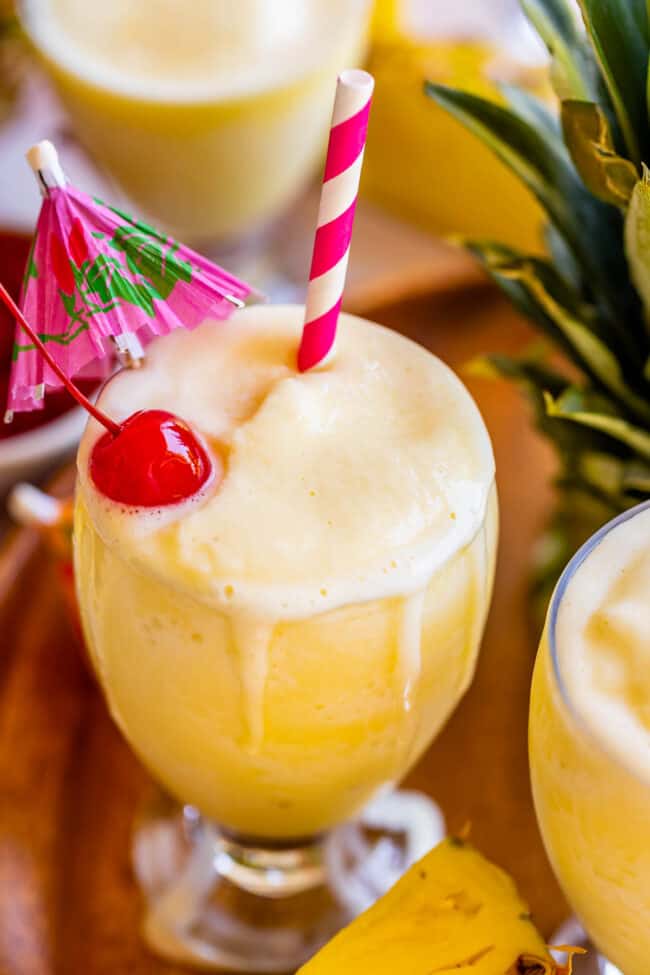 What is a Virgin Pina Colada?
Traditional Piña Coladas are made with cream of coconut, pineapple juice, ice, and white rum. Virgin Piña Coladas bring in the same island flavors but leave out the booze, so it's perfect for serving to kids, anyone driving, or basically to anyone anywhere anytime, because who's gonna say no to this combo??
Non Alcoholic Pina Colada ingredients
Frozen pineapple chunks
Pineapple juice
Lime juice
Rum extract
Molasses (optional)
Cream of coconut (sweetened coconut milk)
Frozen pineapple: You will note that ice is NOT on the ingredient list. The original recipe for Piña coladas (created by Ramón "Monchito" Marrero at a Hilton in Puerto Rico back in 1954) used ice and pineapple juice. Ice to make it frosty, pineapple juice for flavor. But ice makes a piña colada more, well, icy (read: less creamy). No thanks. Instead we are using frozen pineapple and zero water or ice. This way we get tons of flavor that is not at all watered down.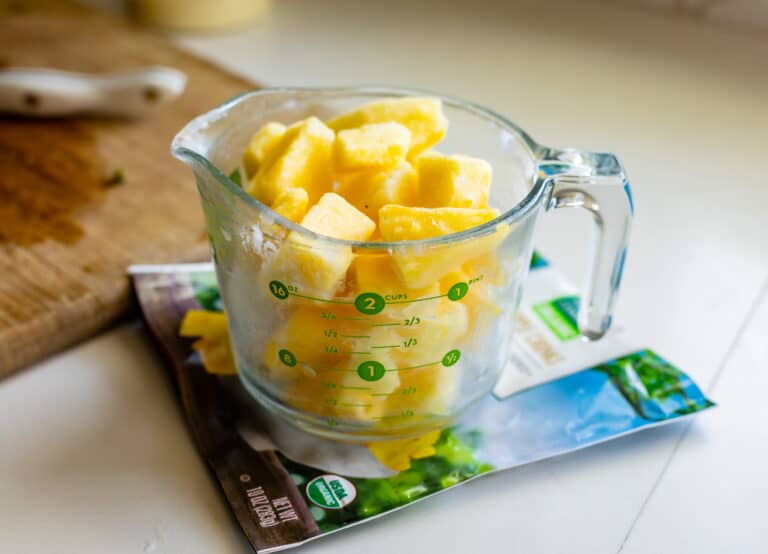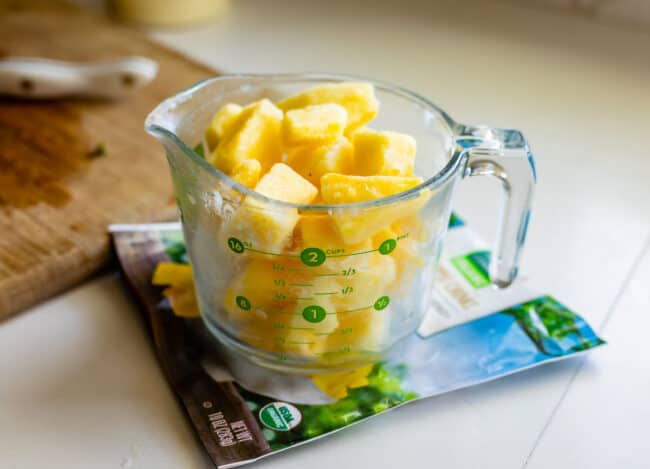 Some recipes claim that buying your own fresh pineapple then chopping and freezing it yourself makes a huge flavor difference. I call BS. What if you only have access to underripe pineapple? Your frozen fruit is only as good as however ripe and fresh it was at the point of freezing. So it's true, if you have access to SUPER amazing pineapple, you should consider chopping and freezing it yourself. But honestly I find that the frozen packages at the store, if you buy a high quality brand, are going to do you just fine. I tried both and couldn't tell a difference.
Pineapple Juice: The pineapple juice is added here to replace the liquid that would normally be rum. Less booze, more pineapple please. You could use water instead if you want to only half live your life. You do you, man. I love this brand of pineapple juice, most brands have pineapple juice from concentrate on their ingredient list; this one doesn't.


Lime juice: Boozy Piña Coladas don't have lime juice in them, but we are adding it here to help replace the crisp flavor and acidic kick that the rum would normally bring.
One of the main complaints people have with Virgin Piña Coladas is that they are cloyingly sweet. The lime adds acid to the drink and provides a nice balance to the creamy and very sweet pineapple and coconut milk.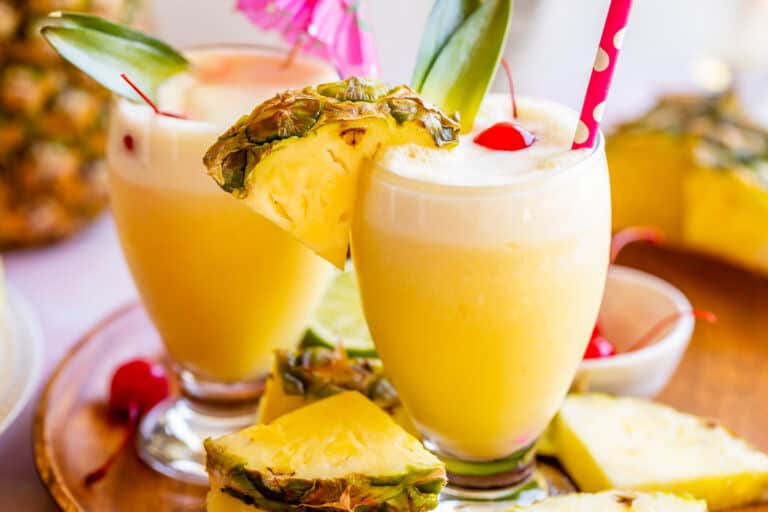 Rum extract: This is such an obvious addition, but I didn't see a single Virgin Piña Colada recipe that called for it. Of course it's not the EXACT flavor of rum (although how would I know, I don't even drink alcohol!) but I really love the flavor and especially the aftertaste it brings to the drink. It adds a dark, molassesy, woody flavor that really compliments the pineapple and coconut.
You can omit it and it will still taste great, but if you have it I highly recommend it. I feel like it's the secret ingredient that takes these piña coladas from okay to amazing.


Molasses: I will call this an optional ingredient, but I LOVE the flavor this brings. Just a 1/2 or 1 teaspoon of molasses really amps up the "rum" flavor and adds a little woody and nutty flavor to the drink. It contrasts with the otherwise-overwhelming sweetness of the pineapple and coconut.
I took these photos without molasses in them (I tested this recipe many times) because I didn't want to compromise the yellow color, but it actually didn't change the color all that much when I added it. It's just a teaspoon.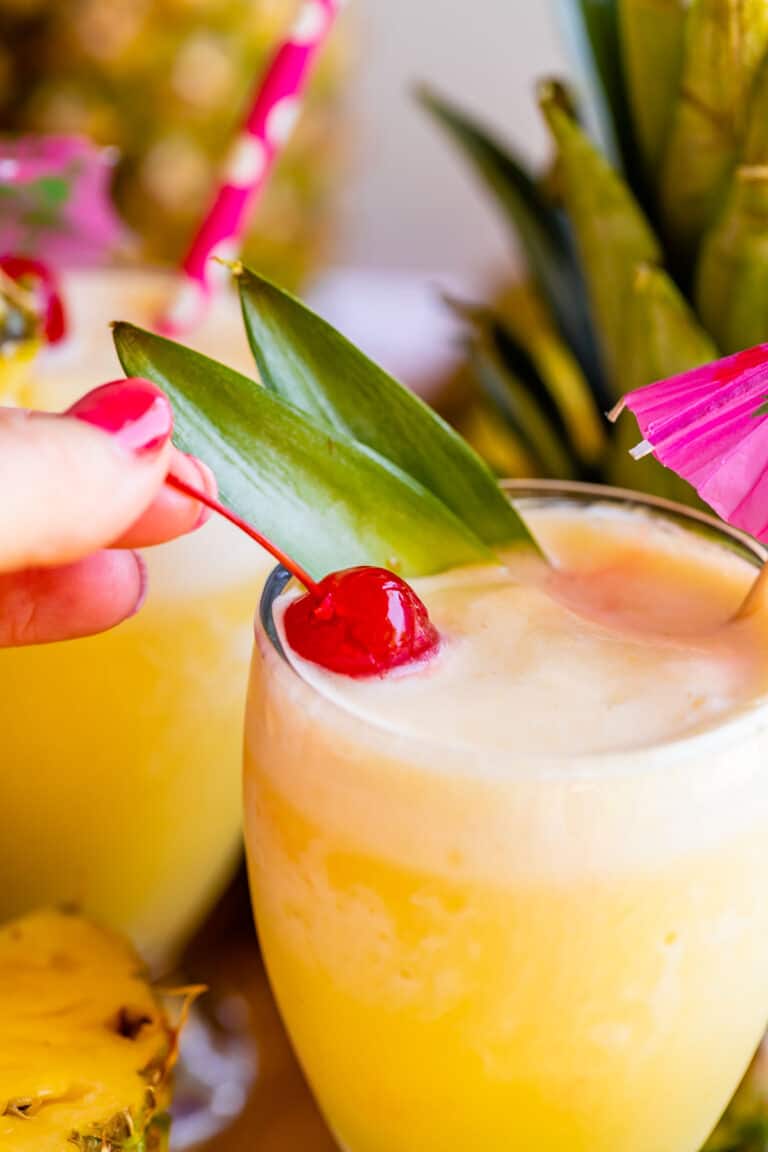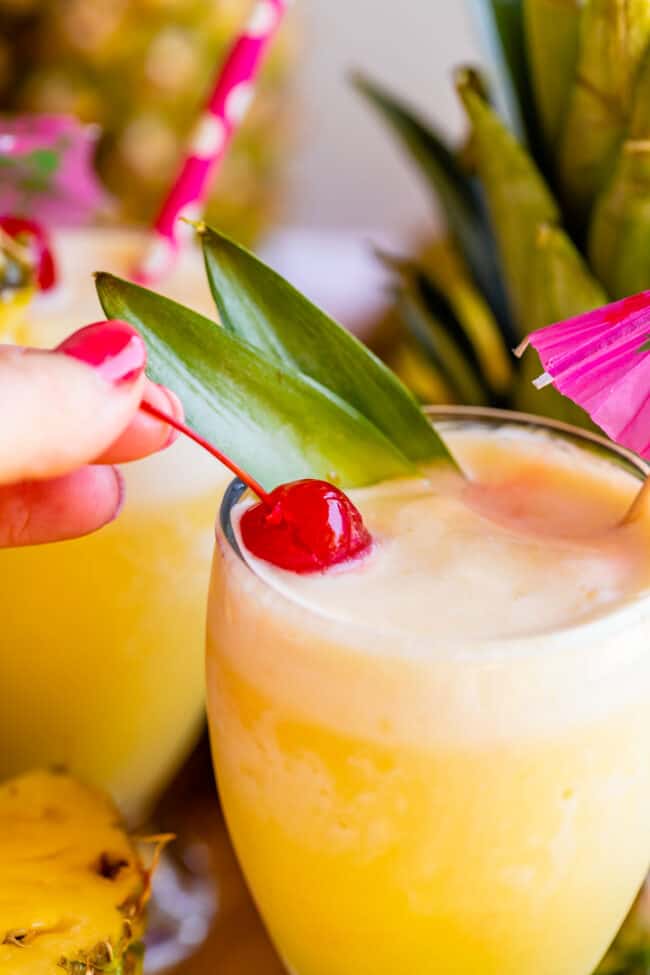 Cream of Coconut: Can we just count the number of liquified coconut products there are these days?? SO MANY. It's hard to keep track and figure out which product you need. (It's almost as hard as figuring out sweet potatoes vs yams ;) You don't want coconut water. You don't want coconut milk. You don't even want coconut cream. It's called Cream of Coconut.
Cream of Coconut is simply coconut milk with some sugar added, but here's the catch: it's cooked down a little bit to make it thicker, creamier, and to allow the sugar to dissolve.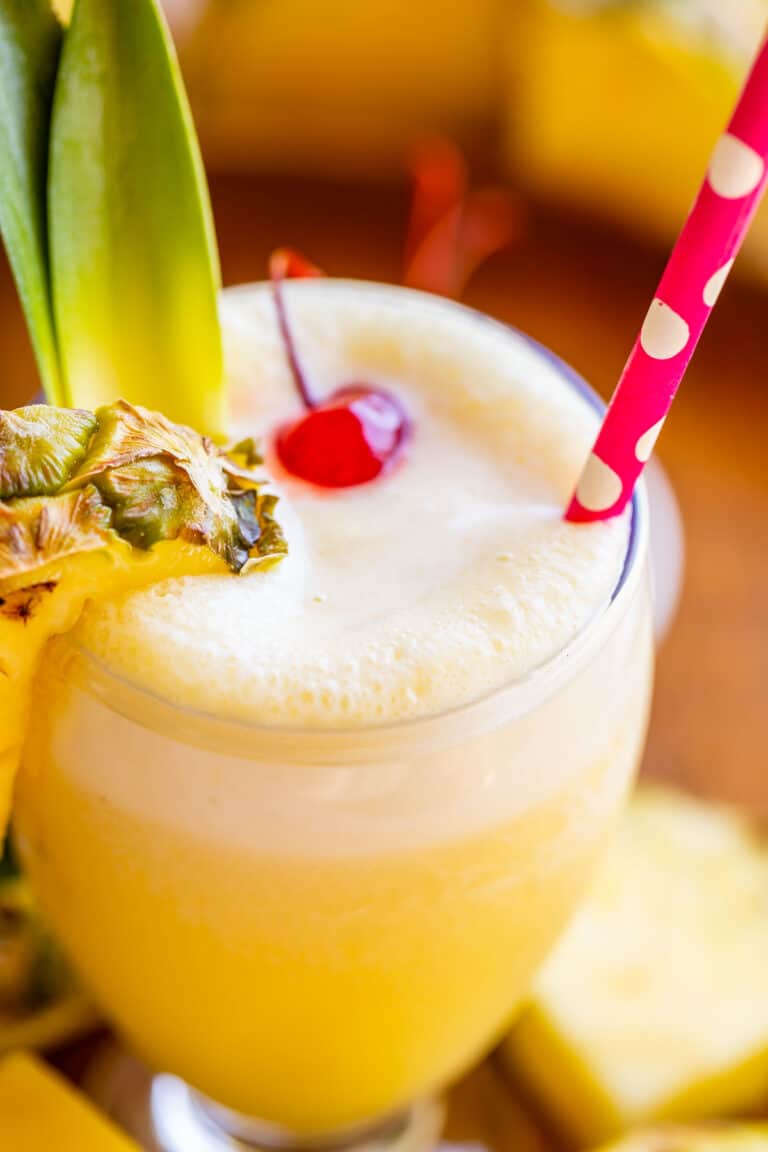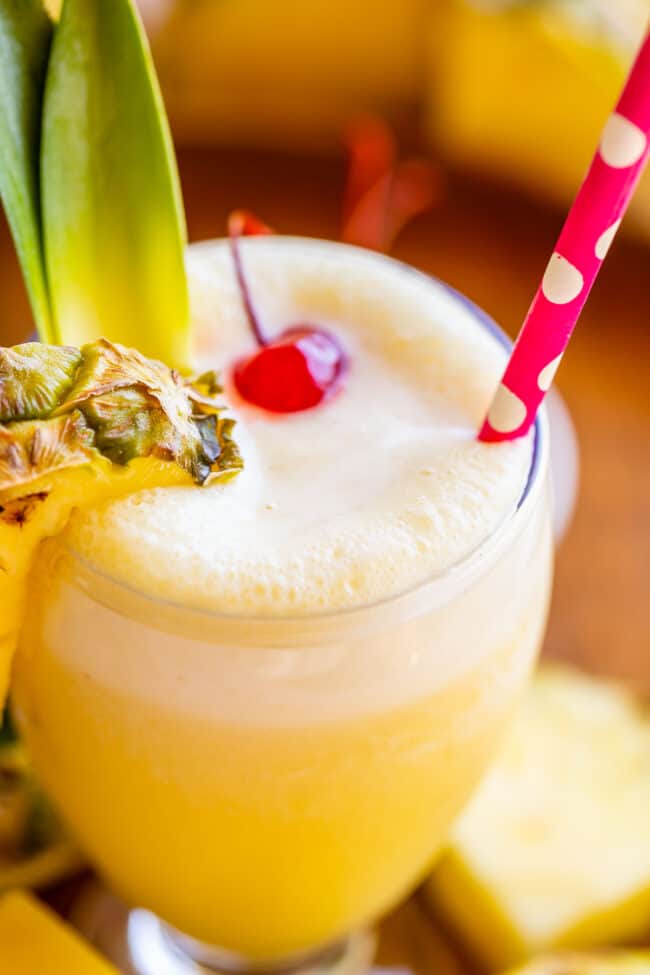 You can buy prepared Cream of coconut at the store. You will know if you have the right product by looking at the ingredient list: it will say coconut milk, sugar, and then a bunch of preservatives you can't pronounce.
The most popular brand is from Coco Lopez, although Coco Real also sells it, as does the Goya brand. Here's the catch: I live in Sacramento (like, a big city?) and checked a local supermarket AND Walmart, and neither of them had any brand of Cream of Coconut. We are making VIRGIN Piña coladas, I'm not about to send you to the liquor store for this one pesky ingredient. So I'm showing you how to make it at home!
How to make homemade Cream of Coconut
It's so easy, but it does add in some time to your Piña Colada quest. All you have to do is buy a can of regular coconut milk (found on the Asian food aisle), dump it in a pot with some sugar and a dash of salt, and cook for about 5 minutes until the sugar is dissolved and it has thickened a bit. (I use this same method to make cream of coconut for my Tres Leches Cake).
A can of regular coconut milk has some thick white cream in it, as well as this watery liquid.


Stir it all together in the pot with your sugar and a pinch of salt. 5 minutes on medium.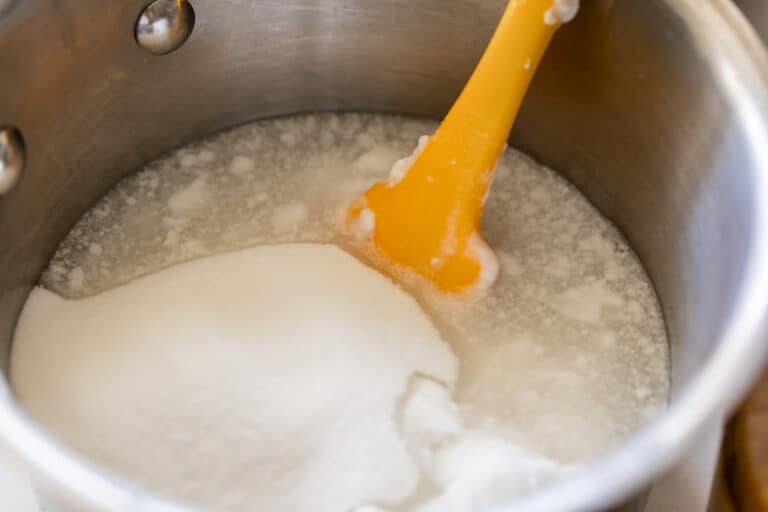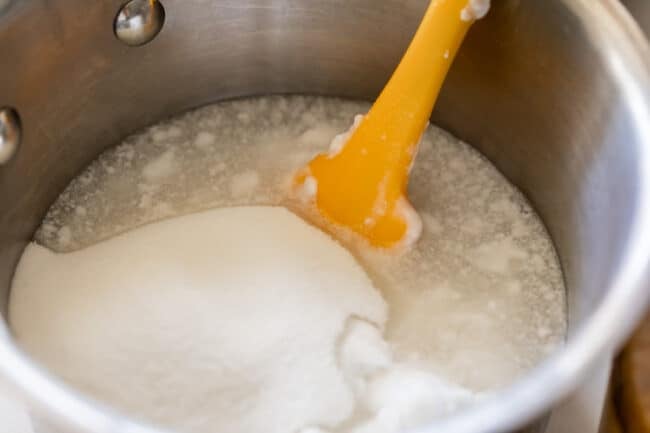 Voila! Cream of coconut! And no weird preservatives to boot. NOICE.
You do have to wait for it to cool completely before you can blend your Piña coladas of course. I stuck mine in the freezer and it was cold in about an hour and a half.
How to make a Pina Colada (Non Alcoholic)
So! Now that we've got all our ingredients it's time to make it! Once you see how fast and easy it is, you're basically going to want to make this every single day. Sorry not sorry.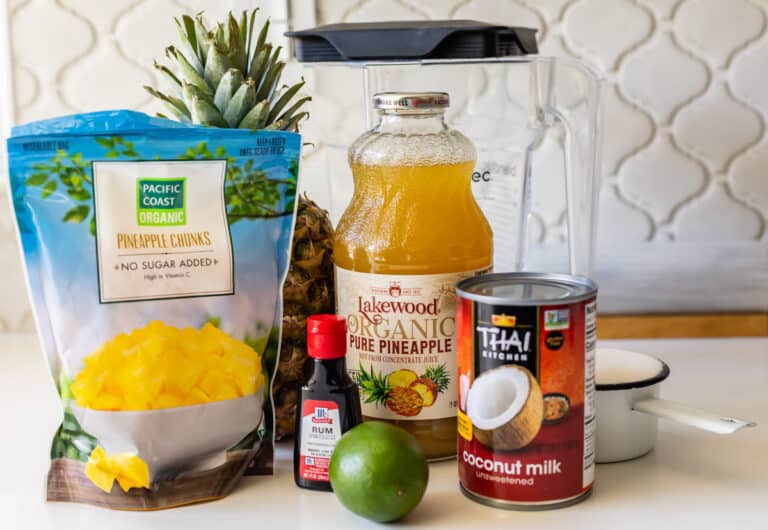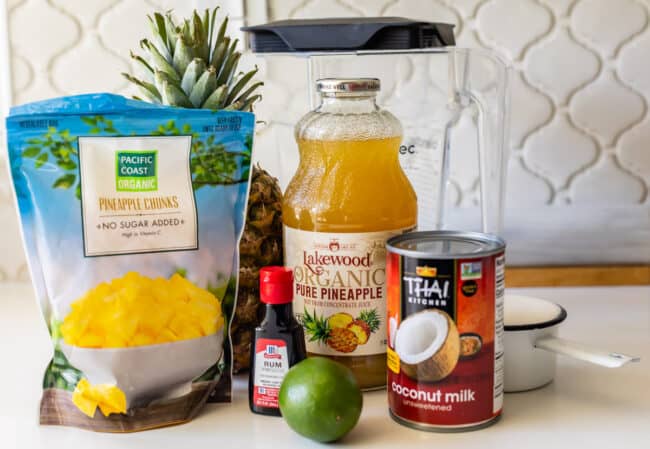 Here's all the stuff you need! (Replace that cup of sugar and can of regular coconut milk with store bought cream of coconut, if you wish! Also, pretend there is molasses in this picture!)
Start out with a blender, any type will do. Add in your cream of coconut (either Coco Lopez or homemade), pineapple juice, lime juice, rum extract, and molasses.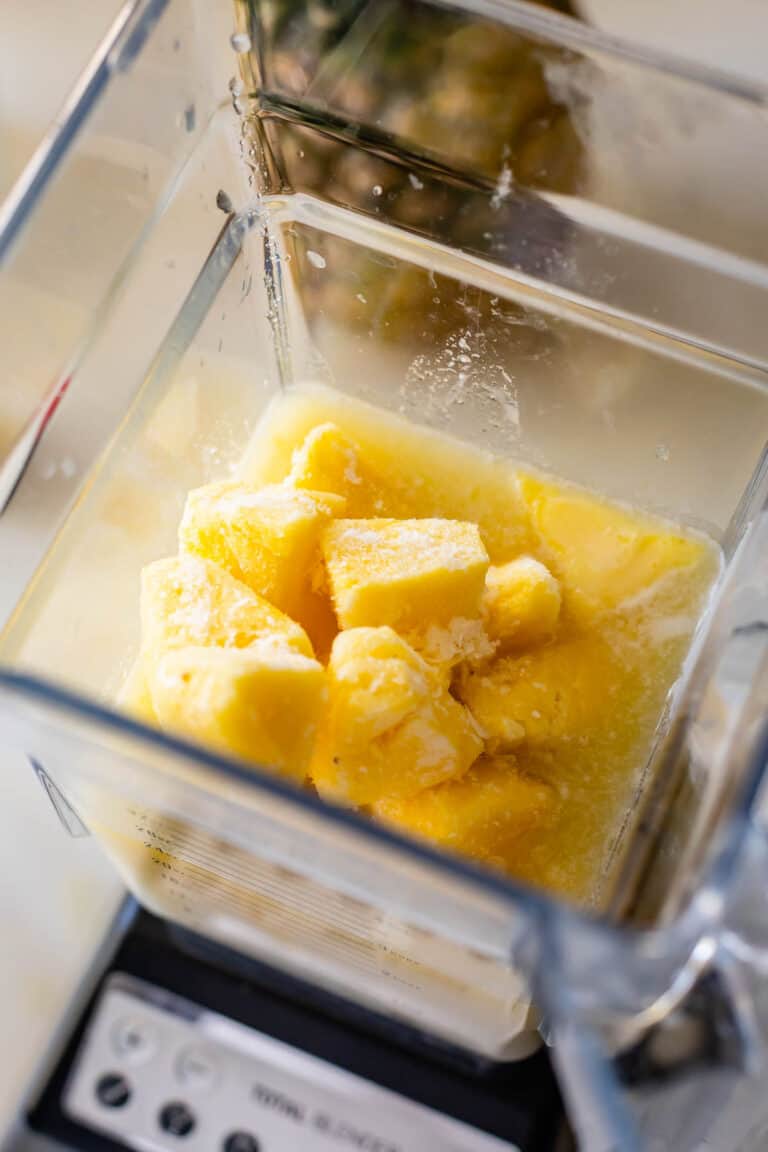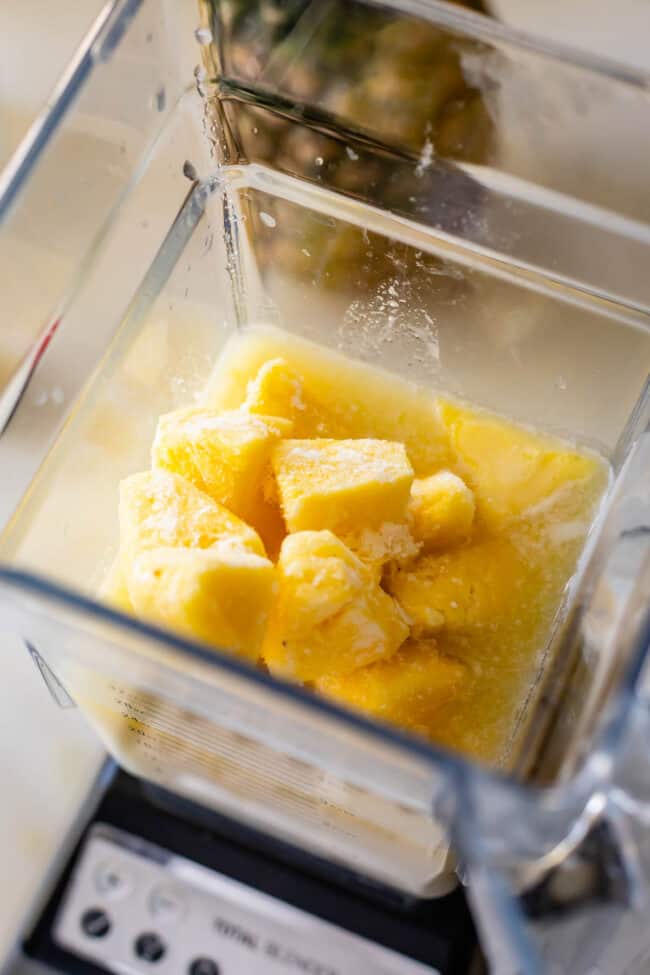 Next dump in your frozen pineapple and that's it's, blend away.
BUT WAIT!
You can drink it right now. It tastes amazing. But if you have even a half hour of time, it's worth it to do this next step: Freeze the blended piña colada for about 30-45 minutes, then blend again before serving.


Pina Colada (Virgin) – They should be frosty!
I made this once and started drinking it right away, thought it was delicious. Then I froze it for about an hour (you need at least 30 minutes minimum) and blended again, and couldn't believe how much better it was. It is the PERFECT level of frosty, more approaching milkshake consistency rather than smoothie consistency. It's not so thick that you can turn your glass upside down, but it's thick enough that you're gonna get a brain freeze if you go too fast.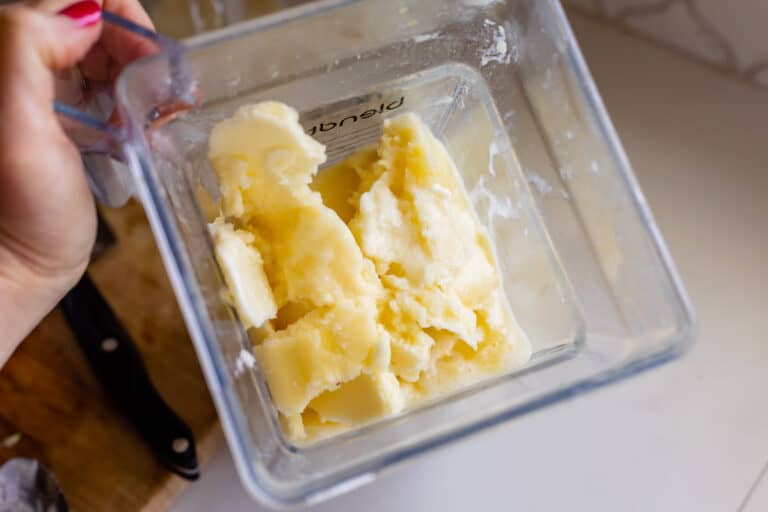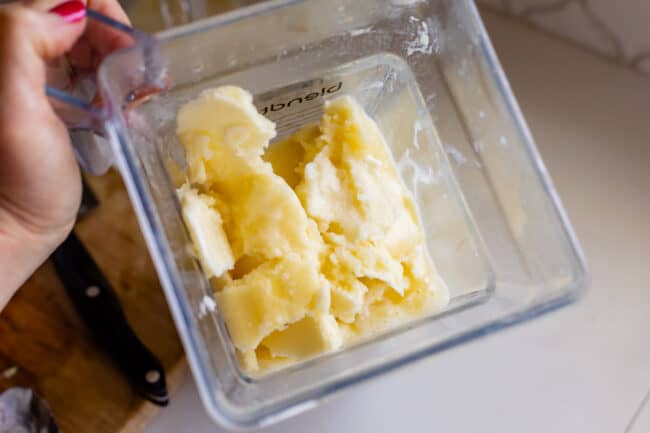 In other words, perfect. Well worth the added time and effort, in my opinion. If you're desperate, maybe plan for two batches: one to drink immediately, one to freeze so that you can enjoy this experience a second time in one hour. Trust me, you are going to want it!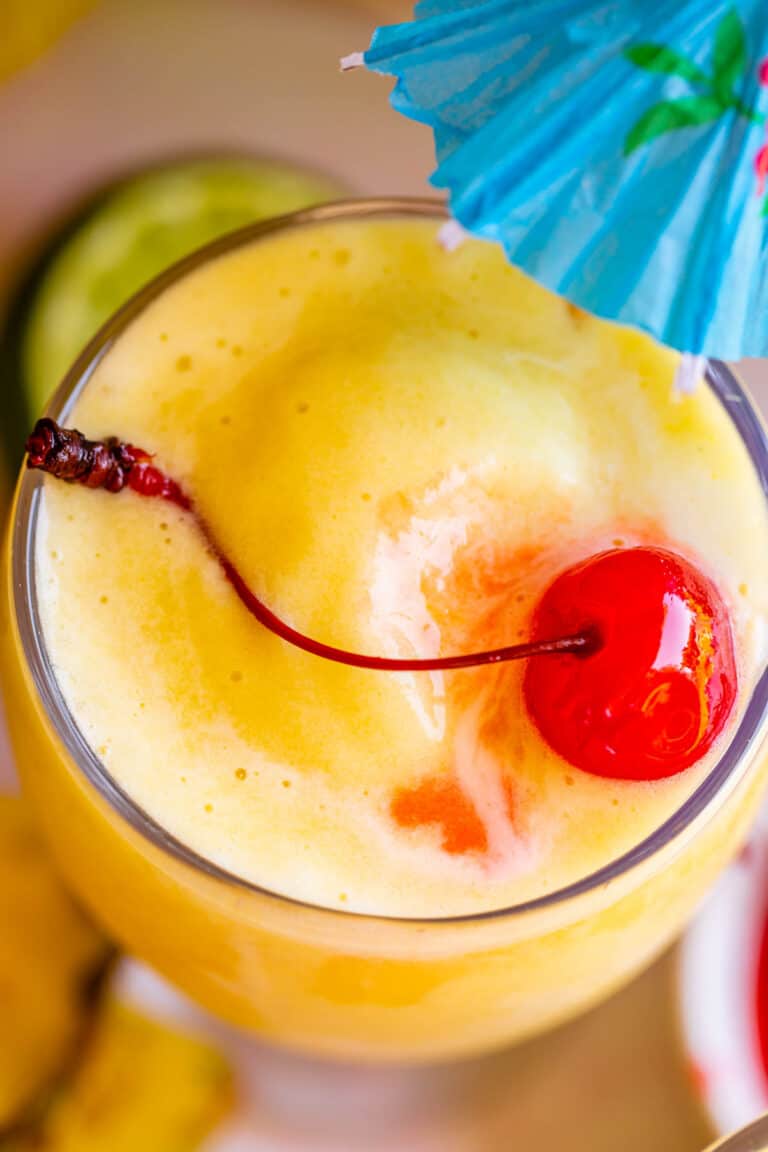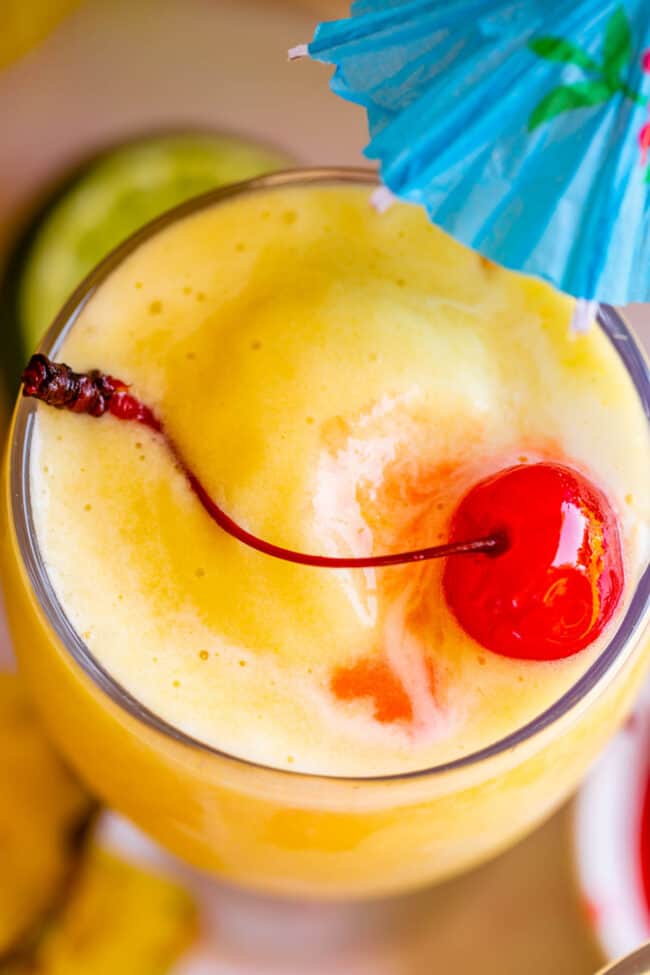 The other option I've heard about is to throw the mixture in an ice cream maker, churning with rock salt and ice. (Or however your ice cream maker functions.) Seems like a fun option! Who doesn't want Piña Colada ice cream?
How to store this Virgin Pina Colada Recipe
Sorry, but these aren't for storing (unless you're storing them directly in your stomach). They're like a smoothie–definitely best fresh, and not something you can just leave in the fridge. The frozen ingredients will thaw and the texture will not be the same. I recommend just making the amount that you (and whoever is lucky enough to be your guest) can enjoy in one sitting.
Virgin Pina Colada FAQs
Does Virgin piña colada contain alcohol?
No. That's literally what the word "virgin" means in a drink–no alcohol, even though a regular piña colada does contain alcohol.
Does piña colada taste sweet?
Yes. Pineapple is one of the sweetest fruits out there, and pineapple juice tastes even sweeter. We're adding both frozen pineapple and pineapple juice to this drink, so it's definitely sweet.
What flavor is pina colada?
Pina coladas taste like pineapple and coconut. If you're drinking a regular pina colada, they also taste like rum (I assume, I've never had one, I don't drink). These virgin pina coladas do have a little bit of rum extract, so they have that flavor–probably not the same as real rum (again, I just can't tell you for sure how close it is). What I do know is that the rum extract and the molasses add a rich, dark, sweet flavor that complement the sweet pineapple and creamy coconut perfectly for a drink I just can't resist.
For more non-alcoholic drinks, try these recipes!
Facebook | Pinterest | Instagram

Pina Colada Recipe (Virgin)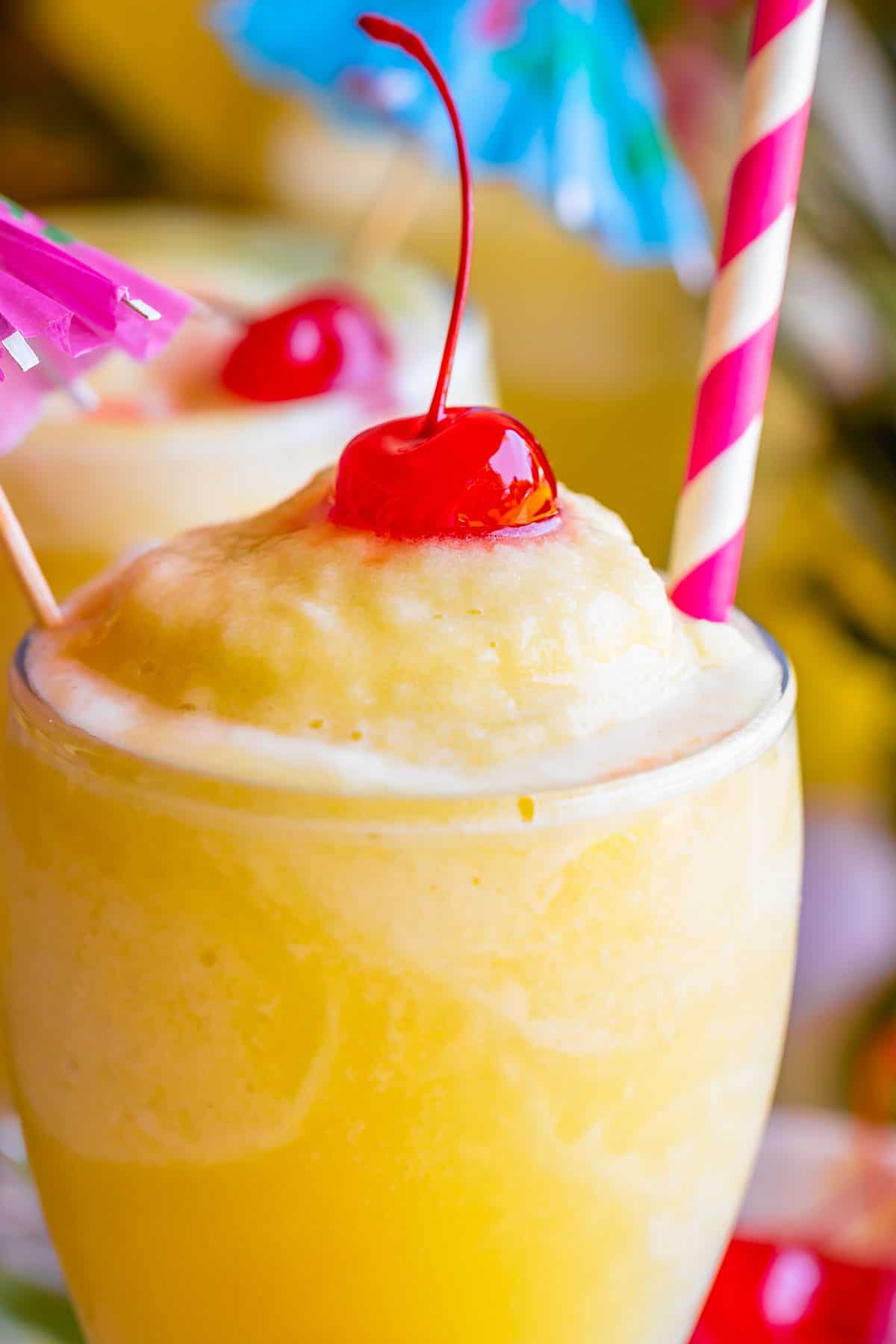 This BEST homemade Virgin Piña Colada recipe! It's so good you won't even miss the booze. A couple secret ingredients take this mocktail from overly-sweet to just-right.
Ingredients
1

cup

cream of coconut

,

recipe in notes (8 ounces)

3/4

cup

pineapple juice

,

(6 ounces)

2

tablespoons

fresh lime juice

,

about 1 lime juiced

1

teaspoon

rum extract

1

teaspoon

molasses

,

optional

10

ounces

frozen pineapple

,

chopped (about 3 cups)

maraschino cherries

,

to garnish, optional

fresh chopped pineapple

,

to garnish, optional
Instructions
Important: if you are making homemade cream of coconut, you must make it first and allow time for it to cool before starting the recipe. See notes.

In a blender, add 1 cup cream of coconut, 3/4 cup pineapple juice, 2 tablespoons lime juice, 1 teaspoon rum extract, 1 teaspoon molasses (optional), and 10 ounces frozen chopped pineapple, about 3 cups.

Blend until completely smooth, about 1 minute.

Transfer the mixture to a container with a lid. Freeze the mixture for 45 minutes to 1 hour, until it is partially frozen.

Return the mixture to the blender and blend again for just a few seconds, until it is smooth and creamy.

Serve immediately. Garnish with maraschino cherries, parasol picks (the official name for the cute umbrellas), straws, and a wedge of pineapple.
Notes
Cream of Coconut Recipe
1 (13 ounce) can regular coconut milk (not lite)
1 cup granulated sugar
1/8 teaspoon kosher salt
Note: This cream of coconut recipe makes about 2 cups cream of coconut, which you can divide evenly between TWO batches of today's virgin pina colada recipe. (I didn't double the pina colada recipe because most blenders can't fit that much liquid)
In a small saucepan, add the can of coconut milk, 1 cup sugar, and 1/8 teaspoon kosher salt. Heat over medium low heat for about 5 minutes, until the sugar is completely dissolved. The mixture will thicken as it cools.
Chill completely before adding HALF of the mixture to the blender to make pina coladas. I like to stick it in the freezer for an hour or two. Stir before adding to the blender. If you are only making one batch of pina coladas, save the other half of the cream of coconut in the fridge for up to 5 days, or freeze for up to 3 months. Use it the next time you get the craving! If you freeze it, you may have to thaw it a little bit before blending, but you won't have to thaw it all the way.
Store bought Cream of Coconut
If you don't want to make cream of coconut, you can buy it pre-made. Check the liquor aisle at the store and look for the drink mixers. The most popular brand is called Coco Lopez, although Coco Real also sells it, as does the Goya brand. Use 1 cup or 8 ounces of the store bought cream of coconut for one batch of virgin Pina Coladas.
Nutrition
Serving:
1
serving
|
Calories:
386
kcal
|
Carbohydrates:
69
g
|
Protein:
1
g
|
Fat:
12
g
|
Saturated Fat:
11
g
|
Sodium:
39
mg
|
Potassium:
169
mg
|
Fiber:
4
g
|
Sugar:
62
g
|
Vitamin A:
47
IU
|
Vitamin C:
41
mg
|
Calcium:
20
mg
|
Iron:
1
mg