Turkey Barley Soup (Slow Cooker)
Use that leftover turkey from Thanksgiving dinner to make a comforting barley soup. Make broth from the turkey carcass, and herbs that you already have on hand. A light and healthy soup to help you recover from your mashed potato coma. I know you.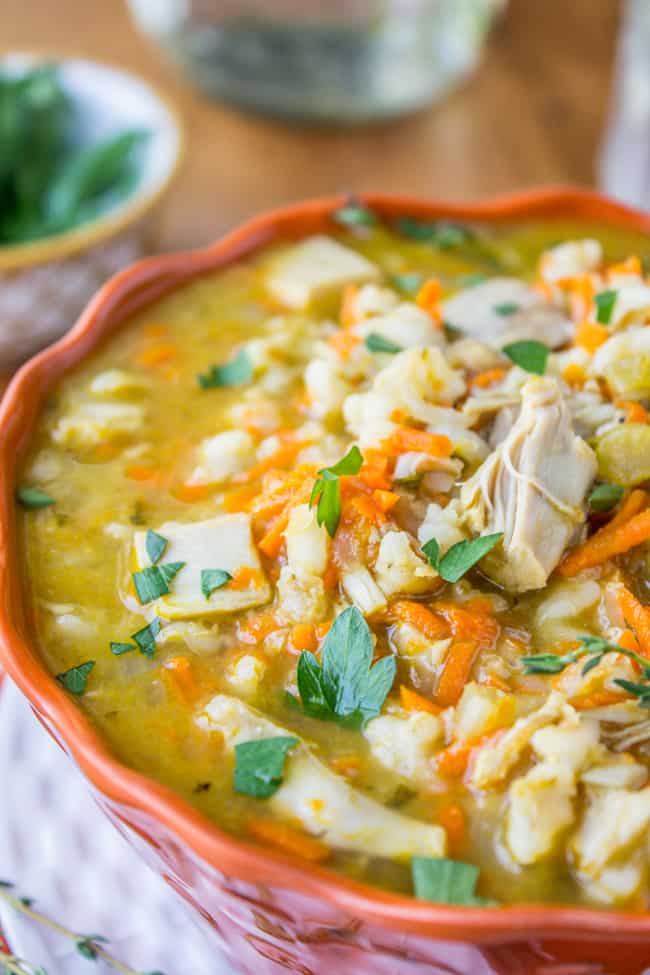 I'm just coming off a grocery store famine. You know, when you haven't gone shopping in a good two and a half weeks and your husband's already made not one, but TWO runs for milk. Your 3-year old asks you for apples and bananas and you say no, but you can have raisins! ALL THE RAISINS. And nothing else.
I finally made it today. A leisurely trip, because there were no children doing acrobats on the cart, or taking huge bites of the cheese while I'm not looking (THROUGH THE WRAPPER people).
Yet for some reason, I still couldn't muster the energy to put away all the groceries when I got home. I rushed to put away all the freezer and refrigerator items, and then I totally checked out.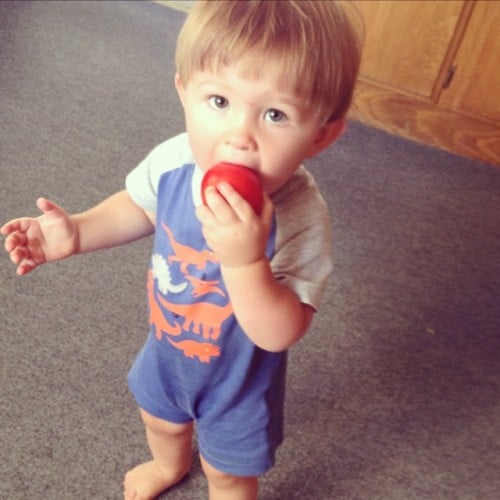 This photo is from a couple months ago. I left my groceries strewn about, as usual, and Truman found a tomato and went for it. The exact same thing happened today. THIEF!!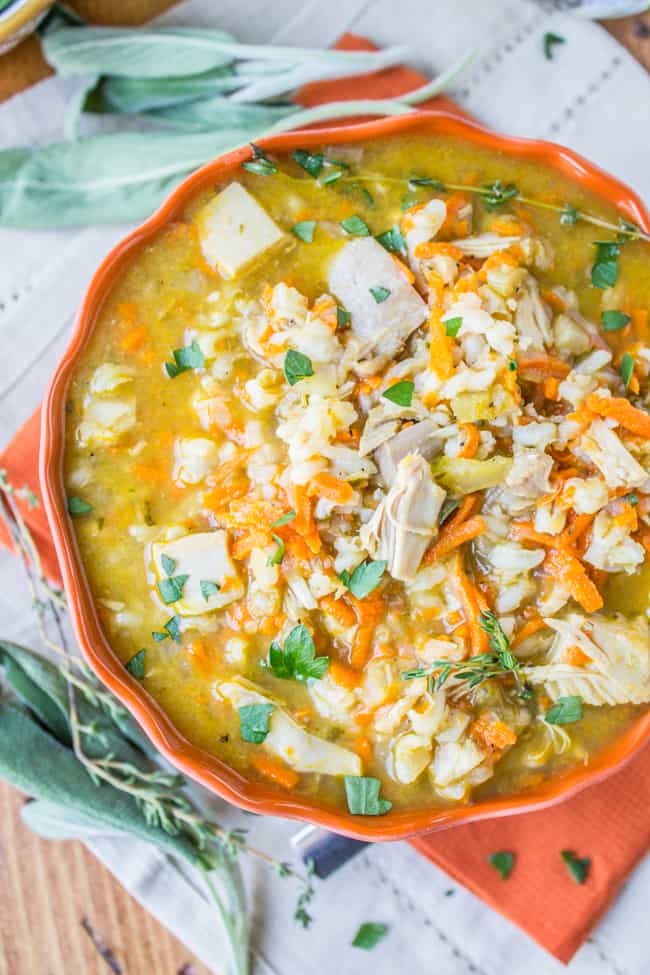 Can you believe Thanksgiving is next week? I'm excited. Most holidays are all about the food for me anyway. With Thanksgiving I don't have to make any pretenses. The mashed potatoes/rolls/pies really ARE the reason we are here.
This is a great day-after-Thanksgiving soup. You can make the turkey stock from the carcass in the evening on Thursday (it's so easy you might forget about it. I put mine on to simmer on low and forgot about it. I was already in bed reading when Eric's like, did you want the stock to go all night? uhhh no.) Then on Friday use your stock and leftover herbs, carrots, and onions to throw this soup together. Easy peasy. And healthy to boot.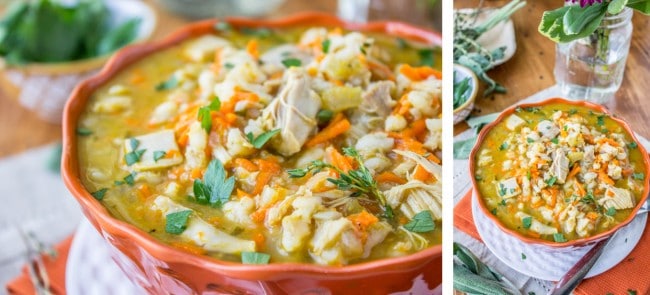 I decided to add barley to this soup instead of noodles or rice. I'm still dreaming about this Beef Barley Soup from a few weeks ago and wanted to try a different version. Barley was a good choice. It balances so well with the carrots and celery.
Do you guys give up? Or are you thirsty for more?
Facebook | Pinterest | Instagram | Twitter
PS. If you are still looking for Thanksgiving recipe ideas, check out my recent round up for some inspiration, including this Sage-Butter Roasted Turkey.


print
Did you make this recipe?
Leave a review »
Turkey Barley Soup
Serves 8-10
adjust servings
Ingredients
11-12

cups turkey stock from the bones*

3

cups celery, chopped

2

onions, chopped

5

sprigs thyme

8-9

medium carrots, shredded (about 4 cups total)

1

large potato, peeled and shredded

2-4

cups cooked turkey

1

cup barley, rinsed

1/2

to 1 teaspoon salt

1/2

to 1 teaspoon pepper

fresh sage, chopped*

fresh rosemary, chopped*

fresh parsley, chopped (for garnish)
Instructions
Add the turkey stock, celery, onions, and thyme to a large stock pot and bring to a boil. Reduce to a low and simmer covered for about a half hour, or until the celery is tender.
Use a food processor or cheese grater to shred the carrots and potato. Add to the pot and bring to a boil. Reduce to low and simmer, covered for another half hour, or until the carrots are tender.
Add the turkey (however much you want) and the rinsed barley. Bring to a boil, then reduce to medium low. Simmer for another 45-60 minutes, or until the barley is tender.
Season to taste with salt and pepper. (How much you need will really depend on how salty your stock is.)
Just before serving, stir in chopped sage and rosemary. (look for the photo below to see how much I used.)
Slow Cooker instructions:
Add the turkey stock, celery, onions, thyme, carrots, and potato to a slow cooker. Cook for 4-6 hours on low.
Add the turkey, barley, and salt and pepper to taste. Cook for another hour on low, or until barley is tender.
Add fresh sage and rosemary before serving.Top each serving with parsley.
by The Food Charlatan

If you make this recipe,
share it on Instagram
 using the hashtag
#TheFoodCharlatan
so I can see it!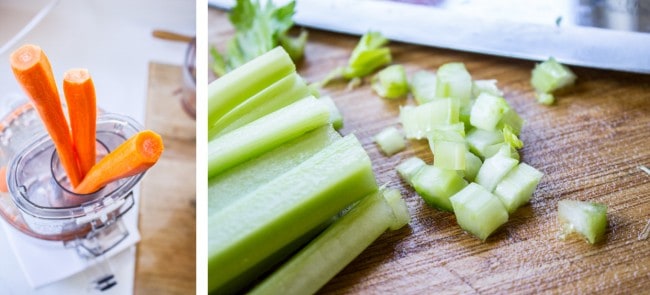 I like to chop my celery pretty small so that you can't taste it. I MEAN wait, to add texture! The potato and carrots help make this soup thick and hearty.
Here's the Beef Barley Soup that's got everyone going crazy. It is the 6th most visited recipe on my blog to date, and I posted it SEVEN WEEKS AGO. That's crazy, people: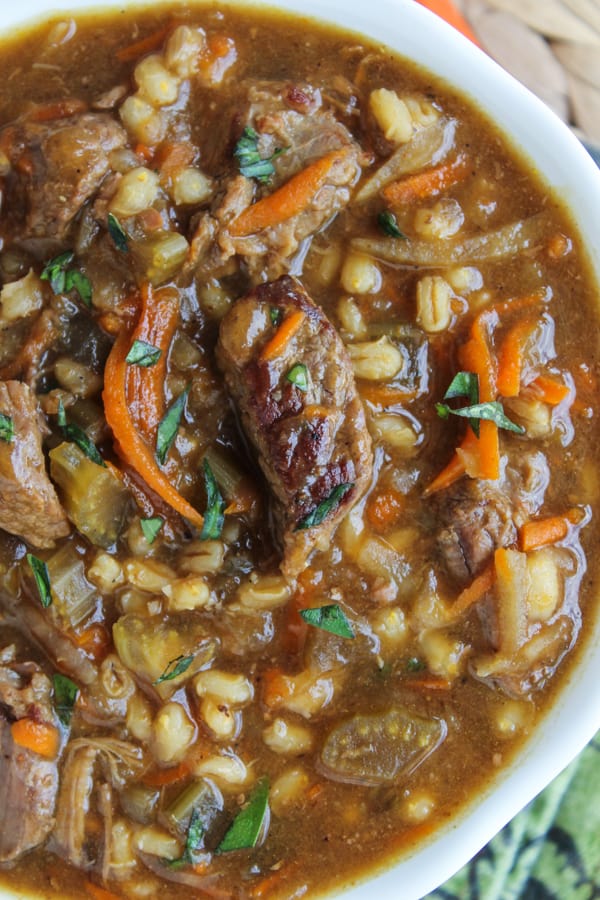 Some other leftover turkey ideas! You can sub your leftover turkey for most recipes that call for cooked chicken.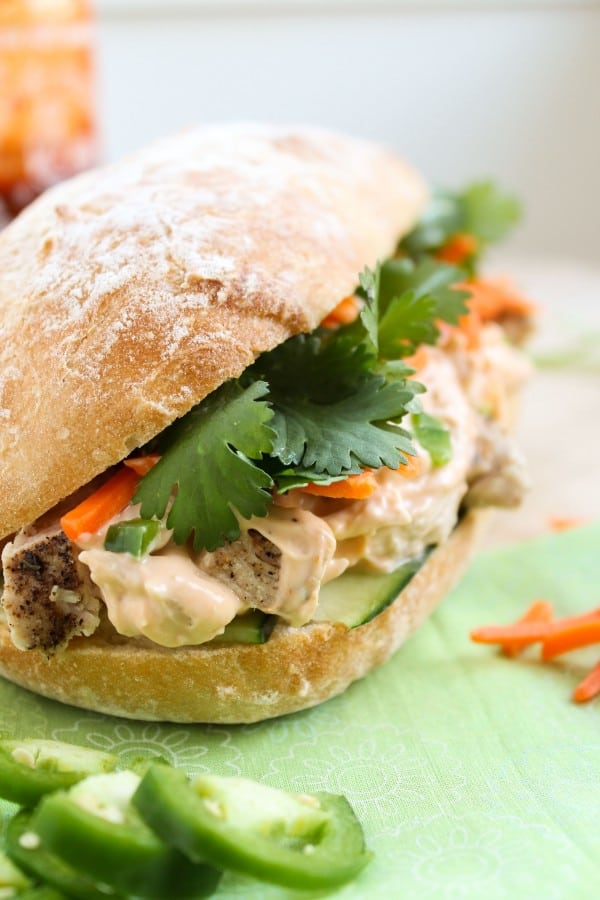 Kale, Chicken (or Turkey!) and White Bean Soup with Parmesan Shavings: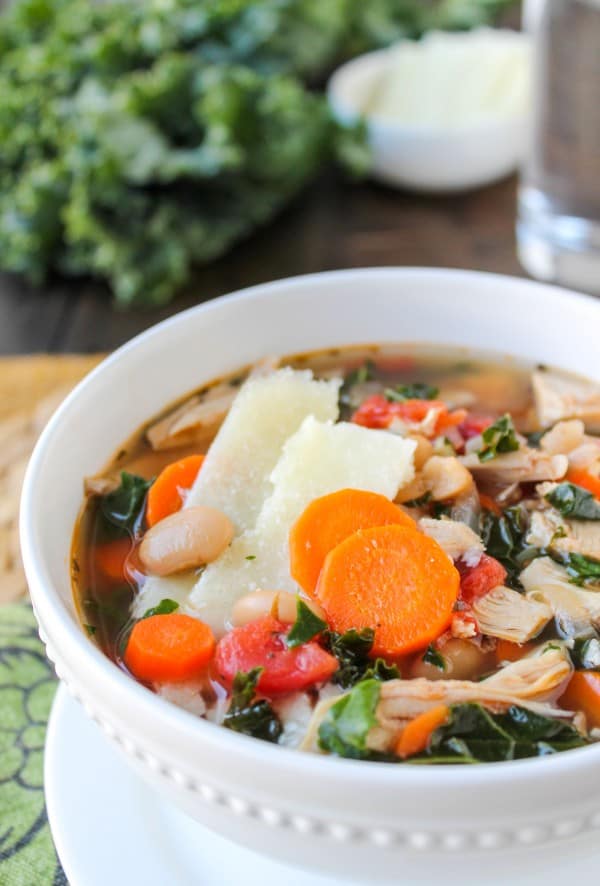 One-Skillet Chicken (or Turkey!) Pot Pie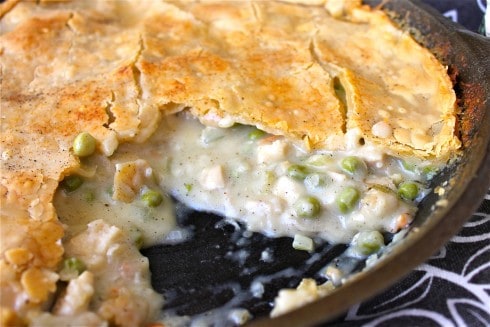 More turkey soup from other bloggers!
Turkey Bisque Soup from Your Homebased Mom
Light Turkey and Corn Chowder from Cookin' Canuck
Skinny Turkey and Wild Rice Soup from The Skinny Fork
We are a participant in the Amazon Services LLC Associates Program, an affiliate advertising program designed to provide a means for us to earn fees by linking to Amazon.com and affiliated sites.