Overnight Biscuits and Gravy Casserole
A quick and easy Biscuits and Gravy Casserole that you can make the night before! Just throw it in the oven in the morning. Use canned biscuits but homemade gravy. It is perfect for Christmas breakfast!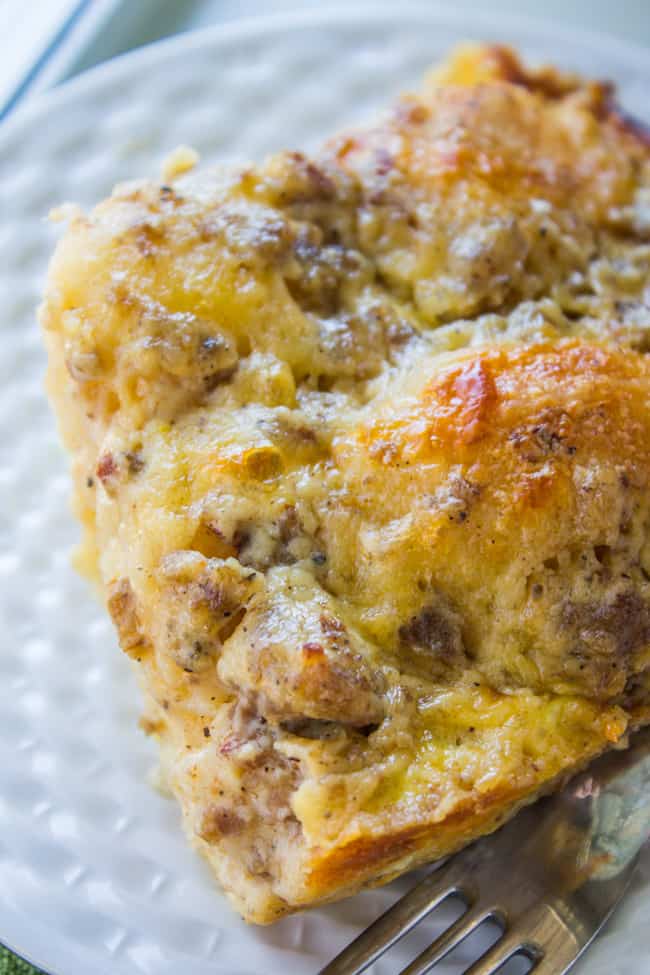 For some reason Eric and the kids and I were talking about wishes the other day, and I asked Eric what his 3 wishes would be RIGHT NOW, 10…9…8…7…6…5…4…3…2…1.
What would you wish for? You only have 10 seconds to decide! GO!!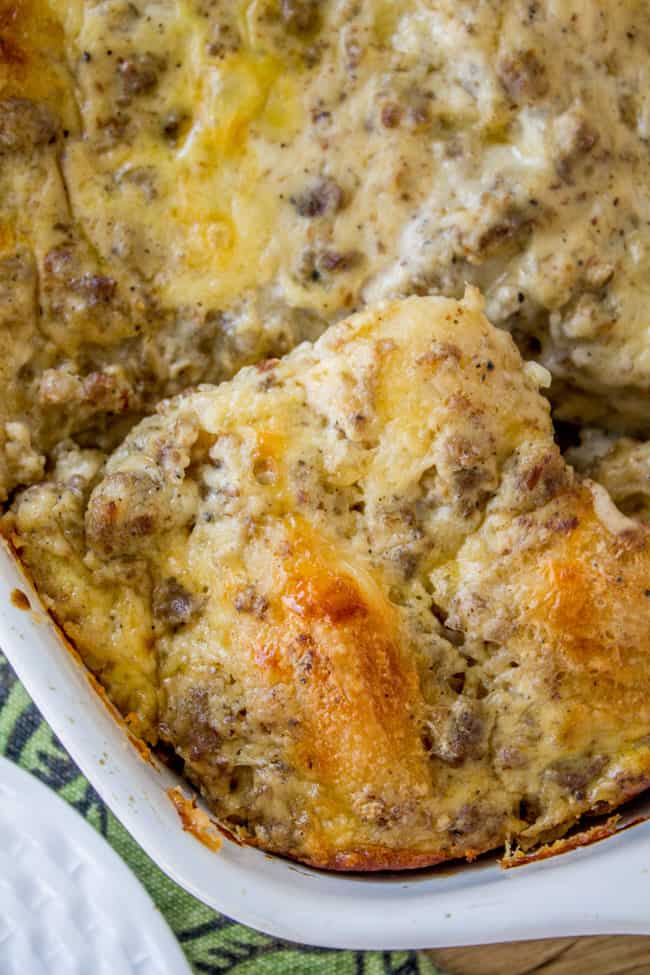 Here's Eric's list: the new Zelda game, new family car, and movie passes for life. (Zelda????? You learn a lot about someone in 10 seconds.)
He did it for me immediately after, and of course I was stupid and hadn't been thinking of my list while I was counting down his, so I only had 10 seconds to think; number 1 was to get an interior decorator, 2 was a minivan, and 3 was world peace. (PUH-LEASE.)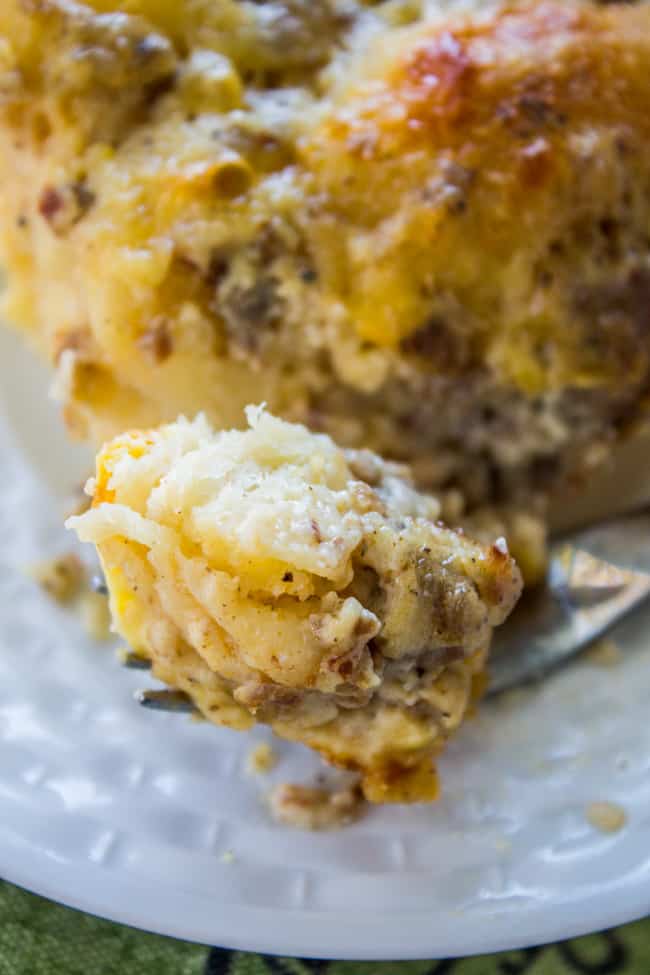 We asked Charlotte and started counting down. She said, "I just want the whole world to be edible."
WELL PLAYED, FOUR YEAR OLD. You win.
Well since we can't munch on our chocolate pencils or snack on our cheese-flavored iPhones, I guess we'll have to make real food.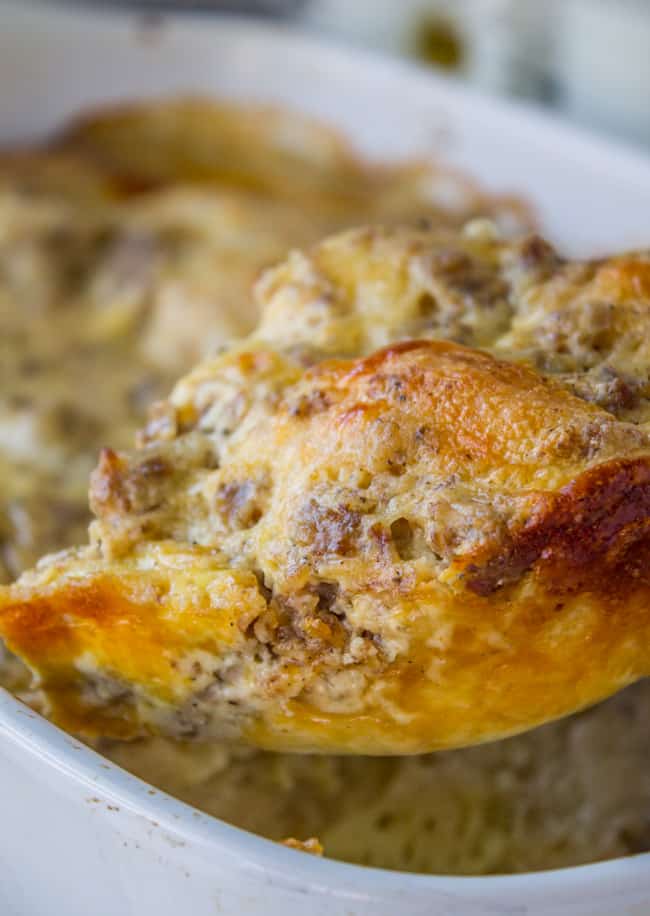 How to make Biscuits and Gravy Casserole
You will not BELIEVE how good this overnight casserole is guys. My mom didn't serve biscuits and gravy growing up, but I fell in love with the ones they served in my freshman college cafeteria. My brother Nate went to BYU with me, (Cannon Center, fellow alumni? :) and he and his roommates would go back every semester after finals and pay their 7 bucks or whatever it was just to treat themselves to biscuits and gravy. I'm jealous I never thought to do it.
I wanted to try a casserole version, even though I was quite dubious about how the texture would turn out. I mean, won't the biscuits get soggy? Oh no. It's perfect. When I made it the first time I didn't eat anything else for like a day and a half. Not kidding. It makes a great breakfast, lunch, or dinner, I can attest. Nate came over and was like, "Do you mind if I just eat all of this?"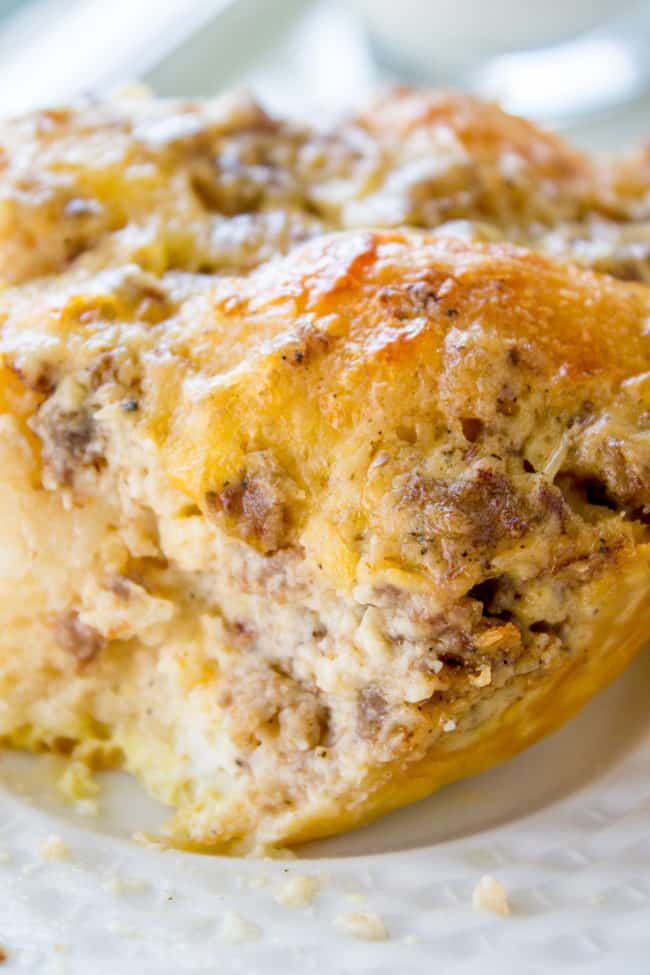 I got the recipe from Miss Information (who has such a cute blog, check it out!) Her recipe calls for a gravy mix, but I wanted to do a homemade version because I like the flavor and it's not hard. So I nabbed The Pioneer Woman's sausage gravy recipe and OH MY GOODNESS. Best biscuits and gravy casserole EVER. If you make this for Christmas, everyone will LOVE you.

If you make this, snap a photo and share on social using the hashtag #thefoodcharlatan. I'd love to see it!!
More great breakfast ideas!
Facebook | Pinterest | Instagram | Twitter
Overnight Biscuits and Gravy Casserole
Biscuits and Gravy Casserole that you can make the night before! Just throw it in the oven in the morning. Use canned biscuits with homemade gravy.
Ingredients
For the sausage gravy:
1

pound

bulk breakfast sausage

,

hot or mild

1/3

cup

flour

4

cups

whole milk

1/2

teaspoon

seasoning salt

1 & 1/2 - 2

teaspoons

freshly ground black pepper
For the egg mixture:
6

eggs

1/2

cup

milk

3/4

teaspoon

seasoning salt

1/4

teaspoon

dry mustard

1/4

teaspoon

paprika

1/2

teaspoon

salt

pepper

,

to taste

1

can

Pillsbury Grands Biscuits

1

cup

cheddar cheese

,

shredded
Instructions
In a large skillet, brown the sausage over medium-high heat, breaking it up into small pieces with a wooden spoon.

Reduce the heat to medium-low. When the sausage is cooked and no longer pink, sprinkle half of the 1/3 cup flour on the sausage and stir until it is absorbed. Add the rest a little at a time, and stir until all the flour is soaked up. Stir for 1 more minute to get the flour taste out.

Turn the heat to medium. Pour in the milk, 1 cup at a time, stirring to thicken it up each time.

Once you have added all the milk, continue stirring for another 10-12 minutes until the gravy has thickened up some.

Add 1/2 teaspoon seasoning salt and 1 and 1/2 to 2 teaspoons pepper.

Meanwhile, mix together the eggs. Break the eggs into a large bowl or stand mixer and whisk. Add 1/2 cup milk, 3/4 teaspoons seasoning salt, mustard, paprika, 1/2 teaspoon salt, and pepper to taste.*

Grease a 9x13 inch casserole dish. Open the can of biscuits and separate all the biscuits. Use scissors to cut each biscuit into 4 pieces.

Drop the quartered biscuits onto the prepared pan and spread them out evenly.

Pour the egg mixture over the biscuits.

Sprinkle with 1 cup cheese.

Pour the gravy over the cheese and spread it out.

(At this point you can cover tightly and refrigerate overnight).

Bake in a preheated 350 degrees F oven for about 38-45 minutes if you are making is right away.

If you have just taken it out of the fridge, cover with aluminum foil.

There is no need to preheat the oven first. Just put it in the oven and turn it on to 350 degrees.

Bake for about 30 minutes, then remove the foil. Continue baking for another 15-30 minutes, or until the biscuits have browned and the sauce is bubbly. (45-60 minutes total if it's been in the fridge overnight).
Notes
*All of the spices I put in the eggs are totally optional. That's the way I like it, but you can add just salt and pepper if you want to keep it simple.
Nutrition
Serving:
1
cup
,
Calories:
527
kcal
,
Carbohydrates:
35
g
,
Protein:
22
g
,
Fat:
33
g
,
Saturated Fat:
12
g
,
Polyunsaturated Fat:
6
g
,
Monounsaturated Fat:
13
g
,
Trans Fat:
1
g
,
Cholesterol:
171
mg
,
Sodium:
1429
mg
,
Potassium:
470
mg
,
Fiber:
1
g
,
Sugar:
8
g
,
Vitamin A:
529
IU
,
Vitamin C:
1
mg
,
Calcium:
279
mg
,
Iron:
3
mg
We are a participant in the Amazon Services LLC Associates Program, an affiliate advertising program designed to provide a means for us to earn fees by linking to Amazon.com and affiliated sites.