Easy Cheddar Cauliflower Soup
This is one of my favorite soups of all times! Perfect for when you have a random head of cauliflower that you don't know what to do with. It blends down into a dreamy creamy luxurious soup. Oh and did I mention the cheese? All the cheese!
I finally broke down and attacked my son with scissors last night.
Wait! That came out wrong! Don't call CPS on me!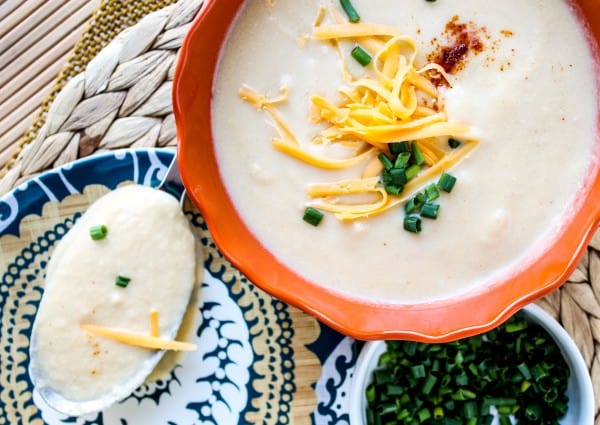 What I mean is that I finally cut his hair. By myself. In a moment of desperation, right in between needing a new outfit and the bath. (You mom's know what I'm talking about.)
So I cut his hair. While he sat naked on the bathroom floor, simultaneously trying to crawl away, grab the scissors, and eat his own sheared-off hair. It's a miracle we survived.
And it's a miracle I survived when Eric saw his haircut. It is BAD, my friends. It looks like I had my eyes closed.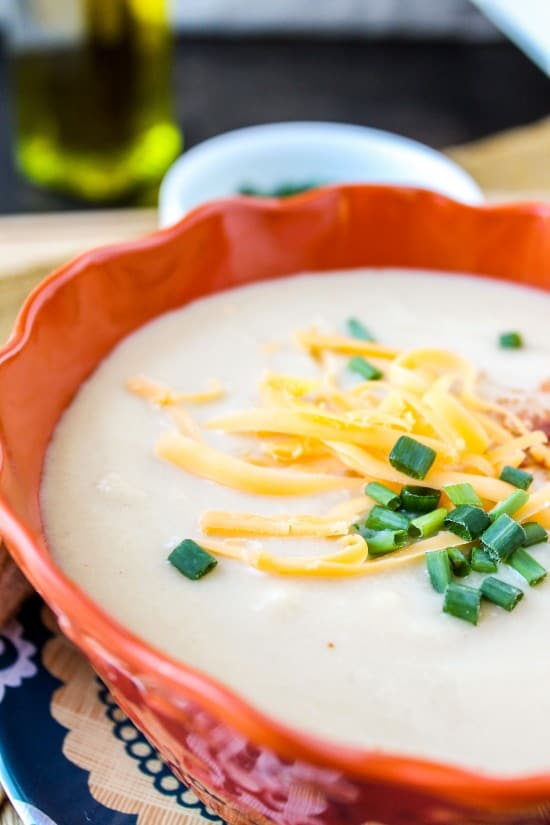 You'd think I'd never heard of a high chair. Which is ironic, because Eric just commented the other day after Truman had spent another HOUR "eating dinner" that the Year of the High Chair has begun. Sometimes it's easier to lock him up than  to turn around every 2 minutes to find him chewing through my computer cord or choking on Charlotte's half-eaten peanut butter sandwich from yesterday.
(Yes! A 10-month-old! Eating peanut butter! This was a test. You should actually be exclaiming about the fact that I left Charlotte's half-eaten-peanut-butter-sandwich-from-yesterday on the floor. Just be grateful I'm not feeding her said sandwich today.)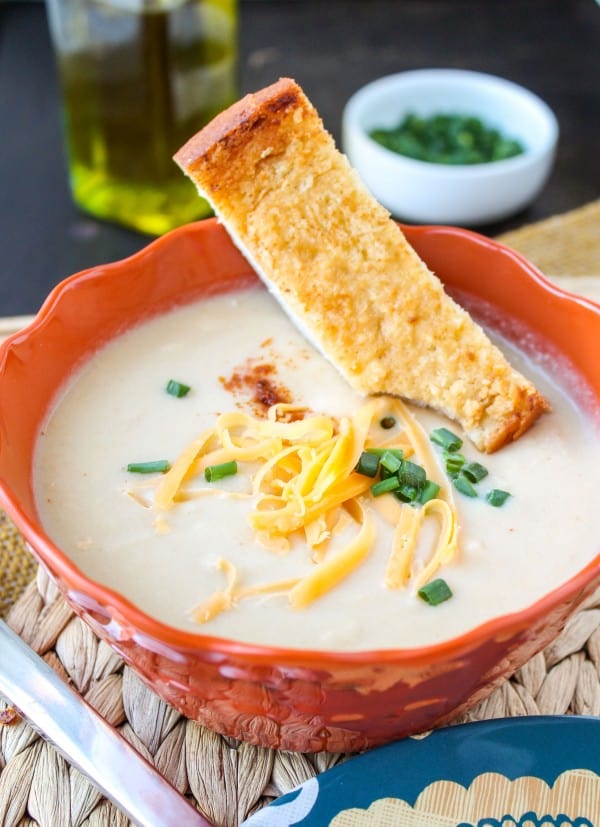 Are you still there? Here, have some soup. This one's a no-brainer guys. I made it twice, and BOTH times I let the cauliflower boil over, resulting in a massive amount of sticky residue on my stove. The fact that it still tasted amazing is a testament to the recipe. It's pretty forgiving. Just don't walk away with the lid on and the heat on high. Or do, and clean up the mess. Either way you will get delicious soup.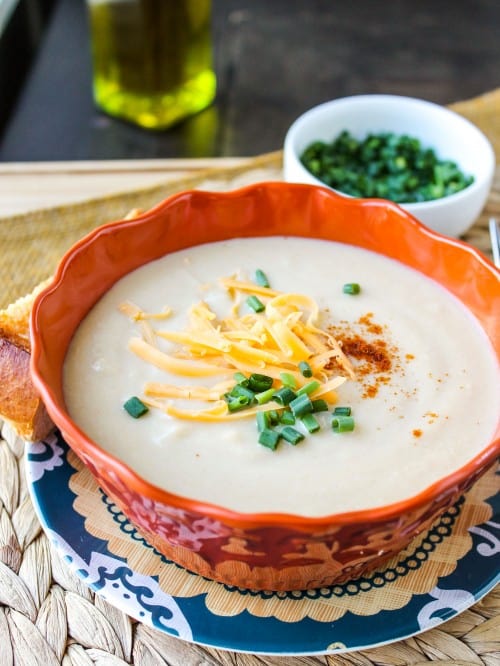 The secret ingredient is the dijon. Who knew? It's a game changer, and a simple one at that. This recipe is adapted from my friend Christina over at Food Apparel. It'a Cafe Zupa's knock off. Have you tried Zupa's? It's a Utah chain. I love that place. Eric and I ate there alllll the time before we moved.
Do yourself a favor and buy an immersion blender. Then you won't have to transfer burning hot soup to a blender and back to the pot. My mom bought me an immersion blender years ago as an engagement present. I had no idea what it was and hid it under some shoes in my closet. I was totally in denial about getting married, and I couldn't believe that I was old enough to be getting mature, real-life practical gifts like immersion blenders.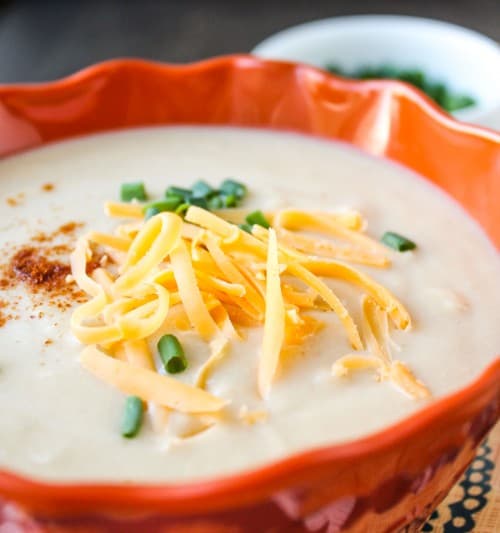 But since I'm sure you're much more mature than me, just buy one. (And don't worry. My immersion blender and I are like THIS now. Thanks Mom!)
Do you guys give up? Or are you thirsty for more?
Facebook | Pinterest | Instagram | Twitter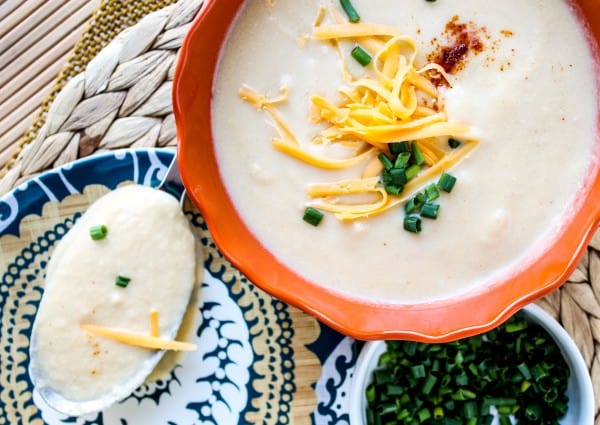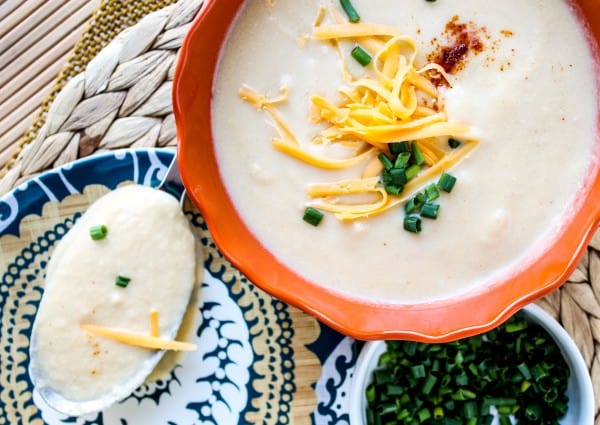 print
Did you make this recipe?
Leave a review »
Easy Cheddar Cauliflower Soup
6 servings
adjust servings
Ingredients
2

tablespoons butter or olive oil

1

medium onion, chopped

1/4

cup all-purpose flour

1/2

teaspoon salt

2

cups milk

1

cup water

3

cups chicken broth

1

head cauliflower, chopped into 1-inch chunks

4-5

teaspoon Dijon mustard, to taste

1/8

to 1/4 teaspoon cayenne pepper (I promise this doesn't make it spicy. It just adds depth of flavor.)

2

cups sharp cheddar cheese, shredded, plus more to garnish

salt and pepper to taste

green onions or chives, to garnish
Instructions
In a dutch oven or stock pot, melt the butter (or heat the olive oil) over medium heat. Add the onion and cook until translucent, about 10 minutes, stirring every now and then.
Meanwhile, chop up the cauliflower. Go here for a little lesson on cauliflower chopping.
Whisk in the flour and salt and continue stirring for about 1 minute. Slowly whisk in all the liquid: milk, water, chicken broth. Continue whisking to get rid of any clumps.
Add the chopped cauliflower and bring to a boil over high heat. This is the part where you don't want to walk away. When it boils, reduce heat to simmer and let cook for about 15 minutes, or until the cauliflower is tender.
Use an immersion blender to blend the soup. Or transfer the soup to a blender, leaving the center open to allow steam to escape. Blend in batches if necessary. Hold a towel over the top so you don't spray yourself with cauliflower lava. Pour the soup back into the pot.
Your soup will be pretty thin a this point. Never fear. Turn the heat to low and add the mustard, cayenne pepper, and 2 cups shredded cheddar cheese. Add salt and pepper to taste. The cheese should thicken it up.
Remove from heat and garnish each serving with additional cheese and green onions or chives.
by The Food Charlatan

If you make this recipe,
share it on Instagram
 using the hashtag
#TheFoodCharlatan
so I can see it!
Source: adapted from Food Apparel
We are a participant in the Amazon Services LLC Associates Program, an affiliate advertising program designed to provide a means for us to earn fees by linking to Amazon.com and affiliated sites.