A delicious and easy Pork Ramen recipe that you can make in the slow cooker! A deep and flavorful broth, al dente ramen noodles, crispy shredded pork shoulder, with alll the vegetable topping and garnishes. The recipe looks long, but I've broken it down into manageable steps for you!
This post is sponsored by The National Pork Board, but all opinions are my own of course! Thanks for supporting the amazing brands that keep The Food Charlatan chugging along.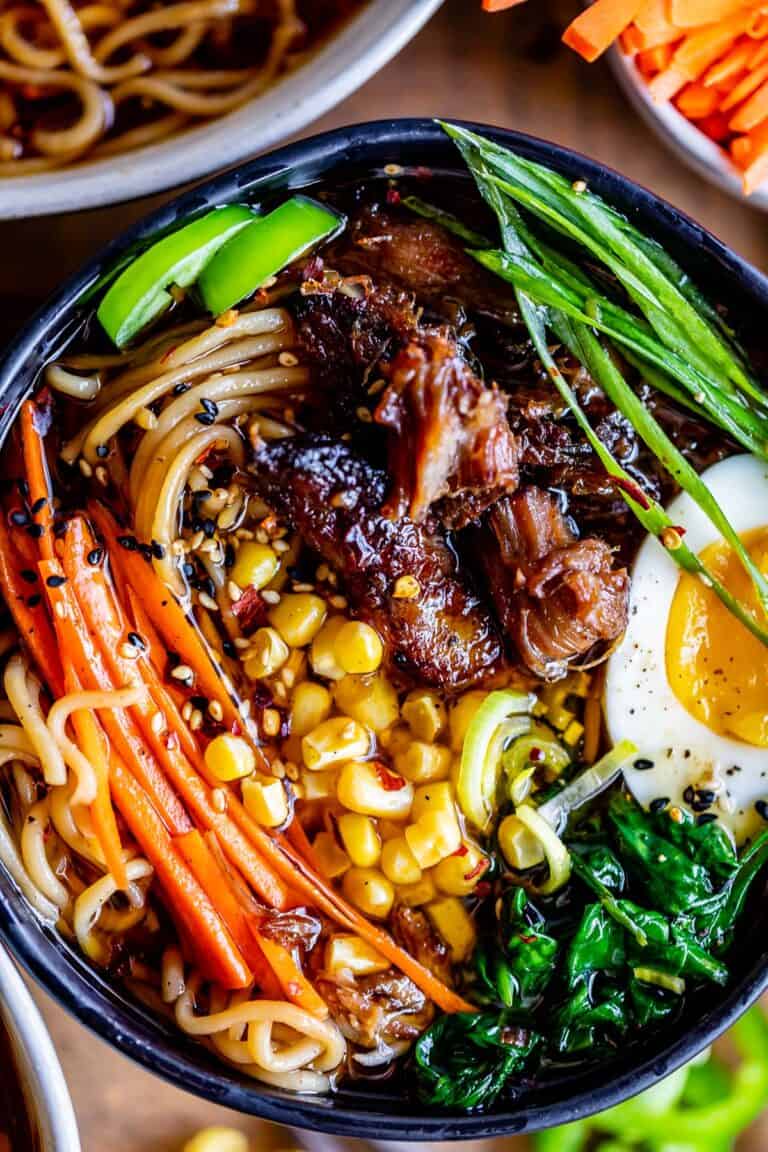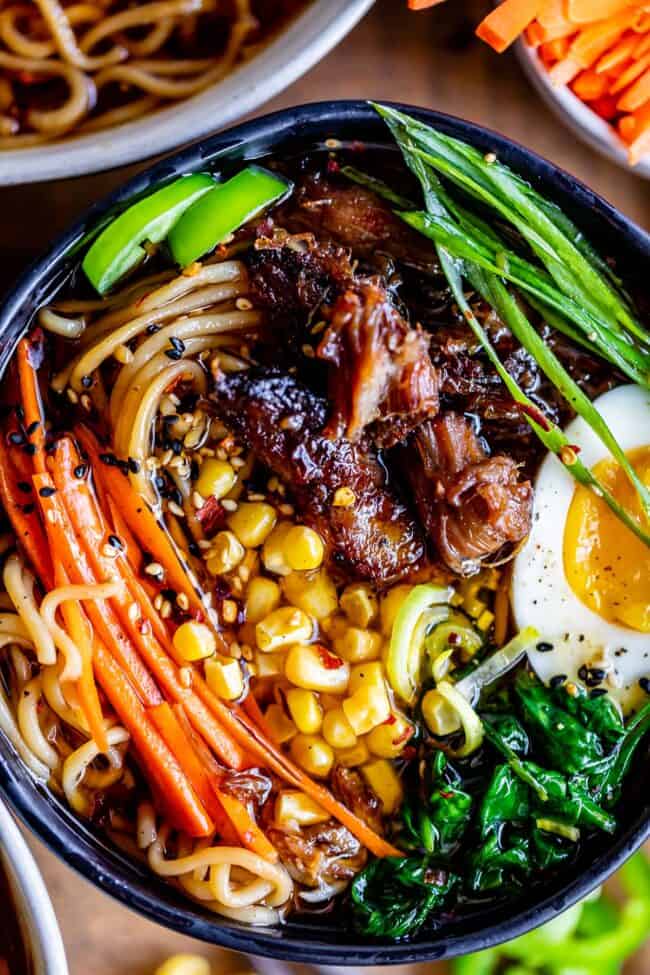 I have a business coach who helps me keep my head on straight. At our last meeting, I was telling her how overwhelmed I felt with all the things going on in my life. Toddler! Blog! Kid's homework! Making kids do chores! Kids screaming about chores! Not strangling screaming kids! It's a lot, you know?
I saw a meme the other day that said, "Having a two-year-old is like having a blender with no lid on in your house." Truer words ne'er were spoken.
Anyway, coach told me to do a "brain sneeze," where you get a piece of paper and write down all the to-do's circling around in your brain. (Then I'm supposed to categorize and give them space on my calendar.)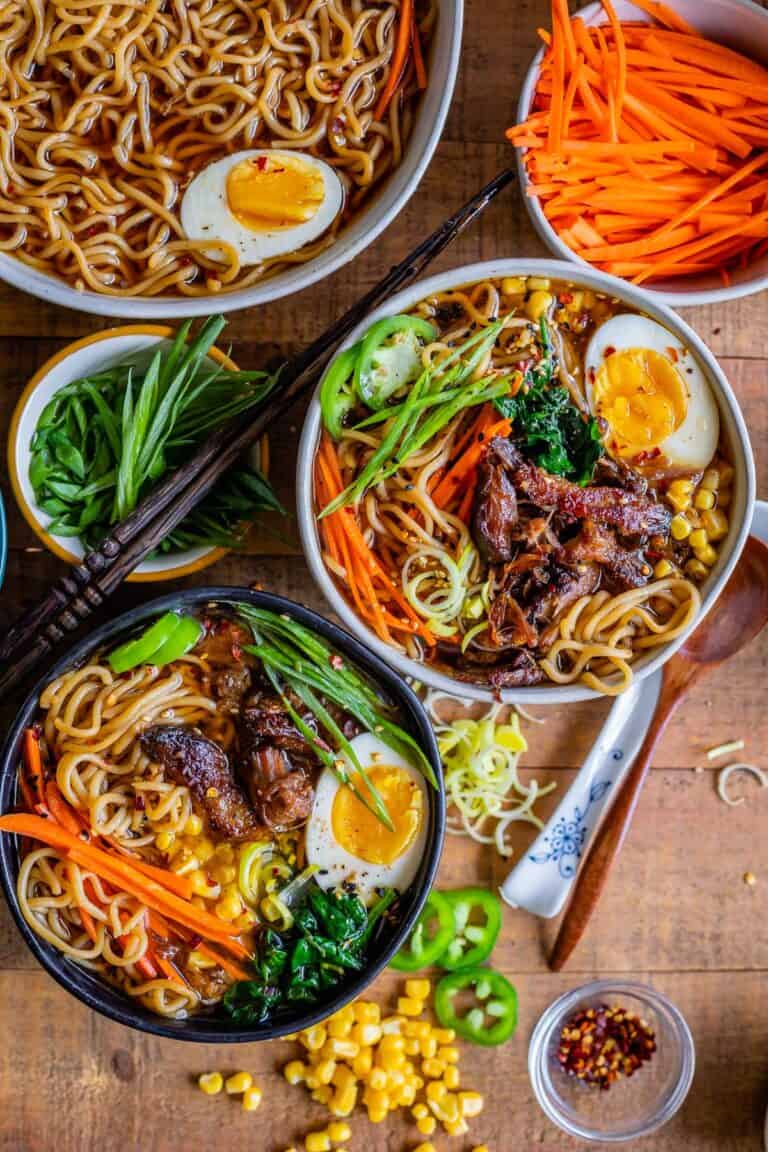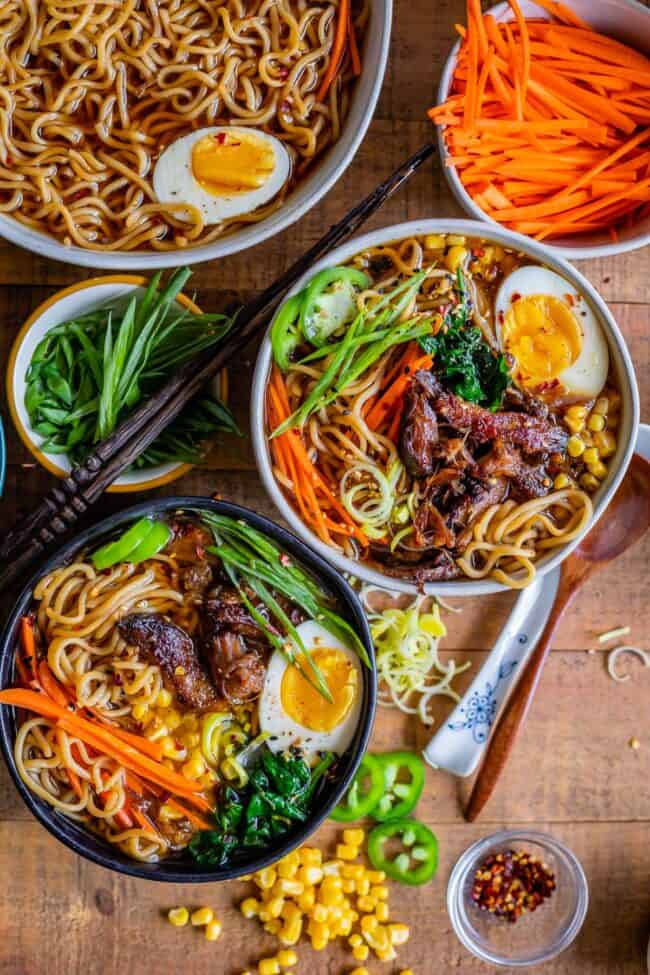 So I sat down at the kitchen table and mentioned my brain sneeze plan to 4-year-old Valentine, who was doing a puzzle. I get out a crisp clean white sheet of paper. I poise my pen. I think for a moment. Then I realized I had to blow my nose and I'm sitting there with a tissue for a minute.
I look up to find Valentine watching me intently, with the hugest round eyes I've ever seen.
And that's when I realized she was waiting for me to ACTUALLY sneeze my brains out. I've never seen a kid look so concerned, fascinated, and horrified all at once.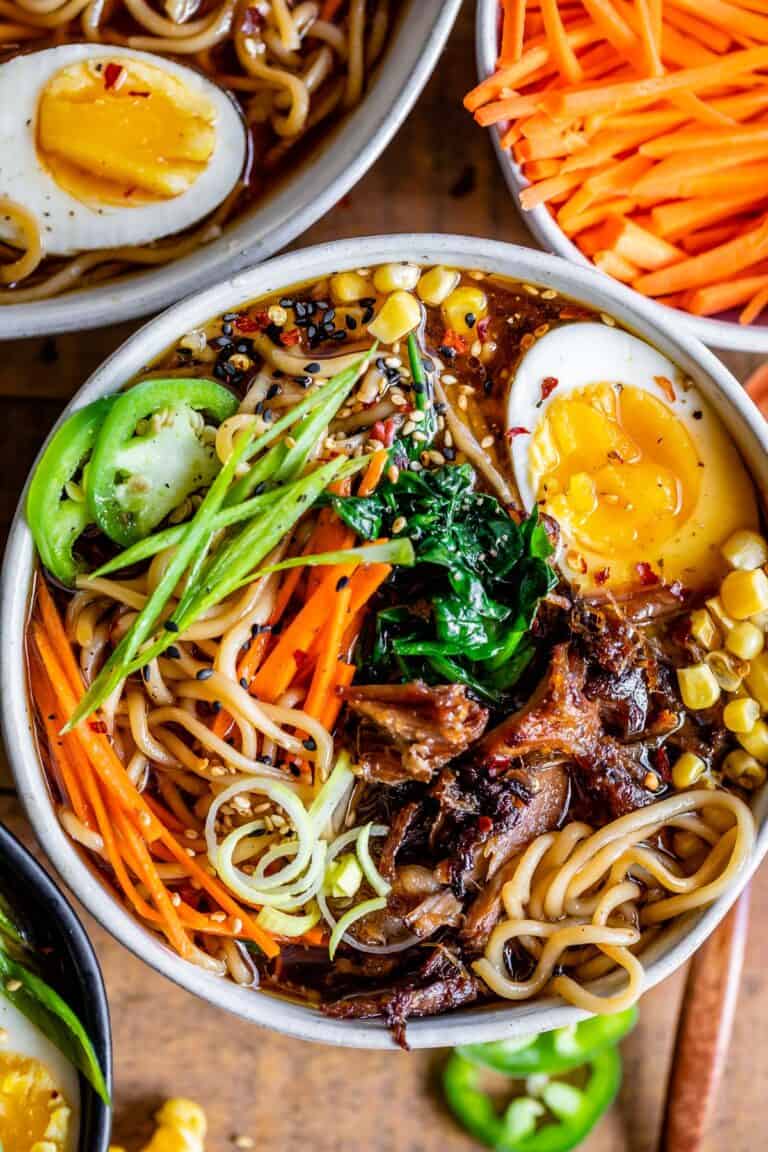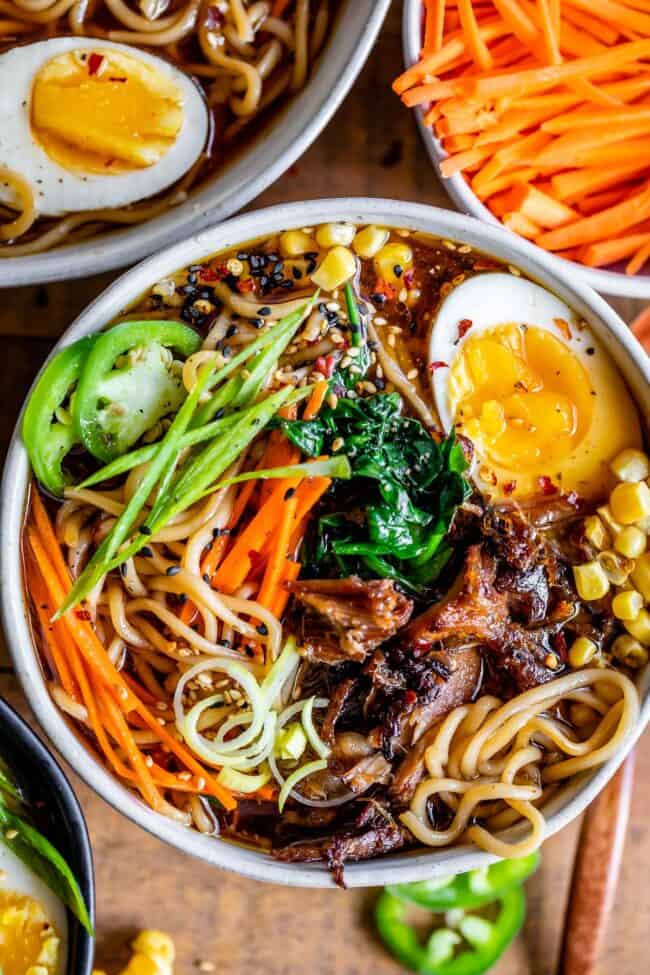 Well, here's to getting the to-do list done right? Hopefully this time without traumatizing any children in the process??
Even with the crazy schedule, family dinner always makes the list. Here in our neck of the woods, fall is FINALLY making it's debut! The cooler weather always makes my whole family want to cozy up with a bowl of soup, and what could be more satisfying than slurping up giant bowls of ramen together? Ramen that is topped with crispy pork no less??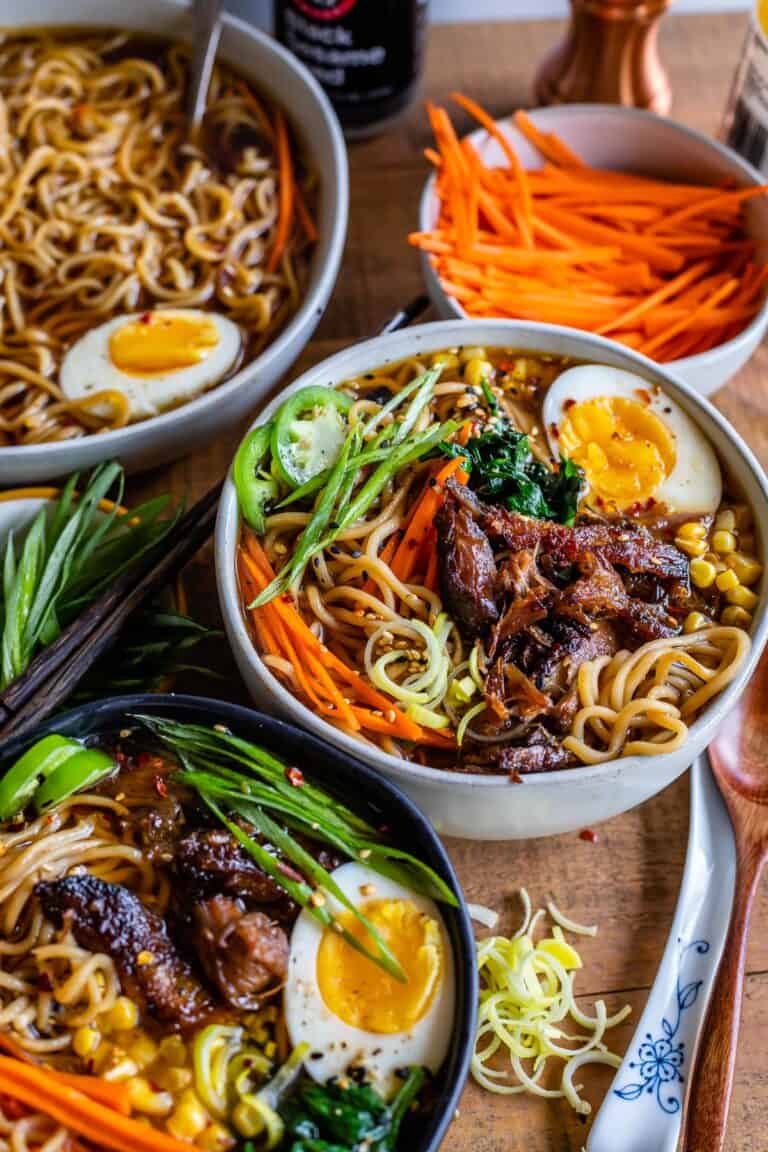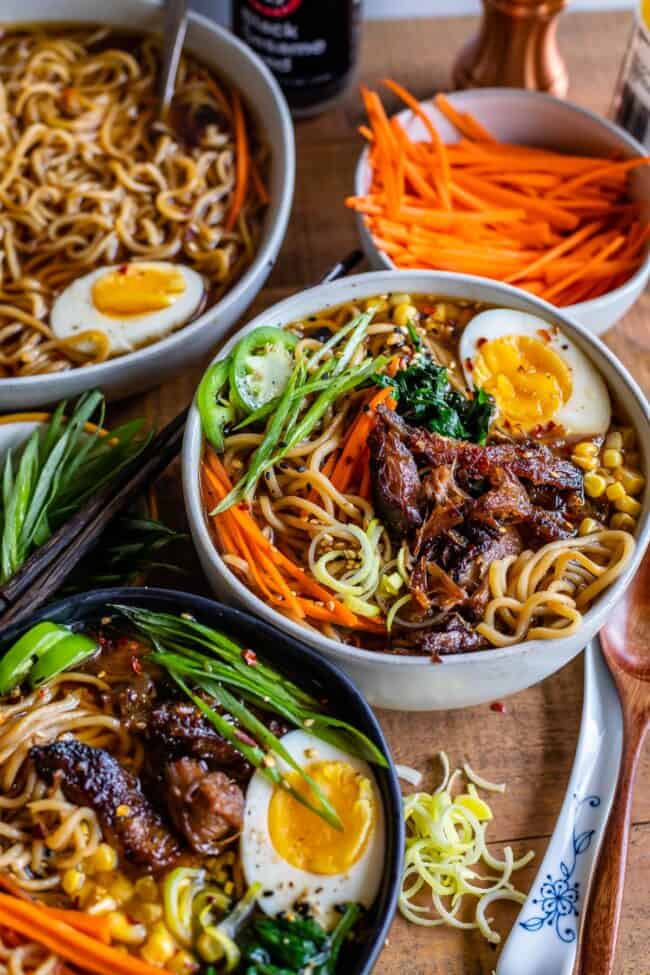 How to make Easy Pork Ramen
Tell the truth. I know your first exposure to Japanese ramen was Top Ramen. Or was it Cup O' Noodles? Raise your hand if this was the first thing you ever "cooked" as a 9-year-old. (My dad taught me to add frozen peas and an egg into my Top Ramen, see it's just natural to add toppings! Even to Americans cooking the dumbed down version of ramen!)
But today's recipe is definitely not dumbed down! This Pork Ramen recipe is a thousand times more delicious and flavorful than anything that packet of spices can give you.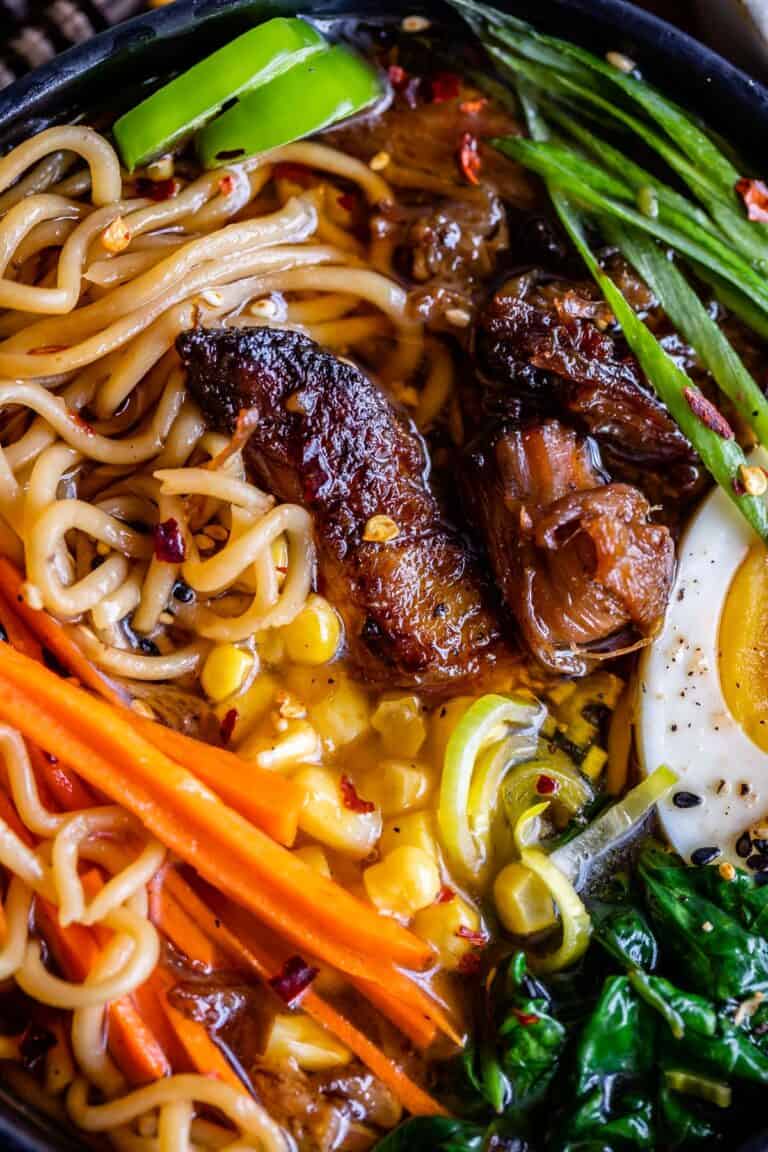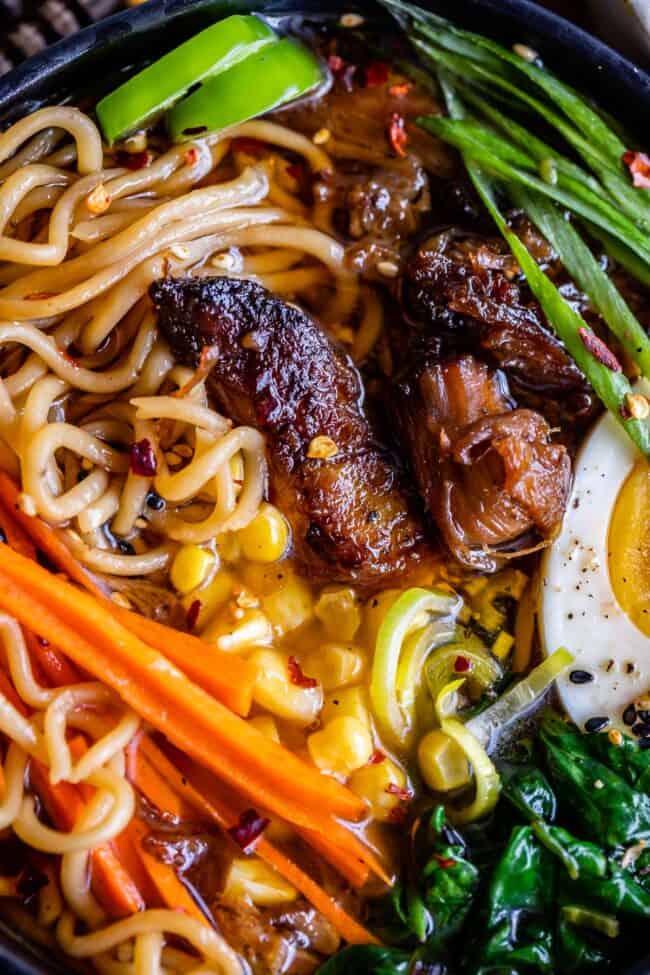 We start off with a salty marinade to make our pork shoulder ultra-flavorful. I love using pork shoulder in this recipe because it is so versatile and easy to adapt for so many recipes. I always have one tucked away in my freezer. Once it's done marinating, we are slow cooking the pork with veggies and liquid to make the most delicious broth. Next, we are sautéing more veggies and crisping up the shredded pork in a skillet. Top with a hundred garnishes and slurp your way to happiness! This recipe is a bit of a labor of love, but it's 100% worth it! Let's get started.
Ingredients to make Pork Ramen
It looks like a lot, but don't be intimidated! I'll break it down for you in the recipe below!
Pork shoulder
Kosher salt
Brown sugar
Fish sauce
Rice vinegar
Sesame oil
Soy sauce
Better Than Bouillon Chicken Base
Sriracha
Ramen noodles
Onion
Carrots
Celery
Garlic
Ginger
Jalapeno
Leeks
Spinach
Eggs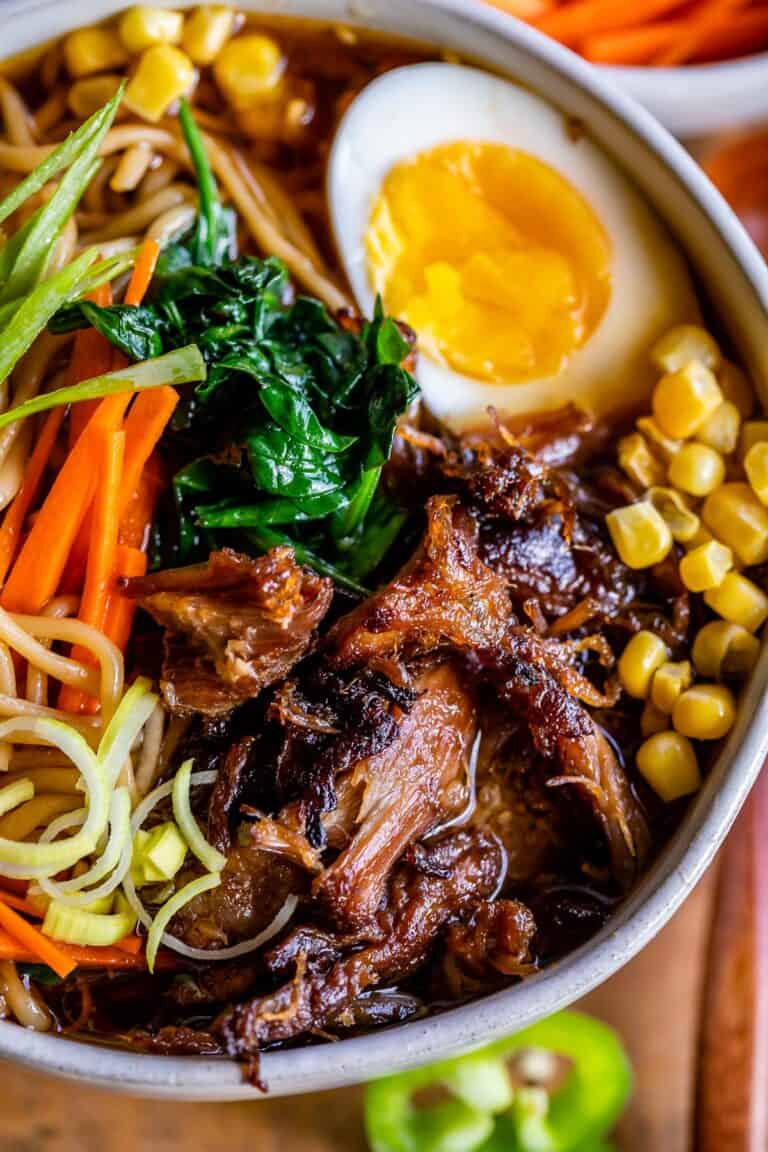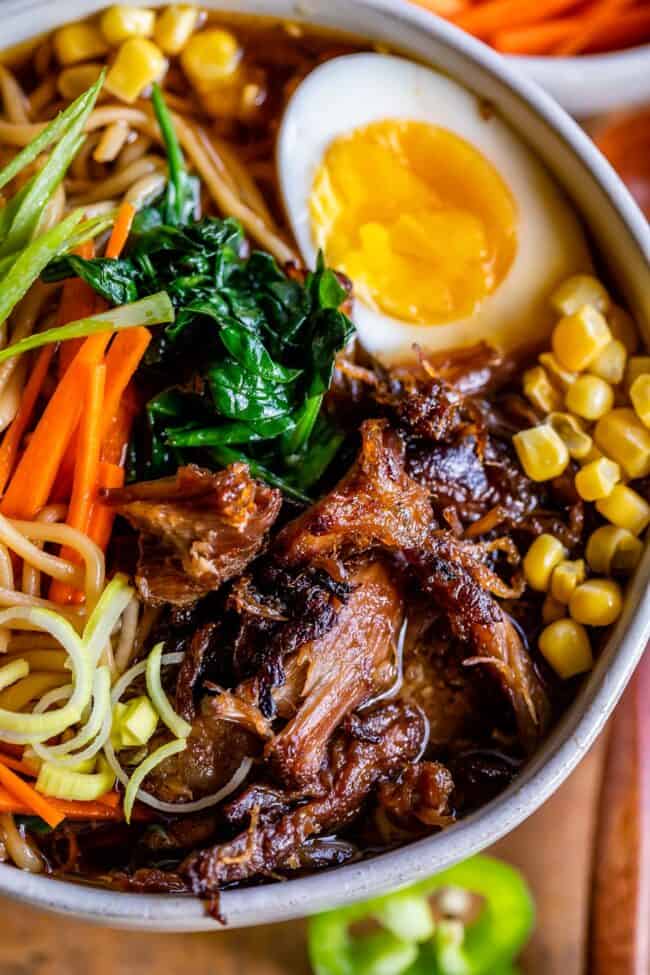 What kind of pork is used for ramen?
Let's start off with this gorgeous cut of pork shoulder. I am partnering with the National Pork Board on this post! Pork is a staple in our kitchen, especially the magical pork shoulder. It is incredibly versatile (Try this Cafe Rio Pork! Or this Pulled Pork with Peaches!) and always results in melt-in-your-mouth tender meat. Plus it's a great way to make sure my kids are getting enough protein! They are obsessed with this crispy pork!
You want to choose a pork shoulder that is nicely marbled with fat. Chop it into a few chunks to make sure the marinade can penetrate the meat well.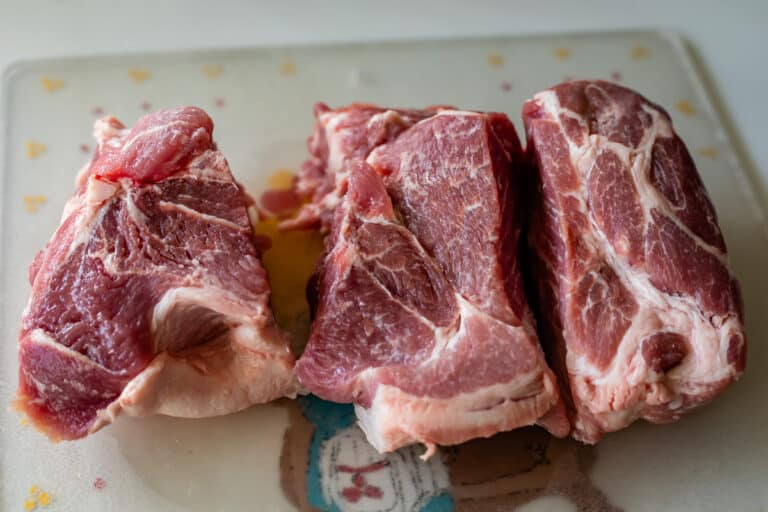 Most pork shoulders are about 3-4 pounds, but you only need 2 pounds for this recipe. If your shoulder is very large you can halve it and freeze for later, or if it's on the small side (3 pounds-ish), you can use the whole thing for this recipe. You will have a higher proportion of crispy pork than you need at the end, but who's going to complain about that?? Toss it on a salad for dinner tomorrow with all your other leftover toppings!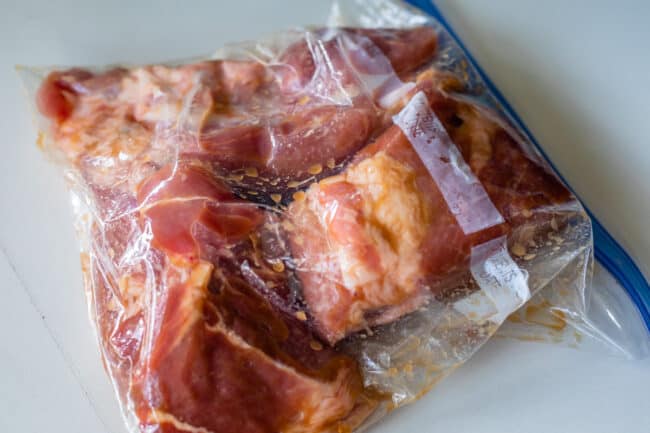 I like to marinate my pork shoulder in salt, brown sugar, fish sauce, rice vinegar, and sesame oil. This blend of ingredients gives the meat this amazing umami flavor! Let the pork sit in the marinade for at least a few hours if you have time, or even overnight. But a 30-minute marinade is better than nothing! Do what you have time for!
Add the pork and all the marinade to a 6-quart crock pot. A mini crock pot is not going to work for this recipe! We need a big pot for all that broth.
This broth is kind of a big deal
Ramen is all about the broth. If you don't have a delicious broth, you don't have delicious ramen. So it's worth spending some time on!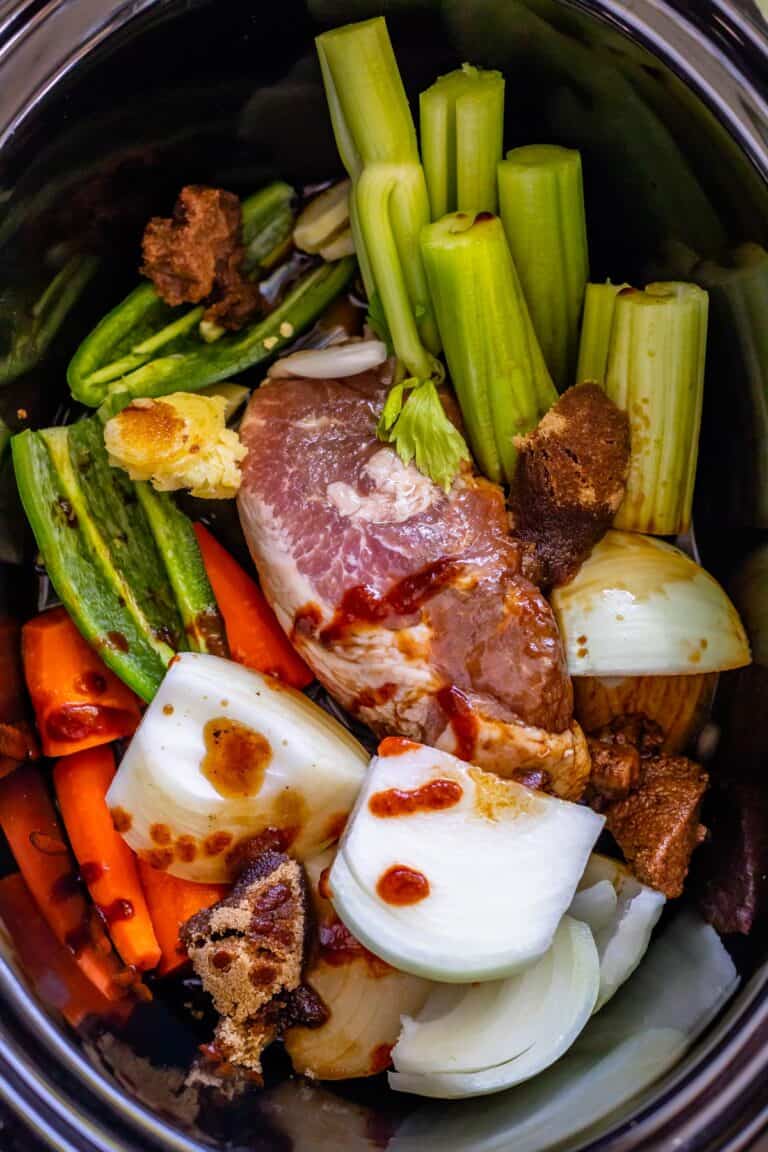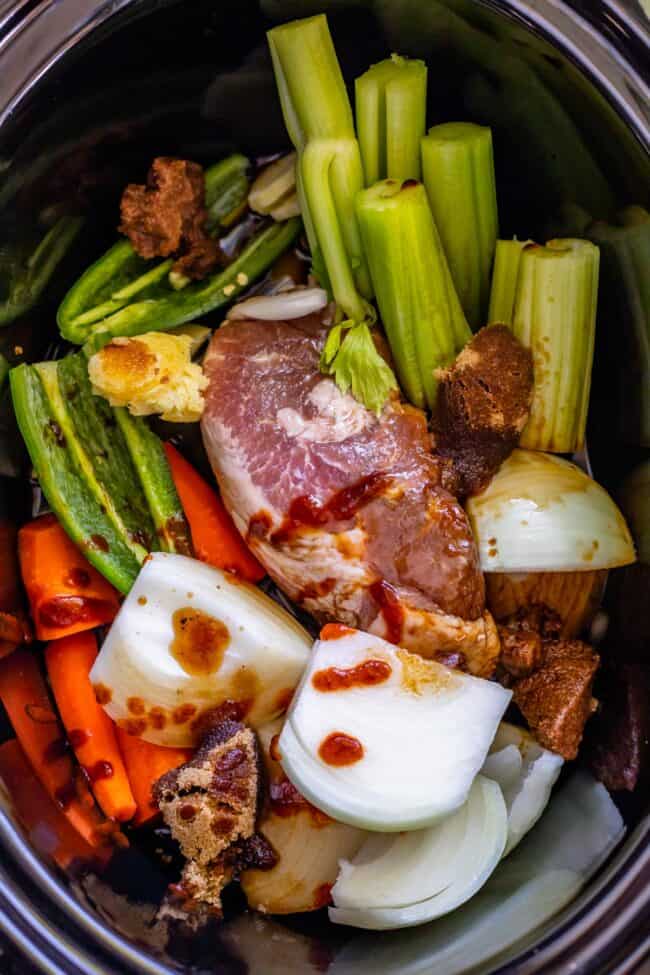 We are creating our broth using water and high quality chicken bouillon, but we're not stopping there! It's going to be slow cooking for about 8-10 hours, so of course the pork is going to infuse a ton of flavor and delicious fat into the broth. We are also adding carrots, celery, onions, garlic, ginger, and jalapeno. These are great veggies for cooking over long periods and lend amazing flavor to our broth.


We are also adding those beloved Asian flavors with a few special ingredients: soy sauce, rice vinegar, fish sauce, sriracha, and some brown sugar to balance the saltiness. We are on our way to something totally amazing here, guys.
The toppings: crispy pork, jammy eggs, sauteed veggies, oh my!
Besides our beloved broth, the other most important thing for our ramen is of course the toppings! Making Pork Ramen is kind of an endeavor, so enlist help if you can. If there is none to be had, make sure you have everything ready to go, and follow the order I've shown you in the recipe. Read through it carefully to make sure you don't end up with cold pork and overcooked noodles, nobody wants that!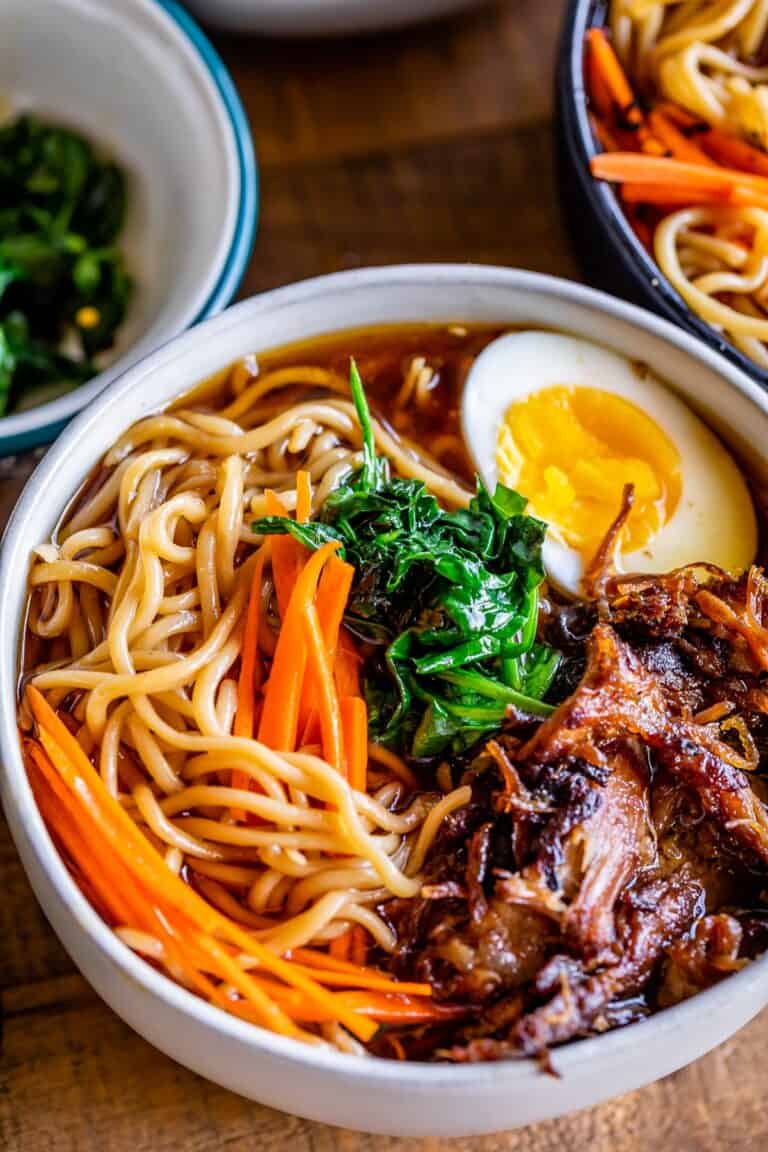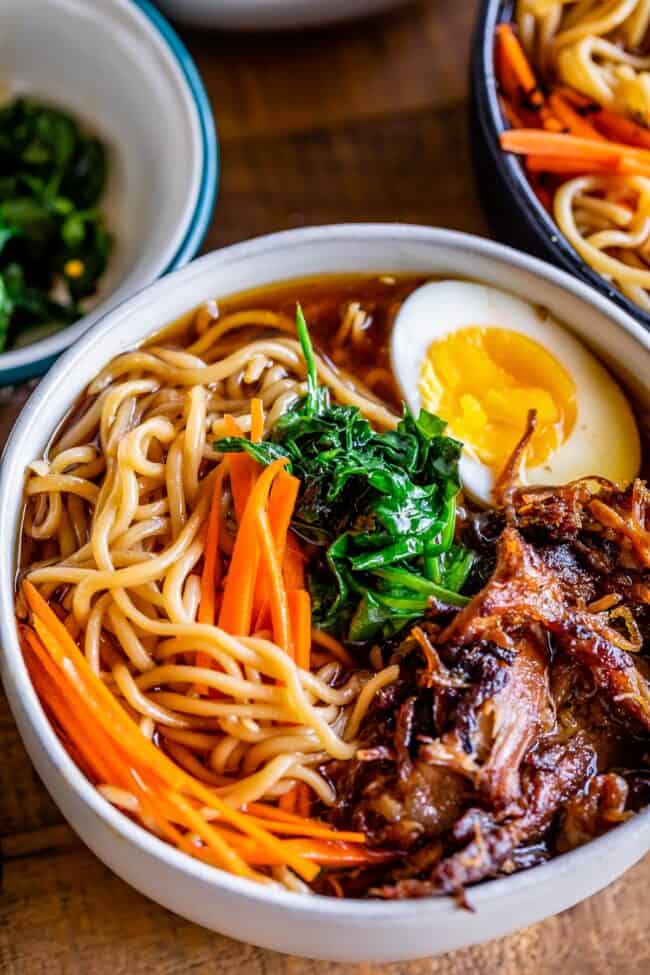 Jammy eggs
What's a bowl of ramen without a couple jammy soft-boiled eggs? It's always my favorite part for sure! (I'm always so offended if I order ramen somewhere and it comes to the table and I realize I didn't order one with an egg. Like what do you MEAN ramen is a thing without eggs?? They are essential in my book, haha!)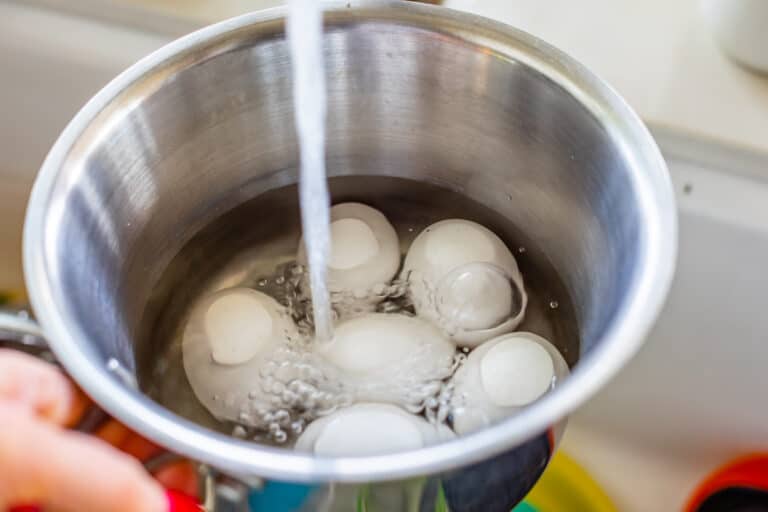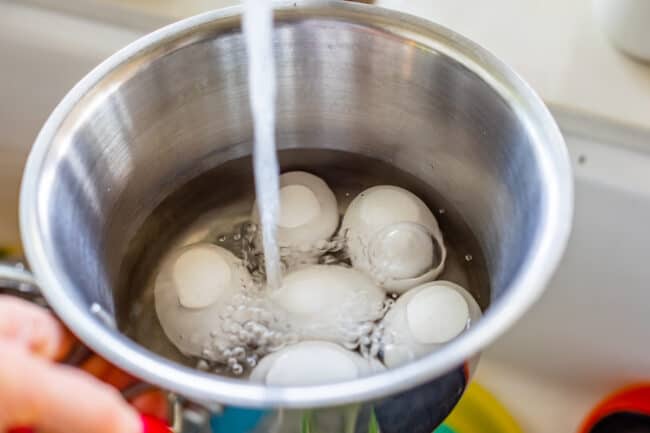 Making perfectly soft-boiled eggs is so easy. Put some eggs in a pot, cover with water, and bring to a rolling boil. Turn off the heat, cover with a lid, and wait 3-5 minutes depending on how soft you like your egg to be. If you want it to be slightly runny, wait 3 minutes. If you want it like a very soft hard boil texture, wait 5 minutes. (See recipe notes for steaming eggs times.)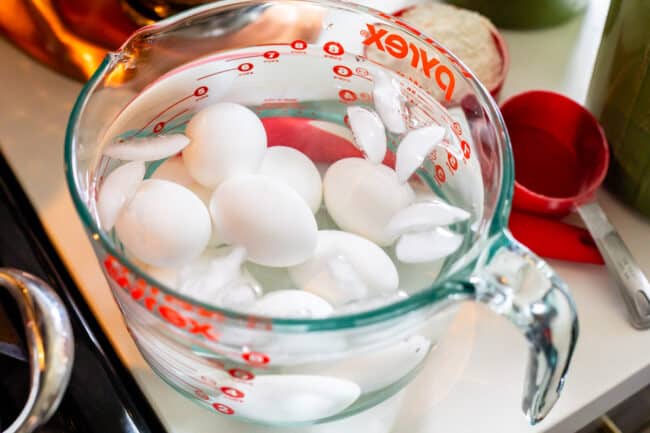 Whatever amount of time you choose to wait, remember that plunging into an ice bath after the allotted time has passed is essential! This stops the cooking process so your eggs don't get overcooked. Set aside until you are ready to slice them and add to your ramen.
Sauté your vegetables
Now it's time to prep some of our toppings! I love lightly sautéing a bunch of vegetables and throwing them on top of my ramen. You can use any veggies you like. I chose to use carrots, leeks, and spinach. Mushrooms are another great option and very traditional.
Matchstick carrots will make you feel fancy. Plus, they are just the perfect size for eating with ramen! Here's how to do it:


Chop your carrot in half, then slice off the round edge so that you can put it flat on the cutting board. Then thinly slice. Stack up your slices and chop into small matchsticks. Voila!


Have you ever cooked with leeks? They have such great flavor. They are also very dirty, so make sure you take the time to rinse them under cold water before dicing them up. Discard the tough outer layers too.


Just remember, you don't HAVE to sauté your veggies. I've tried lots of different veggies in ramen, both cooked and uncooked, and I prefer the softness (and sweetness!) of cooked carrots, leeks and spinach (or mushrooms). The photos actually show raw carrots and raw leeks, with cooked spinach. Do whatever sounds most delicious to you!
The other thing to remember is that you can sauté all these veggies together if you like! It's faster that way. If you are going for an impressive presentation, it's better to sauté them one at a time. We're only sautéing each veggie for a minute or two, so it doesn't take too long, but I get it sometimes it's just one more thing. Do what you have time for!
Cook your noodles
About 20 minutes before you want to eat, add your ramen noodles to the broth in the crock pot and crank it up to high heat. They will cook in just a few minutes!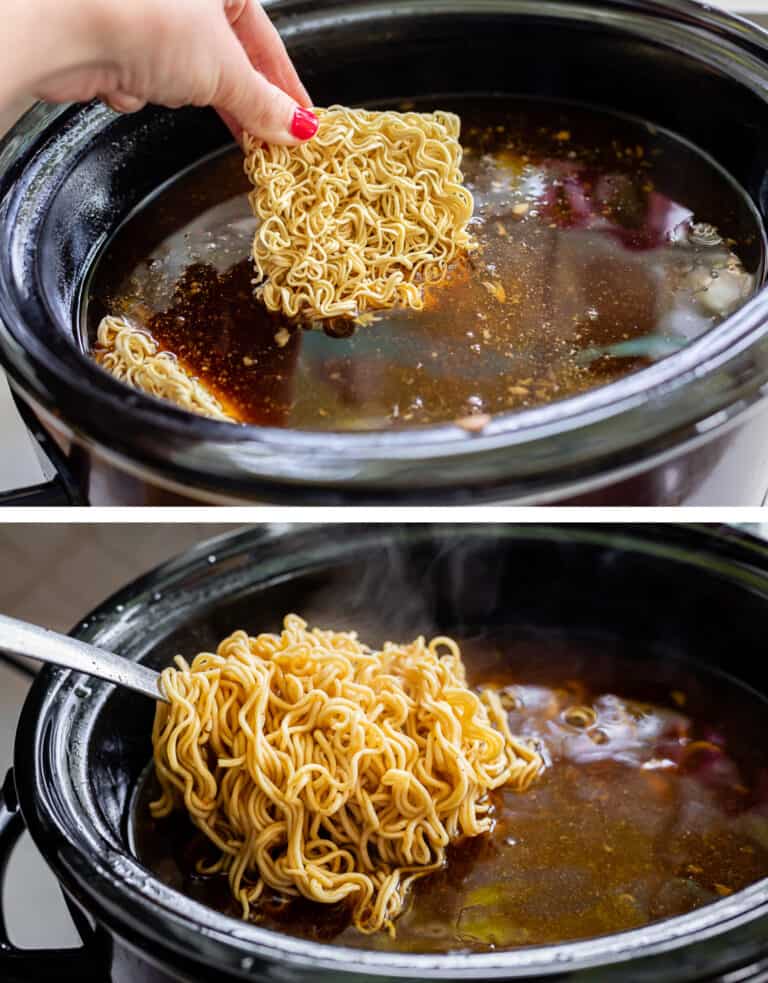 You can find ramen noodles on the Asian aisle of your grocery store. OR! You can totally use Top Ramen noodles! They are not as high quality, but they will do in a pinch. Toss the flavor packet in the trash, we already have an amazing broth!
Crispy pork
There's fall-apart tender pork shoulder, and then there's CRISPY-CARAMELIZED fall-apart tender pork shoulder. We're going for the latter today! Here's how it's done.


First, shred up your pork using two forks. After 8-10 hours in the crock pot, it's totally falling apart. This shredding process takes about 2 seconds. I love slow cooking pork shoulder because you don't ever have to worry if it's at the right endpoint temperature. If it's falling apart this easy, it's definitely cooked enough!
Next we are going to use the same pan that we sauteed the veggies in to get this pork next-level crispy.
Add some sesame oil into the pan and add about half of the shredded pork in a single layer. Don't pile it in! We're going to work in batches.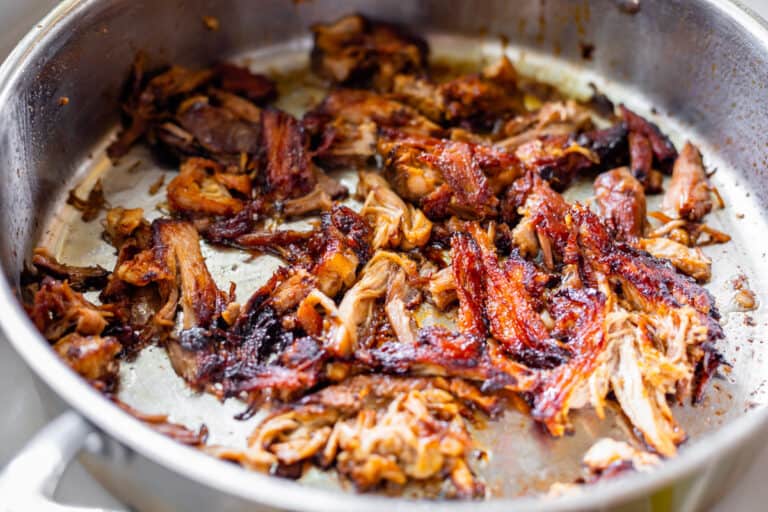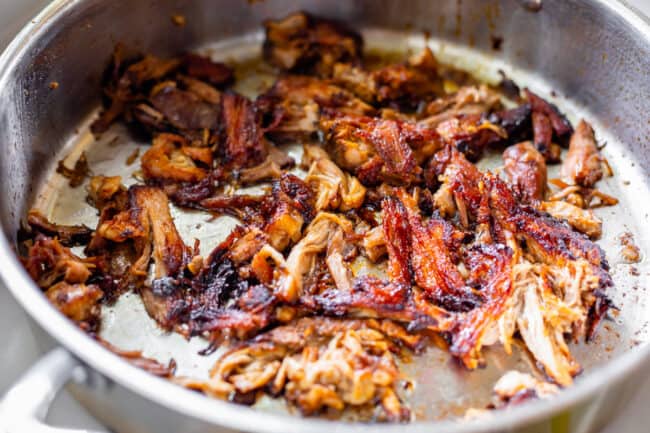 Sprinkle some brown sugar over the pork and let cook without stirring for about 30 seconds. Add in some rice vinegar and soy sauce. It will steam up and get all hissy at you. Use a spatula to flip the pork over in sections. Add more brown sugar if necessary to keep the caramelization process going. Once both sides of the shredded pork has crisped, remove the pork to a plate and repeat the process with the remaining pork. Then add it all back into the pan and keep warm while you finish the rest! We're almost done!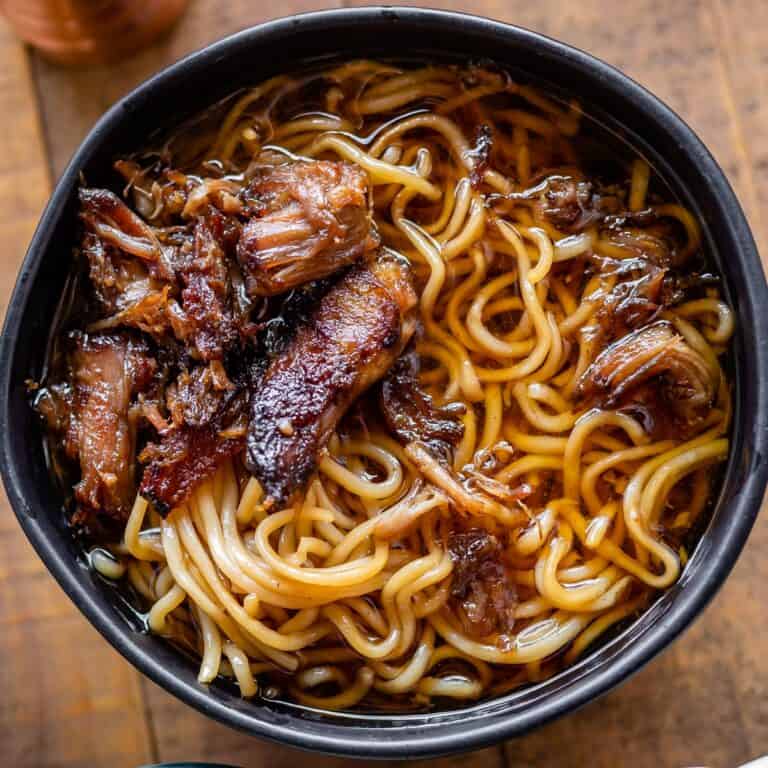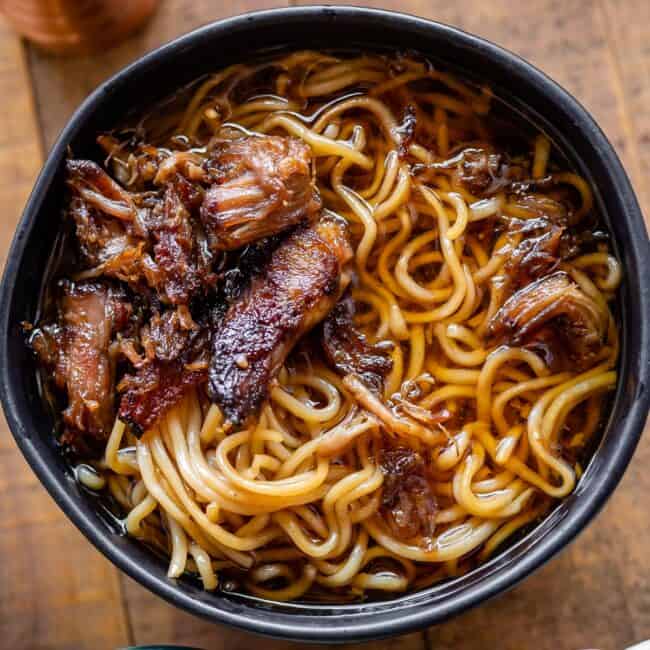 I mean, you could almost just stop right here. Noodles and crispy pork forever. But come on…let's amp it up!
The garnishes: never enough!
It is basically impossible to over-garnish your ramen. There's always room for one more! Here are some of my favorite raw garnishes to throw on top of a big steaming bowl of ramen:
Green onions
Jalapeno
Corn, fresh or frozen
White sesame seeds
Black sesame seeds
Crushed red pepper, if you like it spicy!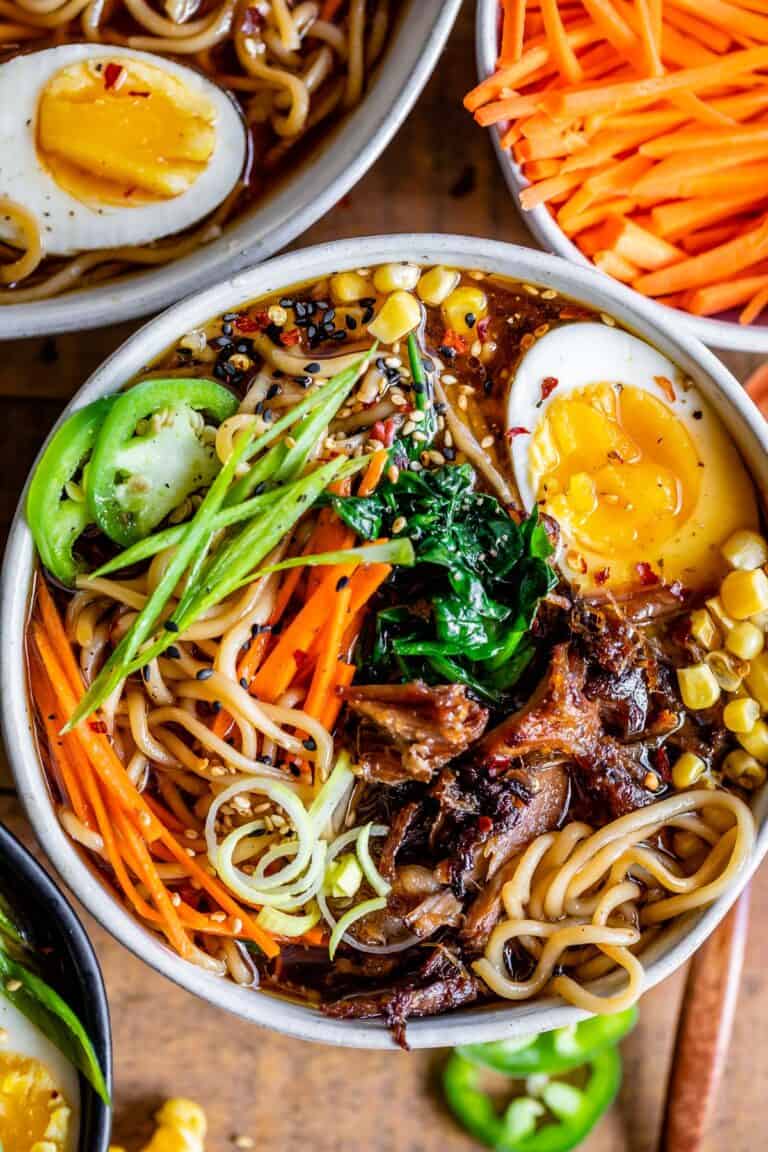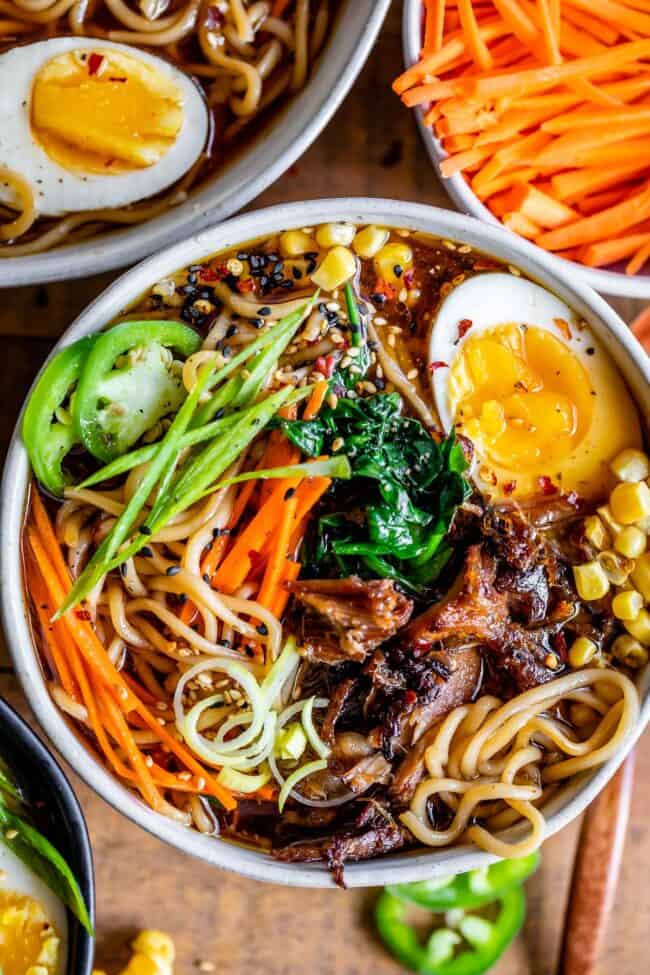 What to serve with Pork Ramen
Gyoza (or called pot stickers/dumplings sometimes in the US) are a great option! You worked so hard on this ramen I feel like you deserve to buy some frozen ones, haha! Dunk them in some soy sauce and call it good. A side of edamame or maybe green beans would also be delicious! Or maybe a simple green salad. But honestly, I never do appetizers or side dishes with ramen. I feel like it qualifies as a stand-alone meal. Happy slurping!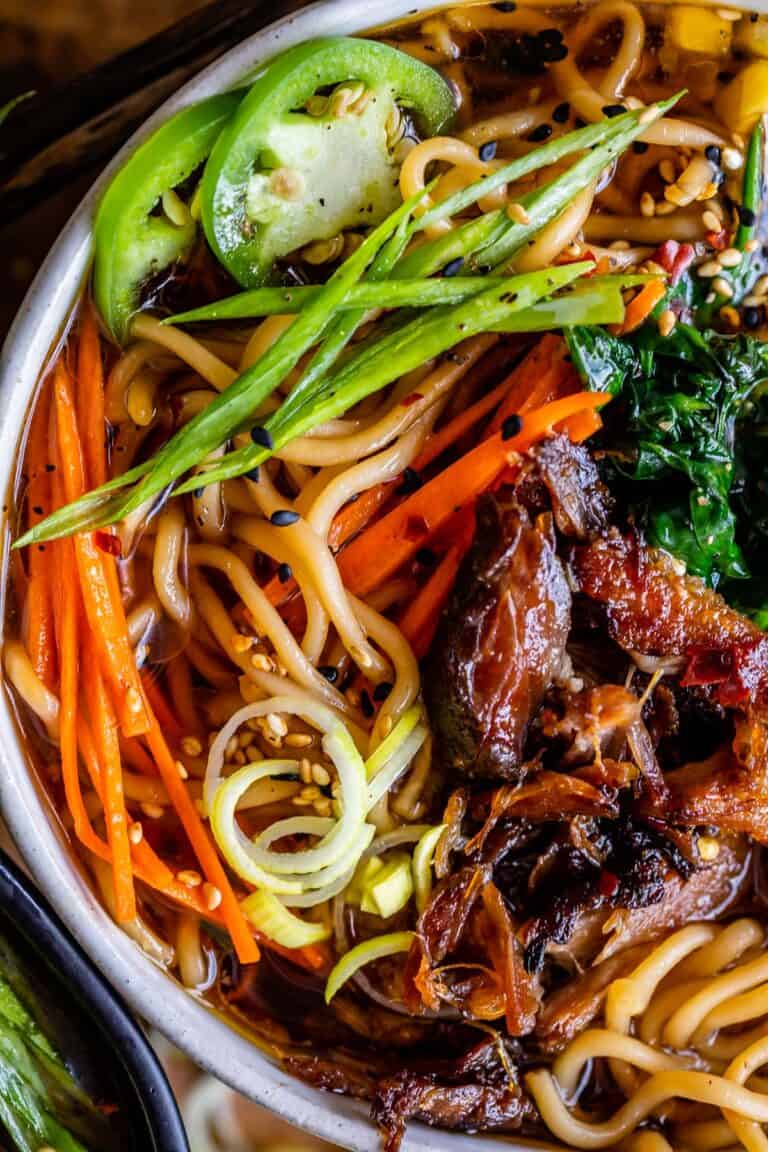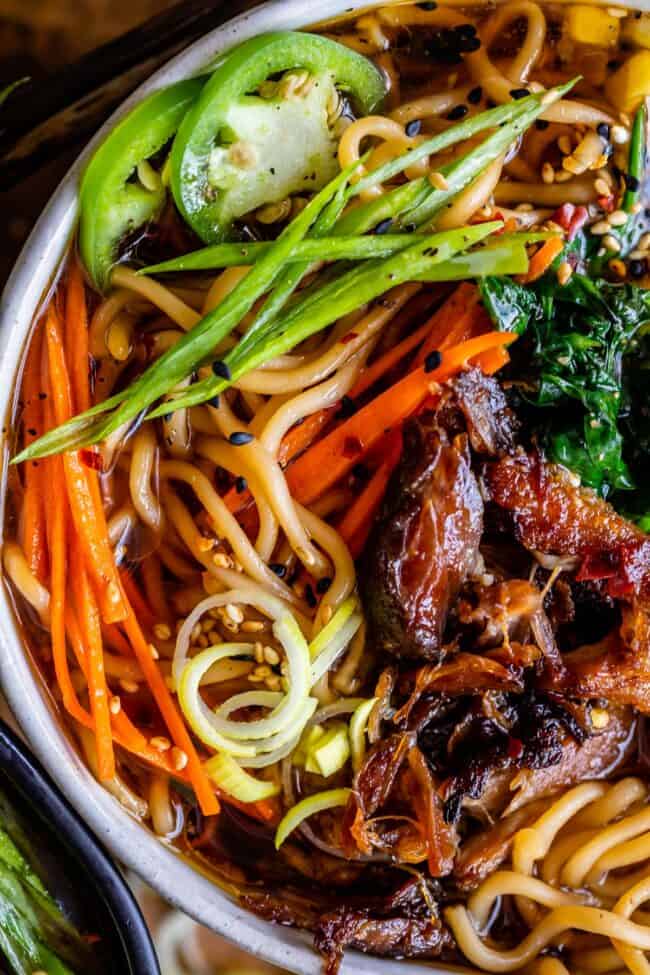 More Asian recipes you are going to love!
Facebook | Pinterest | Instagram

Easy Pork Ramen Recipe (Slow Cooker)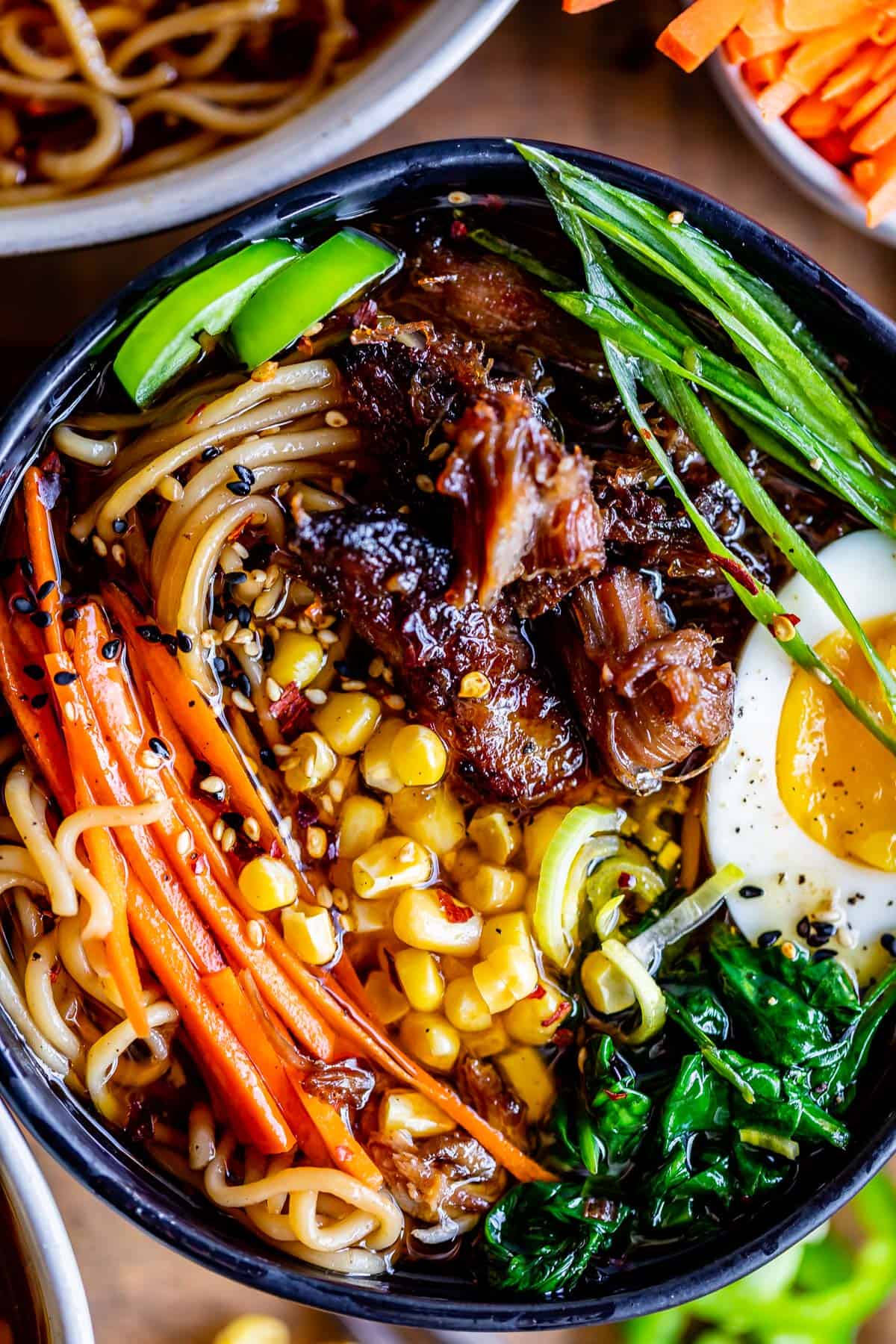 A delicious and easy Pork Ramen recipe that you can make in the slow cooker! A deep and flavorful broth, al dente ramen noodles, crispy shredded pork shoulder, with alll the vegetable topping and garnishes. The recipe looks long, but I've broken it down into manageable steps for you!
Ingredients
For the marinade
2

pounds

boneless pork shoulder

2

teaspoons

kosher salt

2

teaspoons

brown sugar

,

packed

2

teaspoons

fish sauce

2

teaspoons

rice vinegar

2

teaspoons

sesame oil
For the slow cooker
1

large

onion

,

roughly chopped

2

carrots

,

peeled and halved

2

stalks

celery

,

halved

6

cloves

garlic

,

smashed

1

2-inch knob

of ginger

,

peeled

1

jalapeno

,

halved and seeds removed

2

tablespoons

brown sugar

,

packed

1/4

cup

rice vinegar

1/2 cup + 2 tablespoons

soy sauce

1

tablespoon

fish sauce

1

teaspoon

sriracha

3

tablespoons

Better Than Bouillon Chicken Base

11

cups

water

16

ounces

ramen noodles
For the sauteed toppings
2

teaspoons

olive oil

2

medium

carrots

,

cut into matchsticks

1

leek

,

washed and chopped

5

ounces

baby spinach

,

roughly chopped

pinch of salt
To prepare the crispy pork
2

tablespoons

sesame oil

,

divided

2

tablespoons

brown sugar

,

packed, divided

2

tablespoons

rice vinegar

,

divided

2

tablespoons

soy sauce

,

divided
Additional toppings and garnishes
4

green onions

,

sliced thin

1

jalapeno

,

sliced

1

cup

frozen corn

,

thawed

black and/or white sesame seeds

crushed red pepper flakes
Instructions
Start with the marinade. I like to marinate the pork overnight, but even a 30 minute marinade is better than nothing. Use a sharp knife to chop your pork shoulder into 2 or 3 pieces. Place in a large Ziplock bag and sprinkle with 2 teaspoons kosher salt. Rub the salt around to coat the pork.

Add 2 teaspoons each: brown sugar, fish sauce, rice vinegar, and sesame oil. Zip the bag and shake it up a bit to distribute all the sugar and liquids.

Let marinate at least 30 minutes, or up to 24 hours.

Slow cook the pork to create broth. Add the pork and all the marinade to a 6 quart capacity crock pot.

Chop 1 onion into a few pieces. Peel 2 carrots and chop them in half. Chop 2 celery stalks in half. Smash 6 cloves of garlic with the side of a chef's knife and peel. Use a normal spoon (trust me) to peel the ginger, you need about a 2-inch knob. Add a jalapeno: slice it in half and remove all seeds and membranes. (This lends great flavor but doesn't make it too spicy.) Add all these vegetables to the crock pot.

Add 2 tablespoons packed brown sugar, 1/4 cup rice vinegar, and 1/2 cup plus 2 tablespoons soy sauce. Add 1 tablespoon fish sauce and 1 teaspoon sriracha, or more to taste (you can always add more later too). Add 3 tablespoons Better Than Bouillon Chicken Base.

Add about 11 cups of water, or enough to fill your crock pot without getting too close to the top. You need at least an inch of space between the water and your lid.

Stir everything together and cook on low for 8-10 hours, or until the pork is extremely tender and falls apart when you stick a fork in it.

Remove the pork to a cutting board and set aside.

Use a slotted spoon to remove the vegetables from the broth. (Eat the carrots if you know what's good for you. You deserve a halftime snack. Discard the rest.)

Remove any bits of pork or solids from the broth that you don't want to eat in your ramen. Turn the heat on your crock pot up to high and cover with the lid.

When you are about 20 minutes out from serving your meal, add 16 ounces ramen noodles to the hot broth in the crock pot. Cover with a lid and let cook on high for about 15-20 minutes. Don't do this too soon or your noodles will get soggy.

Toward the end of the slow cooker time, prepare your eggs. See notes for steaming instructions.* Add 4 eggs (old eggs are best) to a medium pot. Add water to the pot until the eggs are covered with one inch of water. Place on the stove with the burner set to high heat, and cover with a tilted lid.

Bring to a rolling boil (make sure you stick around so you know when it starts boiling.) Once boiling, remove from heat, cover the pot completely with the lid, and set a timer for 3-5 minutes. 3 minutes will get you fairly runny/jammy eggs. 5 minutes will get you soft eggs that are solid-ish.

Once the timer goes off, immediately remove the eggs to an ice bath (a bowl filled with ice water) to stop the cooking process. Leave in the ice bath for about 5 minutes, then remove, peel, and slice in half. Set aside.

Toward the end of the slow cooker time, prepare your garnishes so they are ready to go. Slice 4 green onions (I only did the green parts. Slice them almost vertically to get the long slices you see in the photos.) Place in a small bowl.

If you like it spicy, slice one jalapeno and place in a bowl.

Add 1 cup (or more) of frozen corn to a bowl to start thawing.

Prepare the sautéed toppings. Peel and chop 2 carrots into matchsticks. See photos.

Chop off the ends of the leek, slice in half, and clean well under running water. Discard the tough outer layers. Chop the leek into half moons.

Roughly chop 5 ounces of spinach.

Heat a 12 inch skillet over medium heat.** When hot, add a couple teaspoons of olive oil. First add the carrots. Sauté the carrots for about 2 minutes, until crisp tender. Remove and add more oil if necessary. Sauté the leeks for 1-3 minutes, until just softened. Remove and add more oil if necessary. Sauté the spinach until just barely wilted, sprinkling with a pinch of salt. Remove all the vegetables to a bowl and set aside to keep warm. Don't wash the skillet.

Make the crispy pork. (At this point you should be just about ready to eat and the ramen noodles should be in the crock pot. All your garnishes should be prepped, the veggies should be sauteed and warm, and your eggs should be halved and ready to go.)

Shred the pork with 2 forks. In the same skillet that you prepared the vegetables in, add 1 tablespoon sesame oil. Set over medium high heat.

When the oil is hot, add HALF the shredded pork in one layer across the bottom of the pan. Sprinkle with about 1 tablespoon brown sugar and let the pork cook for about 30 seconds. Do not stir. Drizzle 1 tablespoon each rice vinegar and soy sauce over the pork.

Use a spatula to flip the pork over in sections. If should be getting caramelized and crispy. Add more sugar if necessary. Remove the pork from the heat and repeat the process with the second half of the pork. Add all the pork back into the pan and stir to warm it up, then set aside and keep warm until ready to serve.

Serve the ramen. Add plenty of broth and ramen noodles to a large bowl. Top with warm crispy pork. Add warm carrots, leeks, and spinach. Top with 1 or 2 egg halves.

Garnish with corn, sliced jalapenos, sliced green onions, a sprinkle of black sesame seeds and/or white sesame seeds, and a sprinkle of crushed red pepper flakes. Add more sriracha if you like it hot. Slurp away!
Notes
*I love steaming eggs instead of boiling them. It makes it SO much easier to peel. Bring a pot of water to a rolling boil, then place the steam basket with the eggs over the water, then cover tightly with a lid. Steam for 7-9 minutes depending on how runny you like it. Then immediately plunge into an ice bath. 
**You can toss the sauté vegetables in the pan all at once if you don't care about presentation! Also, the photos show raw carrots and leeks. (I tried it a couple different ways.) You can skip the sauté entirely if you want and top the ramen with raw veggies. I prefer to sauté. 
Nutrition
Calories:
574
kcal
|
Carbohydrates:
58
g
|
Protein:
39
g
|
Fat:
20
g
|
Saturated Fat:
7
g
|
Polyunsaturated Fat:
4
g
|
Monounsaturated Fat:
8
g
|
Trans Fat:
1
g
|
Cholesterol:
161
mg
|
Sodium:
3520
mg
|
Potassium:
1005
mg
|
Fiber:
4
g
|
Sugar:
12
g
|
Vitamin A:
7229
IU
|
Vitamin C:
18
mg
|
Calcium:
114
mg
|
Iron:
5
mg