An Asian twist on cauliflower rice, which is not actually rice, but is a delicious sub if you are going low-carb. Call it whatever you want, I eat this stuff with a shovel.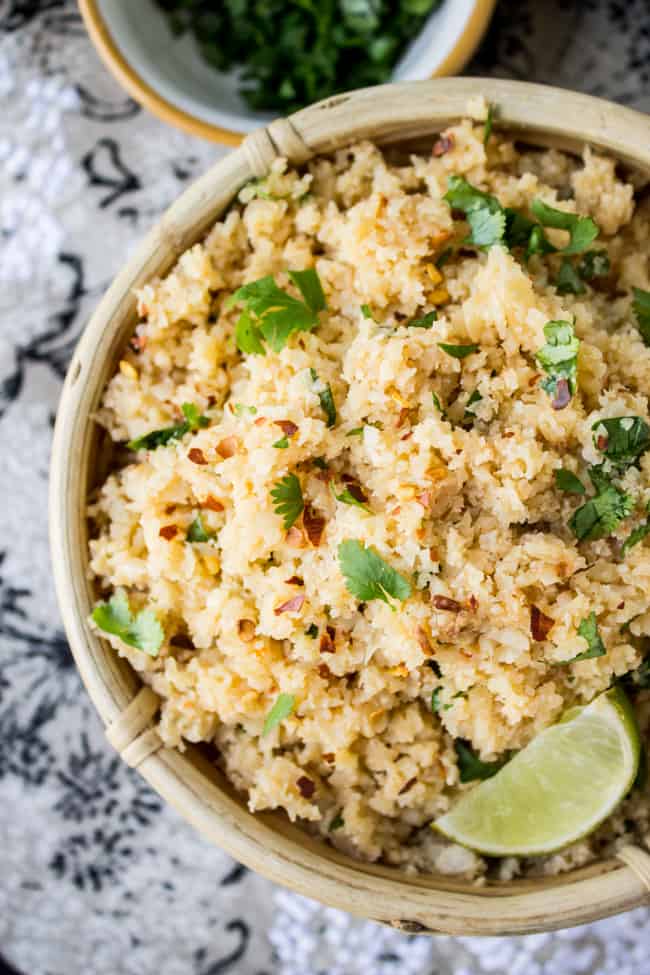 Somebody asked for my autograph the other day. I was even wearing a hat and sunglasses and they still found me out. HA! I totally had you.
Really though, I had to practice signing my name on an ENTIRE sheet of paper before The Autographing. I'm still giggling that this even happened, it's so funny to me. I'm a stay at home mom with a glorified hobby, people.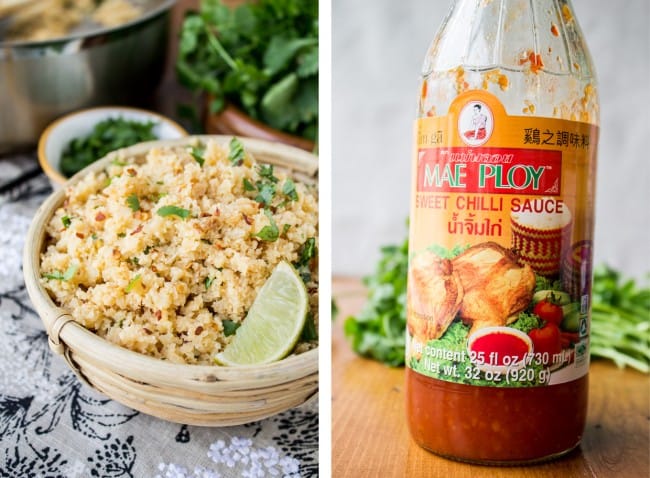 My friend Joy came up to me in church the other day and told me that her sister (Hi Nancy!) had shared a link to The Food Charlatan on Facebook. When Joy saw it, she said, hey, I go to church with Karen! And guess what. NANCY DIDN'T BELIEVE HER.
Like, what am I, a unicorn? Only real if you shut your eyes tight??
I saw Joy a few days later and we took a selfie together so that she could prove to her sister that I'm a Real Boy. I mean Girl.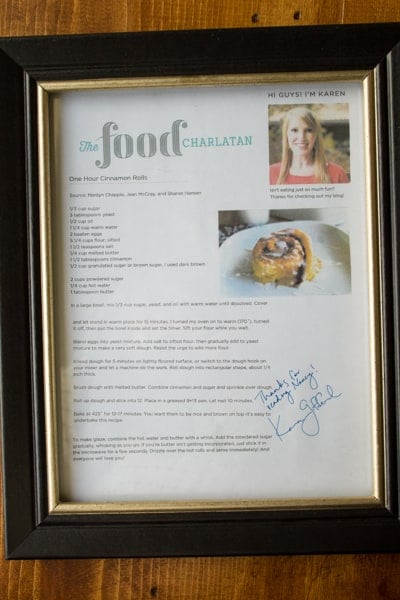 But she didn't stop there. Joy showed up at my house with a printout of one of my recipes in a frame, and said she was giving it to Nancy for Christmas, and I should sign it. I'm waiting for the paparazzi to show up any day now. Hide yo kids, hide yo wife. Probably I'm going to be elected president here pretty soon.
Well, at least I'll have a legend to leave my grandkids. "One time, someone asked me to sign a piece of paper because they liked my food blog." And they'll say, "What's a food blog, Grannie?" and "What's paper?" and then I will continue baking cookies.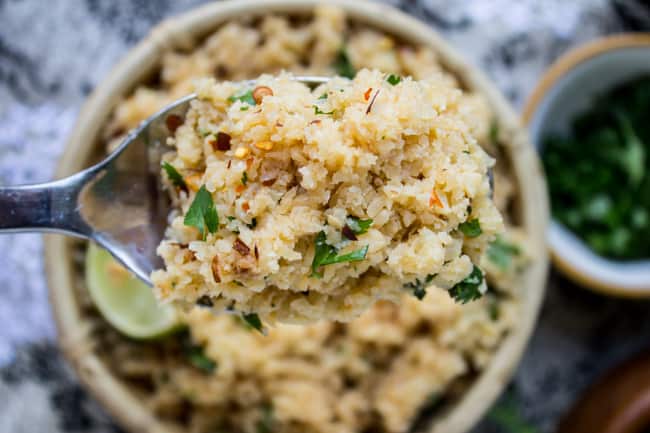 So! Healthy time! Asian Cauliflower Rice time. Does it taste like rice? Of course not. Don't be silly. It's cauliflower. BUT, it does make a great substitute for rice if you are low carbing it this month year (<–I totally have faith in you).  I did an Asian version to go with this Asian Pork Tenderloin I made a while back, which I will be posting soon.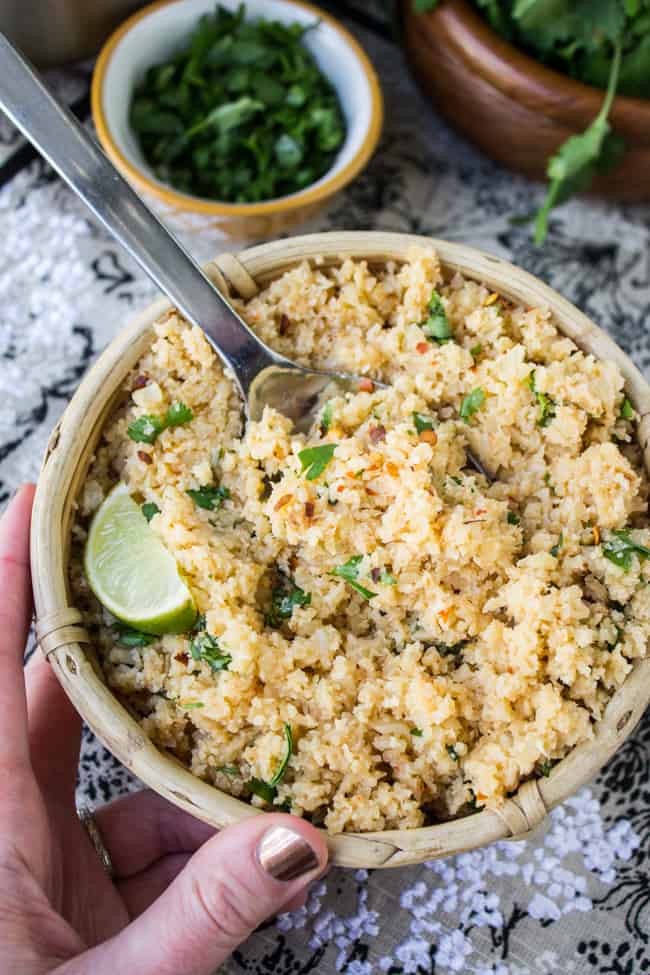 I tried to keep this recipe as simple as possible, but there are some things you just can't replicate with the average pantry, and one of those things is Sweet Chili Sauce. I bet you a whole pan of brownies you can find it in the Asian section of your grocery store. It's worth keeping around, the stuff is delicious and I've been obsessed with it lately.
You could pair this Asian Cauliflower Rice with curry, stir fry, pretty much any kind of meat, etc. I'm particularly fond of the pork-cauliflower combo myself. (And since I'm basically famous, ya'll better trust me ;) Let me know what you try!
Do you guys give up? Or are you thirsty for more?
Facebook | Pinterest | Instagram | Twitter

Asian Cauliflower "Rice"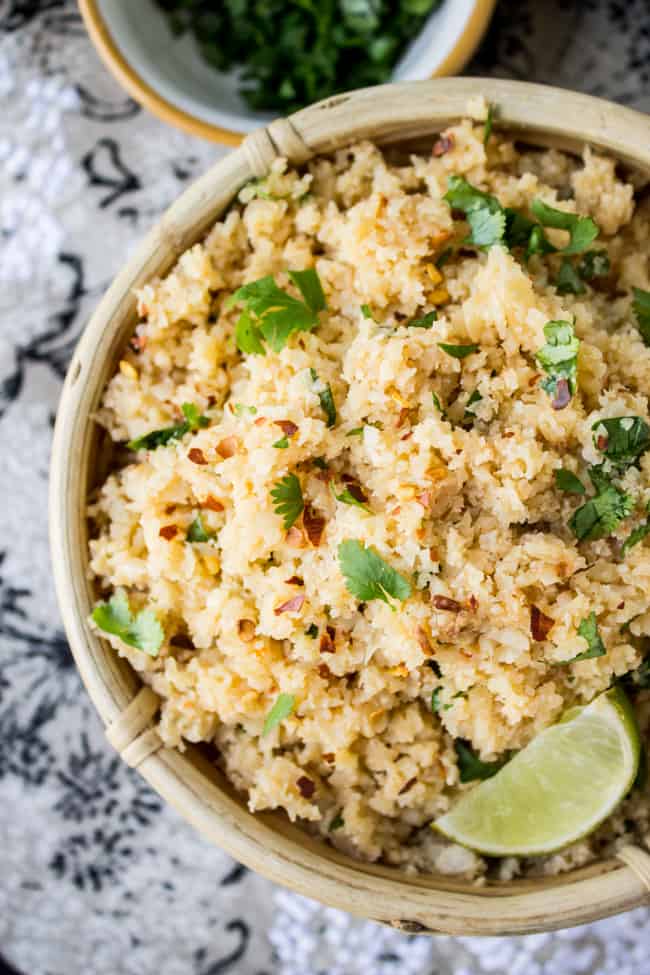 An Asian twist on cauliflower rice, which is not actually rice, but is a delicious sub if you are going low-carb. Call it whatever you want, I eat this stuff with a shovel. 
Ingredients
1

head

cauliflower

2-3

tablespoons

butter

1

tablespoon

sesame oil

1

teaspoon

garlic

,

minced, I used the jarred kind

1

tablespoon

rice vinegar

1

tablespoon

soy sauce

,

low sodium

1

teaspoon

powdered ginger

,

*

1

teaspoon

salt

,

or to taste

1-3

tablespoons

Sweet Chili Sauce

,

see photo

1-2

tablespoons

lime juice

,

half a lime

1/4

cup

cilantro

,

chopped, or to taste
Instructions
Chop the cauliflower into roughly 1-inch pieces (see photos). Don't worry about keeping the florets pretty, you are going to pulverize them anyway.

Add about 1/3 (or even 1/4) of your cauliflower to your food processor. Don't try to do too much at once; you will get half mush and half chunks. PULSE the cauliflower in 1-second bursts, until it looks about the size of grains of rice. Repeat with the remaining cauliflower.

In a wide-bottom skillet, melt butter over medium heat. Add the sesame oil. Saute the garlic for about 1 minute, until fragrant.

Add all of the cauliflower rice. It may seem like a lot, but it will cook down.

Stir in rice vinegar, soy sauce, ginger, salt, and sweet chili sauce. Continue to cook the cauliflower until it is tender, about 8-12 minutes.

Remove from heat and stir in the lime juice and cilantro.

Garnish with additional lime and cilantro, if you want.
Notes
*Chopped fresh ginger tastes great too. I've tried it both ways.
Make sure you taste as you go. My cauliflower was huge, so I added the high end of the ranges given. If you have a smaller cauliflower, go with less.
If you don't have a food processor, a cheese grater works. A little messy, but does the job.
Nutrition
Serving:
1
cup
|
Calories:
133
kcal
|
Carbohydrates:
10
g
|
Protein:
3
g
|
Fat:
10
g
|
Saturated Fat:
4
g
|
Polyunsaturated Fat:
2
g
|
Monounsaturated Fat:
3
g
|
Trans Fat:
1
g
|
Cholesterol:
15
mg
|
Sodium:
969
mg
|
Potassium:
460
mg
|
Fiber:
3
g
|
Sugar:
5
g
|
Vitamin A:
245
IU
|
Vitamin C:
71
mg
|
Calcium:
38
mg
|
Iron:
1
mg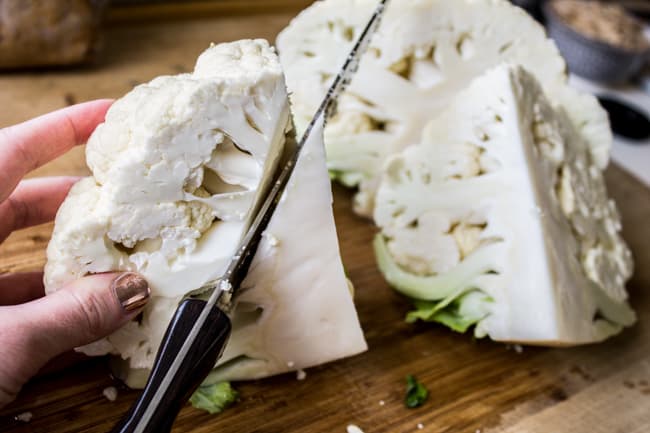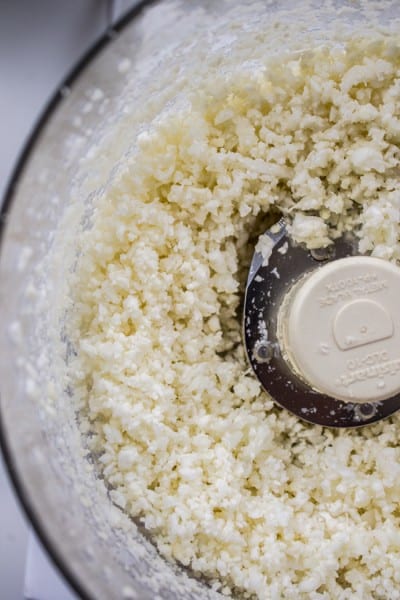 Here is the Asian Pork Tenderloin with Ginger Glaze I mentioned. Goes great with this Cauliflower Rice!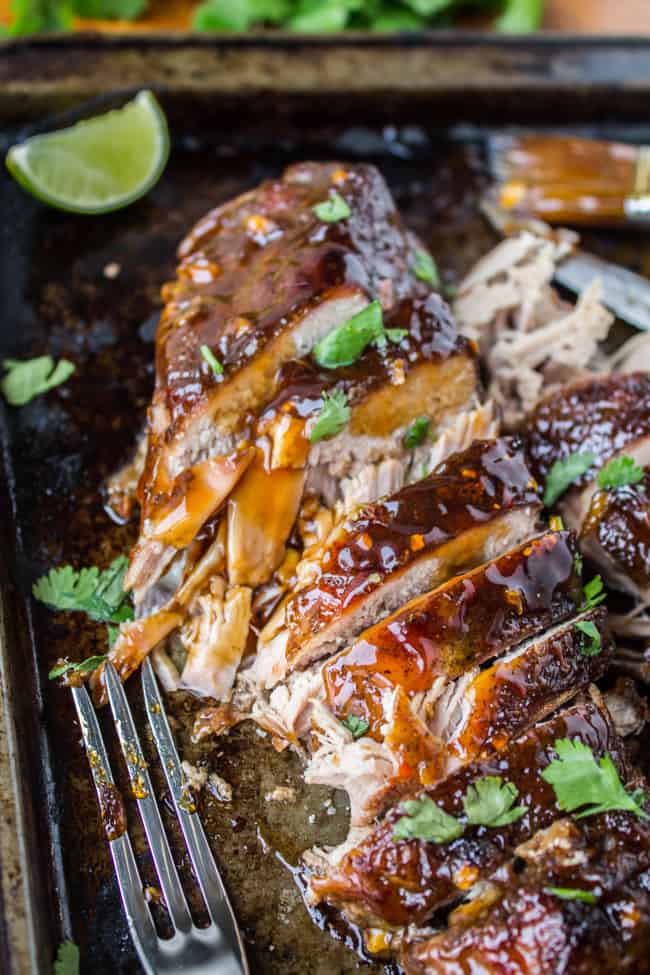 More! Healthy! Sides!
Indian-Spiced Cauliflower Rice: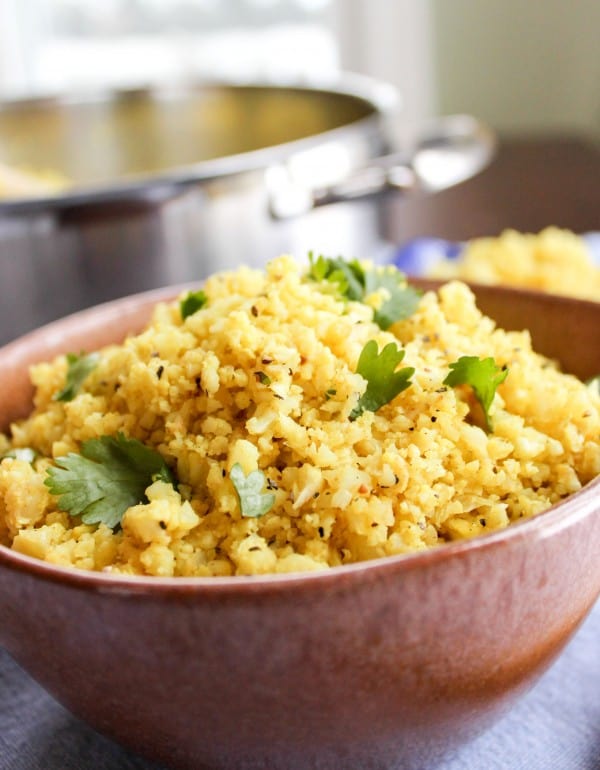 Asian Marinated Cucumber Salad: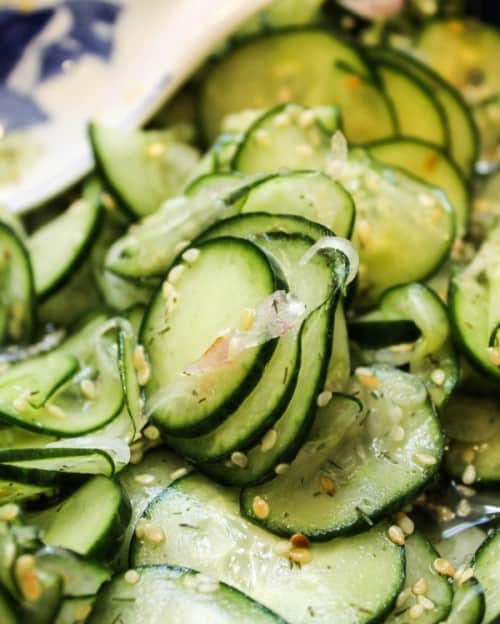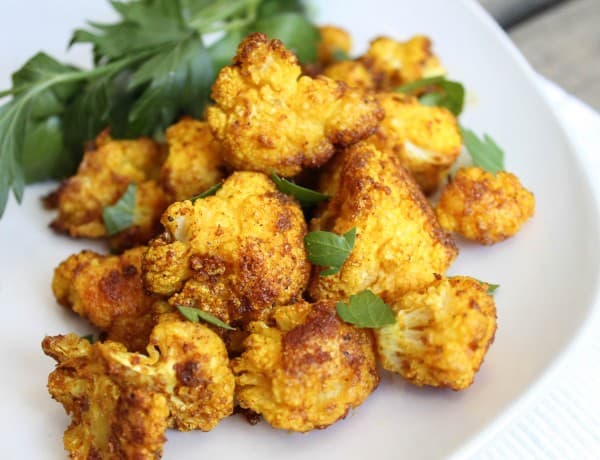 Never enough cauliflower rice:
3 Ways to Make Cauliflower Rice from One Good Thing By Jillee
Cilantro Lime Cauliflower Rice by House of Yumm
Cauliflower Spanish "Rice" from Fork and Beans