I'm not even kidding guys. You are 10 minutes away from this incredible Asian wonton soup.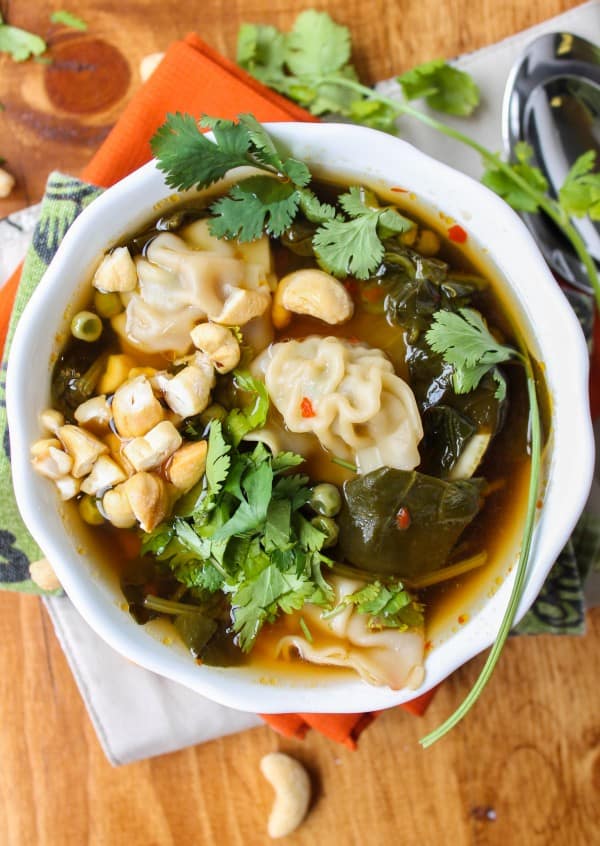 YOU. GUYS.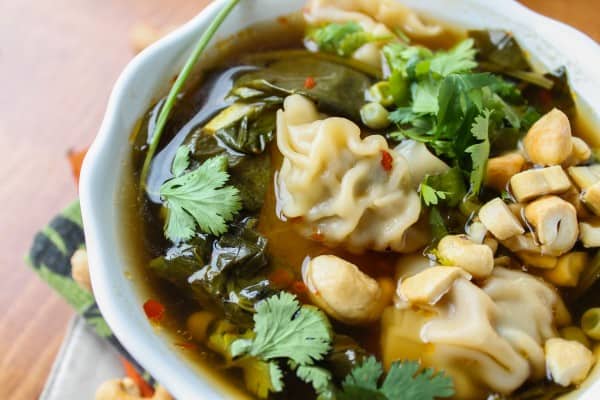 My sister Nikki sent this text to our family last week: "That agent, ____, offered me representation today. I'm so excited!!!"
Some of you may remember the post where I bragged about how Nikki's novel won the Grand Prize for All Categories at a writing conference she attended. Well now she's all growed up and has an agent of her own! She's one step closer to getting published!!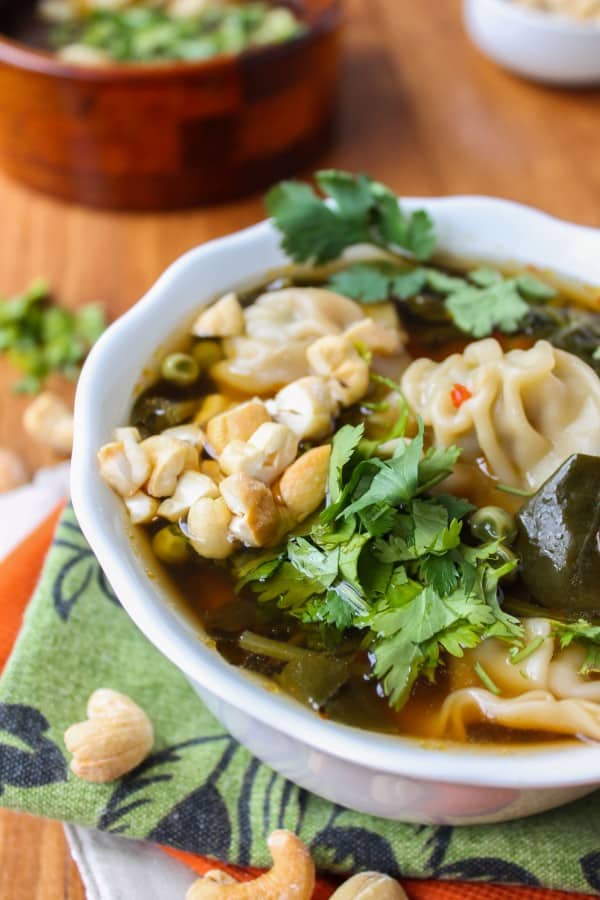 I've been reading Nikki's YA novel, Shatter, since it's infancy, and I'm not at all a biased, adoring little sister when I say that I knew from the start that someday Nikki was not only going to be published, but launched into the fame and riches that comes with authorship. Writers have always made tons of money, right??
Her news induced an epic family texting war, a few of us mostly in the game to annoy the crap out of our siblings at work. The issue was who had texted Nikki back to congratulate her first (I'm in green):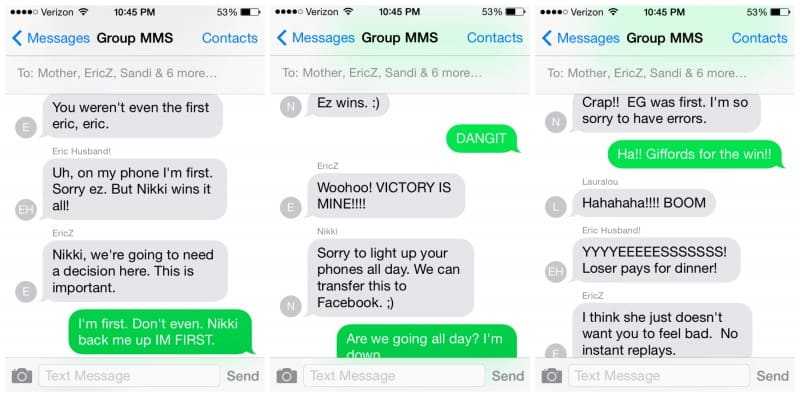 (For the record guys, I was first.)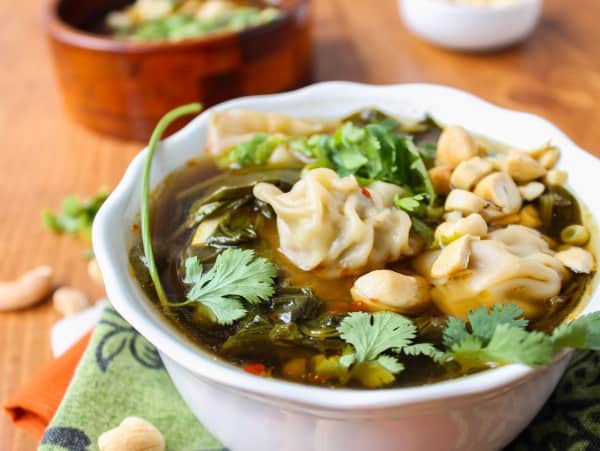 But anyway, back to Nikki's awesome news. Getting signed with an agent is BIG. She's been working hard for this for a long time. To share her excitement, this week she is hosting a $35 Barnes and Noble giveaway on her blog. Her novel is a mystery, so naturally you have to solve a (simple!) clue to enter. Click here for the clue to guess her agent's name (and see naked people celebrating!) Congratulations Nikki!!!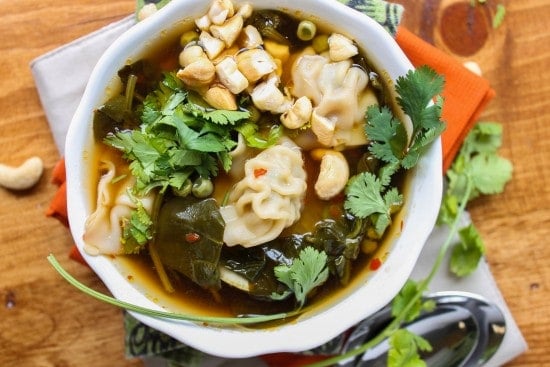 Let me introduce you to My New Favorite Dinner. I have made this soup 4 times already since I discovered it a few weeks ago, and obviously I cook a lot, so that's saying something. It's amazing, and it literally takes 10 minutes. I got the recipe from the lovely Liz over at The Lemon Bowl. She calls it 5 minute Wonton Soup, but I'm knife-challenged and it takes me 5 minutes just to mince ginger, so I upped it to 10 minutes. But I promise it is super fast.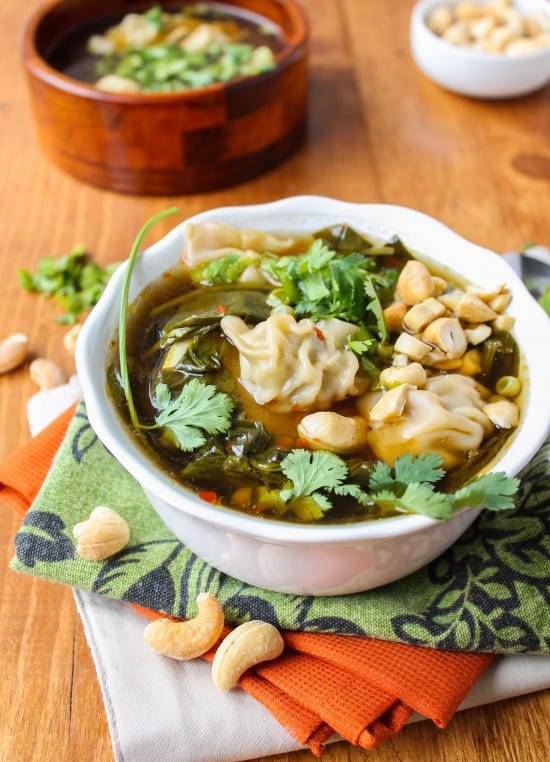 And adaptable! That's the best part, besides the awesome flavor. Liz's version has kale and mushrooms, I used spinach and peas. Take a look in your veggie drawer or freezer and throw in whatever you have. Add rice or noodles to beef it up if you want. Green onions, carrots, or sesame seeds would be great additions. You can add several dashes of sriracha or any hot sauce in lieu of sweet chili sauce. Or just leave it out. (I mean, if you're a wuss.)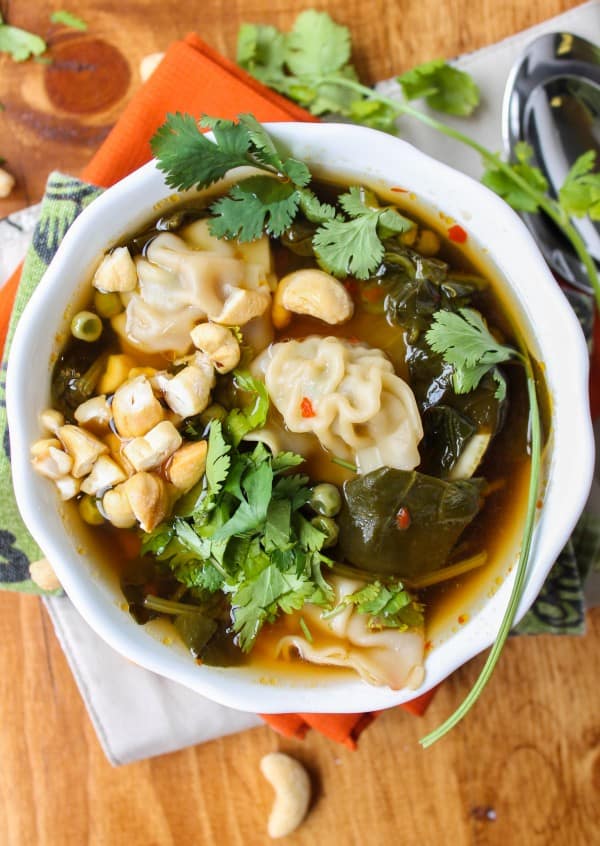 If I keep wontons in my freezer (which I most certainly will now!) I usually have everything on hand to make this soup. It's an oh-crap-I-forgot-dinner-again lifesaver. (Forget is the wrong word.  More like "I'm-in-denial-about-dinner-again.") Check out Liz's post on How to Stock Your Pantry for Asian Cooking if the ingredients don't look familiar to you. Asian cooking is a flavorful way to eat healthy.
PS If you haven't entered the Blendtec giveaway yet go do it! Blend your life away!
Do you guys give up? Or are you thirsty for more?
Facebook | Pinterest | Instagram | Twitter

10 Minute Wonton Soup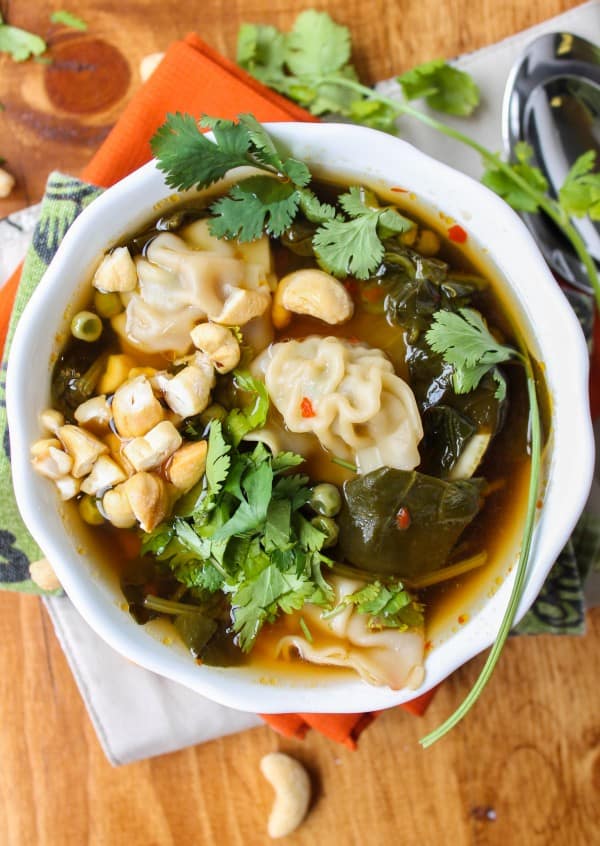 Use store-bought frozen wontons to make this 10 minute Asian Wonton Soup. Perfect for a tasty and healthy last minute meal!
Ingredients
6

cups

chicken broth

,

regular or low sodium

¼

cup

soy sauce

,

regular or low sodium

3

tablespoons

rice vinegar*

1

tablespoon

sesame oil

1

tablespoon

Sweet Chili Sauce

1

tablespoon

ginger

,

fresh, minced

2

cups

frozen wontons

,

like the ones sold at Costco or Trader Joe's**

1 & 1/2

cups

frozen peas

2

cups

baby spinach

,

packed

1/2

cup

cilantro

,

fresh, or more, chopped

cashews

,

roughly chopped, to garnish each bowl
Instructions
Add the chicken broth to a medium-large pot and set over high heat. Add the soy sauce, rice vinegar, sesame oil, sweet chili sauce, and the ginger. Bring to a boil, stirring occasionally.

When it is boiling, add the wontons, frozen peas, and baby spinach. Continue to cook over high heat for about 3 minutes until the wontons are warmed through.

Remove from heat and stir in cilantro (or sprinkle it over each bowl). Serve the soup with chopped cashews.
Notes
*Regular vinegar can be subbed for the rice vinegar.
**You can find frozen wontons at most grocery stores
Source: slightly adapted from
The Lemon Bowl
Nutrition
Serving:
1
bowl
|
Calories:
462
kcal
|
Carbohydrates:
82
g
|
Protein:
18
g
|
Fat:
6
g
|
Saturated Fat:
1
g
|
Polyunsaturated Fat:
2
g
|
Monounsaturated Fat:
2
g
|
Cholesterol:
11
mg
|
Sodium:
2835
mg
|
Potassium:
644
mg
|
Fiber:
5
g
|
Sugar:
5
g
|
Vitamin A:
1981
IU
|
Vitamin C:
51
mg
|
Calcium:
110
mg
|
Iron:
6
mg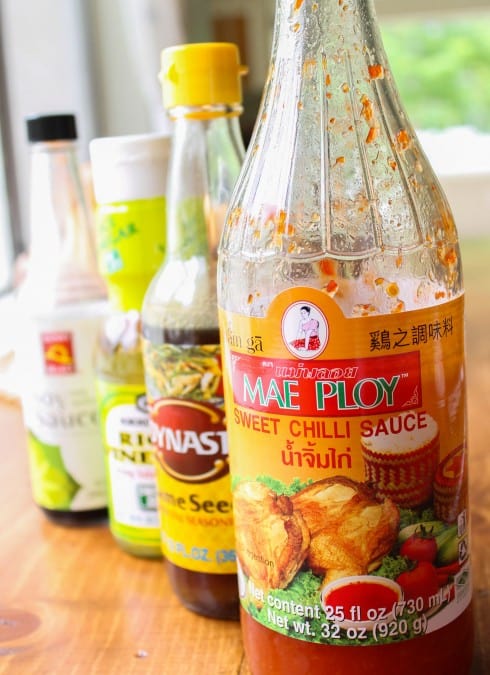 Here's the Sweet Chili Sauce I used. I found it in the Asian aisle at the grocery store. So good!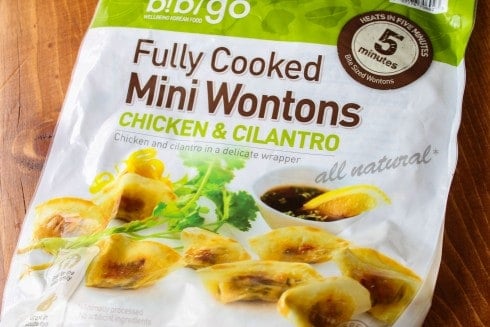 And here are the wontons I used. They were giving out samples at Costco and I couldn't resist. Now I'm glad I gave in!