Chinese Beef and Broccoli Soup
It's your favorite Chinese beef and broccoli dish, turned into soup! Strips of super tender beef, paired with broccoli in a rich broth. It is spicy, flavorful, and perfectly beefy. Totally hits the spot on cold winter nights!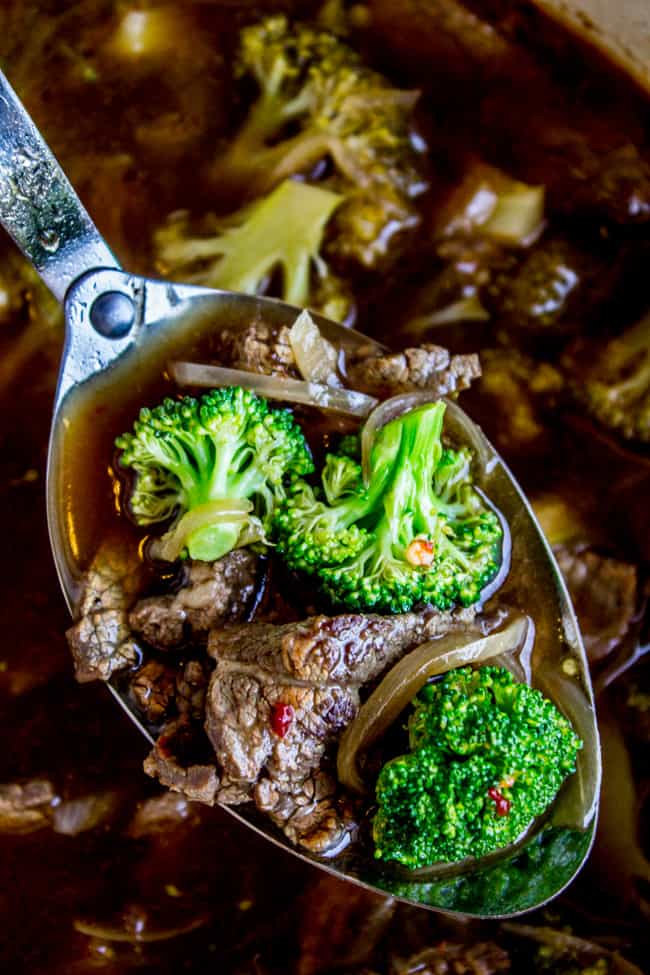 The other day I opened my car door to get in, and found my car keys sitting on the seat. This means that I lost my keys and found them before I even realized it. WIN. Also, it happened on my birthday, as Truman and I were headed out to get some doughnuts. Yeah, it was a pretty good day.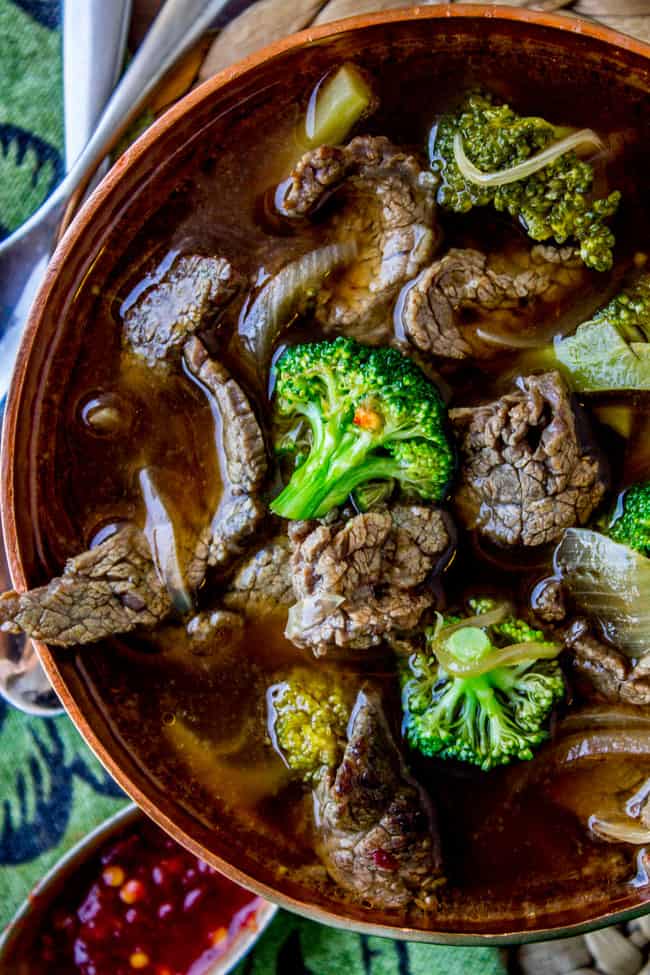 Speaking of pretty good days, I just got back from a blogging retreat in San Francisco, which was so fun! When bloggers say, "blogging retreat" what they really mean is a glorified girls trip where we may or may not talk about blogging strategies. (Think more "may not" and less "may") Mostly it's an excuse to get together and eat. And what better place to eat than in San Francisco?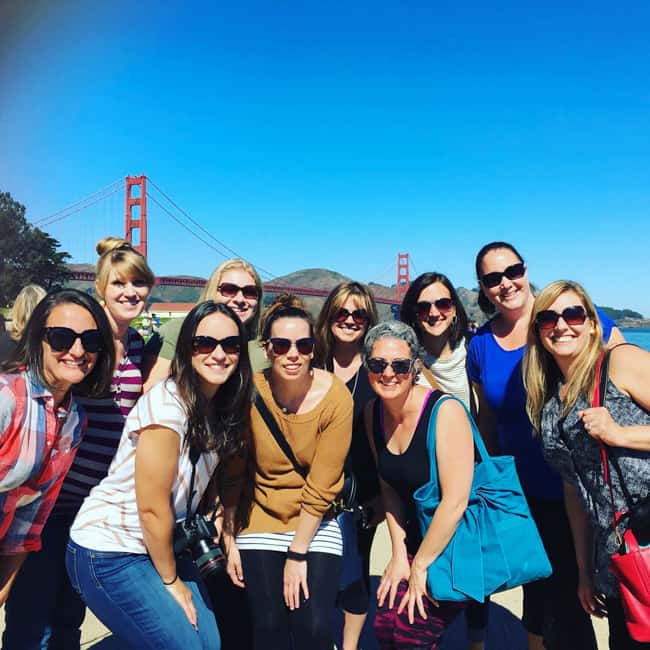 Here we are: Lisa from Wine and Glue, yours truly (where are my sunglasses?? I'm so unhip), Lindsay from Life Love and Sugar, Trish in the back from Mom on Timeout, Julianne from Beyond Frosting, Holly from Spend with Pennies, Andi from The Weary Chef, Cathy from Lemon Tree Dwelling, Glory from Glorious Treats, and Dorothy from Crazy for Crust, our fearless organizer. Thanks Dorothy! Also not pictured: Averie from Averie Cooks, Tanya from Lemons for Lulu and Hayley from The Domestic Rebel.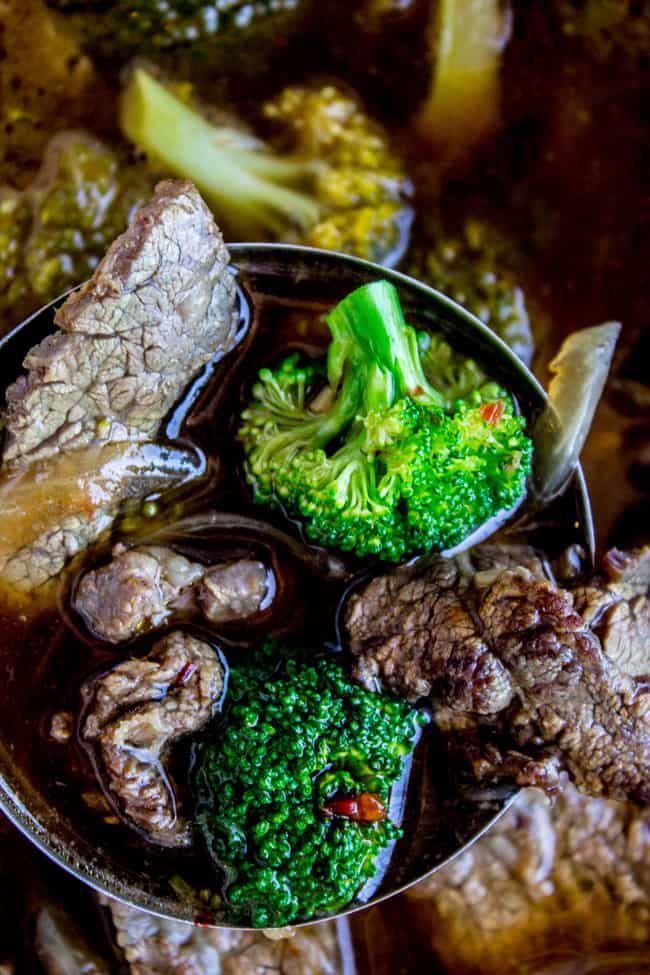 One of the best things about blogging is all the people you meet, even if you've never actually met in real life. One of my favorite bloggers is Mary Younkin from Barefeet in the Kitchen. She has such simple down to earth recipes that are "real life."
She just came out with her first book, The Weeknight Dinner Cookbook. It's exactly what you would think: easy, FAST, no fuss dinner recipes that are super tasty and can feed some ravenous teenagers in a snap. The book is divided into sections: 15-25 Minute Meals, 30-45 Minute Meals, and 5-10 Minute Prep Meals. It is absolutely perfect and I've already cooked from it multiple times (more on that soon!) (UPDATE! Here is the other recipe from Mary's book that I adapted a little.)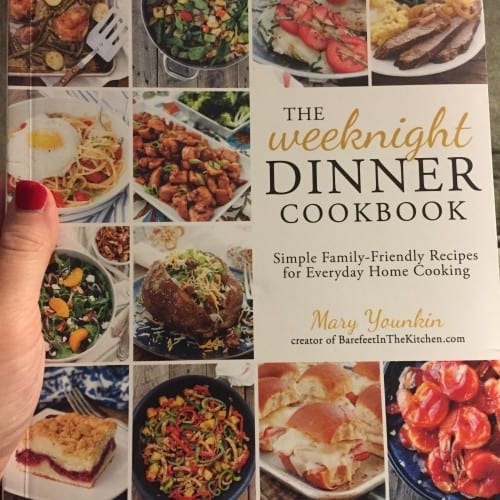 I decided to make Mary's Beef and Broccoli soup. It is SO good. Beef and broccoli is always one of my favorite dishes when we go out for Chinese. It's just a classic. This is the soup-ified version.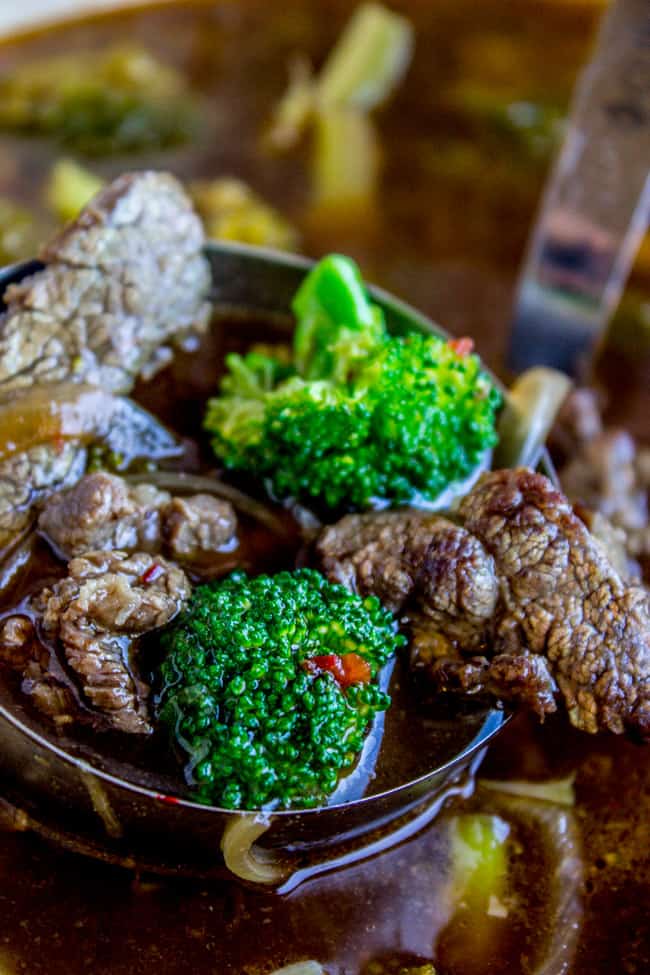 Don't be scared off by the oyster sauce and chili sauce. If you have an Asian section to your grocery store, I bet you can find these ingredients. This soup is a little spicy, but you can easily control that by adding more or less chili sauce. Mary says that depending on the ingredients that she has, she sometimes uses less beef and more broccoli. She also makes this using ground beef, which would be much cheaper. See note on the recipe if you want to try it.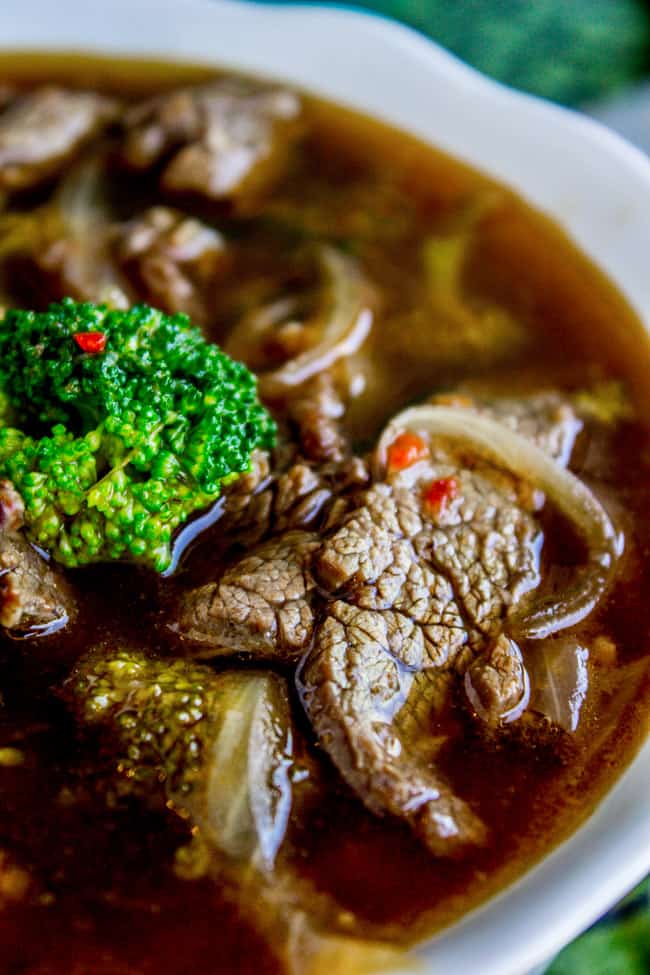 If you would like to buy Mary's book, here is the Amazon link. If you would like to read more about the book visit Mary's blog for more info. Hooray for quick and easy cookbooks!! This one is definitely worth your time.
Facebook | Pinterest | Instagram | Twitter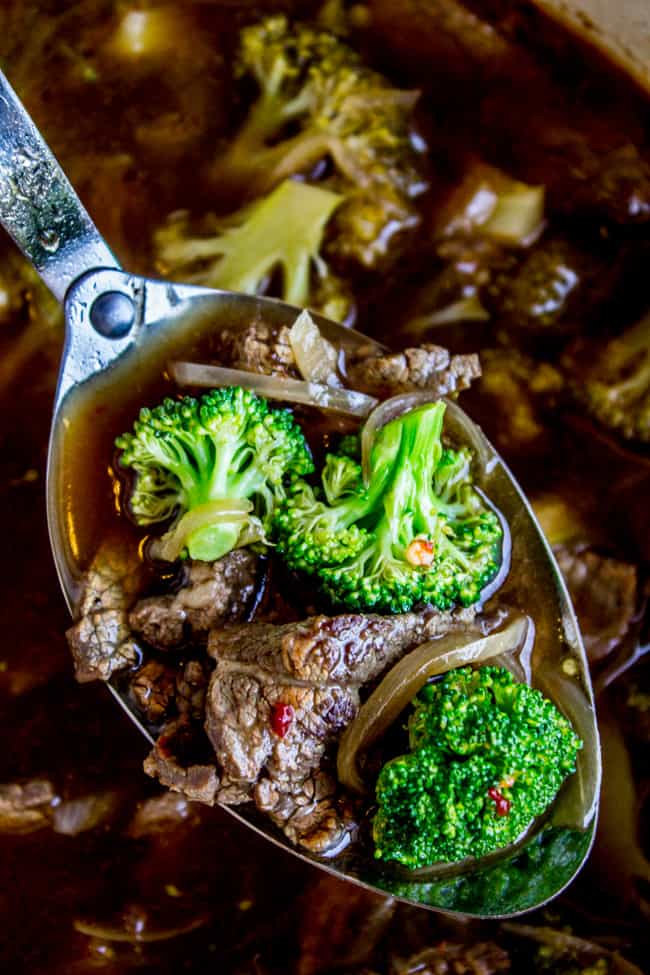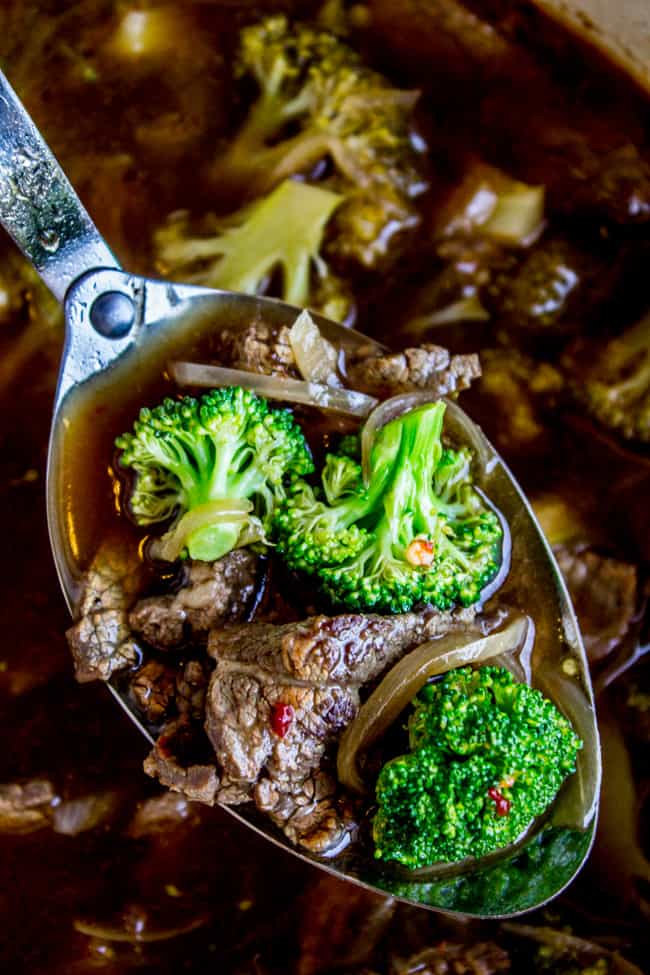 print
Did you make this recipe?
Leave a review »
Chinese Beef and Broccoli Soup
Serves 6-8
adjust servings
Ingredients
1

and 1/2 pounds flank or skirt steak

2

tablespoons cornstarch

1/2

teaspoon fresh black pepper (more to taste)

1/4

cup soy sauce (reduced sodium or regular)

1

medium yellow onion, very thinly sliced (about 1 and 1/2 cups)

6

cloves garlic, minced

1

tablespoon ginger, minced

2-3

tablespoons olive oil, divided (for browning the meat)

1/2

teaspoon kosher salt

8

cups beef broth*

2

large heads of broccoli, cut into florets

1/4

cup oyster sauce

1-4

tablespoons Sambal Oelek chili paste**
Instructions
Start by slicing the steak as thin as you can. Make sure you slice against the grain (see photos). Ideally you want 1/8 inch slices that are about 2-3 inches long.
Place the sliced meat in a bowl and mix in cornstarch, pepper, and soy sauce. Let sit for 10 minutes while you chop up the veggies.
Thinly slice the onions. Mince the garlic. Mince the ginger.
Place a bowl or dish with a lid next to the stove to hold the meat once it's cooked.
Heat a large soup pot over medium-high heat. Add 1 tablespoon olive oil.
When the oil is shimmering, add half (or a third) of the marinated meat in a single layer over the bottom of the pot. Don't crowd the meat! You want it to brown, not steam. Cook without stirring for 1 minute.
Stir and flip the meat. Cook for another 30 to 60 seconds, until the meat is barely cooked and very tender.
Transfer the meat to the dish with a lid. Drain any liquid into the dish.
Heat the next tablespoon of olive oil. Repeat process with the remaining meat, in another couple batches if you can't fit it in one. Transfer meat and juices to dish and cover.
With the burner still on medium high heat, add the onion, garlic, and ginger to the pot. Add 1/2 cup of beef broth and salt. Scrape up those delicious brown bits on the bottom of the pot.
Let onion mixture cook for 3 minutes until slightly softened and very fragrant.
Add broccoli and remaining 7 and 1/2 cups beef broth. Turn the heat up to high.
When the soup boils, stir in the oyster sauce and chili paste.
Simmer broccoli for 2 minutes, until barely softened and still crisp.
Adjust the salt, pepper, and chili paste as desired.
Remove from heat and add the cooked meat and any juices. Stir and serve right away.
by The Food Charlatan

If you make this recipe,
share it on Instagram
 using the hashtag
#TheFoodCharlatan
so I can see it!
Source: this is a recipe from Mary Younkin's (Barefeet in the Kitchen) new book, The Weeknight Dinner Cookbook.
Other soups you will love!
Beef Barley Soup << this is one of the top recipes on my site. With good reason!!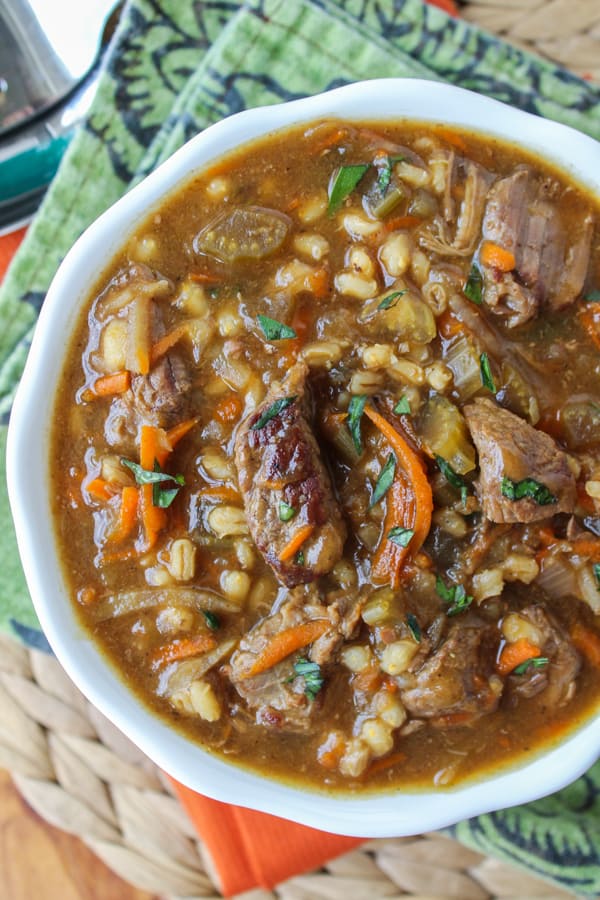 10 Minute Wonton Soup << 10 minutes, I swear.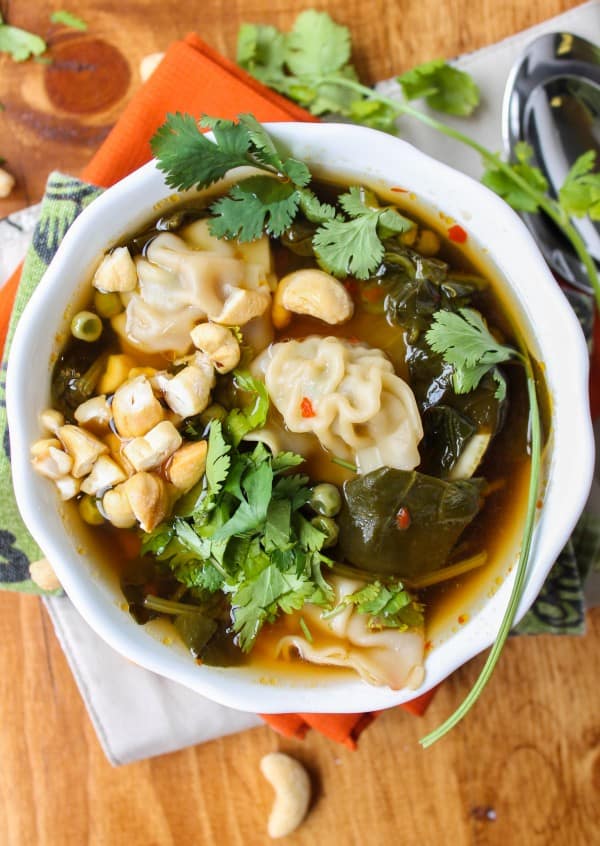 Ham Mac and Cheese Soup << I just made this one again the other day, and couldn't believe how many times Charlotte asked for seconds. It's soooo good.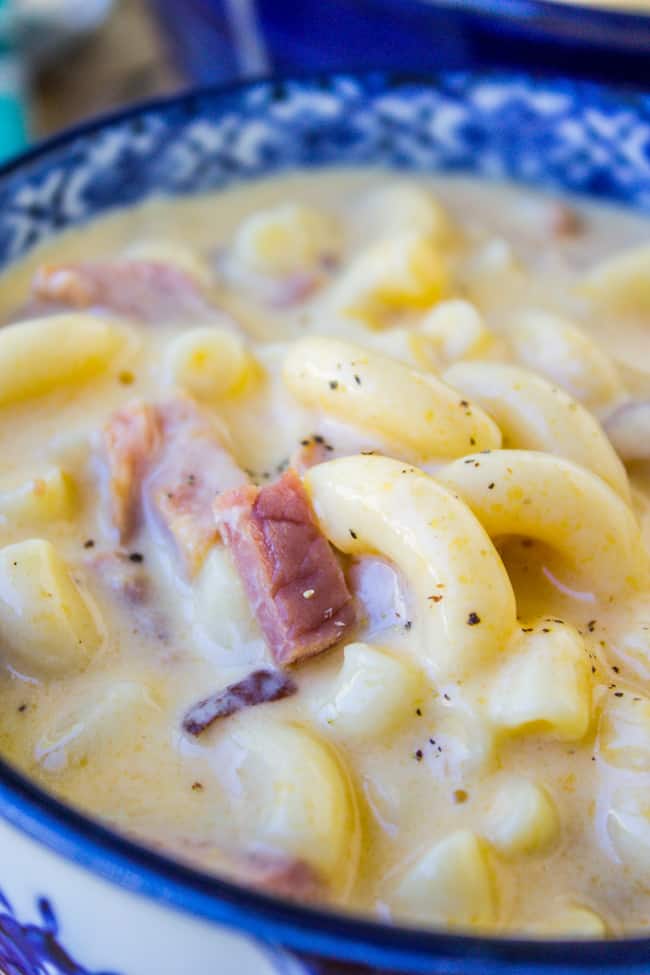 One Skillet Beef Meatballs with Rice and Peas << Here's the other recipe from Mary's book I tried (hers has kielbasa instead of meatballs):
More soup from friends!
Easy Vegetable Beef Soup from Diary of a Recipe Collector
Orange Beef Teriyaki Soup from Melanie Makes
Slow Cooker Winter Squash Beef Stew from Will Cook for Smiles
We are a participant in the Amazon Services LLC Associates Program, an affiliate advertising program designed to provide a means for us to earn fees by linking to Amazon.com and affiliated sites.