Get ready for this combo guys…the creamiest Black Raspberry Ice Cream, swirled with tons of delicious chocolatey Oreos! It is the perfect homemade ice cream for summer!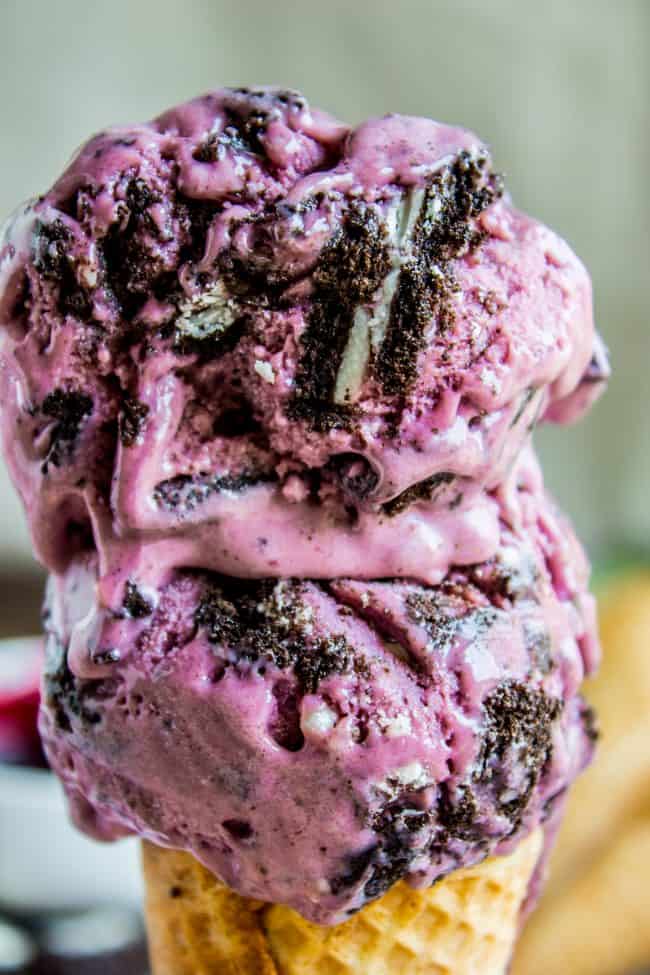 Eric and I are obsessed with this ice cream shop in Sacramento called Gunther's. (If you're ever in the area you HAVE to stop by. They've been open for 70 years!) We will take any excuse to go, especially if we have friends visiting from out of town.
Every month they have a special flavor. It's always something creative and new, but not in a gross way. No asparagus ice cream or corn ice cream or weirdo-flavors here folks. (Although I actually would love to try corn ice cream someday!)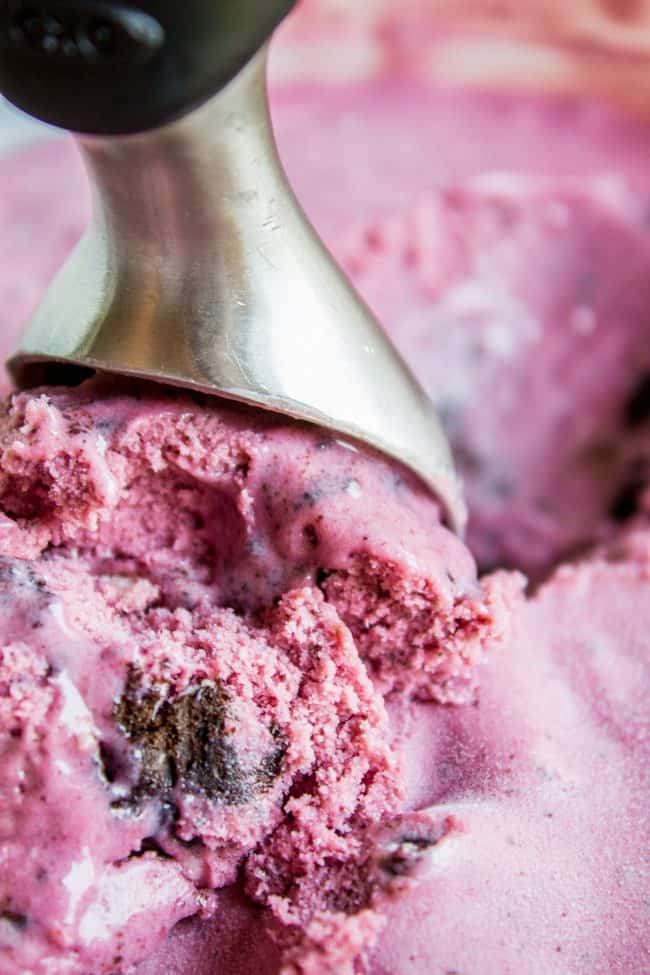 Only flavor combos that make your knees go weak will do, like Cinna-Man (Cinnamon ice cream with Gingerbread Swirl, my personal favorite that you will see a replica of on the blog someday) or Caramel Crackle Crunch, or Blueberry Cheesecake, or Strawberry Nutella, or Horchata. See what I mean? These guys know what they're doing.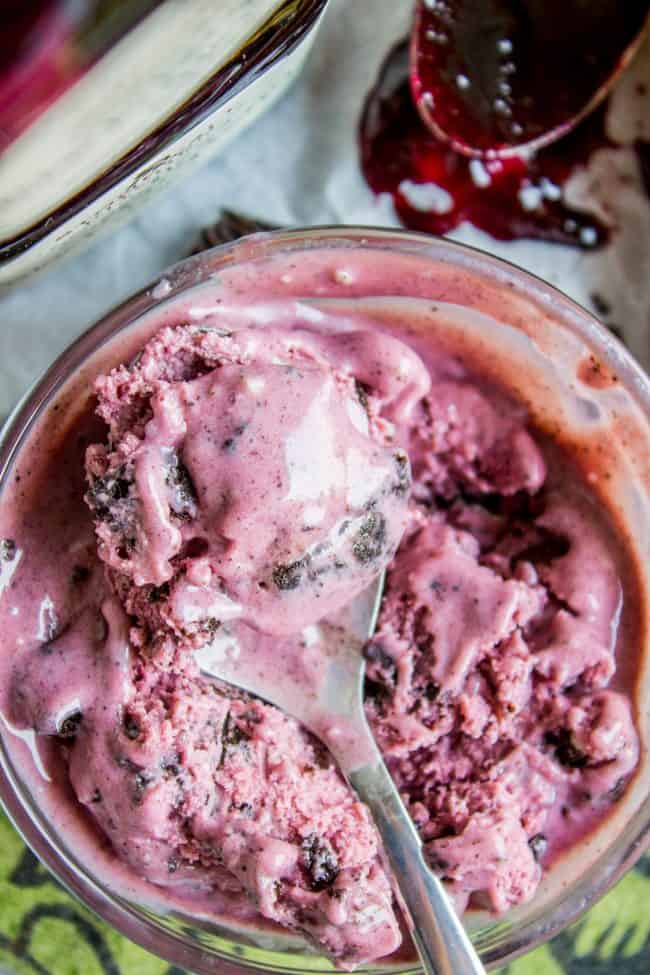 We had some friends from out of town come to visit, so naturally we headed to Gunther's, and noticed that the flavor of the month was Black Raspberry Ice Cream with Oreos. I was a little suspicious since fruity ice cream is not usually my favorite, and ordered my usual Mint Oreo (with fudge on top).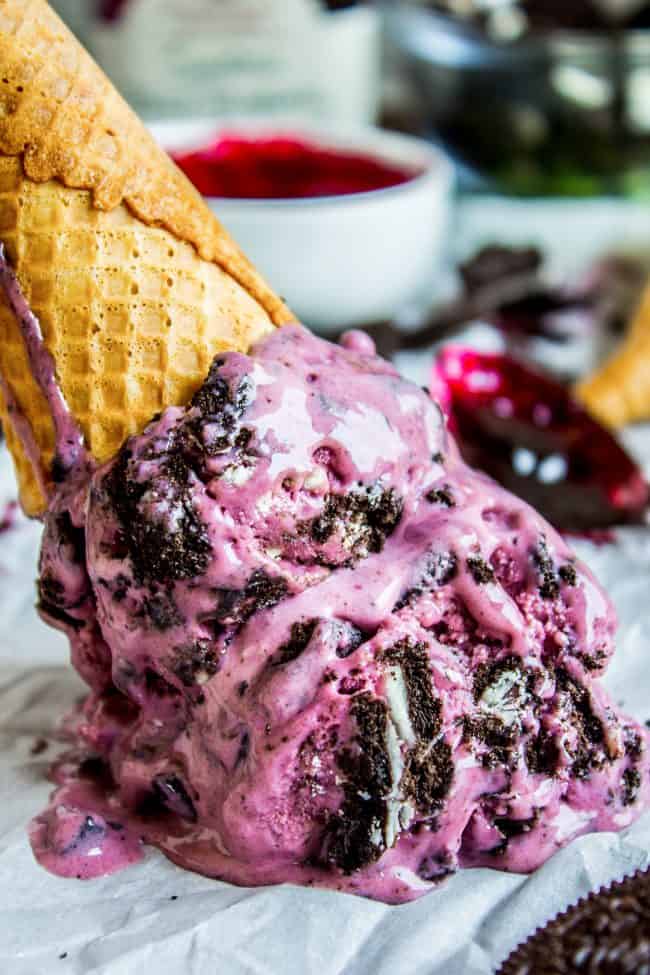 But Eric ordered a cone. We sat down to eat after having waited in the long line that goes out the door, and as soon as we tasted it, we looked at each other and said "this is not enough." So Eric stood up and got immediately back in the long line and ordered an entire half gallon of the stuff. I ate it with a spoon all the way home, yes, even though I had just finished my other scoop. I was OBSESSED.
How to make Black Raspberry Ice Cream

Several gallons of Black Raspberry Ice Cream testing later, I finally have this recipe the way I want it! Have you ever had a Black Raspberry? That was my first line of research. I've never had one (or even seen them in stores, have you?) but I read that they are not exactly like a raspberry and not exactly like a blackberry. I decided to use Black Raspberry jam instead of trying to get my hands on fresh berries.
I did test this with blackberry jam too, which is not as tart as black raspberry. If you don't feel like searching for black raspberry jam, you should try a mix of half raspberry and half blackberry.
Oreos forever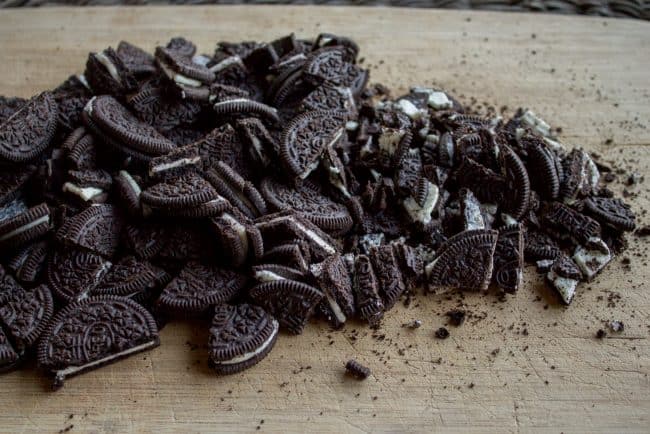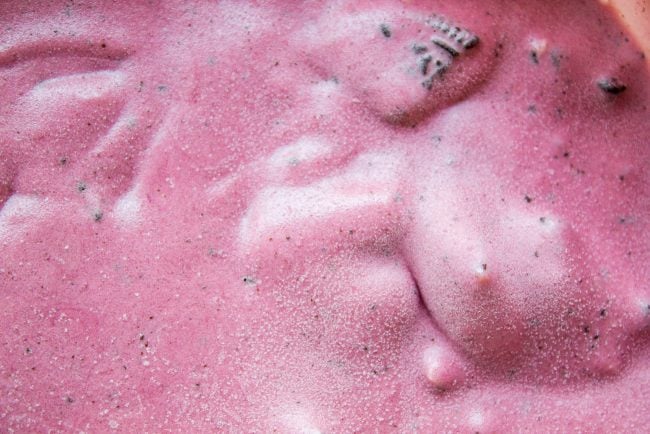 I am an unabashed Oreo fanatic. Cookies and Cream ice cream never has enough Oreos for my taste. I'm always the jerk who's making giant craters in the side of the ice cream bucket to get to the big Oreo chunks. THIS recipe does not skimp. You can add as many as you like. Full disclosure, the recipe calls for 20-25 Oreos…but I actually added 30. 30 may have been a bit much, even for me :)  Add according to your taste. I believe there are 39 Oreos in a regular size package, just fyi.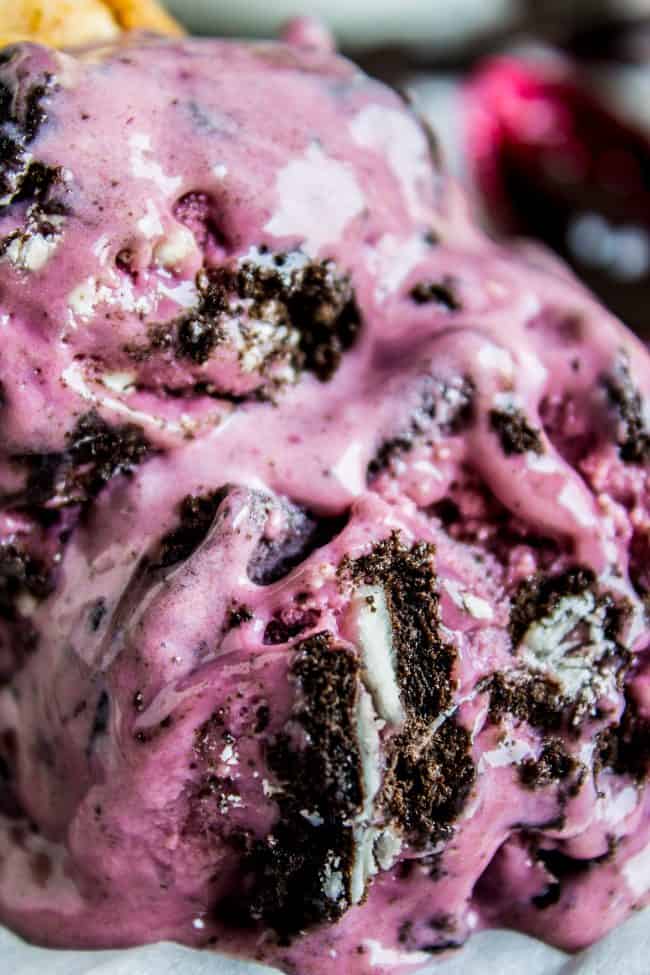 School starts for us this week so summer is officially over! My little Truman starts kindergarten on Thursday! I can't believe it. My kids already stop me several times a day to ask me to add to their Christmas lists, so I guess they are over summer too. Bring on the fall baking!!
P.S. Some of Truman's Christmas list additions include a walking cane, as well as nunchucks. Also coal, "for a snowman's mouth." We live in sunny California where it does not snow. He also wants a strawberry huller. I think he's going to be "that kid" in his kindergarten class, haha!!
Facebook | Pinterest | Instagram
One year ago: Chicken Pot Pie with Flaky Biscuit Topping
Four years ago: Reuben-Stuffed Crescent Rolls
Six years ago: Homemade Twix Bars

Black Raspberry Oreo Ice Cream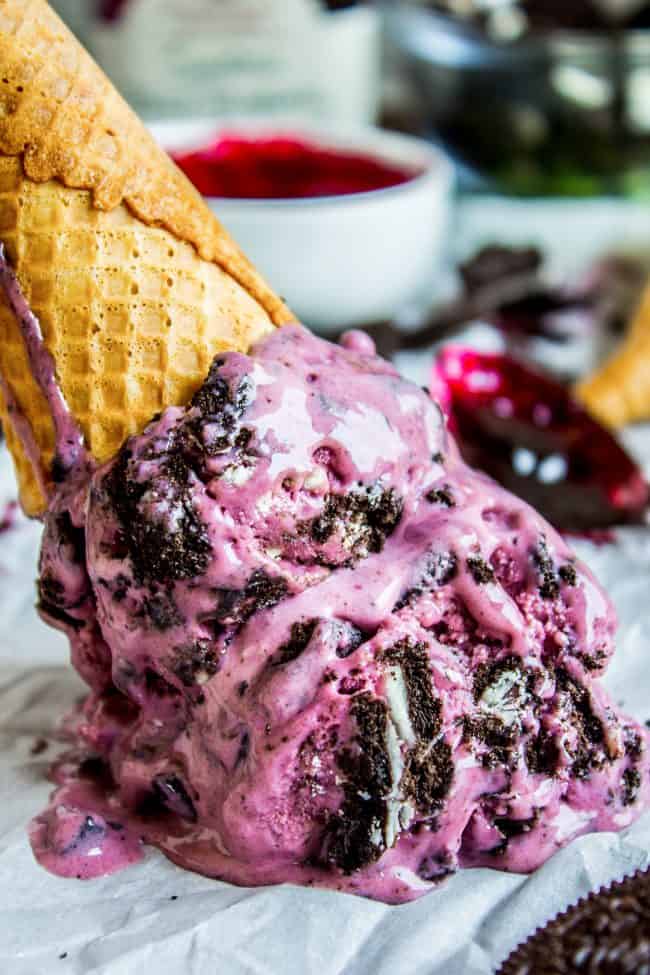 Get ready for this combo guys...the creamiest Black Raspberry Ice Cream, swirled with tons of delicious chocolatey Oreos! It is the perfect homemade ice cream for summer!

Ingredients
1 & 1/2

cups

half and half

1

cup

heavy cream

1/3

cup

sugar

,

+ 1 tablespoon

1/4

teaspoon

salt

4

egg yolks

3/4

cup

seedless black raspberry jam

20-25

Oreos

,

coarsely chopped

ice

,

for freezing

rock salt

,

for freezing
Instructions
In a medium saucepan, combine half and half and heavy cream. (This is the same thing as whipping cream). Turn the heat to medium low and stir occasionally until it reaches a low simmer. The edges will start bubbling lightly.

Meanwhile, in a medium bowl, whisk together the sugar, salt, and 4 egg yolks.

When the cream mixture has reached a light simmer, carefully temper the eggs by whisking the egg yolks constantly while SLOWLY pouring in the hot cream. Continue whisking until about half of the cream has been added. Place the saucepan back over the burner and add the bowl of tempered egg yolks to the pot. You are taking this step to make sure you don't curdle your eggs.

Heat the mixture over medium low heat, stirring constantly. Do not boil. Stir for about 5 minutes, until the mixture thickens and coats the back of a spoon. At this point, if you notice any small curdles in your custard, you can strain it through a fine mesh strainer. I didn't bother and it still turned out great.

Remove from heat and stir in the black raspberry jam until it is smooth.

Press the top of the custard with plastic wrap. Make sure the plastic wrap is touching the custard, otherwise it will form a film on top as it cools.

Refrigerate until completely chilled, 2-3 hours.

When the custard is chilled, churn it in

an ice cream maker

according to the instructions for your machine. (I just use the old fashioned kind that you need rock salt and ice for, but you can use whatever kind of machine you have.)

Meanwhile, coarsely chop the Oreos. I like BIG chunks of Oreo in my ice cream, so I did most of them chopped into quarters. I left come just chopped in half, and did a few chopped pretty fine, to get a good mixture. See photo.

Once the ice cream has frozen in the machine, it should be soft serve consistency. If there is room in your ice cream maker, stir the Oreos in, if not, then you will have to transfer to another large bowl to stir in the Oreos.

Place the ice cream in a large tupperware or pan with a lid. You will have about a half gallon of ice cream. Make sure it is sealed well and freeze for 3 hours, until completely frozen.

You can eat this right away once it's frozen, but if you like your Oreos to be as soft as the Cookies and Cream ice cream you buy at the store, you will have to wait another 48-72 hours. If you eat it as soon as it's frozen, the Oreos will still be slightly crunchy. Which is delicious, but I also love it after it's frozen for a couple days and has the soft Oreo consistency.
Nutrition
Serving:
1
scoop
|
Calories:
593
kcal
|
Carbohydrates:
72
g
|
Protein:
7
g
|
Fat:
32
g
|
Saturated Fat:
17
g
|
Polyunsaturated Fat:
3
g
|
Monounsaturated Fat:
11
g
|
Trans Fat:
1
g
|
Cholesterol:
200
mg
|
Sodium:
332
mg
|
Potassium:
236
mg
|
Fiber:
2
g
|
Sugar:
48
g
|
Vitamin A:
961
IU
|
Vitamin C:
5
mg
|
Calcium:
121
mg
|
Iron:
4
mg
More ice cream ideas that you have to try out!
Nutella Swirled Vanilla Ice Cream with Reese's-Style Chunks <<this is not homemade ice cream, it's store bought ice cream with mix-ins. You will LOVE it.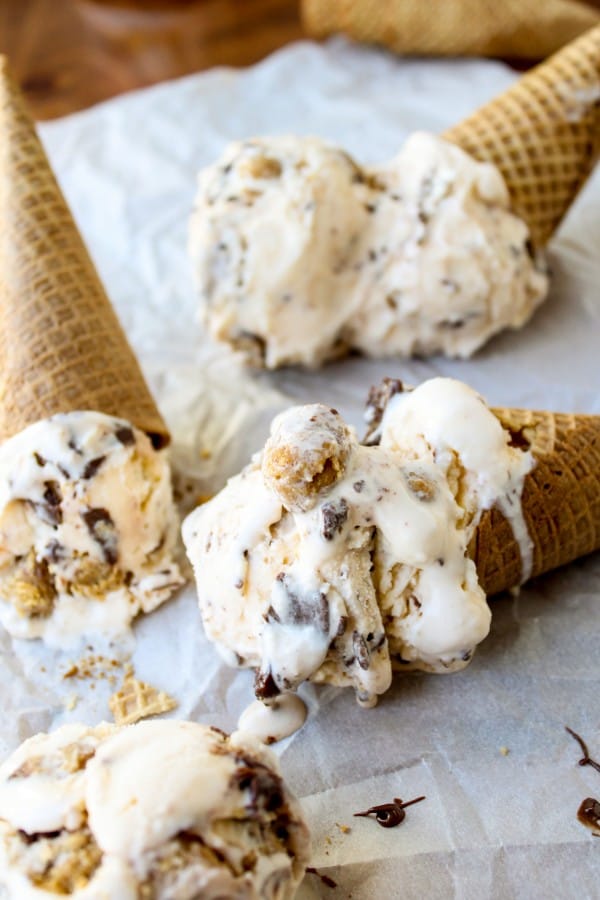 Caramel Apple Cider Reduction Shakes << apple cider season is upon us my friends, and I BEG you to try this recipe at least once. Boiling down your apple cider to make it super concentrated leads to do many wonderful delicious things. Observe: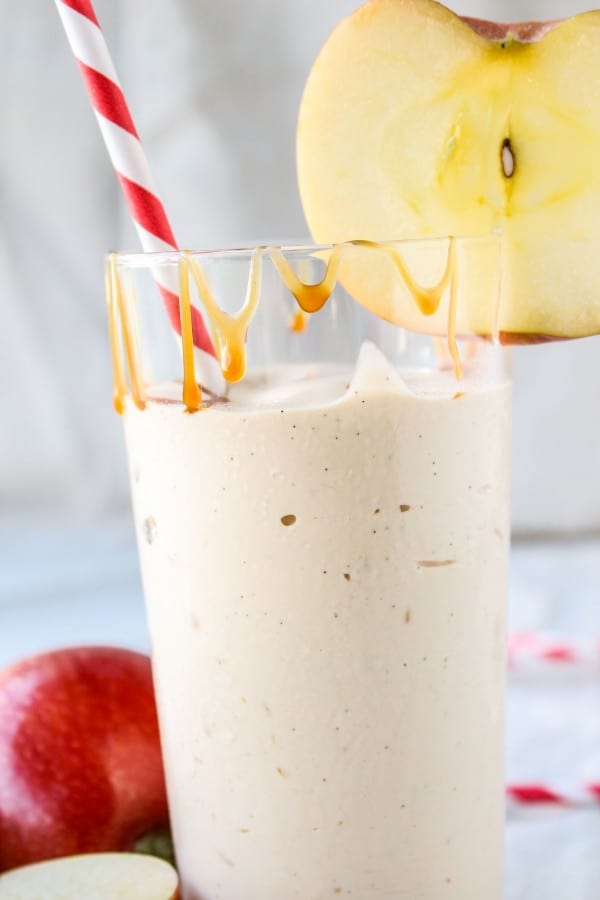 Blackberry Lemon Cheesecake Bars << love these. I wonder if I could make this with black raspberries?? YUM.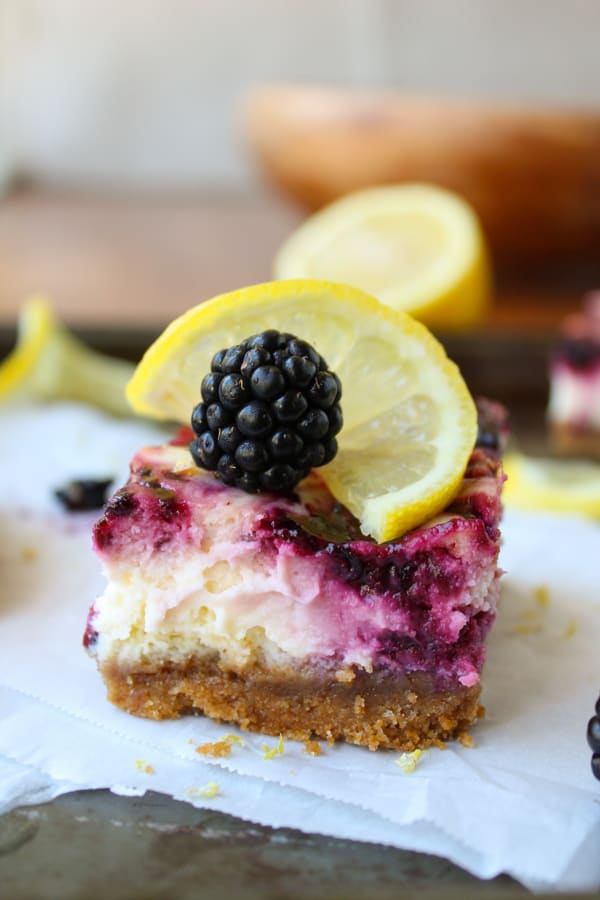 More lovely ice cream ideas from friends!
No Churn Cranberry Ice Cream from The View From Great Island
Fresh Peach Ice Cream from Big Bear's Wife
Creamy Lemon Ice Cream from Give Recipe
Chamomile Blackberry Ice Cream from Snixy Kitchen