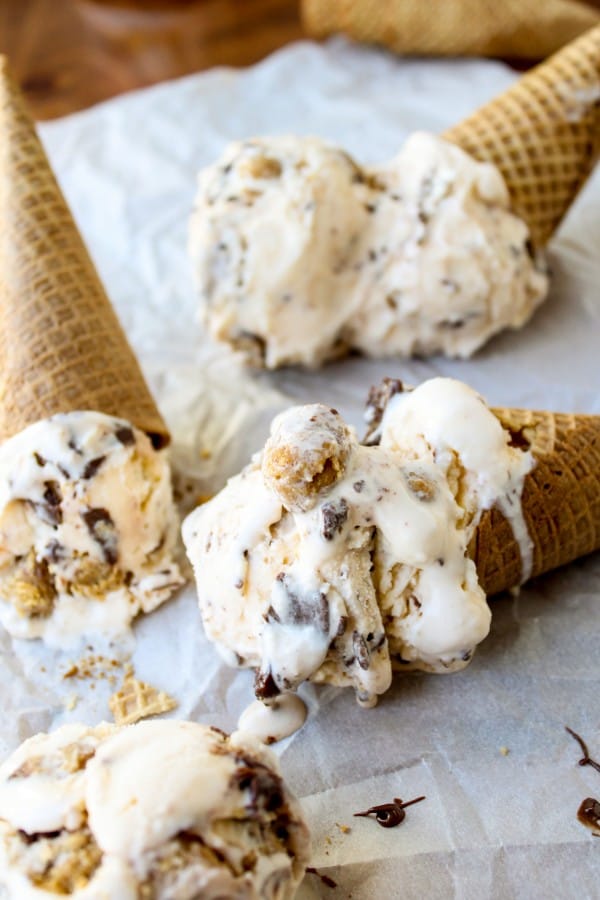 The other day I was busy writing out my grocery list when I heard Charlotte say to Truman in a very grown-up voice, "No no Truman, you can't have that." And she pulled a large serrated knife out of his hands and gently set it out of reach.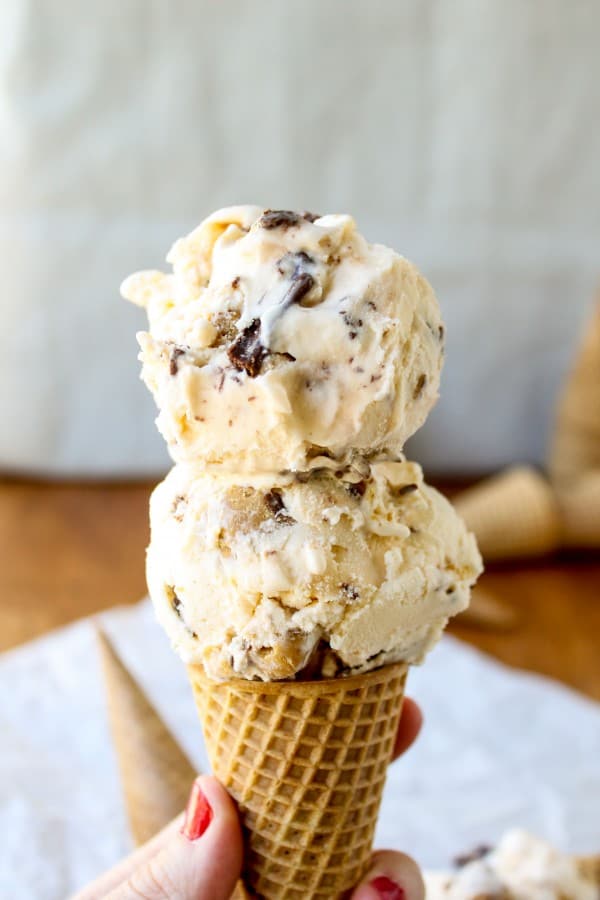 It's a good thing someone is around to do the mothering when I'm writing out my grocery lists. For all my complaining lately about the fact that Charlotte is practically a teenager these days, at least I get the saving-my-baby-from-mortal-peril perks.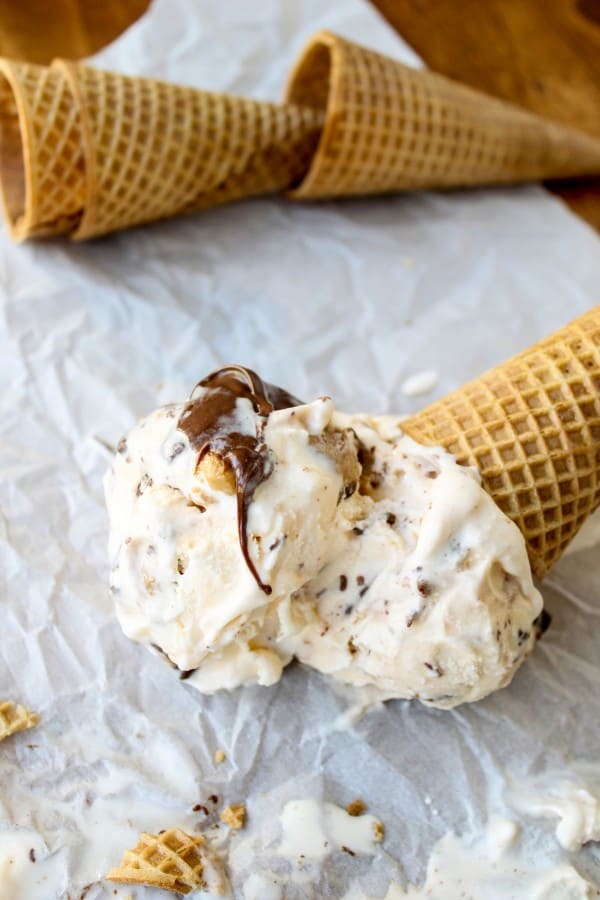 Speaking of grocery lists, am I the only one who goes into a seeming trance when writing them out? Seriously, bombs could explode. Ryan Gosling could give that "Hey girl" look. Heroic toddlers could save babies from imminent death. I would still be trying to decide whether to categorize "pimientos" in the "canned veggie aisle" or the "pickles and olives aisle."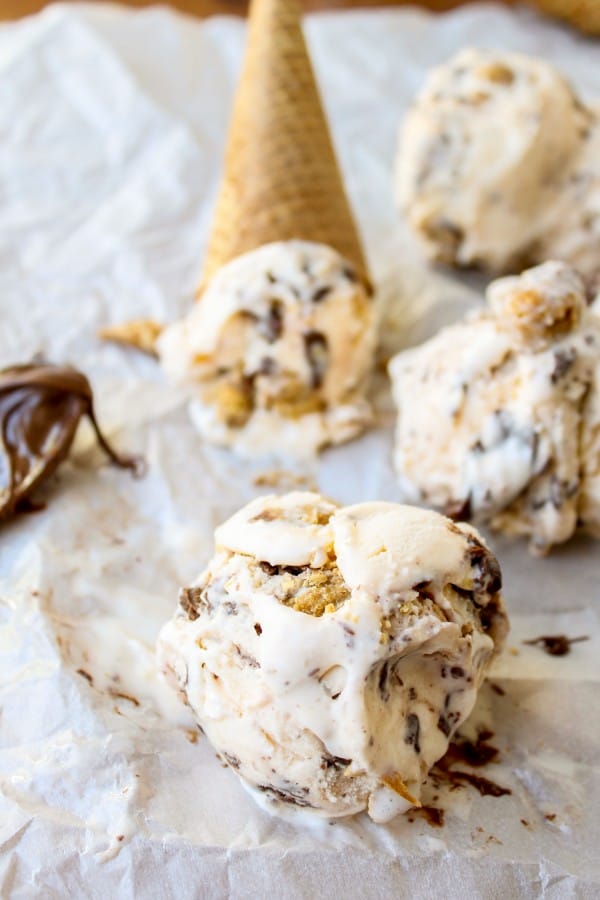 Today I'm guest posting this fake homemade ice cream over at The Kitchen Prep. And by fake I just mean it's not really homemade. I bought vanilla ice cream at the store and swirled in some Nutella and homemade Reeses-like peanut butter chunks. Come check it out!
UPDATE! I've added the recipe below:

Nutella-Swirled Vanilla Ice Cream with Reese's-Style Chunks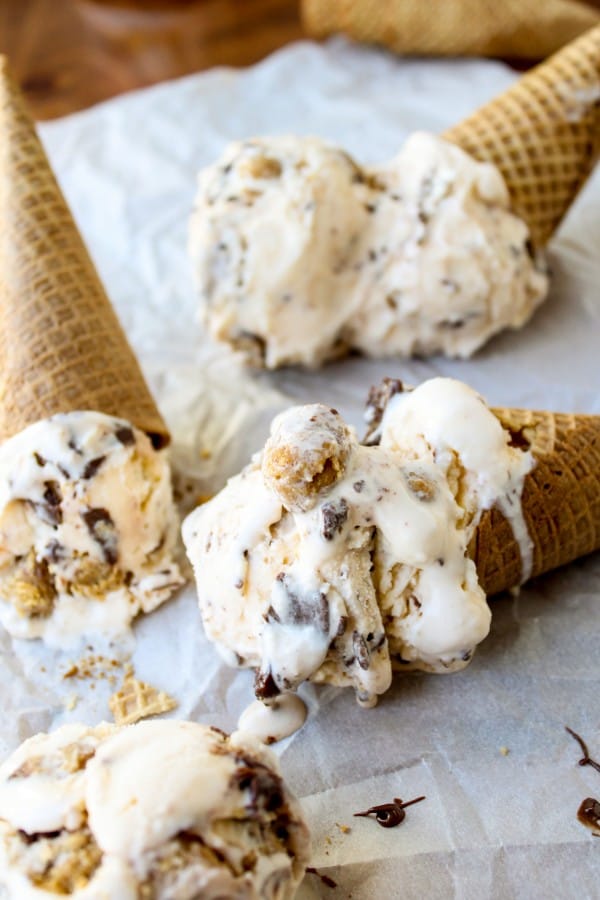 Nutella and homemade Reeses-peanut-butter-filling chunks swirled into store bought ice cream.
Ingredients
1

quart

good quality vanilla ice cream

1/4

cup

butter

,

melted (half stick)

1/2

cup

+ 1 tablespoon graham cracker crumbs

1/3

cup

powdered sugar

1/4

cup

+ 1 tablespoon peanut butter

1/3

cup

Nutella
Instructions
1. Set out the ice cream for about 20-30 minutes to soften. When the ice cream is soft, scoop it into a mixing bowl.

 2. Meanwhile, in another bowl or stand mixer, (or use a spoon) beat together the melted butter, graham cracker crumbs, powdered sugar, and peanut butter. Combine until smooth. Stick the bowl in the fridge for about 10-15 minutes so that it firms up a little. 

 3. Use a 1/4 teaspoon or other small spoon to make little bite size chunks of peanut buttery goodness. You can either plop them right on top of the softened ice cream and throw it in the freezer for 10 minutes, or line them up on a wax-paper lined sheet pan. However you want to do it, freeze or refrigerate them for a bit so they hold their shape. (I didn't add all of the peanut butter filling to the ice cream. Probably only a little more than half. I ate the rest, oops.)

 4. If you haven't already, add the peanut butter balls to the softened ice cream. Add the 1/3 cup Nutella in small dollops, then use a spoon or knife to swirl it all together. Don't mix, just swirl. 

 5. Transfer the ice cream to a tupperware or other ice cream container. Return the ice cream to the freezer until completely frozen, a couple hours at least. 
Notes
Note: I only used a little more than half of the peanut butter mixture for this recipe. Add as much or as little as you want.
Nutrition
Serving:
1
g
|
Calories:
1193
kcal
|
Carbohydrates:
127
g
|
Protein:
20
g
|
Fat:
69
g
|
Saturated Fat:
40
g
|
Polyunsaturated Fat:
5
g
|
Monounsaturated Fat:
19
g
|
Trans Fat:
1
g
|
Cholesterol:
180
mg
|
Sodium:
624
mg
|
Potassium:
952
mg
|
Fiber:
6
g
|
Sugar:
103
g
|
Vitamin A:
1788
IU
|
Vitamin C:
2
mg
|
Calcium:
492
mg
|
Iron:
3
mg